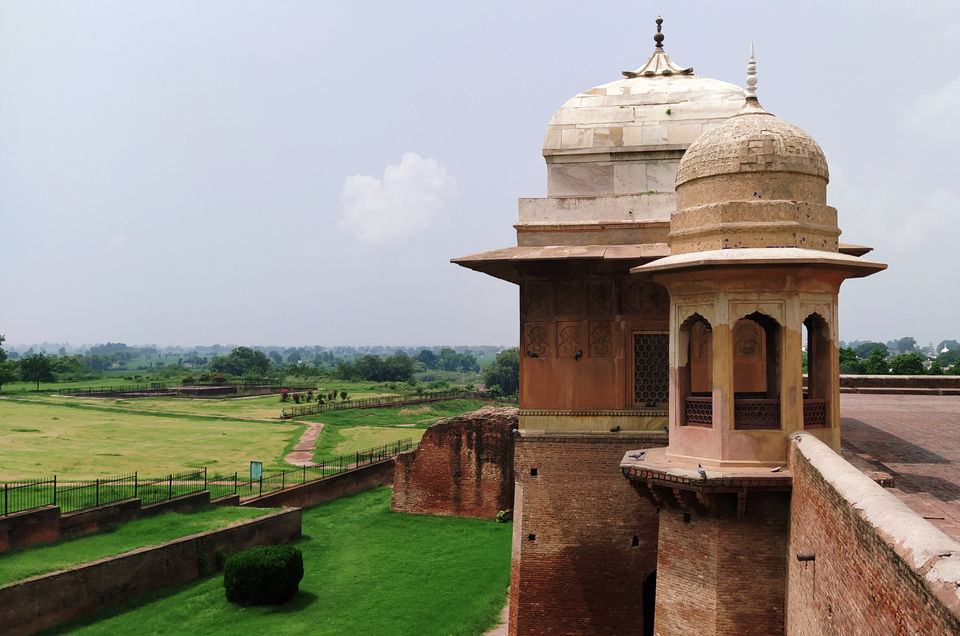 Kurukshetra- An origin place of scripture Bhagwat Geeta
A spiritual town in the north Indian state of Haryana, Kurukshetra where the great Mahabharata war was fought for 18 days among the cousins- Kauravas and Pandavas. A place wherein mid of the war, Lord Krishna was preached the theory of Karma - Bhagawat Geeta to Arjuna.

Our Kurukshetra visit was not planned; it has just happened. Kurukshetra War City is not too far from Delhi. Hence we planned to leave early at 5 o'clock. Though I blame terrible roads and traffic - the maximum 3 hours journey has taken almost three and a half hours. However, not the entire way is wrong; the main highway is pretty smooth. Also, there are some severe toll tax barriers to Kurukshetra, which lighten the pockets in a lousy manner.

Our route - Delhi - Murthal- Samalkha - Panipat - Karnal - Kurukshetra.
While driving on the access road of Kurukshetra, you can witness a large welcome arch of Lord Krishna and Arjuna.
The journey was not so long, so we decided directly to visit the "Brahma Sarovar". We parked our car and went to see the huge water body with a mythological connection. This human-made lake vastness has surprised us, with the crystal clear water which was shining in the midday sun.
This lake is adequately structured and has well-planned Ghats; also people can take holy baths on auspicious occasions. Connected to the bank by the pathway, In the middle of the lake, you can see a lovely temple of Lord Krishna. On the bank of the lake, we had seen a fantastic sculpture of Arjuna and Krishna that beckons us.
It was almost 2 o'clock and we all were hungry, so headed towards the Haryana Tourism Resort for a lunch break. You can book your meal online. Here one family room is available and can be booked online.
After satisfying our cravings we headed to Jyotisar.
We were so excited to see that place where the universally accepted Hindu scripture - Bhagawat Geeta was actually delivered. The abstract of the ultimate science of the universe was unveiled to Arjuna when he was desolate and low in confidence after seeing his cousins on the enemy side. That place is known as Jyotisar and located on Pehowa Road, is five minutes away from Brahma Sagar. Here you can find an old Banyan tree, which is standing here from the last 3000 years and witnessed the war scenario of Mahabharata and Kurukshetra War.
Kalpana Chawla Planetarium is located just after 2km drive from Jyotisar. It opens only till 4.00 PM. We were able to take a short from outside as it was closed.
Ban Ganga, a place is rumoured that when Bhisma Pitamaha was laying on the bed of arrows, he felt thirsty, and requested Arjuna to quench his thirst. After that Arjuna pierced the earth with his arrow, and a stream of Ganga river appeared to satisfy the thirst of Bhishma. It is also known as Bhishma Kund.
However, Kurukshaetra City is not all about Mahabharata; it also has not much heard of Sheikh Chehli Mausoleum tomb. This tomb is uniquely built-in Persian architecture and is ranked 2nd after Taj in North India. Sheikh Chehli was the eldest son of Mughal emperor Shah Jahan. The stunning architecture of this tomb has left us speechless, and we were staring at it for long.
Just a km away from the tomb Mahadev temple located. Raja Pushyamurty constructed this temple, and the temple was raised by Mahmud Gazani and was rebuilt by Sada Shiva Rao. There is a holy tank in front of the temple which has believed that a few drops of its water cured leprosy of an ancient king named Vena. The Pandavas worshipped Lord Shiva here and received his blessings of the victory in the war of Mahabaratha which is also known as Kurukshetra War.
Among one of the 52 Shakti Peeths- Maa Bhadra kali Saktipeth is placed here. This Mandir has several names such as Savitri Peeth", " Devi Peeth", "Kalika Peeth" and "Aadi Peeth". The origin of this place has a long ancient story. This place is known to have one of the Devi Bhagwati's bodies, which was cut down in 52 pieces by Lord Brahma. Also the Tonsure- a head-shaving ceremony of Shri Krishna & Balram was performed at this holy Shaktipeeth, Shri Devikoop Bhadrakali Mandir.
The Krishna Museum was our last halt. Developed by The Kurukshetra Development Board, the entire museum stands on the Krishna Theme. This museum will take you on the journey of Krishna's life. Various paintings representing the life of Krishna in the form of- Madhubani, Pichavari, Lepakshi, Tanjavore etc. have been put up interestingly.
Here you can view six galleries:
First - is about Krishna theme consisting of art objects like wood carving, metal casting and ivory carving. Second - Devoted to archaeological objects from Harappan sites, stone sculptures from 1st to 10th century AD. Third - Illustrated manuscripts, paintings Fourth - Krishna theme Fifth - Tanjavur paintings of Krishna Sixth - Collections of beautiful Madhubani paintings on paper.