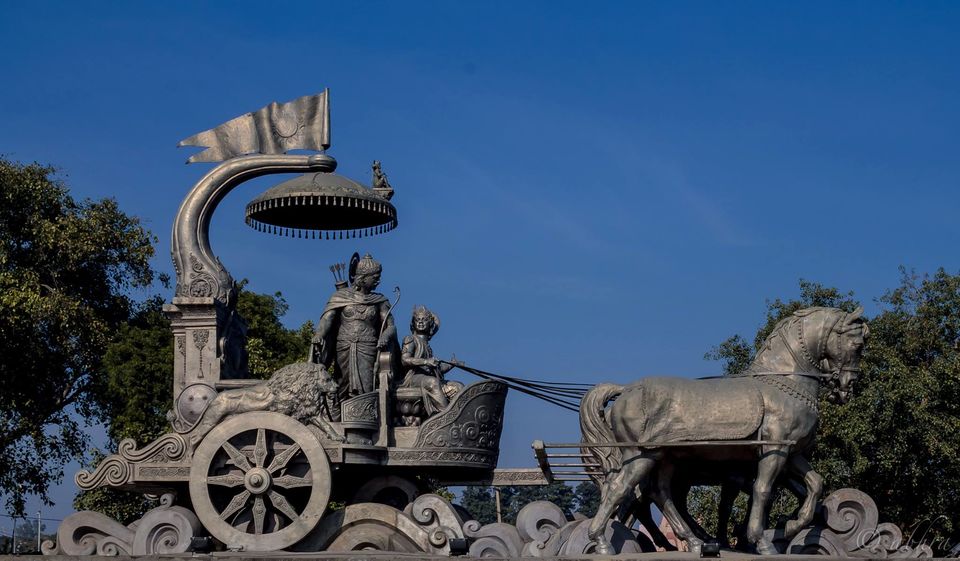 Its a trip from Rohtak, Haryana. One can strt from Delhi also and follow the Delhi - Chandigarh highway.
We started early at around 10am. With a decent driving speed, one can reach kurukshetra within 4 hours. But it took some more time for us as we tried to skip the toll tax - one near the village named Makdauli - it's a 6km stretch through the village to bypass the toll. Bdw, dont forget to have some food in the Dhabas placed around Karnal.. u will regret it, if u miss it. We actually had our lunch at Jhilmil non veg dhaba..and it was fantastic.
Finally reached Kurukshetra at 3 pm. After having some tea in the dharmasala , where we stayed, we just kept our belongings into the room and went to Jyotisar - the birthplace of Gita. There is nothing much to see, but a great banyan tree. according tohindu mythology, Krishna Gave his advice to Arjun there, just beneath the tree. U may spend 1-1.5 hrs there. But dnt try to watch the light n sound show. It's basically horrible!!
We then drove to Brahma Sarovar. There is a shiv temple within the sarovar - can be accessed through a bridge and as it was a full moon night, we had a great view of the mandir.
Next day we started at 11 am and visited Sri Krishna Museum first. Then drove off to Bhadrakali temple - one of the 51 pith and then to Sheikh Chilli Tomb. You can easily spend 1-2 hours there and can have a lot of pictures as it has a great architectural beatuty. Dont miss the view from the backyard of the tomb and the lash green valley (!!!).
At around 2 pm, have your lunch, and try to visit the Kalpana Chawla memorial planetarium. just look around the beautiifully organised science park, the scientific models were good, and the show is average !!The timing and the theme of the shows are variable.
We started from kurukshetra at around 5 pm, and if u have a little time in hand , try to bypass through Munak Village before Panipat. U can came across the Munak canal, from where the the main two canal frm Yamuna river starts, and u can also see the largest oil refinery of south east asia - Panipat oil Refinery.