Himachal Pradesh is a favourite trekking destination in India. Huge snow-covered peaks, beautiful valleys, gushing rivers, lush green meadows and crystal clear lakes, these are all the things that attract nature lovers and Himachal has plenty of these. But there is so much more to do here other than treks. Here is a list of things you can do in this beautiful Himalayan state instead of trekking.
Winter Sports
Himachal Pradesh receives plenty of snow during the winter months and that opens up the possibility of all winter sports. You can go for ice skating in Shimla; it has Asia's only natural ice skating ring. Solang Valley, is another centre for winter sports close to Manali, you can enjoy zorbing, skiing and snow scooter rides there.
Rafting
Beas River is famous for its turbulent flow and you can go rafting in it. In fact rafting in one of the favourite adventure activities in Kullu-Manali. You can also indulge in rafting in Shimla and Chamba but the best spots are in Kullu.
Igloo exprience
This probably is one experience you can only have in Himachal Pradesh in India. You can spend a night in an igloo, in the middle of snow-clad mountains and fulfill your childhood dream. A one night stay will cost you around ₹6000 per person. You can book you stay here
Mountain cycling
Renting a mountain bicycle and exploring places on your own is a new trending thing now. There are also people who do long cycling trips. Himachal Pradesh can provide a lot of opportunities for them. You can rent a cycle in Manali, Bir, Palampur, Shimla or Chail to explore these places on your own. If you are an adventure junkie looking for a challenge, you can do the Shimla-Kinnaur or Manali-Spiti circuit.
Paragliding
Himachal Pradesh hosted the Paragliding World Cup in 2015, so you can imagine the standard maintained while paragliding here. Bir is not only a perfect spot for paragliding but there are operators who maintain international standards for safety here. You can definitely say Himachal Pradesh is the paragliding capital of India.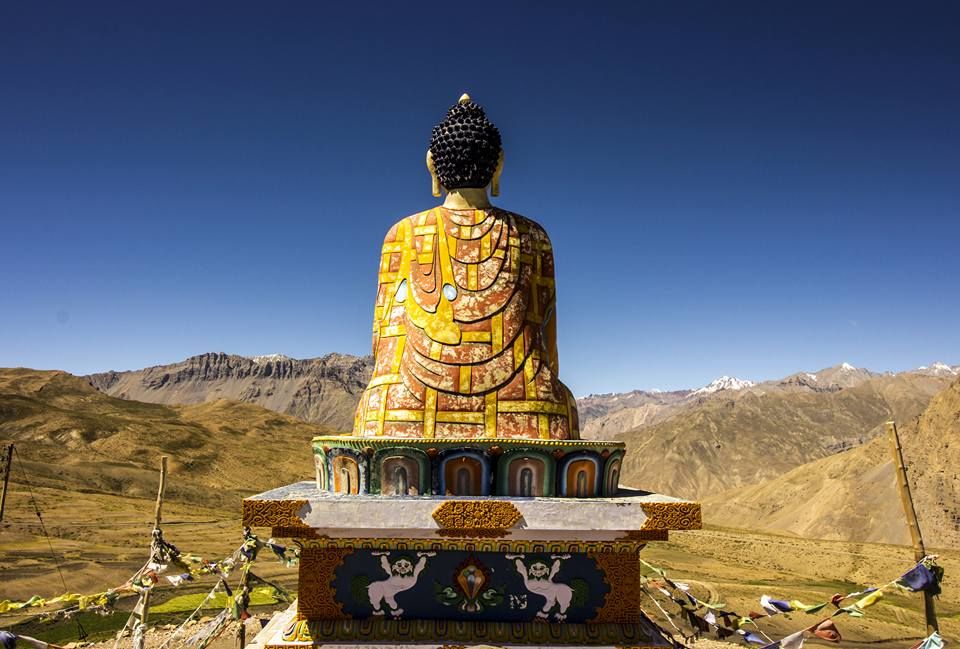 Explore Tibetan culture
Himachal is influenced by Tibetan culture, being the centre of an exiled Tibetan world. You can find a lot of Tibetan monasteries, markets and festivals all around the state, which is very colorful and eye-catching. Dharamshala and Spiti are two places to look forward to if you want to experience the best of Tibet.
Fishing tours
Rivers in Himachal are full of fishes and fishing tours are gaining a lot of popularity in the state. Himachal is known for providing the best trout fish to your plate but people are now even visiting places like Rohru, Barot, Tirthan and Kullu for fishing as a sport.
Mountain climbing
If you have a desire to go mountain climbing then Himachal Pradesh will not dissapoint you. There are peaks and regions which have enough for everyone; from beginners to experts. If you are a beginner at mountain climbing you can try your hand at Patalsu and Shitidhar peaks in Pir Panjal. If you are an expert you should try Deo Tibba and Hanuman Tibba.
Heli skiing
Home to many high passes and peaks, Himachal tempts a lot of adventure sports enthusiasts to come and ski. Jumping out of a chopper flying at 6,000 metre to a peak of almost the same height is a very unique experience you can only have here.
Visit Kasauli Brewery
You can visit Asia's oldest breweries in Himachal Pradesh. It is also one of the oldest operational breweries in the world. If you are a scotch enthusiast you would love a tour of this place. It remains open from 7 am to 7 pm every day.
Have a unique experience of your own from Himachal Pradesh? You could tell us by writing about it on Tripoto.
Also, check out Tripoto's YouTube channel for some amazing travel videos and inspiration!