When modern-day hipsters think of hotel stays, they look for something more than just bouncy beds, routine housekeeping and balconies looking out to a scenic view. They seek an experience closer to a local's life along with amenities that appeal to a creative mind. And if the theme is retro, bookings are made in a jiffy.
This is a list of some vacation stays that qualify for hipsterdom.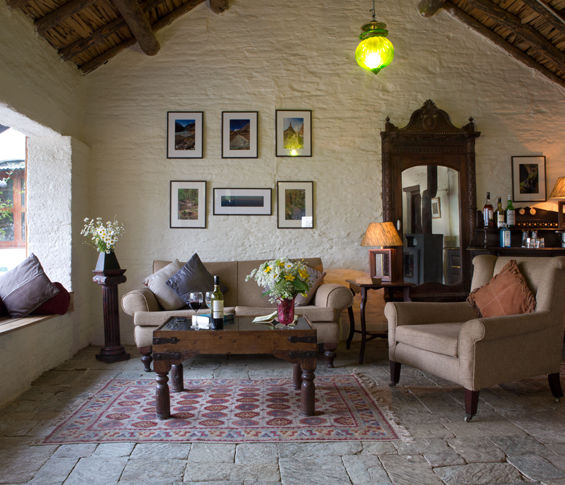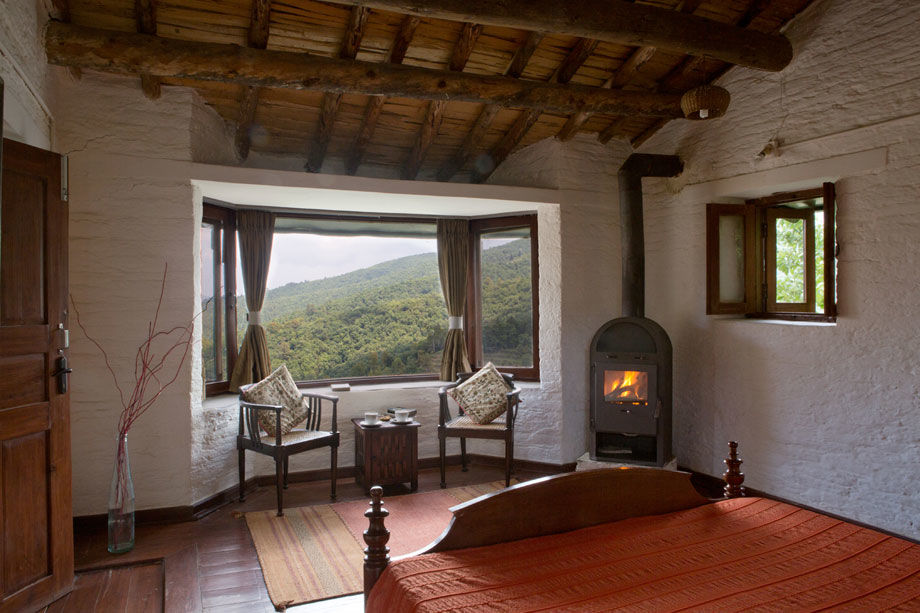 Sitla Estate is a beautiful 39 acre property surrounded by miles of lush green jungles, pine trees and orchards in the Kumaon region of the Himalayas. The dreamy 150-year-old house in the estate comes with a cosy kitchen, a library with a fireplace, a sprawling dining hall and stunning rooms and suites decorated in either a colonial or contemporary style.
What to do here: For lovers of the outdoor, the thick jungle around the estate is full of trekking trails. The charming property also has many apricot, plum and pear trees that are perfect for an afternoon siesta. Those who prefer staying indoors, there is a dart board, pool and TT tables and lots of board games to keep you busy.
Food: Dining at the Sitla Estate is a sinful pleasure for the senses. The chefs in the kitchen dole out innovative recipes such as chicken dosas, mulberry crumbles, freshly-baked muffins, oven fresh pizzas and pots of homemade jams, made with the goodness of homegrown fruits. There's never a dull day at Sitla Estate!
Get in touch: +919917506183, +91 9756560677 or here.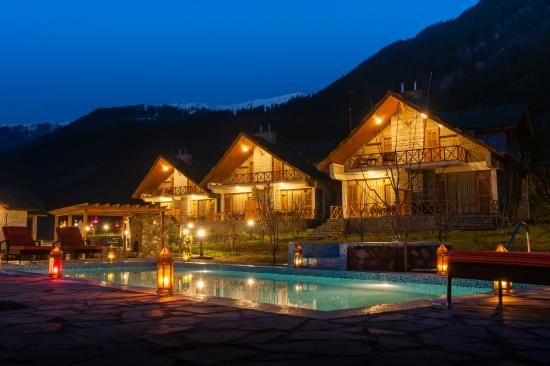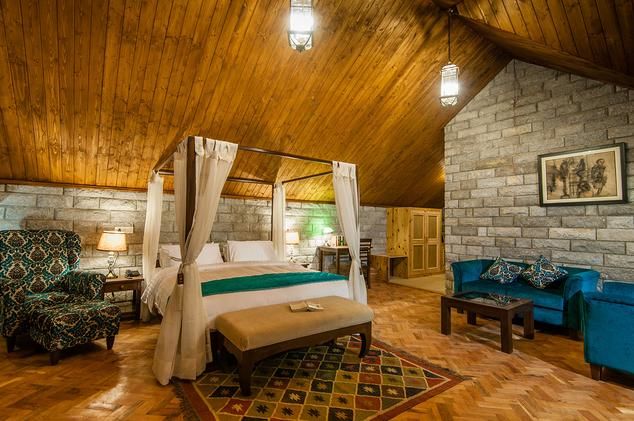 The magical La Ri Sa stands in the middle of seemingly nowhere in the beautiful district of Kullu. It is surrounded by mountains and the sound of the Beas River flowing nearby. This boutique hotel has stone and wooden cottages that smack in the middle of apple orchards and a garden that has vegetables, herbs and flowers growing in abundance.
What to do here: Inside La Ri Sa, you can laze around with a book from the well-stocked library or watch films at the mini-theatre. There is also the option of opening up a bottle of wine while spending hours relaxing in the jacuzzi. Those interested in art and culture can take a walk to a Russian artist's house nearby that has now been turned into a museum that displays his works. There was also various options for trekking, skiing, paragliding, fishing, rafting and kayaking for the more adventurous.
Food: La Ri Sa offers food and drinks. So start with a couple of freshly-mixed Whiskey Sours and Cosmopolitans and follow it up with a fulfilling meal. Choose from delicacies of the European, Oriental or Indian cuisine. Or even better, have the chef cook up some authentic dishes from the local Kullu cuisine.
Get in touch: +91 9459396967, +91 9816203042, +91 9167671035 or here.

3. 7 Pines, Kasauli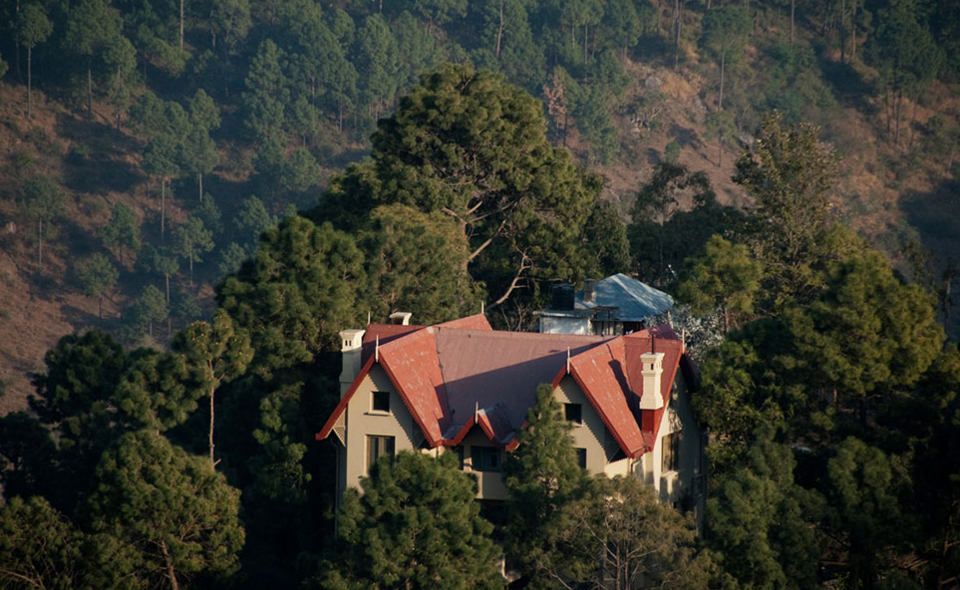 7 Pines is a country home located in the midst of the pine trees of the Kasauli Hills. The retreat has six luxury bedrooms all connected to a tastefully decorated living room and an elegant study. There is also a modern kitchen where the chef makes delicious meals according to the tastes of the guests.
What to do here: Pack a picnic and set off on the many walking trails in the pine forest. There are also several difficult treks that can be attempted here. Drive into the town of old Kasauli – just 15 minutes from the retreat – and explore the Kasauli Baptist Church, built according with a colonial architectural style. After, you can go see the Kuthar Palace, which looks pretty much the same 500 years after it was built.
Food: Prem, the chef, makes all kinds of meals to make your food fantasy come true. They are however, charged separately – vegetarian at Rs. 850 per person and non-vegetarian at Rs. 1,000 per person per meal.
Get in touch: +91 9650311884, +91 9650311885, or here.

4. Himalaica, Ramgarh, Nainital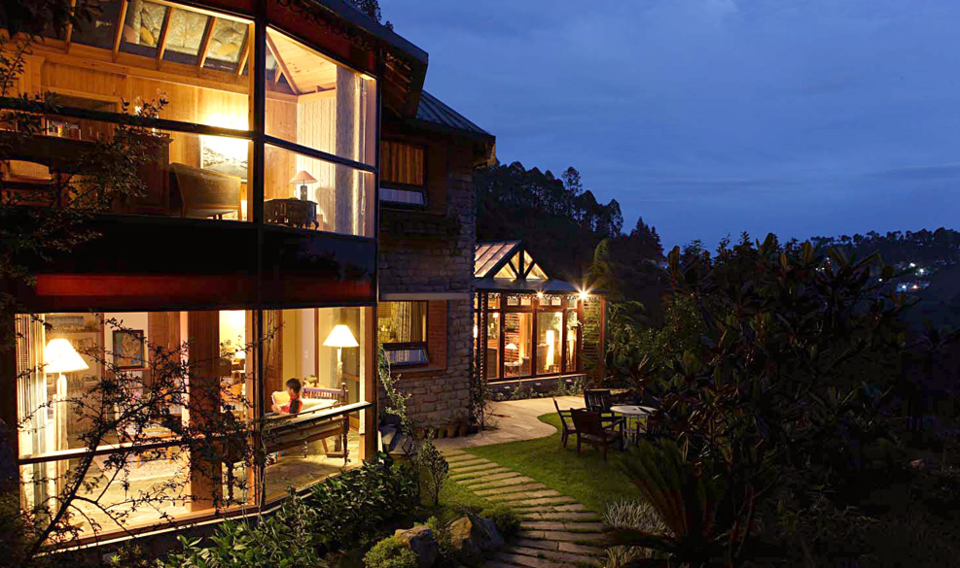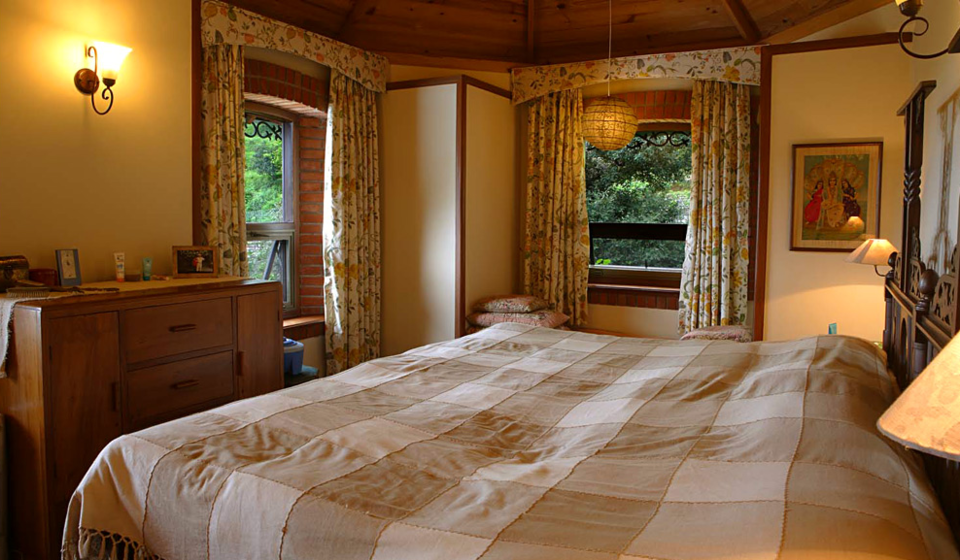 Himalaica is a homestay with character. Created painstakingly over 13 years by the owners, the "labour of love" as they call it is visible everywhere – in the beautifully abundant garden that leads up to the vacation home, the rich interiors of the house and the perfect pristine condition in which it is maintained. The best part, however, is that Himalaica is a well-functioning home, with friendly staff, well-behaved pets and attention to detail at all times.
What to do here: This vacation home is so close to nature that activities such as bird watching and forest walks are available right outside the doorstep. There are several short treks around as well that you can set off on with a food basket in hand. Inside the home there is a wide selection of movies to enjoy, a high powered music system to play your favourite tracks and a library of books to catch up on your reading!
Food: The caretaker at Himalaica cooks all sorts of vegetarian and non-vegetarian Indian fare for all three meals of the day. And interestingly community cooking is encouraged with all sorts of raw material always available in the kitchen.
Get in touch: 9811908996 or here.

5. Te Aroha, Dhanachuli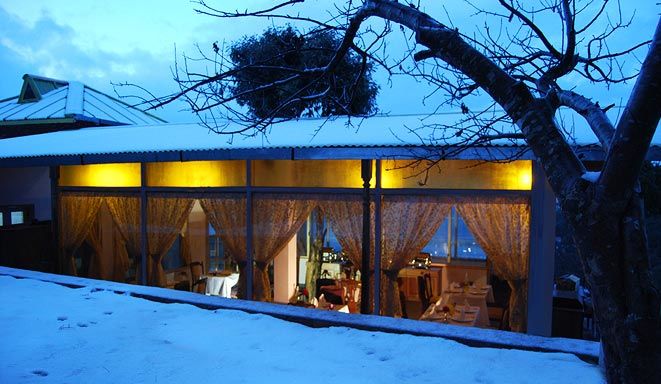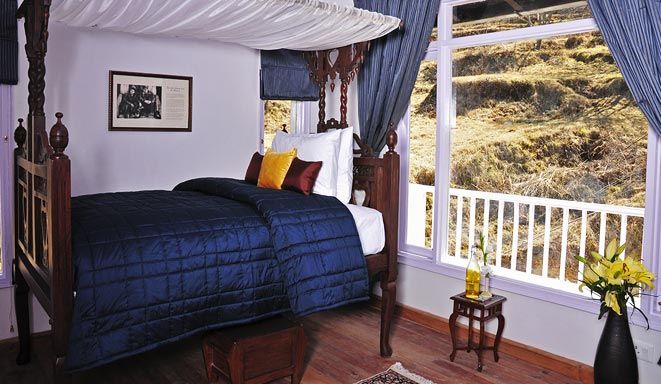 Te Aroha is a colonial-style summer house that was converted into a charming boutique luxury hotel. This property offers huge terraces, curated colonial furniture and huge glass windows that open out to breathtaking views of the landscape. If a balance of traditional surroundings and modern comforts is what you are looking for, then head to Te Aroha.
What to do here: The terrain and location of Te Aroha make it the perfect destination for those interested in bird watching. You can easily spot over 50 variety of birds – ranging from Jays, Warblers, Babblers to Orioles, Eagles and Flinches – on the beautiful oak and pine trees.
Food: Dining is available at the three restaurants inside the hotel or in your room. They offer Indian Continental and regional dishes and authentic Indian street food, all while looking at a beautiful view of the mountains. There is also a tea lounge, where you can sip on all kinds of brews.
Get in touch: +91 87550 80735, +91 87550 80737 or here.

6. Waltèrre, Dehradun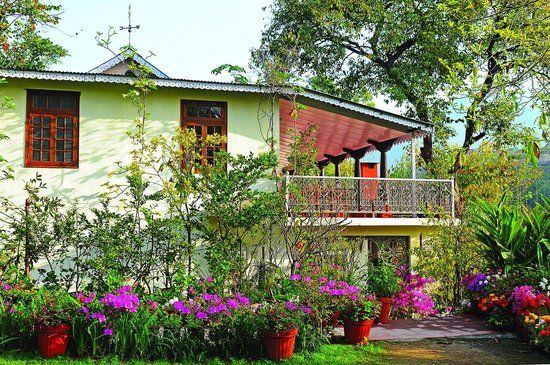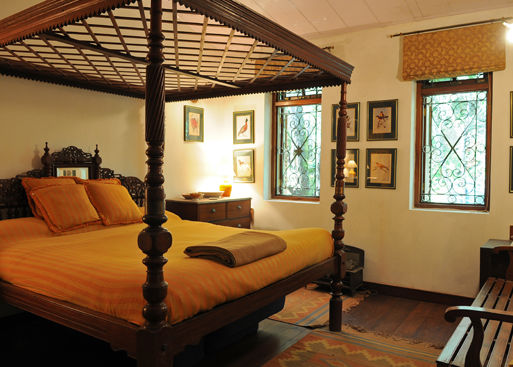 The Waltèrre Resort is a retreat villa with four luxurious bedrooms, decorated with a casual, stylish feel. The rooms have their own individual feel, though all of them have antique four-poster beds, stunning interiors and attached bathroom decorated with quaint period tiles.
What to do here: Luckily Waltèrre is owned by a publisher, so the library stocks books to suit all kinds of sensibilities. Pick up one of your choice and sprawl yourself in the fire-lit drawing room. To relax your body, take the services of the masseurs or learn yoga from the experts on board. The areas around the villa are also birding hotspots, where you can see as many as 360 species of the most elusive birds.
Food: The chefs at Waltèrre prepare meals using homegrown vegetables, local rice and herbs, so you are sure to get the freshest meal possible. You can choose from the selection of Western, Indian and Oriental recipes, all included in the room rates. The best part however, is not the delicious breakfast spread of juice, eggs, cheese and sausage, but that it is served hot whenever you want. So no worries! Wake up at 12!
Get in touch: +91 120 4222797, +91 9266519519 or here.

7. Seetalvan Orchard, Kotgarh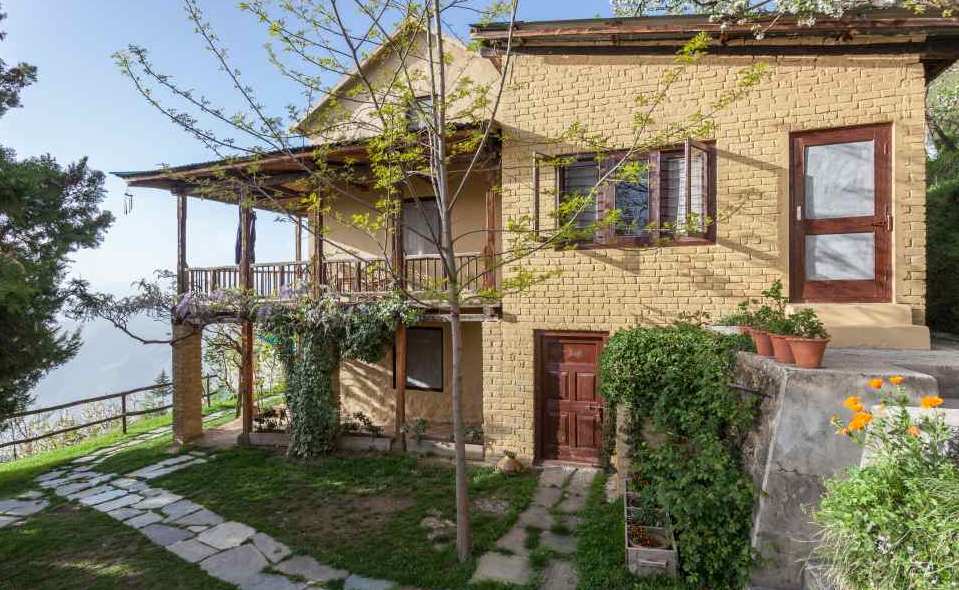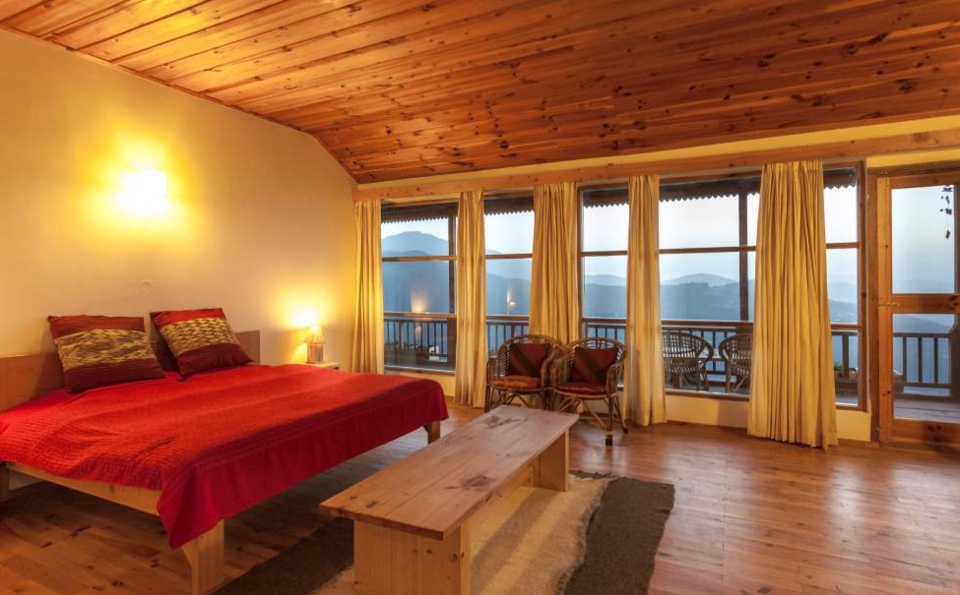 The Seetalvan Orchard is a quiet luxury resort in Narkanda, Kotgarh, nestled in an apple orchard surrounded by a dense layer of deodar forest. The cottages here are built in traditional Himachali architectural style with wood and stone and offer all modern facilities. All the rooms have their own personal balconies and offer astonishing views of the majestic western Himalayas.
What to do here: There's nothing better to do here than enjoy nature. Sit in the patio and look out at the apple orchards while sipping on a cup of hot tea. Soak in the sun while lazing around in a hammock, or simply go for a walk in the deodar forest.
Food: The staff at Seetalvan works hard to serve you the most homely, fresh food, which is created through locally-sourced ingredients from their farms. Ask for the apple wood-fired pizza here when you're in the mood for a treat!
Get in touch: 098055 94069 or here.

8. Dalar Village Homestay, Binsar Wildlife Sanctuary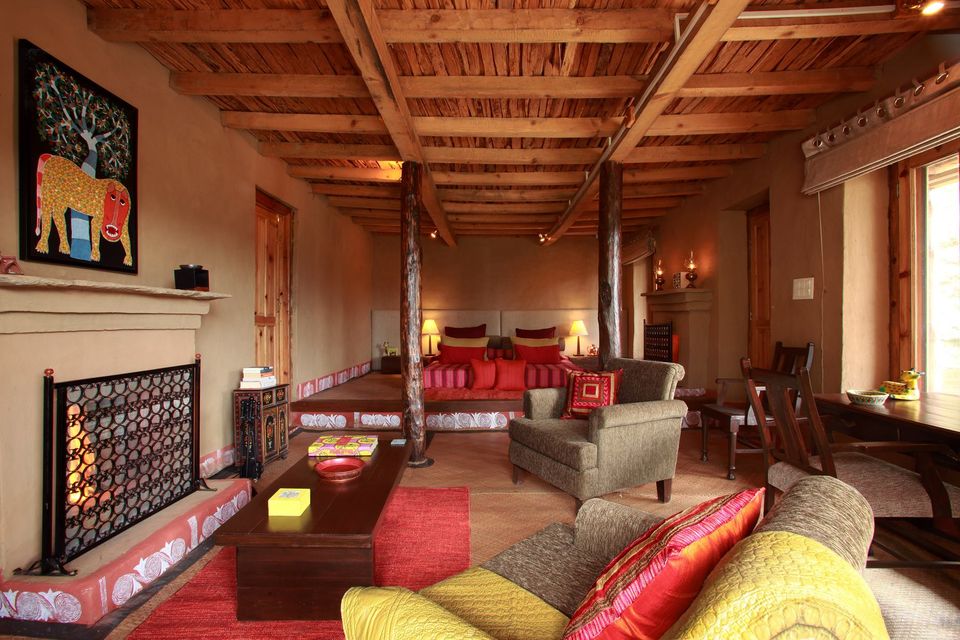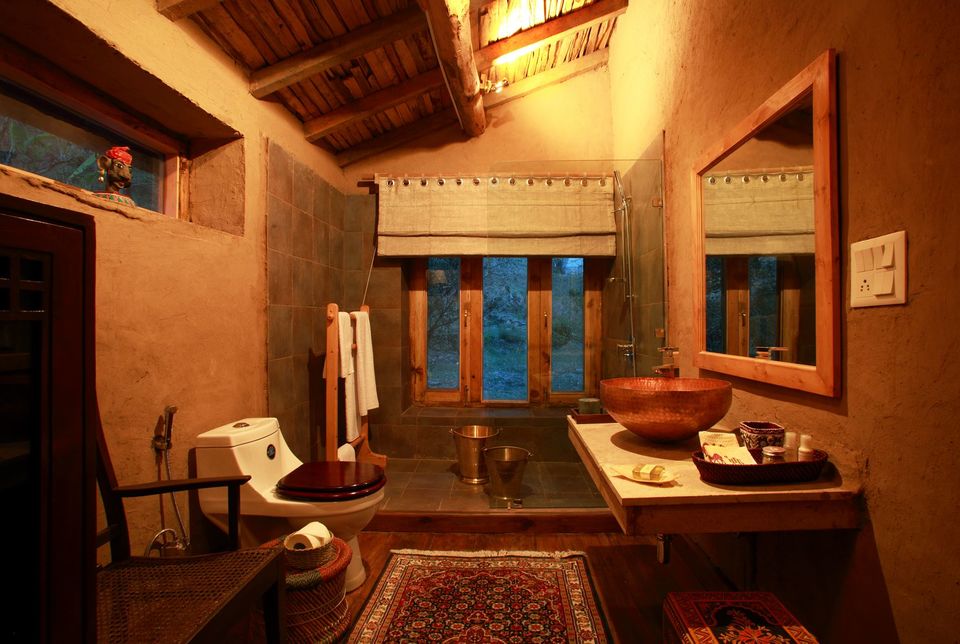 Waking up smack in the middle of nature has a charm that is difficult to beat. And Dalar Village Homestay promises that and much more. The two super-spacious room home is located in one of five villages in the Binsar Wildlife Sanctuary. The rooms are done up in an authentic village style with modern comforts to give you the best of both worlds.
What to do here: Walk down to the Dalar Village, where you are bound to meet locals from the 11 homes that are settled here. You will see residents grooming the ponies, chopping firewood or just sitting around enjoying the fresh air and sun. Take this chance to get to know them and their way of life.
Food: The homestay offers local Kumaoni meals, which is served in the rooms or around a fire in the evenings.
Get in touch: +91 97111 70338 or here.
(A big thank you to Sriparna for helping me discover these while I was planning my honeymoon.)
Have you stayed at any of these or similar hotels? Did they enhance your experience? Tell me in the comment section below.
Frequent Searches Leading To This Page:-
summer retreats in south india, best places to visit in summer in south india with family