There are some tourist places that can't be missed - the Eiffel Tower in Paris, the Taj Mahal in Agra, Goa in December. These are the kinds of places people usually go to. Then there are places to see that are under the radar, often known only to locals. With the holiday season upon us, most of us are getting ready to embark on our next adventure. So, whether you are looking to fan your curiosity about other cultures, have an affinity for learning about history, or are simply looking to disconnect, here is a list of some amazing luxury resorts tucked away in pristine corners of the country.
Under the yellow rooftops of this summer home, one can witness the clouds descend on the mountains and watch the most stunning Himalayan sunsets you will ever witness.
Te Aroha (a place of love), named after Mount Te Aroha in New Zealand, is a boutique resort on the hills of Dhanachuli, an unfrequented village that seduces you with its laid back pace of life.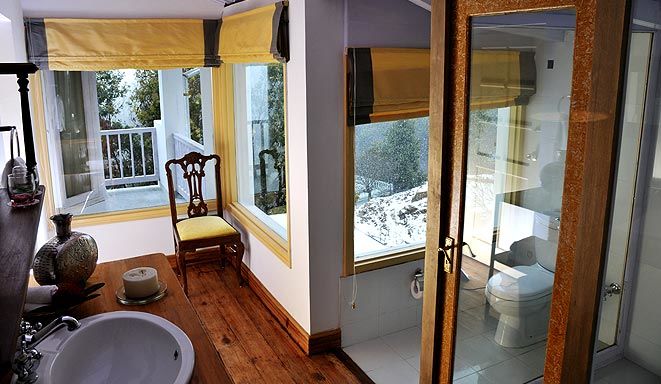 Antique beds and armchairs, a small library with a wide range of books, landscaped gardens with birdhouses and carved old wooden doors are the best features of this resort. The spacious lobby at Te Aroha with its fireplace, piano and a cozy poker room transports you to the colonial era. The sunny restaurant - a glasshouse with two trees in the middle - looks cheerful. The rooms and suites with large glass panels are alluring and overlook the mountains that will mesmerize you.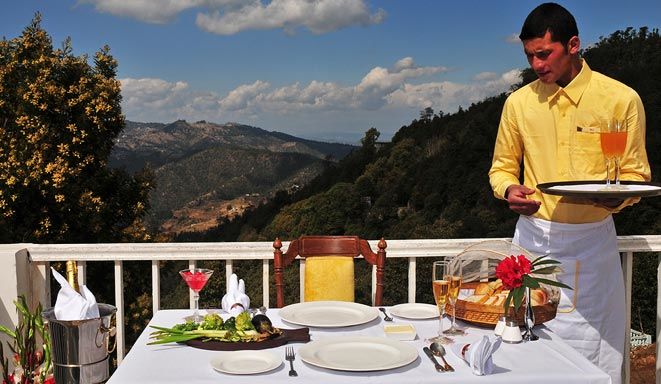 Room tariff: Room prices range from Rs 6,500 to Rs 13,000 for two.
When to go: This is a year-round destination. The best mountain views, however, can be enjoyed in winter.
How to reach: Take the Kathgodam Shatabdi from Delhi to Kathgodam, from where Te Aroha is two hours by car. By road, Dhanachuli is 7-8 hours from Delhi.
360° Leti, Bageshwar, Uttarakhand
Imagine living in a glass cottage overlooking a cliff in the Himalayas. That is 360° Leti for you.
The resort has only four cottages perched on a ridge and overlooking perennially snow-capped Himalayan peaks. The cottages are fronted on two sides by glass so that you can witness the sun rise against a Himalayan backdrop. Each cottage has been built with local craftsmanship in mind, using local techniques and dry stone walls. There is a quaint dining room, with an adjoining sitting room with a cozy fireplace. The resident chef has an array of dishes and the staff are friendly and always there to assist.

There is a multitude to do and see around Leti from day walks to local villages. You could also just laze in the planter's chairs and enjoy the sunshine or plan a picnic near the river. Yoga and meditation sessions can be arranged on request as well.
360° Leti is a place where you can take time to reflect and allow the peace to work its magic on you.
Room tariff: 3 nights and 4 days single occupancy per person for approximately Rs 2.23 lakh (inclusive of all meals, drinks, taxes and activities)
When to go: 360° Leti is open from 1 October to 31 May. Closing date may change according to weather.
How to reach: From Delhi, the Kumaon Region is accessed by overnight train (7hrs) to Kathgodam followed by a 3.5 hours drive to Almora district. Alternatively, there is the option of a day train available (5 1/2 hours) to Kathgodam, followed by a 3.5 hours drive to Almora district.
The unique stuff: The resort purchases most of its food, materials and general supplies locally. For every dollar spent by its guests, as much as 45 cents remains in the local economy supporting local crafts and occupations.


The Blackbuck Lodge, Velavadar National Park, Gujarat
The Blackbuck Lodge sits pretty on the banks of the river that runs through Velavadar Blackbuck National Park. This earthy lodge greets its guests with its mud-coloured walls, expansive grasslands and utter serenity.
The reception has large windows, wooden ceiling and comfortable sofas. The white walls of these cottages have been decorated with pictures of blackbuck, the animal that the national park protects and gives Blackbuck Lodge Velavadar its name. The place has 14 villas, each with an open air shower, and a restaurant that offers the local Kathiawadi cuisine.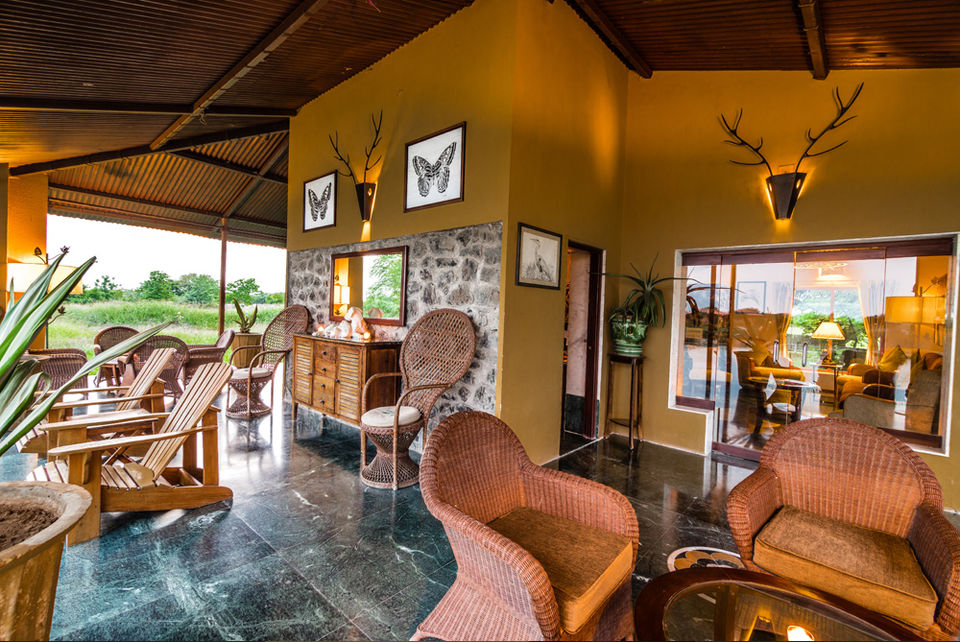 The Blackbuck Lodge is an ideal getaway for bird watchers and wild life enthusiasts. History buffs can also explore the Saurashtra country-side. From Blackbuck Lodge Velavadar, you could go for a Jeep safari in Velavadar National Park. These safaris are available exclusively for couples or for four, six or 10 people.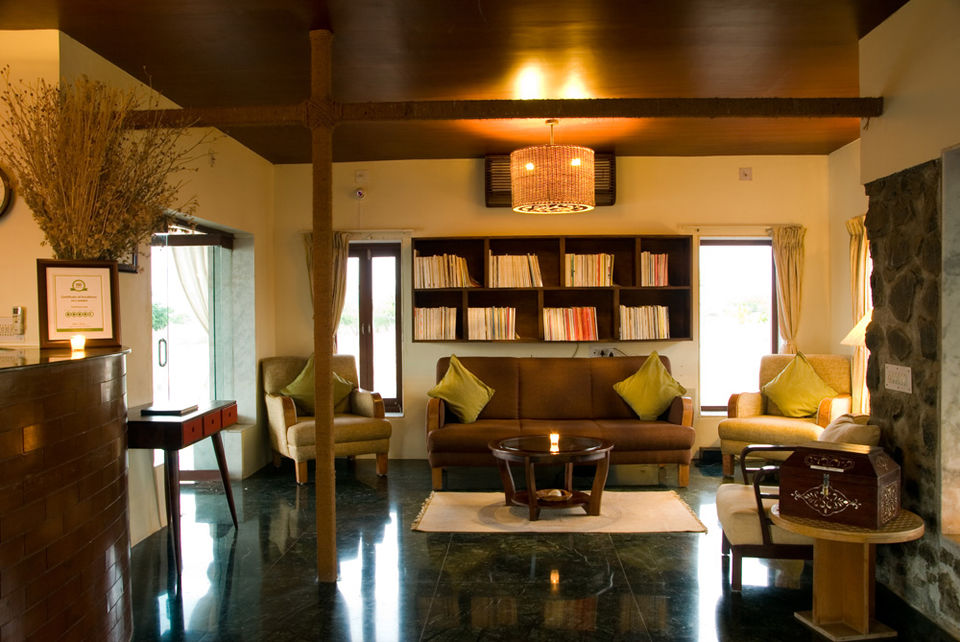 Room tariff: Room price per person is Rs 5,090 per night.
When to go: The best time to visit this place is from July through October. You will not be allowed to enter the protected area during the rainy season, but you can still enjoy the monsoons at the resort. The park is open from 6 am to 6 pm.
How to reach: The nearest airport is in Bhavnagar, which is a 56 km-drive from the property.
Though Bhavnagar has rail connectivity to many cities and towns, Ahmedabad is a better option to choose as a rail transit point. Trains to Ahmedabad are available from most of the major Indian towns and cities.
Serenity at Kaman Estate, Vashon, Kerala
Surrounded by expansive rubber estates and tropical spice gardens, this 1920s estate bungalow is just the place for people who fiercely guard their privacy. The villa has six rooms, all with stone polished floors and antique objects and art.
Sitting on a small hilltop, the views over the mountains of the Western Ghats are breathtaking and the surrounding plantation and the resident elephant create a tropical feel.
It can be hired in its entirety as a fully-staffed private villa and would make a great destination for a big group. There are undisturbed, guided walks through the plantations and an ayurvedic spa on site.
This estate house is always peaceful and there's little to disturb you except for the sounds of nature.
Room tariff: Prices range from Rs 10,000 to Rs 20,000 per night for deluxe rooms.
When to go: Good to visit throughout the year.
How to reach: Serenity is a 2-hour drive from Cochin, which is connected by both air and rail.
Neeralaya, Raison, Himachal Pradesh
Built on the banks of the Beas, Neeralaya is located in the village of Raison, just off the main Kullu-Manali road.
The resort is dotted with three mountain villas, a thatched dining shack, a breakfast gazebo, a kitchen garden and vast landscaped gardens that offer panoramic views of the surrounding mountains.
Each of the villas – made from recycled timber, slate and stone - has bedrooms, a living and dining area, a kitchen and plenty of outdoor seating options. Neeralaya is a true example of Western-Himalayan timber-bonded architecture and the villas act as an ideal base to venture out towards Rohtang, Spiti and Ladakh.
Room tariff: Prices range from Rs 8,000 to Rs 15,000 per night.
When to go: December end to January is the time when you can enjoy snowfall and the scenic white views of the surrounding mountains. Summer steps in from March but the weather is still pleasant. This is also the time when the region's flora is in full bloom lending it the most ethereal natural beauty.
How to reach: There are direct flights from Delhi to Bhunter airport in Kullu. Neeralaya is located 25 km away from the airport, and pick-ups can be arranged. The nearest railway station is Chandigarh, from where it takes approximately 8 hours to Neeralaya. From Delhi, there are overnight Volvo buses that leave Delhi in the evening around 6 pm and reach Raison(Kullu) at 8 am the following morning.