We have always been taught that happiness increases manifold if you share it with others. When I look back now, all the clichéd teachings of our mothers came true in the way of birthday parties, get-togethers, sharing a bottle of beer and a plate of those melt-in-your-mouth kebabs. In due course of time, we also realised that travelling with someone does give you a different kind happiness. In all our realisations and the manifold happiness that we lap up, most of us tend to forget the person who, in the first place, taught us to create a wealth of happiness all through our lives – mothers. Almost all our happy pictures of travelling with friends, colleagues, girlfriends, boyfriends and sometimes strangers find their way to the social media but 'mother' misses out on almost all of these. I am not saying we don't love them, but she somehow doesn't feature in our itineraries and think about it, we all have reasons that probably can be rebutted by a school kid.
I have travelled with my mother, but it has always been in the company of someone – close friends, relatives and even my father. Well my father doesn't complain and goes by wherever you take him and whatever you feed him. All in all, a no-frills guy. Since he is extra-sweet, my mother takes immense care of his likings and so she is always preoccupied with these thoughts. We do have fun nonetheless. However, I had always wanted to see my mother without the worries in the world and just be herself in the place she travels too. It took a long time coming, but I finally took her on a trip alone.
This blog entry is about her – what I noticed about her, her ways, about her intricate joys, concerns, sadness and wishes. What I will describe here is my mother and may be you'll find some traits that match yours.
Before delving into the trip let me just give you a brief history of my mother so that you can have a faint understanding of what kind of a person she is. Rich, poor, healthy, weak, literate, illiterate, all mothers have made sacrifices. Born to a set of illiterate parents, my grandmother made sure that my mother at least had basic education. Charity, which she picked up from her mother, came naturally to her. From money to undergarments, she would steal all from her house to gift them to her poorer classmates. She fell in love with my dad and married before completing her graduation, against the wishes of the families. She wanted her kids to study in English-medium schools and sent her son to live at a hostel at the age of 2.5 years. I can only fathom the amount of pain she must have gone through for this. After 2-3 years she shifted to the nearby town so that we could live together. Taught us and taught us hard – about values, about the importance of education, about love and about compassion. When most of my neighbours kept their children from playing with the underprivileged kids or the ones who smoked or drank, my mother would let us.
She told us that no one can force anything against our will and there is goodness even in the worst of people. She never forced us into religion, nor put restrictions on our choice of food or drinks. In a country which has polarised views on the food on your plate, the religion of your lover and someone's right to speech, my mother had already passed the 'coolest' level in giving us complete freedom of choice. As we grew up, she began to understand our ways and started closing the 'generation gap'. I rarely lie to her, I feel no need to because she makes an effort to understand. She listens closely, she is as good a student as she was a teacher.
It's 3 am and she is all ready. I laze around a bit, take a short bath and throw everything into the car. A little stool is placed on the floor in front of the front passenger seat as she finds it difficult to hang her feet and my Thar has high seats. It's 4 am now and off we drive towards Chandigarh. Drove non-stop on clear roads and reached Chandigarh in 2.5 hours flat. A break here and in another 7.5 hours we would reach Jibhi.
Two things I noted during this drive. One, my car is not a comfortable one. It's a proper off-roading 4X4 with stiff suspensions. My mother didn't complain, nor did she make a fuss about regular breaks. She was too busy enjoying the view and excited to reach Jibhi. Second, she doesn't freak out. The road near Sundernagar was under construction and there was a long line of cars. A local offered us to follow him through village roads. We were 5 cars and by the end of it only 3 completed the journey to the other side. The road was narrow and our cars were precariously positioned on the edge. She didn't break a sweat.
With the river on our side, my mother couldn't care less about the music. She turned it off, rolled down the windows and just put her hand out. She never asked how long till we reach. Got a room in a guest house on the first floor. It could only be reached by climbing 5-6 steps of a 60 degree wooden stairset. She didn't complain, not even with her knee problem. She was too happy to live in a house built of wood and stone. We enjoyed the afternoon in the little garden area of the guest house where things are allowed to grow and bloom. She kept on describing the beauty of the mountains, the pine trees and the brewing hot tea. She sat silently for a long time. I let her be, I could see who I took up my love for solitude from. For I was, the reflection of my mother.
A new day dawns and I decided to take my mother for a hike. For a woman with knee issues, she is reasonably fit. I gave her a walking stick made out of a tree branch and we decided to hike to a small waterfall. Over wooden bridges underneath which clear streams flow, she kept her pace and we reached in no time. We sat there for an hour just watching the waterfall and the surrounding flora. There was no one around and the only sounds we could hear were of the waterfall and of the rustling of leaves.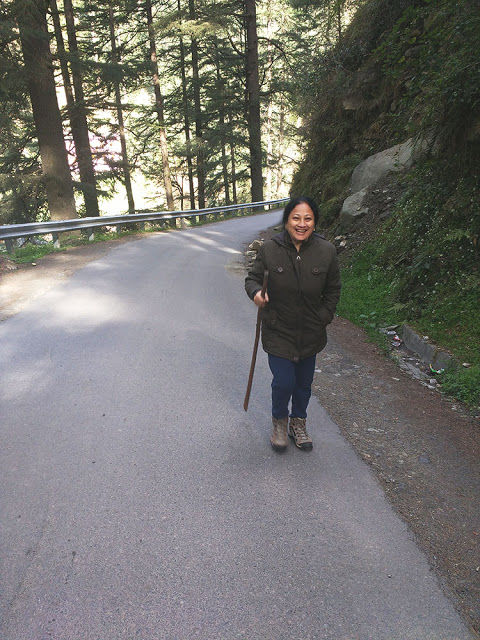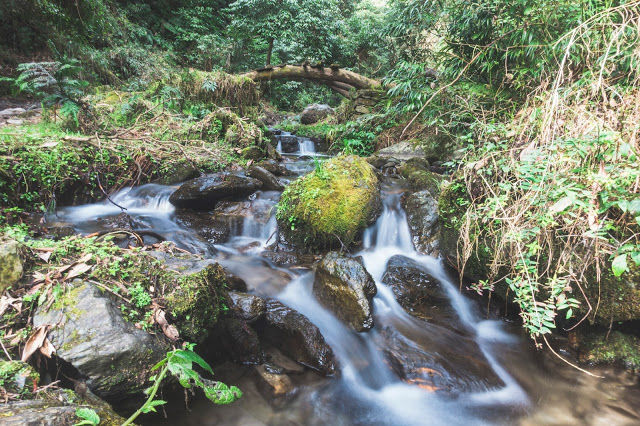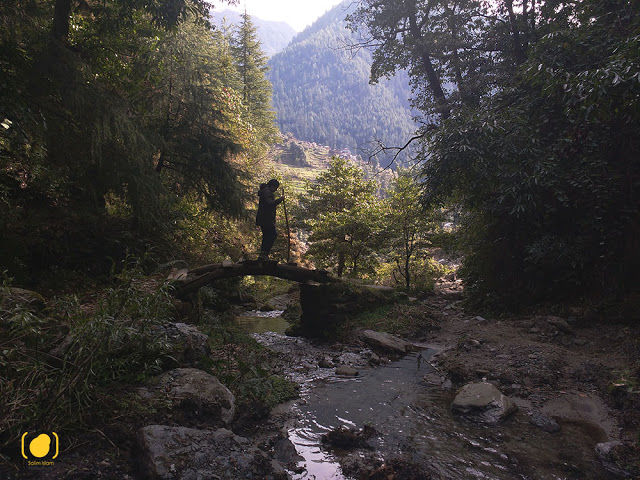 We went back to the guest house and had an amazing lunch loaded with barbecue trout fish and chicken. Well, the son of the owner made sure that my mother got fish for lunch. He went all the way to the Gushaini, which is around 17 kilometres one way, to get them. A little bonfire in the chilly evening, dinner and we called it a night.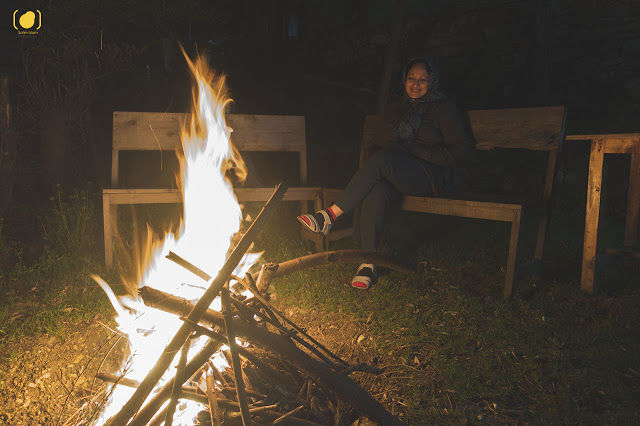 She was up and about way before me, chatting with the caretakers and sipping on her tea. Out of the blue she asked me, "Weren't you supposed to help out a village school in the mountains? Is it coming along? I will help you out too." I knew why she asked me that. She had been talking to the boy who bought us tea, about why he left school. She always looks at people thinking how a mother would feel about her kid working at such an age, about him not going to school.
Today we were to take some really bad roads passing through Bahu, Gada Gushaini, right upto Chach Gallu. Rattling on dusty roads, we made this discomforting but beautiful journey. We would stop by the river side to bite into an apple or just sit and wonder. Passed by villages where farmers tilled their lands and kids played on stretches of plain land. The remote village of Gada Gushaini is a bustling village. Though not as well connected as Jibhi, it definitely had more people living in it. Chach Gallu was the highest point and acted as a pass connecting two valleys. The wind did sweep us off our feet, quite literally. We gave lift to a drunkard by mistake and don't even ask how my mother gave him looks. He just shut up all the way. I followed suit.
On our way back, now confident of her hiking ability, I thought we'd hike up to the temple in Baloo. Around 3 kilometres from Bahu. The villagers told me that I could probably take my car all the way upto the temple. I had no idea how narrow the road was. A kilometre into it, my tyre was just gliding 5 inches from the edge. She was silent and didn't protest. At one point, even I was worried. We finally managed to park the car just 400 metres from the temple. Oh what a lovely setting it was in. Surrounded by tall pine trees, the temple sat on a beautiful green pasture. My mother actually hiked around the area all on her own, while I clicked some photos.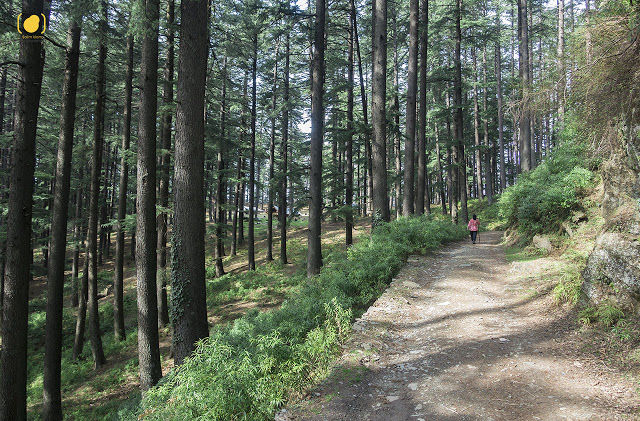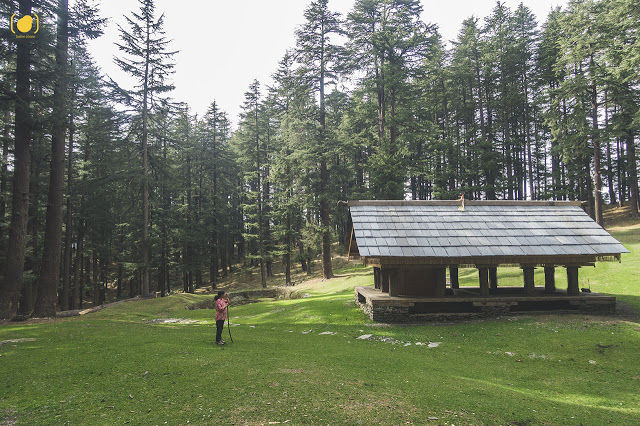 A family of three had hiked up to the temple and since they didn't care enough for the "attire" they wore, they were left without energy to hike back. Seeing our car, they got excited and asked for a lift. I warned them that it's a dangerous road ahead and they might be scared. They hopped in anyway. As we began to descend, even through the rattle of my Thar, I could hear their heavy breathing. About 5 minutes later they requested me to stop and let them down and they would walk the remaining distance. My mother and I burst out in laughter. When we safely descended, my mother asked me to stop and made me promise never to take my car on roads that are meant for hiking. She told me she was afraid but she didn't panic because she didn't want to throttle my confidence. How can you not like this woman!
The next day, we did nothing, went nowhere. We passed our time lying on hammocks, sitting by the river, playing ludo and nibbling on some lovely snacks. My mother was looking out towards the distant mountains as the last sun rays were hitting it. I knew that she was thinking something but I let her be, as always. It's not always that my mother is at peace. We said our goodbyes the next day and headed to Narkanda though the Chach Gallu route. The route, though scenic, was literally back breaking. Why didn't we take the easier path through Jalori pass? Well, just before reaching the pass, the road was snowed under.
I was playing some music and she reached to turn it off, like she had done when we were driving into Jibhi. She said, "The mountains have their own song, let's listen to that." Through small hamlets we drove, witnessing farmes and cherry blossoms, wooden fences and woollen hats, rivulets and kitchen gardens. We stayed at a small inn-cum-homestay in Narkanda. Though beautiful and quiet, my mother's mind always travelled back to the village of Jibhi. Outside the wind was chilly and we walked around the apple orchards for a while. "Why Jibhi," I asked. "People are sweeter there," she answered. I then realised my mother always had this undying love for humble people, people with a smile, a soft laughter and innocence in the eyes.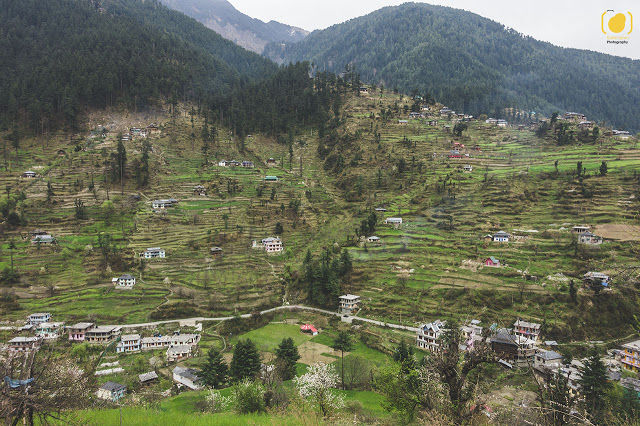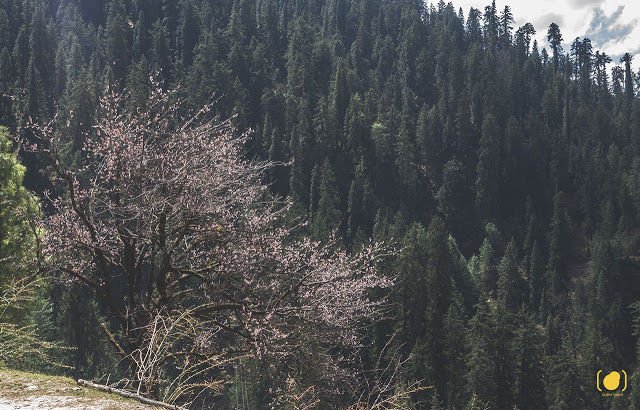 While making our way back to Delhi from Narkanda the following day, I asked my mother what was she thinking looking at the mountains in Jibhi. She thoughtfully said, "When I go back home, I always forget how much peace the mountains give me. We should take a holiday often." As I had mentioned, 'I am a reflection of my mother'.