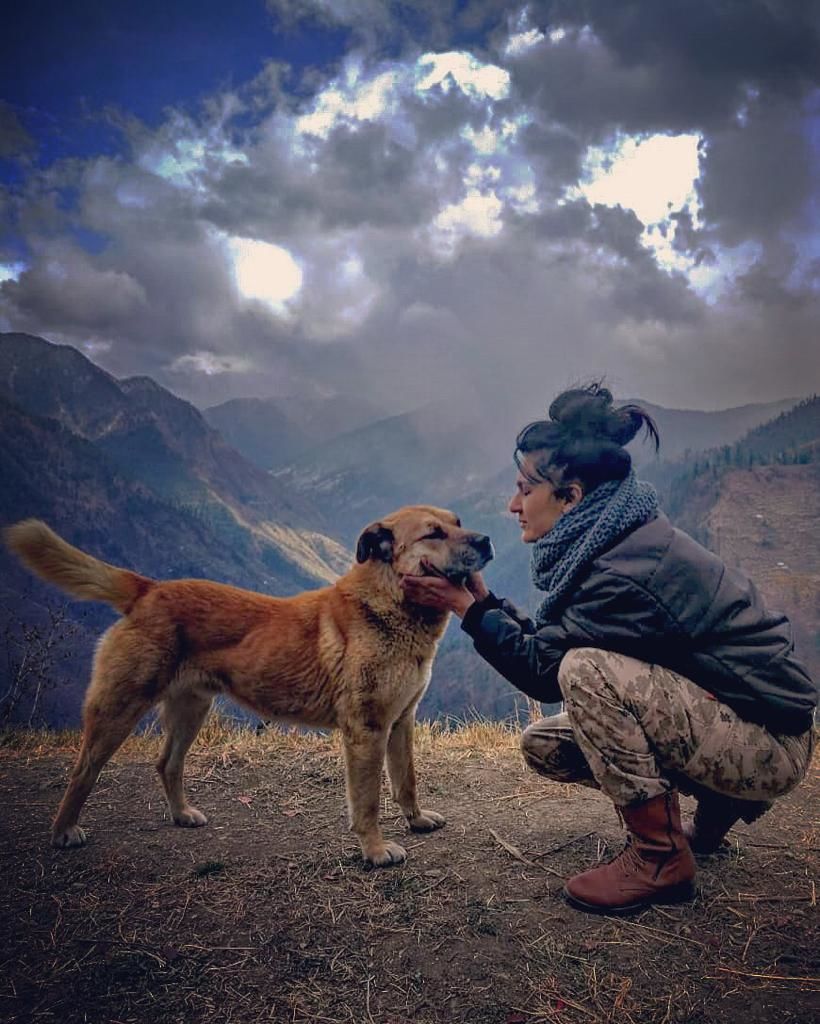 While talking to Soni, a resident of the village Baandal, i learnt that Tirthan ( that she called Tirth) is far behind the lofty mountains as she pointed across towards the dark cloud kissed magnificent snowy peaks! A tad bit confused, i asked her, aren't we in Tirthan… I mean isn't this village in Tirthan to which she replied " Ye Tirth ke aas pass ka ilaaka hai, asli Tirthan toh wahaan hai, baraf waale pahaadon mein"! ( We are just the neighbors!)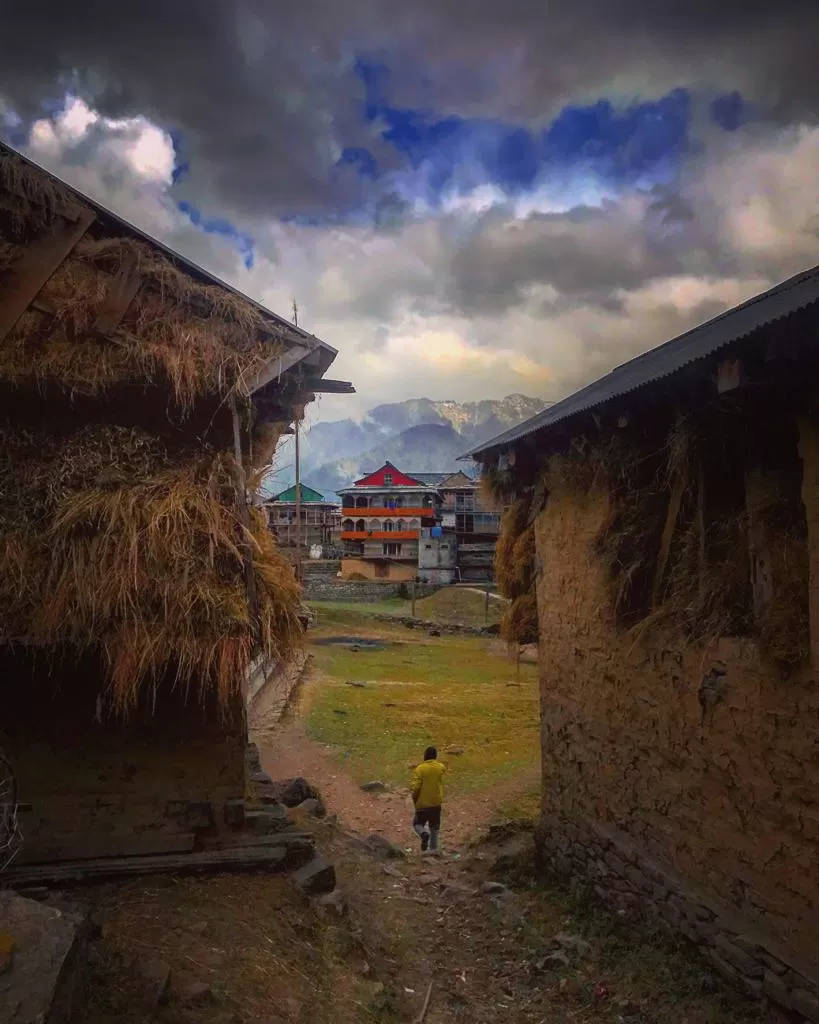 So Well! I'm still not sure which all places constitute the Valley but going by all the blog posts on Tirthan and since Wiki Links doesn't share much about the valley, i shall claim to have done a tinyyy bit of Tirthan! The valley, located in the Kullu district, gets its name from the river Tirthan that winds on all the way from the glacial springs of Hanskund Peak in the Great Himalayan National Park that further lies in parts of Parvati, Sainj and Tirthan Valley.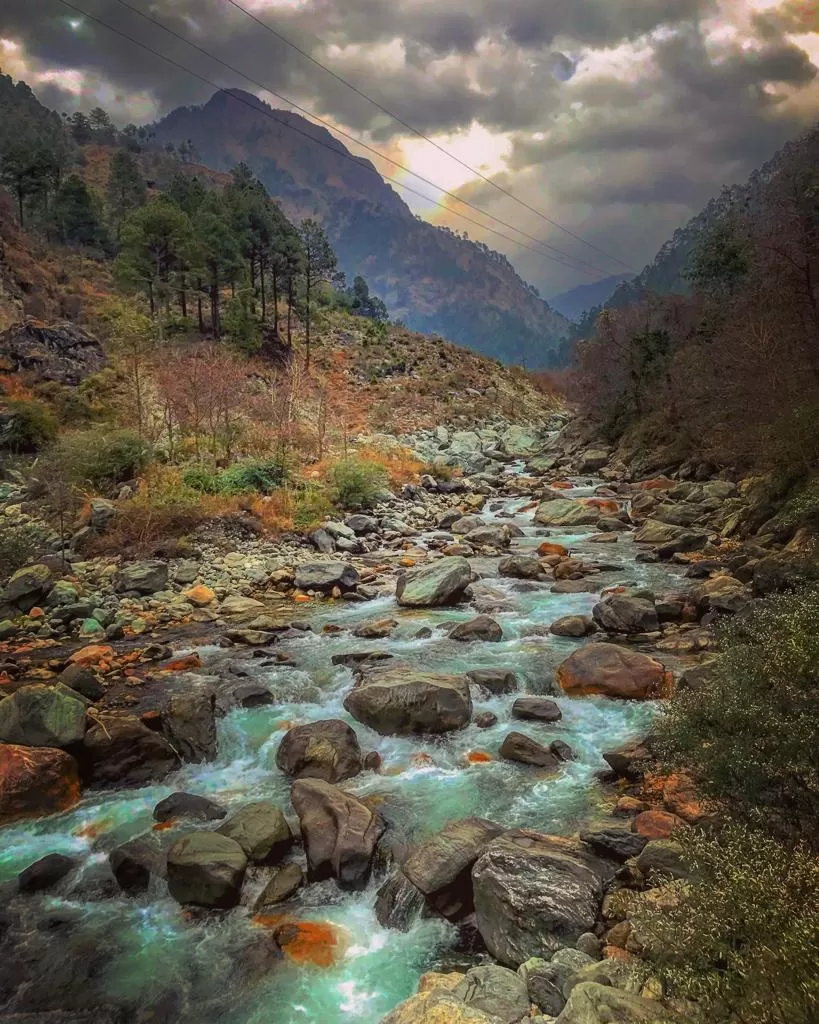 After spending a day and a half at Jibhi, we decided to stay put at Banjaar and explore Tirthan. A point to note here would be, Banjaar is a crowded town with not much to see but falls mid way between Jibhi and Tirthan. So if you don't have enough time on your hands like us( read only a day or two to wander around), you might as well book a stay in Tirthan, preferably at Gushaini or Nagini or even high up at Sarchi! Most of the villages in the valley no matter how remotely located they are have home stays readily available . Its raining resorts and camps in the Valley, a sight not so pleasant yet that works well for the local hardworking villagers but if only they along with the responsible tourists don't let it affect the surroundings!
Well so after dumping our bags at The Blue Sheep BnB at Banjaar, we decided to drive up to Gushaini. It was late afternoon already and even though we wanted to hike around, the weather with dark gloomy clouds didn't really approve of our plans. The drive up to Gushaini was breathtaking. The narrow road, traversed along the Tirthan river that gushed with icy cold pure blue water. Tiny villages dotted the mountains around and the clouds played hide and seek in the backdrop. While a drive up to Pekhri and further up to Rangthar seemed tempting, but we decided to just sit by the river and let the dogs swim around near Pali.. Back in Bhutan, Dasher and Haachu lived an unleashed life, going for their daily dips in the river Haachu, and this was a perfect chance for them to revisit those blissful bygone happy times they spent (two years) in the lap of the Himalayas!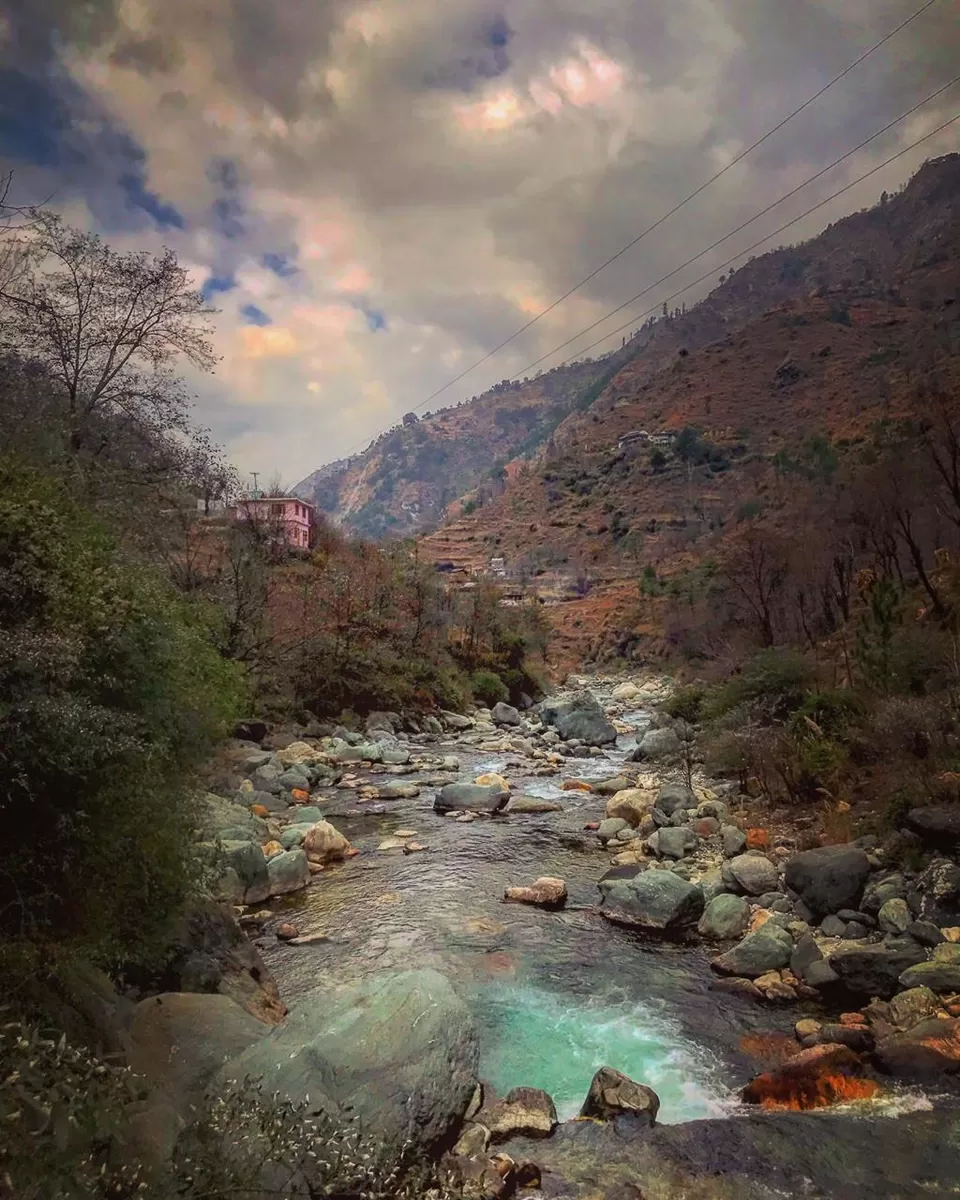 Later that evening we played with Oreo( the blue sheep pet) and shared some mountain stories with Leena over a drink for she too was spending the weekend at Blue Sheep! While talking we realized, that though i spent two years in the Himalayas in a foreign land and she in our own Himachal, but the stories revolved around the same warmth shown both by the natives and the mountains of course ????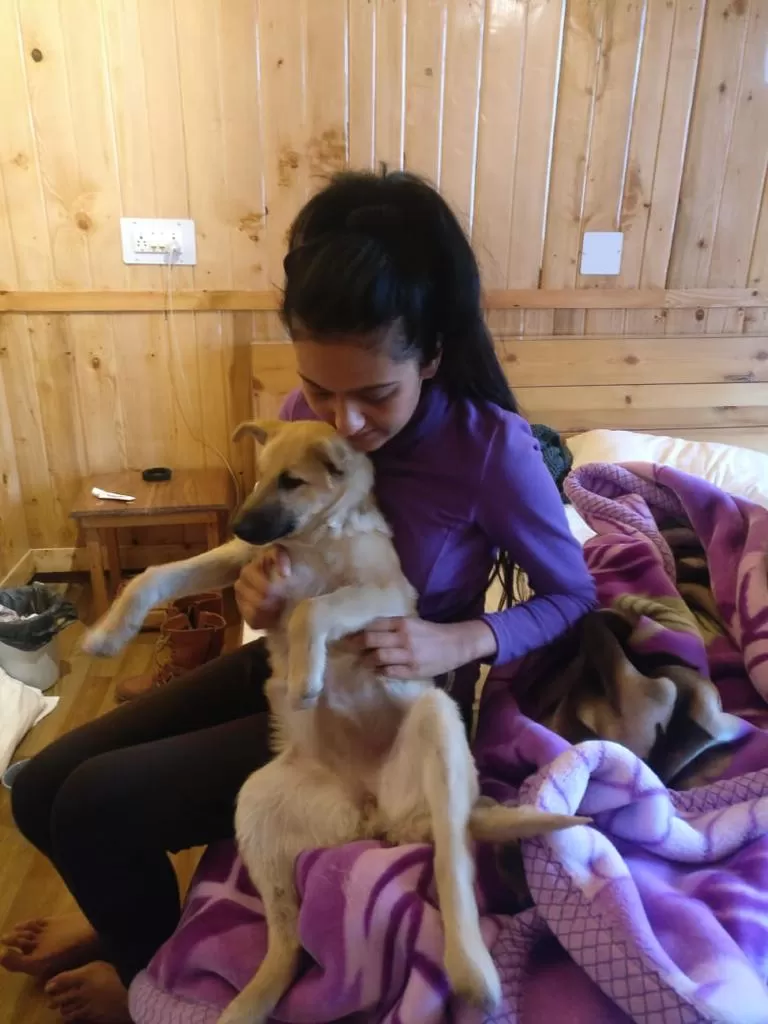 You can never go wrong by listening to your friend from the mountains. I was told by Rajeshwar to go explore the Sarchi Village but what laid before hitting Sarchi was a pleasant surprise gift that Tirthan gifted us that morning. The idyllic temple that looked Kinnauri in architect, caught our eye instantly and we decided to visit the village that flaunted it. Bandal stood all proud, perched on a hilltop with undisturbed views of the gigantic peaks half clothed in clouds in GNHP. A narrow trail along the apple orchards, took us to the center of the hamlet where this intricately carved temple, The Gara Durga Temple, made of wooden and stone slabs, shone all bright in pinks and greens!
Unfortunately the temple was closed but the best part of the visit was yet to come. Bonding with the villagers! Yayy! Its funny how the anti social me gets all pumped up about meeting new folks and spending time with them in the mountain villages. And no matter how Cliche and absurd it might sound, but i do feel like belong here. Having said that i don't deny how ruthlessly tough the life in these villages is and i don't have half the might and strength the locals do, but deep down inside, probably after spending those two years in Haa Valley Bhutan, the rugged dirty unpaved roads feel more like home than those brightly lit manicured ones in the city! Like i always say…,Things The Mountains Do To You!
While walking around the village, we befriended these kids who took us around, showing us who lived where, disclosing their funny pet names they gave to each other, taking us to their apple orchards, narrating some amusing folklore, discussing their geography chapters and dramatically cautioning us to be safe while hiking around for they lost some villagers in the forest doing the same! I still remember how dramatically, this kid on being asked about the trek to a waterfall closeby told us with his animated expressions " Hamare gaon ke ek aadmi khai me gir gaya aur uski body bhi nahi mili…raasta bahut patla hai..wahaan mat jaana"! While this other one talked about his favorite subject 'Bhugol" Geography in Hindi where he learnt that these mountains they lived in was ocean once! Geography being my favorite, i further elaborated the factors that caused the same! Uff! Once a Teacher…Always a Teacher!
A little later while wandering down this dim lit alley, i found a girl hanging by her wooden veranda, smiling, as though she'd want me to come say Hi to her! Her house was a simple wooden one made of Deodar, a traditional wide window framed with a huge outside porch. I climbed up to her main door that lead to the airy well lit sit out with astonishing views as far as one could see. One could even see the temple top clearly and the other bright walled houses around. The shoes were impeccably kept outside on the wooden bench next to the door, signalling me to take my shoes off before i entered. A vibrant orange tree adorned the entrance that was loaded with fruits. A young girl swept the floor, approaching towards the door. I asked her if it were okay to come visit her simple yet beautiful abode. She like most of the villagers I've come across was happy to have me there.
That little girl who hung by the window sill, was this one's daughter! Another toddler pranced around…her second child! I asked her how old she was….She was barely 21, with kids as old as 6 and 3! A gentle warmhearted soul, she offered me tea and told me to be comfortable! She then showed me the valley from her window, marking territories with her fingers, telling me how the mountains across were the real Tirth! She knew her land remarkably well! I asked her if i could click her and she readily agreed to pose along with her kids. I could see she was elated like any other girl on being asked to click. Later i showed her the pictures and asked her if i could transfer it to her but sigh, the young lass didn't have a smartphone! May be Id visit her again next time and give her a hard copy of it!
The Young Lass with her kids!!
Later while leaving for Sarchi, on getting to know that we had two furry tails accompanying us in the car, the kids were excited to tag along till the parking to say Hi to them. And just how we befriend village Doggos every time on our trips, my city dogs too earned some pals this time. After playing a bit with kids, Dasher as seen in the picture was sad to say Goodbye to them!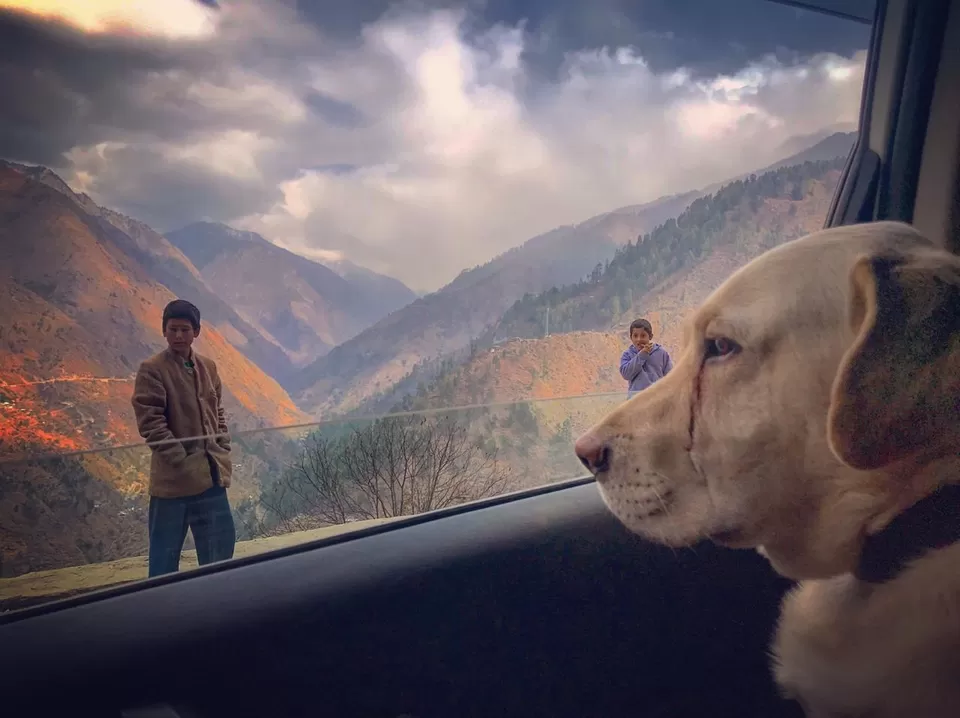 Sarchi ( 15kms from Gushaini)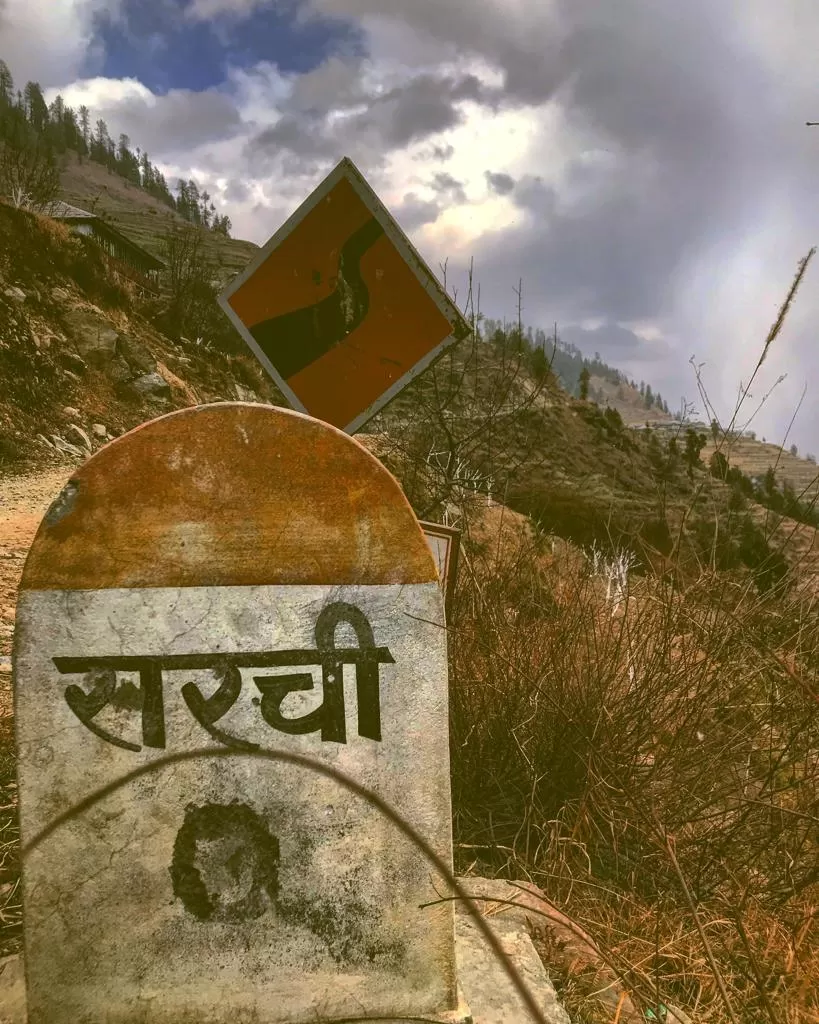 While Bandal had already created some magic for the starters, the lonely road ahead to Sarchi Village along with Prateek Kuhaad singing on the car stereo anddd the clouds coming down with flurries only made the drive even more memorable. The little bit of snowy peaks that one could see sometime back now were engulfed with clouds and as we went higher, the valley looked more and more surreal. A km short of Sarchi, i told Tee to drop me off for i wanted to walk in the snow flurries, watching the clouds drift by. Colorful wooden paneled houses were now visible with the peaks of Great Himalayan National Park in the backdrop and terrace fields of Corn and Ganja adorned the way. It all looked like one of those wallpapers i saw for the first time on the computers back when we were kids in the 90s. No one could believe then that such places really did exist!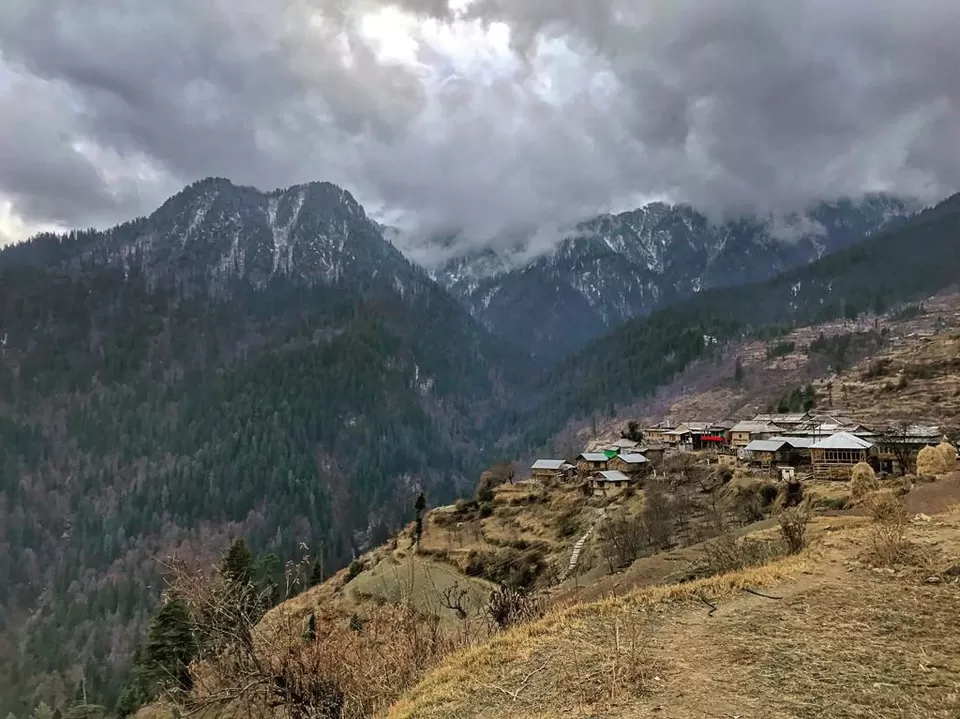 The kids with bright red burnt cheeks ran around, giggling and counting numbers in Hindi. We decided to have Chai in one of the Tea Shops and the mandatory Maggie in the mountains. While sitting in the tea shop, a bunch of guys were moving into the home stay. Curious to find out about the rates in this far flung village i asked one of the guys how much they're paying for the day. 4 of them paid around 1500 for a day..group traveling is always so economical!
At the center of the village, rested a medieval time temple, dedicated to the local deity called Jagdamba Rishi. The temple is made out of wood and has a massive tree trunk in the center which is replaced every year by the villagers on the annual religious occasion.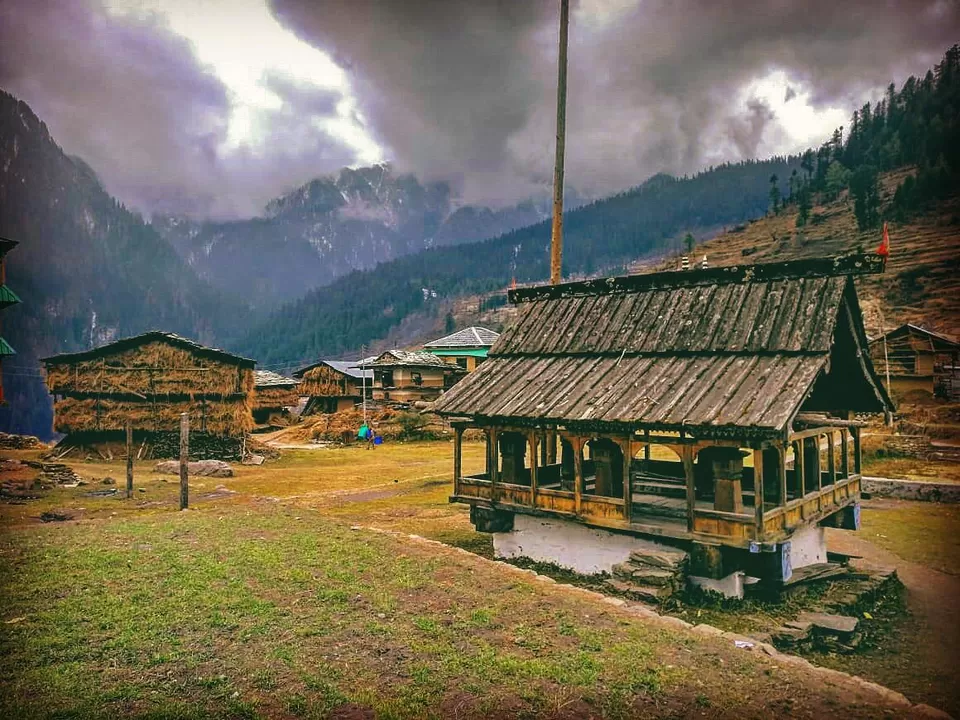 Meanwhile two Pawiies came along with us, scouring around the village, taking us through the by lanes with steel and aluminium pots adorning the porches and piles of hay lining the fields. Everyone here seemed to live in harmony! I simply sat on one of the farms with Tee and other two dogs, reveling in the beautiful silence and the songs of the mountains that i just made up in my head….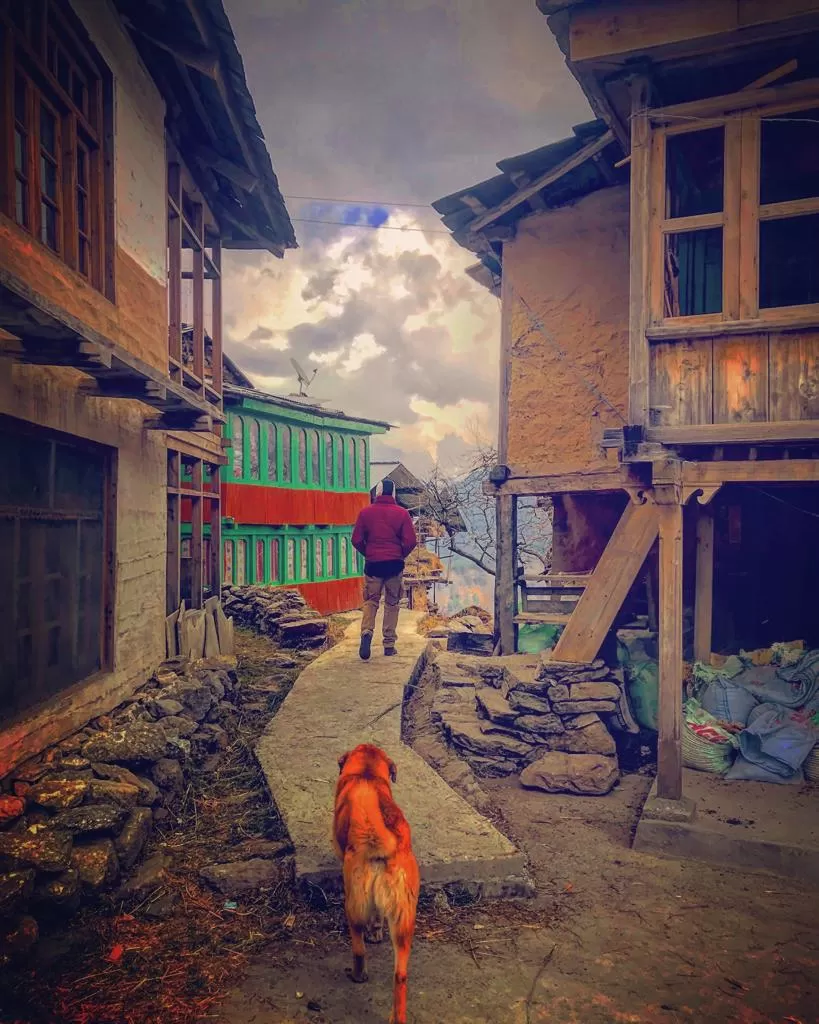 Walking Down the village alleys with Brownie!
The snow flurries kissed my skin
This never-land i was in
Echoed of innocent children's laughs
Wrinkled faces hidden in their scarfs
Where my bones hurt but my heart just smiled
I ran around like this wildest child
Chasing the clouds that danced along
Together we moved to the mountains song!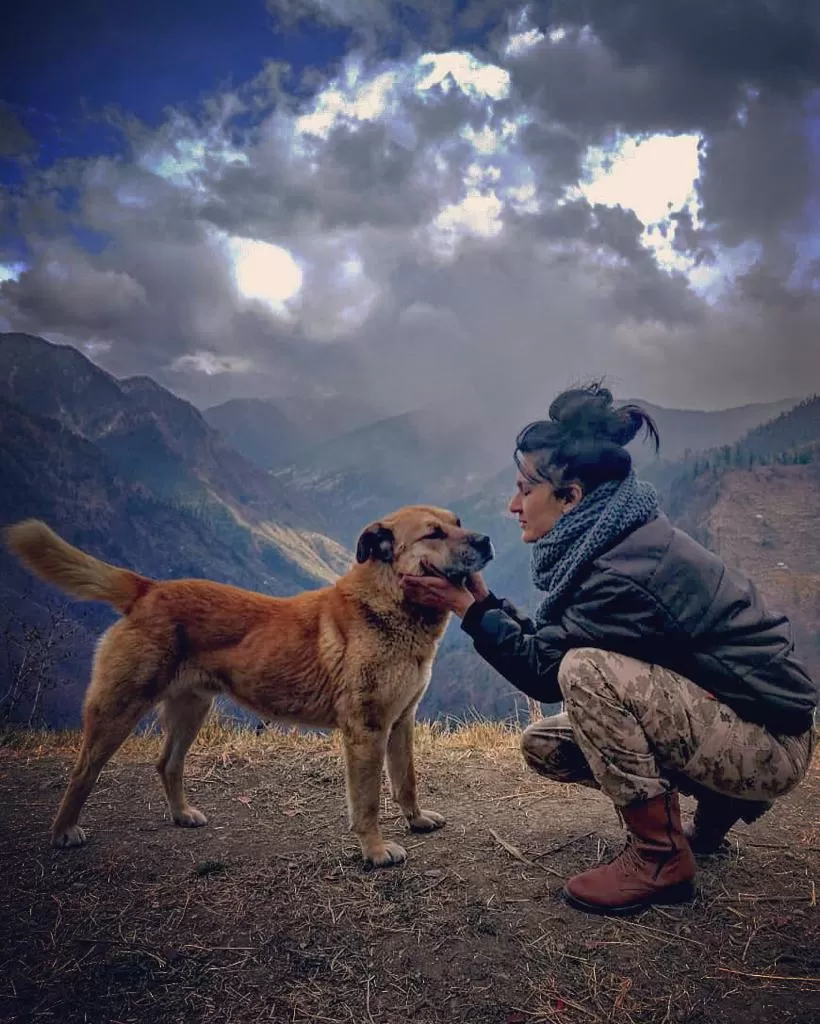 What to See/Do around Baandal and Sarchi
Lambri Top…Sarchi serves as a base for the hike up to Lambri Top. An hour up from Sarchi lies the quaint cut off village of Jamala
Explore and hike up to the villages of Talinga and Shalinga close to Gushaini
Hike up to the much famous Chhoie Waterfall
Trek Up to Bashelo Pass.. a total of 20kms that can be done in two days with camping around the mountains.
Trek up to Rangthar Top… Trail starts from Pekhri Village. Rangthar lies in the eco zone of GHNP but the permit is not required