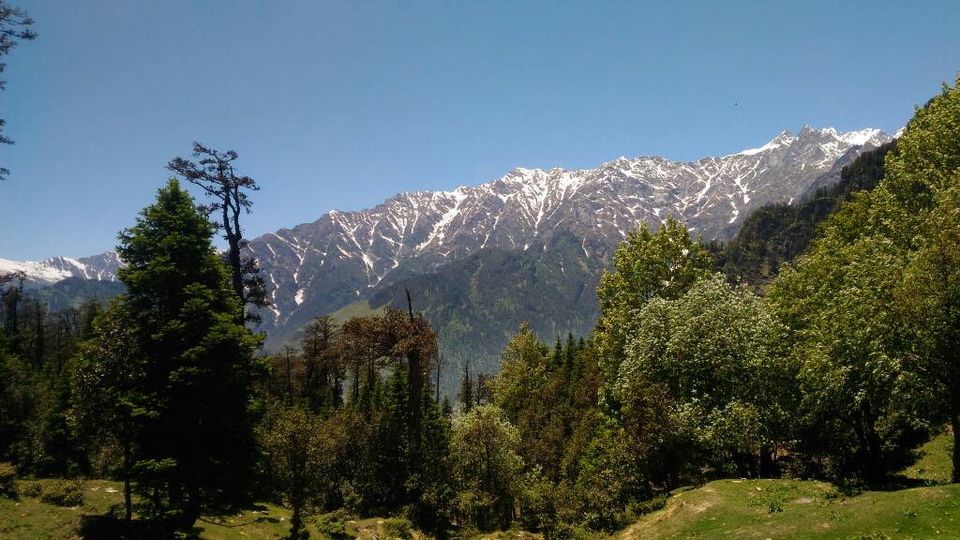 Planning the Trip:
It was first week of June. After a huge dilemma whether to opt for a cab or take a bus, me and my husband decided to go for the first choice keeping in mind the then physical condition of my parents.
As my parents are very much fond of travelling, I plan something or other every time they come over to my place(Noida) from Kolkata. This time was also no exception. I started planning for the trip 2 months before their arrival.
We were keen on staying away from the hustle and bustle of commercial tourist spots and June being a peak season for Himachal tourism, I started searching for offbeat destinations in Himachal.
I got a few options including Gushaini ,Chindi,Kalpa etc etc...
But along with the less busy factor, I had to keep in mind the road condition and travel duration as my parents were accompanying us.
So, After quite a lot of research, I came accross a cottage(Clifftop Cottage) 10km away from Manali on the way to Rotang Pass and very near to Solang Valley. Its in a place called Palchan.
I immediately contacted the owner of the cottage and was very much pleased by his friendliness.The cottage was booked in no time for 3 nights and Kapil (the owner of the cottage and now, a very good friend of mine) helped me in planning the itenary over a few exchange of mails.
Trip Costs:
Clifftop Cottage Room tariff : 2500 /-per night for a double bedded room
The cost of permit for Rohtang pass is just INR 500 and available online, but is a feat like IRCTC tatkal booking. In case if you have your cab registration number beforehand you can try and get the permit online. This will save you a lot of money as hiring a cab just for RP is going to cost you around INR 1500 per head.
Full body suits for Rohtang Pass will cost just Rs 250 per head on rent
Cab charged us 17000/- for to and fro journey to Palchan from Noida alone with Sight seeing in Manali. However, for Rohtang we took separate vehicle which charged us 6000/-
The Journey:
So, on a hot June evening at about 7 pm after returning from office, we set out for our memorable trip to Palchan from Noida.
The first halt was at Panipat where we finished our dinner followed by a short halt after another 2 hours at some unknown spot post mid-night.
After driving for 3-4 hours at the middle of the night, the driver needed some refreshment to keep himself awake.Hence, we decided to stop by the well known highway stopover-Haveli near Ropar. It was a first full night road trip for all of us. Though, we were feeling a bit drowsy and jaded due to all-day work at office but it was a thrilling experience to roam around in deserted highway hangout with a cup of coffee to keep to ourselves awake at the middle of the night.
We reached Kiratpur(from where the hill starts) by 3AM and after that none of us could able to close our eyes owing to the terrible road condition(construction going on for a stretch).My mother couldn't sustain the "switchback road" and spewed out twice.
By the time we reached Mandi,dawn had already broken and we could catch a glimpse of the beautiful Himachal. We wanted to stop at Mandi for breakfast but it was early morning and shops were yet to open.Hence, we decided to have breakfast after crossing the Aut tunnel.Crossing the long and dark Aut tunnel was an experience in itself.
Soon after, we realized that it was not a good idea to have breakfast at Aut, as there were very few rustic roadside shacks with questionable hygiene.Hence, decided to fill our stomach by whatever dry foods we had taken with us rather than getting some food poisoning at the start of the trip itself.
However, The magnificent view of the snow clad Himalayan ranges peeping from the abundant greenery of the hills will make you forget all your tiredness and complaints.
The gushing Beas river flowing through the valley giving you company in your long journey to Palchan will compensate for everything.
After a couple of hours drive from the Aut tunnel, we reached Manali and faced a long traffic jam on the way to Palchan.
Palchan is about 10km away from Manali but due to heavy traffic(Both Rohtang and Solang Valley going cars) it took another 2 hours for us to reach Palchan.
Day 1: Palchan
Majestically nestled in the Himalayas, Kullu district is littered with several small mountain villages with enchanting views of the snow-clad Rohtang Pass. Palchan is one such small hamlet with traditional tiled-roof village huts as well as few newly developed luxury tourist cottages sparsely scattered on the slopes of its contoured valleys, surrounded by dense alpine forests. The place,laden with ample apple and cherry orchards and a river full of Trouts(once introduced by the British to promote game fishing) is a dream place to stay and unwind yourself.
The cottage we stayed, was not much big and had no separate parking place for vehicle. Kapil welcomed us with a broad smile and arranged a place very near to the cottage to park the vehicle.
Once we entered the cottage, all the fatigues were vanished by seeing the view from balcony. The cottage also has a small garden full of flowers(roses and orchids) along with some cherry trees and a tiny organic farm where they grow seasonal vegetables for the dining purpose of the guests. Somewhere I thought in my mind, "Happiness is waking up to this!" .To increase my happiness to another level, we were served with some piping hot tasty Aloo Paratha with some coffee at the balcony table. After a long tiring journey of 14 hours, having a tasty breakfast sitting by the balcony overlooking a magnanimous view is truly an exhilarating affair.
After taking a hot shower in the cottage, we went outside for a lazy stroll in the cottage garden and nearby. Speaking with the cook of the cottage revealed that this place remains closed due to heavy snowfall from December till March and the owner migrate to Mandi during that period. The cook, however, goes to Kaza(in Spiti Valley) to work for some other guest house. He also showed us the potatoes and rajma growing in the tiny cottage garden which are being used for the cooking purposes.
As it is a small village, you cannot find much restaurant to eat outside and we realized we have to rely on the cottage for our meals.However, a few were there about a couple of kilometers uphill though not sure about the quality.I was pretty much excited to taste trout for the first time as I heard a lot about it before(or maybe because of my Bengali genes). So, for lunch we ordered butter fried trout along with some rice and daal and after having a sumptuous lunch we had a long nap to compensate for last night's journey.
As the sun was hiding behind the Himalayas, we decided to bid it goodbye from the balcony with some tea and snacks.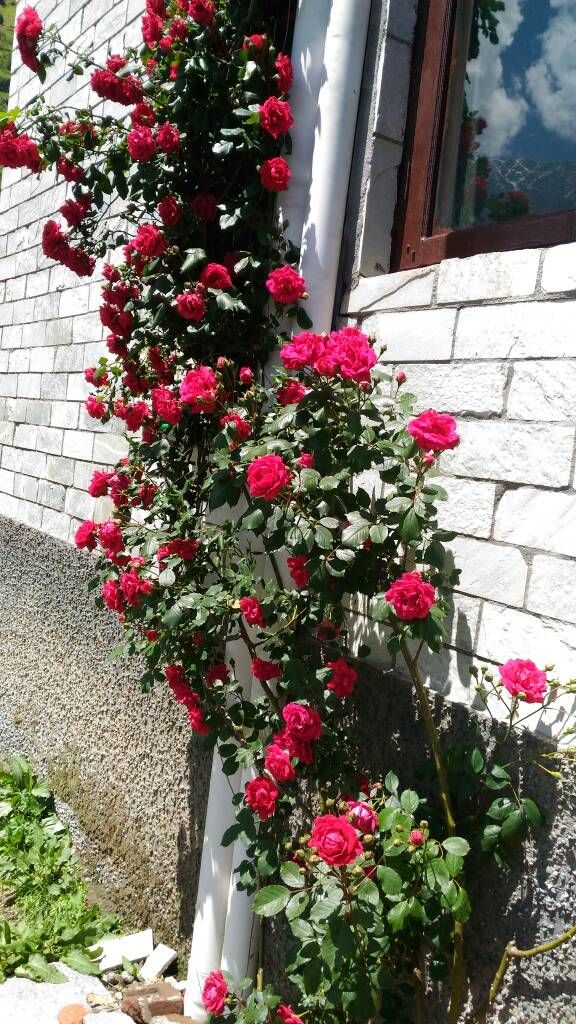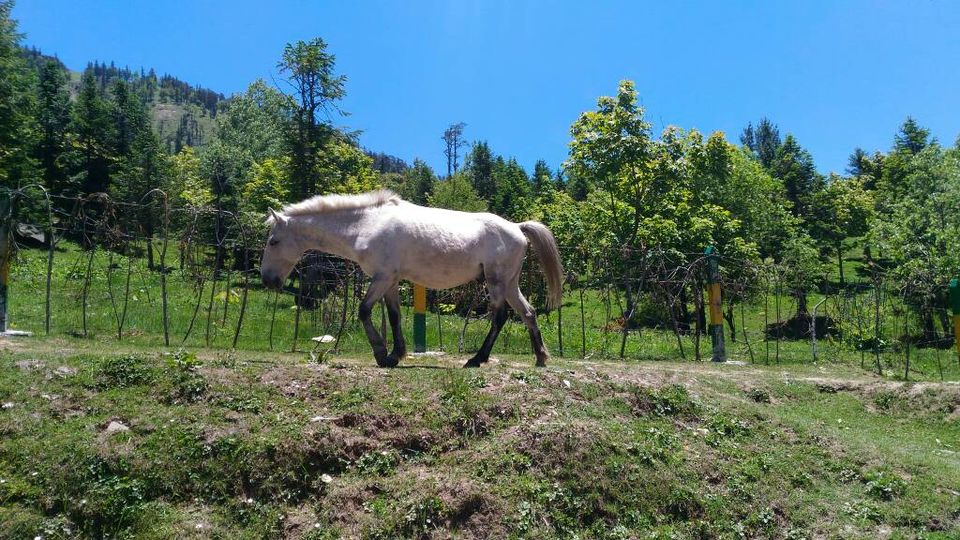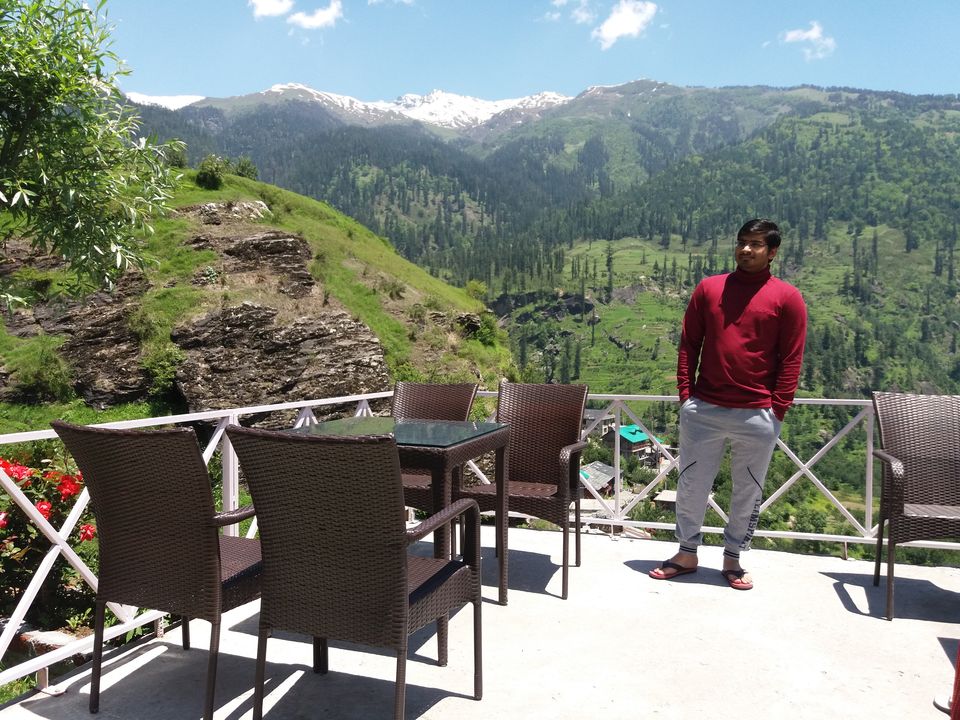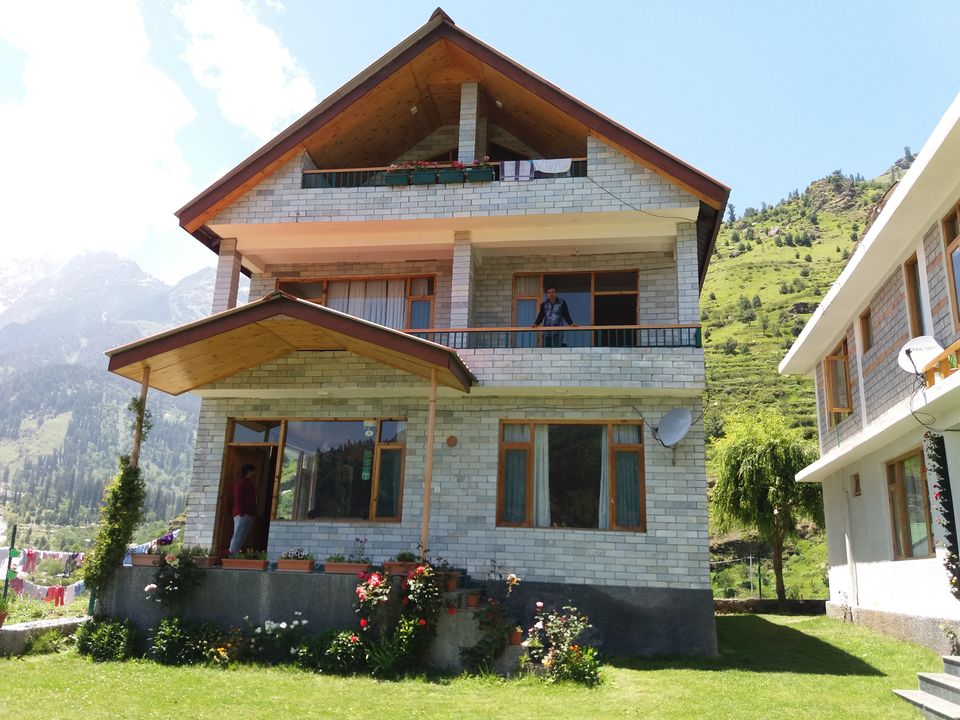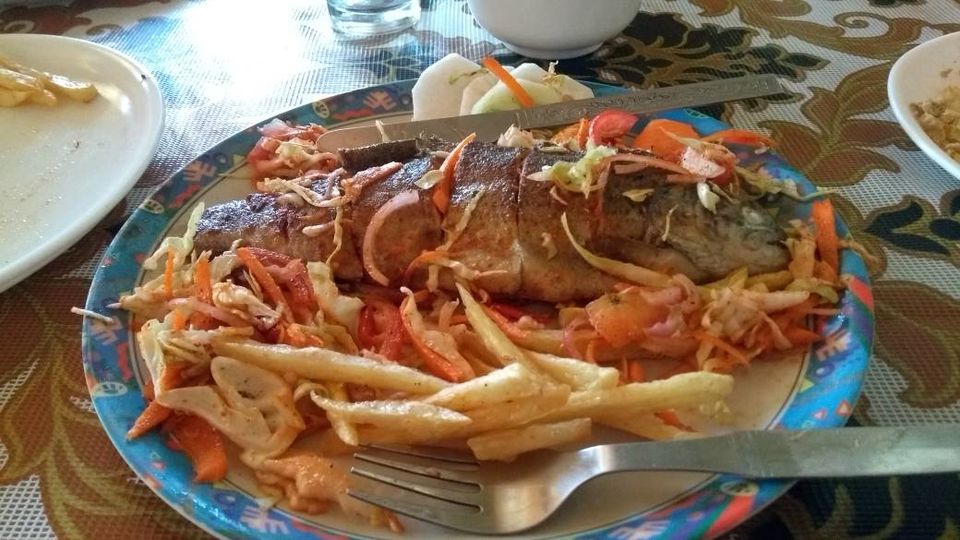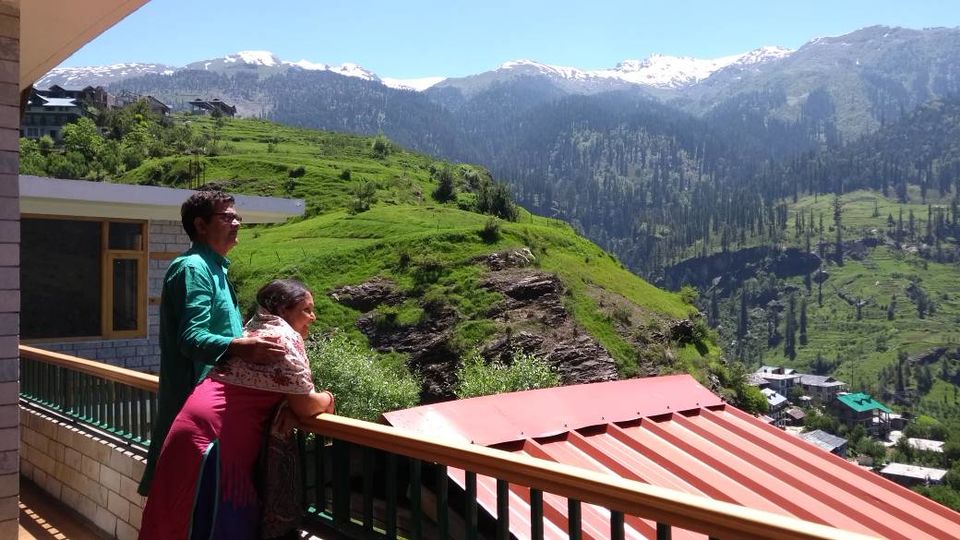 Day 2: Rotang Pass and An evening in Manali Mall
Kapil had arranged a vehicle with permit for Rohtang Pass visit the day before.He warned us about the traffic jam on the way, so we didn't waste our time and started at 7AM sharp.
The road from Palchan to Rohtang was like a picture!There were many unnamed small but beautiful waterfalls. I felt like stopping at every turn and take pictures but we had to reach Gulaba(the check post where you have to submit your permit) before 9AM. Smells of hot momo being sold by locals filled the Gulaba air and we were already hungry.But our driver suggested us to have breakfast at Marhi(the last point where you can get anything before entering the pass).Marhi was extremely windy though a local informed me that, that day was less windy compared to other days when sometimes wind even make Alto shake with all its might.We hired necessary clothes and gloves, quickly finished our breakfast and set out for the mighty Rohtang Pass.
View at Rohtang Pass was breathtaking, surrounded by white mountains.As the snow at the lower level had become dirty, we decided to climb a bit to get fresh snow.Though me and my husband was fine, my parents found it bit difficult to climb but eventually they made it to a higher top with relatively fresh snow. The pass opened just 5 days prior to our arrival and already tourists were flocking in.After playing with snow for sometime we decided to head back.on the way back, we spotted herds of cattle crossing the pass and going towards Spiti valley.In my mind, a picture of Heidi and peter flashed and I became nostalgic about the famous childhood fiction.
The evening was spent in the Manali Mall tasting some mouth watering momos and wood fried pizzas.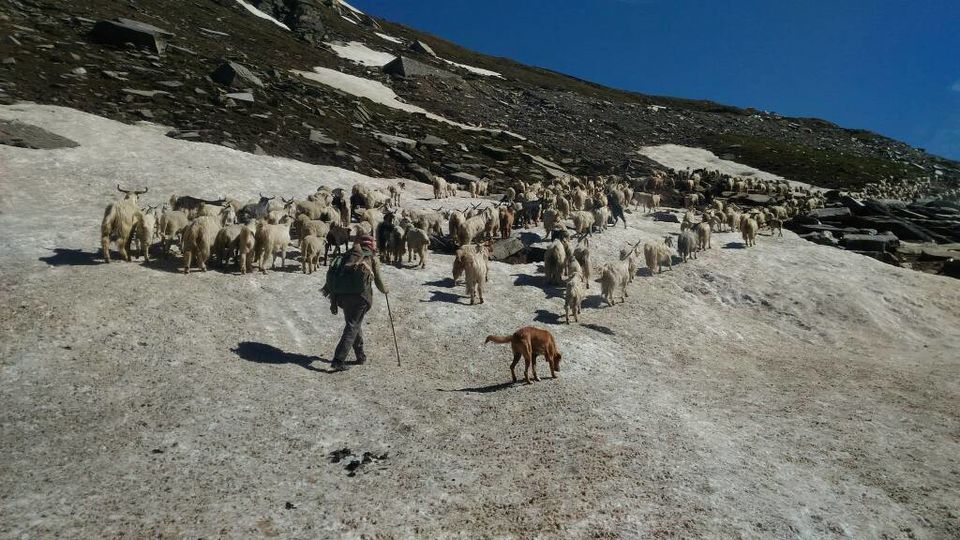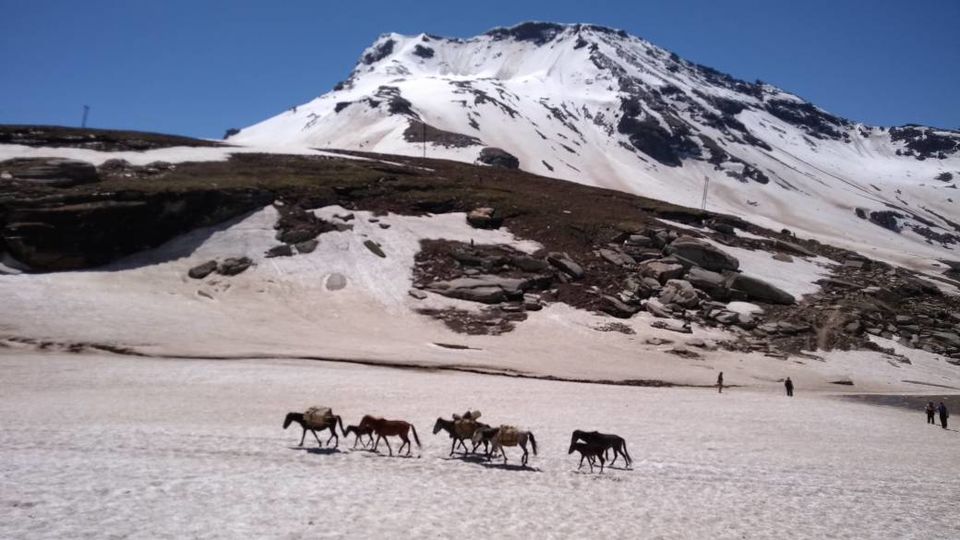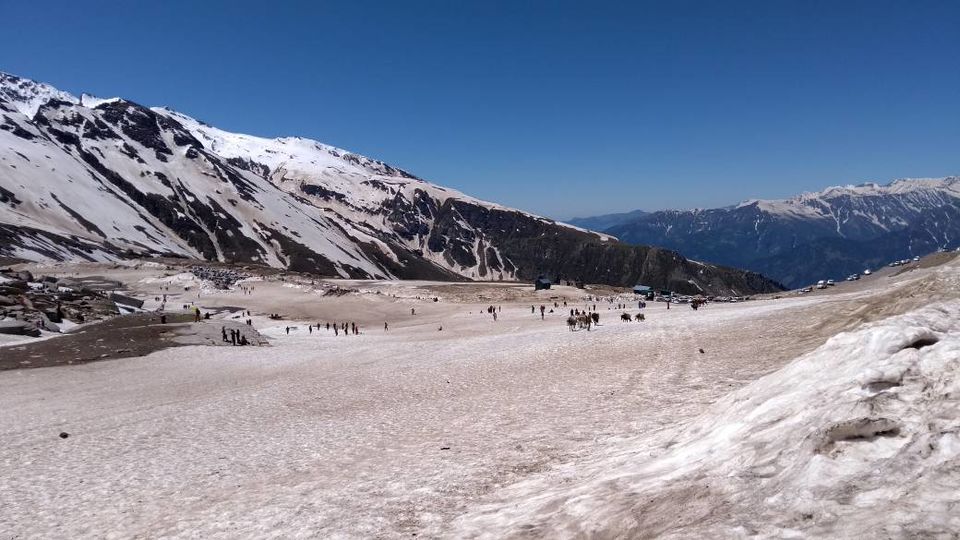 Day 3: My First Paragliding Experience and Solang Valley
Paragliding is very commonly practiced adventurous activity in and around Himachal (Bir Biling has become famous now-a-day for this).In Solang Valley, there is an association which offers you at different rates depending on the heights(1000/- and 3000/- per person). Kapil informed us about a lesser known place where the rate is 2500/- per person and we opted for that instead of doing it in Solang Valley.We arrived at the spot by our own car and signed some papers before they took us to a hilltop. While both me and my mother were very much eager for the experience, both the husbands backed out and decided to meet us at the landing point.
Frankly speaking, it was not at all scary but I found the climb from the base point to the hilltop quite strenuous.It was an wonderful experience.I felt like a bird flying over the pine forests and apple orchards. But I felt the flight could have been of a bit more long duration.
Solang Valley was 3kms away from our cottage. So, we decided to have lunch post paragliding and then set out for valley visit.
The valley is beautiful with lush green meadows surrounded by pine forests. But, due to the crowd you cannot feel the silence.We opted for the ropeway and found it average. However, once you go up the ropeway, you will be revealed to a flat meadow which goes up to a dense forest. You can hike up to the dense pine forest if you are want to spend sometime in silence and listen to the murmuring of the leaves. The place is quite nice for bird watching as well.There is a Shiva temple(A naturally formed ice Shiv-ling ) near the valley but we decided not to visit that along with other crowds and spend some time near the tranquil forest.
That evening was welcomed with a lazy stroll in the cottage garden and listening to the sound of the gushing Beas under the starry sky.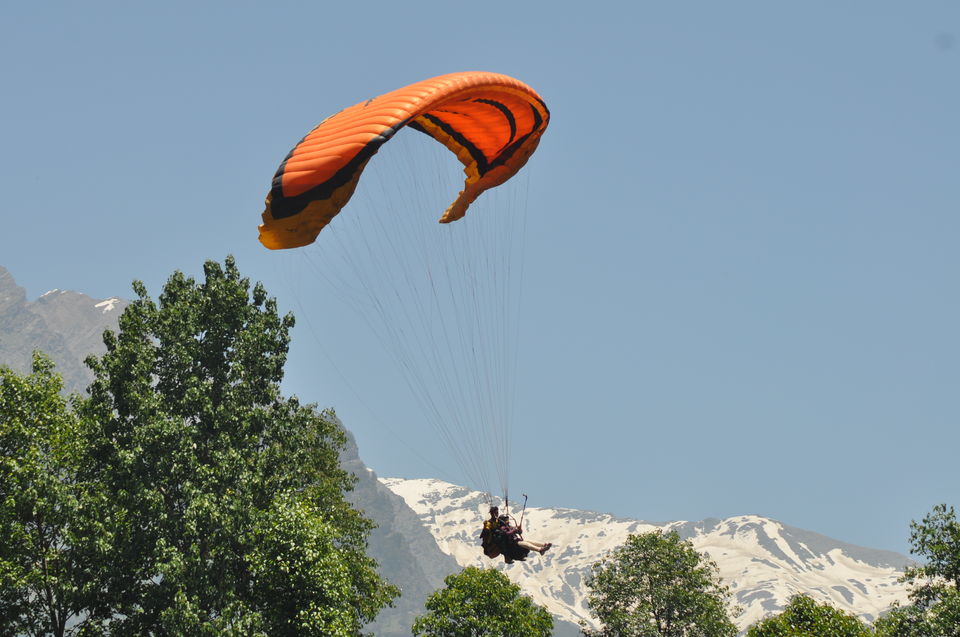 Saying Goodbye is never easy:
Next morning we started early in the morning to cover a distance of nearly 580 kilometers and reached Noida by Midnight calling an end to the memorable trip.