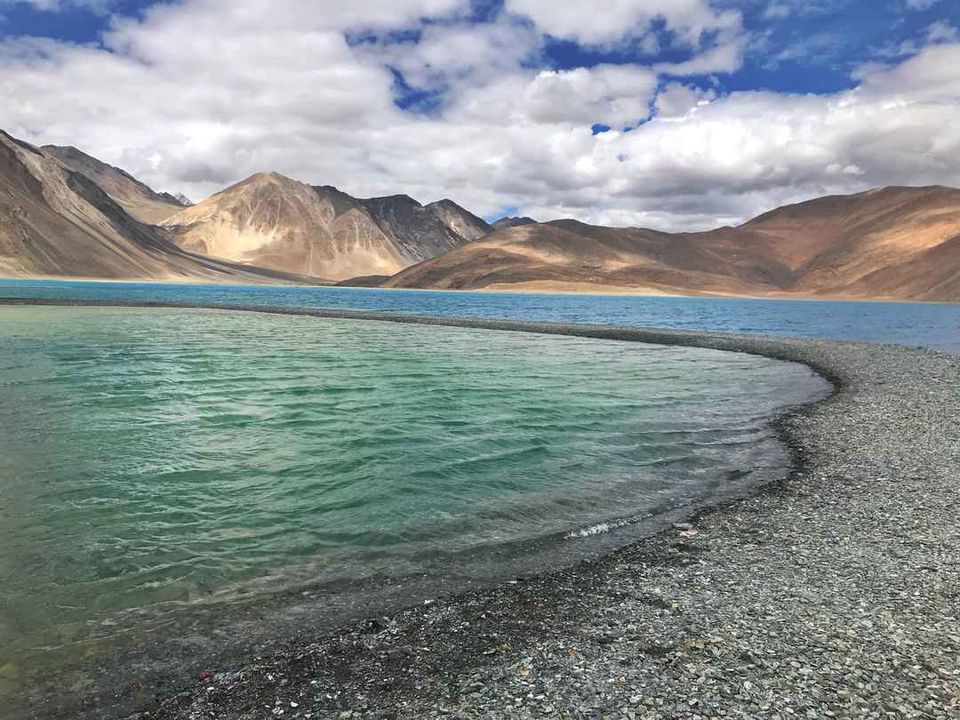 Pangong lake displays the untouched Himalayas at its best! Pangong Tso also referred as Pangong Lake, which is one of the world's highest salt water lakes situated at a height of 14270 feet (4,250 m). It is around 134 km long of which approximately 60% of the length lies in China. Even though the lake is salty, it still freezes in winter.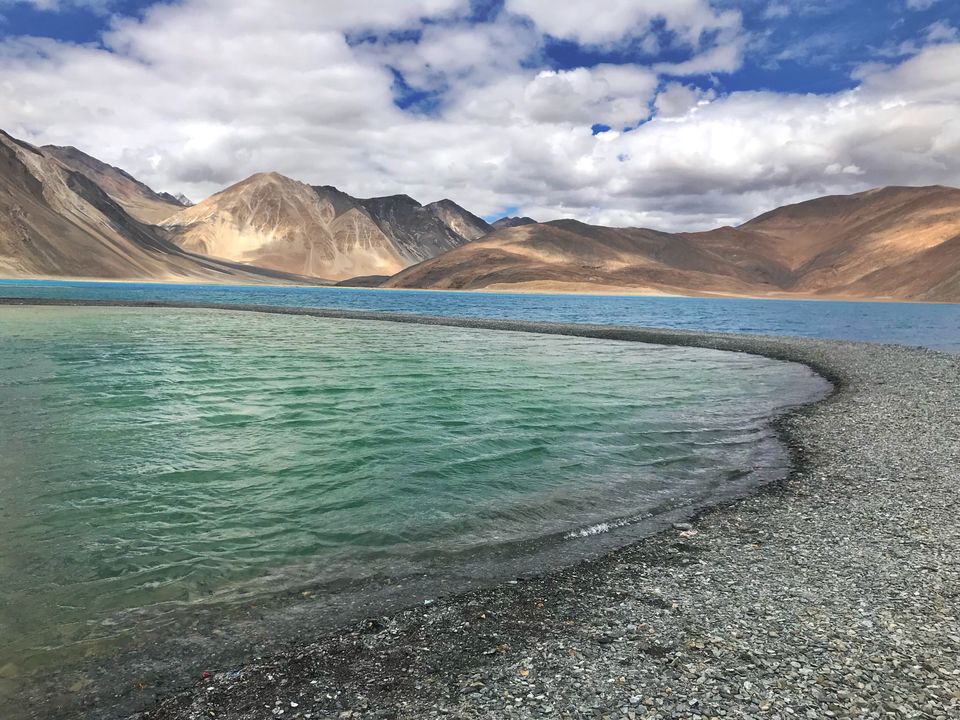 Pangong Lake showcases different shades of blue. The serene lake water changes its colour at different times of the day. This Lake is so clean that you can see reflection of clouds in water clearly.
The scenic beauty of this lake is famous throughout the world. I had finally harboured a dream of visiting this heaven on earth in August 2018. Your Ladakh trip will be incomplete without visiting this beautiful lake.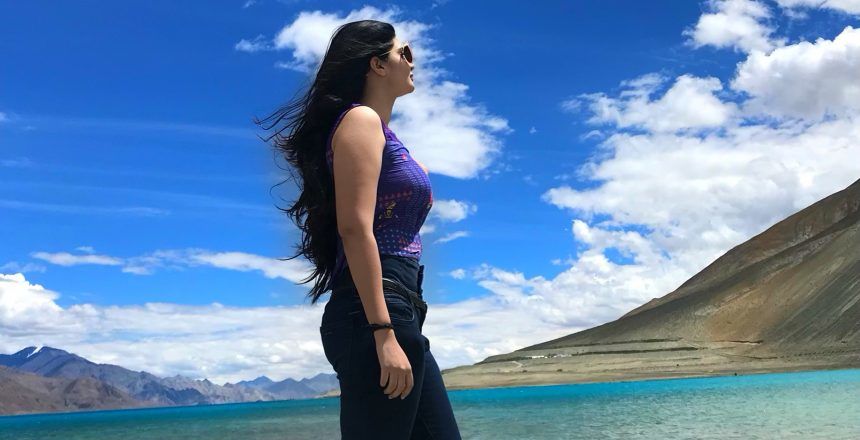 We decided places in order of lowest to highest altitude destinations in itinerary. The first few days of the trip were spent in local sightseeing only, as we decided to acclimatize to the local weather before heading to Pangong lake. On our 5th day of Ladakh trip, we started early morning from Leh to Pangong via chang la pass. You should generally start your journey early morning so that you can reach pangong early and can enjoy the lake till evening.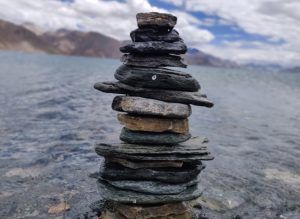 Journey was rough but quite scenic at the same time. The long journey was a treat to eyes. It took us 6 hours to reach pangong Tso with a one stop in between at Chang La Pass. Depending on your speed and breaks, this journey can take you anywhere between 6-8 hours. During the sunset and the sunrise, the lake is immensely beautiful.
Chang La Pass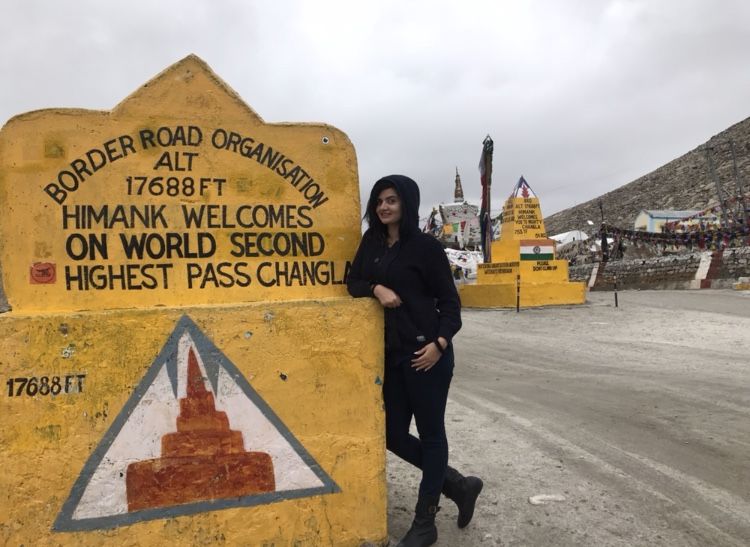 We did stop at Chang La Pass for mandatory Maggi and Chai break. It is one of the highest motorable passes in the world at a height of 5360 M. You might experience snowfall at chang la pass.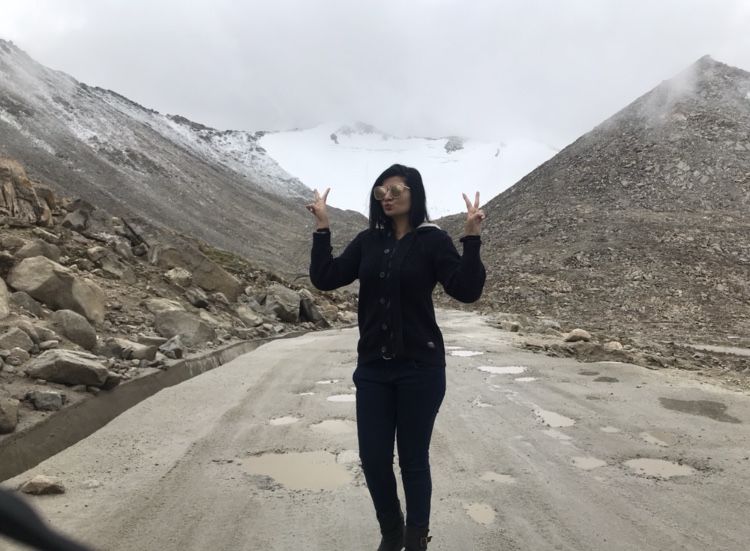 Best time to visit Pangong lake
This lake remains accessible throughout the year. However, depending on the road availability and climate conditions. Heavy snowfall sometimes may block the road temporarily near Chang La top during winters. But according to me, the best time to visit Pangong lake is during the months of May to September with Jun & July being the peak season. I have visited ladakh in the month of august.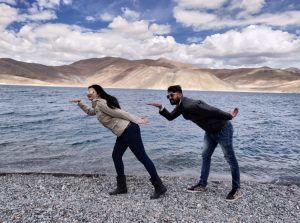 Although people do visit Pangong lake in the months of winters also. In winters, water of the lake freezes completely. But if you want to see a frozen Pangong, then January to mid-February will be the best time to visit.
Which route to take to reach Pangong lake
Normal route to reach Pangong lake is from Leh via Chang Laa pass only which is 160 km. However, you can also reach pangong lake through 2-3 other routes. To read full details of routes, visit my travelogue "A trip to pangong"

Pangong lake weather
Altitude sickness is a major health concern while visiting Pangong Lake. Keep yourself hydrated as dehydration is the main symptom of AMS. Especially during the journey from Leh to Pangong Lake, as you will be passing higher altitudes like Changla Pass.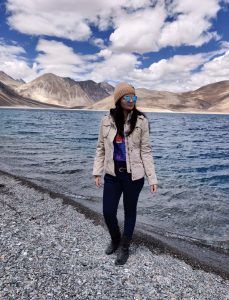 Days in summer will be moderately warm but you will still need a jacket, because of the cold winds especially at the pangong lake. The temperature drops dramatically from warm in the daytime to cold at night, even in summer. Temperature can drop down to below zero degree Celsius.
Leh to Pangong return trip in one day
You can do a day trip also which we also did but I would not advise you to do so. If you want to cover Leh to Pangong in one day and be back by evening, then an early start from Leh City is must. So, you must plan accordingly and keep your breaks limited while traveling. However, an ideal way is to arrive at pangong, spend the evening and night at the lake; enjoy the scenic beauty of the region and return to Leh the next day.
For more Cola beach experience you should visit my travelouge on Pangong lake.
I would love to hear your comments and would be glad to assist anyone who is planning to explore ladakh!
This blog was originally posted on https://iampoojasinghhttps://iampoojasingh.com/.com/