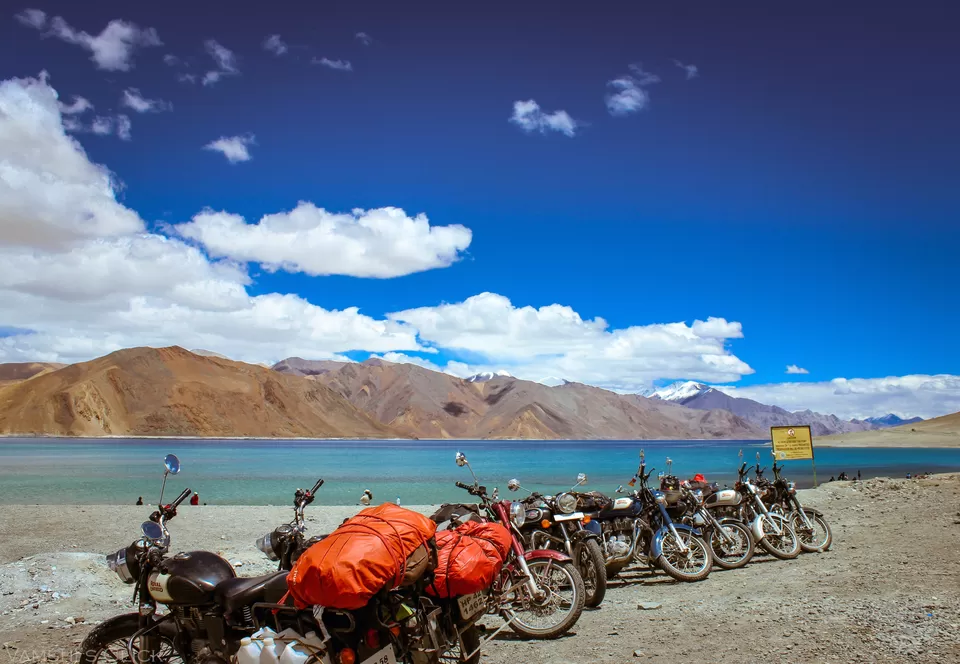 Pangong Tso also referred to as Pangong Lake, is an endorheic lake in the Himalayas situated at a height of about 4,350 m (14,270 ft). In the barren land of Ladakh, Pangong Tso is one of the largest brackish water lakes in Asia. The crystal clear blue lake sprawls over an area of 134 KMs across the borders of two countries in India and China. Approximately 60% of the length of the lake lies in China.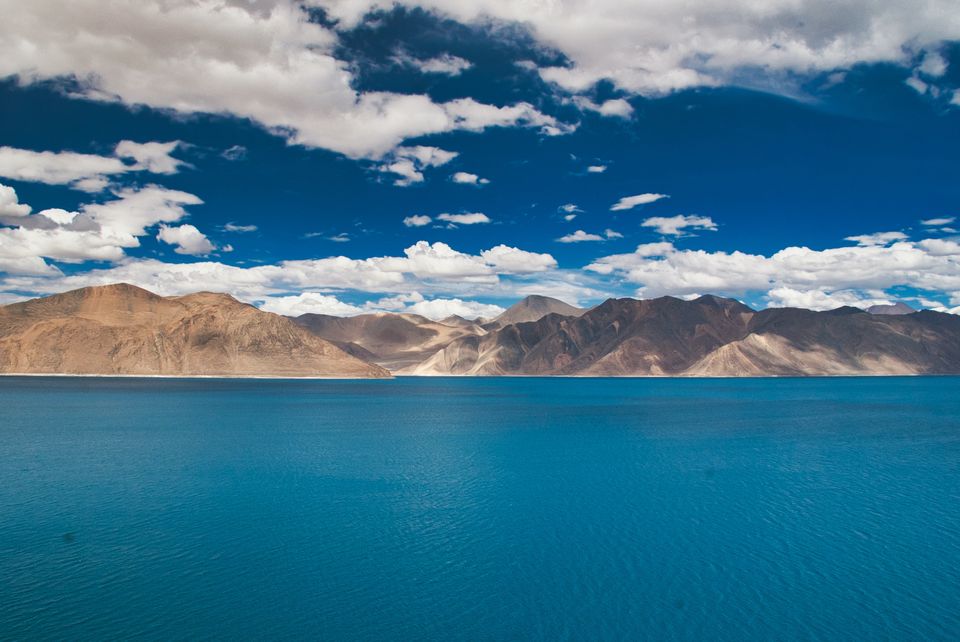 The lake is 5 KM wide at is broadest point. All together it covers 604 square kilometer. During winter the lake freezes completely, despite being saline water. An ice skating festival is organized here, which sees participation of ice skaters from across the globe.
This gala event also sees cultural performances from the local people. It is one of the charismatic lakes situated on the Changtang Plateau in eastern Ladakh region. The low biodiversity in the lake has been reported due to high salinity and harsh environmental conditions.
Leh to Pangong Lake Permit
Pangong Lake is considered a rare zone which is why you need a permit to visit this place. The permit can be applied online or in person from the DM office. Just before you start ascending Chang La pass, you will be asked to present your permit. Without it, you will be sent back. It is a mandatory requirement. The cost of the permit is Rs. 400 as environmental fee and Rs. 20 as the Inner Line Permit fee.
What is the distance between Leh and Pangong by car?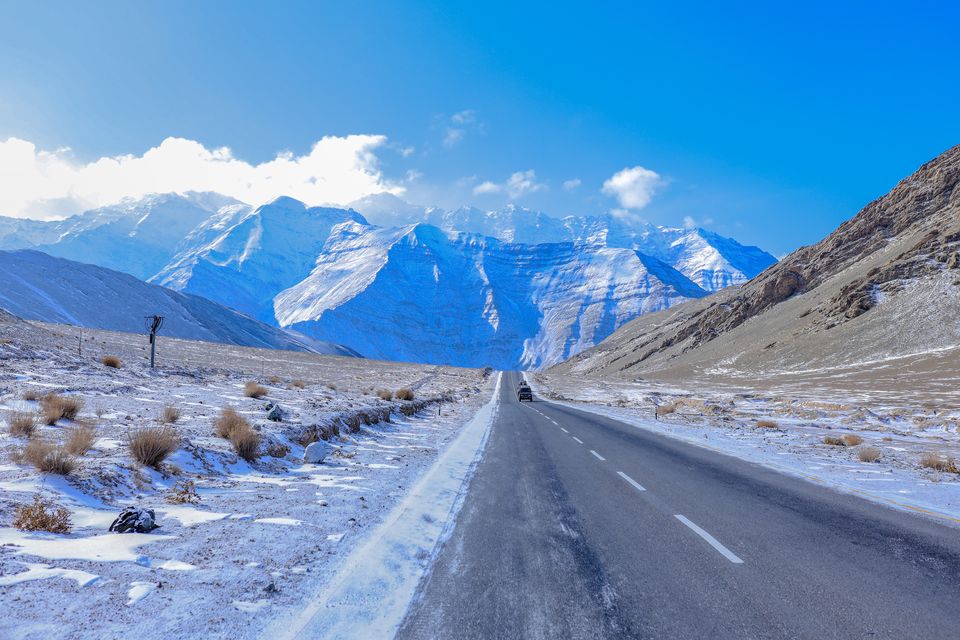 Distance between Leh and Pangong Lake is around 120km which will take one entire day to reach. There are four routes that take you to Pangong Lake. The first one is the direct route that almost everyone take. Two others take you via Nubra valley and the last one is the least taken route via Tso Morari. The latter is the most scenic and the most dangerous route to opt for and should be taken only under guidance.
How is the route between Leh and Pangong Tso?
Leh to Pangong Lake via Chang La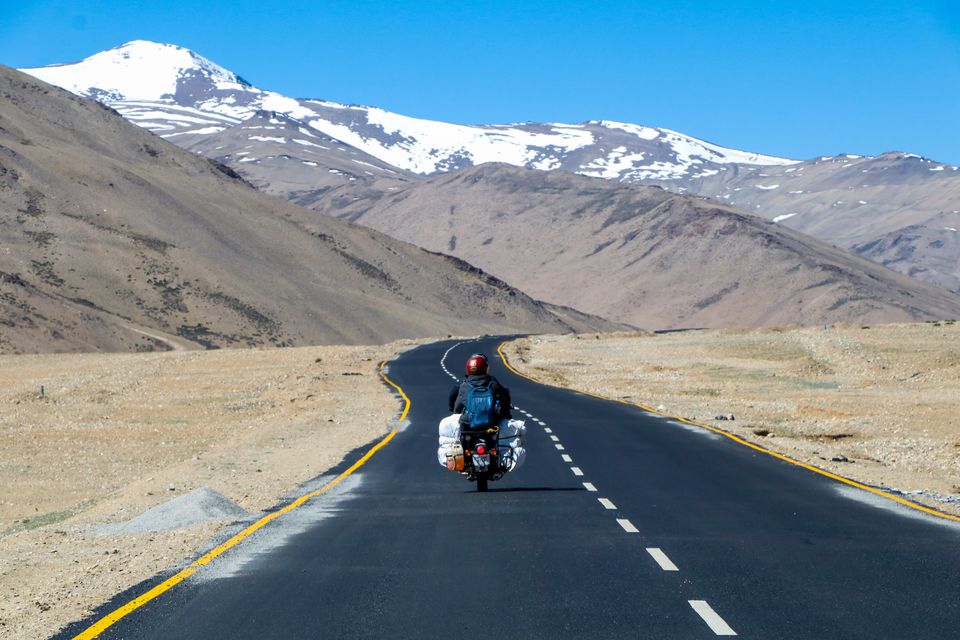 If you take the route via Chang La, the road is well paved with very little hurdles to face. The only rough section is around the top of Chang La, making the rest of the journey desirable and comfortable. The Shyok road that takes you to Pangong Lake via Nubra valley is also a beautiful patch and is relatively easy to drive on.
The direct route from Leh to Pangong Lake
This route is over 160 km long and will cover the following villages and towns in between. This will take you about 6-7 hours.
1. Leh to Shrey to Karu will cover 45 km
2. Karu to Shakti to Chang La will cover 40 km
3. Chang La to Durbuk to Tangste will add up to 60 km
4. Tangste to Lukung to Spangmik to Pangong Tso will finally take you a last stretch of 30 km.
Leh to Pangong Lake by Bus
Every Saturday and Sunday there is a regular bus service that leaves Leh at 6 AM. It reached by early afternoon, halts there for the night and travels back the next day. For a fare of Rs. 250 per way, this is the cheapest way to travel from Leh to Pangong Lake.
Leh to Pangong Lake by shared taxi
Shared taxis leave the bus stand every day between 6 AM and 8 AM. They charge around Rs. 500 per person one way.
Best time to visit Leh and Pangong Lake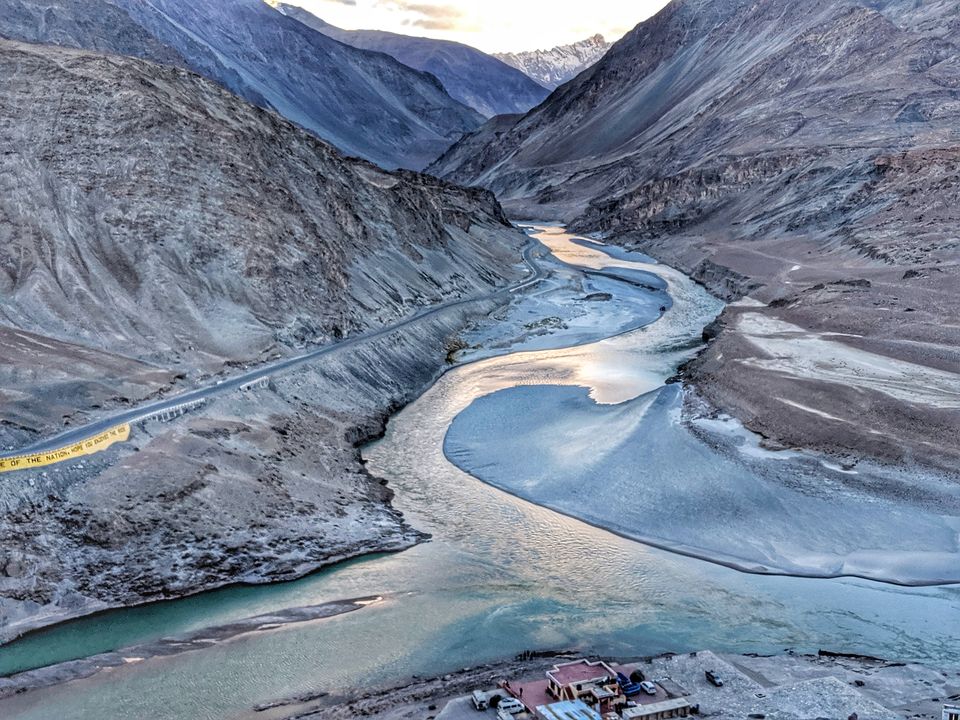 The best time to visit Leh - Ladakh is between the months of June to September. These are relatively warmer months and the route remains accessible during this time of the year. In case you want to see a frozen Pangong Lake, then your best months would be January to early February.
Petrol pump near Pangong Lake
There is no petrol pump near Pangong. It is advised to travel to and fro on full tank, and always carry some extra fuel on you.
Mobile Network availability
Cell reception is always a problem across Leh. BSNL has towers across, but apart from that, Airtel works just fine. However, at Pangong Lake finding mobile network is very difficult.
Bank availability
There is no ATM around the area. None of the hotels or guest houses have any either. Make the needful arrangements accordingly.
No matter what season you pick to come to visit Pangong Tso, remember it has now become mandatory to rest in Leh for 2 days to get acclimatized and then start your journey. Many people complain of acute mountain sickness which usually happens in this region of the country.
This gorgeous destination is the cold desert of India. It is surrounded by the mighty Himalayan ranges and Indus river runs through its veins. Have you planned a trip to Leh yet? This travel guide for Leh Ladakh will come to your rescue. Check out this 7-day itinerary of Leh Ladakh to gain some insights and inspiration for your trip.
If you liked the article, share the love <3 #Whereizmyboardingpass
Follow me on Instagram for some fun travel content. Be a part of the largest online community of travellers on Tripoto's Facebook page!