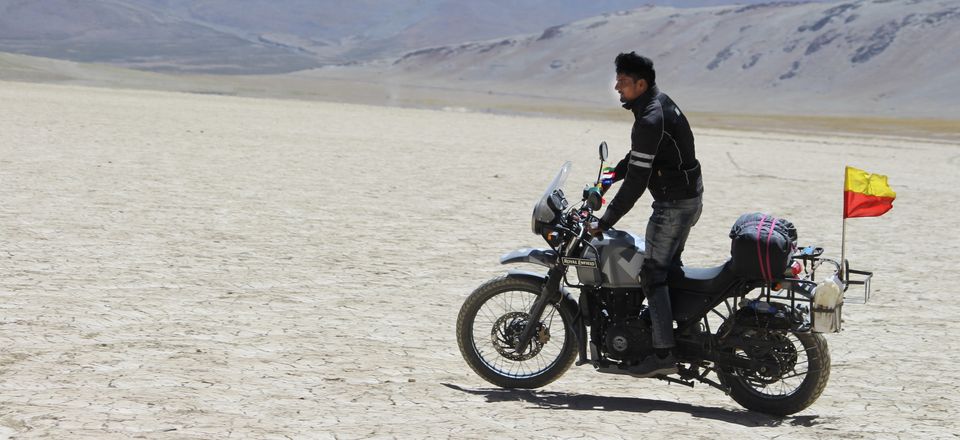 To all the bikers out there who are still dreaming to get Leh'd, Get into the act now. Make it happen for yourself before the tourism and development take over the most rip-roaring part of Leh-Ladakh, "The Adventure".
During my second adventure bike trip on Manali-->Leh route, I noticed a lot difference specifically on the Adventure part as compared to the same trip which i did a couple of years ago. With gaining popularity over the years i must say Ladakh is brisking as just a tourism destination like any other places in India. With well laid off road, cab facilities till Pangong or Nubra, development in stay facilities, Huge number of tourists are able to access this destination year-by-year.
So i urge to all the adventure junkies dreaming about a bike trip, Turn-up now and make it happen before the actual adventure fades away.
With few important things to consider for your adventure, hope my travel blog of "Manali--> Leh--> Manali" bike trip will help you to outset your dream soon.
Key things to be considered:
1. The Bike: If you are planning on your own bike then only thing you have to be worried is the Permit. As only a limited vehicles per day are allowed to Rohtang-La pass, one must get a permit from RTO at Manali for the particular day they have planned to cross Rohtang. And if you are going for Rental Bikes from Manali, you can ask them to arrange a pass for particular day, for which they will charge some amount.
If on rented bikes, once u reach Leh you have to rent local bikes to cover Khardung-La , Nubra valley and Pangong lake. As rented bikes from other states are not allowed to these places.
2.Fuel: The last fuel station is at Tandi, 110 kms from Manali. And the next fuel station is only available after around 340 kms at Karu (35 kms before Leh), so plan accordingly. Full tank fuel with 5~10 litre fuel in can's is a must consideration.
3. Riding gears & Tools: As a rider, you should always equipped with Kevlar Jackets, Gloves, Knee guards, safety shoes, helmet etc for self protection. Also carry basic tool-kit, puncture kit, tube, spare clutch and accelerator cable.
After Manali, the next service center is available in Leh. However the only bike mechanic you'll find on the way is in Keylong which is 115 kms from Manali.
4.Stay and food: Although food is not a problem all along the stretch as long as you are ready to survive on Egg, Bread, Maggie and Chai. But for the stretch of about 350 kms between Keylong <--> Karu there are no cozy stay available. One must be prepared with all Winter wears and Thermals to spent a night in canvas tents where the temperature falls beyond sub-zero during night, even in summers. Along with that it's strongly recommend to carry "Altitude Sickness medicines".
With these much needed consideration I'm here with my novella of yet another adventure.
Someone has truly said "The Mountains are calling , And i must Go". YES..... they do indeed.

It had been 2 years since my first Ride thru Manali-->Leh route, and not a single day had passed without thinking about those wondrous days. So yet again i decided to respond to the mountains call.
Me with my 3 friends reached Manali early afternoon on the day-1, Got freshen up and headed straight to our bike rental shop. After clearing all the formalities and loading our backpacks onto our bikes , We forthwith our journey late afternoon as we were suppose to cross Rohtang-la pass on the same day.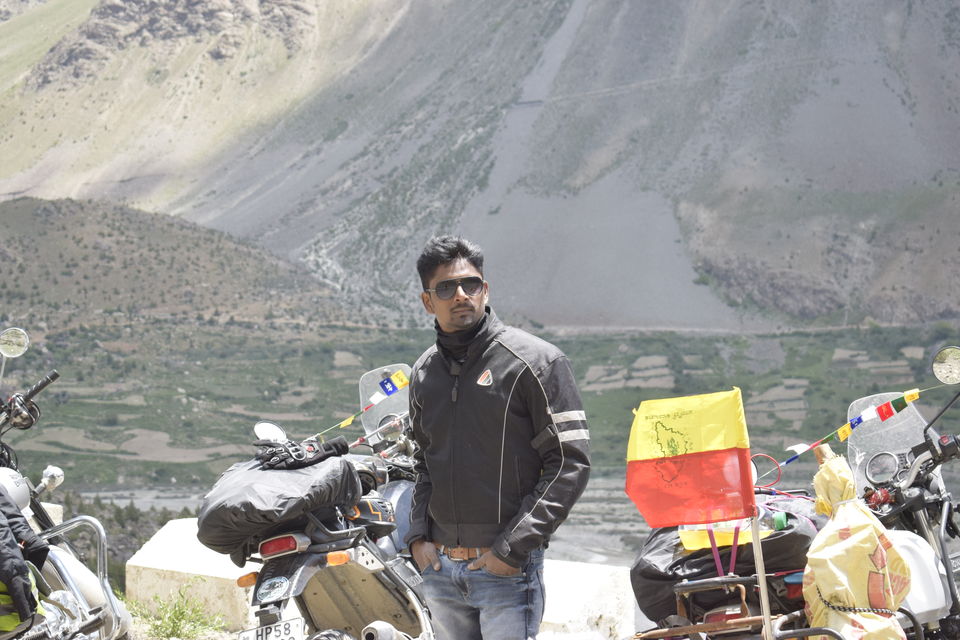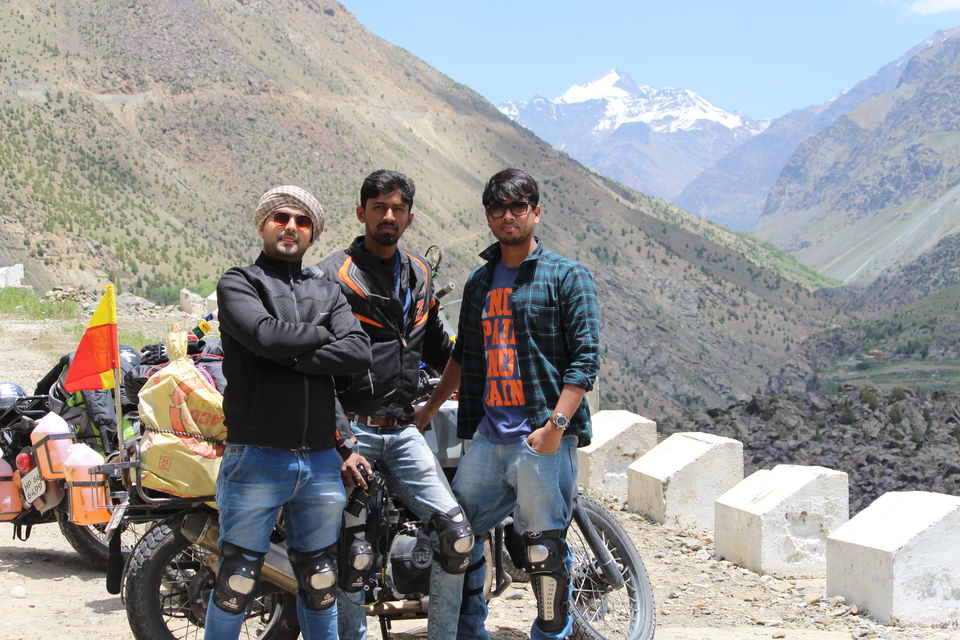 After spending some time at Rohtang pass , We were only able to make it till "Sissu" (85 kms from Manali) by nightfall. As it was dark, we decided to make our stay.
With much need rest for the day long adventure, we had breakfast, lade our luggage and set forth our trip. Our day 2 ride was indisputably an ecstacy. The roads passing through tranquil and majestic Himalayas all around with multiple water crossing is an utmost excitement. By the day end we reached "Sarchu".
Sissu to Sarchu is just 140 kms (225 kms from Manali), Yet it's not important how much distance you have covered in day, its how much elation have cover you. Take your time, enjoy the beauty, stop for breaks where ever it feels enchanting.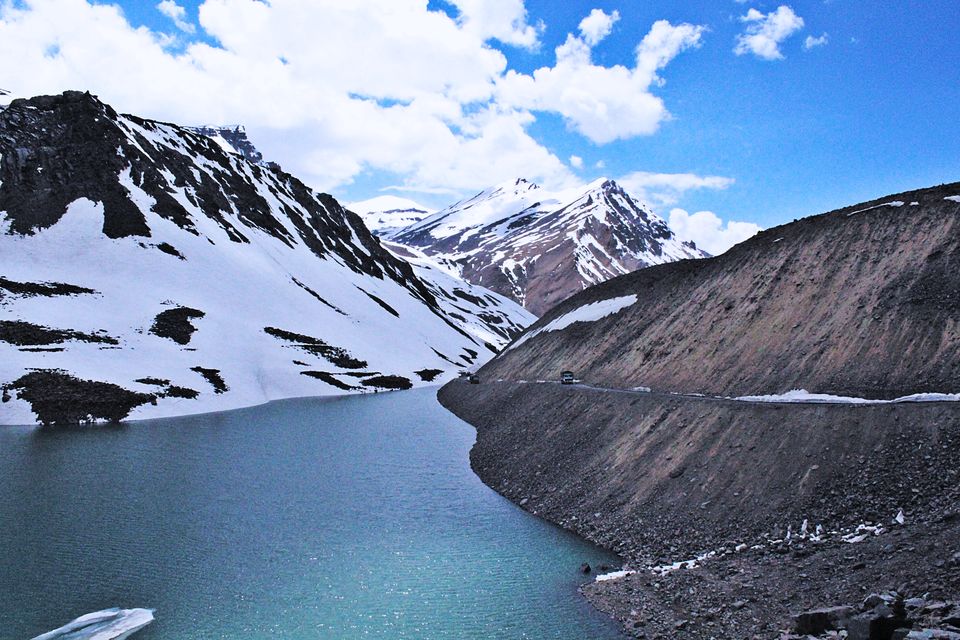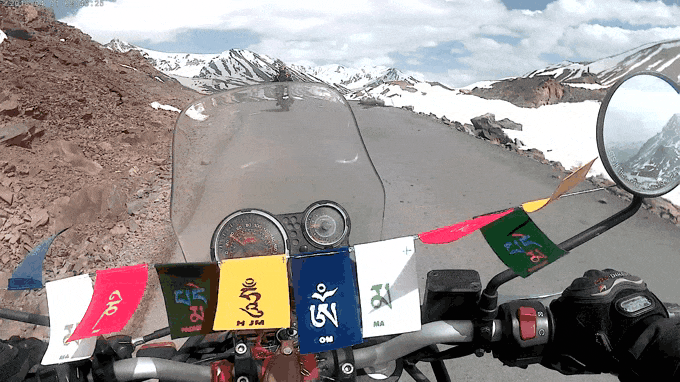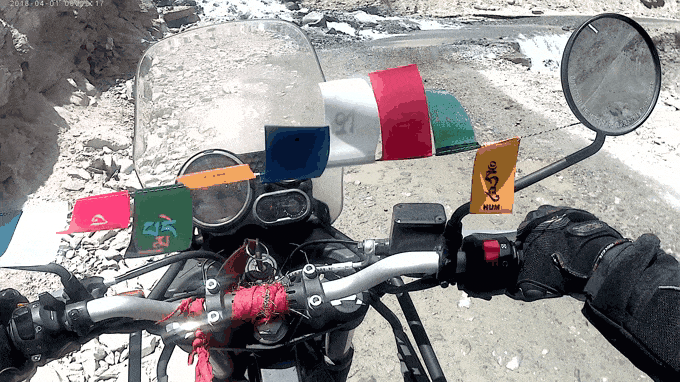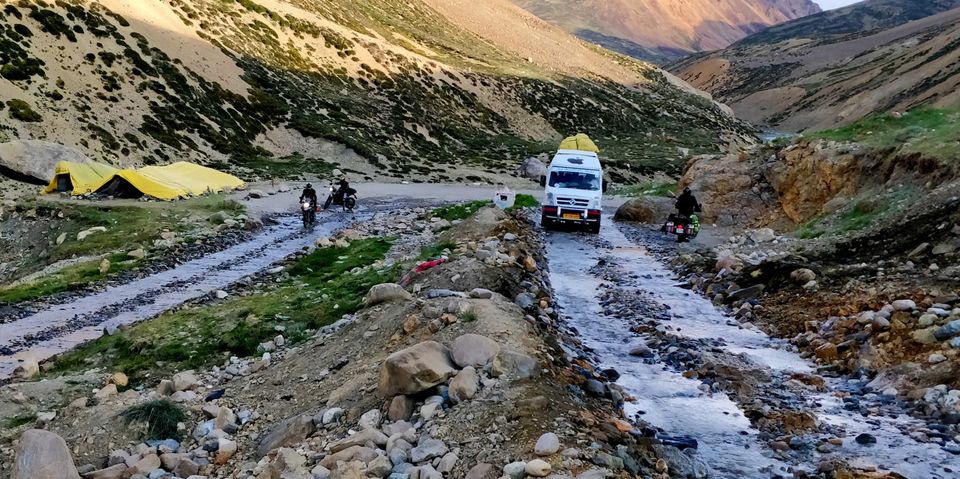 With some fire woods we were carrying, We lit fire at our camp to spend our evening.
Crack of dawn on day 3 we had our breakfast and resumed our trip. What we were about to be experience was exhilarating. The stretch of 250 kms from Sarchu to Leh has salient acquaintance. Coz we were about to incident few stirring part as riders,
1.Gata loops: A 10 km stretch with a series of 22 hairpin bends that takes you to the top of Nakeela La-Pass with an altitude difference of roughly 500 metres between its start and end point. As if this was not enough, The multiple stories of a mysterious ghost encounter in this region will surely send a chill down the spine for travellers.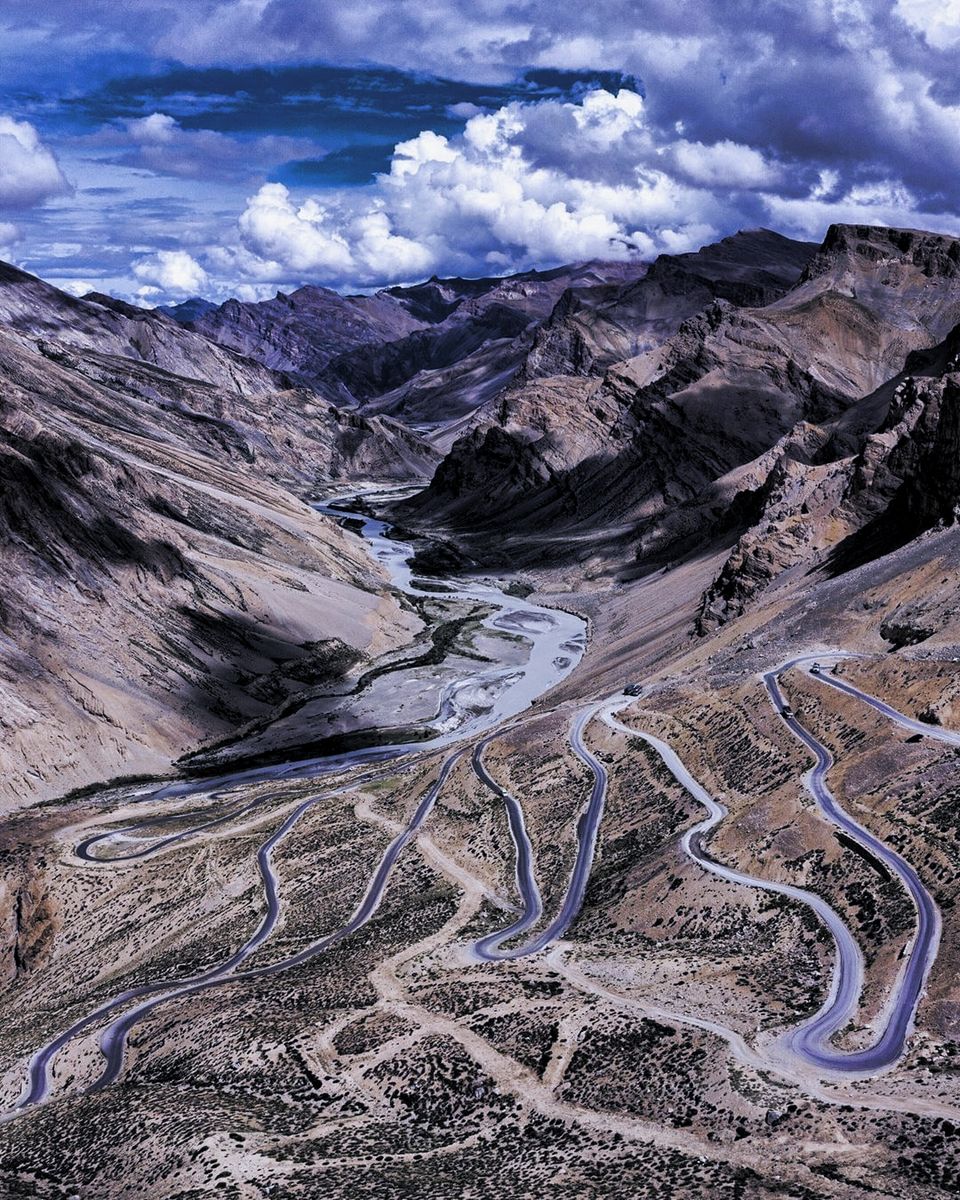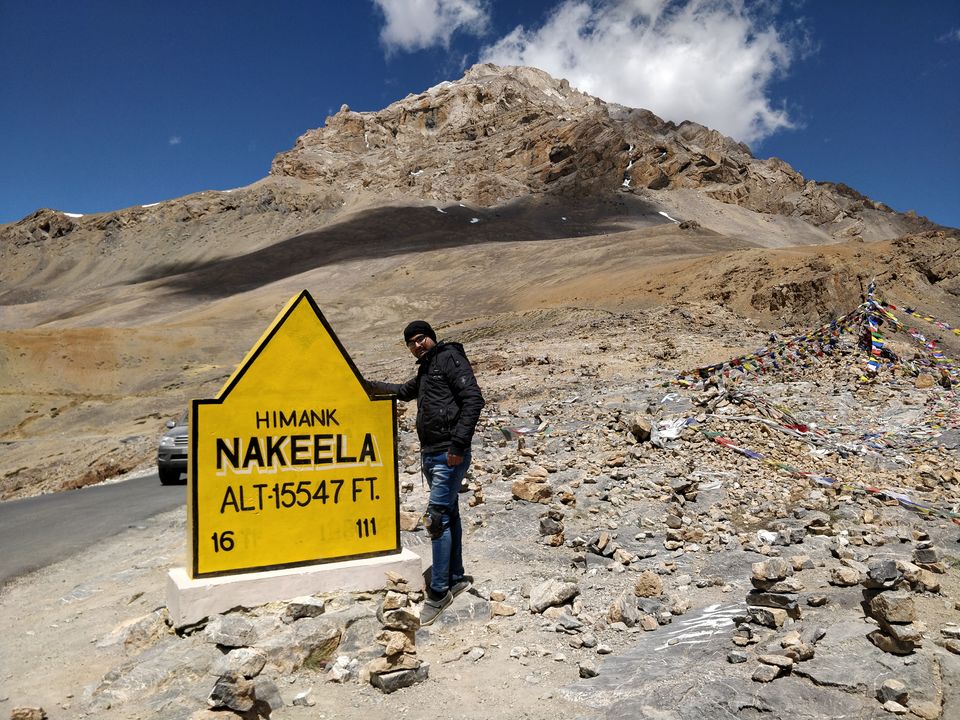 2.Moore plains: A stretch of 40 kms at an altitude of 4800m surrounded by mountain ranges on either sides is an absolute bliss for travelers . Spotless tarmac, Pleasing weather & Spectacular view makes cruising through this part an enduring experience.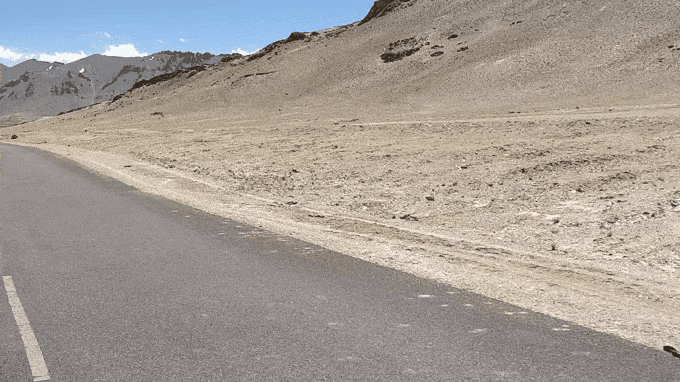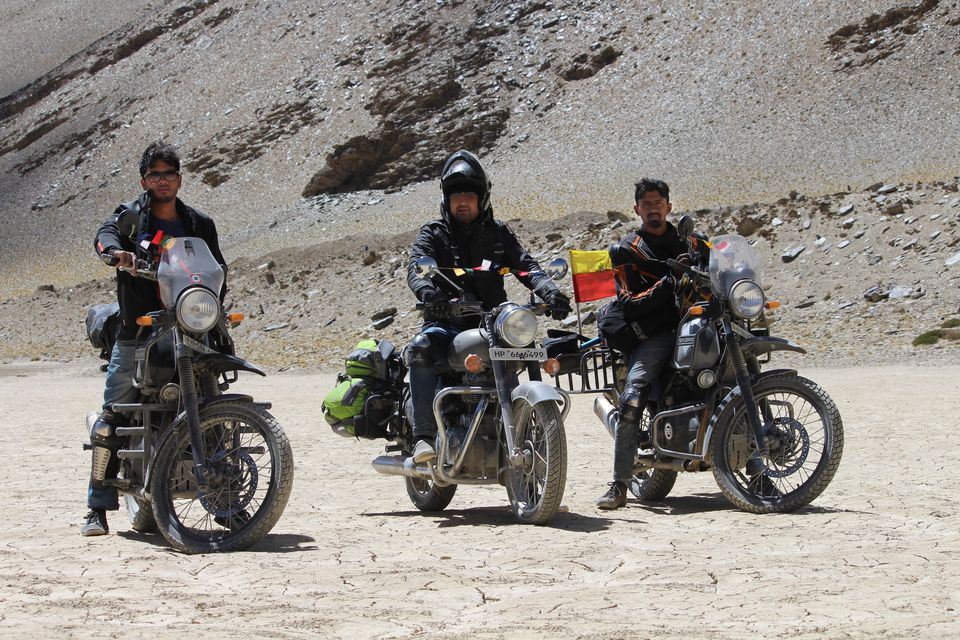 3. Tanglang-La pass: Located at an altitude of 5,328m above sea level, With a layer of glistening snow covering mighty rocky mountains all around and the pass itself adorned by plenty of Buddhist prayer flags, Tanglang La Pass also make its place in highest mountain passes in Ladakh.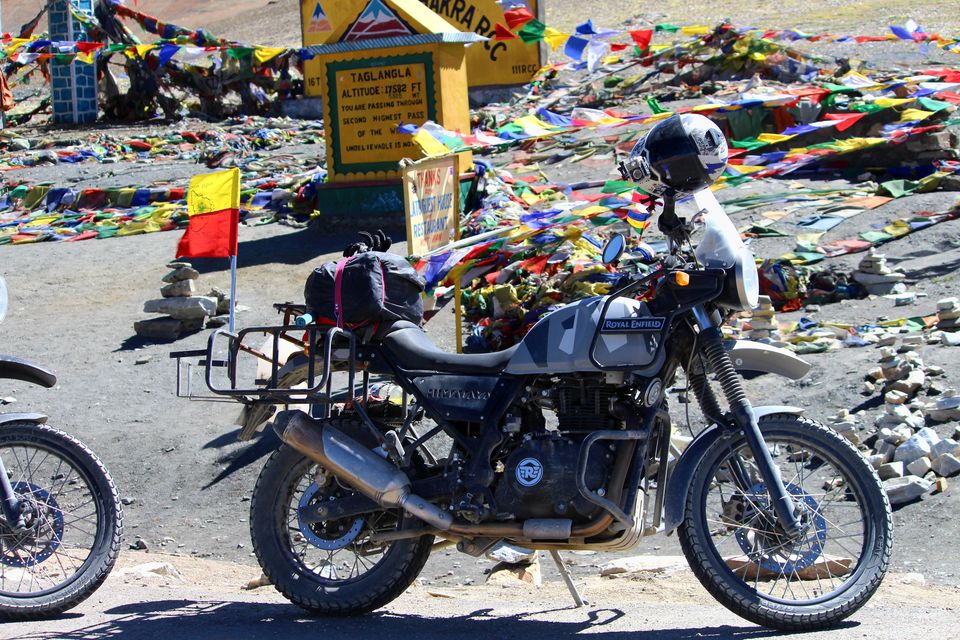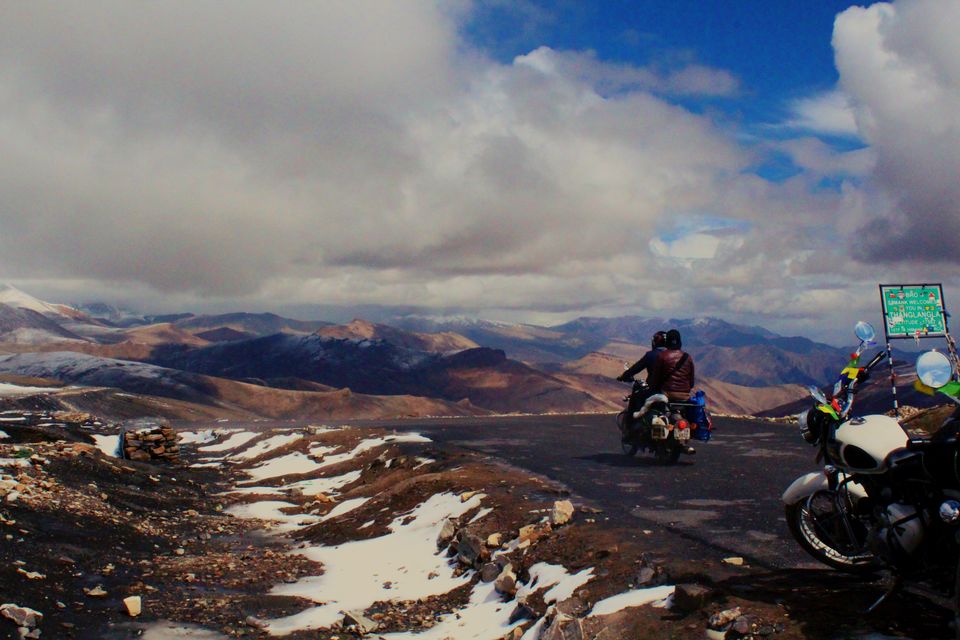 At the end of day 3 we decide to stay at Karu which is around 40 kms before Leh, As we can find economical stays at Karu as compared to Leh.
On day 4, We planned to explore Leh town and around. Leh town itself encompasses a lot for an entire day traverse. Yet based on your priority and interest your can keep few places off your list. (Thiksey monastery, Leh Palace, Spituk Gompa to name a few which we felt a notch below)
Passing by Thiksey monastery, We decided to visit "1. Shey Palace" on our way to Leh from Karu, Following which we visited,
2. Shanti Stupa: A white domed stupa built in 1991 on Chanspa-hilltop by a Japanese Buddhist, Gyomyo Nakamura as part of peace pagoda mission. The location of the stupa provides panoramic views of the surrounding landscape.
3. Hall of fame: A museum constructed by the Indian Army in memory of the brave Indian soldiers who laid down their lives defending the motherland in the Indo-Pak wars.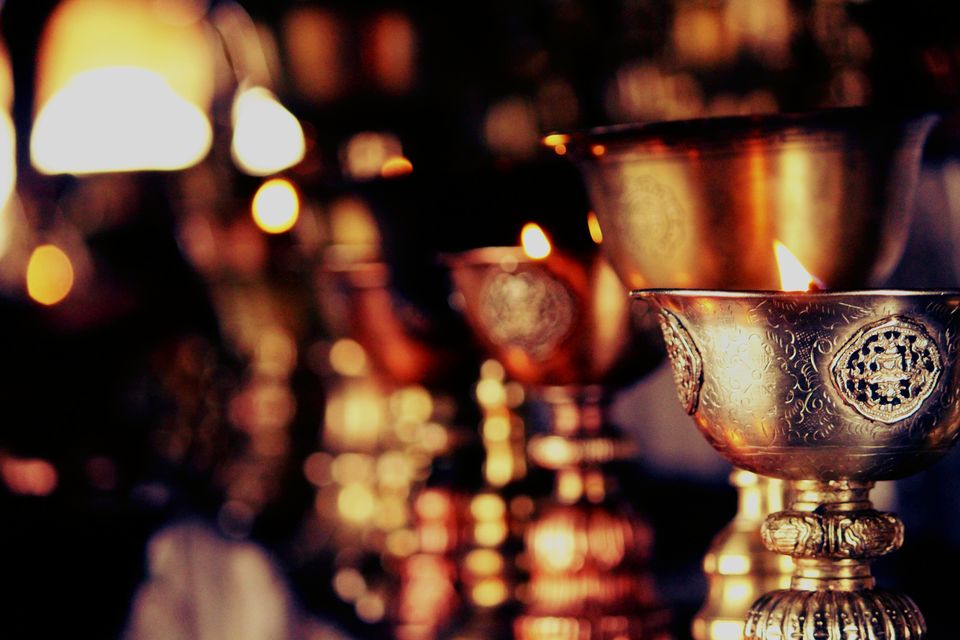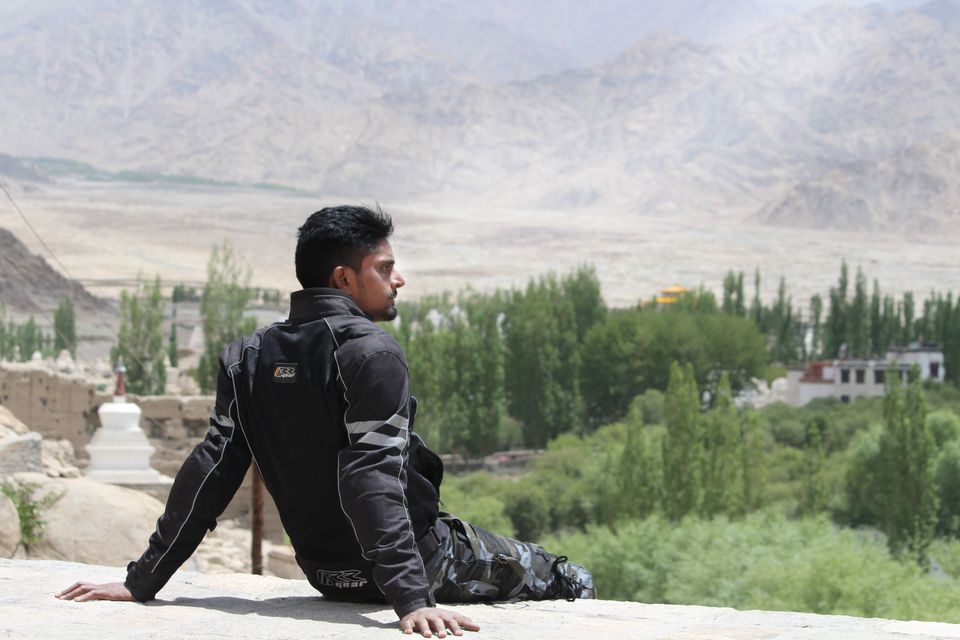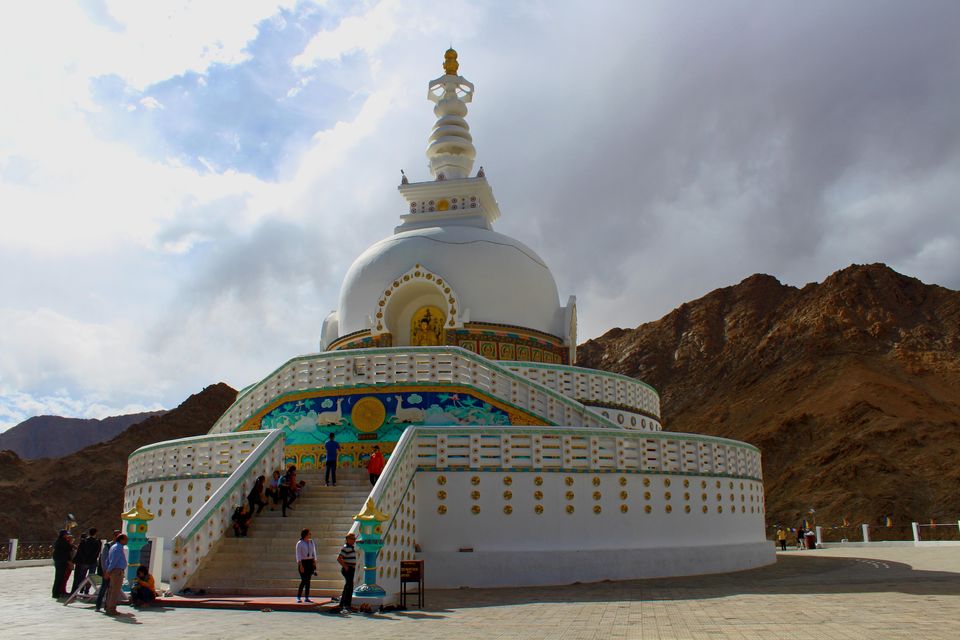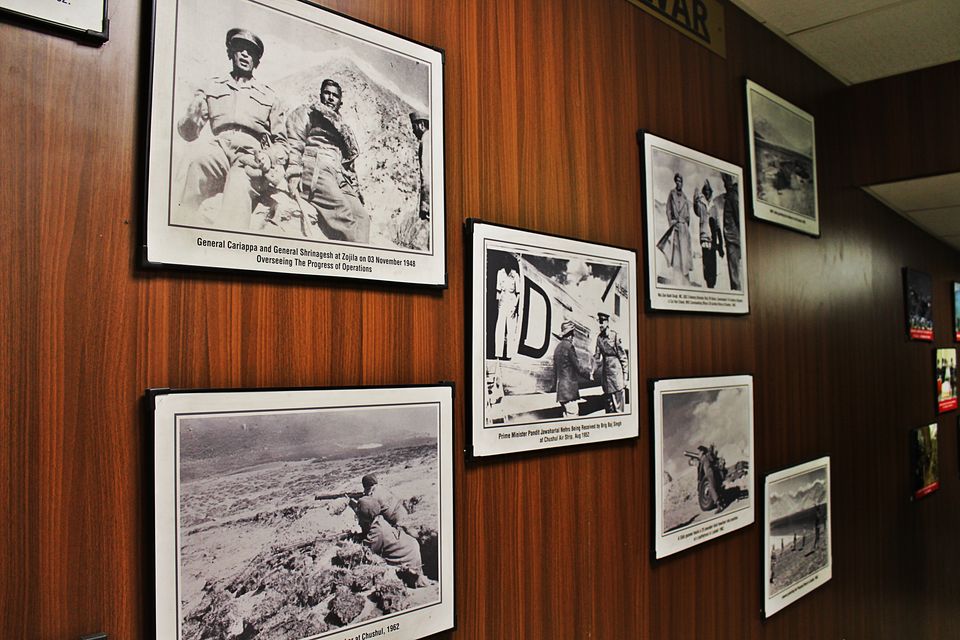 Later that afternoon, we drove to Magnetic Hill, About 30 kms on Leh-Kargil highway lies this mysterious "Gravity Defying Hill". The magnetic force in this region is so strong that even a parked vehicle would move uphill on its own. On our way back we also visited "Gurudwara Pathar Sahib" on Leh-Kargil highway. With an very interesting background and history, The Gurudwara Pathar Sahib gains major importance as a sacred place for the tourist.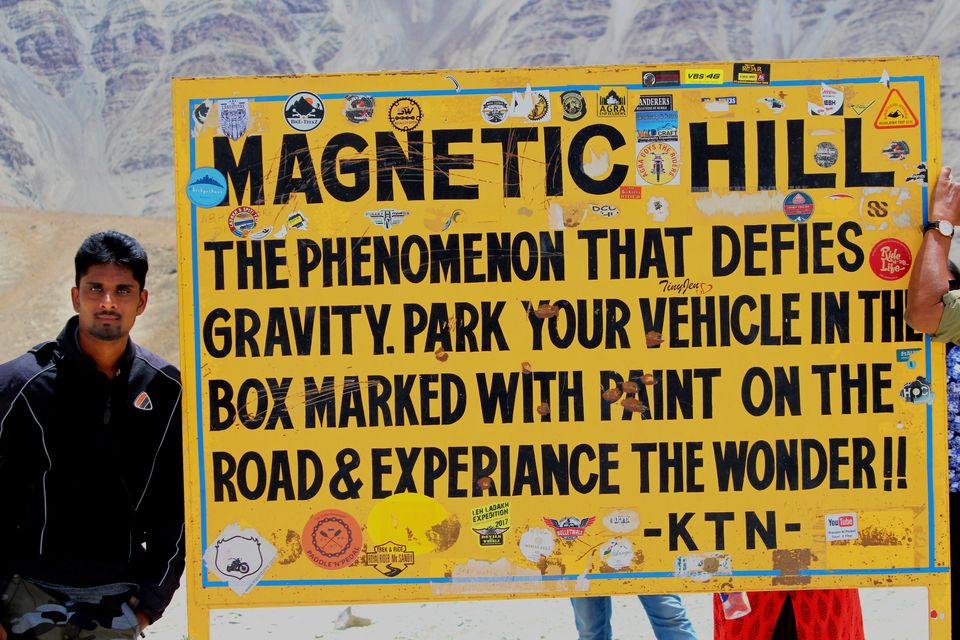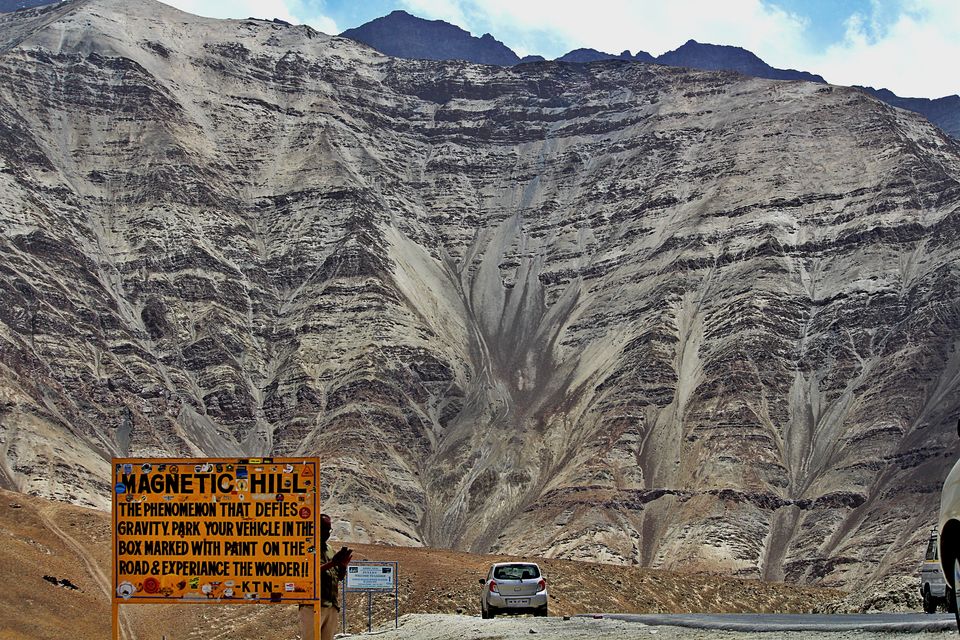 In the evening we rented local bikes for our next day ride to Nubra valley. Later we spent some time exploring the ancient Leh market which dates back to the 15th century, the era of King Singe Namgyal.
Early morning on our Day 5, We got on with our adventure journey. After riding about 40 kms towards North of Leh we reached Khardung-La Pass. Situated at an altitude of 5359m, Khardung-La pass too had made its position in list of the highest motorable roads. Build in 1976, This pass is strategically important to India as it is used to carry supplies to the Siachen Glacier. Riding through such terrain involving risk at every corner gratified me as always.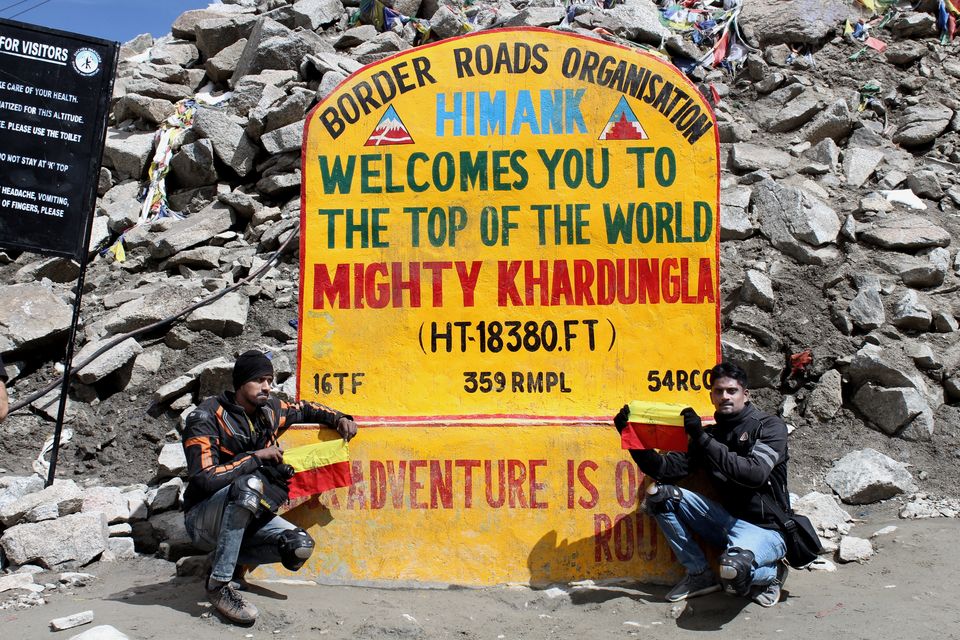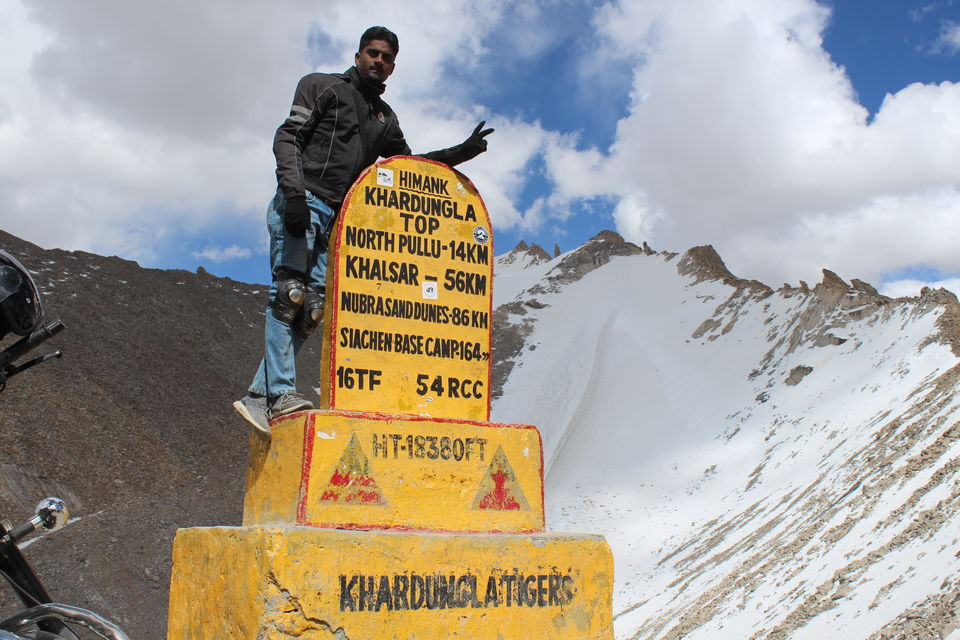 By evening, We reached Nubra-Valley which is further 120 kms from Khardung-La Pass. Near to Diskit monastery, we made our stay for the night.
Next morning, we visited Diskit Gompa founded by Changzem Tserab Zangpo in the 14th century. Apart from statue of Cho Rinpoche in the prayer hall, The 32 metre statue of Maitreya Buddha near Diskit Monastery facing down the Shyok River is the most enticing part of the monastery. The belvedere provides an awe-inspiring view of Hunder sands dunes and Shyok river, which was our next letup. With such beauteous landscapes against the backdrop of the snow-garbed mountains, the Hunder Sand Dune is nothing less than a parcosmic world. Hunder dunes are also home to Bactrian Camels, Which played a crucial role during ancient silk route.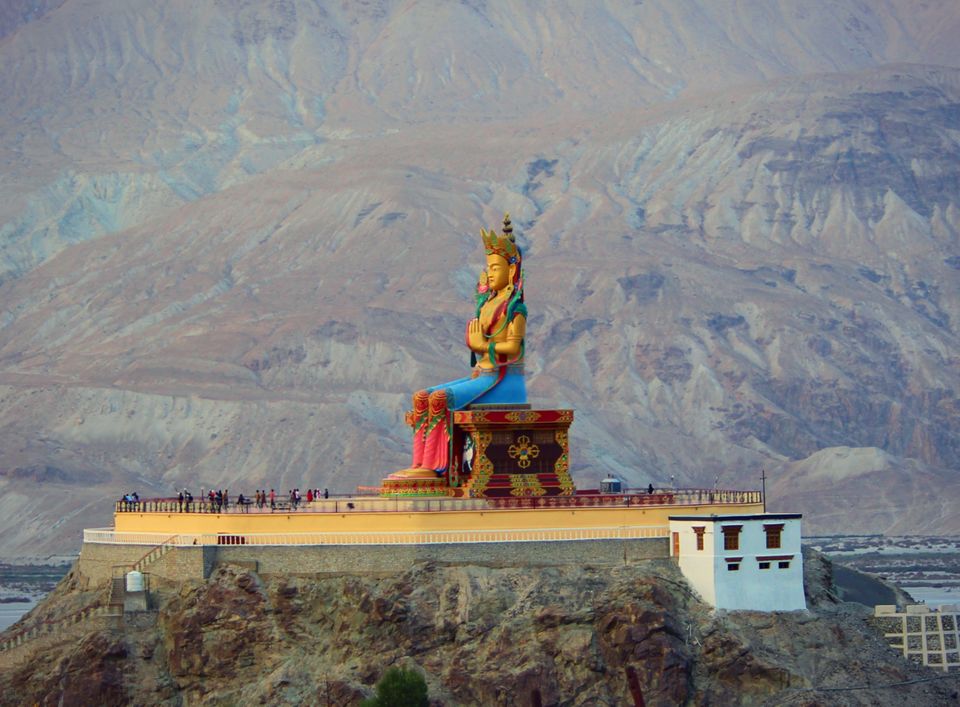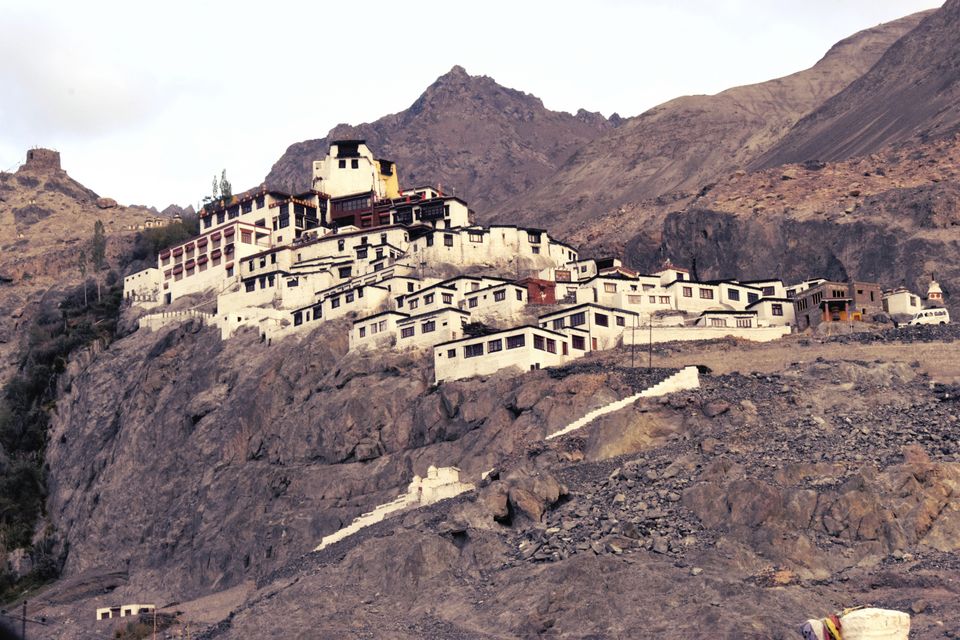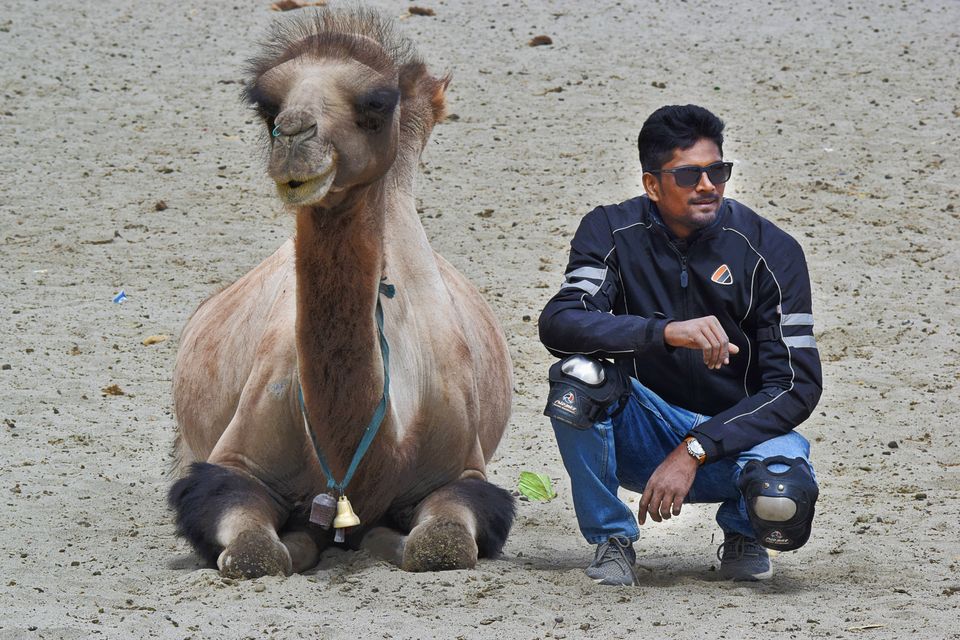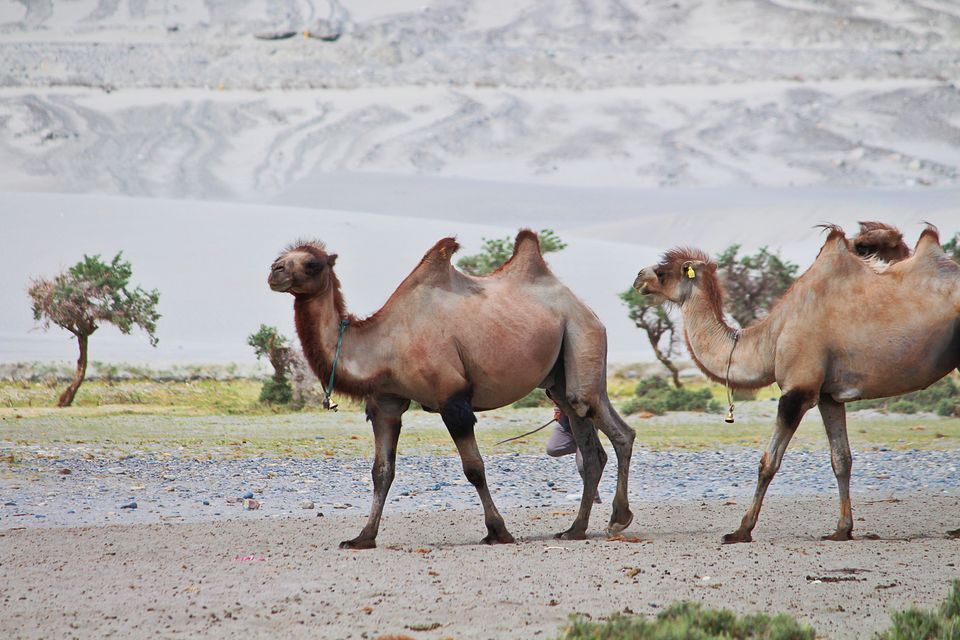 By afternoon we carried on with our ride towards the most eminent destination "The Pangong Lake".
Although people usually prefer conventional and safer route to Pangong lake by returning to Leh, which adds on an extra day to the trip. We decided to take on the road less travelled, "Agham – Shyok village route". This desolate route along side Shyok river involves no steep climbing but still is riskier, dangerous and difficult.
End of the day, We reached Pangong-Tso Lake and made our stay right next to the lake.
Crack of dawn of day 7, Despite being unlucky to witness enthralling Sun Rise due to fewer visibility, We relished the exceptional beauty of the blue water till afternoon. Featured in multiple movies this 134 km long endorheic lake extend from India to China is absolute paradise. Located at 4350m Pangong-Tso is one of the highest altitude lakes in the world,In spite of being saline water,The lake freezes completely during winters.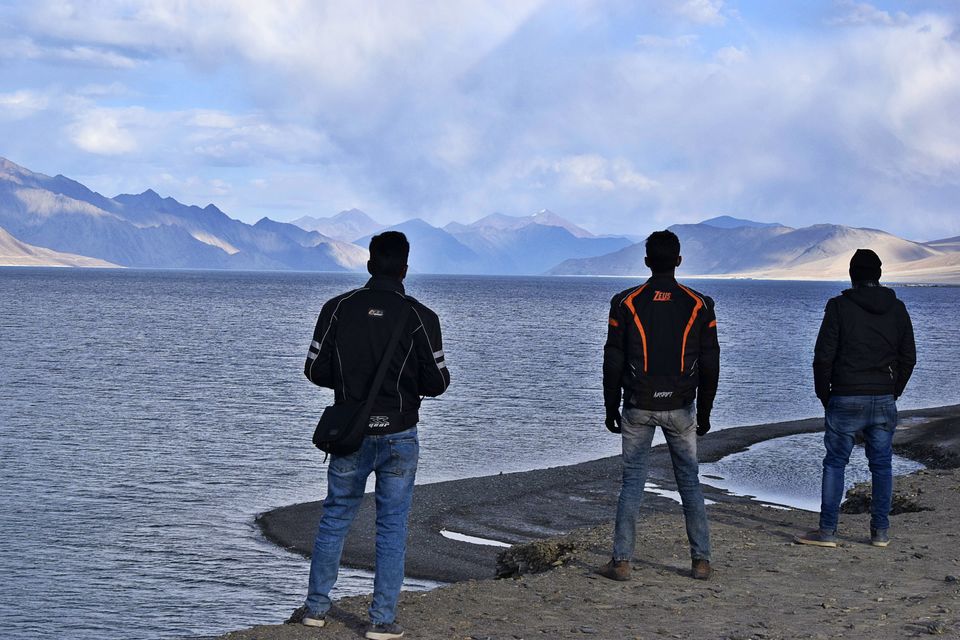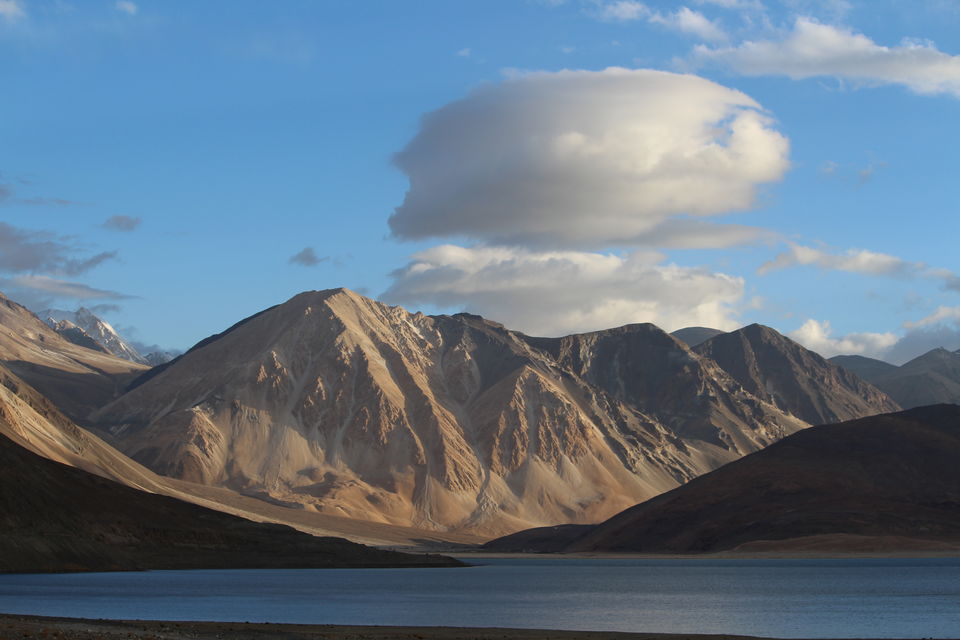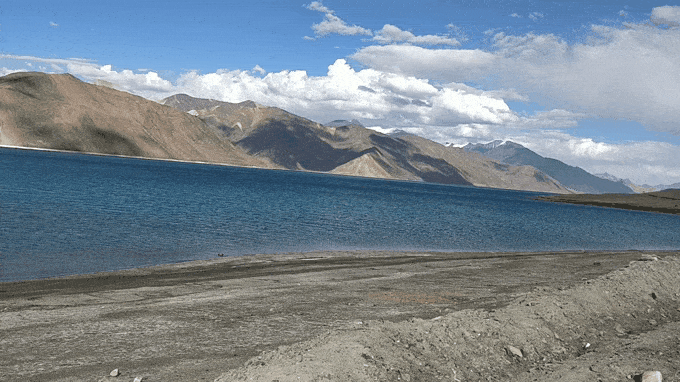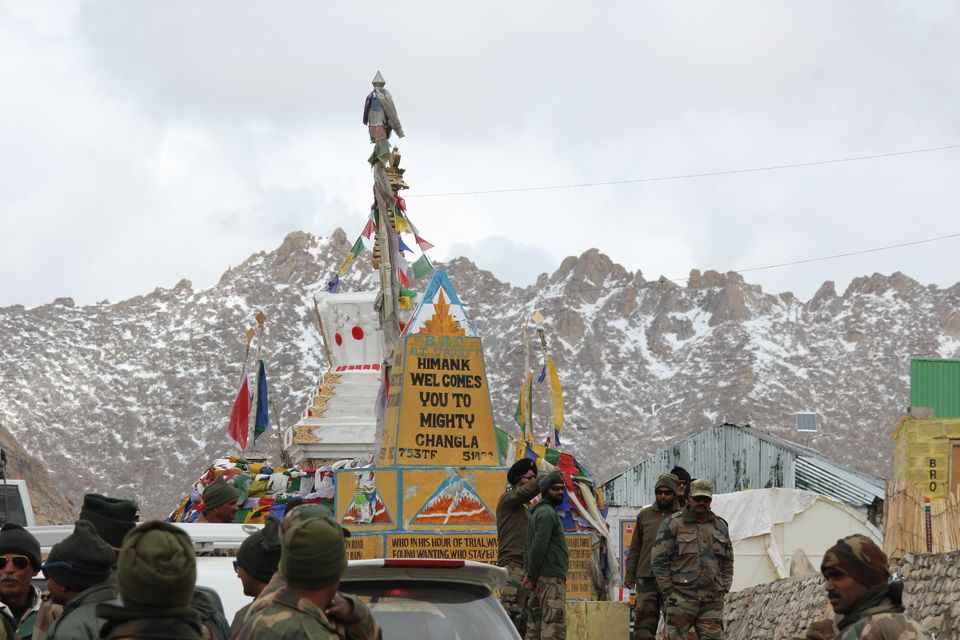 By afternoon we started our ride back to Leh via Chang-La pass, At an elevation of 5360m Chang-La too adds up into the list of highest passes of India. Most part between Pangong-Tso to Leh being asphalt road with loose dirt and slush poses challenges for bikers.
After our exuberant ride through Leh-->Khardung-La-->Nubra valley-->Pangong-Tso-->Chang-La-->Leh we were back in Leh town,our journey felt accomplished. With much needed rest, On our day 8 we headed back to Manali.
By the end of day-9 we were back in Manali with an adventure of lifetime. For the one who had never been to Ladakh it might feel fictitious, But its a fact that ,On a bike in an outlying place like Ladakh, is where one can truly find serenity.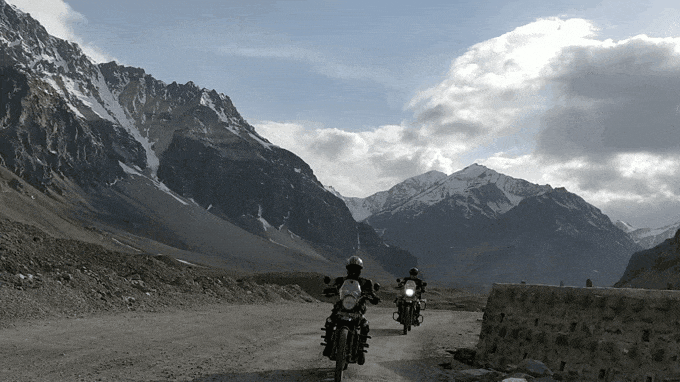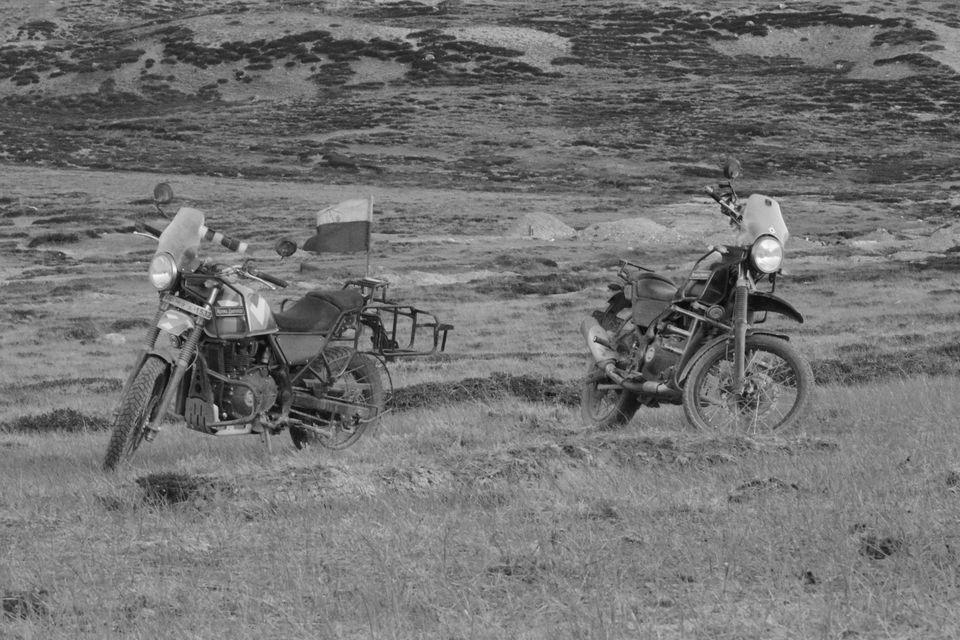 "Sometimes you find yourself in the middle of nowhere and sometimes in the middle of nowhere you find yourself."