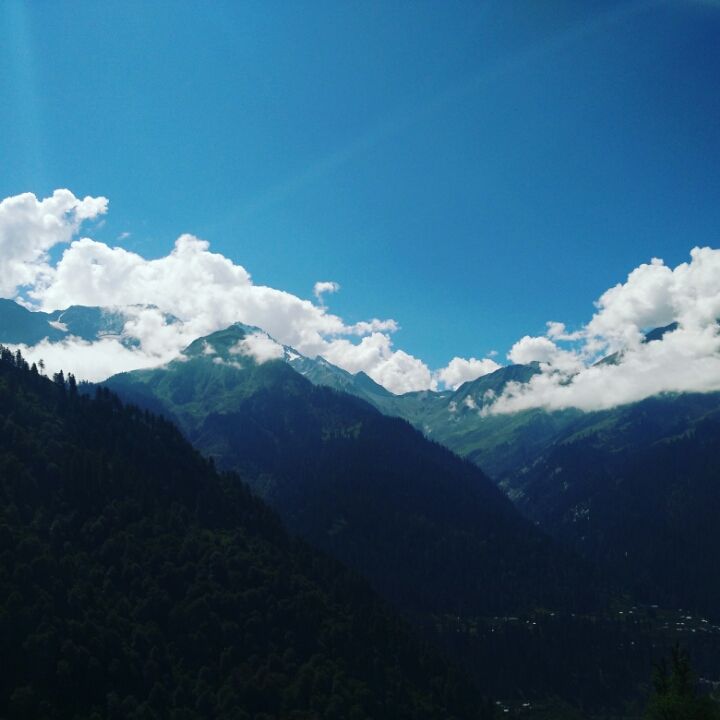 I don't think there is place unlike Himachal Pradesh to start your travel Dairy with ! Trust me it's me who is experiencing the fact.
Well, I started with Kasol and its nearby  places.
Kasol , a small village that comes under Kullu districts of Himachal Pradesh has lots to entertain you .
Undoubtedly unplanned trips give you tremendous memories. For me also a weekend off  to Kasol was not a planned one . We had planned to spend this weekend in Dharmshala and some of  its near by places since this time you can not explore much due to rain .
We had our bus  from ISBT Kashmiri Gate (Delhi) at 9:20 for Mcleodganj (Dharmshala, Himachal Pradesh ) ,that was scheduled to arrive around 6 am. Since everything was all set , we were planning to spend a day in Mcleodganj then next to Dharmshala and then Dharmkot ( Dharmkot around 5 km from dharmshala. It takes around 25 minutes to reach there).But there was something else planned for us and we missed our bus ( I suggest you never to travel in your own vehicle when you have such plans and you are in rush to catch your bus , train and flight 😈).
So here it begins ,since we missed our bus so we  randomly took another ticket for Manali 😝. We boarded our bus at 9:40. We were so confused about what to do and where to go  , but these all things were a little exciting for me . Suddenly we found a group talking about "Kasol". It struck our mind once again and we decided to go to "Kasol". Around 9 am our bus reached to "Bhuntar"( To reach Kasol one needs to deboared at Bhuntar)."Kasol" is 30 km  from Bhuntar. You can take a bus or taxy to reach there . Since we took local bus that costed just 40 rupees each and in another 1 and half hour we were in Kasol .
This is how our weekend begun.
3rd of September - We decided to spend a day off in Kasol since you can not ignore this small valley surrounded with river Parvati and lush greenery. There are several home stays you can find easily in less price to accommodate yourself but we decided to live in camp beside river Parvati. Spending time there was quite million worth.
While staying there in Kasol you must  visit '' Evergreen Cafe '' and there are some other cafes as well like Mama's cafe. You must try "Thupka" if you are foodie and interested in trying specialities of such places.
4th of September - In morning we woke up around 6 by gurgling of River Parvati. We asked some localites about near by places and some people suggested us to go to Tosh. Since it rained heavily last night so people there asked us not to trek to Kheerganga where I really wanted to go 😖. Tosh is around 18 km from Kasol.
At 10am we hired a taxi to reach Tosh. You can take local buses as well from Kasol. It will leave you to "Barshani", a small village that comes before Tosh . And from there you have to trek exactly 3 km to reach Tosh as buses don't go there . We reached Tosh by 12 o'clock in noon, and then we decided to explore the village.Tosh lies on the slope of a mountain overlooking a river and a waterfall. Just after the local households, series of hotels appear at the end of the village. Distinct smell of Marijuana is the first impression of Tosh. You will find various food points and small cafes there they serve Israeli food, since you will  barely find Indian food there.
Tosh is full of budget accommodation (300 INR per night) so finding one was not a tough task for us so we lodged there in a home stay again. Treking in mountains with bagpacks on your back is really tiresome so we decided to put our stuffs there and to explore the beautiful Tosh afterwards.
While treking there in narrow lanes I realized Tosh seems much vibrant and beautiful if you are stoned 😝 I hope you get it. Frankly speaking there is no place for a sober in Tosh. Anyway , by walking uphill towards the waterfall you will find two beautiful treks through the forest to a headland which offer amazing view of the waterfall and the river.
As it dusks you will just feel another Magic covering the whole surrounding. Parties start being louder and overwhelming and then you will start finding the different you. Good food ,different people, live music these all add to the another overwhelming evening. Ours were the same. If you like such places then must go to "Pink Floyd". After indulging into the moments you will not really realise that how fast the time goes. And it was 12 am then. We came back to our lodge.
Another morning is not different in Tosh. Things go same everyday and it is like you will not really want to come back. From the hangover of last night, we decided  to walk till the waterfall or to anywhere far from that maddening routine. Soon after we checked out and decended to Barshani and caught a bus back to Bhuntar(via Manikaran/ Kasol) . Without any prior plan again we got down to kasol to spend some more time in Kasol again. We roamed around in Kasol and did some shopping. After having our lunch there we took bus for Bhuntar since we had our bus for Delhi that evening.
Well there was another surprise waiting for us. We did one blunder again 😂 mistakenly we had our bus booked for the next day of the day we had to return and this is what we found when we already had boarded our bus. We were in trouble again since we had our works from the next day. With stoned faces we talked to one of the shopkeepers there and told him everything about that. Here I must say people from Himachal are quite good rather people in cities like Delhi. He arranged two tickets somehow in the same bus. But till then the bus had left for its destination . He called someone and asked him to leave us to place where the bus was waiting for us( perhaps he had called the driver or someone to wait there ). And we boarded our bus. It was such a narrowskep.  This is how it ended and the next morning again when we opened up our eyes we found ourselves to waking up from that beautiful dream that we were in from last two days .
P.S - Since we just stayed for two days and couldn't explore much places. But I will suggest you to take atleast one week off to explore the places I talked about. There you can explore some more places like Malana, Chalal and some other beautiful places.