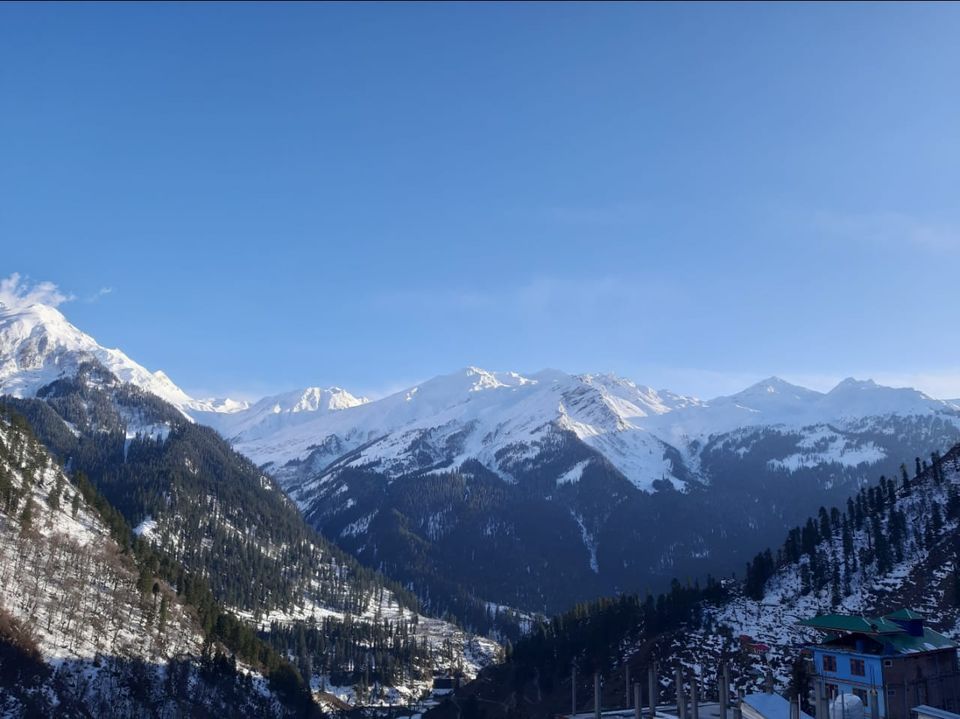 Bhuntar: we woke up at around 6 in morning with views of snowcapped mountains, our first view of the range. As expected rain clouds were hanging around the mountain tops.
We reached bhuntar at around 7:40, and started looking for bike on rent (what else would be best to enjoy the weather, fresh air and chillness of mountain). So we rented our bikes from satyam tours and started for kasol.
As we leave behind the city of bhuntar, view of mountains became clear and air became super chilled. Our hand become numb and face started freezing. It was as cold as our bike ride through changla pass in leh(which was admist rain and snow). But nothing stopped us from clicking some awesome pictures and enjoying the weather. The sound of Parvati river and frequent waterfalls from melting snow was divine
After battling the cold we reached kasol at around 11:00 clock. As we enter kasol rain welcomed us with all its might. In hurry we checked in into a hotel with a beautiful view of mountain from window. After freshning up we went out to check out some cafes by this time temperature had further dropped and cold was unbearable. As we checked into "evergreen cafe" warm heaters welcomed us. As we finished our food, rain start battling the shed of cafe. all of our plan to go manikaran or any trek seemed to be washed away with rain. So we decided on chilling in some cafes only. Evergreen was empty so we shifted to moon dance cafe where we met some solo travellers from Israel, mumbai, england and italy. After some fun conversations and shared smokes, we decided to go on a small trek along the Parvati's tributary in jungle( not really sure if that trek has some name or not, but we rarely find any human being on that trek. Ya we do get company from snack-hungry dogs). This trek is so serene and people finding solitude will love it. We sat there for like an hour and again rain started falling from heaven and we all ran back to kasol. With a quiet dinner and small old monk session (to fight of the cold :p) we called it a day and slept early in hope of a rain free and clear sky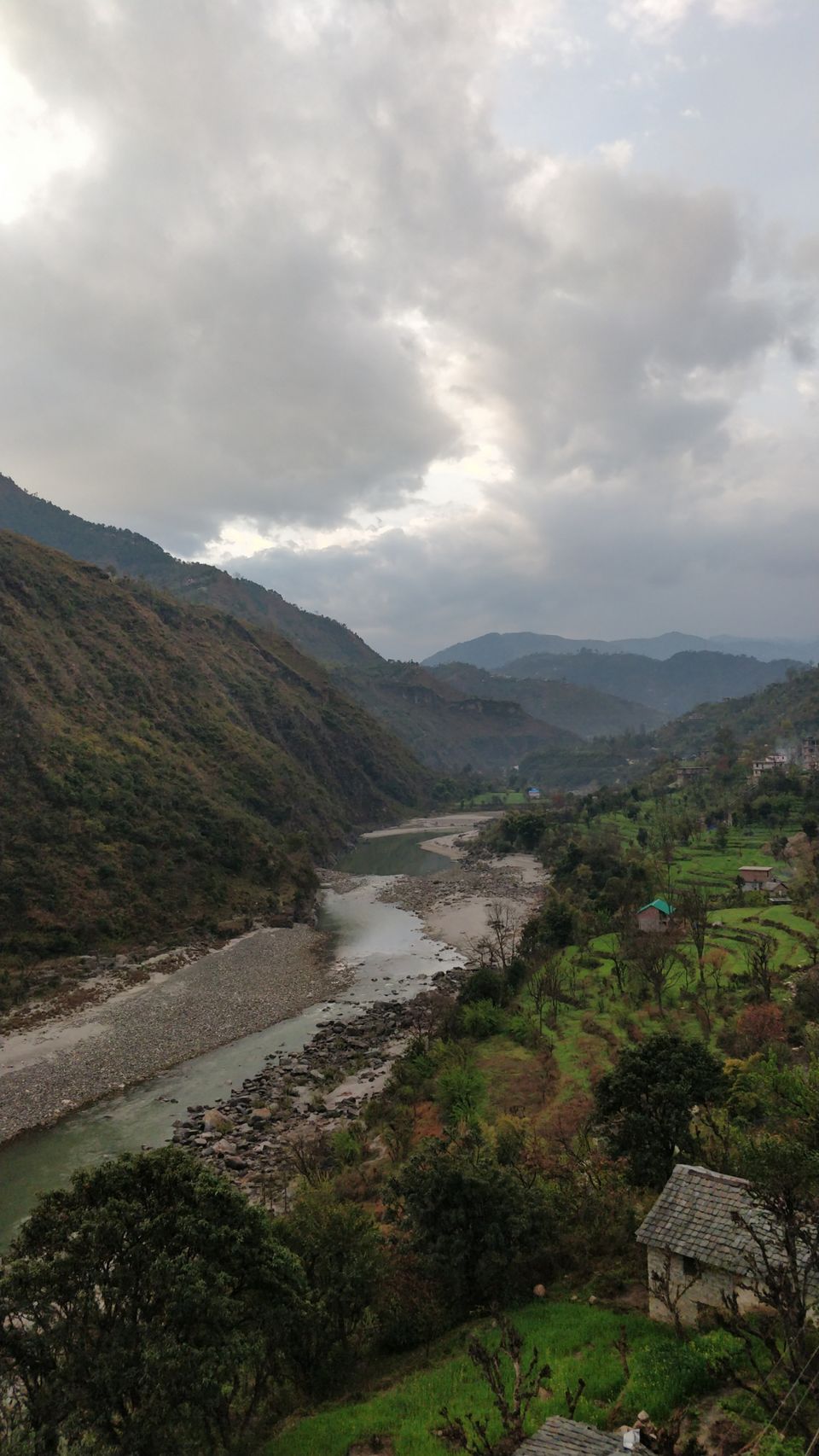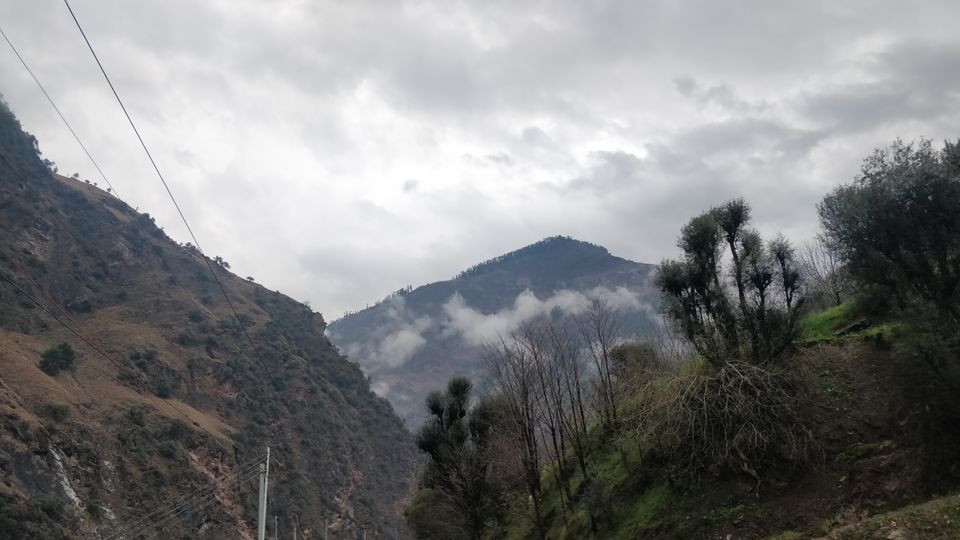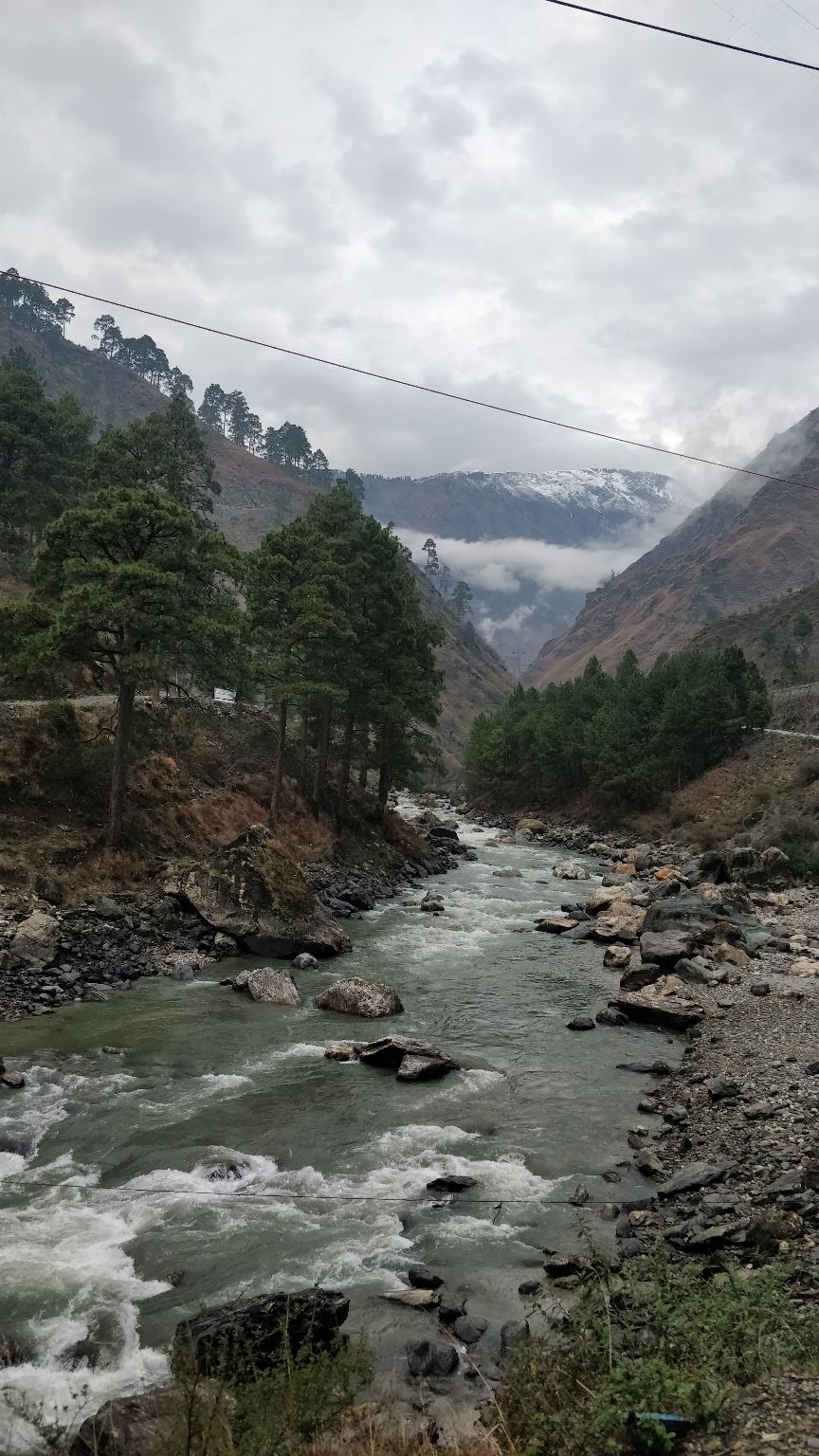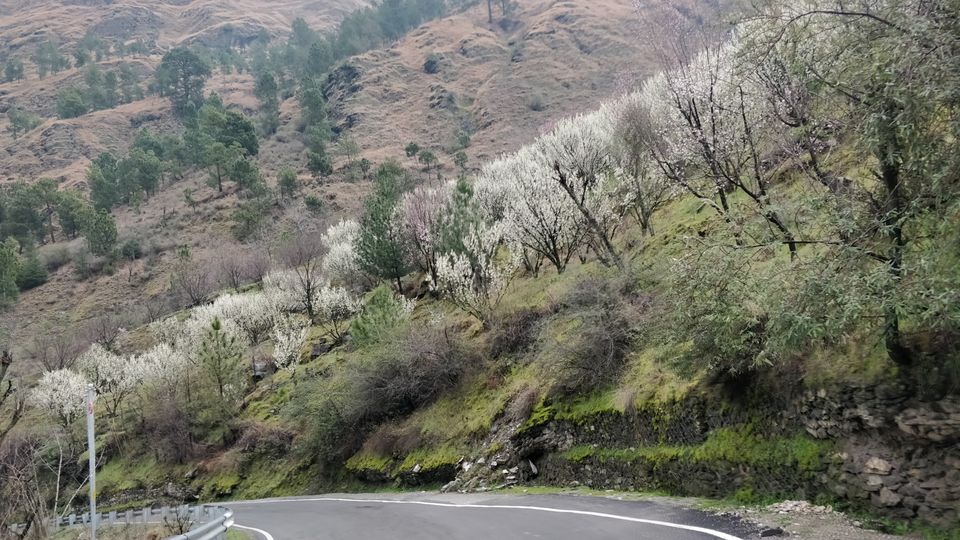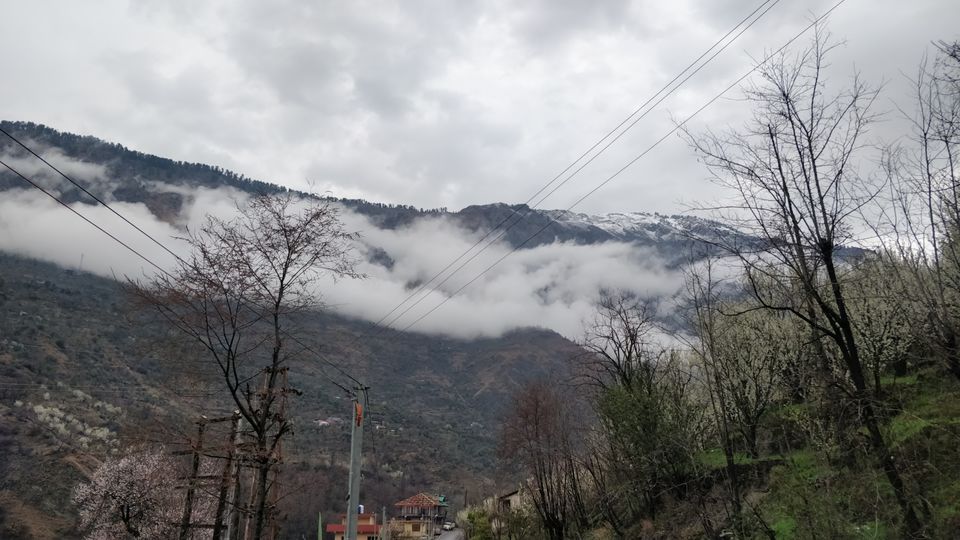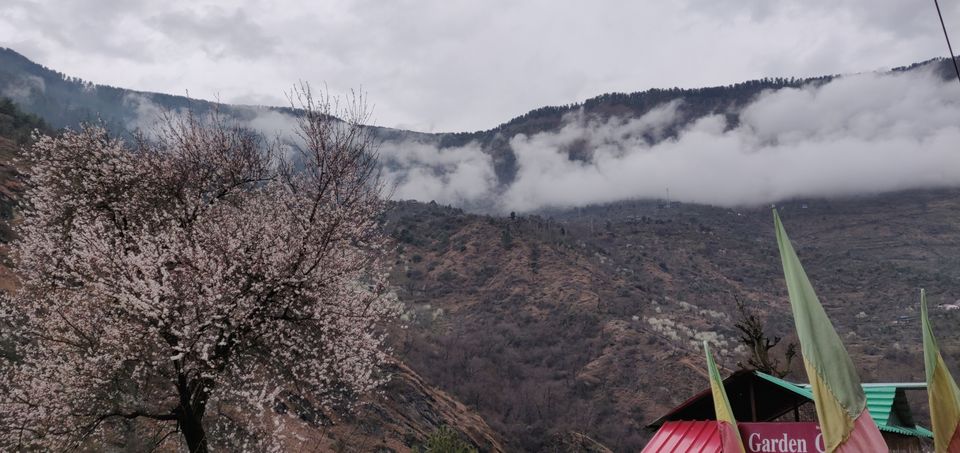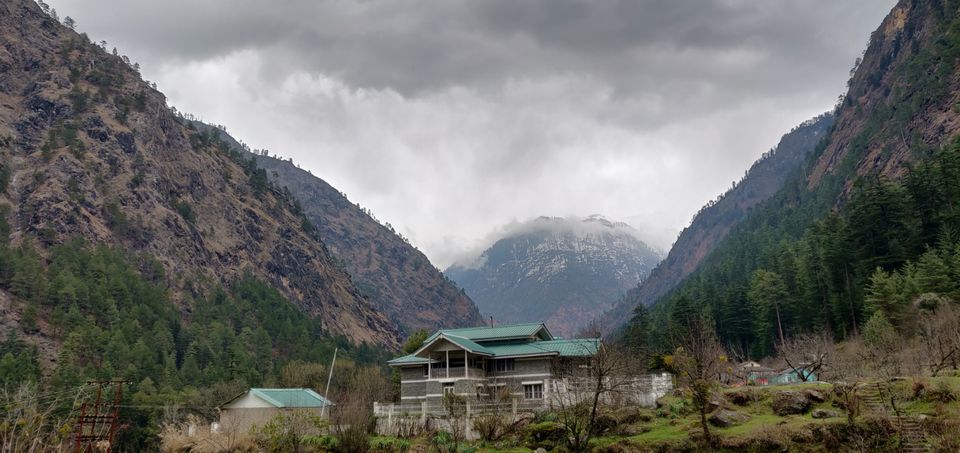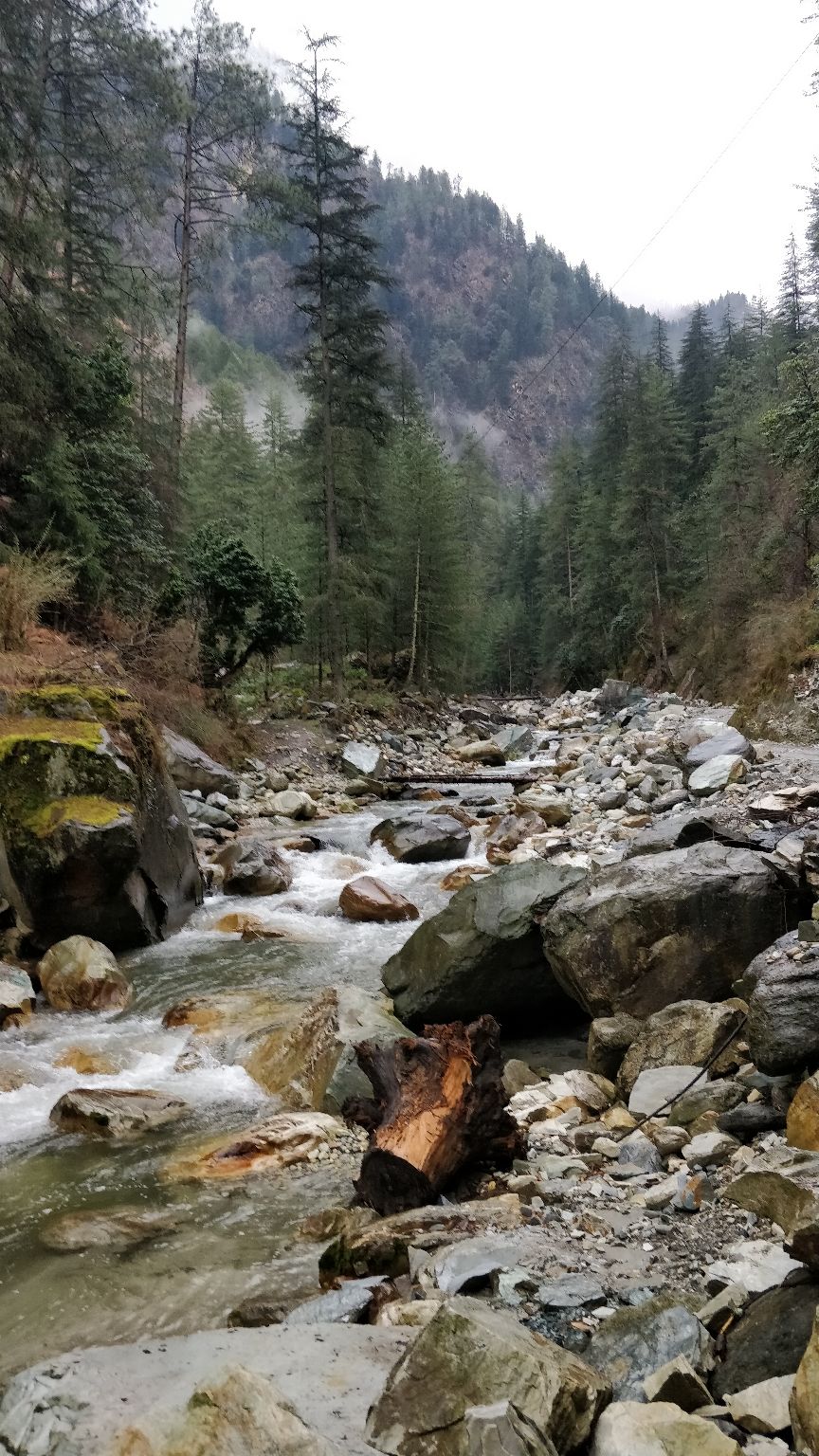 We woke up at around 7 in the morning to find clear skies and bright sunshine welcoming us. Joy filled our hearts and we started getting ready for the day. Suddenly we noticed snow everywhere, not in kasol but on all mountains surrounding it, view from rooms has changed completely to snow filled mountains. But sun was bright so was our hearts, and we kicked start our bikes and started our journey to manikaran and tosh.
Manikaran: as usual was divine, it was our second time there but still the stories and mysterious of the holy place never stop us from surprising. The hot water spring, the shiv mandir and gurdwara everything together, existing peacefully with each other.
After all darshans our empty stomachs were calling for guru ka langar. As we sat there on floor, we got our plate full of kadhi and chawals and believe me i can't explain how tasty the kadhi was. I haven't tasted anything sooo tasty in a while. I recommend anyone going to kasol to atleast have a meal at langar in manikaran.
To Tosh: with our tummies full and heart filled with gratitude from this holy place, we kick started our bikes towards tosh. We had a word with some fellow travellers a day before and they told us that tosh is completely filled with snow and is all white. None of us has ever experienced snow therefore we had this curiosity and excitement building with in us. Road towards tosh was filled with melted water from snow and roads were in very bad condition. Melting snow made drive towards tosh very difficult but we were stopping from nothing. After crossing many puddles and water filled potholes (read craters) we reached pulga dam. And we got first sight of snow from upclose. Our excitement was surreal. After a quick snow fight we left for tosh. Believe me road just got worse. There was literally no road and whatever was left was filled with "khichad" but we completed our last stretch to tosh.
Tosh was actually filled with snow but most part of it was melting this means more khichad. We crossed the famous tosh bridge and started our walk towards the famous cafes of tosh. Walkway towards these place was filled with snow of atleast 2-3 feets, after slipping a few times we reached the tosh's view point. Believe me all the disgust feeling of mud, pain from slipping and anything negative for tosh just left us, the view from there was mesmerizing. We haven't saw anything this beautiful in a long time. We sat there for a while clicked a few pictures, took a snap from my Polaroid to save that landscape for myself for forever.
We started our trek towards the famous cafes of tosh, after reaching the top we had many options to choose from "cafe pink Floyd" to "cafe 360" and "cafe boom shankar". After a good argument we finalized going to Pink Floyd. There is no problem in this world that you can't forget with a glass of watermelon juice there. It was really really refreshing. The view from window was awesome ( as expected). After a quick smoke up we decided to chill for sometime there only before we start again for our ride way back. After an hour or so we decided to go back to tosh as sun was coming down and these roads were not good for driving in dark. Ride way back was pretty comfortable and uneventful except a quick stop for a JCB who was clearing the landslide.
We reached back to kasol by 5:30 in evening. We immediately parked our bikes and went to our secret trek in jungle again to have some solitude time and a good smoke up. So we started again accompanied by friendly pack of dogs. We sat there for a good an hour or two, nobody was willing to leave but darkness and fear of unknown in jungle made us force our feets back to kasol. We decided to stroll around in market and have an early dinner. All of us were keen on trying cafe sunshine there (have been in cafe sunshine in arambol, goa and it was awesome) , must visit for anyone with good taste in food and music. All of the staff there was so friendly. We didn't realised how time flew with awesome food and great company. At last we decided to go back to our rooms. I fell on my bed as soon as we reached the hotel. I slept immediately, but before that heard these two idiots were up for some mischief.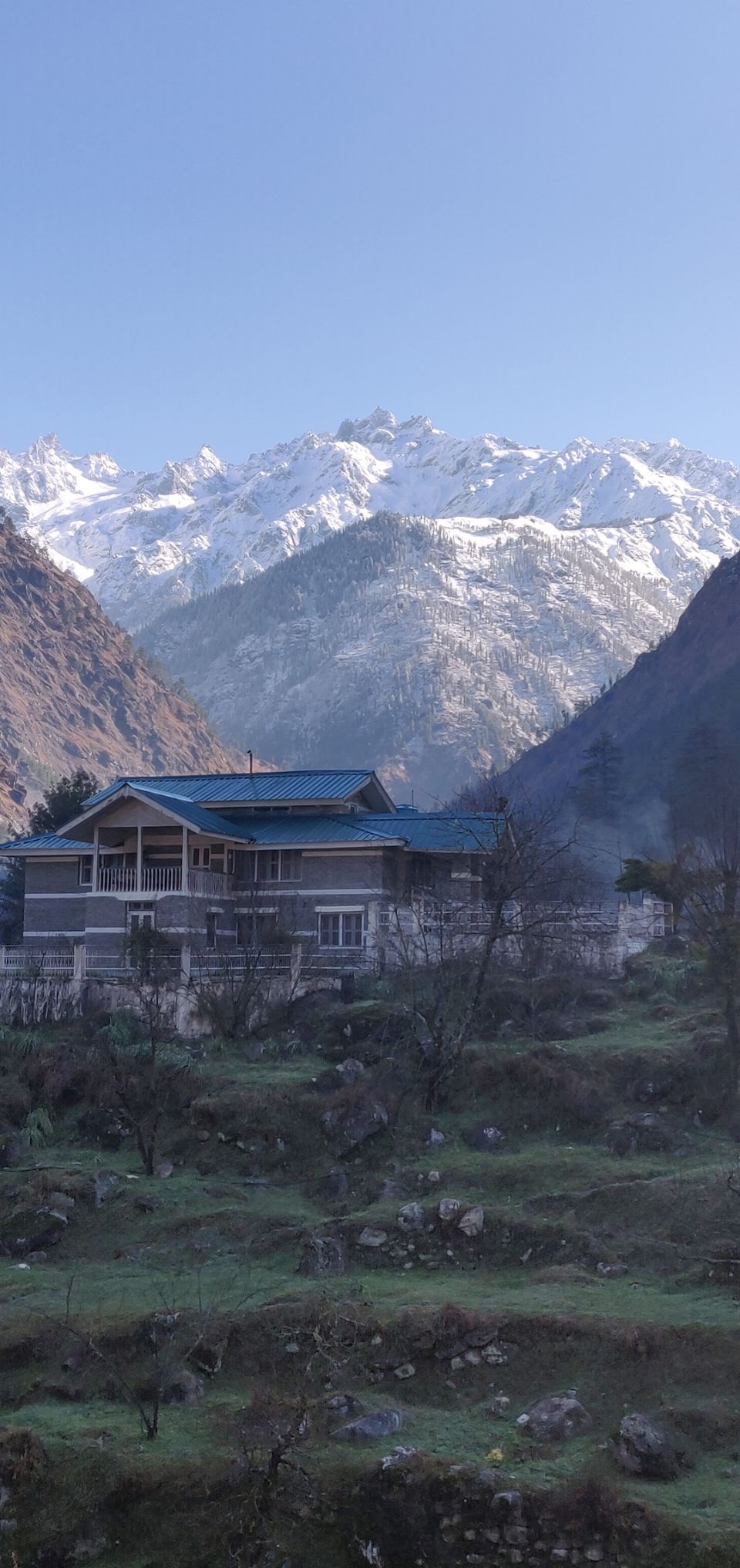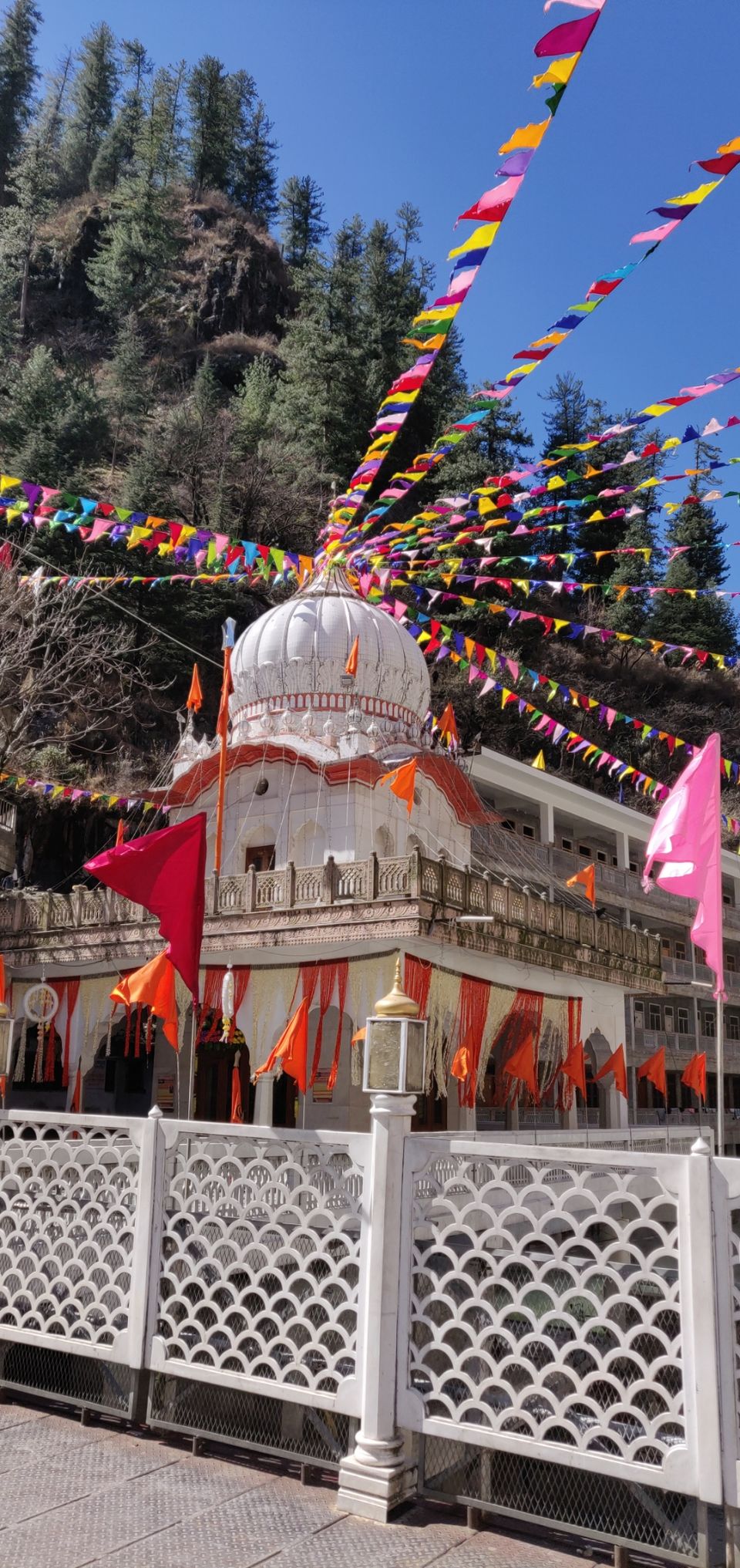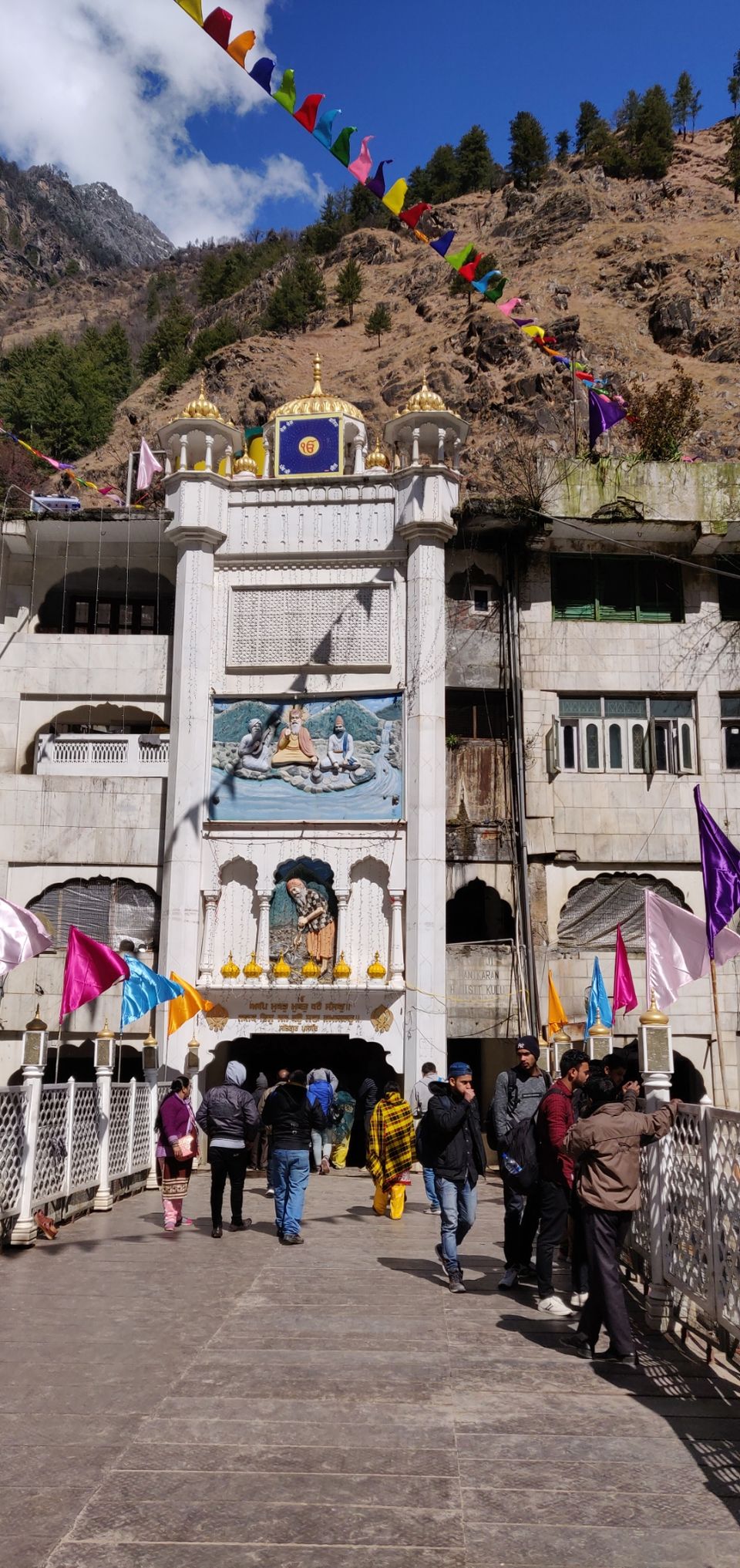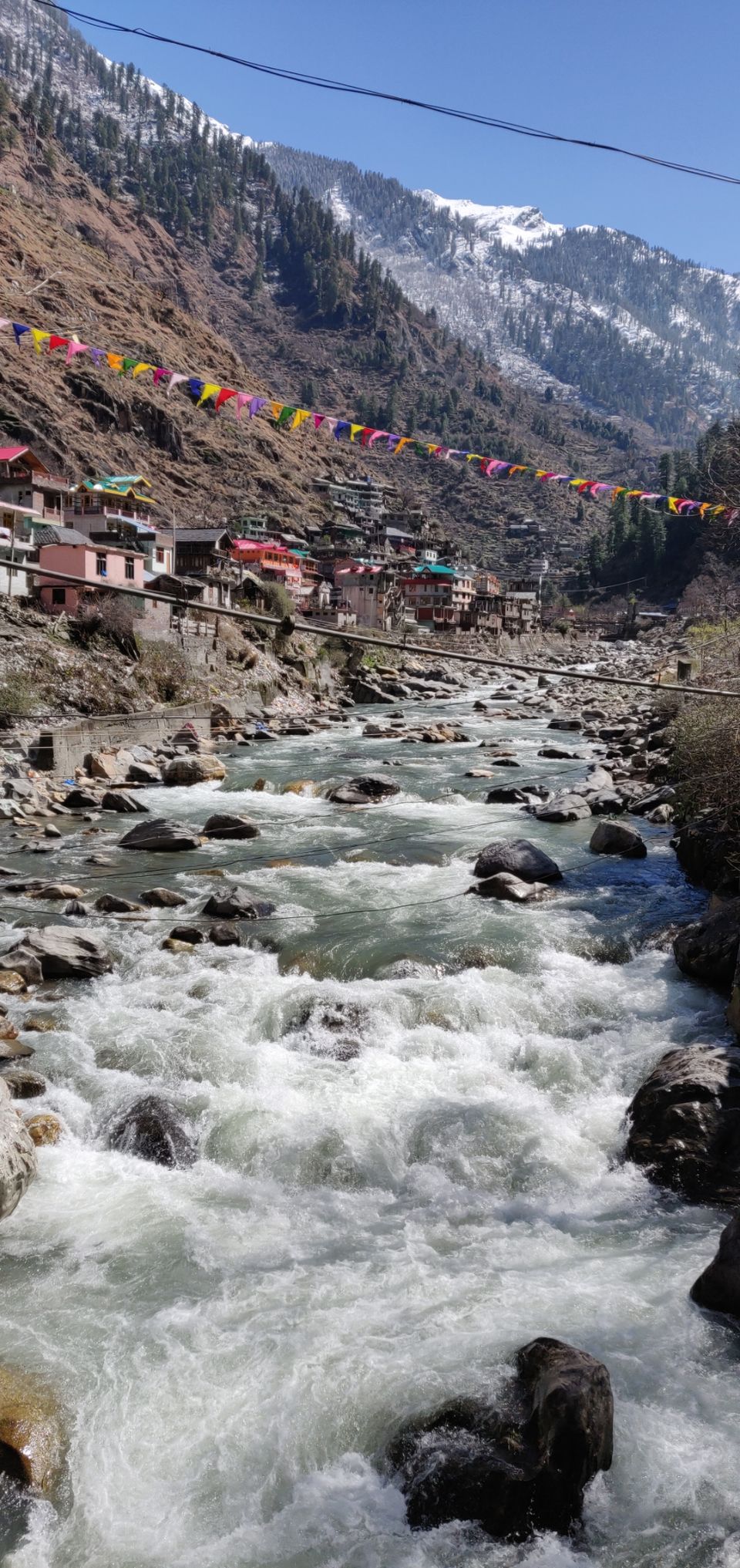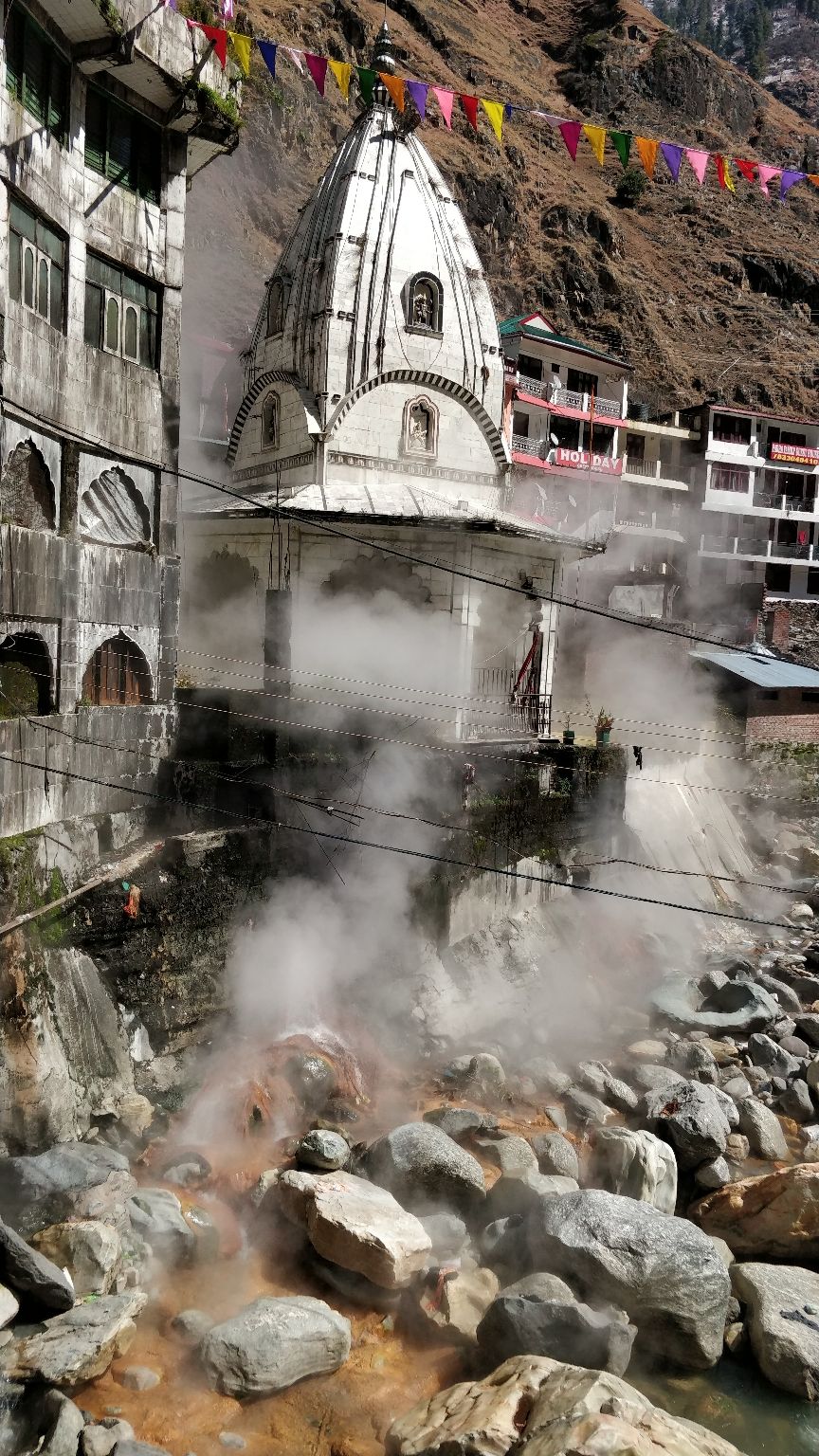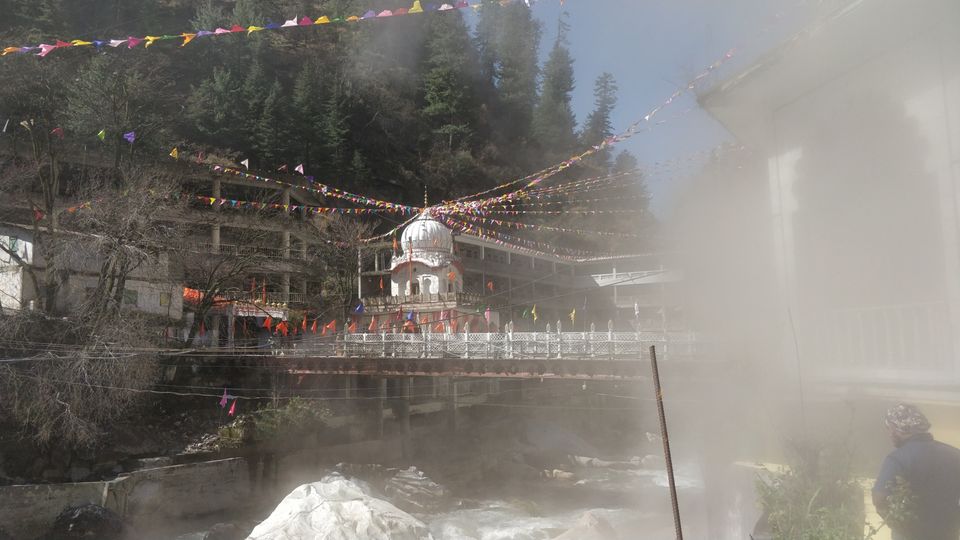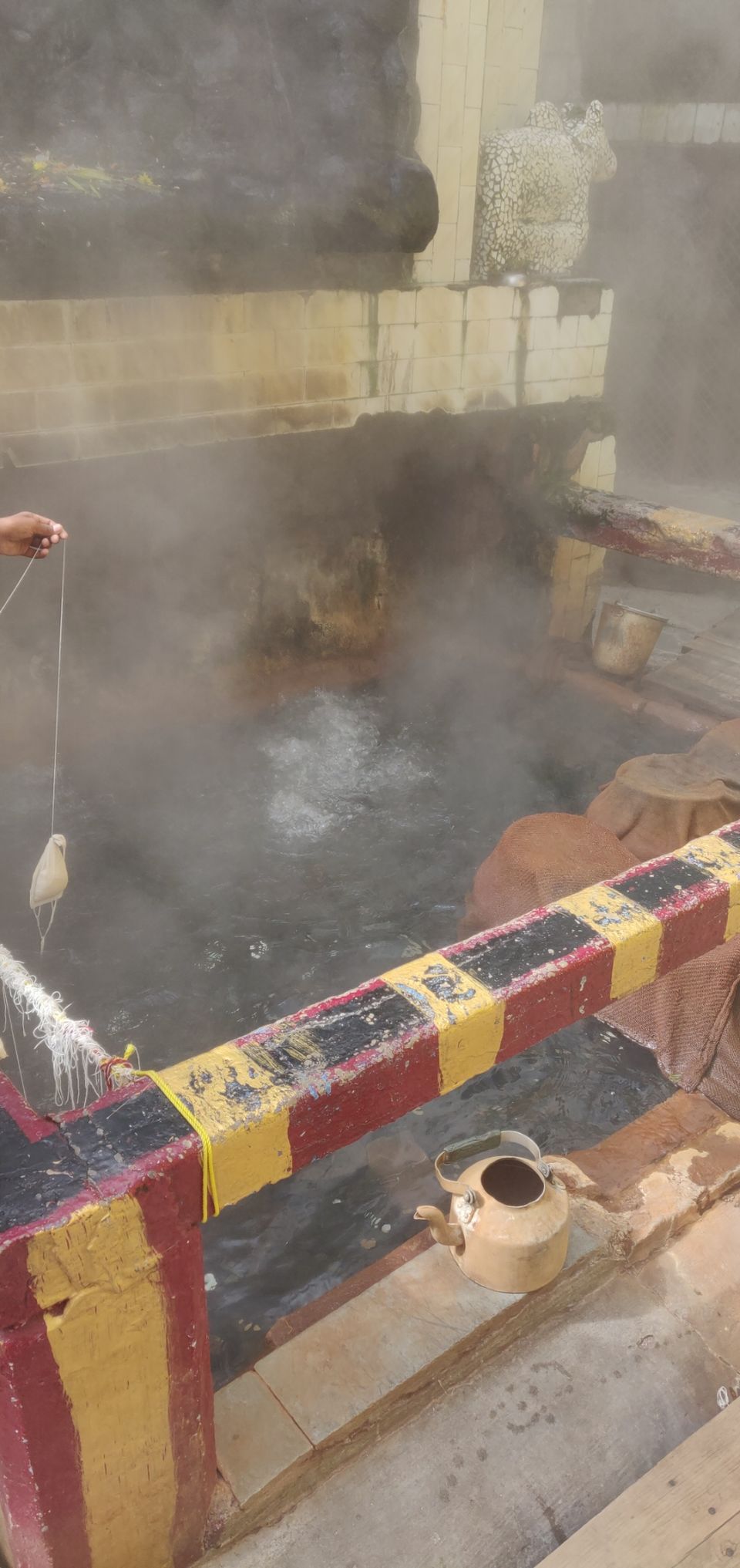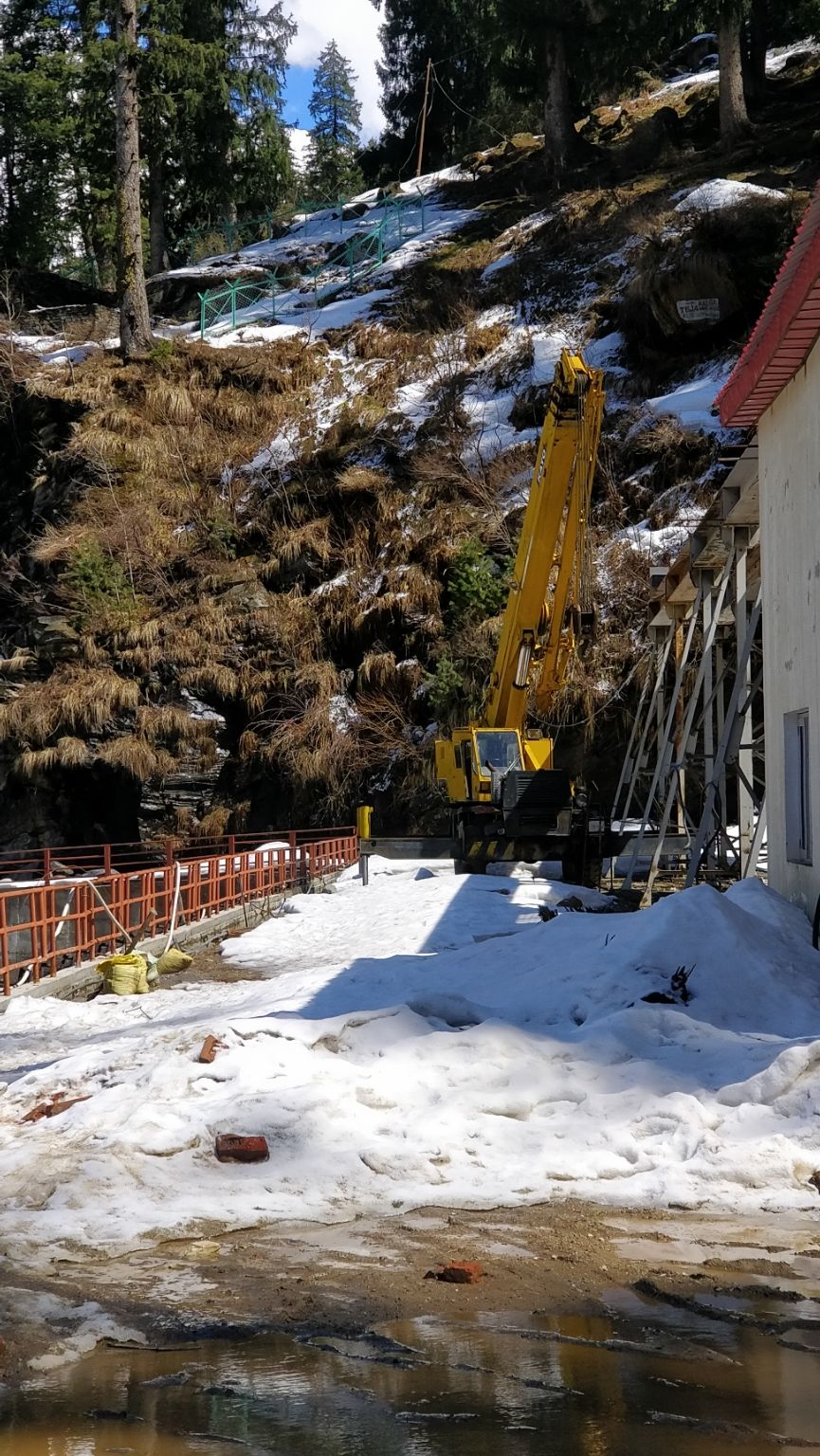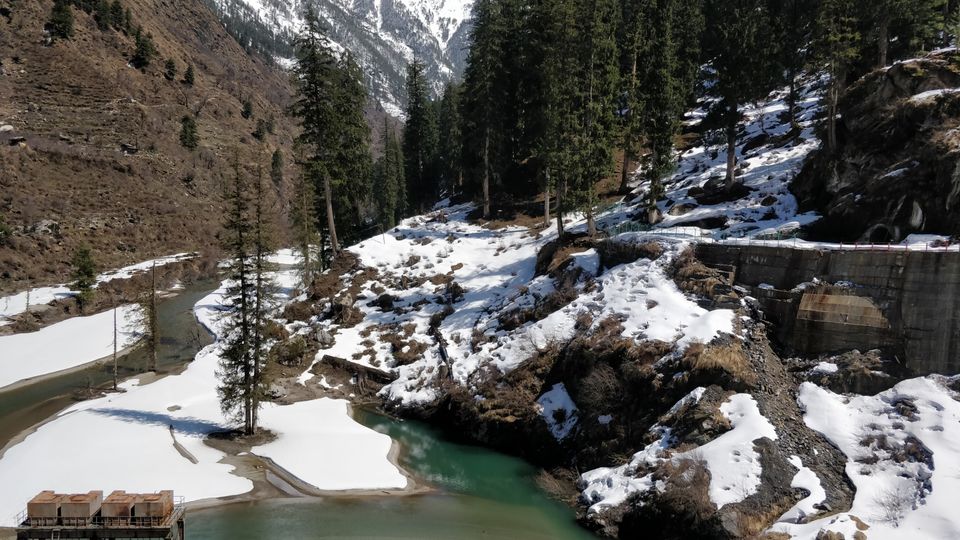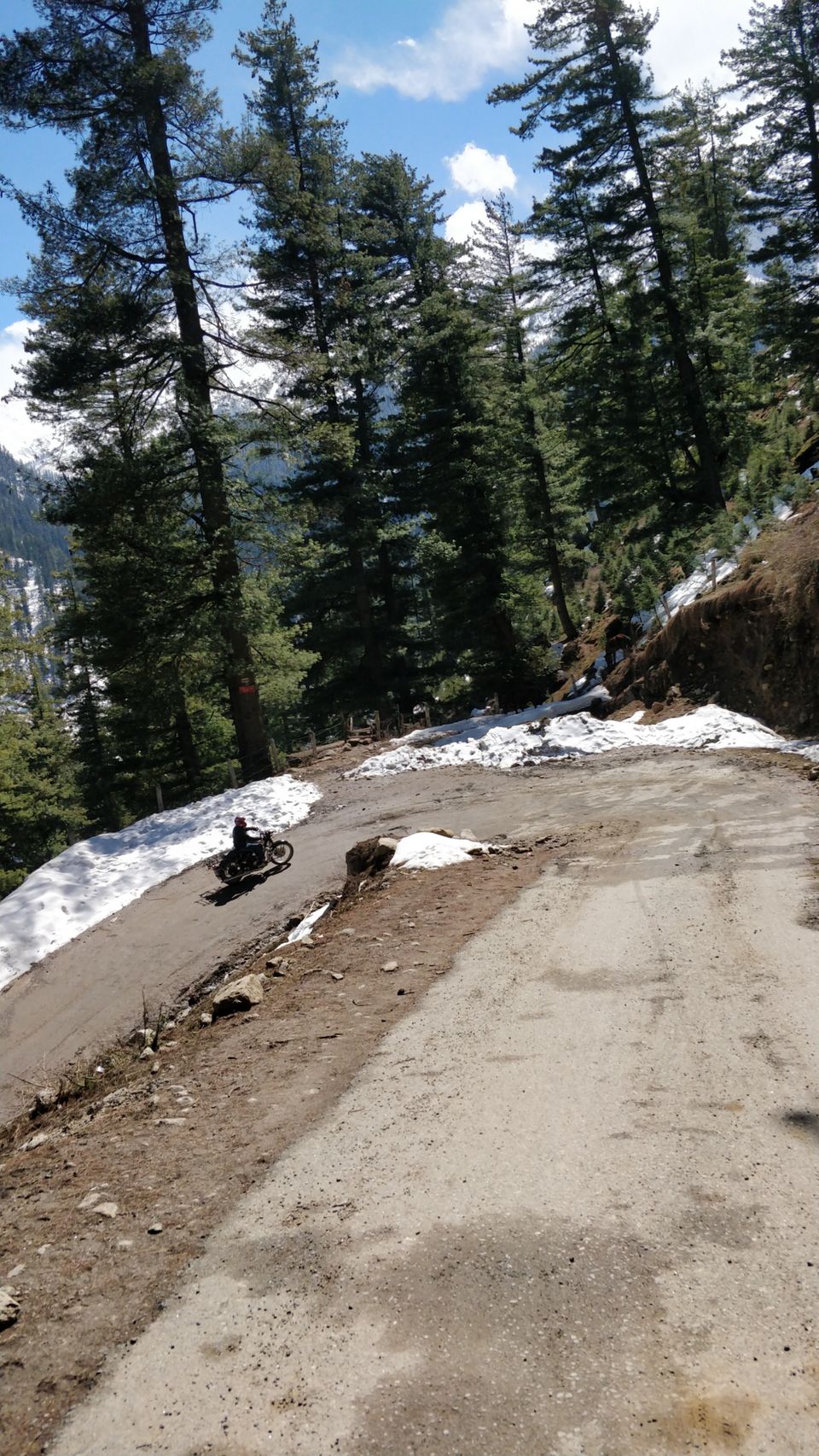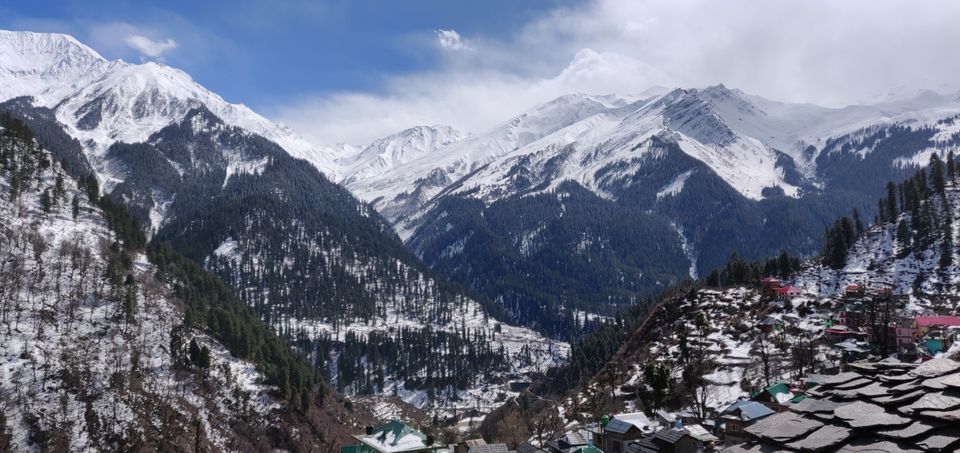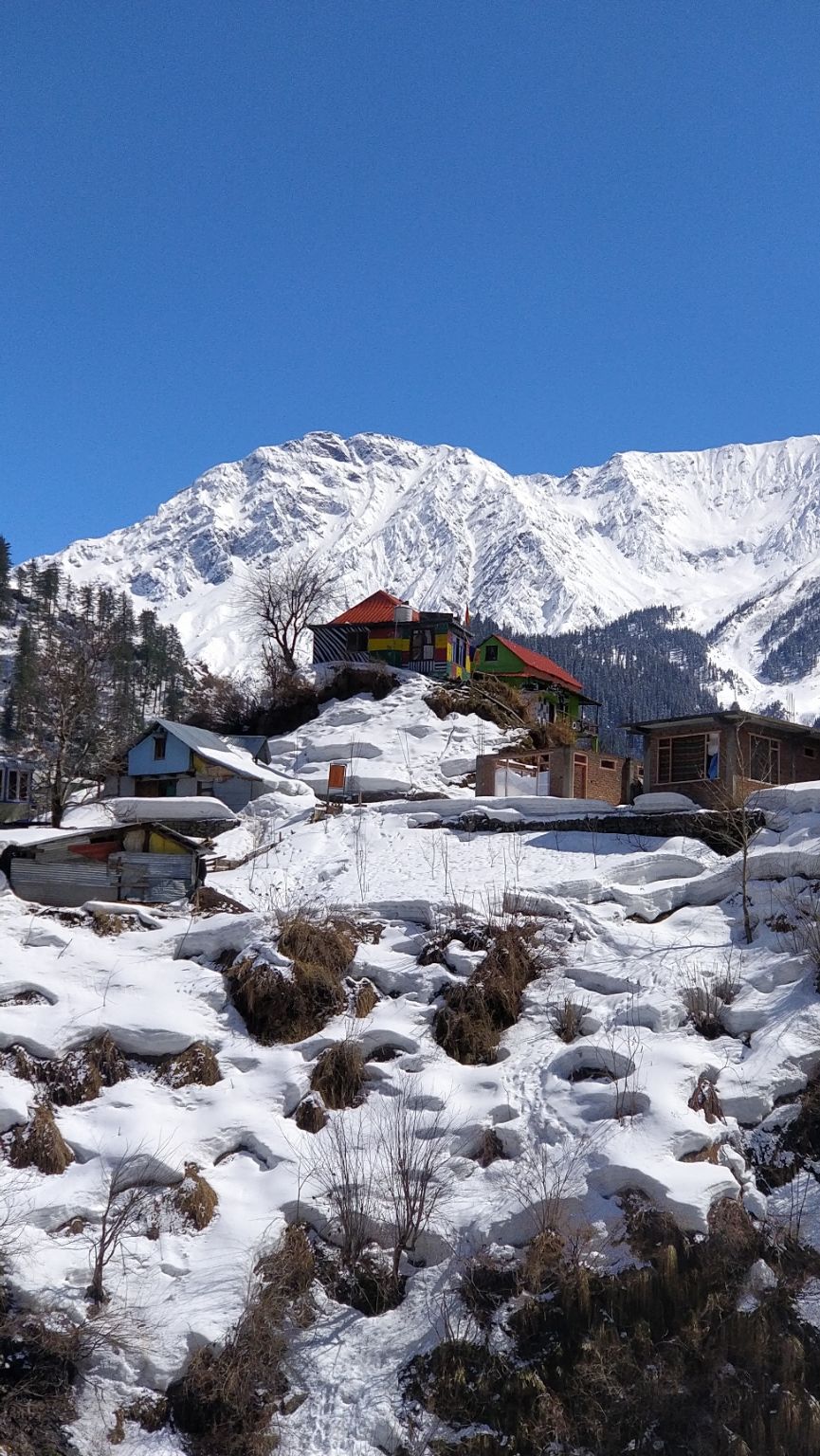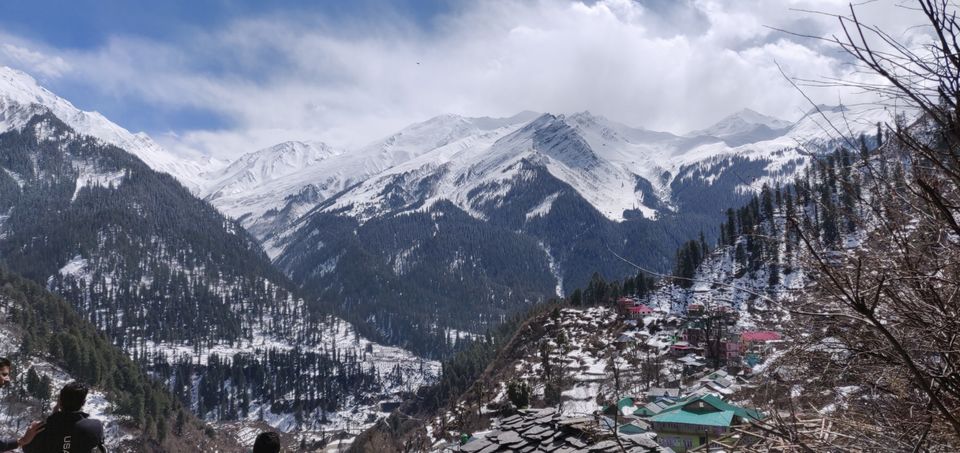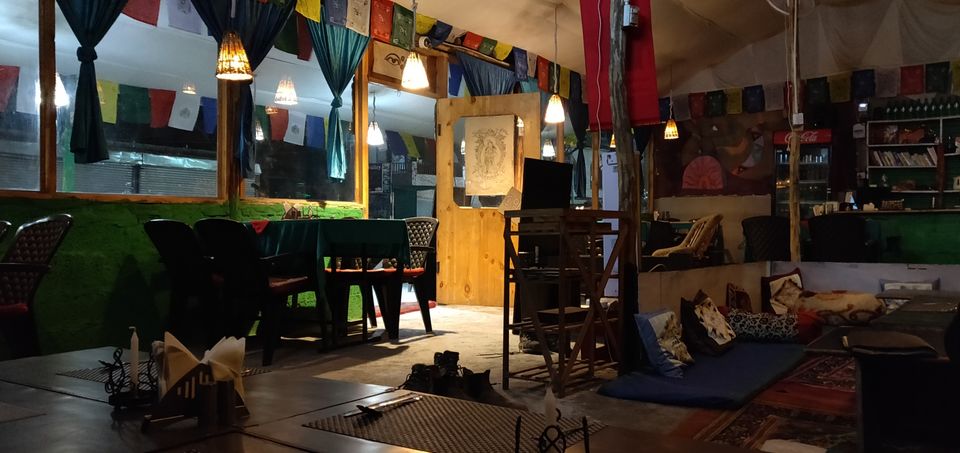 Started with a bus ride from delhi to bhuntar, we started at around 8 in evening from majnu ka tilla, delhi in volvo booked from holiday appeal (must try travel agency). With a pitstop at some local dhaba (with food more expensive than many good restaurants in delhi) we said goodnight to hustle bustle of city, hoping to wake up with fresh air and serene landscape.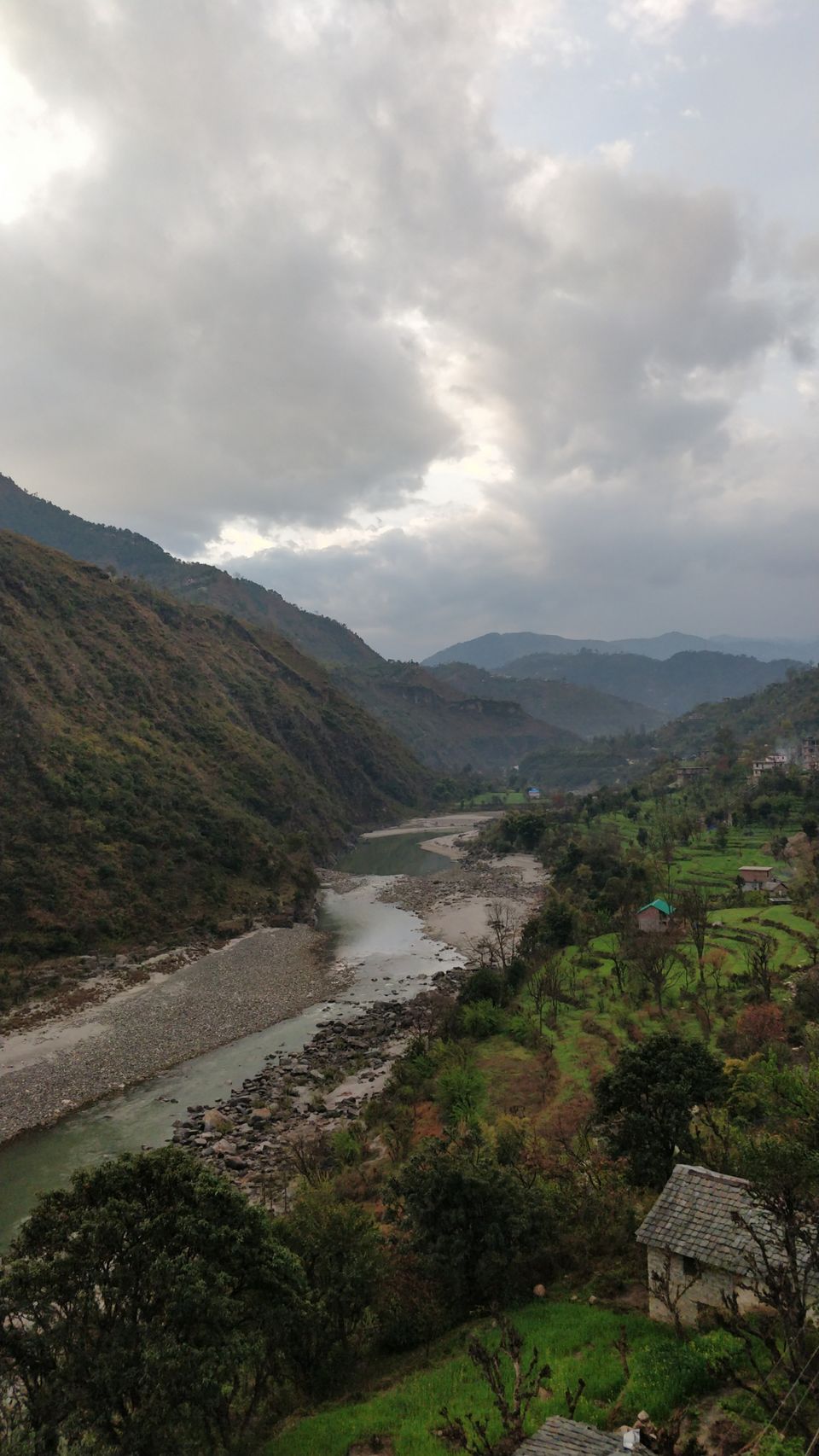 Woke up early to find a bright, sunny and warm day. We were all lazed up as there was nothing on our itinerary for the day as trek to malana was closed due to heavy snowfall. We half hearts we got up and got ready to have lazy breakfast of waffles and crepes at "cafe moon dance". Someone there suggested us village trek to chalal. We had a whole day before us, so we decided to leave for the trek. Trek to chalal is very easy and is of 45-50 mins only. As soon as we crossed the kasol-chalal bridge over Parvati river we were welcomed with garbage of chip's packet, beer bottles and other things. Whole trail towards chalal was filled with garbage. We got highly disturbed on seeing the pathetic condition of the trail. Even the bank of river was filled with trash. And chalal was no good. No good view or anything just a normal village with stench of trash. We decided on going back to kasol and leave for bhuntar immediately. We started our bike and left for bhuntar. Trip back to bhuntar was supposed to be uneventful but we have our destiny written with gold. Brakes on one of our bike stopped working and till the time we realised it we were about to crash into the bus coming from opposite direction. But got saved by going down from road and we were able to stop the bike. We drove very cautiously till bhuntar. Returned the bike and thanked god that we all were in one piece.
In bhuntar we had whole 4 hour to kill sonwe decided to check out the town. We roamed around the town and at last went down to the bridge on beas river. Sound of river and chilled wind made us forget everything. We stood on bridge for more than an hour, had our laughs and chats which were pending since long. Discussed plans for future travelling plans. And then it was time for our bus. So we got on our bus and said our goodbyes to this mysterious land of Himachal with a hope of coming back.