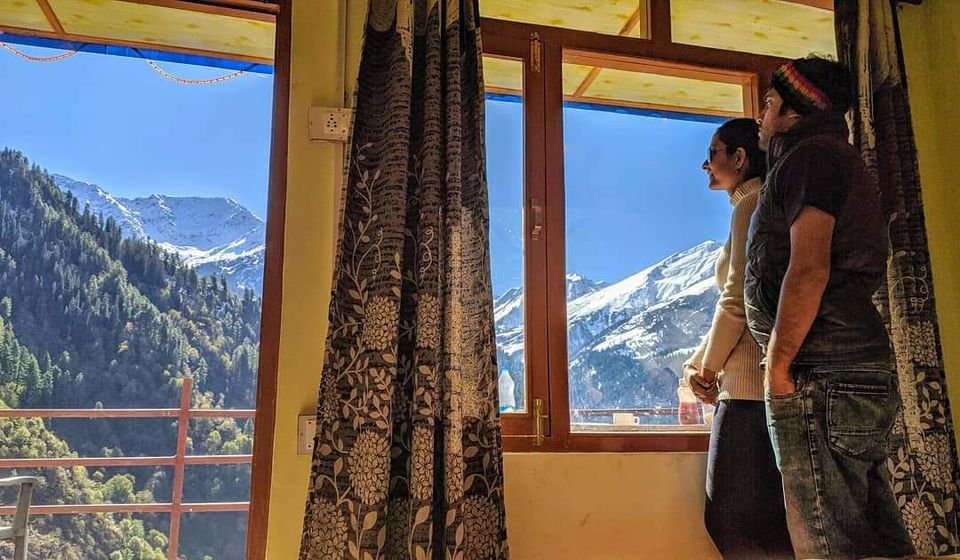 Friday, Logged off my office PC & caught metro to reach RK Ashram Metro station where our bus to Bhuntar was supposed to come. We made exit from Gate no. 4 of the metro station & boarded our bus. The bus was neat & tidy; they provided snacks, water-bottle, wet wipes, blanket etc. Back in pre corona days, these were totally normal. It was 6.30 in the evening & our bus started rolling on Delhi roads to beat the traffic & hit the highway to Himalaya! Oh man, this feeling is absolutely priceless when you board an overnight bus from Delhi to Himalaya!
We woke up to this view to realize that we have reached hills!
We reached Bhuntar around 8 o'clock in the morning. After getting down from the bus one need to head towards Bhuntar local Bus stand( few meters walk from intercity bus stoppage). From here you can either take a taxi or local bus to reach Kasol & Barshiani.
Before I continue our travel tale & information, here is a simple route guide to you guys for Kasol, Manikaran, Tosh etc. Onward route is: Bhuntar–Jari – Kasol – Manikaran – Barshiani (starting point of hike to Tosh/Kheerganga). Here is the idea of how much time it takes from one point to another in a local bus
• Bhuntar to Jari = 1 hr
• Jari – Kasol = 45 mins
• Kasol – Manikaran = 15 mins
• Bus halts at Manikaran = 15-20 mins
• Manikaran – Barshiani = 1.5hrs
So from Bhuntar to Kasol takes around 2 hours & Kasol onwards to Barshiani is another 2 hours. So total of around 4-4.5 hrs will take you to the last stop of this route to Barshiani. A taxi will surely take lot less time but will cost you around Rs 3000 till Barshiani. You can share it with others. people will surely go to Kasol if not till Barshiani. We were hungry, also I was in office formals which badly required to be changed.
We decided to break the journey at a nice café at Kasol to freshen up a bit & head towards Tosh. Hopped into a local bus from Bhuntar bus stand to go to reach Kasol. A Ticket will cost you Rs 50/- per person. Bus frequency to Kasol is 30 mins. The road it takes is simply awesome. Relentless Parvati river will flow beside the road from the very beginning and after a while you will start encountering snow clad mountains as well. Pro Tips: Take any seat on the left side of the bus if want to enjoy the scene. At around 10 o'clock we reached Kasol & found this nice place, Moon Dance café near Kasol bus stand. (Opposite to Park).
We got freshen up & ordered bread, omelette & tea for our breakfast. After spending an hour here, once again we were waiting for our bus at Kasol Bus stand for our bus towards Barshiani. It was a long wait for another hour. Meanwhile we roam around Kasol Market, had some cake at a German bakery. It was 12.30ish & the bus came with loaded passengers, but most of them got down at Kasol & luckily we got our seat. But there were many people who were standing on the bus. So decide accordingly if you wanna go by bus. Bus fare Rs 40/- per person. The bus took around 15 minutes halt at Manikaran Gurdwara before heading towards Barshiani (All the buses take this halt). Finally it was around 2 o'clock when we reached Barshiani bus stand.
Now I will tell you how can you reach Tosh from Barshiani Bus stand. It is around 10-15 mins drive from Barshiani bus stand to the entrance point of Tosh village. A taxi will cost you Rs 300/-, thereafter you have to hike inside the Tosh Village. We were dead tired by the time we reach Barshiani after overnight & Local bus journey. So took a cab from Barshiani & reached entrance point of Tosh. Now, we started hiking inside the village. We faced usual Himalayan traffic at the beginning of our hike itself.
We encountered beautiful vistas all around while hiking!
And finally reached probably the top most point of the village after an hour of hiking. It was not easy as we were already dead tired, hungry; add to that scorching sun & our backpacks made things little difficult. But, but the hike is worth it. We stayed at Paradise Holiday resort. It is not a resort rather a home stay type. But the view from here is just fab!
It was around 3.30ish & preparing lunch at this time will be difficult for the hotelier. So we ordered Pahari magi & omelette for our late lunch and we finished it in no time as we were hungry like anything. Then we settled for evening tea watching the beautiful sunset.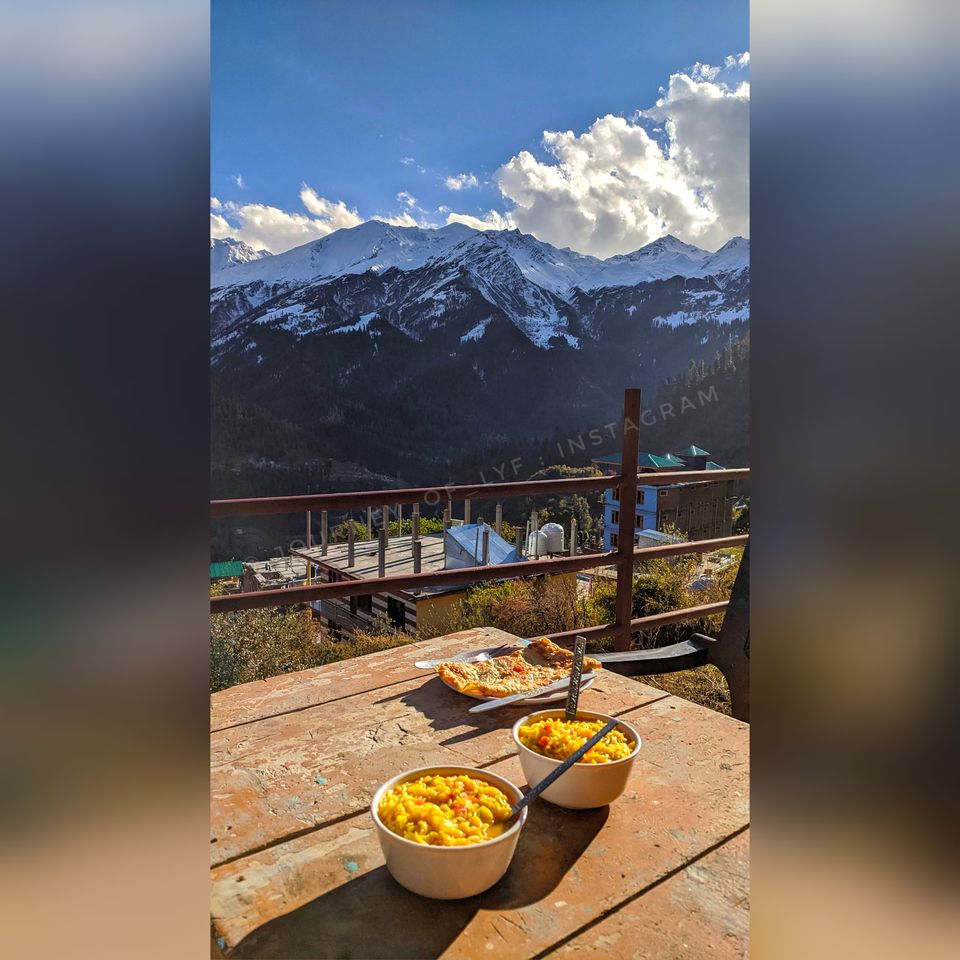 Night here at Tosh was chilling, our host had arranged a small bonfire at the premises. We had Roti, Dal, Sabji for our dinner. At around mid-night we were awestruck by the view outside the room which was visible from our bed. Moonlit white Himalaya looking simply stunning. We slept over this beauty overlooking mighty Himalaya.
You can always join us & watch this journey so far here:
Part 2 is brewing, Stay Tuned!
Here's the link to Part 2: https://www.tripoto.com/himachal-pradesh/trips/hike-in-parvati-valley-tosh-kasol-chalal-baladhi-manikaran-part-2-3-5fddde4f8837a
Part 3: https://www.tripoto.com/trip/ike-in-parvati-valley-tosh-kasol-chalal-baladhi-manikaran-part-3-3-5fef64728261a