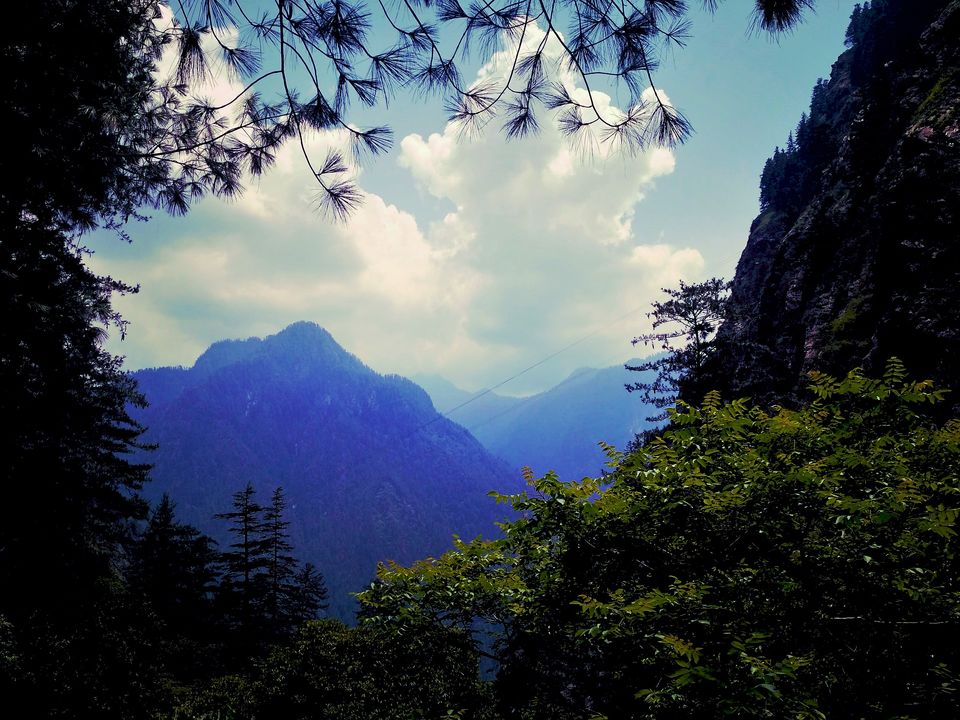 It is a truth universally acknowledged, that every off-beat tourist spot that starts catching up with the masses, also starts losing its charm and gradually transforms into something extremely commonplace. The picturesque landscapes tend to get compromised due to the utter commercialization of such destinations, which is often demanded by its augmenting popularity. Kasol can be labelled as a quintessential example in this regard because every other millennial wants to pack their bags and take the next bus to Bhuntar, especially in summers to get away from the scorching heat of North India.
June was almost over but the Sun forbade to have any mercy on us. My friends and I too started suffering from the disapparate-to-the-mountains syndrome, we are no different than any other millennial. In spite of having numerous apprehensions about the swarming tourists in Himachal at that time, we were desperate to go there because it was our most convenient shot at some relief from the blistering heat. However, instead of doing the cliché Kasol trip, my friend suggested that we should hike through the Himalayas, from Kasol to Rasol (3 to 4 hours), an unexplored village located in the foothills of the Parvati Valley at 3048 meters.
It was Friday afternoon when we reached to this conclusion, immediately booked our bus tickets on RedBus from Delhi to Bhuntar and rushed to our respective flats to stuff those fancy backpacks and get going.
After an overnight bus journey and much delay caused due to the heavy traffic of Sikh disciples heading to Manikaran, we reached Bhuntar till late afternoon. It was impossible to start with the trek that day, so we decided to stay the night in Kasol. Among many hippie cafés located in the heart of the town, we chose to satiate our long-lasting appetites at Oh! Magic View café, which quite literally lives up to its enticing name.
Next morning, after pleasing our tummies and grabbing some delicacies from the German Bakery, we headed straight towards our destination. It only takes about half-an-hour to reach the Chalal village. Once you cross the suspension bridge over the Parvati river, you are teleported to a parallel universe which is bound to take your breath away at every instance.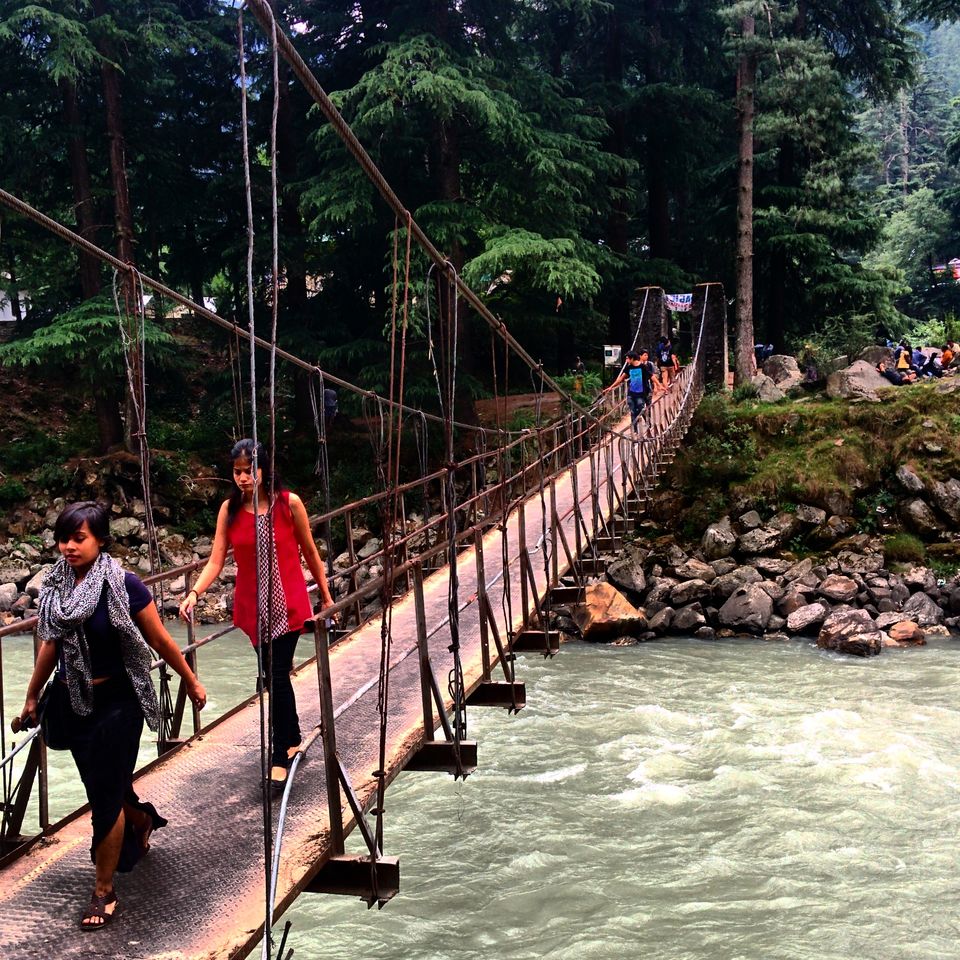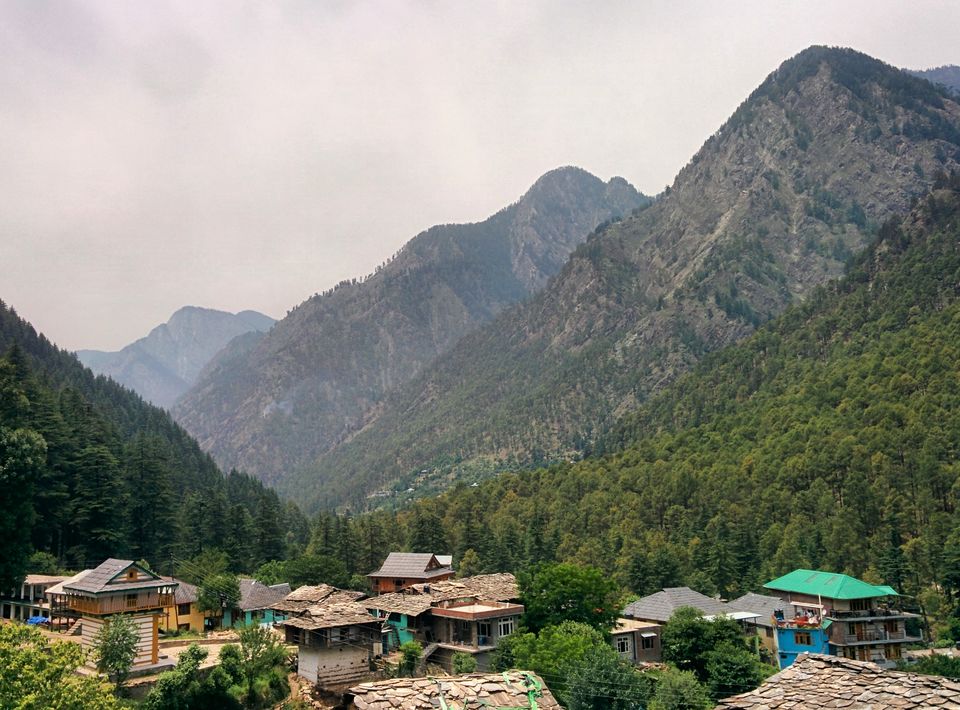 Make sure to have a filling breakfast before you begin this expedition, either in Kasol or in Chalal, and stuff up your bags with adequate amount of snacks and plenty of water to pamper your "munchies" and quench your "cotton mouths", respectively. Once you move away from the town area and initiate the upward climb towards Rasol, you would only come across a dense stretch of plum orchards and a few tiny brooks to cater to your urges, which might not be sufficient.
It was the one thoughtless mistake that we made, not preempting that trekking would lead to frequent dehydration. Fortunately, the consequences weren't too bad for any of us; except that we had to resist our cravings, whatsoever. We got lucky and ran into a couple of strangers, who willingly offered us some water before we finally stumbled across a shack and refueled our bodies for the remaining trek.
Surprisingly, the trek route wasn't as nerve wracking as we had anticipated. If you have an average body stamina, you will be quite comfortable with the uphill hiking. The descent on the other hand is a piece of cake and quite surprisingly takes only half the time.
The entire journey towards Rasol is so profoundly mesmerizing that you would stop bothering about reaching the destination and wish to get lost amidst the serenity of the gorgeous, green mountains.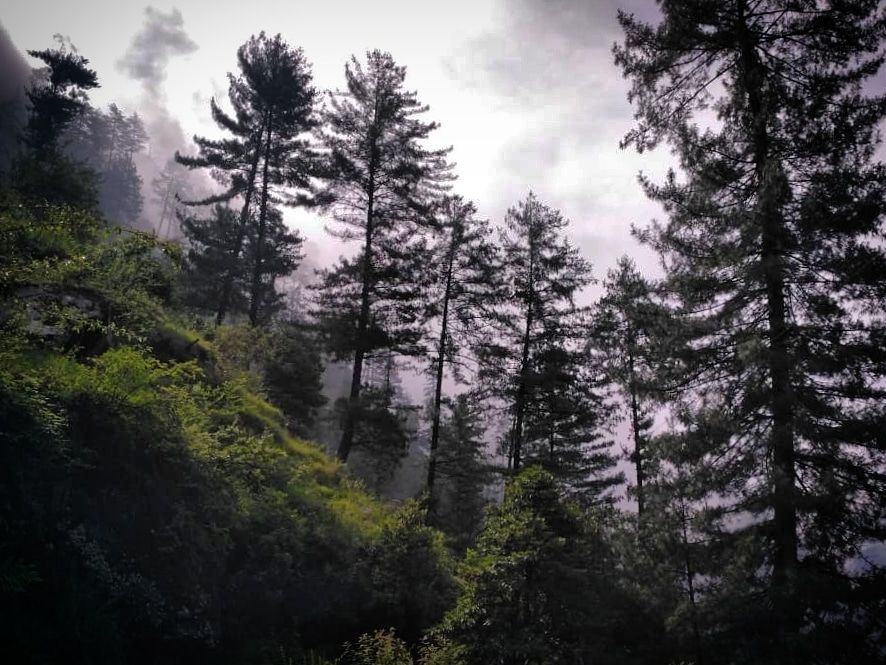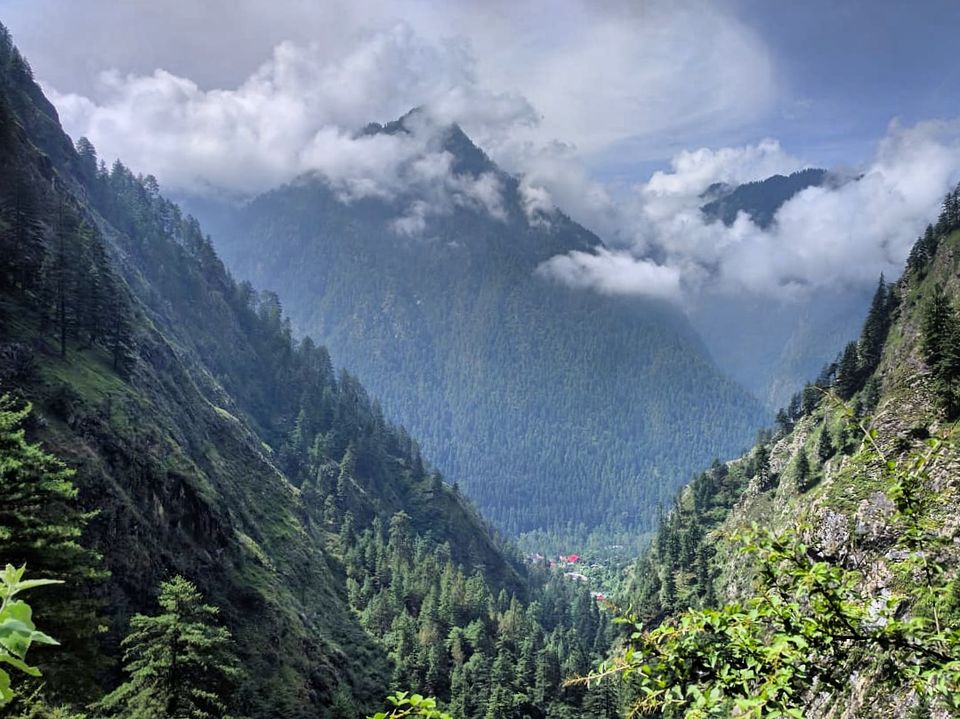 The fresh fragrance of marijuana shrubs keeps refreshing your soul time and again, which makes this trek a unique experience. No wonder the Parvati Valley region is called "A Stoner's Paradise".
After ascending amidst the wilderness for about 4 hours, you finally start spotting minuscule traces of civilization. The population of Rasol village is quite scarce, and there aren't more than 100 houses in the area. The warm and humble "pahadis" willingly help you in finding a decent place to stay and offer some mouth-watering home-made food.
However, there was one thing that intrigued me the most, the presence of "Do Not Touch" or "Do Not Enter" signboards on majority of doors and entrances. Later, on some inquiry, I came to learn from a local that the inhabitants are very stern vis-à-vis their places of residence and worship. They strictly condemn outsiders from stepping inside due to the common belief that any stranger was bound to tarnish the sanctity of their holy places.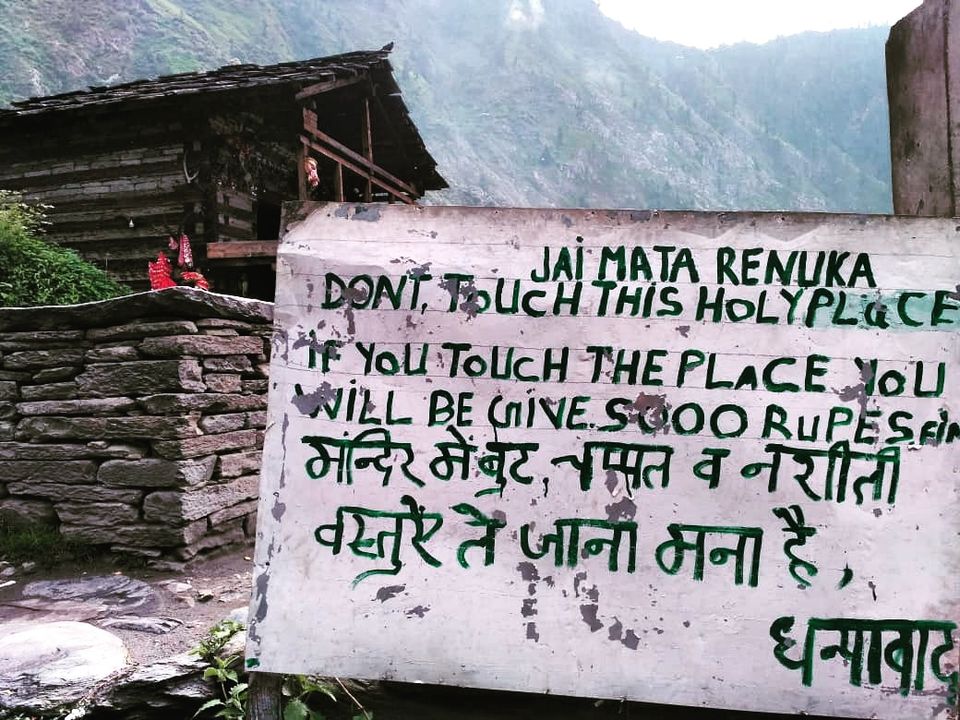 As my adventures started culminating, I realized that the entire escapade of trekking to Rasol had so much to offer. From testing your own endurance and stamina while traversing through the rich Himalayan flora to interacting with a completely unexplored culture, it is an extremely overwhelming experience.
After introspecting about innumerable elements of life during this trip, I returned to the same, sweltering weather of Delhi; but with a wiser and stronger self, escorted by a lifetime of unforgettable memories imprinted distinctly on my little grey cells.