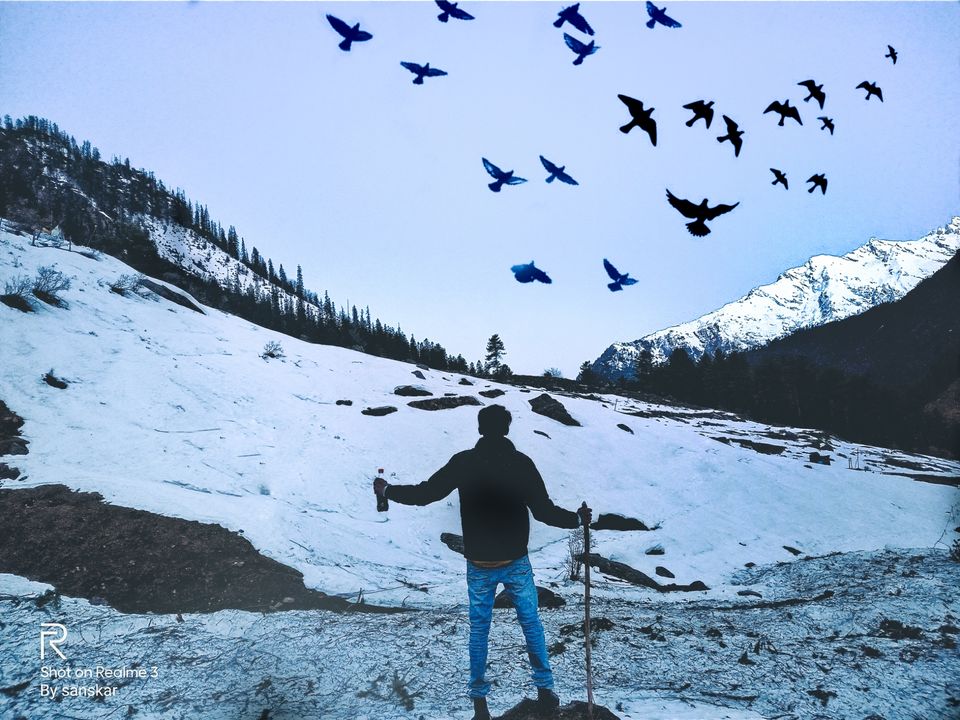 If heaven exists then it is Himachal Pradesh. And I can't stop myself to explore the heaven. so I planned to visit parvati valley (Kasol - Kheerganga) in the first week of April 2019.
I am just 17 and I was traveling solo and on a budget cash.
DELHI ~ BHUNTAR
So I reached Delhi Kashmiri gate ISBT at around 8:30 PM and booked a HRTC (Himachal Road Transport corporation) bus ticket From Delhi to bhuntar that costed me RS 680 ( You can pre-book tickets from online websites IXIGO, PAYTM ,REDBUS, HRTC official app , etc) . The bus started at 9 :15 pm. (You can also book Private buses that will cost you from Rs 800 to 1700)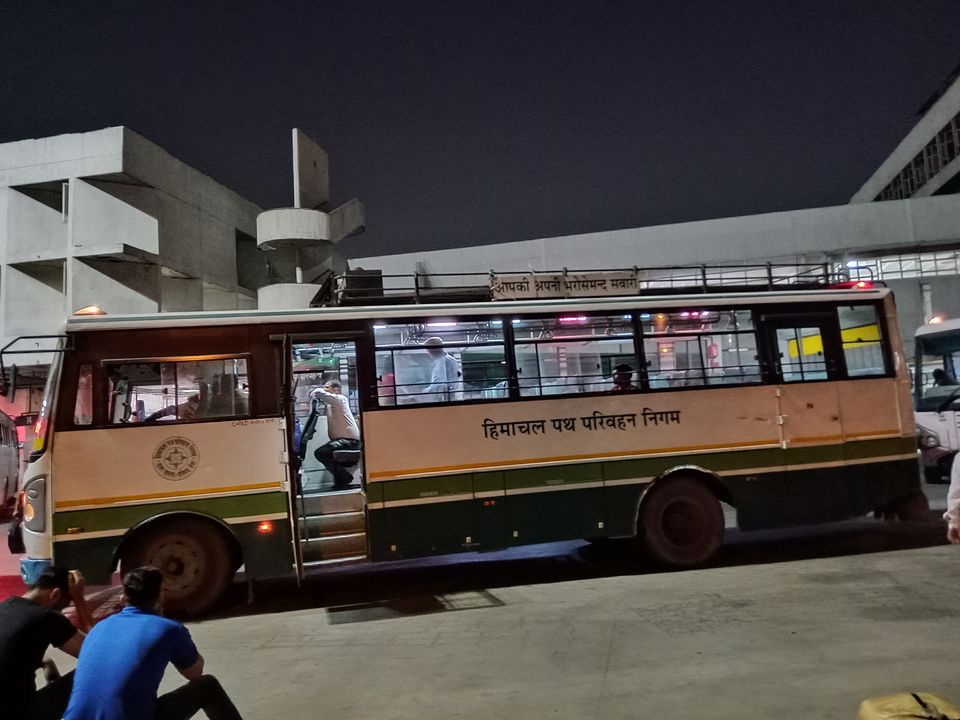 The bus reached Bhuntar at 11: 30 am next day (It took around 13 hours) .
BHUNTAR~KASOL
I Stepped out of bus and I was surprised that there was a big market where you can get everything and Airtel,idea/vodafone, Jio were giving 4G network. Before reaching there I thought it would be a remote place . I bought a kg bananas that costed me RS. 60 and after wandering 5 mins I got a bus that was going to kasol. So I sat on my seat and started eating my bananas . Suddenly a teen of age around 19- 20 came and sat beside me. He asked me to buy malana cream [The purest form of Hash (It is a product made from cannabis plant that is found in Moana and is illeagal in most of the countries including India and most of the people come to kasol only for malana cream) . I wasn't wanted to buy that but I asked the price. He replied RS 1500 . Then I told him that i have not that much money and I can't buy it. Then he leaved that seat and he literally went to every seat and asked to every passenger. (Don't give a fuck to these type of guys and please stay away from them)
So the bus started from bhuntar at 11:50 and trust me road to kasol was very narrow and risky. It took the bus 2 hours to reach kasol and bus fare from Bhuntar to kasol was RS 60.
Around 1:30 PM I was in kasol . I wandered 10 mins in kasol for stay. Rooms were from Rs 600 to 1800. Then I went to The hostellers kasol. Booked a bunk bed that costed me RS 500 (You can book it at RS 400 from online sites booking.com and makemytrip etc)
I leaved my bag in my locker provided by them and took a bath, changed my clothes .
KASOL~CHALAL~RASOL~ KASOL
Now it was around 2:30 pm and I started a short treck to nearby village Chalal and Rasol. I reached Chalal in 3o mins and then It took me 3 hours to reach Rasol from Chalal. The hike was decent and I made many friends in route. The villagers were very helpful and good . After reaching Rasol I explored the village in next 3o mins , Bought a bottle coke (that cost me double of usual rate i.e. 80) and sat with some villagers and some backpackers for some interesting stories.
Now it was 7 pm and Sunset was about to happen and I started getting back to kasol and believe me I covered whole route in around 1 hour 30 mins and I had to trek back in night that was difficult scary and dangerous because I was alone .
Around 8:45 Pm I was on my bed and took dinner in The hostellers cafe that costed me RS 200 (Food was decent but too costly).
After that I visited kasol market at night and there were mostly different verity of hookas (one was of boobs shaped).
I didn't find anything interesting for me in market and also I was so much tired I came back to my room afty 3o mins visit.
In my room there were four beds and my roommates were very good .one was from Chennai second from Mumbai third was from France. All were decent and we talked and shared each others stories. I slept at around 11:30 pm.
*Review of the hostellers kasol
# Pros
- Safe and secure
- Very much clean
- Good and friendly owner and staffs
- 24 hrs electricity and water
-Bathroom was very clean and also
Geyser was working
- Nice view from room and there was Waterfall beside that hostel and The lighting in hostel was also Very good
- affordable and budget beds for Backpackers
- Safe and secure lockers
- Heaven for solo backpackers ( Don't Know about couples and families)
#Cons
- You have to treck 250 m from kasol to a muddy road and there is also a electric wire and a tree is Fallen in the route that is Dangerous but if you are a solo Backpacker it will not a big deal But may disturb people with their Family and much luggage at night
- They have written that they Provide free WiFi but there wasn't any signal of wifi.
- Food is costly.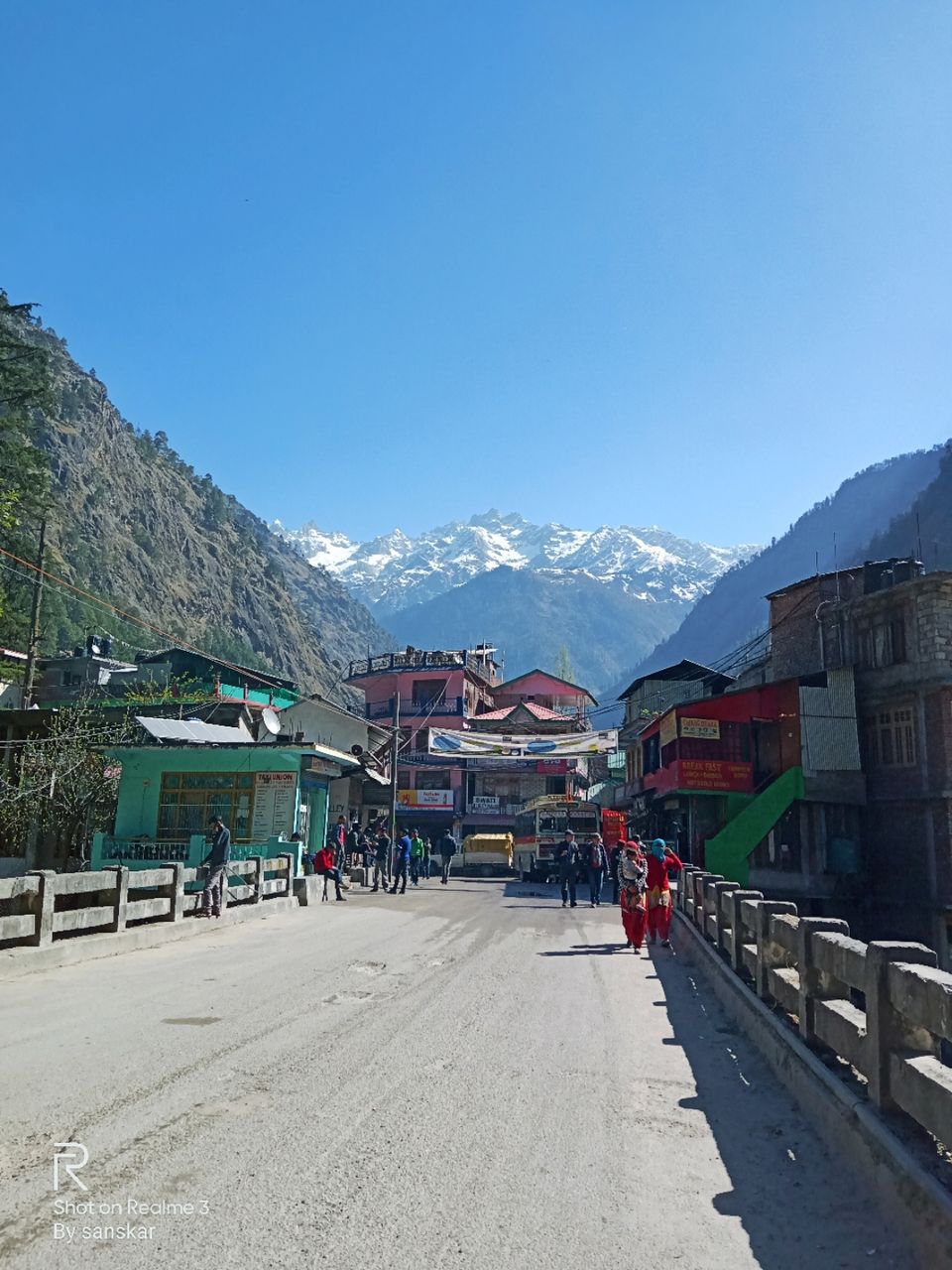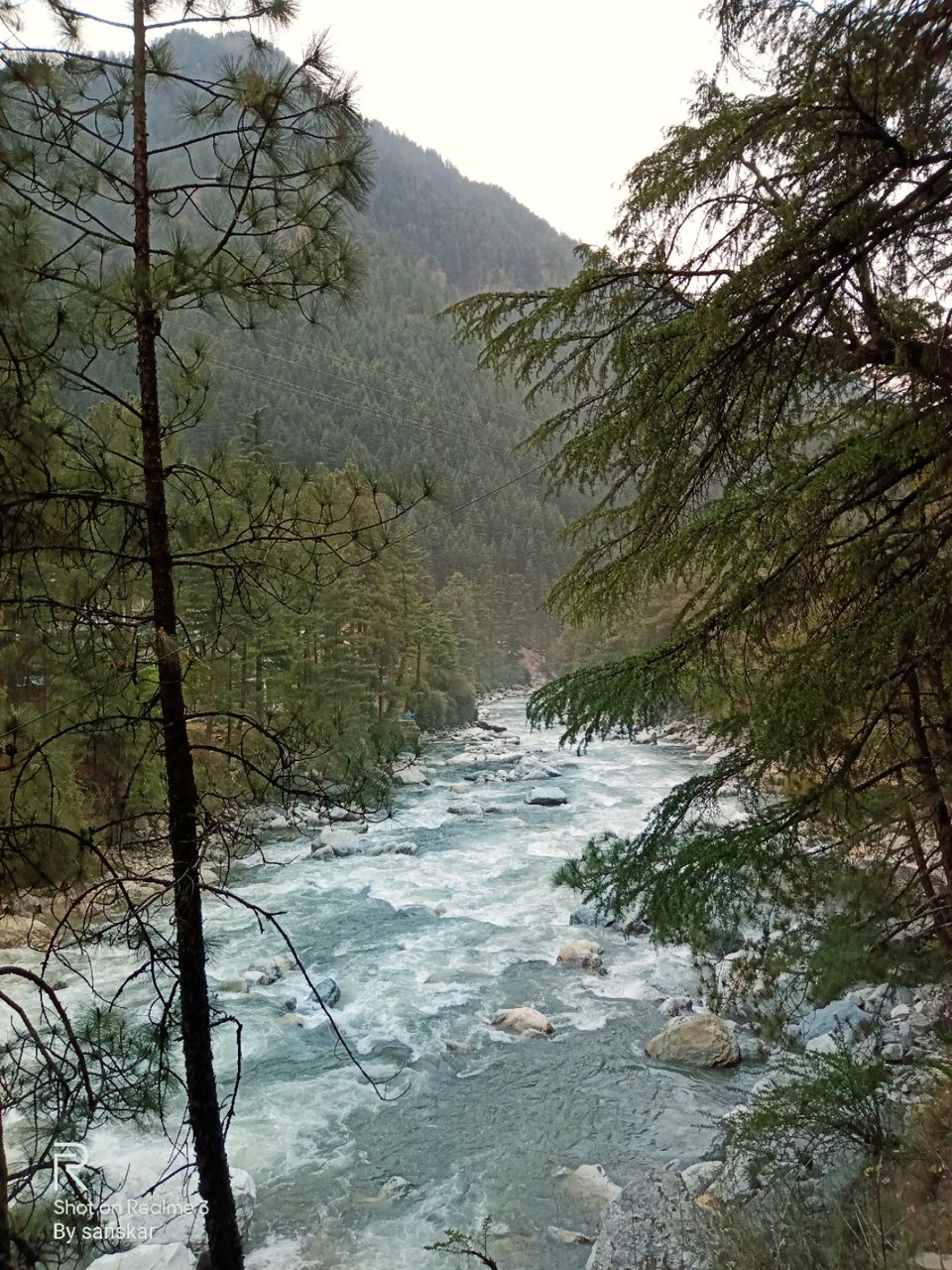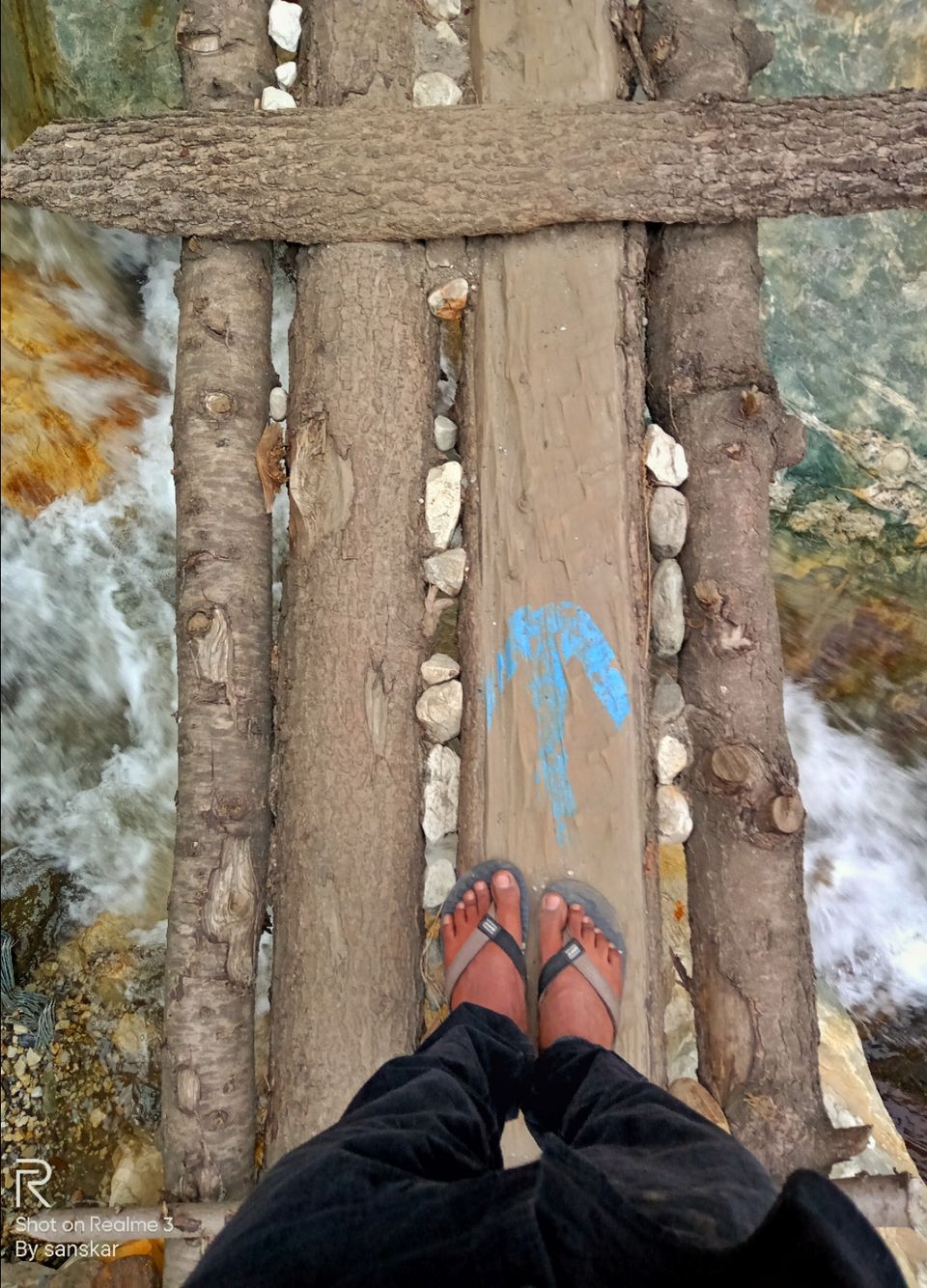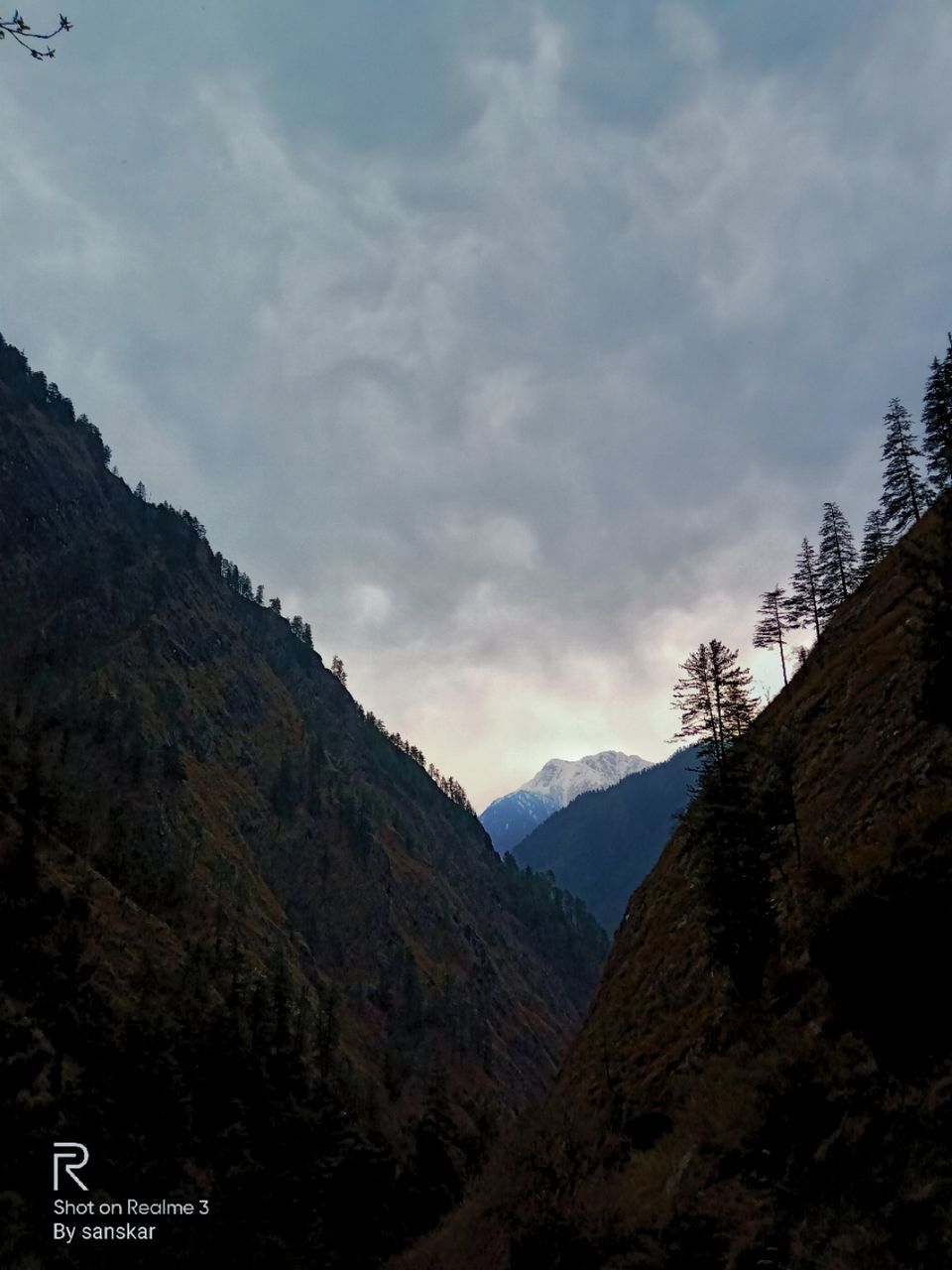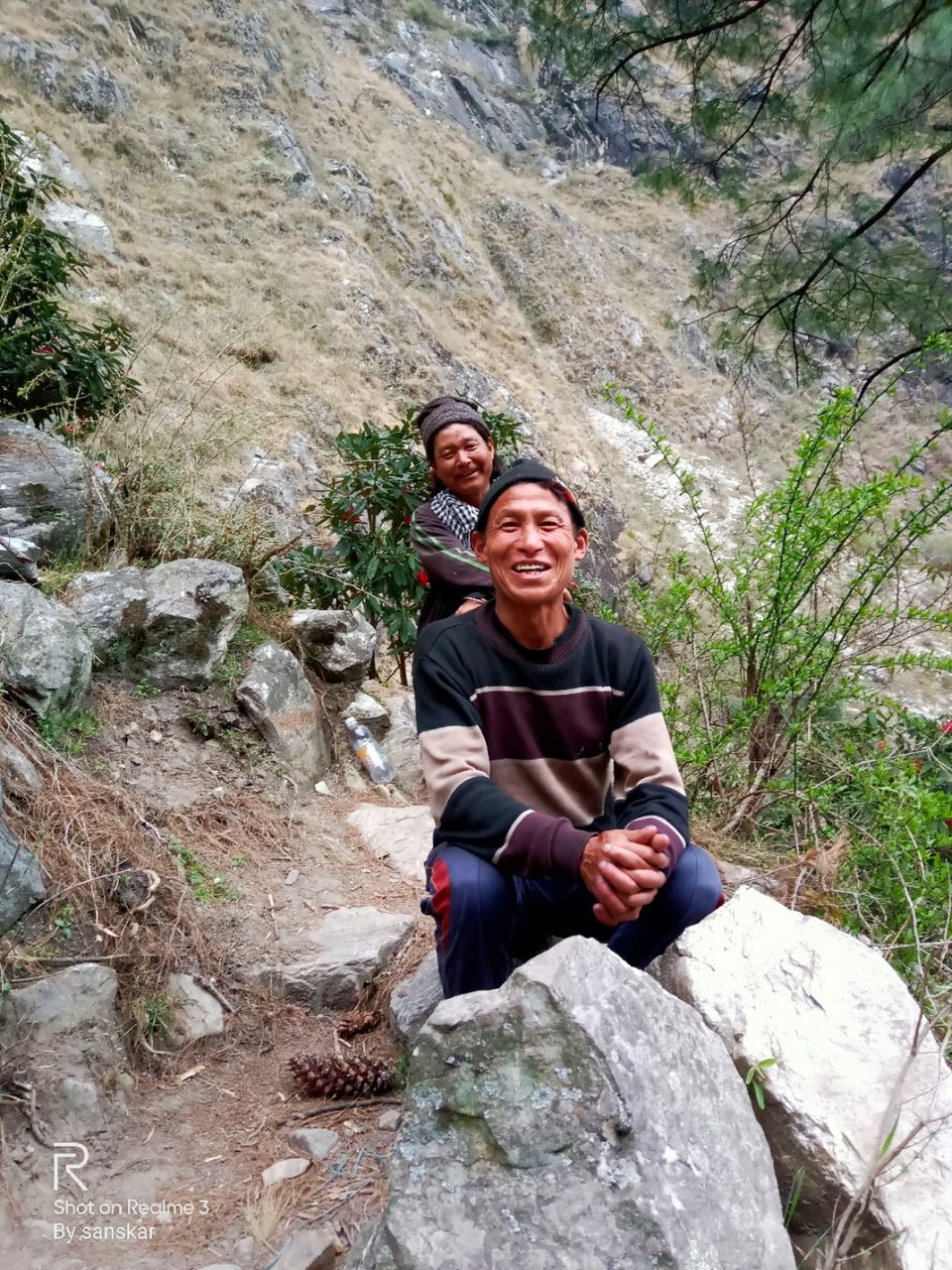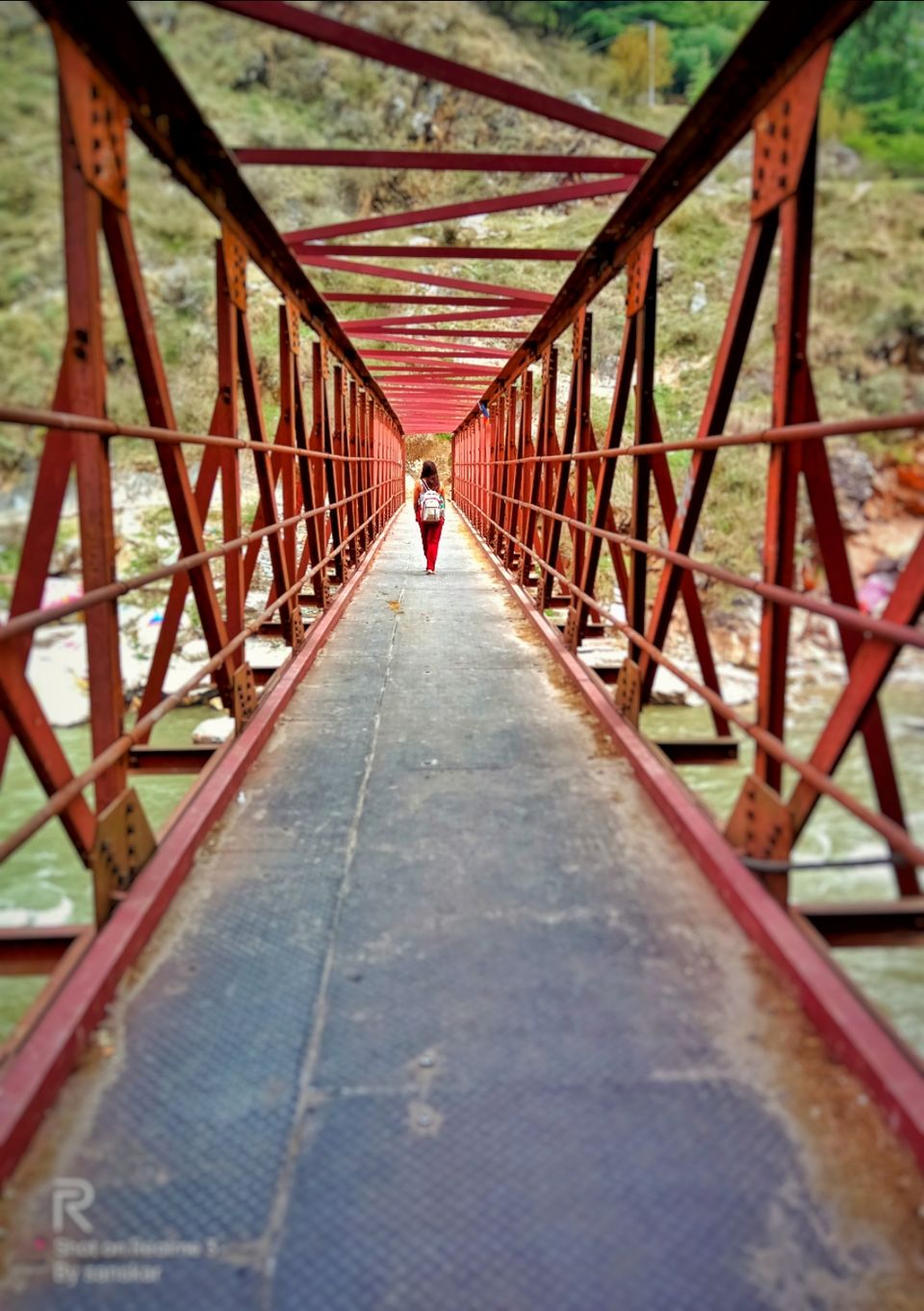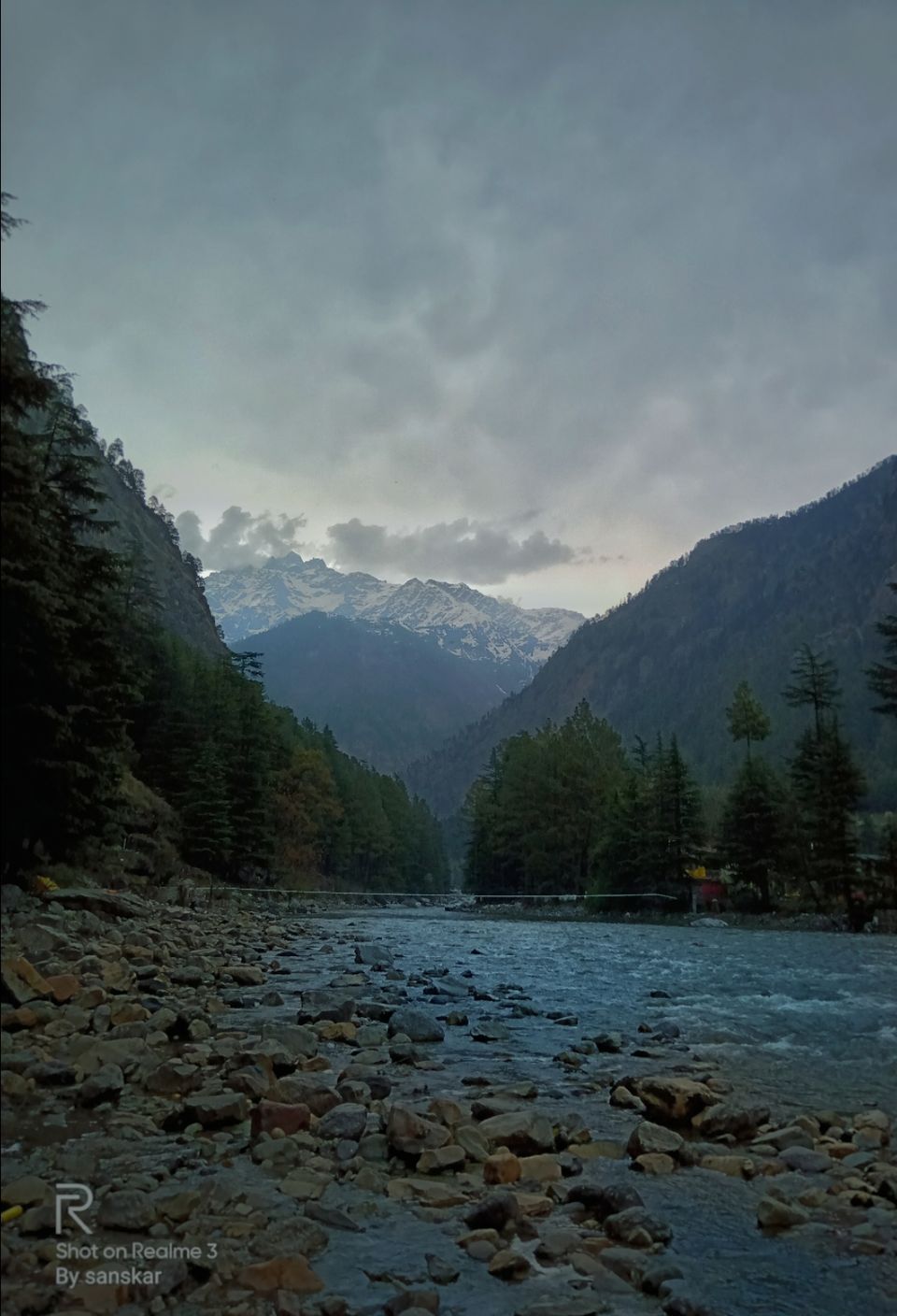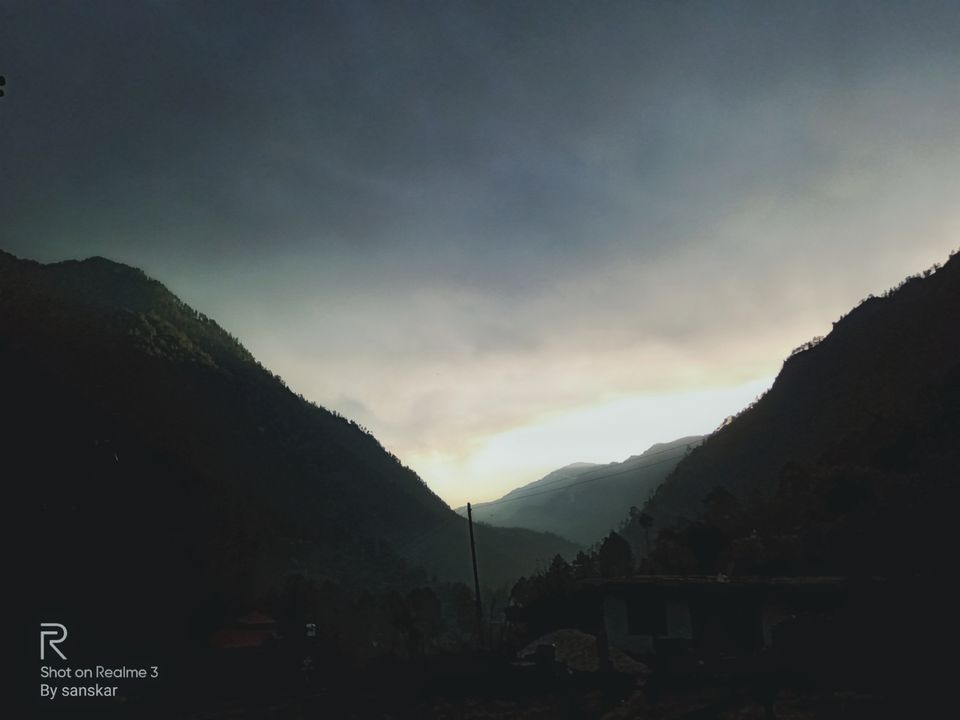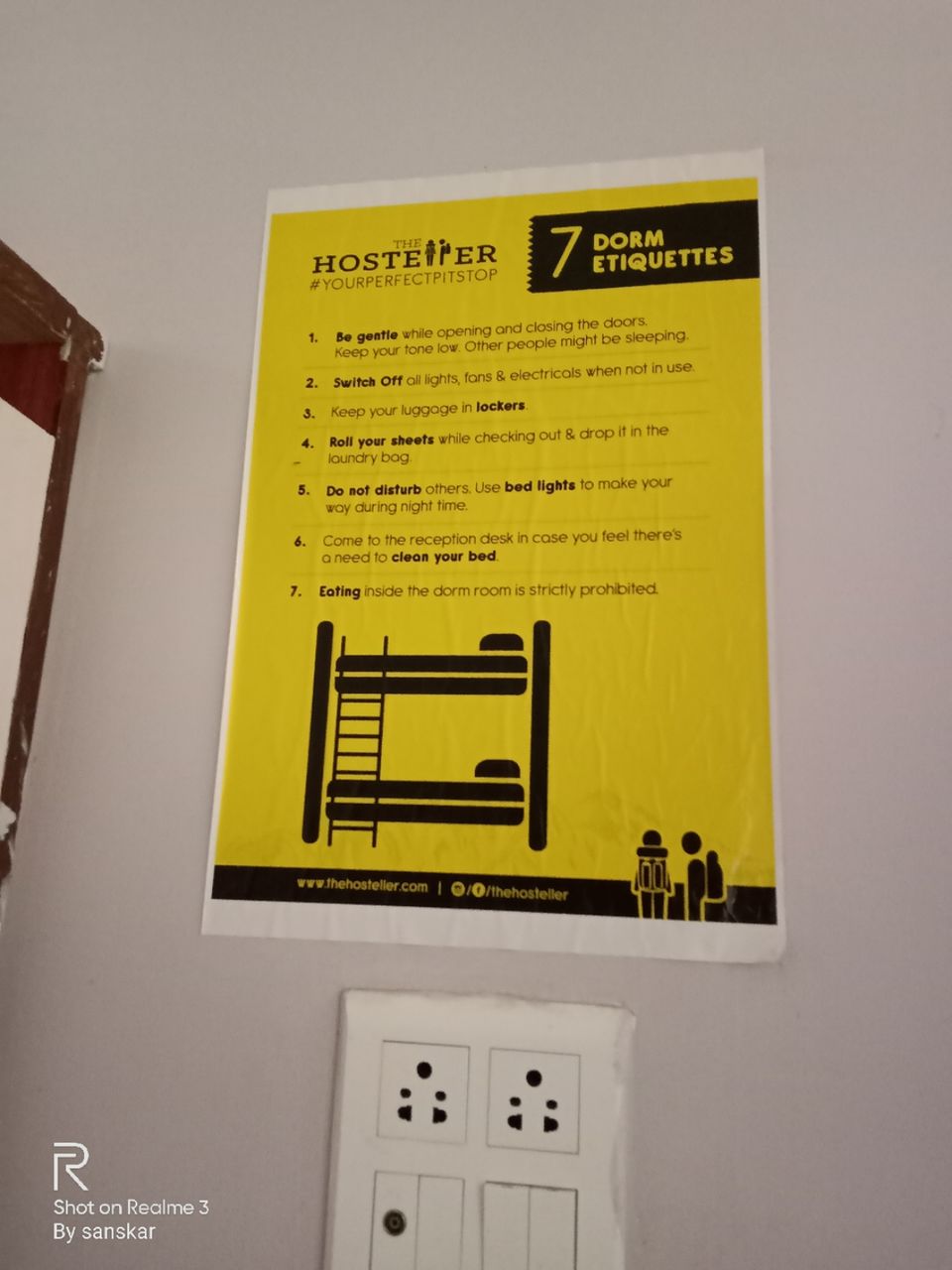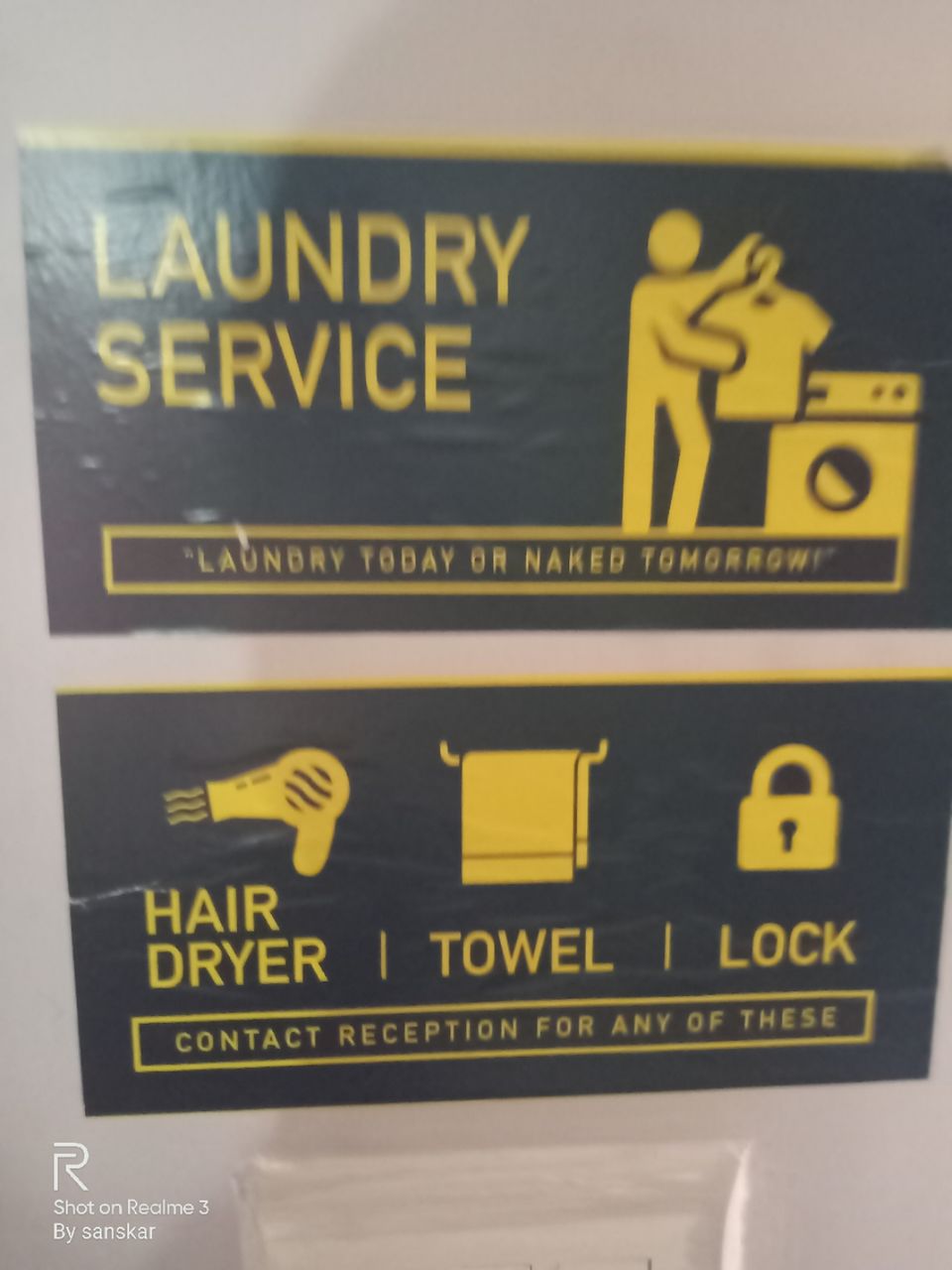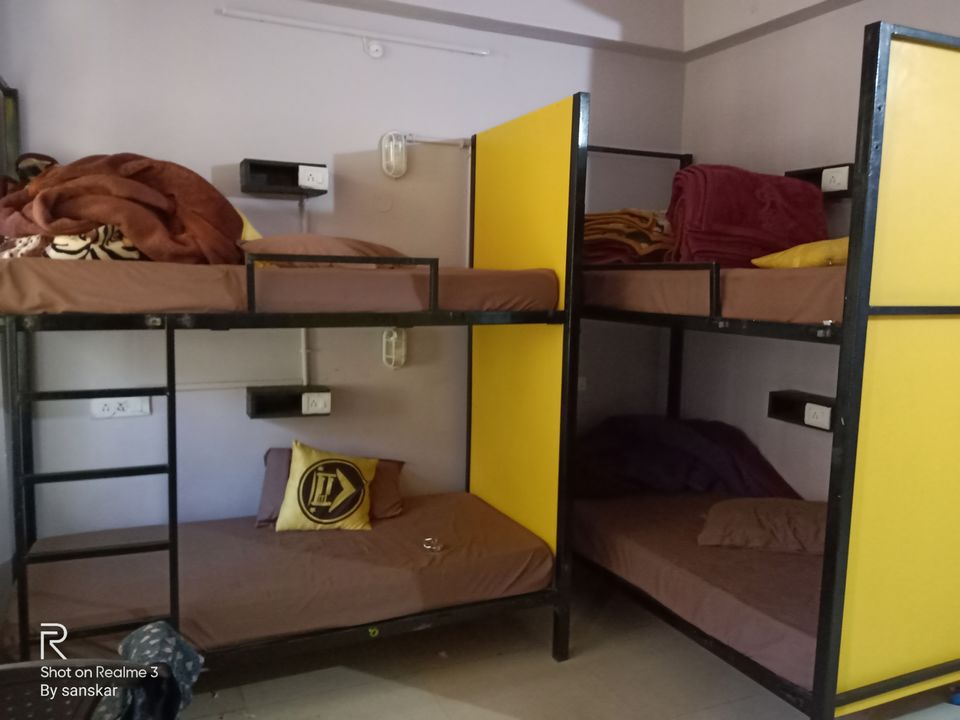 KASOL~ BARSAINI
I woke up at around 8:30 Am and soon I realized that I was late (My plan was to leave for barsaini at 6 AM) . I bathed, put on my clothes, arranged things in my backpack and checked out from my room at 10:30 . Went to kasol main market and after 10 mins bus arrived. I took the bus and , the bus took 1 hour to reach barsaini and costed me RS 40 .
It was 11:50 and I was in Barsaini. Went to nearby cafe and had my breakfast or you can call lunch ( that was 2 aaloo parathe and one glass tea that costed me 2×40 +30 = 110)
The cafe owner advised me to rent trekking shoes and stick.
I rented both of them , trekking shoes costed me 100 per day (you can get it in 50 also) and stick at 20 per day
BARSAINI~KHEERGANGA
I started trekking for kheerganga at 12 :40 PM ( yes I know I was late!) The route was beautiful , risky and dangerous .The route was full of narrow paths , beautiful scenery waterfalls ,bridges ,rivers and last 5 km snow. The whole kheerganga trek is 14 km long (one way) .I met many people in the route .
*PRO TIP :- Carry a good amount of water with you and fill your water bottles whenever you see waterfalls .
* Take 1-2 packets of glucose (Glucon D ) , sneakers ,Dry fruit etc with you .
* Carry as much resources (food and water ) as you can because after every kms food and water prices starts raising and can go up to three times of MRP.
After 6 hours trekking I reached at top . And it was around 6:30 PM. I was too much tired. But the happiness after reaching at top was inexpressible. There were many tents there and they were costing RS 200 per head at a sharing basis in a tent of capacity of four people. While trekking I had made friends with three people so we took a tent . And we dropped our luggage in tent and went to hot spring to take bath that was 100 m from our tent. After bathing in that hot spring our lost energy got back. It was peaceful and I had never felt so relaxed in my life before. Got chance to stay in hot spring for only 20 mins because after 7 pm it is not allowed to bath there. After that the real challenge was to get away from hot water and wear clothes in that chilly weather . It was the most challenging thing I had done in past 3 days . After wearing clothes we went to a Lord Shiva Temple that is situated beside hot spring.
After that we started heading back to our tent and the real problem started here . We can't find our tents because there were lots of same looking tents and it was not easy to find them in dim light . After wandering 30 mins we found our tent ,went inside and thank God out tent owner had gave us 12 quilts that was enough for that chilly weather.
At 8 Pm when we were relaxed we went to their Small cafe (made up of tent) where I found many peeps were smoking hash. Loud music was playing and we can't resist ourself from dancing. After that we had our dinner ( 2 aaloo parathe + 1 chai + 1 water bottle that costed me 80×2 + 40 + 60= 260). After eating we came back to our tent and we really had a long talk from our studies to Mia khalifa's boobs) around 12 am everyone except me slept . Dogs were barking (God knows why! And yes it rained that night that made the temperature little lower)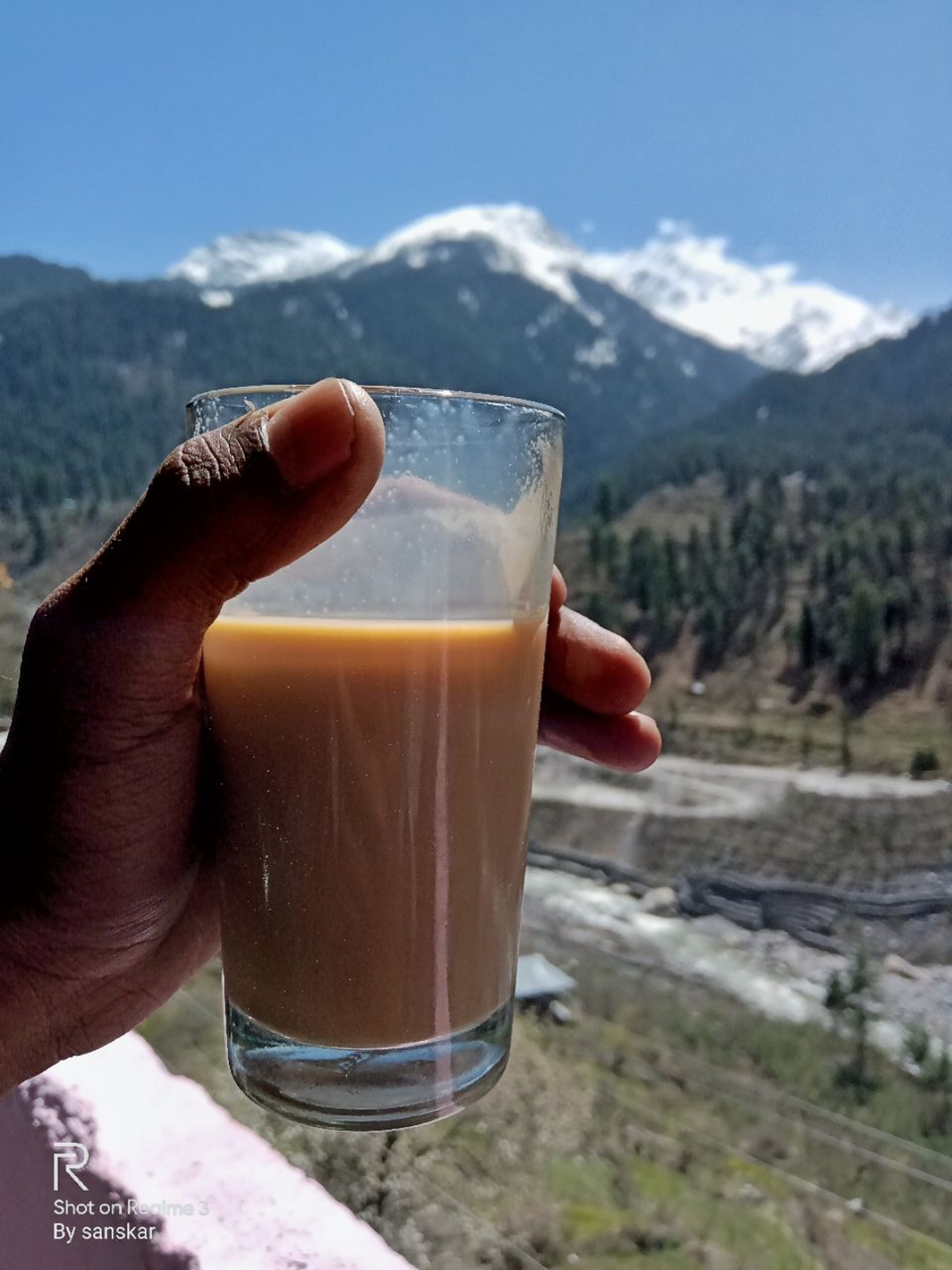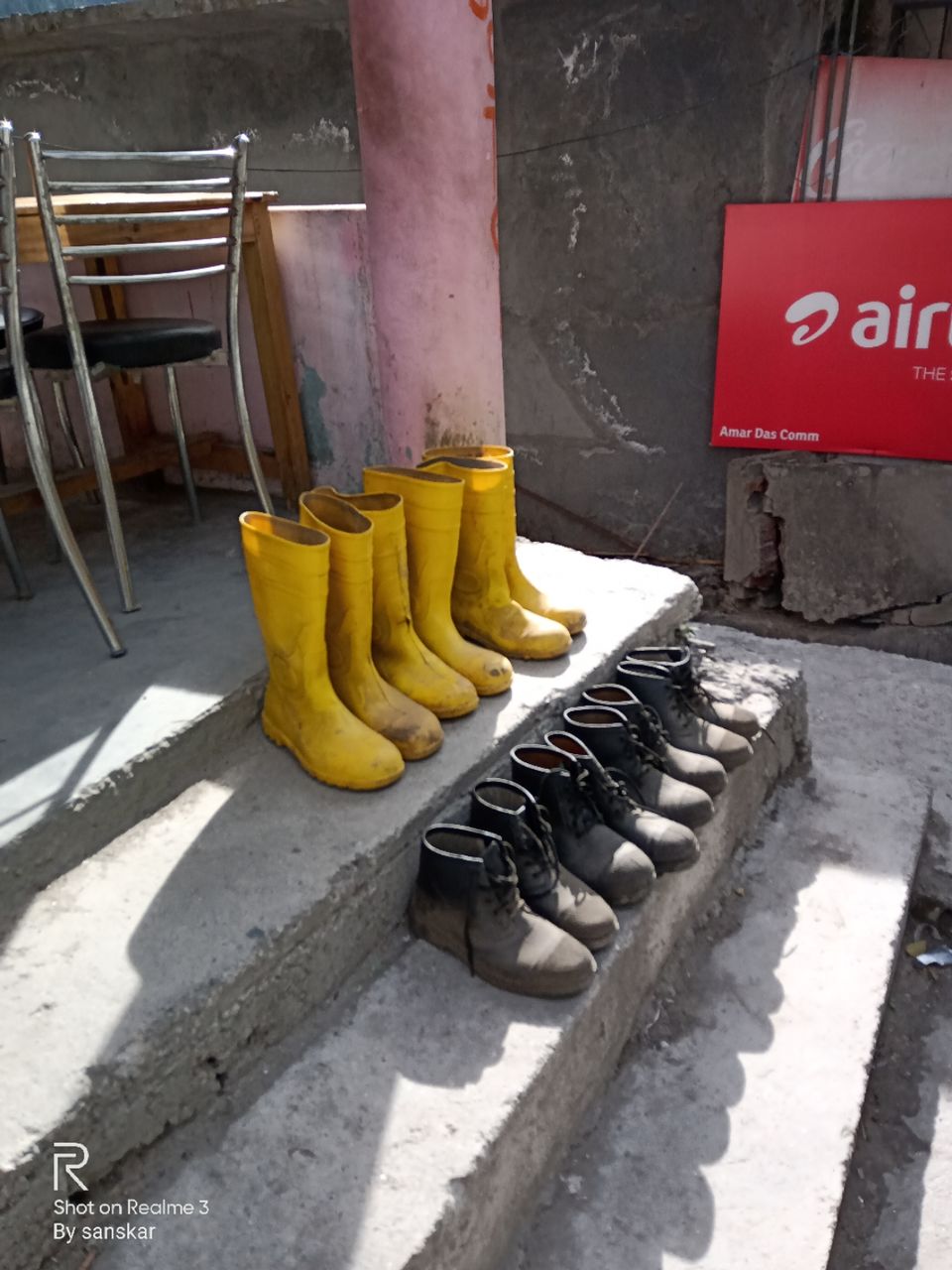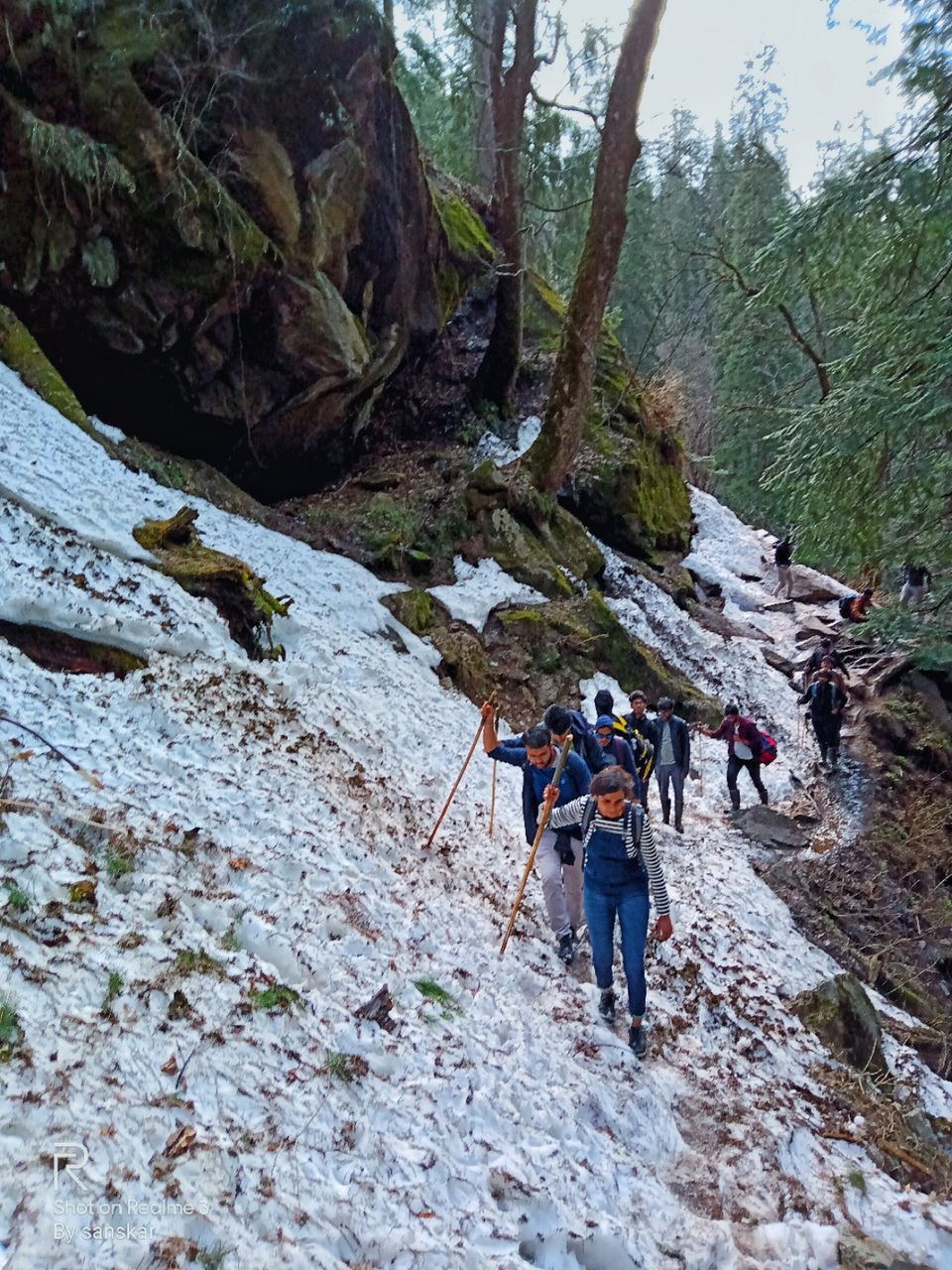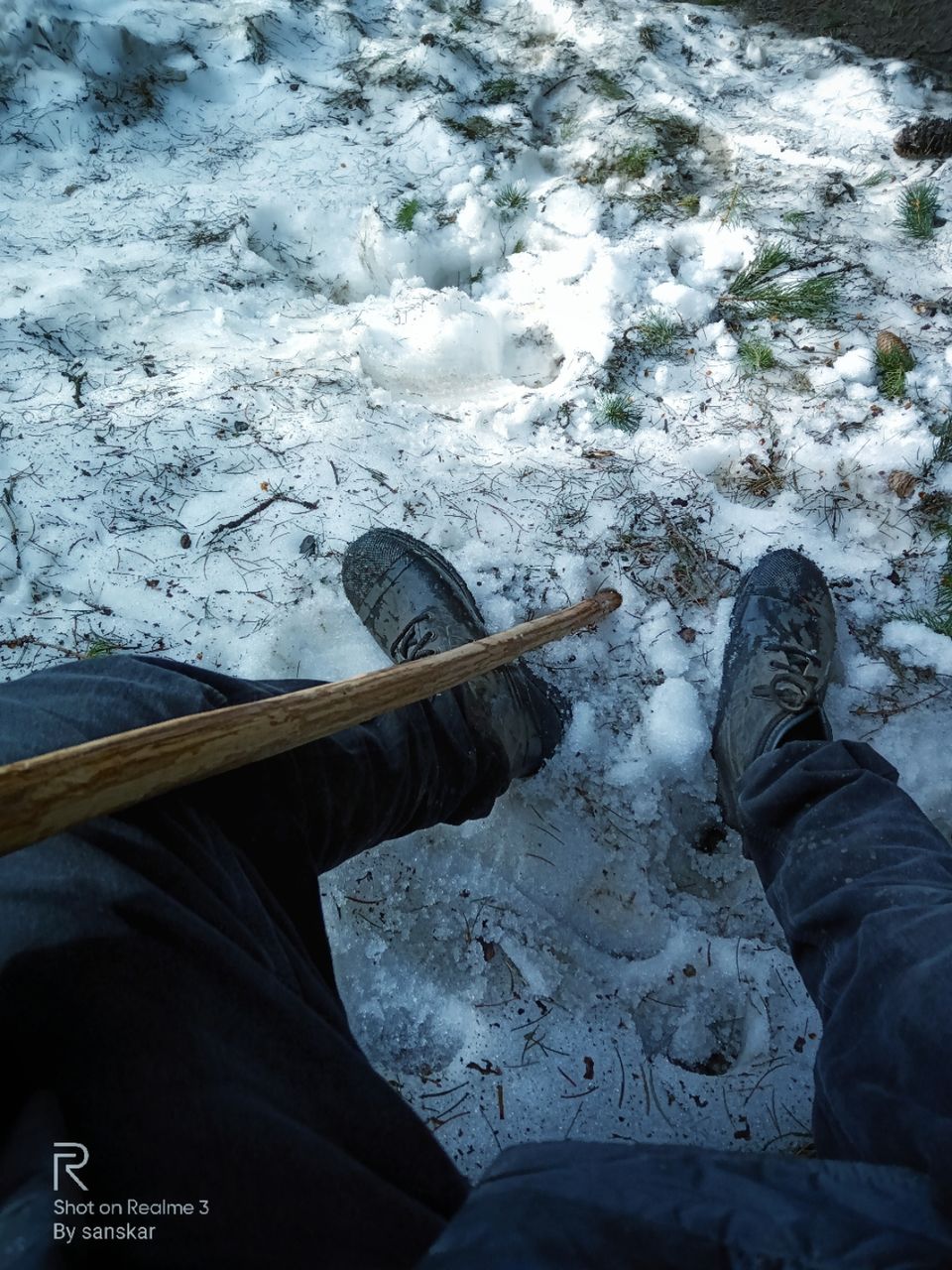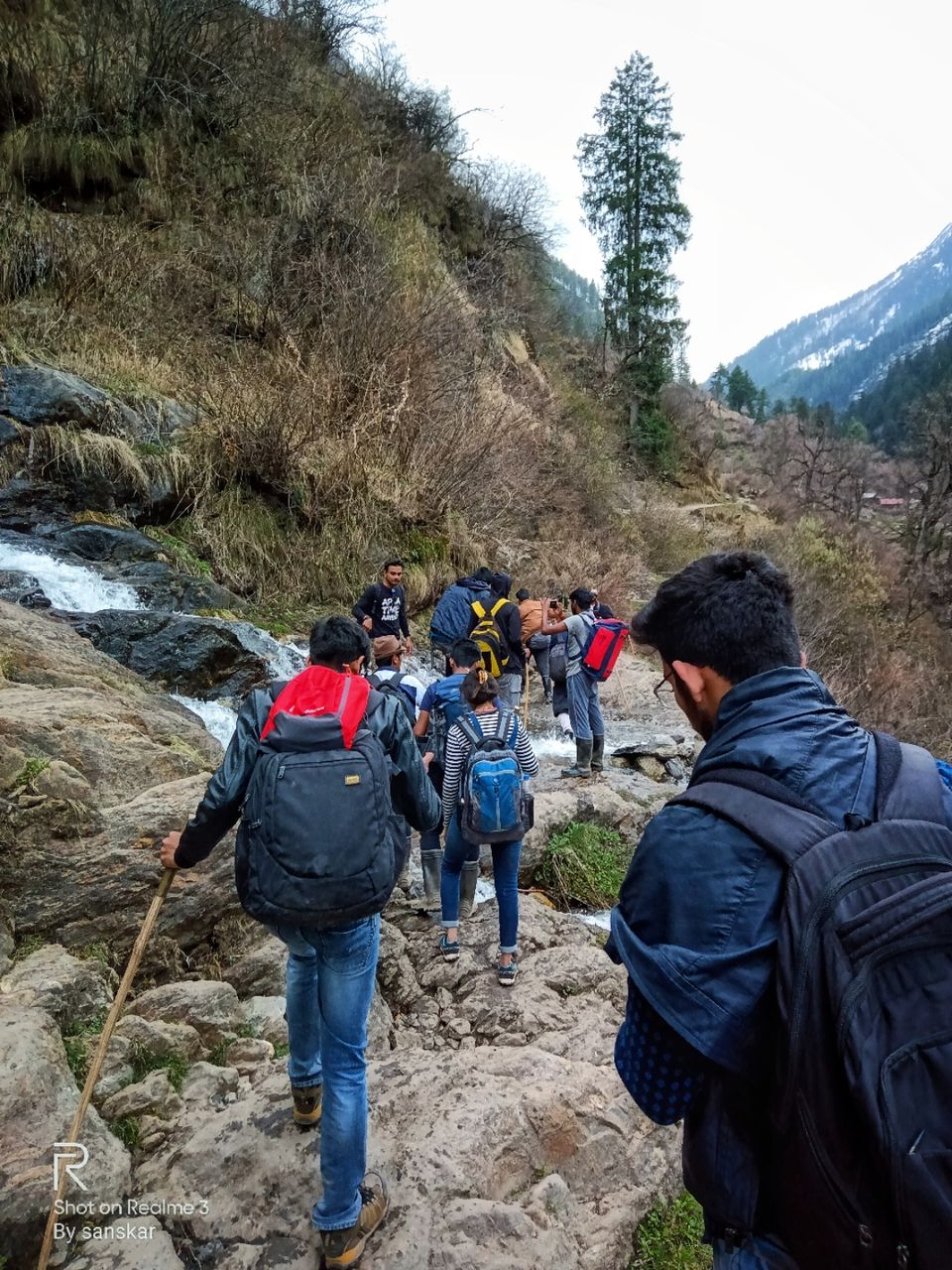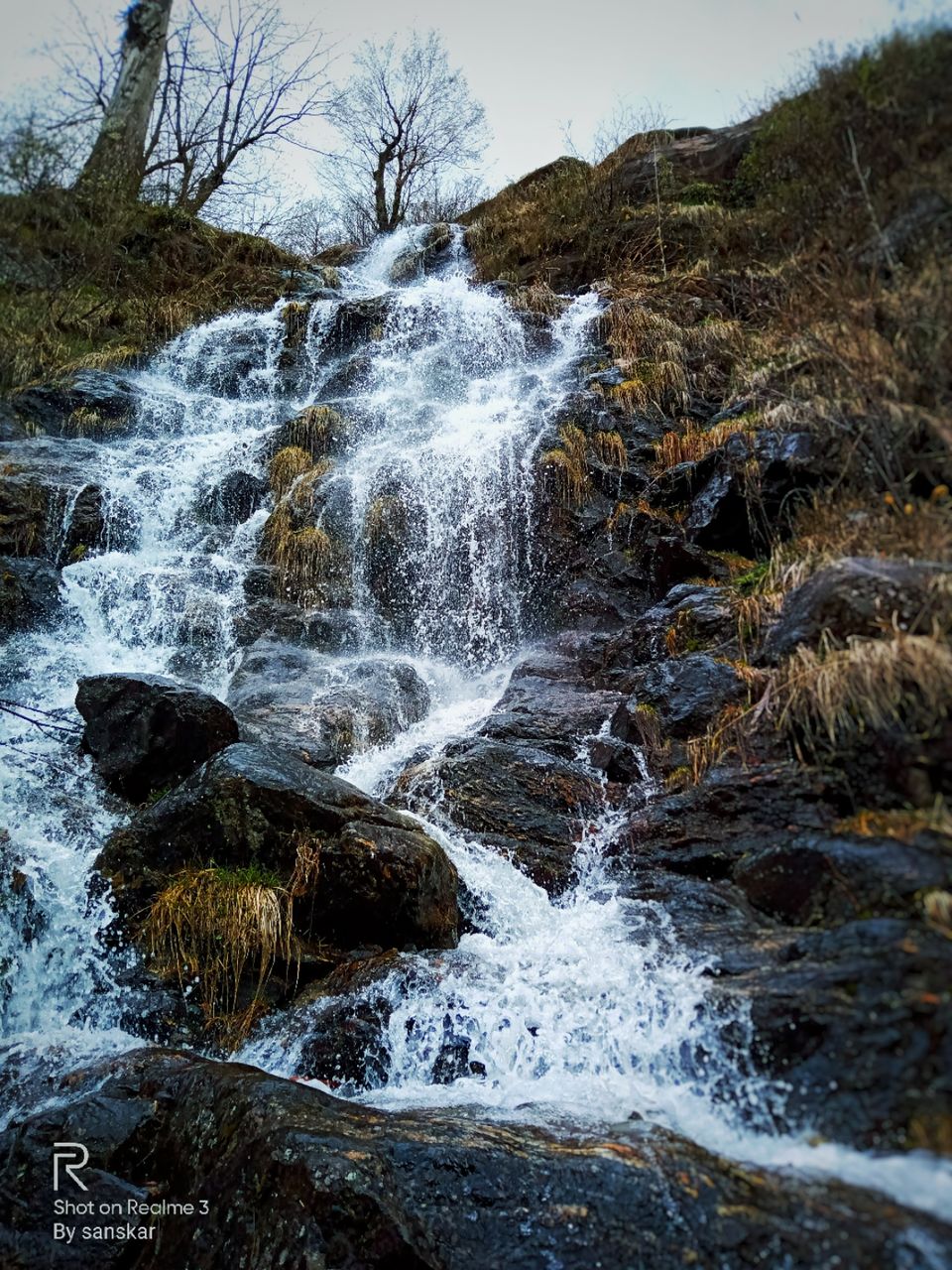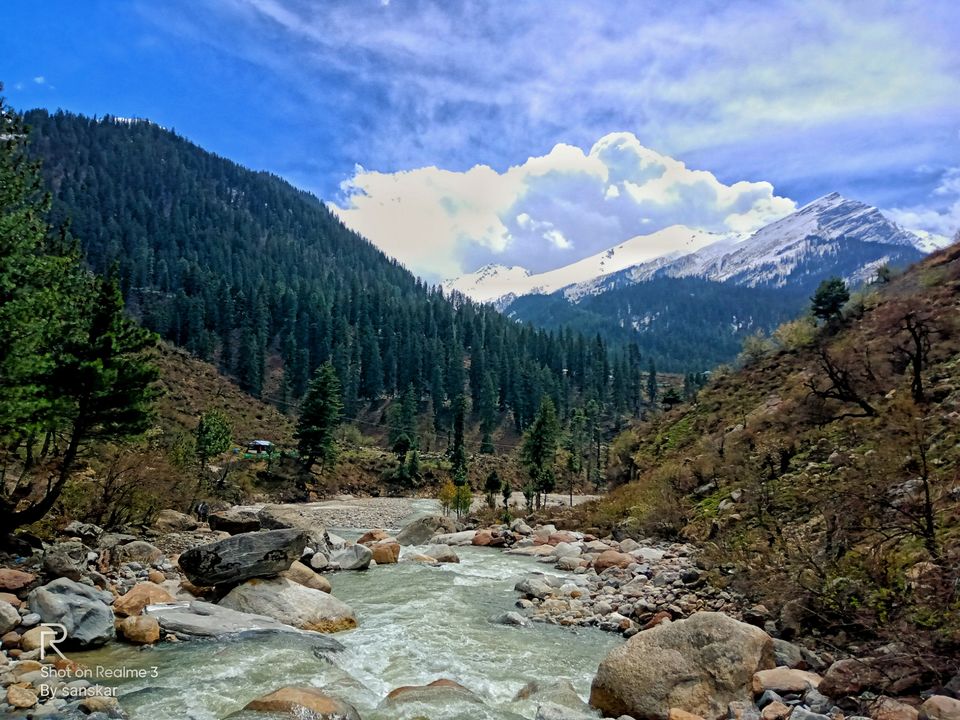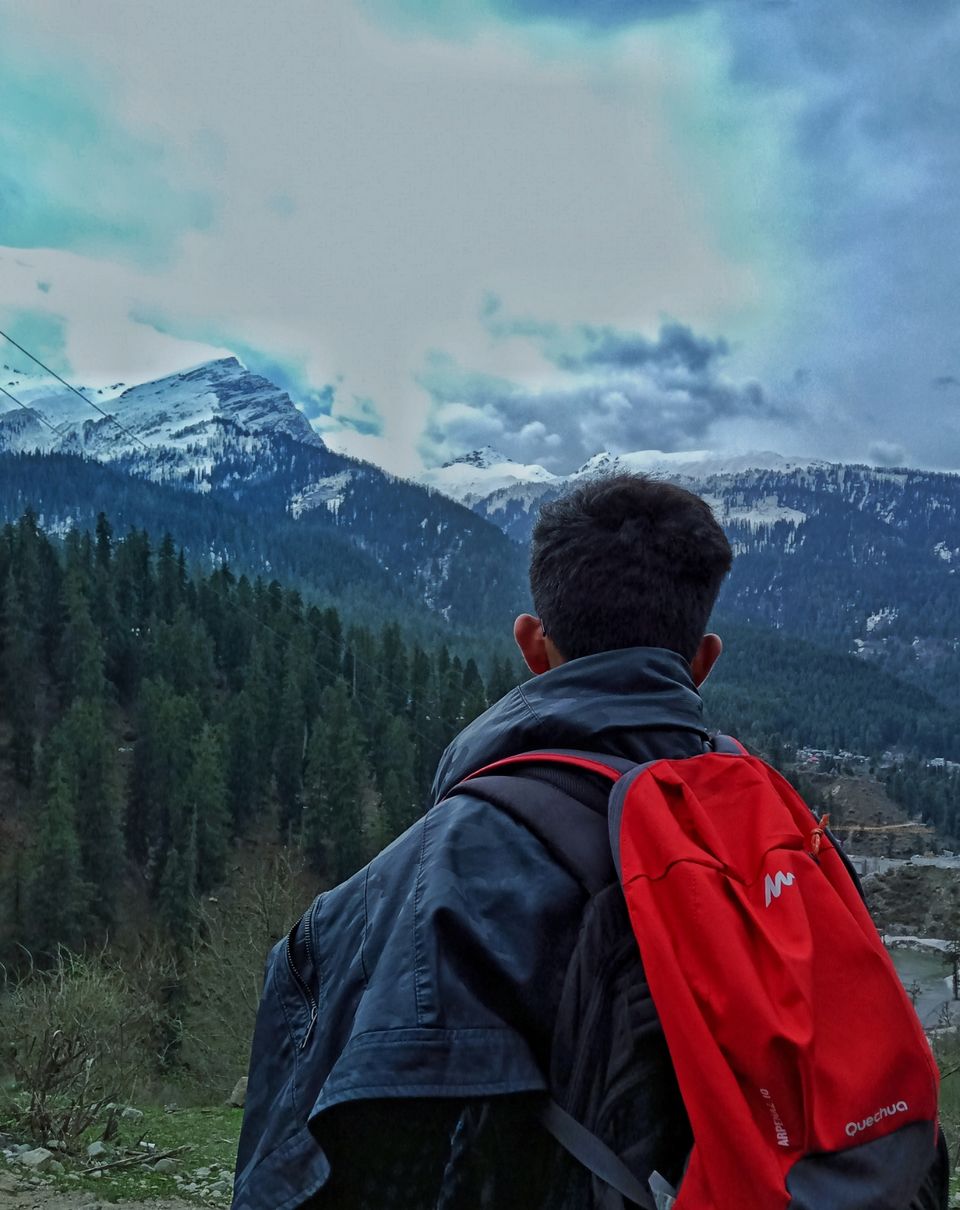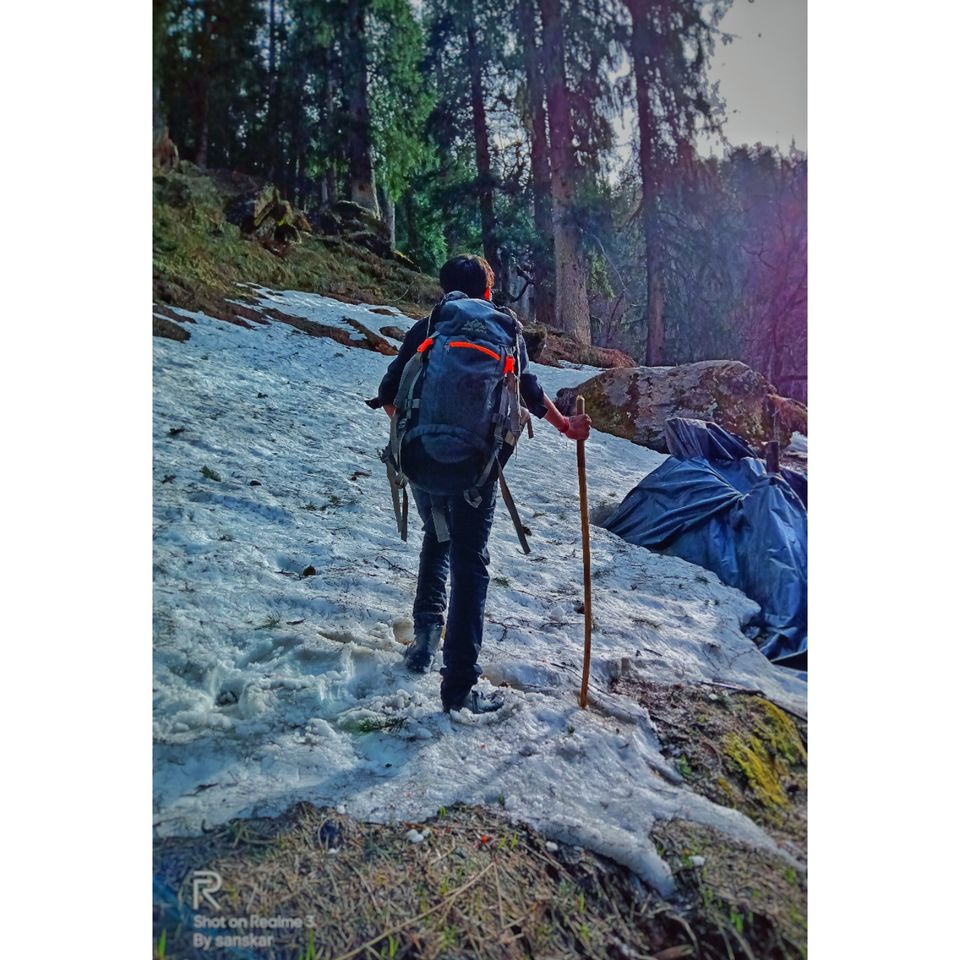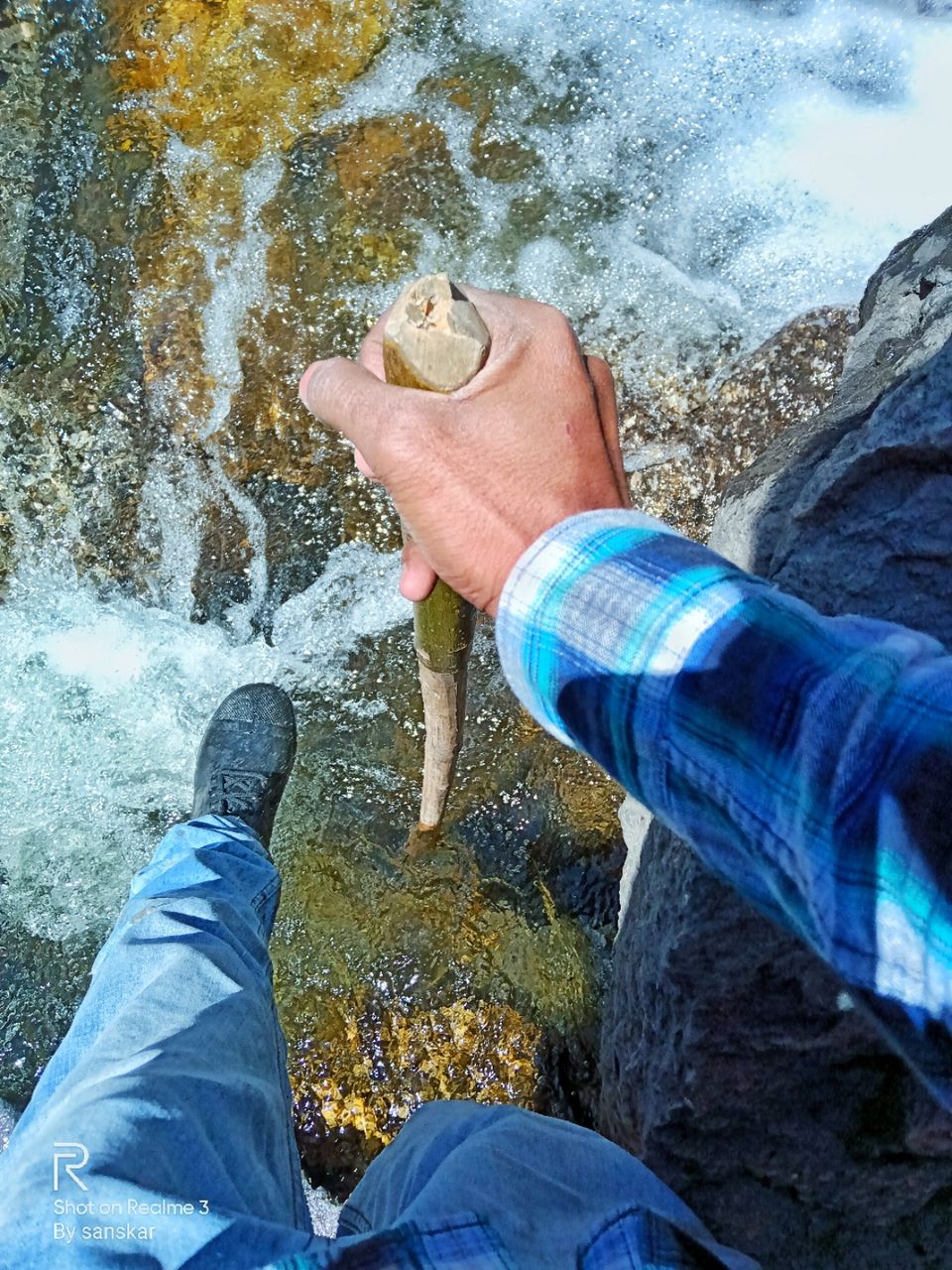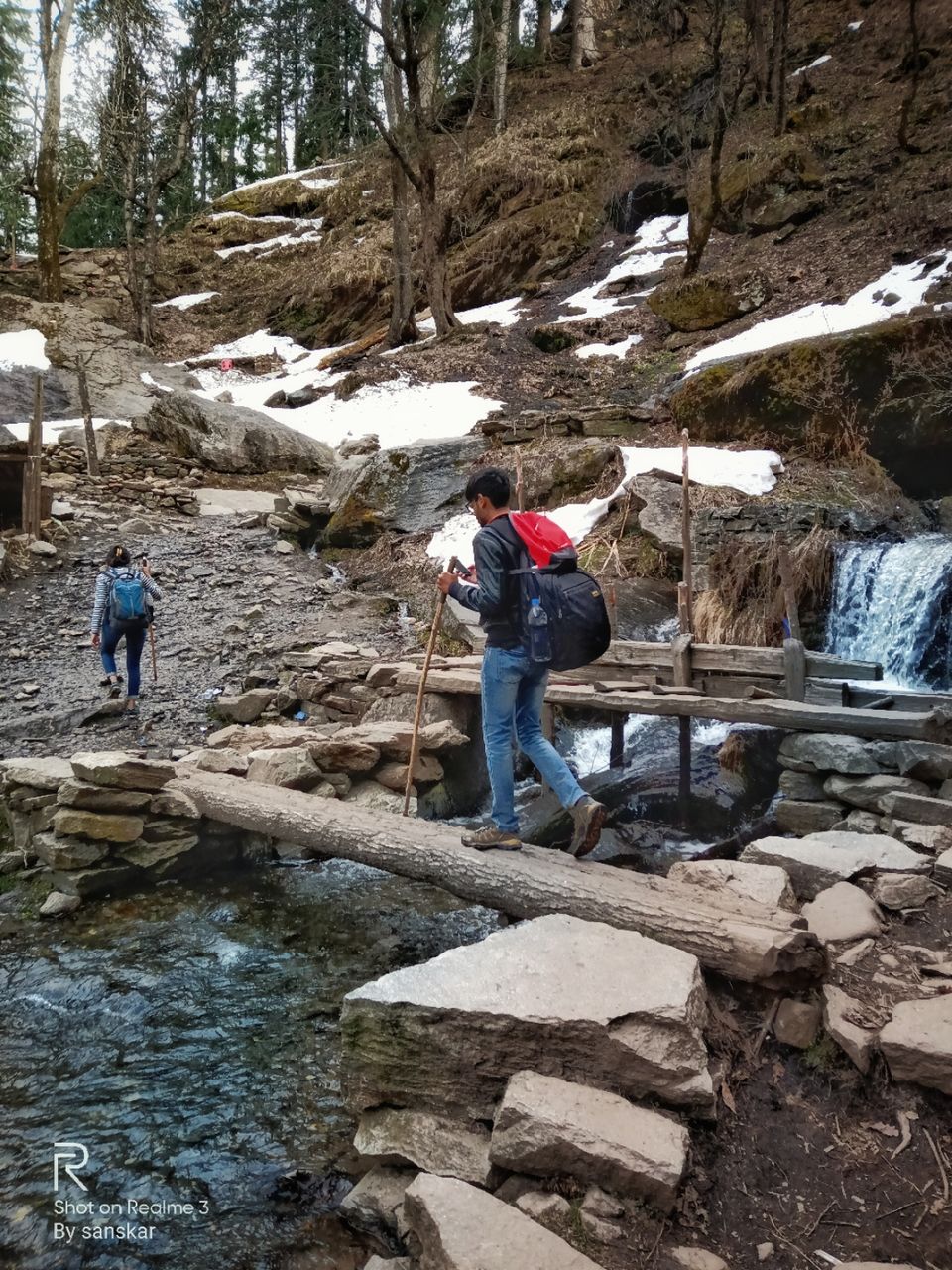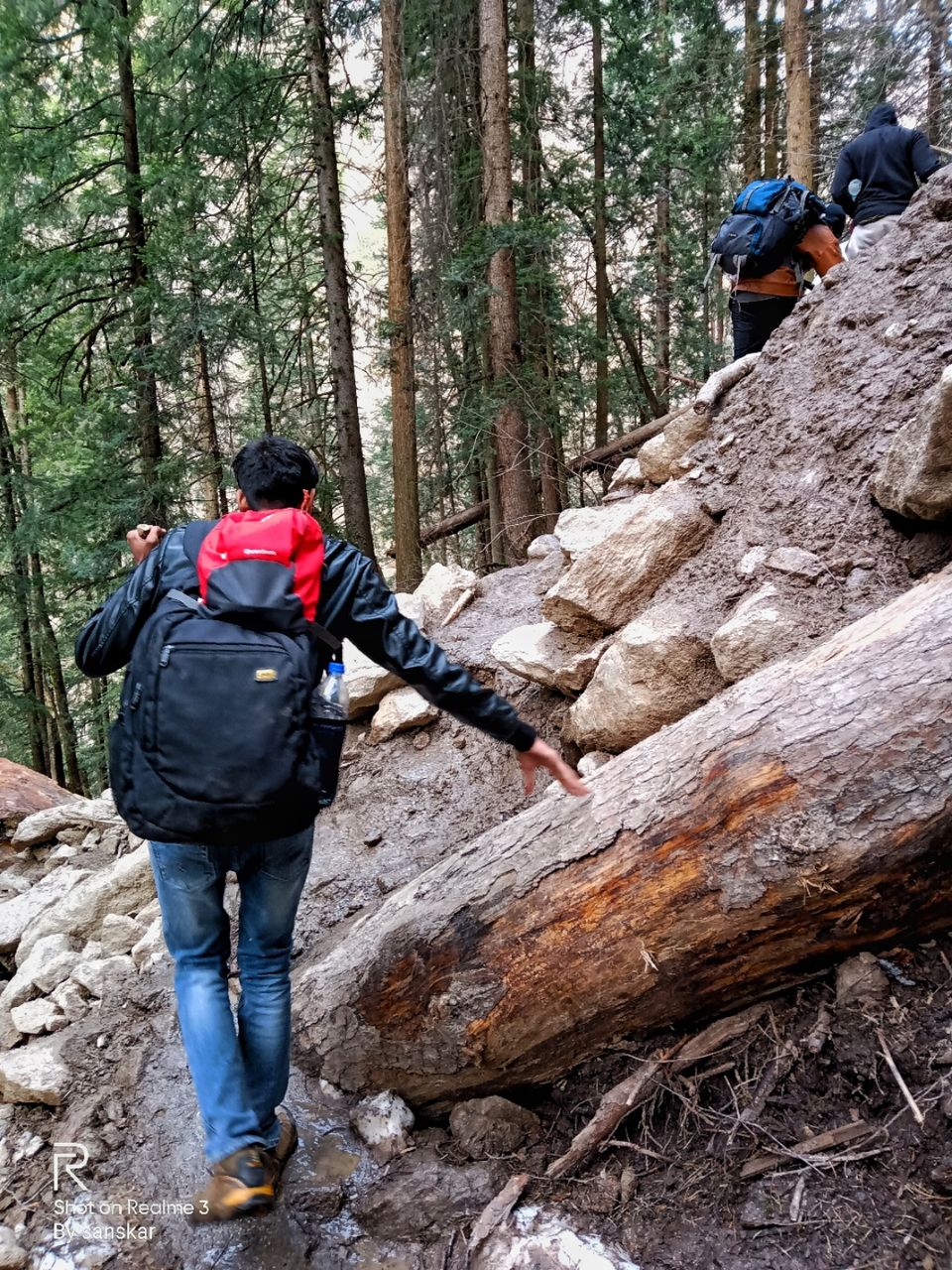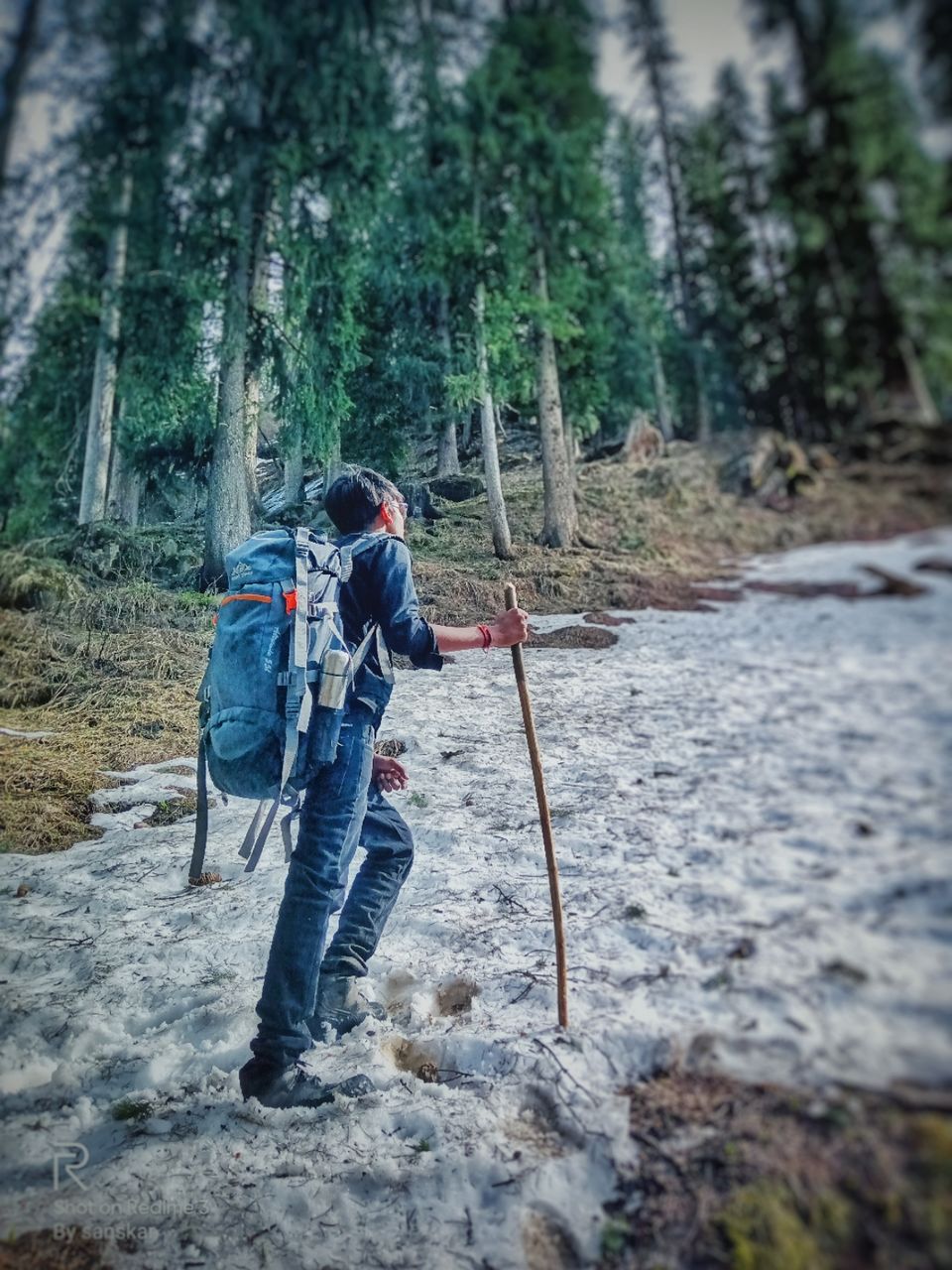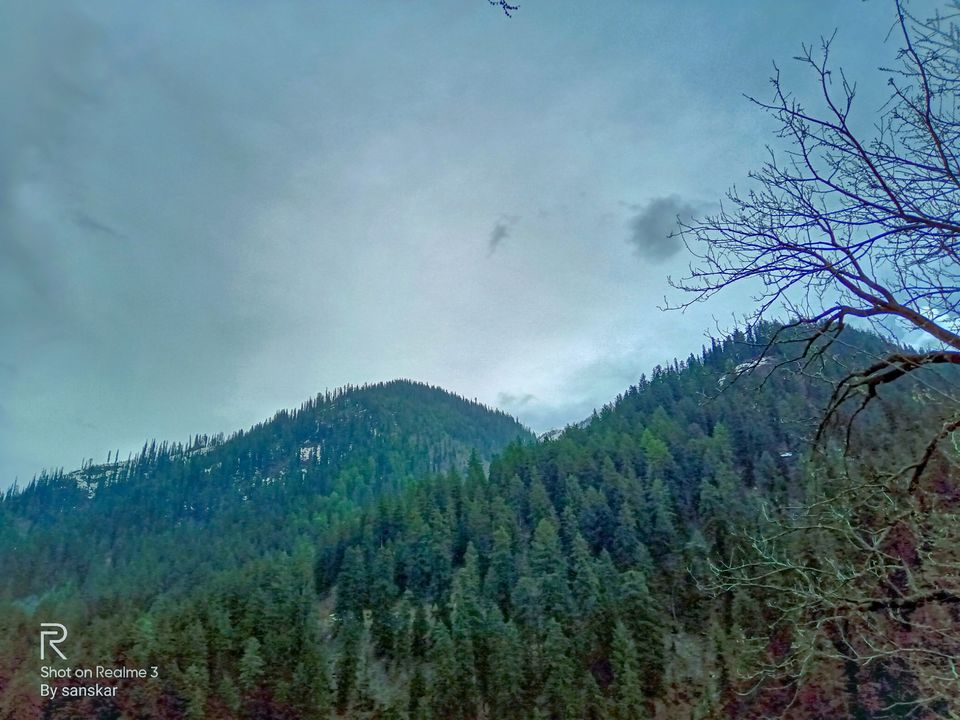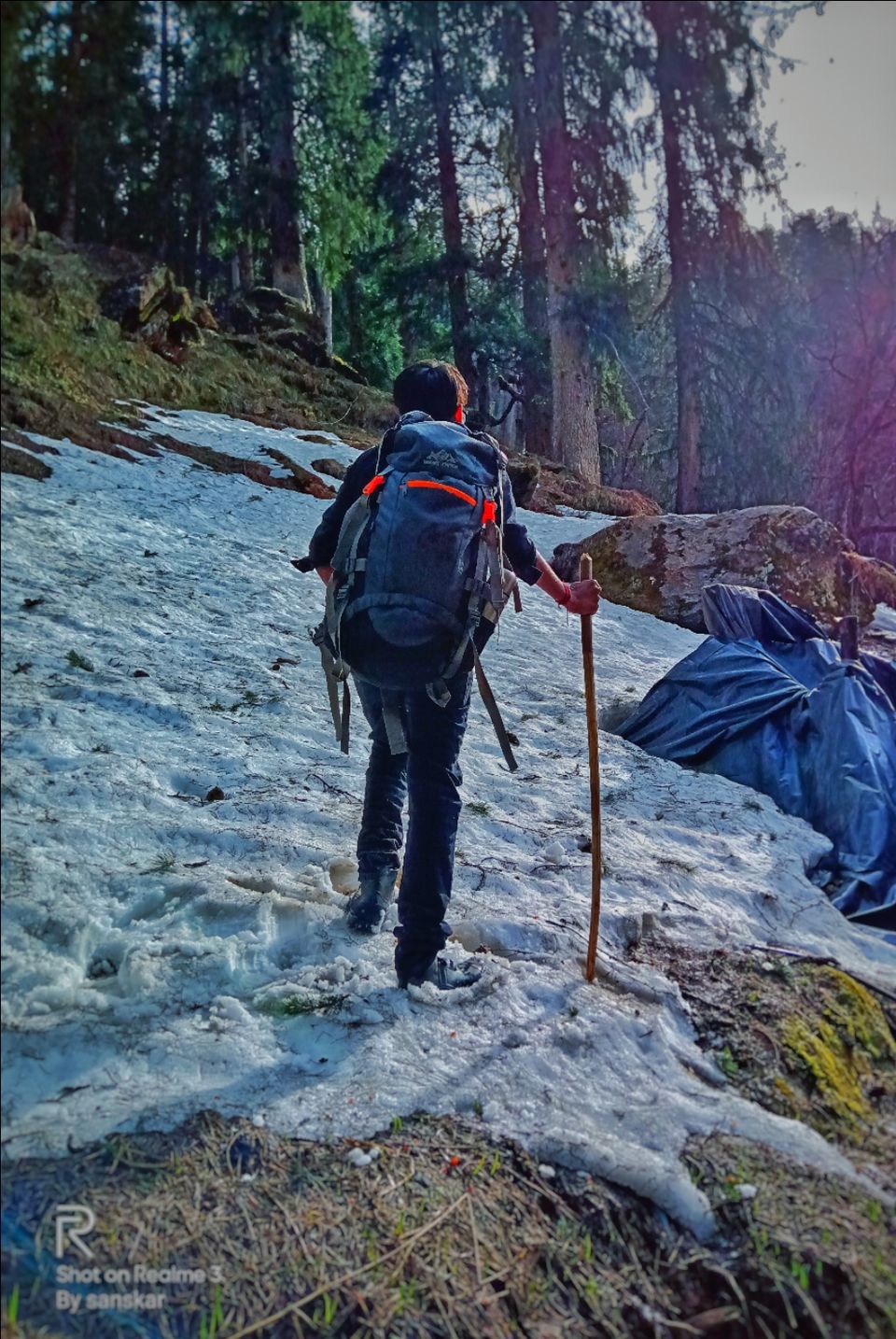 Around 2:30 AM I tried to get out of tent but rain didn't allowed me to go out (I was also scared from dogs barking )
At 3:30 when rain stopped I took my torch, stick and stepped out tent. There was dark everywhere.
So my plan was to climb a nearby mountain and I started trekking. And it took me 2 hours to reach the top in snow and dark.
I sat there at top. There was no one there sunrise was about to happen. A mild breeze was blowing. And the peace that I experienced there was amazing. After spending 30 mins there I started sliding below to my tent. I witnessed sunrise . After that bathed once again in hot spring ate Maggie that costed me RS 80 bought two water bottles that costed me 120.
KHEERGANGA~ BARSAINI
Around 10 am I started trekking back to barsaini and this time last night rain had made the path slippery. And as I was trekking fast I slipped from my path and about to fall in parvati river but a tree saved my life. That blocked me from falling. Thanks to that tree that I am alive today or I wouldn't had alive to write this blog.
BARSAINI~ MANIKARAN
After 5 hours trekking I reached barsaini at 2 pm . Had my lunch at same cafe. And took a bus to manikaran at 3 pm . Bus reached manikaran at 3 :50 Pm and costed me 26 rs. I went to the Gurdwara and then took a bus to bhuntar that costed me RS 70.
MANIKARAN~ BHUNTAR
From manikaran to bhuntar bus took 3 hours . And I reached Bhuntar at 7:30 PM
BHUNTAR~ DELHI
After that I booked a bus from bhuntar to Delhi that costed me RS 800 (Par line travels)
The bus started at 8 Pm and reached Delhi next morning at 7 pm.
So here the trip ended.
#Total trip cost for me
*Transportation
-Delhi to bhuntar - RS 680
-Bhuntar to kasol to barsaini to manikaran To bhuntar = 60+40+26+70= RS 196
- Bhuntar to Delhi = 800
* Stay
- The hostellers - RS 500
- Kheerganga tents - RS 200
* Food
Food - RS 200 + 120 + 200 + 120= 640
Extra on food + water+ others = RS 1000
TOTAL = RS 4016 (Delhi - Delhi)
# Distance chart
*Delhi to bhuntar - 502 km (13 hrs aproxx) ( RS 680 - 1700 by bus)
*Bhuntar to kasol - 30 km ( 2 hrs )( RS 60 )
* Kasol to manikaran - 4.5 km ( 10 mins)(RS 10)
* Manikaran to barsaini -16 km ( 1 hr) (RS 26)
* Kheerganga trek - 14 km (6 hrs on foot) ( one way)( your stamina and will power)
* Barsaini to bhuntar -50 km ( 3 hrs)( RS 100)
#Stay options
* Kasol - The hostellers (I stayed there and I also recommend)
* Kheerganga - tents
#Network connectivity
* Delhi to bhuntar - every network has 4G range
* Bhuntar - every network has 4G range
* Bhuntar to kasol route - sometime will find 4 G signal sometime u will find no signal (even can't connect to call)
*Kasol - every sim has 4 G range here
*Kasol - Chalal - Rasol : network fluctuate between routs but in both villages u will get 2 G to 4 G network
* Kasol - Manikaran - barsaini : good signal ( 3G \ 4 G)
*Barsaini :4G network in every sim
*KHEERGANGA TREK :
- Idea/Vodafone - signal lost after 5-6 km trek
-Reliance Jio - signal lost after 9 km trek
-Airtel : signal lost after 11 km trek
*KHEERGANGA TOP :- only BSNL works
- At 3:00- 4:00 am morning u will find some Airtel signals but that is not enough for even sending a SMS forget about call.
#TIPS FOR KHEERGANGA TREK
*Take as less luggage as u can on trek
U can give ur extra luggage in shops in kasol or barsaini at RS 10 per day
*Don't forget to rent trekking shoes (RS 50-100) and stick ( RS 20) at barsaini. They will help u in trekking in snow and water.
* Feed dogs some biscuits they will guide you route.
* Be in group or if u are trekking solo just try to join a group or follow another group.
*Don't buy hash
*Use natural resources (waterfall) to fill your bottles.
*Carry glucose, sneakers, energy drink, dry fruits in your bag.
* Be hydrated and take rest time to time.
* Night trekking can be fatal so to avoid them try to start trekking early.
* Carry BSNL and Airtel Sim they have good range there.
If I can travel solo you also can just don't think too much, take 5k- 6k cash in your pocket and visit parvati valley. I bet you will thank me later ❤️
For more pictures follow me on Instagram and for any query just DM me????❤️