I find meeting new people and departing from the familiar faces equally intimidating, it's not really easy to bid good bye! But the workshop had come to an end, and slowly everyone was leaving to their respective places. Though I could have easily taken a bus the same day and left for Delhi, I wanted to stay back and pause, so I booked Dauladhar Express from Pathankot for the next day. Interestingly about 8 more people were staying back and they had train on the next day about the same time as mine.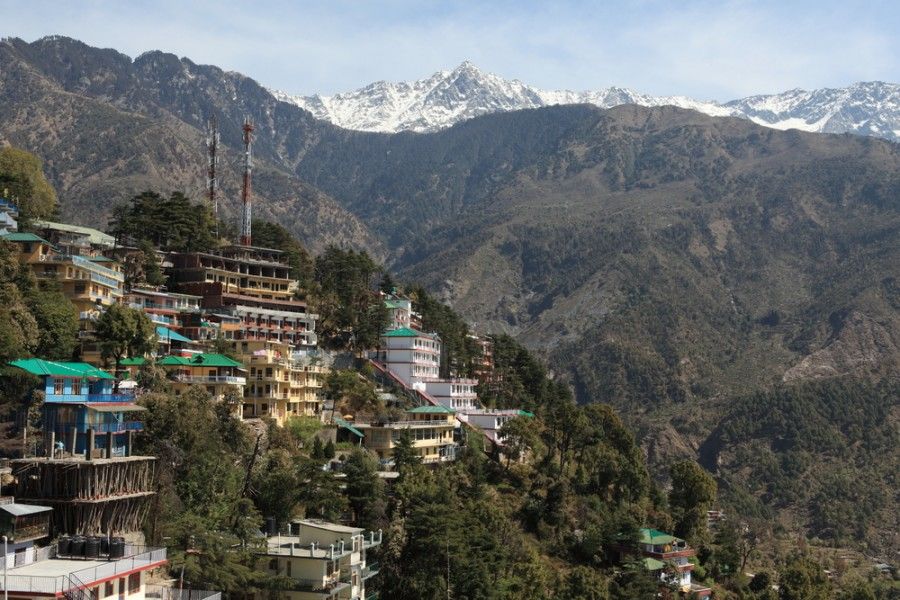 I had no plan for the next day, probably roaming in the forest, going back to the stream, sitting there and writing was on my mind. However like my entire journey, something unplanned was destined for the next day. A late night conversation resulted in planning a trip to Dharmshala and Mcleodganj. After certain inquiry about how to reach, what places to visit, one of the participants booked a cab (van) for us early morning. After having breakfast, we bid good bye to Kandbari and drove to Mcleodganj.
Mcleodganj is a popular suburb of Dharmshala, also known as "Little Lhasa" or "Dhasa because of its large population of Tibetans. We were all excited to explore and experience this tourist 'favorite place'.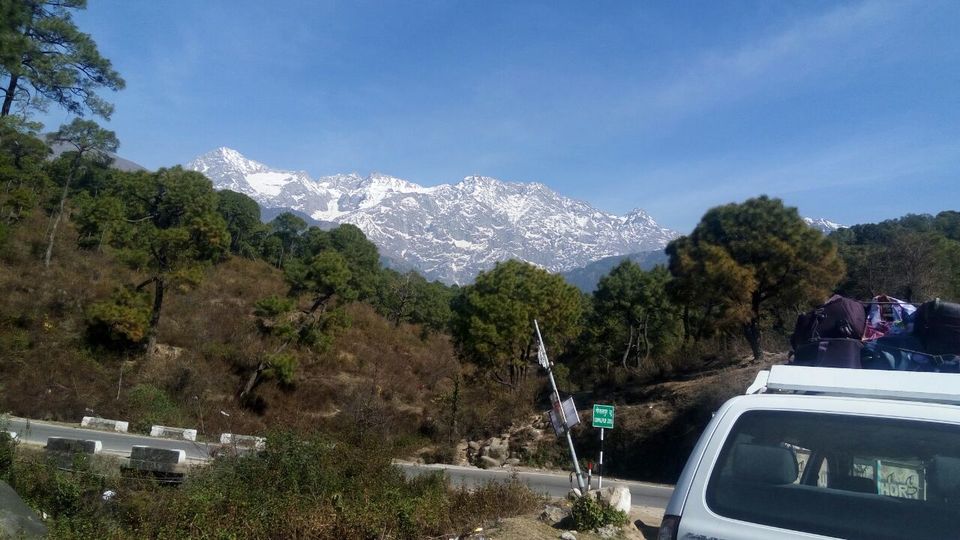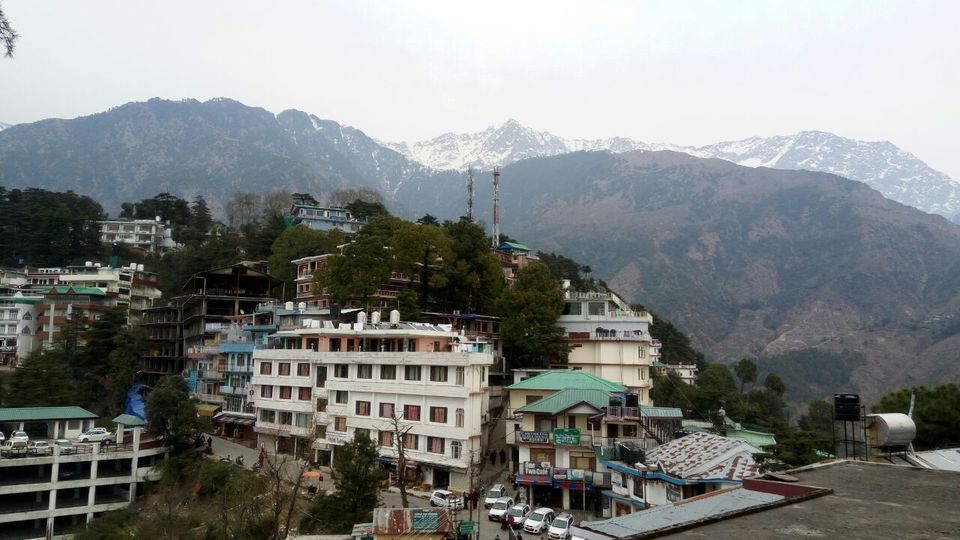 After parking our vehicle at Bhagsu taxi stand, we visited Bhagsunath temple. The temple, built by the Gorkha regiment of Army is dedicated to Lord Shiva and his disciples. It is very neat and well maintained. There is a small reservoir in the area from where people can get drinking water and also a swimming pool inside the temple complex. The temple is not too far from the parking and a worth visiting spot. The road leading to the temple has number of local shops, so if you are going to the Bhagsunath temple, do indulge in street shopping!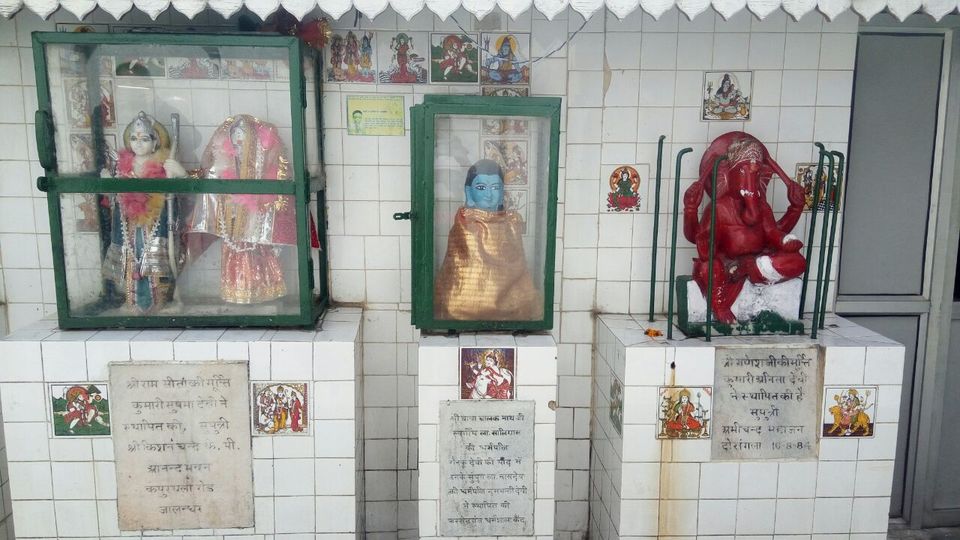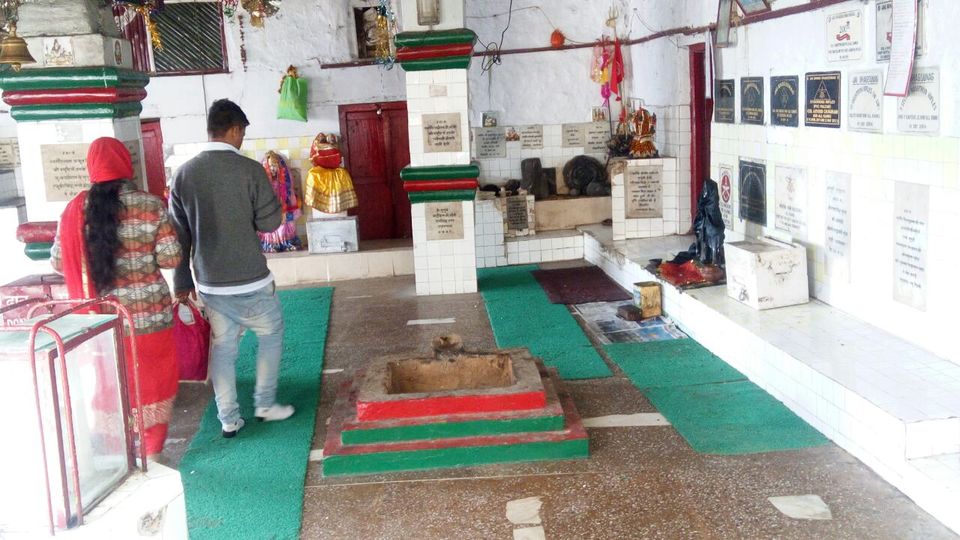 As we moved ahead we could see the Bhagsu waterfall, which was about 2 kilometers away from Mcleodganj. However there was hardly any water, so we decided to drop the idea of trekking to Bhagsu waterfall.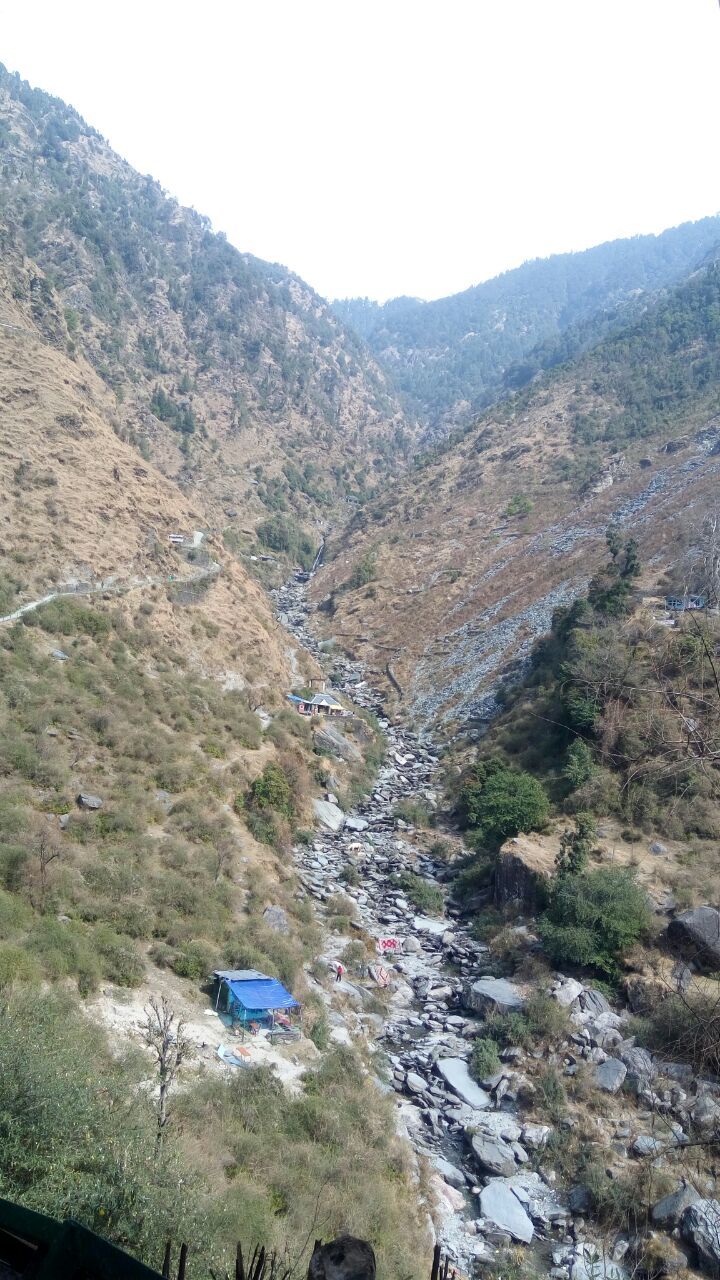 Bit disappointed we went to the central market in the Mcleodganj. The first thing that caught my attention immediately was colorful and extremely beautiful Kalachakra temple which is located inside the Thekchen Chöling temple. The temple complex also houses the Namgyal monastery and the private chambers of his Holiness the Dalai Lama. The Kalachakra temple is a symbol of the concept in Buddhist religion popularly known as 'The wheel of time'.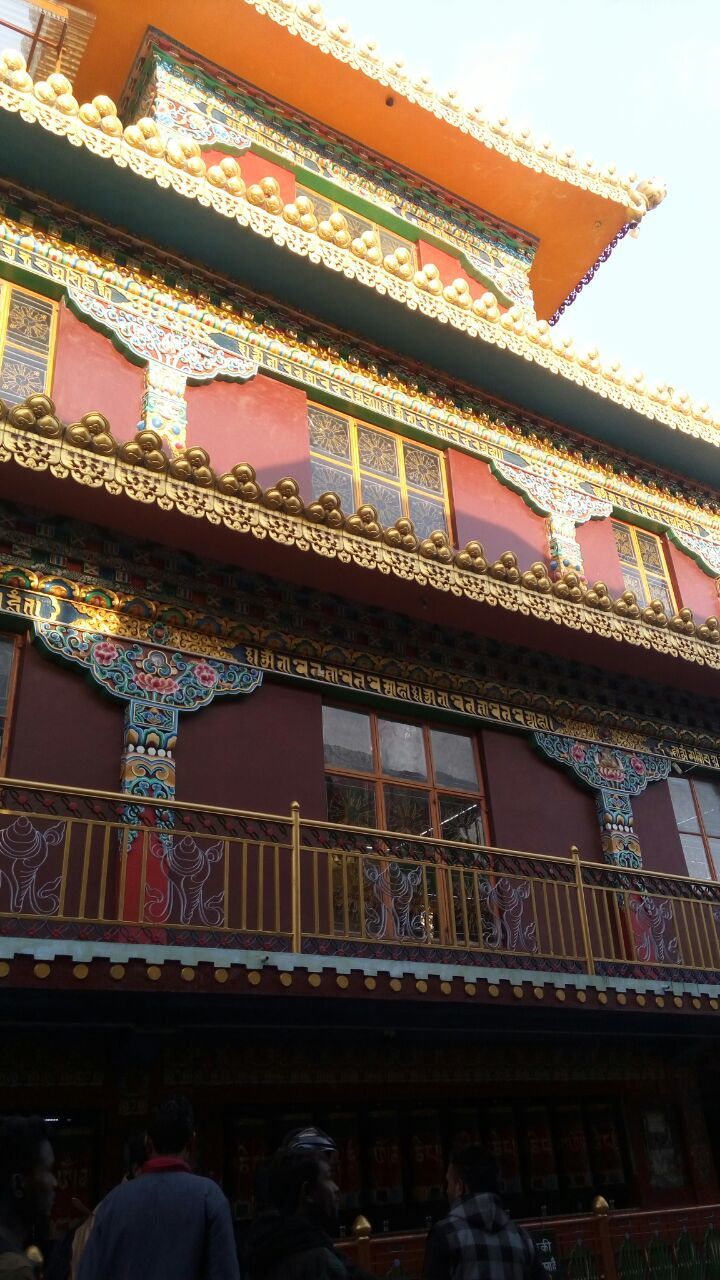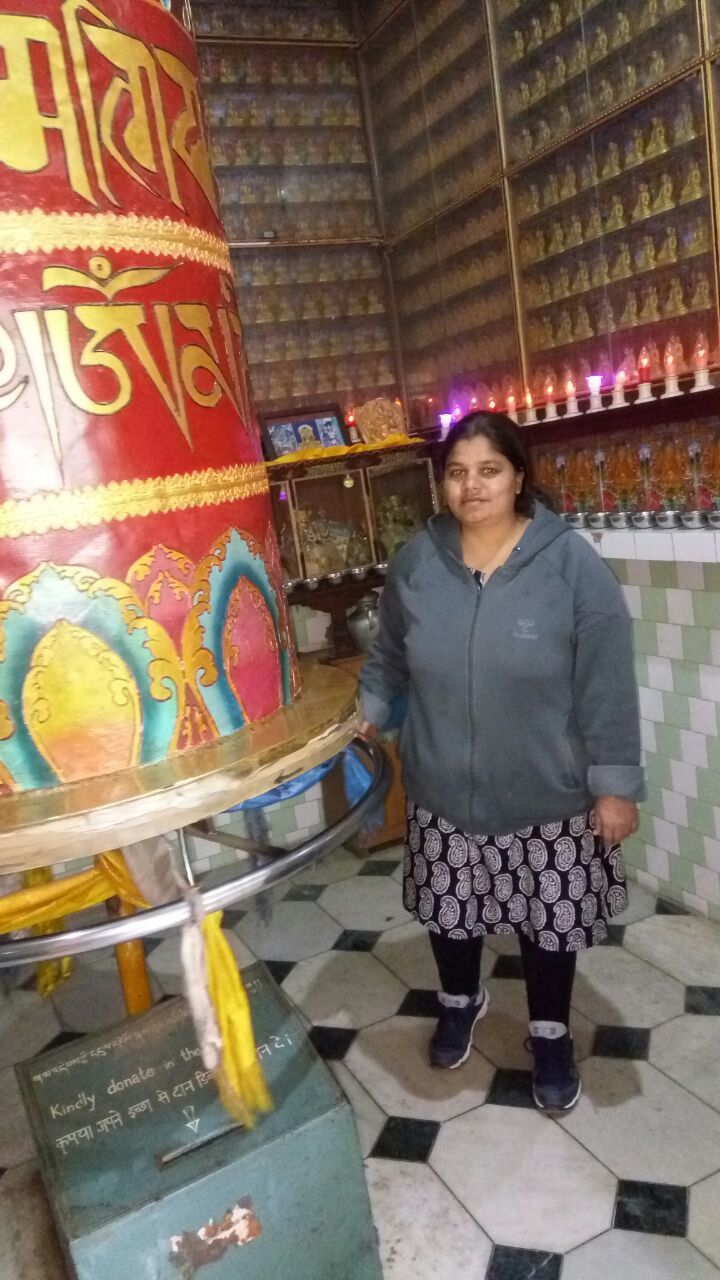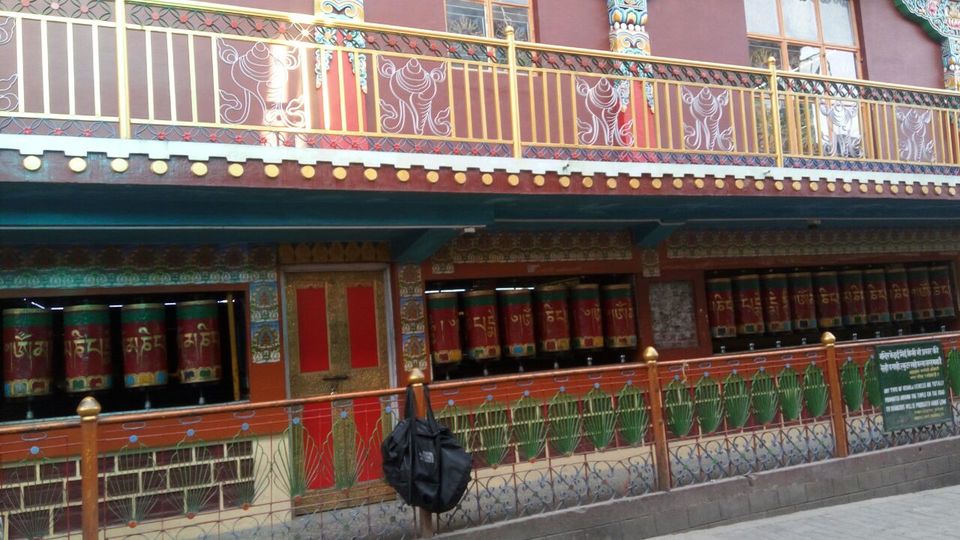 We were all very hungry so some of us went to a hotel called "Punjabji tarka" in the hope to eat delicious non- vegetarian delicacies while I wanted to roam around the market and grab momos. Finally I found a woman who was selling fried momos just close to the Kalachakra temple. After gorging on the momos I went back to 'Punjabi tarka' only to find my friends really unhappy with the food. Instead of chicken biryani, they served veg biryani, the shahi paneer was sweet and overall food quality was bad.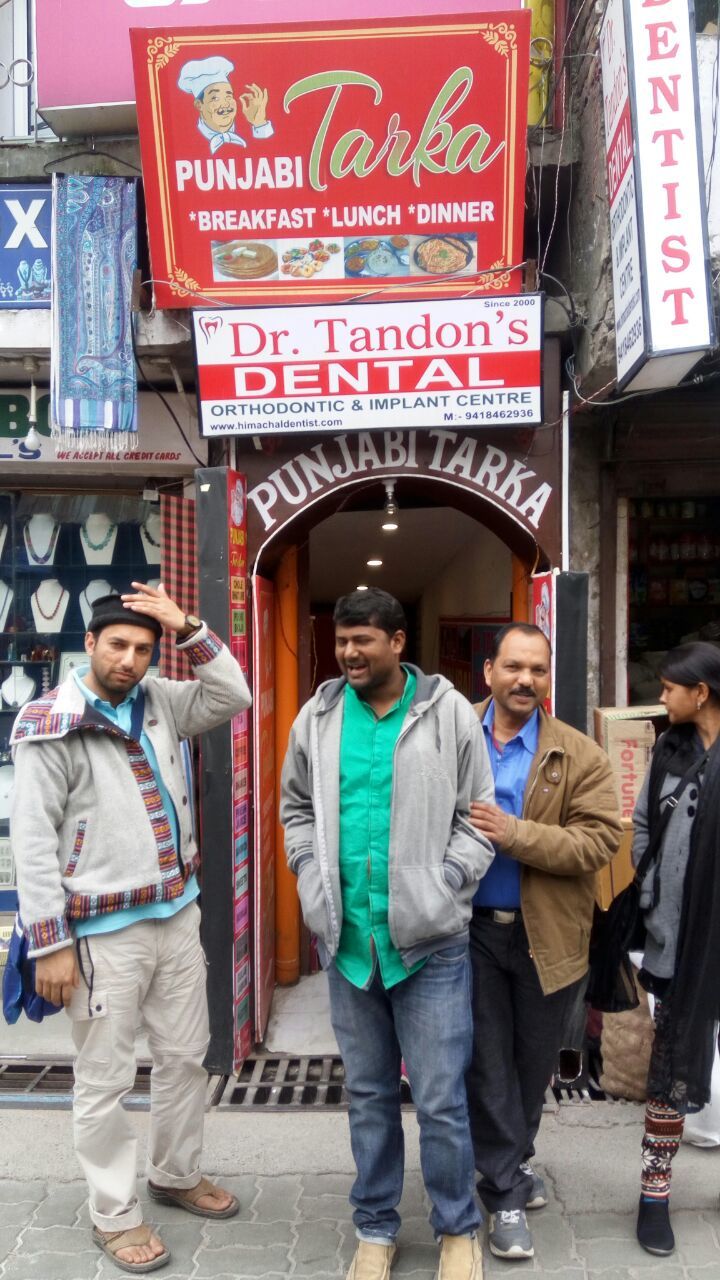 We then went to Tsuglagkhang also known as Dalai Lama temple. The largest shrine contains a huge gilded statue of the Buddha, along with two smaller statues of Chenresig and Guru Rinpoche. Along with the temple, this complex has a monastery, various stupas, a museum, a library, a bookstore and a cafe. Except for Dalai Lama's residence, every other part of the complex is open for tourists. It was peaceful, strangely serene and breath-taking experience to be moving from one part of the complex to other. I was bestowed by the beauty of Tibetan culture.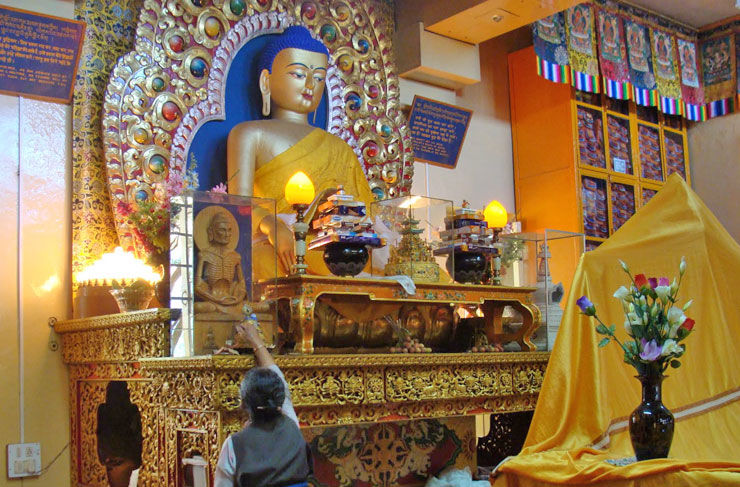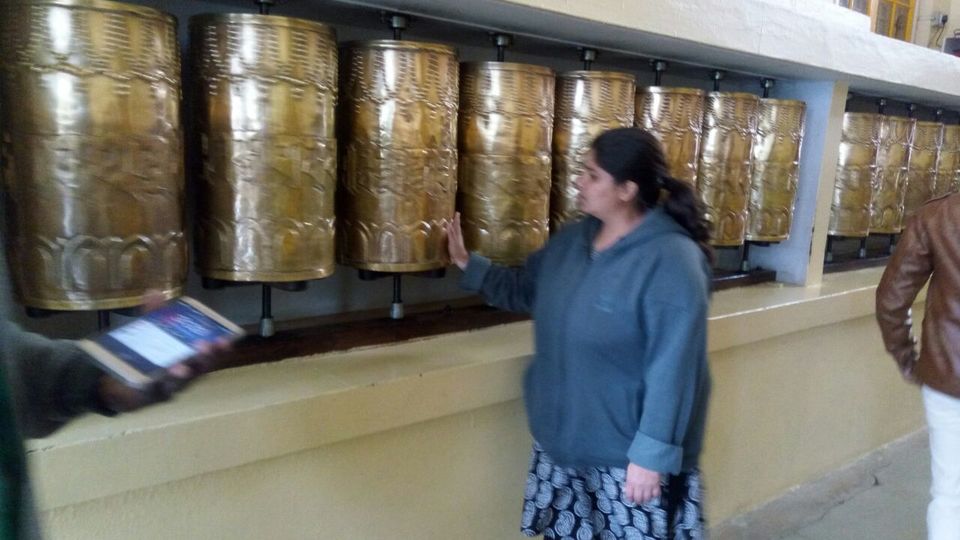 The museum inside the complex houses many imprints of Tibetan art and culture. These include history documents, pottery, handicrafts, paintings etc. The museum gives an insight into Tibetan culture and at the same time, the various struggles faced by them lately.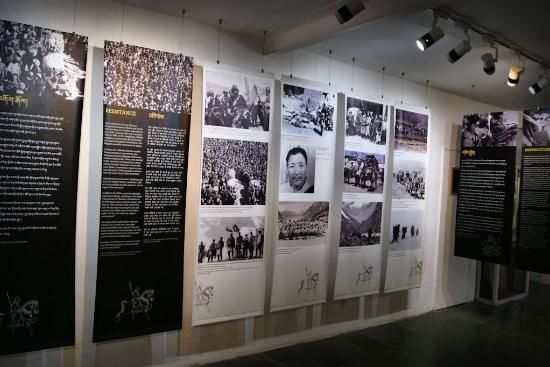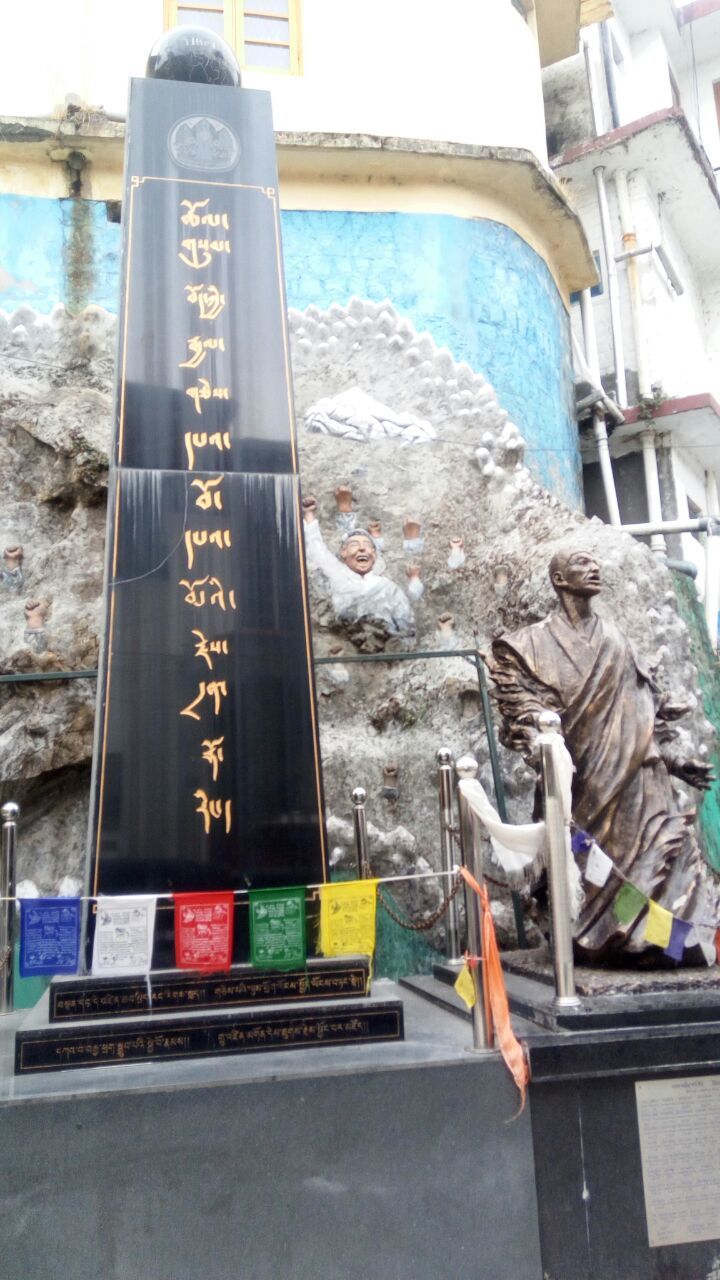 The history, the culture and the struggles of the Tibetan came so alive that I couldn't help but wonder as to "why does power, dominance becomes more important than the humanity?" Surely I had no answer for this! Moving back, all my friends had come from various parts of the country so they wanted to indulge in street shopping. Apart from many shops, I would always remember this particular shop which was run by a middle age woman. She was extremely sweet, she was eating food while we entered her shop, she left her food and assisted us in finding beautiful fashionable sweaters. I would always remember the way she addressed us as "beta" in an incredible tone, it was lovely :-)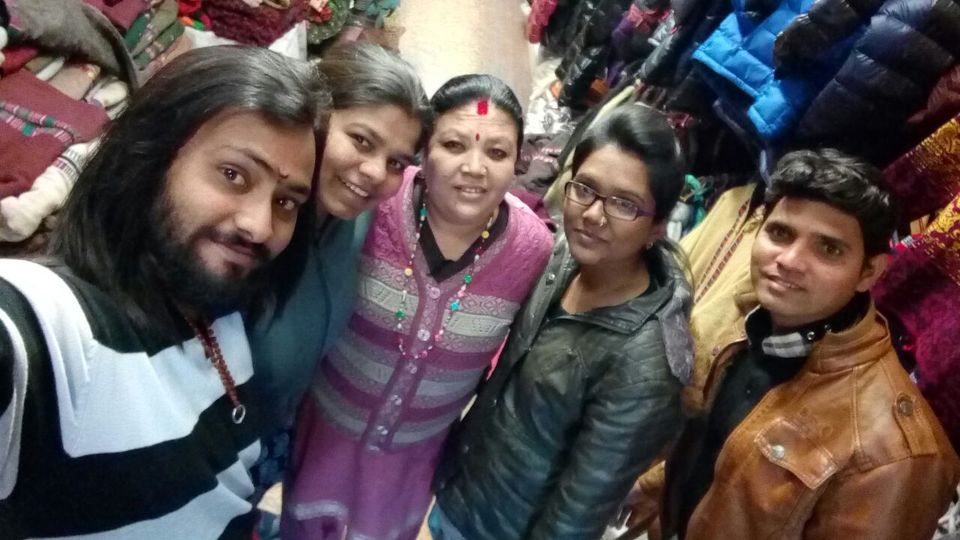 Interestingly one of our friend whose is native of Himachal Pradesh, shopped the most, by the end of it, he had new clothes from top to bottom, he bought a Kashmiri cap, a new jacket, gloves and woolen shocks. Another friend from Pune bought at least one gift for each family member. I was wondering that it's always said that women are shopaholic, I was witnessing the contradiction. I personally don't really love shopping but here I was helping my friends in buying different stuff for them. Totally exhausted we went to an old café famous for pizzas, located behind the market (I wonder how can someone locate this place.).
We ordered pizza and coffee, but before our order could come, one of my friends in a panic way said that he wanted to buy those warm caps! Amused by his reaction, both of us ran towards the shop that had variety of caps and pullovers. Finally he was happy and me too :-) we came back and had delicious mouth-watering pizza.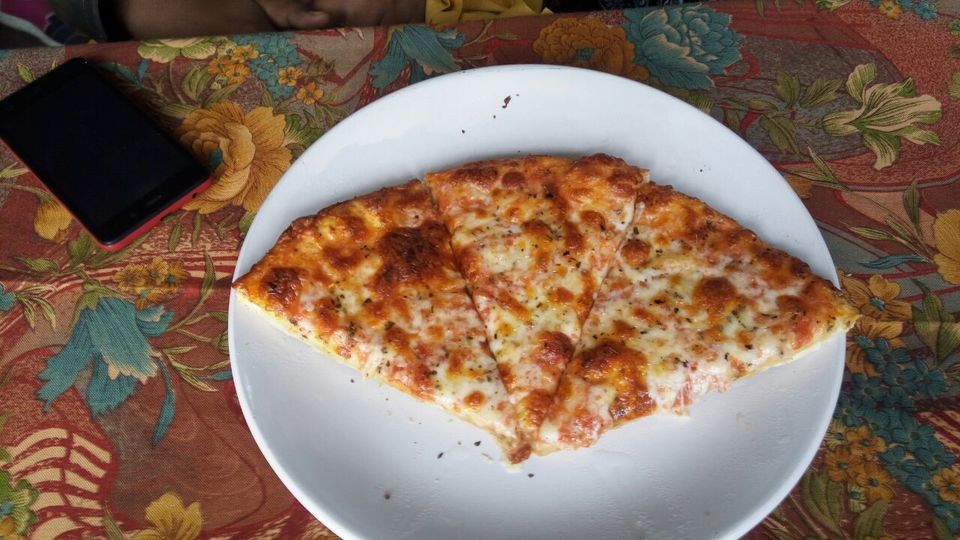 It was already 5 pm in the evening and we were ready to go! I hopped on to the front seat, lost in the thoughts and the moments we experienced all through the day. A valentine day well spent in the company of some amazing people whom I came to know in a workshop :-)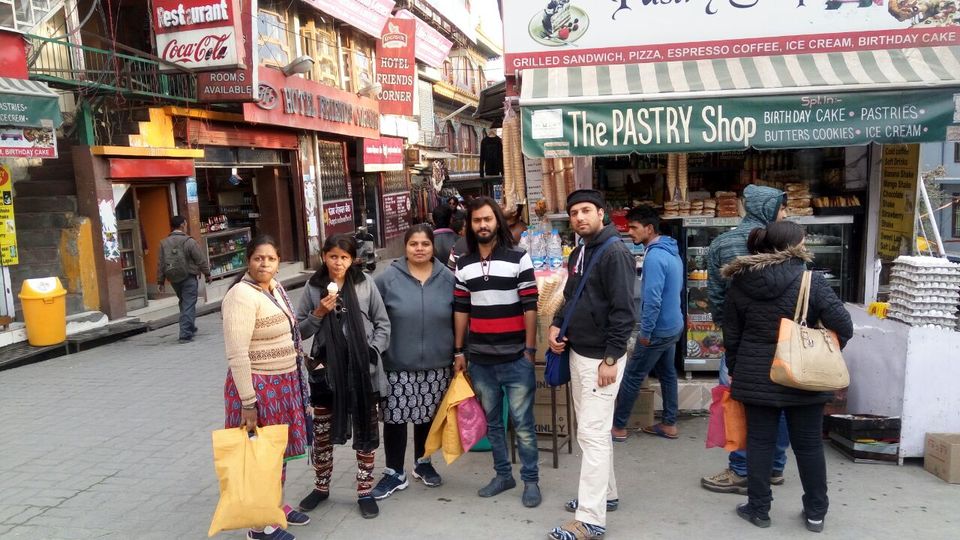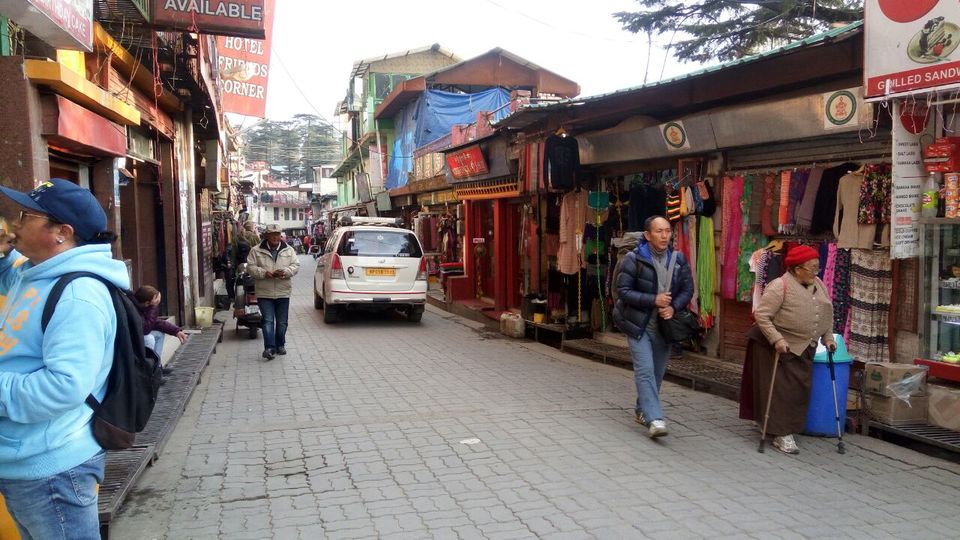 Ohh! I forgot to mention one amazing incident, While traveling to Pathankot, we saw traditional Himachali wedding where in the groom was carried in Doli (in most of the culture Doli is used to carry brides only). The driver told us that, here the groom is carried to bride's home in Doli only and many a times bride also comes in Doli. Isn't it myth breaking! I feel all these social/cultural norms used to dissect sexes on gender traverse through Chinese Whispers- if these were universal than it should have been same everywhere but it's not so we can break these social norms and there is nothing wrong about it.