Barot Valley encompassing terrain under jurisdiction of two districts - Kangra and Mandi (both of Himachal Pradesh)- is, or more appropriately, used to be a little gem along Uhl River. Sandwiched between Dauladhars main range and an offshoot of the range, it hit the headlines for its pristine beauty and unspoiled beauty only a few years back. In fact, the last 20 Kms of the approach road to Barot still belong to an era long gone past. Today, however, it has lost its peace and tranquility thanks to noisy tourists and unbridled construction work that has started to balance out supply-demand inequality. Barot of today, therefore, is simply one of many over-commercialised and spoilt destinations of the state.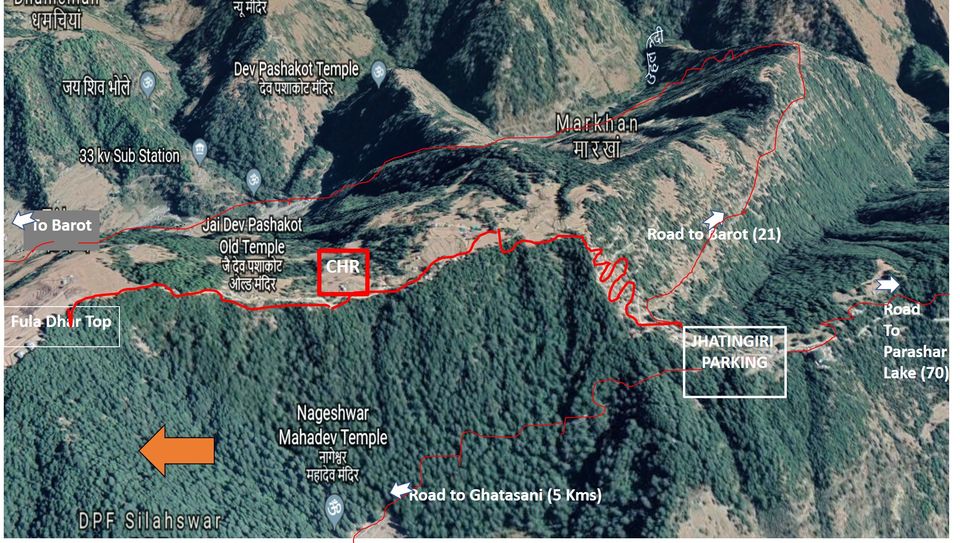 However, as a region or an area, this valley possesses many jewels that are yet to be spoilt and are not likely to be spoilt since run-of-the-mill tourists don't have any fascination for such spots. These are jewels that may attract niche tourism and have the ability to sustain such a limited inflow and footfall. However, many of such spots lack infrastructure and thus are fit only for a short visit.
Fulari Dhar, 20 Kms short of Barot town is a long, beautiful mountain ridge that stands between two beautiful valleys of Barot and eastern Kangra. Jhatingiri is the road head in the sense that public transport runs through this village. Fulari Dhar starts about two Kms above this village and a fair weather road connects the top with Jhatingiri. The area, however, has some very well-established set up in form of Colonel's Highland Retreat. Located at an offbeat niche, the retreat offers a 5-star comfort to its guests in wilderness and that is something really outstanding about the place (book through 9419235090 or www.colonelshighlandretreat.com). The best past of this place is the fact that having made it as your base, away from noise and crowds, one can visit Barot Valley (20 Kms/ 40 minutes), Parashar Lake (70 Kms/2 hrs) and Baijnath (45 Kms/1 hour) and fall back to the retreat for a relaxed evening by a bonfire and under countless stars in a dark sky. Paragliding at Bir is another attraction. A picnic at Diana Park or a trek along Fulari Dhar itself are some of additional options.
Baragaon, 15 Kms ahead of Barot town is another place that is still in its oldself. There are various basic accommodation options though connecting road from Barot is not too good.
Diana Park, 15 Kms off Jhatingiri, is a beautiful forested ridge falling on Jhatingiri-Mandi route. As of today, however, there are no accommodation facilities available there.