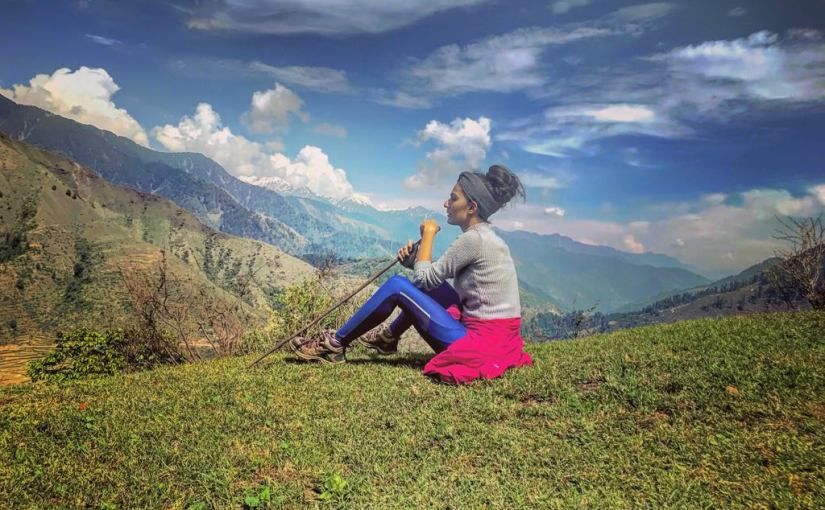 How does one define offbeat? Cut off from the world? No network? Places that can be reached only on foot? And wellll, how could you miss out the criteria that tops everyone's list these days…The least number of hashtags on Instagram!!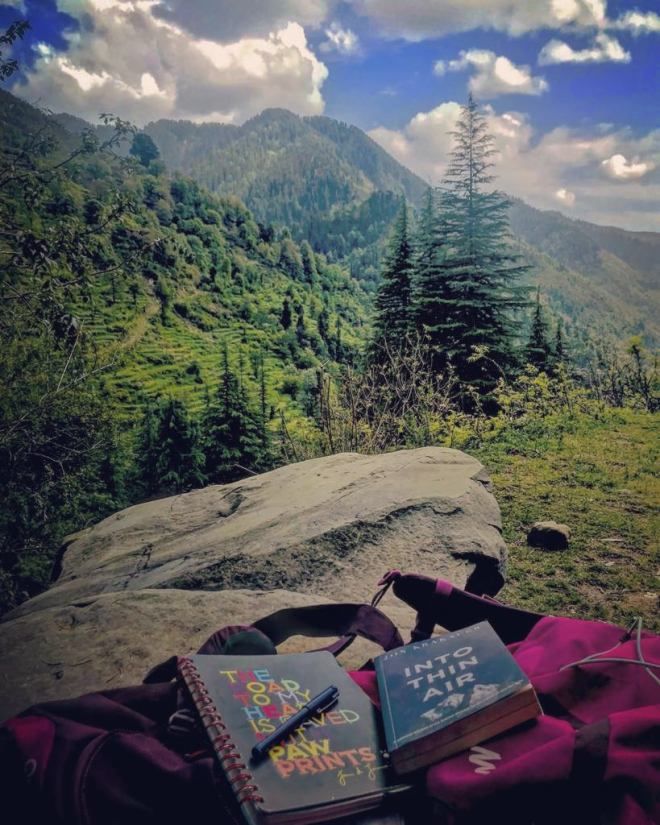 May! The month of sweltering heat was here! The boy was away on the call of duty and I! I like forever was itching to pack my bags for a couple of days and explore my current favorite state…Himachal! And so the map was out, the routes were read and re read a countless times to beat my nervousness. I was doing a solo trip after the longest time and to a place that had no coverage! I wanted to be sure of things before i landed at the disconnected world! And then along with the map of Himachal, my travel partner, My Diary was out where i scribble all my Pre Trip Notes and On Trip notes! Call me old school, but somehow maintaining google docs is so mainstream ???? . I'd still prefer doing diary entries! Probably it fits in well with the whole idea of the mountains, the streams meandering by and me sitting on the velvet grass, documenting my tales with my ink pen on the pages that id love to read later in life! Somehow the unadulterated inked words have so much more magic in them than the ones typed in here!
While my plan started with hiking up to Rajgundha and Kukkargundha Valleys, it surely evolved with time. I gradually shifted my itinerary to Barot Valley as well. While reading on Barot, I realized it's been long since it became a tourist attraction! Though gorgeous with her Uhl river flowing with white daisies blooming around, the concrete mass kind of repelled me! Nonetheless Barot was rich in history and splendor but the idea was to explore it in a day while i stayed in a village close by, devoid of tourists and hotels! And that's how Lohardi happened to me!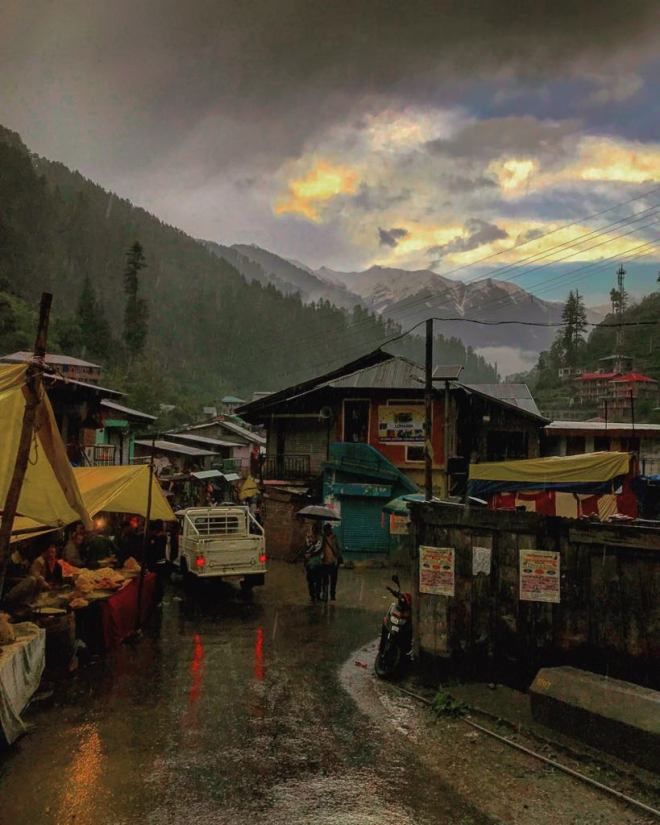 While Barot falls in Mandi, Lohardi, the last motor able village, 6kms ahead of Barot takes pride in being a part of the mystical Kangra Valley. Lohardi has three more villages ahead, thereafter making a boundary for the Chota Bnaghal and Kullu region! Finding home stays here wasn't easy! I saw just one blog on Barot while a couple of Vlogs on Youtube but no one mentioned any details of the stay! I called up random homestay owners at Barot who's number was available online( such a stalker)! Most of them were kind enough to help me with contacts in Lohardi! After speaking to three of them, i went for the cheapest one…Thakur Ji Homestay.( strict budget trip goals!) Remember…The more you save, the longer's your vacation)
I was told to catch a direct bus to JoginderNagar. Early that morning at 6AM, while sitting at the hustling ISBT, i would only find buses to Mandi. There were volvos going to Baijnath but i wanted to board a state transport for somehow i didn't feel motion sick traveling in it and its any day more feasible! I caught the earliest Mandi bus and grabbed a seat next to this Himachali girl.The early morning lull was suddenly broken by the Sardarjis fighting over the seats! I'd hear one say' Pehla Seat ahh…Pehla Hakka..ahhh' while the other one flaunted his ticket and told this man to get out! My groginess took a backseat and I quickly checked my wallet for the ticket before i'd be thrown out too! A thing to note here would be that always buy your tickets before getting into the bus to make sure you get good seats plus the one with a ticket already would obviously be given a preference.
The sky was packing up! It looked like yet another rainy affair with Himachal! 7th trip in the last one year and what's remained constant on all my trips is The Rains! Lumineers sang 'Stubborn Child' on the headphones and my seatmate humored me other times! She was a young girl from the rural parts of Banjaar in Kullu Valley, studying optometry in Chandigarh! I was elated to know another young village girl, getting out of her restricted village life and trying to make herself independent and self sufficient!
Couple of hours later, i was at the Mandi Bus Stand. I asked the locals standing there if there were buses that ply from here to Ghattasani. The Old man burst out laughing! Clearly i sounded like a foreigner when i pronounced Ghattasani as Ghatsenii! He was kind to direct me towards the bus going to Kangra and Palampur. The bus was half empty and i could easily fetch a seat. The engine along with my hungry stomach roared and grumbled as it took to the road to Ghattasani. I got down on the main route where the road bifurcates for Barot. The bus went ahead to Palampur. While waiting at the Ghattasani market for the bus to Lohardi, i grabbed a bite at a local shop just when a woman threw up beside me in the other bus! I kind of lost my appetite and remembered those horrible days when i too suffered from motion sickness! Probabaly the last three years of my relationship with the mountains has helped me get out of the cruel grip of mountain sickness.( I almost collapsed at Guru Dongmar Lake in 2010 for i puked out everything possible in my body) And here i am today with HRTC almost becoming my second home!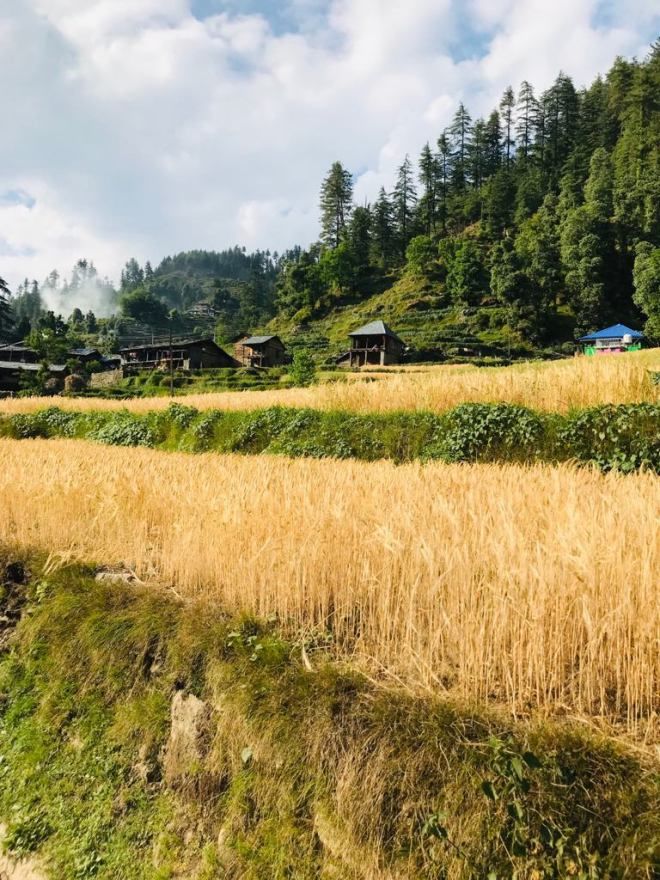 The bus to Lohardi was jam packed and i was pleasantly surprised when a very kind villager named Roshan offered me his seat. I insisted he continues sitting and that i was fine standing! But he wouldn't listen and told me that he'd be getting down in another half an hour at Jhatingiri. He had an American accompanying him, who because of his white skin and green eyes gained a lot of attention from the young local girl students travelling in bus!. On asking Roshan about his village, i got to know that he hailed from Phuladhar and that he owned a camping place on a mountain top. He showed me the pictures of his place and it was no less than heaven incarnate. We exchanged our numbers and i told him that i'd try dropping by on my way back home!
The road slowly changed to lesser traffic and the landscape turned golden with boundless Jawaar fields and the bickering Uhl river meandering by. I was now sharing my seat with one old uncle and a jovial old auntie. For couple of minutes, i was interrogated with most of the queries being about 'why i traveled alone and why my husband wasn't tagging along with me ( literally giving me the vibe as though i came running away from home after a quarrel with my bitter half :D)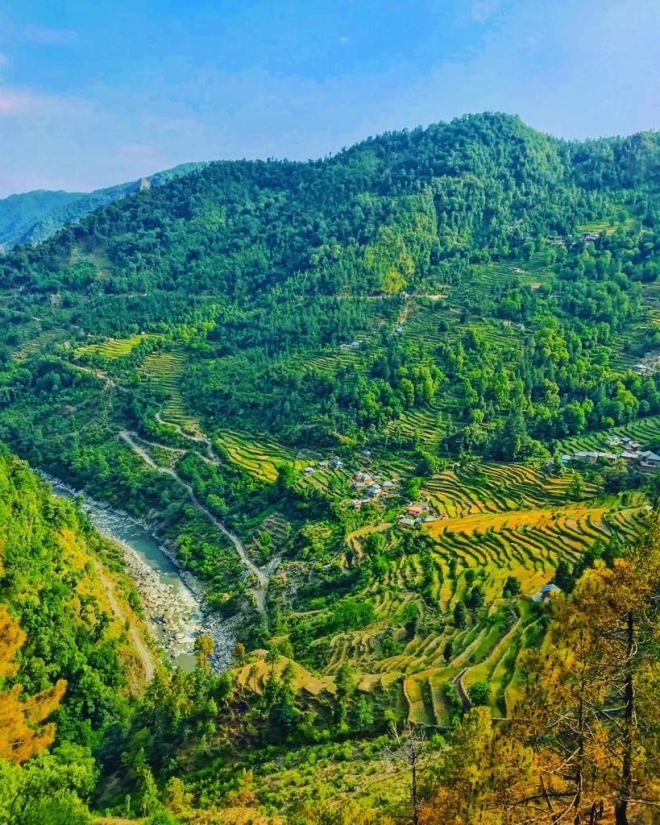 While both Uncle and Auntie were veryyy kind to me, i couldn't help but fall in love with Auntie's infectious smile and her stunning traditional silver necklace. It looked straight out of Fab India Jewelry brochure! Now we know where these brands find their inspiration!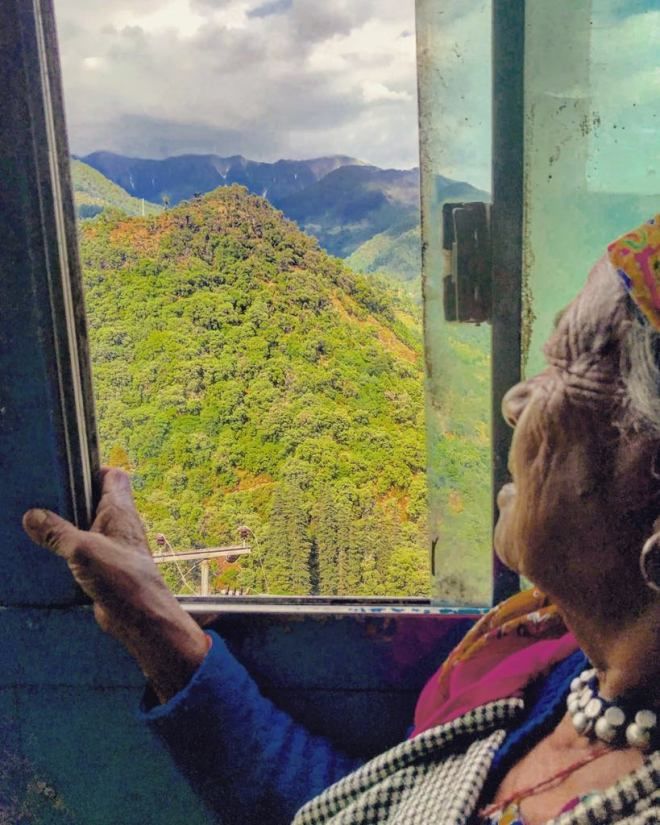 The landscape got only more surreal as we closed towards Lohardi. A bunch of women and school students got into the bus from Barot. This was the last bus and probably the best ride ever! Even though we all sat huddled around, cramped up with two massive school bags on my lap, the sudden euphony created by the village women, singing Himachali folk songs in chorus made everyone forget their misery! The calm Uhl was now replaced by the much more furious Lamba Dug and a deserted track lead to the lesser known hamlets of Chota Banghal. We finally arrived at Lohardi around 5ish.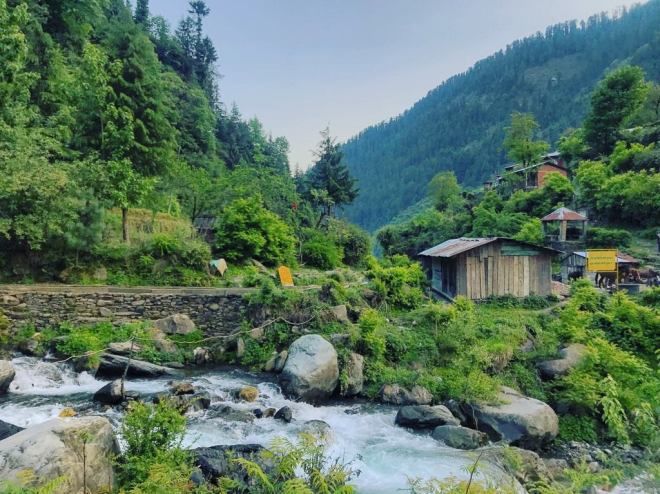 The entry to the village was over a gushing co-sway,with endless cacophony of streams around. The village had a peculiar festive vibe on and i got to learn of the upcoming Lohardi Mela! Now this trip wasn't quite planned by me,but seemed to be falling in place for it turned out to be even prettier than i'd imagined, the live folk music in the HRTC bus that id never heard before and the Mela starting the very next day…The Mountain Gods sure were planning it all for me eh!
I met Shyam Bhaiya at the makeshift bus stop of the village. He could easily identify me for i was the only outsider in the crowd. We walked to the homestay which was a few steps away, right in the center of the market! At first he came across as a simple timid young man but we eventually bonded well. The homestay was bang on the Lamba Dug,with freshly snow kissed Dhauladhars looming right across the balcony. I was home finally, disconnected from my other world. The world of chaos, of my mobile buzzing every now and then, of compulsive Instagramming and networking. Nonetheless i missed my wagtails! Sigh!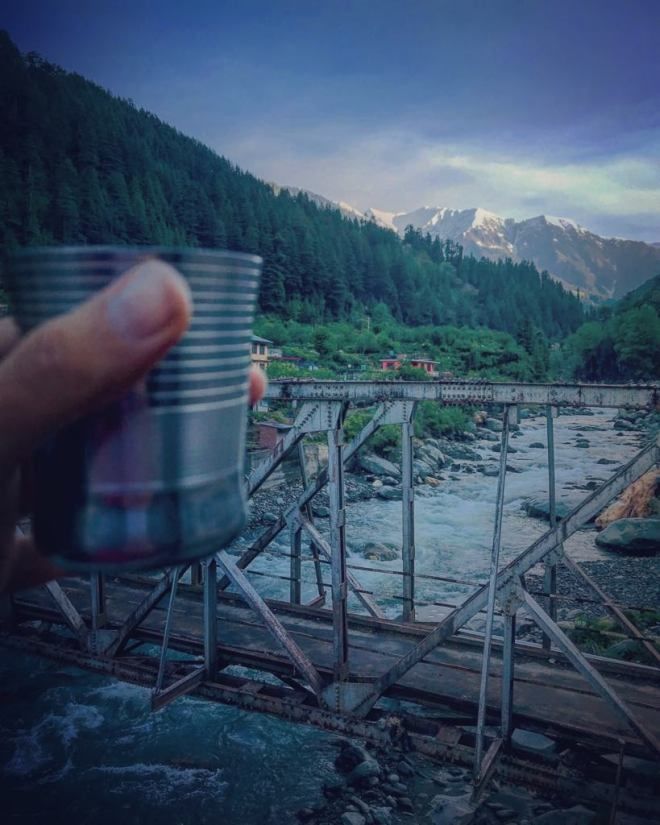 After savoring a cup of tea with Shyam, i decided to go explore the village before the sun made its way to the other side of the globe. I walked towards the gushing cos way that we crossed while entering the village. A flight of huge cemented never ending steps seemed to go up on the left. I was curious where it lead and decided to go hiking up. Last bit of bright red Rhododendrons bloomed around and in a few minutes, the village stared back at me down below from the valley. The Lambadug curved and bent across Lohardi, further going up towards Bhujling and other interiors of Chota Bhangal. The steps were plenty and the sun was in a rush. I found an apple orchard and a tiny green meadow along this farm. It called me out and I laid there, without being wary of being seen by anyone. The sun turned the sky orange and all i heard was the Lamba Dug blabbering at a distance, the clouds lifting their heavy veil over the Dhauladhars and the snow glistening in the last rays of the sun.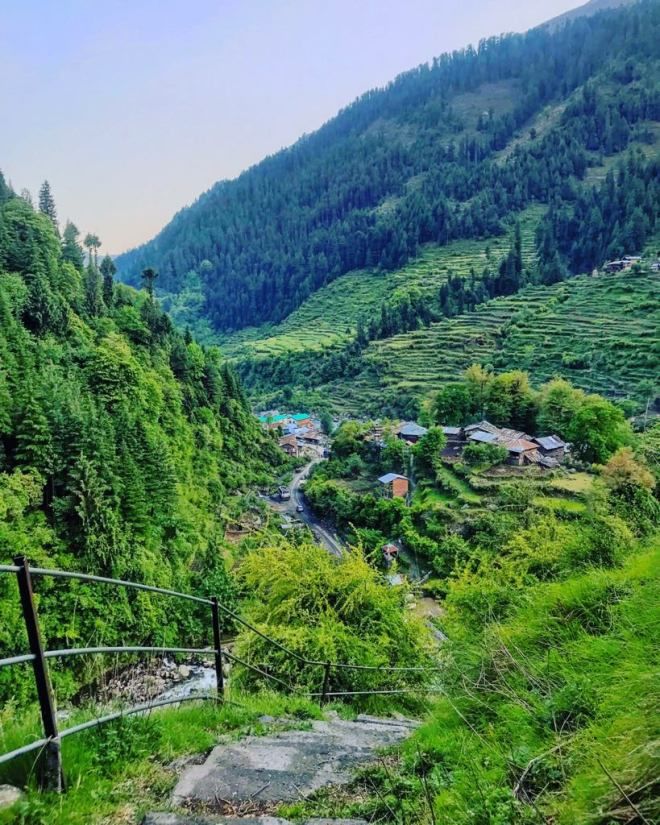 The steps finally concluded at the Kharimalahn Village famous for its Narayan Mandir. Karimalhan has its twin village on the other side of the river ( while you take a left from the bridge while starting the hike, for Anderli Malhan one takes a right. The village stands famous for its yearly religious procession of Devtas. The local Pandits come perform some rituals amidst the loud banter of drums and pipes. A couple of villagers, mostly women stand in the center and hysterically move their bodies as though possessed with some demons! When i was told this by the villagers i kind of laughed it off and thought of talking about it in length with my hosts once back at the homestay.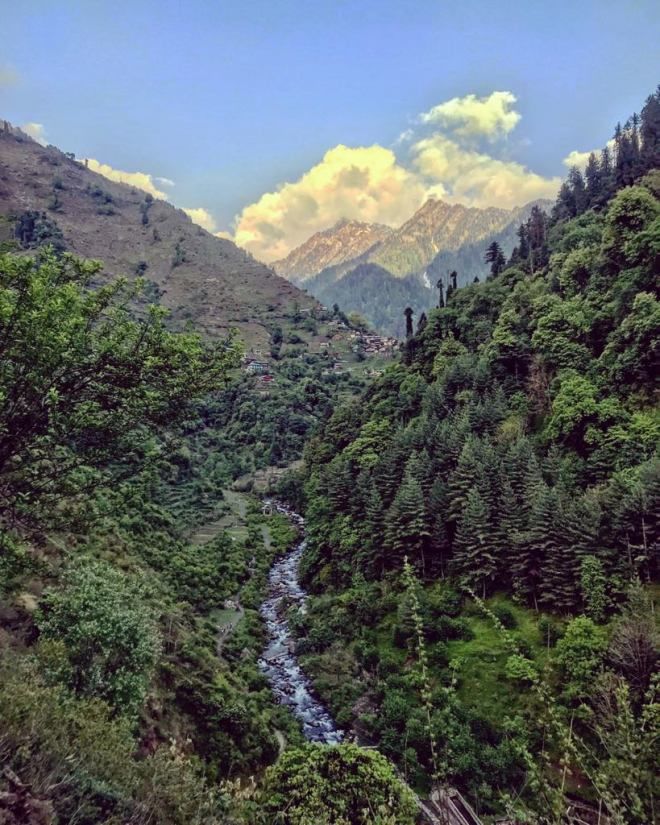 On my way back to Lohardi, i met these three beautiful souls, all from three different villages…Polling, Kharimalahn and Anderlimalhan. All of them adorned a warm contagious smile and talked to me like i were a part of their own tribe. Also i could clearly tell, one out of them was from the so called High Caste( The Rajputs) and my favorite was from the much looked down upon schedule caste! She collected fodder for her cattle with this hugeee wooden makeshift tongs kind of equipment! She effortlessly picked up crazy amount of grass and carried it for almost 4kms till her village, with me giving her company till Lohardi. She kind of suddenly fell quiet when my Homestay was around and i wonder if it was due to the fact that i was living with Thakurs! She invited me for some trout in dinner. I told her i'd look her up some other time while hiking up to Polling.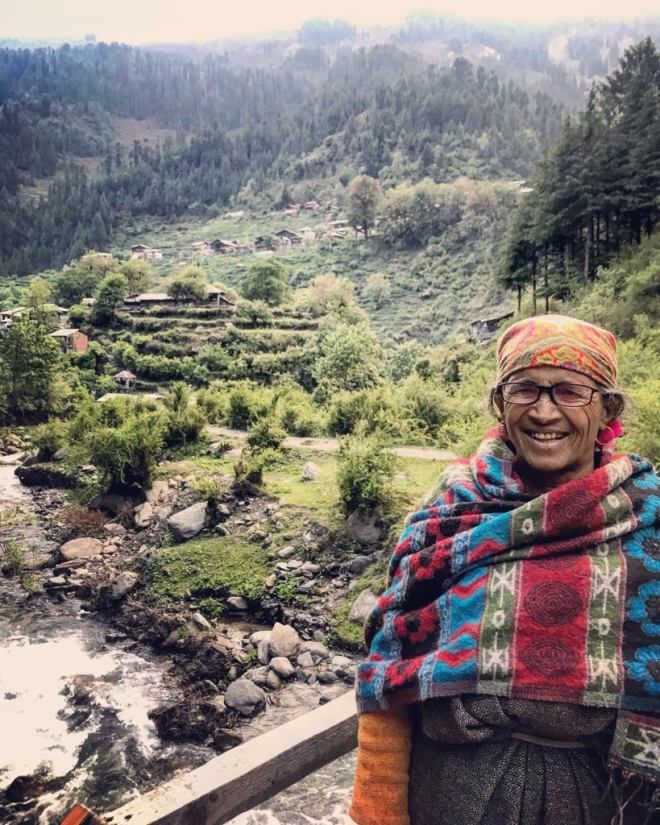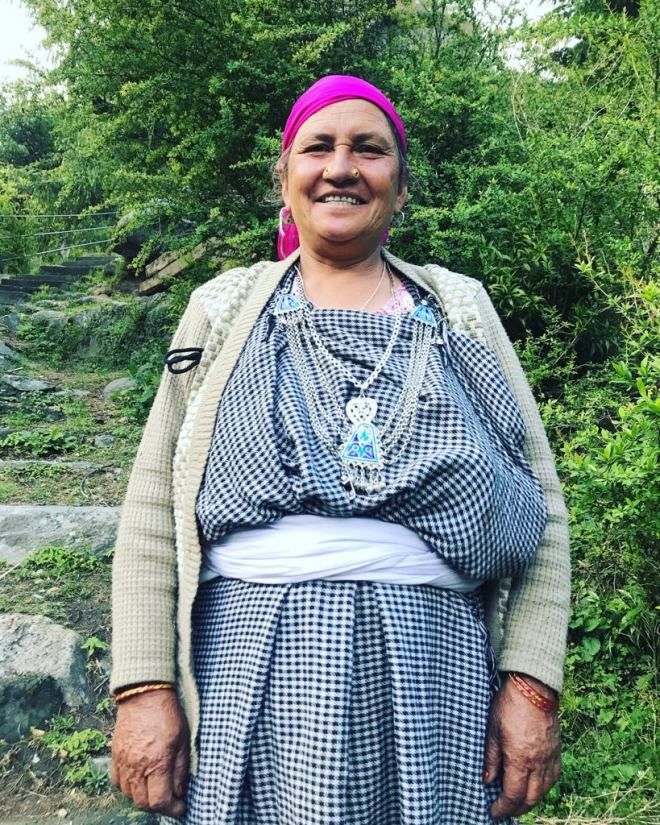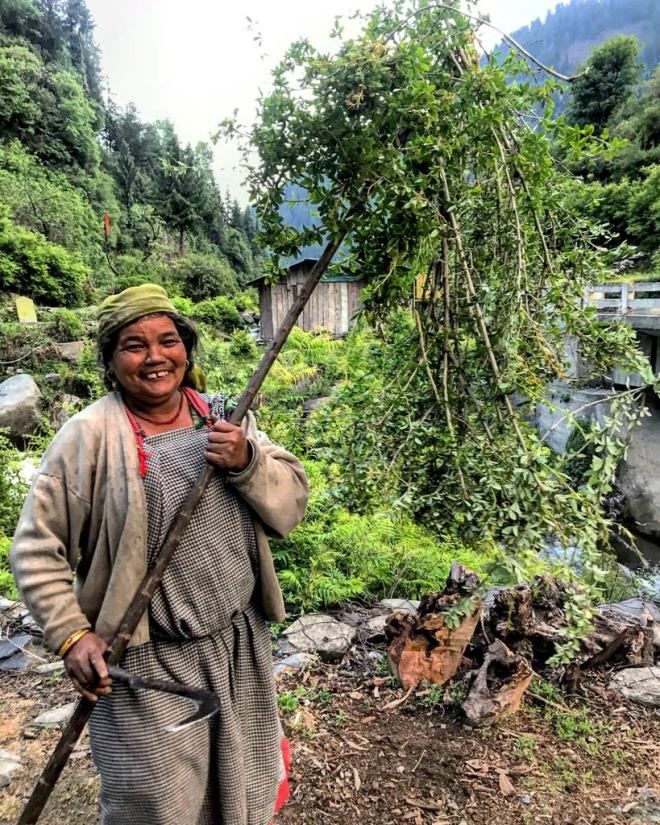 Shyam bhaiya, sat in his shop editing one of the wedding videos. Though everyone in the village knew each other, Shyam was a little more popular for he helped people with their money transactions in PNB and he of course was the sole photo and videographer in the village. His latest coverage of a local wedding and a religious procession looked right out of the 90s Bollywood movies with loud music mismatched with the over zoomed faces! Says the technologically backward me!! I asked him if he had the coverage of the Anderlimalhan religious function that happened every year in Feb and August. And the procession did look like every bit of what i'd heard. I asked Thakur Uncle( Shyams dad) " Uncle ye ladies fake acting kar rahein hai na"? It was a genuine reaction that came out without thinking twice( i need to learn the art of putting filters). Uncle's eyes opened up wide and he quipped " Nahi beta! Ye sach mein hota hai! Inke andar devi maa prakat hoti hai"! Shyam added weight to his justification by showing me the man in that video who made strange noises! They then went on to tell me about this another man who lived in Kullu, whose daughter had been sick for months and no doctor could help her and how his crops and apples were all infested and he suffered a massive loss. When he got to know of his roots being from Kangra, the local priest told him to attend this Devi Maa Puja in August which changed everything for good! He's been attending this procession every year since then. I could see their eyes gleam while they talked about their local deities. I was zapped at their immense dedication when i saw how the entire village would trek up to Lolar, ahead of Bhujling ( the last village) and reconstructed the entire Ajiapal Mandir in just one day. All the men of the seven villages carried humongous logs of wood and machines that would help them resurrect the temple in less than 24 hours. Meanwhile a man from one of the villages even suffered a heart attack but that didn't stop the others from constructing their concrete symbol of faith.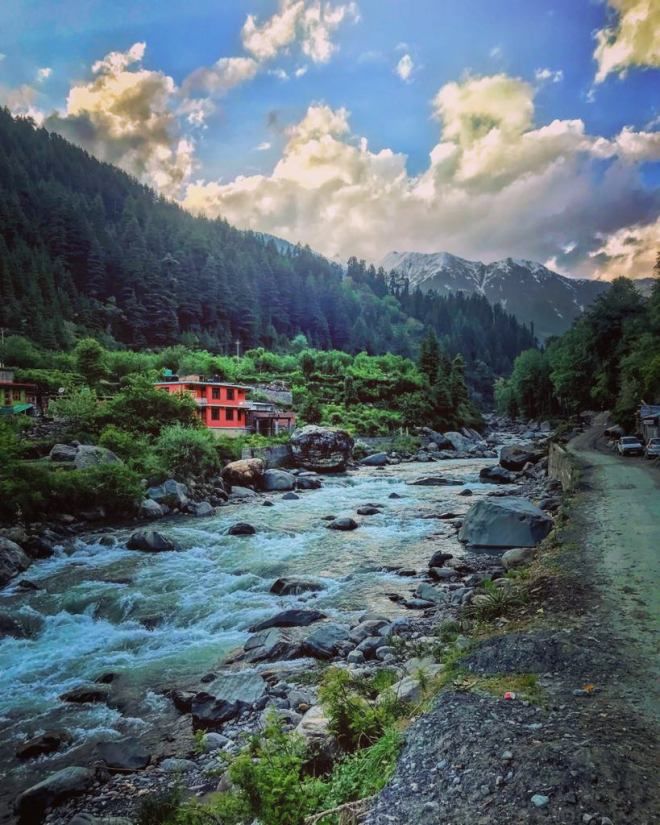 Similarly, a high altitude mountain lake called Dinosaur Lake is said to have a hugeeee religious significance and is mostly trekked up to by locals who haven't been able to conceive.
Later that night while listening to Lamba Dug hum her own tunes, i pondered over the conversations on faith, how these folks had tremendous amount of faith in their creators and how most of the social gatherings were based on a religious foundation. And i just uttered 'Thank You' Lord Hanuman, the only God i'm loyal to! Thank You for being so kind for i never go out of my way to express my faith or gratitude and I'd like to believe that he understands!
Well my faith in my favorite God only grew stronger when the next day i encountered a funny tryst ( or not) with a local deity, Pashkot Devta and the belief he's said to have!
To Be Contd ( Sward and Polling Village stories to follow up soon)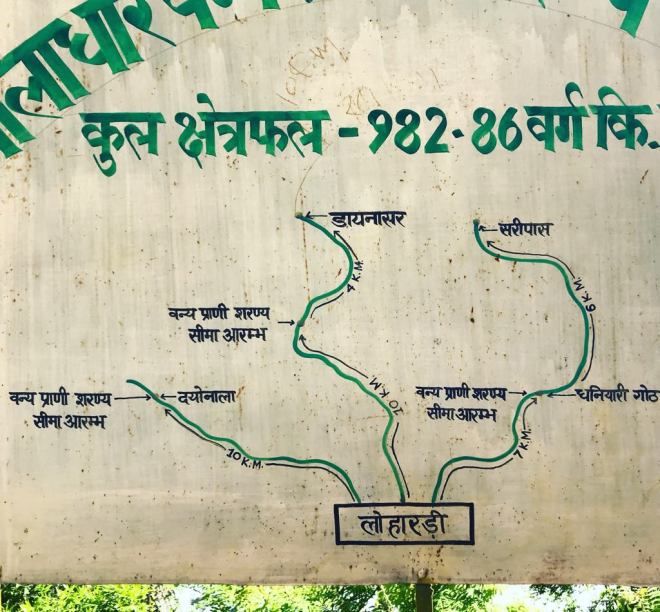 TIPS TO PLAN YOUR TRIP TO LOHARDI
While Lohardi is only 6kms ahead of Barot, but the two fall in separate districts and valleys. Barot is a part of Mandi while Lohardi falls in Kangra region.
The most feasible means of transport is the HRTC or any local bus that plys from Delhi or Chandigarh towards Mandi or Jogindernagar.
I caught a bus to Mandi from Chandigarh ISBT 43. Any bus that goes to Kullu Manali would stop at Mandi. From Mnadi onwards, one needs to board a bus that is Kngra bound. Which means you board a bus that goes towards Baijnath, Jogindernagar, Palampur, Billing etc. You need to get down at Ghattasani ( the bifurcation on the maain road)
The bus from Mandi shall take an hour and a half to reach Ghattasani. From Ghattasani there are two or three buses that go directly to Lohardi. One in the morning around 8ish i think and other that i caught, around 2;45PM if i remember clearly.
If you dont get a direct bus to Lohardi, get on the one that goes to Barot and then catch a bus from Barot or a shared cab!
The total amount i spent on traveling one way from Chandigarh to Lohardi is Rs 450…Chandigarh to Mandi. Mandi to Ghattasani. Ghattasani to Lohardi.
I was looking for a budget homestay and Thakur Ji Homestay fitted my criteria. The hosts are extremely warm and helpful. Shyam even took me around and charged me nominal rates for guiding me around the trails/hikes. The room tariff is Rs 600 while they would charge 60 or 70 Rs for a good home cooked meal.
The homestay is bang in the Lumba Dug river and has amazing views of the Dhauladhar as well. Also since its located right in the middle of the tiny market, things are readily available.
Shyams Contact Number…09418770108
Other than BSNL no other sim works here. BSNL too stands true to its name here most of the times…BHAI SAHAB NAI LAGTA!!
Other homestays available there are…Anand Homestay 7807408918…Monty Homestay 9459581485, Vandana Homestay 9736009245
The nearest ATM available here would be in Barot.
The direct bus to Mandi leaves at 6;15AM from here in the morning.
Things to do in Lohardi….
Lohardi Mela is organised by the villagers in Mid May where in a lot of people come from other parts of Himachal as well. It's a four day celebration. Details about the Mela will be given on the next blogpost!
One can hike up to nearby villages, Kharimalhan, Sward, Chena, Polling and Bhujling.
If you have enough days with you, two high altitude treks can be done…Bada Banghal Pass ( 5 days) and Dinosaur Lake ( 2 days) These open up only by end of June or first week of July.
A short day trek to Pashkot Temple via Polling village can be done which falls in the last area of Chota Bhangal.
Another trek goes up to the Sarinalha Pass that connects this side to Kullu.
For more interesting stories on Himachal & Bhutan pl click below