This is a short narration of a detour while travelling from Kasol to Jammu. Started late from Kasol. It was past 2 PM. Dussherra traffic notwithstanding, going was smooth and we hit Ghatasani turnoff even before Sun lord could hide itself. With sunset around 6 pm, we wanted to hit the valley bed of Barot before last light. Even though Green Himalaya Cafe at Jhatingri looked pretty inviting, we ignored it and kept the drums rolling. After a climb of about five Kms from Ghatasani, the downslope begins at Jhatingri and next fifteen odd Kms are all downhill. But on either side of the Fula-ri-Dhar, the highest point being Jhatingri, views are amazing. There was hardly any traffic and we could hit the valley and cross the first bridge over Uhl River at Tikan just before the last light. There appeared to be some light in the sky on top but intervening mountains had muffled the glare out of a setting Sun and the valley floor soon plunged into the darkness. We were now driving alongside Uhl river. Needless to say, we could take no pics all that while and it was around 1900h that we drove into Barot. Sachin Homestay was where we had been heading -- both because of good reviews of the place at BCMT but also, and more importantly, for the background of the man who owns the place. We always feel comfortable within band of brothers!

It was very very quiet there and the road was practically deserted except for a small market that sits next to a bridge that spans a noisy tributary of Uhl River. In fact, it is a river in itself and has an identity of its own before it empties itself into Uhl a few metres downstream. The name, that is skipping my mind at the moment, starts with 'L'. At this point, a road moves upstream, right alongside the river with initials 'l', towards Lohardi. But if we cross the bridge, we hit a more 'happening' place called Multhan. Sachin Homestay is practically at the other end of the settlement. There are few guesthouses and eateries with fresh Trout as the main attraction on the menu.
Parked right opposite Sachin Homestay, next to few sacks of potatoes that were waiting to be transported, and walked across into the small cafe run by Mr Raj Kumar, the owner. He came across as a man who appeared to be in a perpetual state of hurry, something like an excited electron, so to say. But he looked focused and his actions appeared to be purposeful. We had requested for a second floor room and that was what had been waiting for us. A neat room -- with a double and a single bed, attached washroom and of course, a small sit out towards the front-- it was a welcome niche for the night. As we did our rounds to the washroom, Raj Kumar appeared and re-appeared with clean quilts and blankets. There were guests in the neighbouring rooms but they appeared to be well tucked in by that time.
With off season on, he could only offer us tea and some snacks but we were more keen on taking a walk in the cool evening. The menu card in the room read 'Spice Cafe' and when we asked him for some good eating places, he suggested Spice (best for food) and Taj (better as a combo of food and ambiance).
A not very broad road outside the property is the only road in the township. It is a concrete road that is meant to withstand snow with dignity. The road, after Multhan, runs to Bakhlog and Kothi and finishes about 16 Kms ahead. On our way in, and next to the gate of the PWD RH, we had read a milestone, announcing Billing 60 Kms. We were to later discover that this very road to Kothi will link with another road that comes from Bir-Billing in less than one year. I believe, there is only one bridge that needs to be erected over Uhl River and the work has already started. Undoubtedly, once that road opens, Barot that is on a limb today, shall come on the main circuit and will slowly lose its peace (do visit it before that happens)!
As we started walking towards the bridge over 'l', we saw a shop on to our left.... a grocery cum cosmetic shop it was but it was unique. I have not seen any other shop so well organised!
All along the walls of a pretty deep shop, were wooden racks full of stuff packed inside the plastic jars. The commodities inside the jars ranged from needles to socks and with many colours emanating out of plastic jars, the place looked amazingly colourful. Such an arrangement prolongs the shelf life of the articles and saves items from rot and rats even though it would need some serious efforts to keep the place in that shape. We had walked in, magnetised by the colours on display, and had nothing to look for or buy. But then we bought a thing or two just as a way of complimenting the effort.

We wandered back on the road over which we had come in a few minutes earlier. Having crossed the bridge over 'L', we descended into PWD RH that has a trout farm as its neighbour. The rest house has a charm of its own with prime real estate of that narrow valley belonging to it. Six cars with non-HP plates did reveal the possibility that the place had been full that evening. And that was how it was. The caretaker confirmed the fact and having corroborated various details about booking the place, as shared in different threads by fellow BCMTians, we resumed our walk towards Barot hospital. After the RH, there was no street light and it was all dark. We kept walking, teasing Czia with things like small ropes lying on the road (by calling those snakes and what not) till the point where a link descends into Barot market and reservoirs. We turned back and reached the point where Taj and Spice, the two recommended eateries, face off each other. It was pretty nippy and when decision was left to Czia, she picked up wisely - Taj it was! The place is neat and clean with cane furniture (wish tables were a bit higher in profile) adoring its dining area. Uhl touches its walls that support a terrace. Must be a nice open place to enjoy a drink during warmer months! With a plate of 8 pieces of trout for less that 300 bucks, it was a nice meal. All their dishes had pretty good serving unlike many other places around! We would have tried Spice but it had no shelter from cool breeze and time was not right, perhaps!
Coming to the aim of writing this thread....Barot has some interesting facts associated with it. It lies sandwiched between Kangra Valley on one side (with Joginder Nagar just about six kms as a crow flies) and Kullu Valley (Raison, between Kullu and Manali is about 27 Kms-crow fly distance ie). There used to be no road connectivity with rest of the country till as late as 1970s. The Britishers, therefore, constructed a reservoir way back in mid 1925s using a trolley system that would run from Joginder Nagar, climb the mountain and descend into Barot Valley. Using such an innovative technique, they lugged the loads and carried people over 12 Kms long funicular-cum-inclined trolley way. By the way, the present day Pathnkot-Joginder Nagar railway line was constructed precisely for this project. The initial project was completed in 1932.
The project is a thing of its own kind in the country and arguably in the world due to the degree of difficulty involved. When the Britishers started the construction project, they set a funicular (weight-counter weight concept) trolley track of about seven Kms from Joginder Nagar towards mountain slope that stands between Barot and Joginder Nagar. After achieving that feat, they constructed a near horizontal trolley track section before crossing over to the other side. Then came the steepest section where the inclined trolley track went down at 45 degrees drop, ending at Zero Point at Barot. The steepest portion is called Khooni Ghati because of the danger involved and accidents that did take lives. After Zero Point, trolley track went along Uhl River to end at a point inside Barot town where the reservoir was planned to be constructed.
Over period, one more reservoir was added in 1980s. The inlet tunnel is still at the far end of the old reservoir. Once the tunnel opens on to the other side, ie towards Joginder Nagar, it creates a height differential of over 1000m. That distance is covered through big pipes that move the dynamos at the base where Shanan Project is located near Joginder Nagar.
Interestingly, at that time, a lease was signed between Punjab and Mandi states for 99 years (expires in 2024). So, it is a Punjab govt property standing on the land owned by HP today. Britishers were the planners and executors of the project. Even today, the project is managed by Punjab Electricity Board and allegations that with lease about to end, the project is being neglected by Punjab, keep flying thick and fast. Even within HP, this valley belongs to two districts, Kangra and Mandi. Look at the pic below, the sunshine and shaded portions lie in Mandi and Kangra Districts respectively.....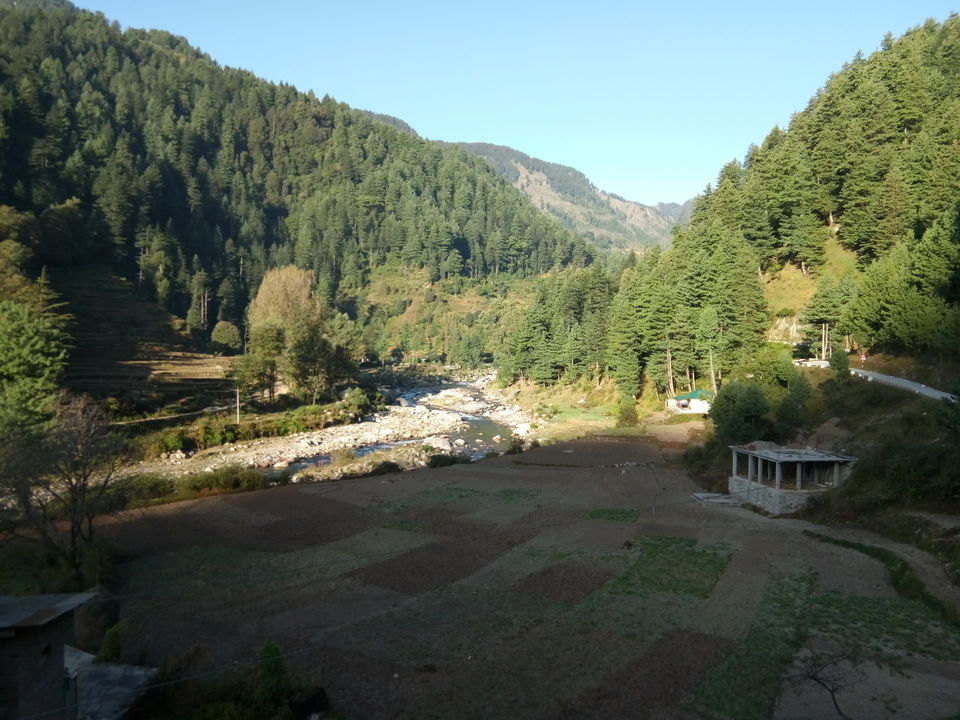 This pic was taken at Multhan where such a boundary stands out clearly. Barot, however, lies in Mandi District. Ulh River forms the boundary.
For those to whom it may be of some interest, Uhl River (or whatever of it is left after reservoirs at Barot), comes out in view between Mandi and Pandoh when we travel on Mandi-Manali Road. Travellers would remember seeing a major stream confluencing with Beas River about six Kms before Pandoh Dam. Uhl, otherwise, originates in a glacier, Thamsar, in Dauladhar Ranges. There are two other objects of same name, Thamsar Lake (the point of origin of Uhl, just below the glacier) and Thamsar Pass, in the same area. And that 'L' is none other than Lumba Dugh River (finally, the memory comes back!).
Enough of technical description and back to work...... Multhan is located at the foothills or the entry point into Nargu Wildlife Sanctuary.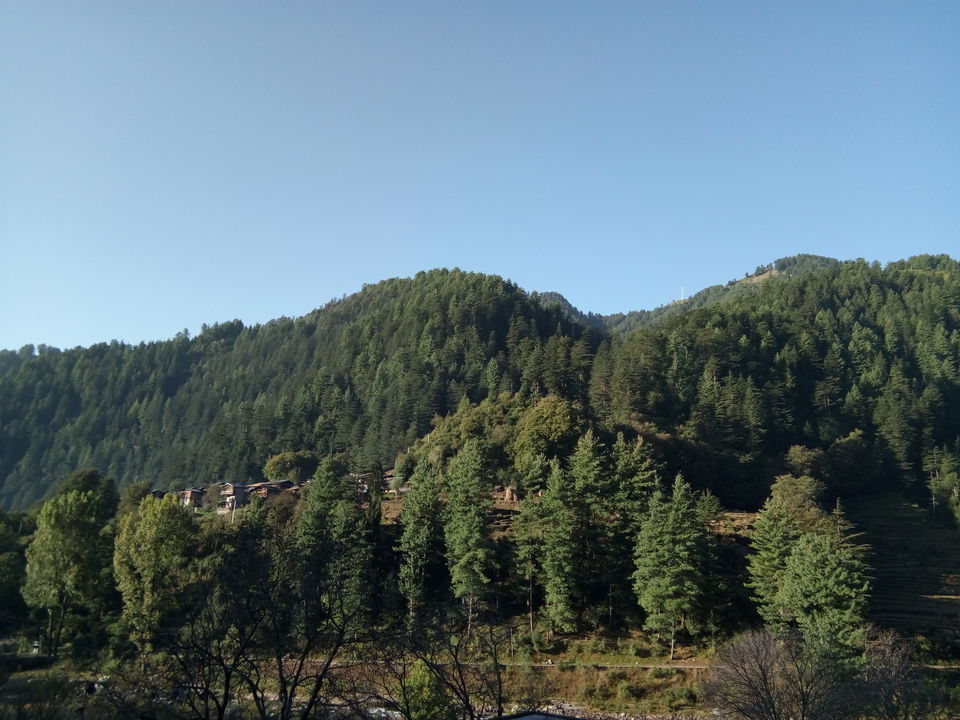 These dense jungles, as seen beyond the settlement in the pic above, are home to a variety of wild creatures ranging from deer to bear to leopards!
A lazy start to the morning with sun shining bright and Mr Raj Kumar bringing in sweetened, hot tea. For reasons best known to him, he had replied, " I shall tell you tomorrow", when I had tried to find out about places of interest the evening before. As he was closing the door after serving the tea, I asked him yet again and his answer was similar, " Once you are ready, I shall tell you." Not known to him though I was already ready having bathed earlier on. So, I did not let him go this time. We then discussed briefly about the issues/places. Some of the knowledge, like road link to Billing, name of the River 'L' and road to Lohardi etc, has already been shared in this thread. Yes, the road to Lohardi is not too good. We had taken a smaller car this time and decided not to venture that side. He then indicated Zero Point and shared the fact that trolley is not being used except for initial few Kms from Joginder Nagar side. As we spoke, standing in the balcony, I just clicked some random shots (for new readers/members, my photography borders on horrible and lies in awful range)...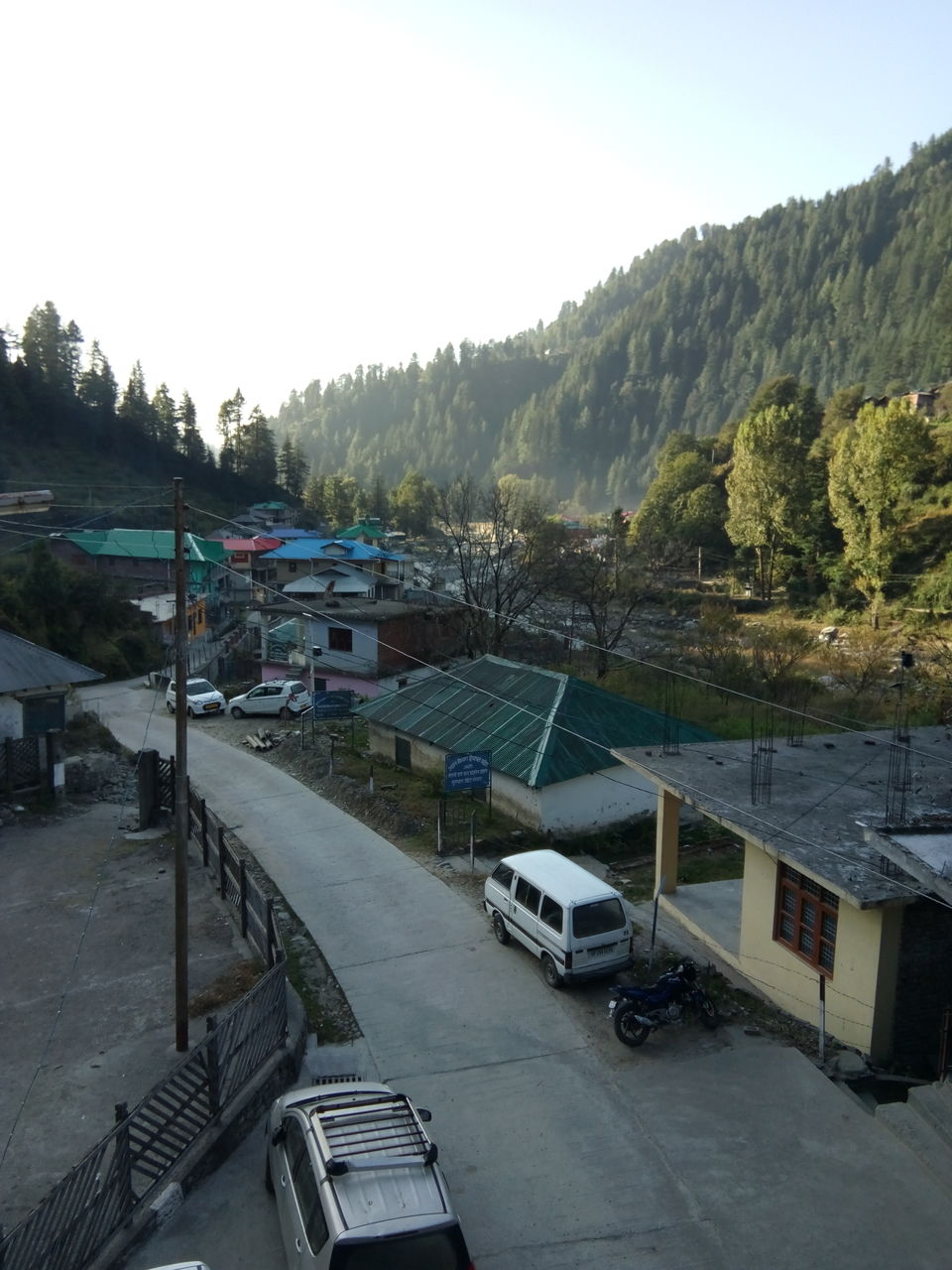 The concrete road is a good thing to have where it snows.... it is like this for next 16 Kms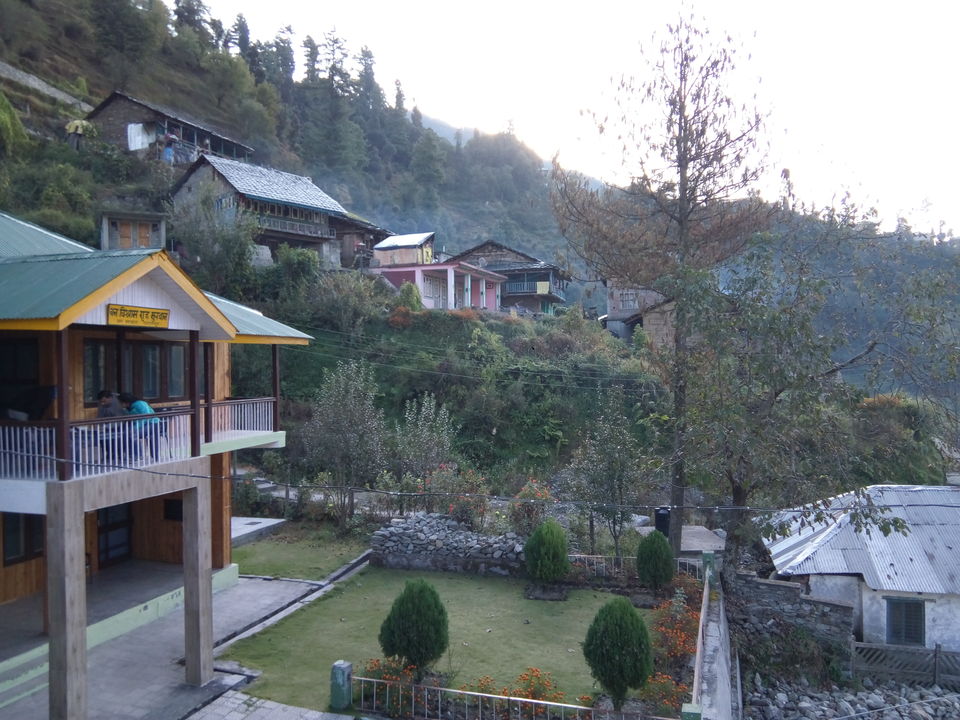 In addition to the famous PWD RH, this Forest RH is also located at a good location; in fact, it is next to Sachin Homestay.
​We packed our bags and set out towards reservoirs at Barot. Photography inside the area that hugs new reservoir (old one is further ahead) is not allowed and we are the last people to ignore such orders. There is a complex of Punjab Electricity Board where in are located their offices, quarters and guesthouses. The guesthouse is on a higher hill. Once there, one is compelled to appreciate the work that must have gone in when there was no road at all. Yes, the whole thing is an engineering marvel. We had driven through a small and dusty market before crossing Uhl inside Barot. On our way back, we went straight, along the river bank (Mandi District now) without crossing back over. The trolley track actually finished at the reservoirs once but after it was no longer required, the rails were removed between reservoirs and Zero Point to pave way for a road that goes to Jharwar Village on this side of the river and upstream.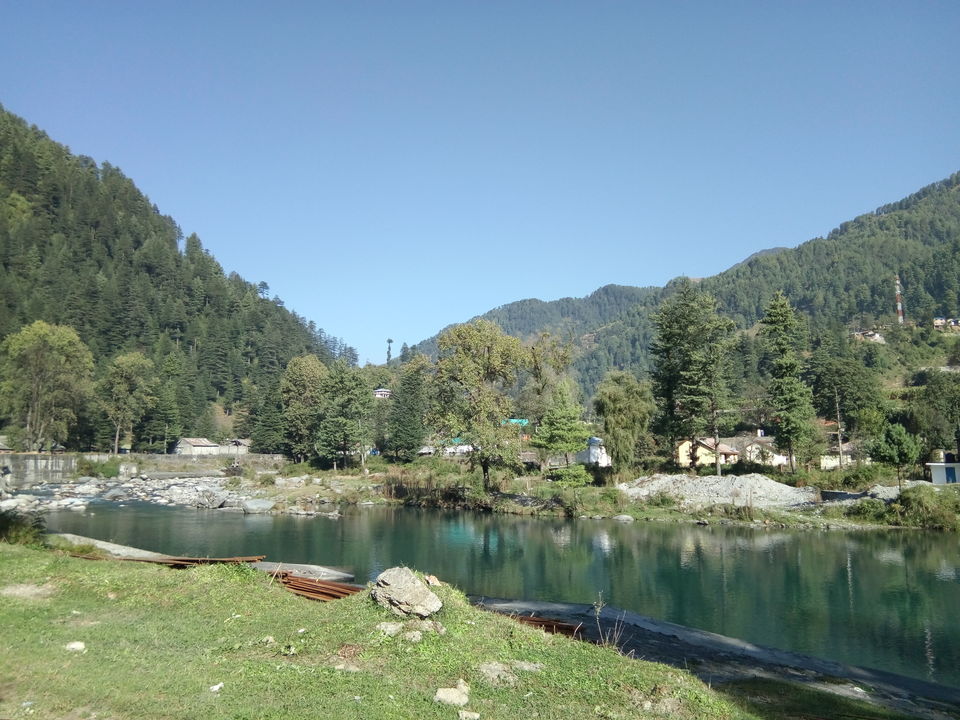 This point is across the bridge inside Barot. Reservoirs are downstream (to the right of the pic) and main road from Joginder Nagar - Multhan runs beyondthe buildings seen in across the river. Zero Point is to the left and about a couple of Kms away
​We started on the road towards Zero Point. There are a few shops at the turn off but then are some open patches where camps are pitched during the season. As per the locals, tourism has picked up over past few years. There is a famous temple (Pashakot Dev, the local deity who is taken around in a palanquin once winters set in) to the left of the track and a bit later, we cross a camping site. It was empty but had its washrooms and administrative blocks still standing, awaiting arrival of guests during the next season.
As we drove on, the road became narrower and narrower and surface became a bit tricky, esp for the small car, to drive on. And finally, we reached the Zero Point...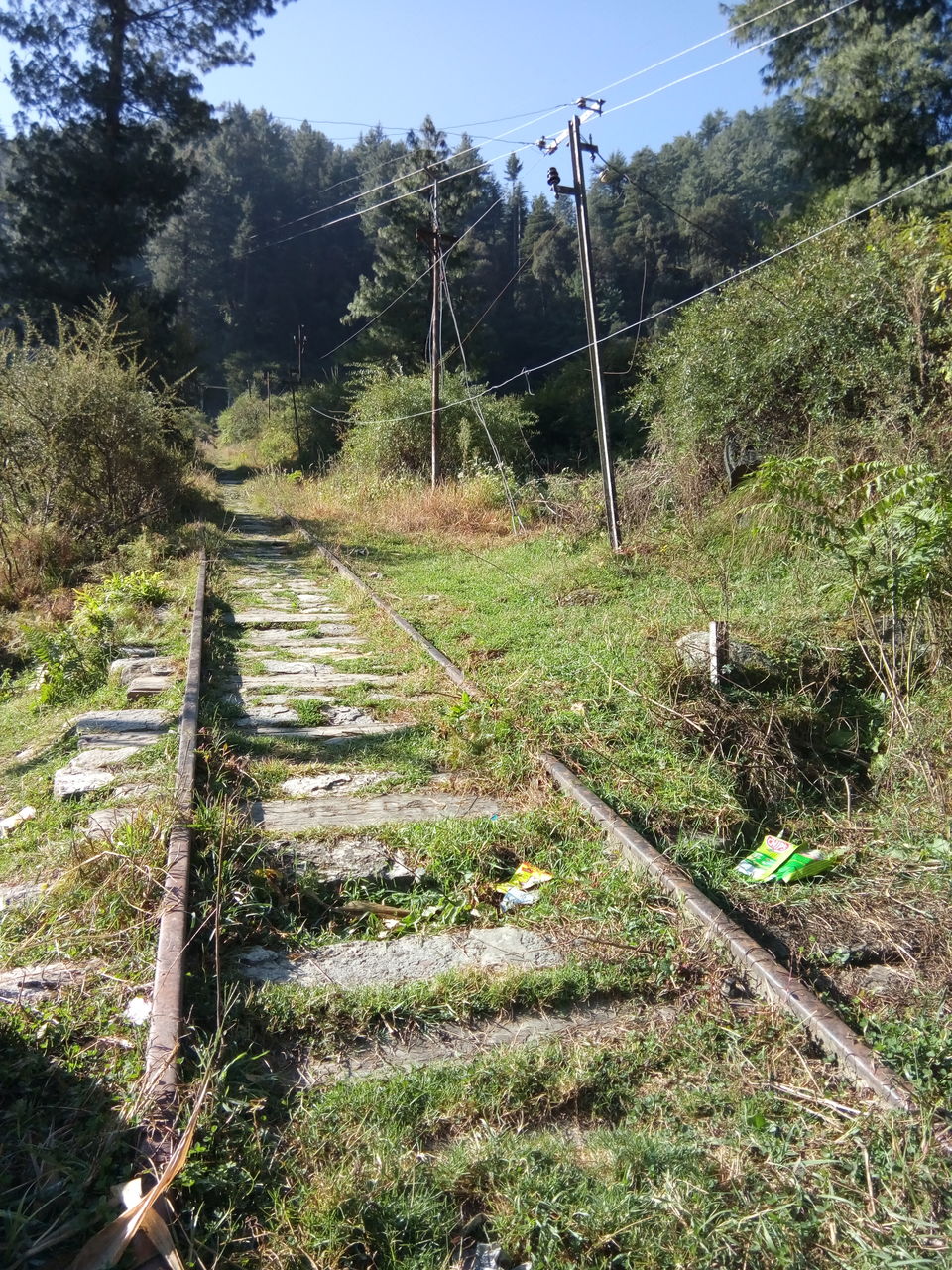 Remnants of a glorious era gone past....... Tracks finish here. Earlier, steep section would finish here but tracks would go all the way to the reservoirs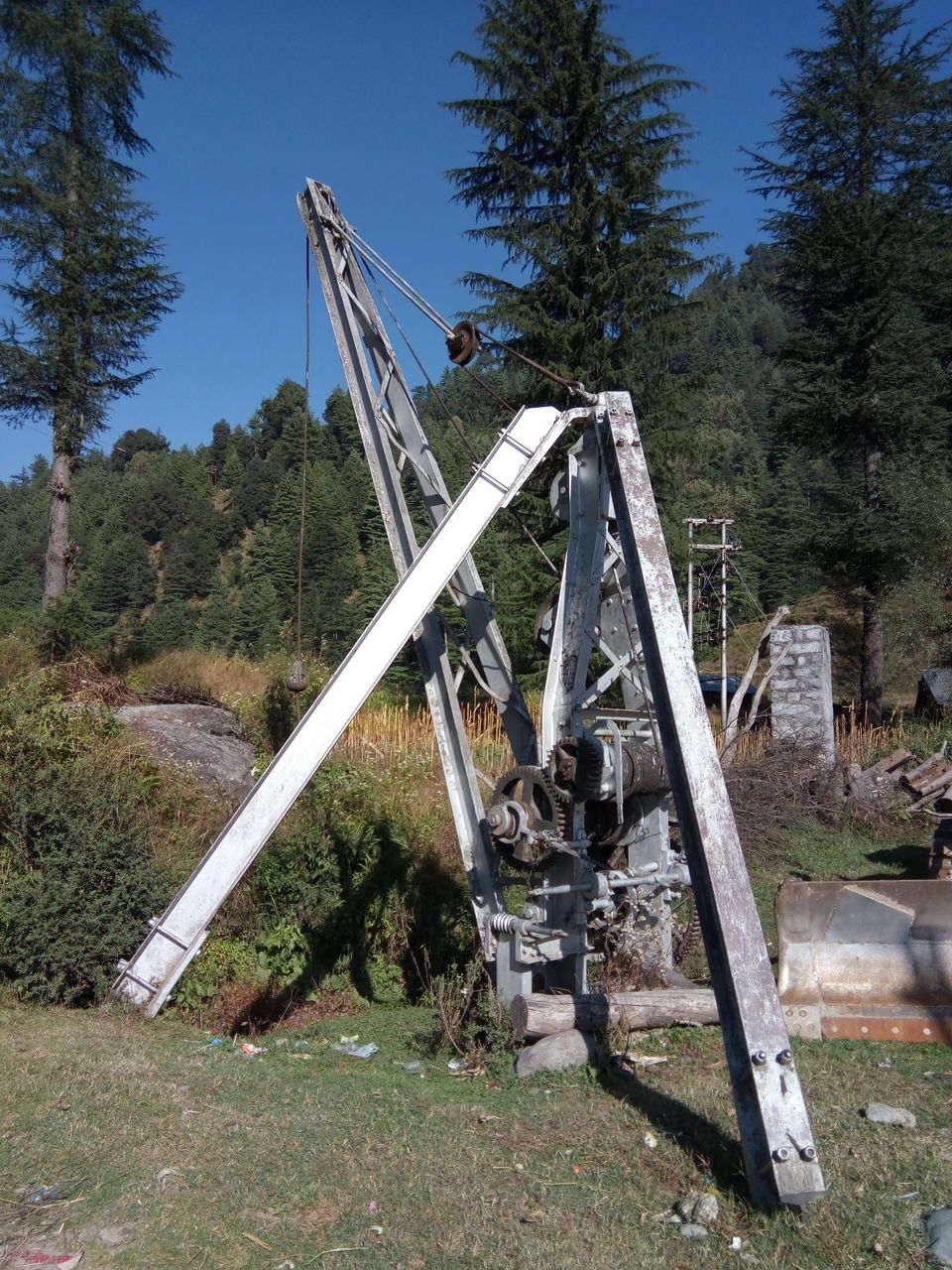 An inclined trolley, unlike a classical funicular (two rails , each carrying weights and counter weights), has a single rail and weight is used through a contraption like this to allow movement of loads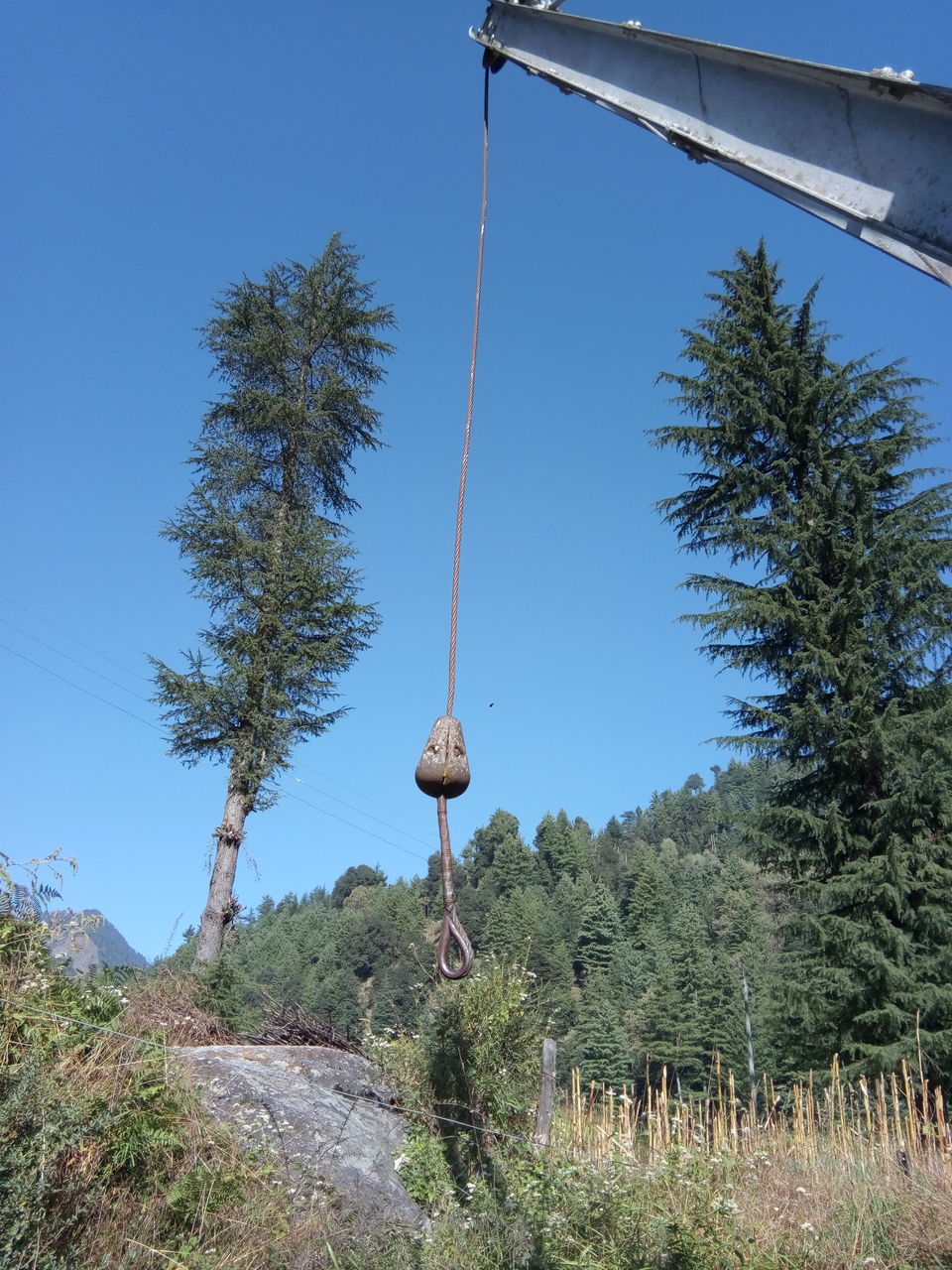 With this section in disuse, this noose hangs idle....not too sure about letting our heritage rot like this!​
Next to the Zero Point, over Uhl River, is a concrete bridge that is complete but has not been connected to roads on either side of it. The track that passes next to Zero Point, is about 15 ft lower than the bridge surface and the road across (road to Kothi from Multhan) is about 50 ft higher than the bridge surface. So, phew go a few crores and the bridge hangs in nowhere. But if one tries to see the positive side of the screwed up things in life, better things do emerge at times. In case of this bridge, there is a small heaven vertically below the bridge - a nice, cosy but beautiful picnic spot....
(Please note that flash floods in such streams are a regular phenomenon and such spots become dangerous during rainy season)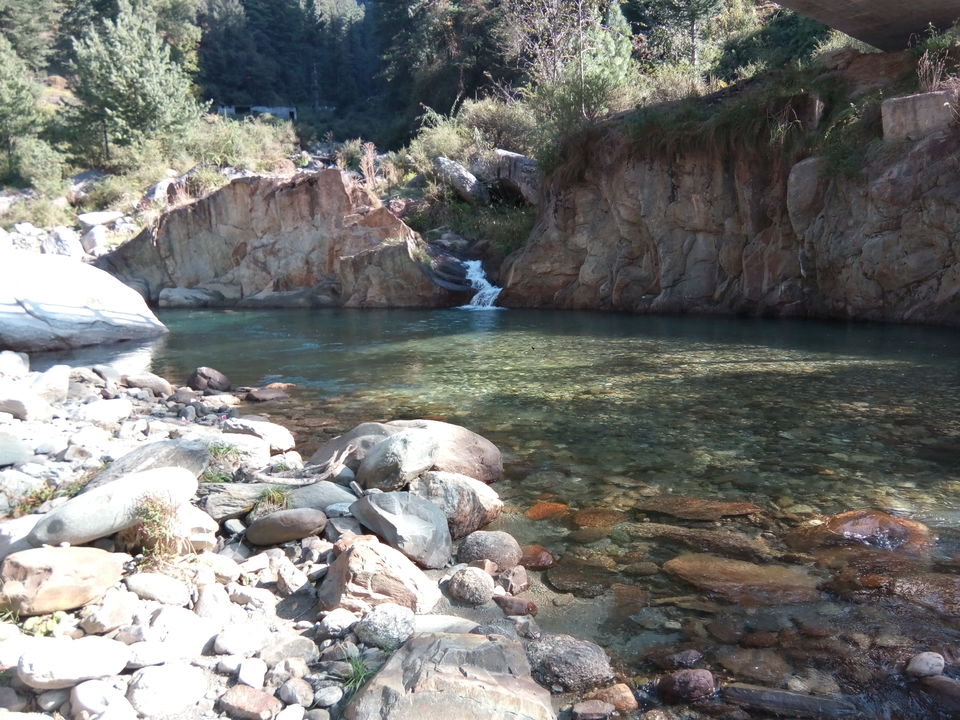 The top right corner of the pic shows a part of the bridge. In present weather, water is crystal clear though freezing cold!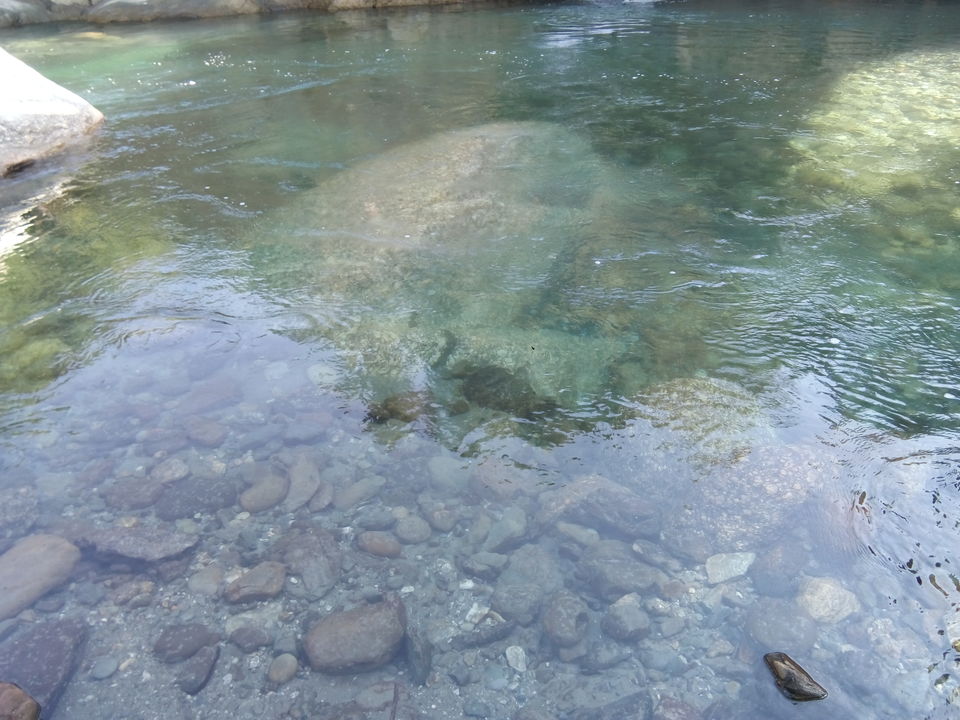 One of the few such spots where self and Czia could not take a dip due to logistical issues (Pangong Tso- we were better prepared)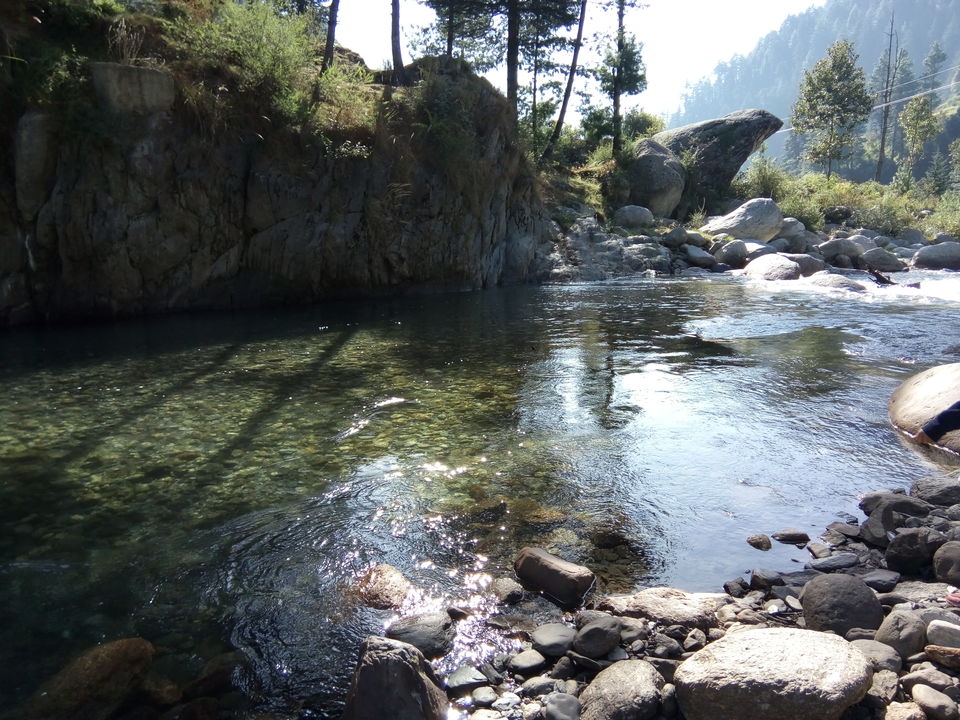 The bridge shades us from crispy sunlight due to an unpolluted sky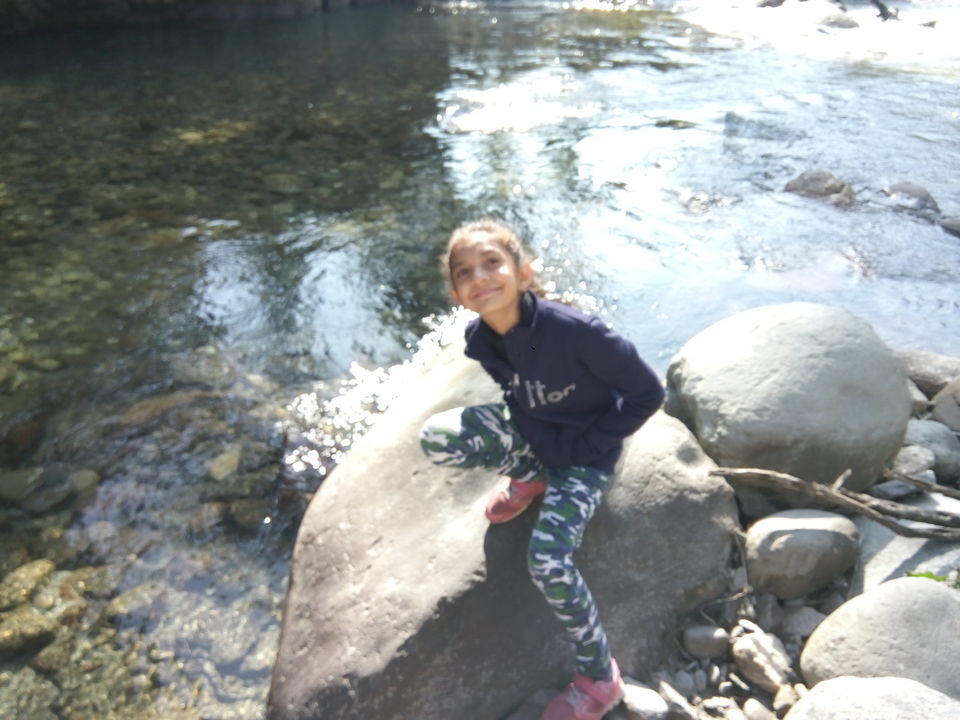 Czia loves it too!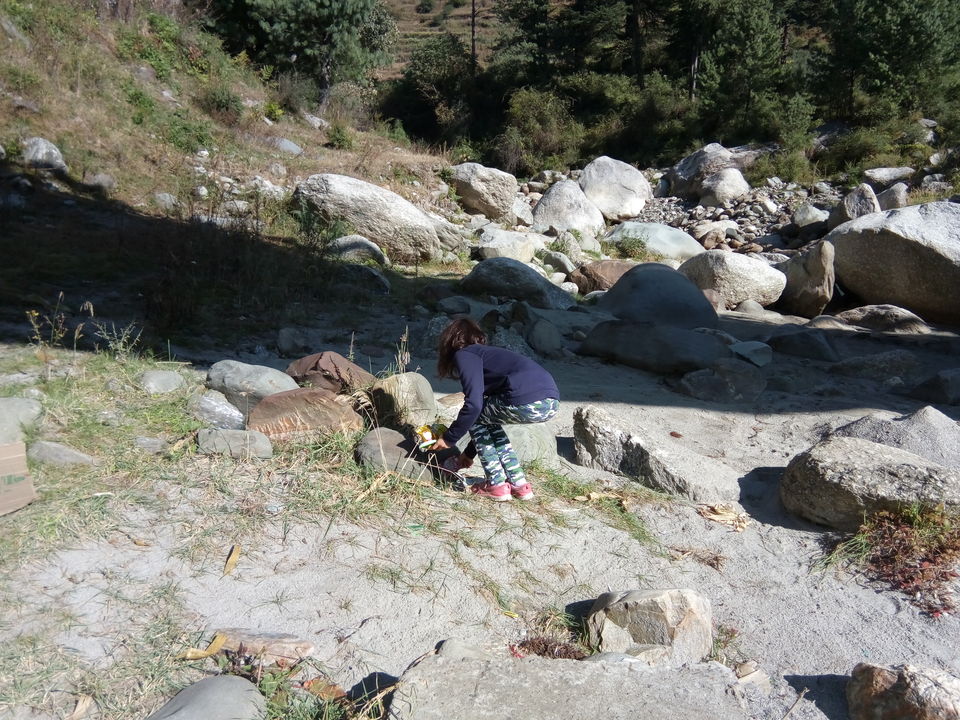 There is a bit of muck lying around..... typical Indian stamp is there. Despite being isolated and so beautiful, niche has its litter courtesy some of our own country cousins:evil::evil:. Czia gets down to cleaning up the place to the best of her abilities.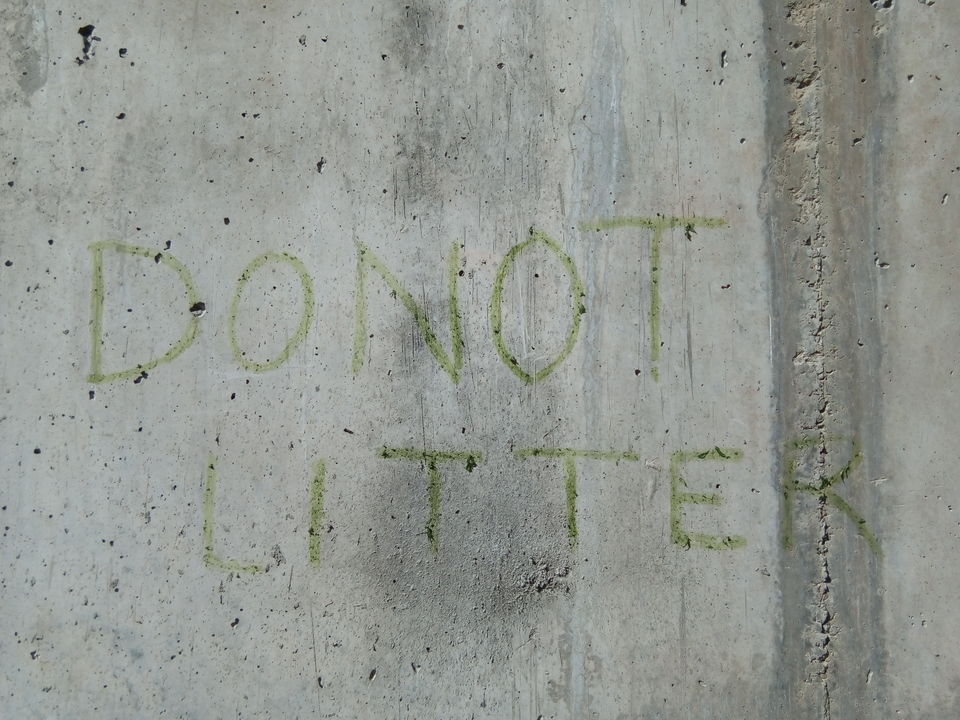 We leave an eco-friendly message on the pillar of the bridge, hoping like hell that at least some of the future visitors would read it and be a bit more sensitive
It is well past ten and we are yet to eat anything. We start back but with an aim to have a halt at the Green Himalayan Cafe at Jhatingri, the highest point on the road to Barot. With haze and wrong angle of Sun not really helping, we take a few pics on our way back...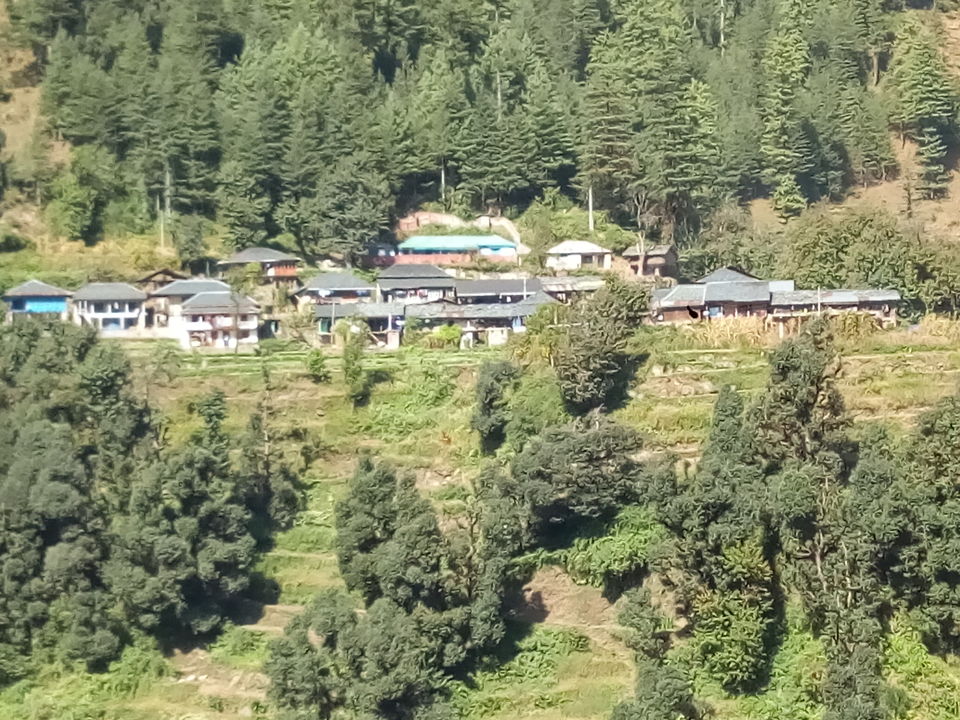 Just a hamlet enroute .... liked its layout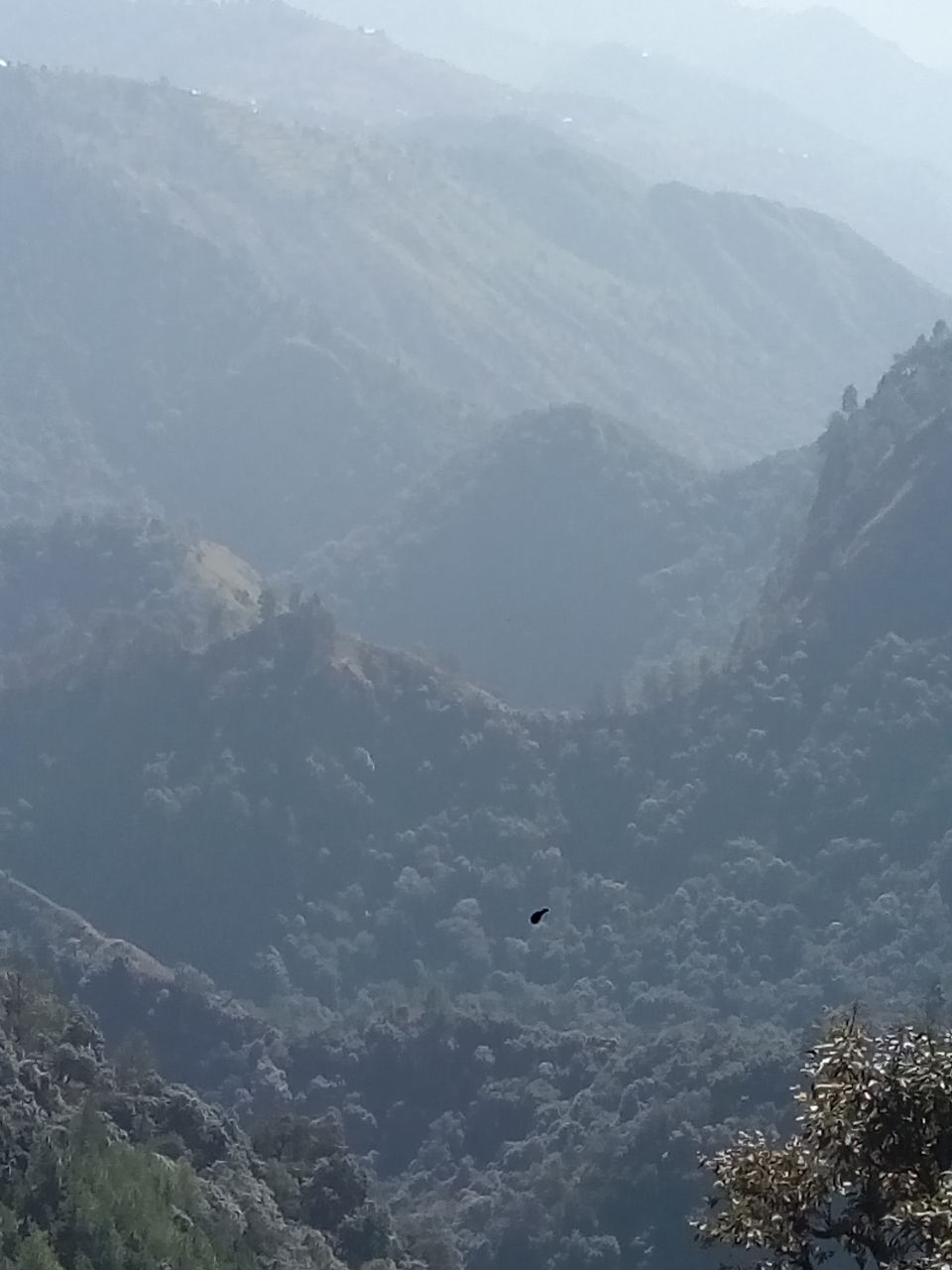 An endless vista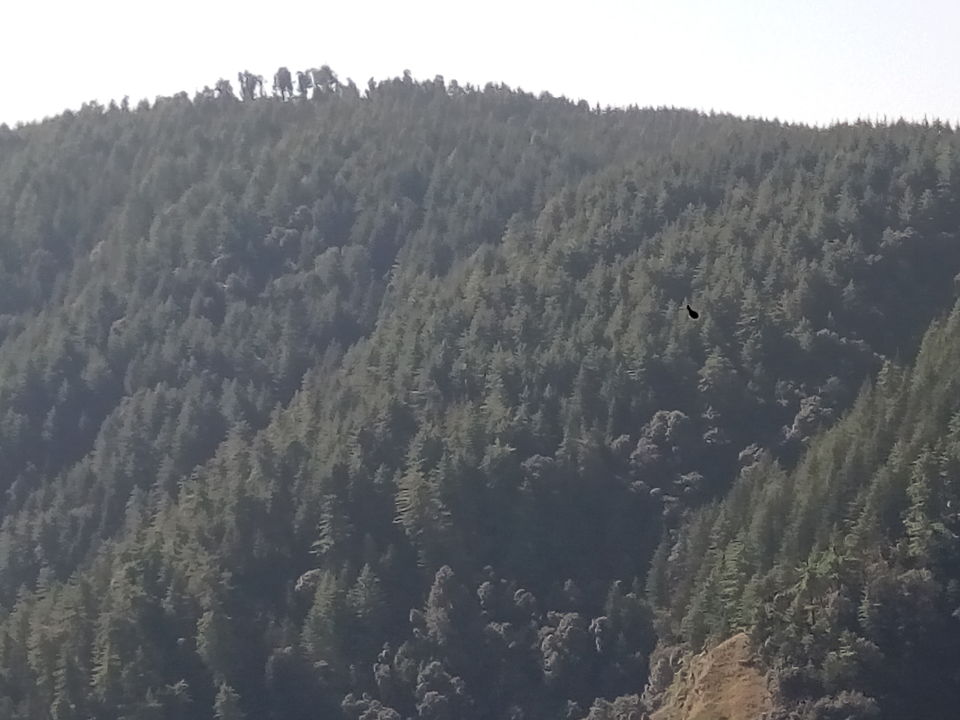 Nature's bounty for humans as well as wild souls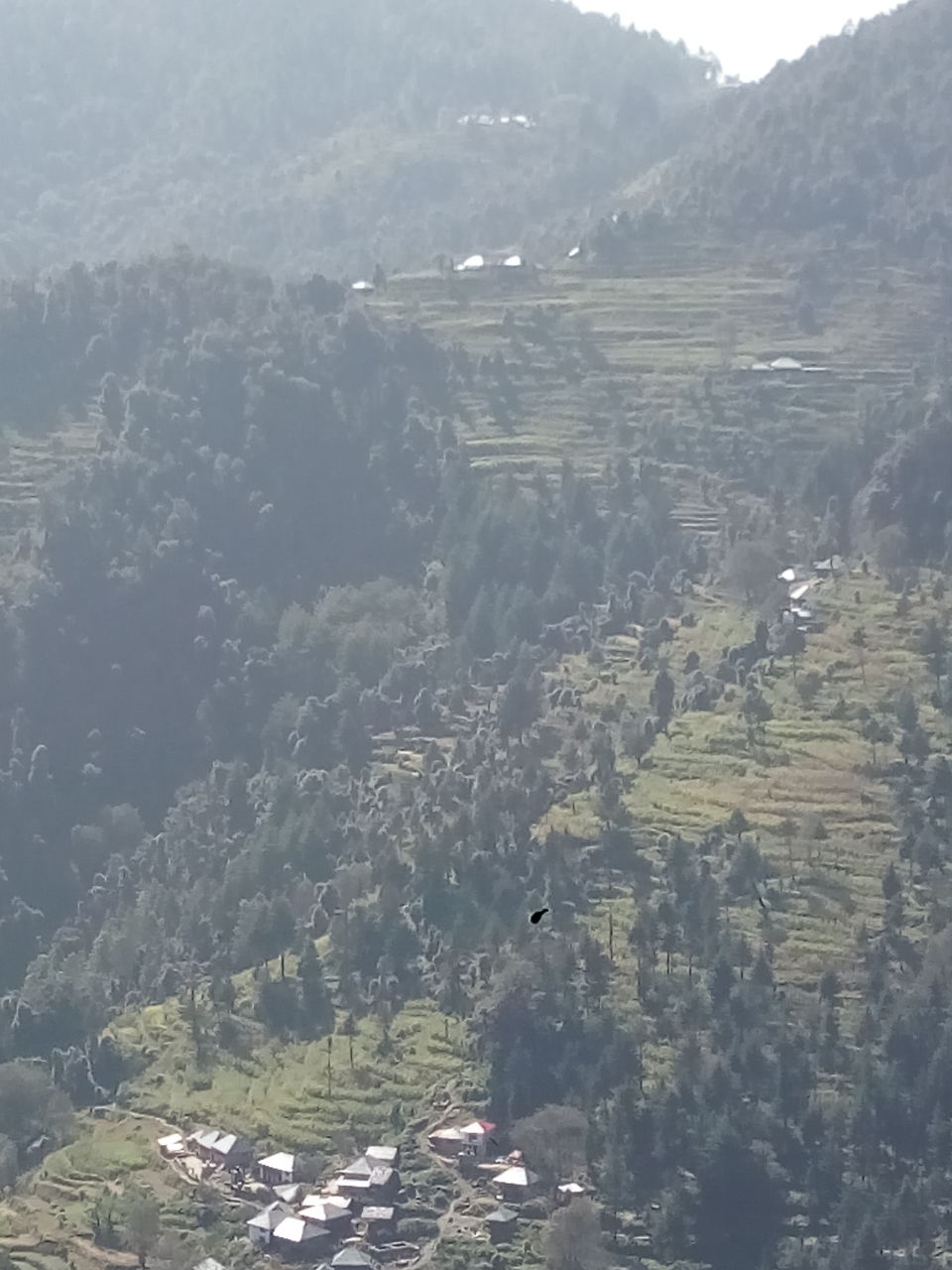 When the Sun shines on the mountains......!​
We halted at Jhatingri to have our breakfast. Anil Thakur runs a small cafe that is located in the market and offers no views actually. It has a small bakerycounter next to it. But interiors are all wood and beautifully done. A small place with typical pahari attitude of being never in a hurry. India- Bangladesh Kabbadi match was on and a few guys, including the owner and the cook and the customers, were cheering up Thakur, Indian player from HP. Soon, the match got over and business resumed. We had fresh mooli parantha with just about half a bowl of curd for all three of us (the shop had run out of curd)..... yummy were the paranthas and the curd. We chatted a while as we sipped tea before heading back to the world of utter madness.
A few Kms towards Joginder Nagar, we crossed this point.....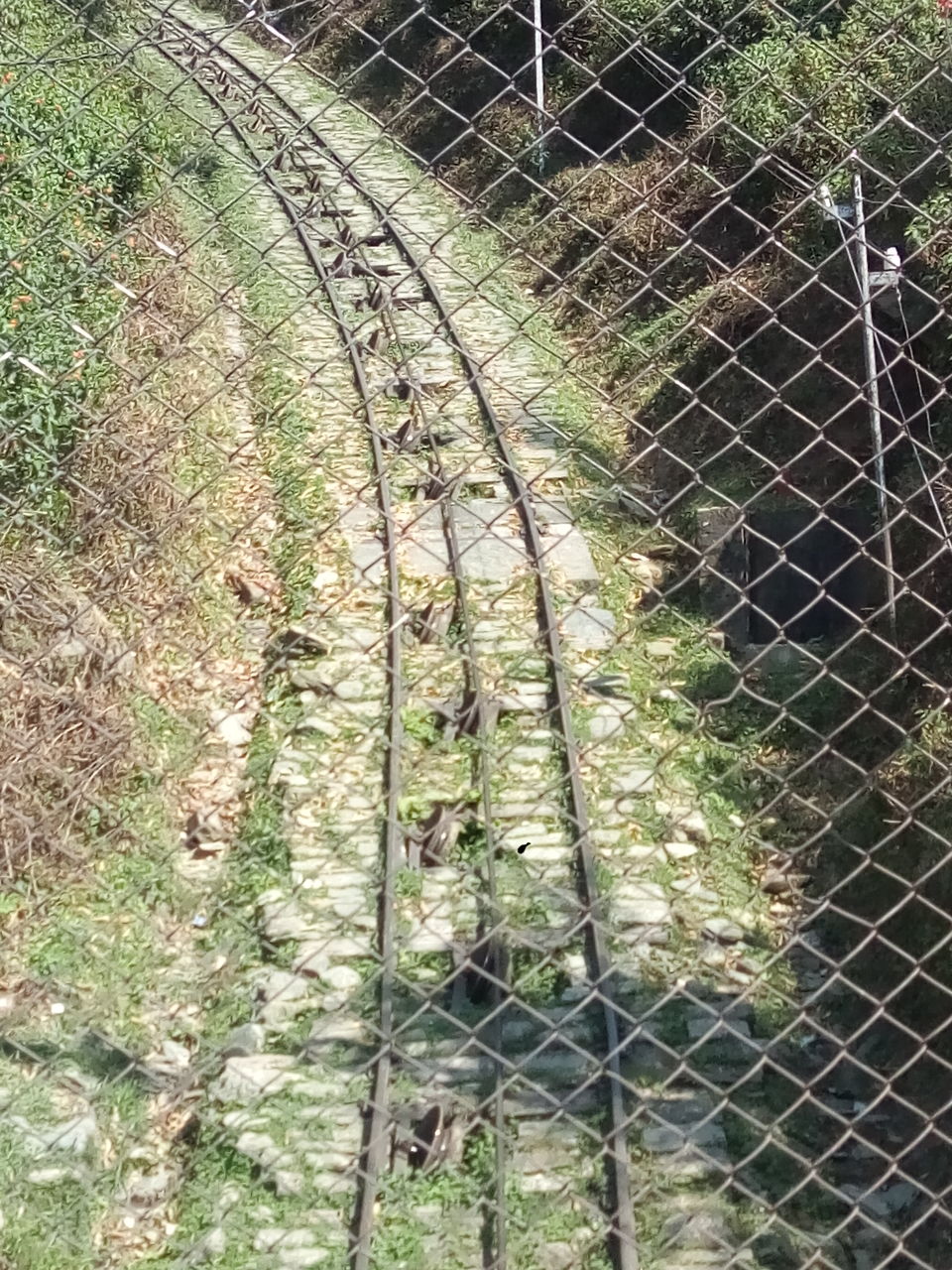 Here we are roughly on top of Shanan Project at Joginder Nagar. The other end of the trolley is few hundred metres downwards from here. These pipes streamline the wild energy of falling water as it leaps 1000m. Turbines at the base do the rest!
​
Who wants to get back from such places? We are no exceptions. Shall be somewhere there pretty soon, Insha'allah!