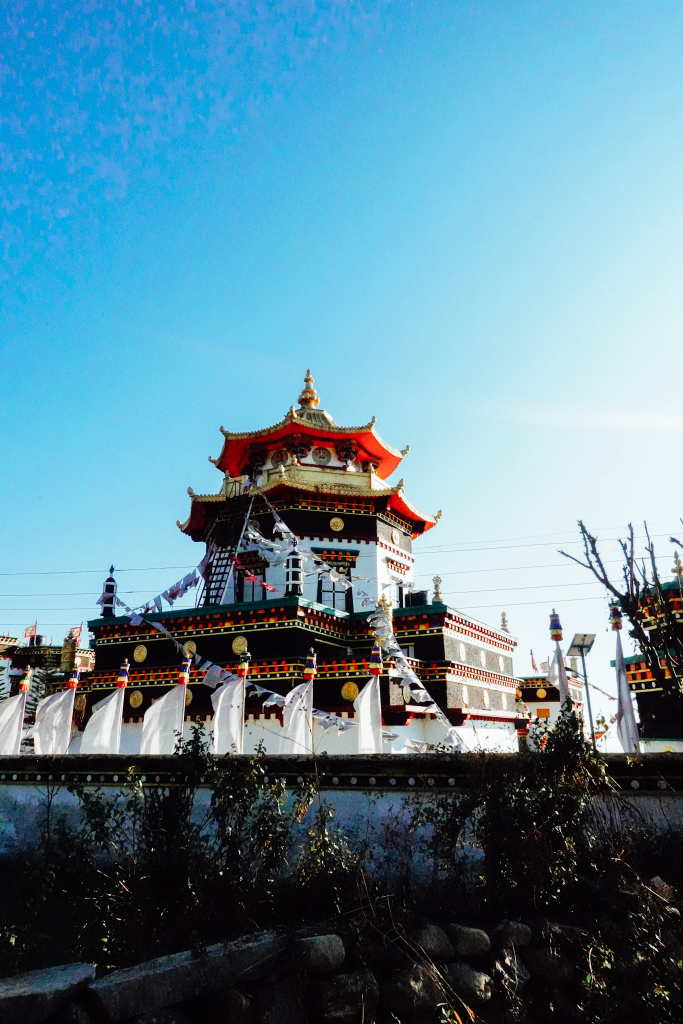 Have you ever wondered how would you feel while floating in air? The ground far beneath your feet and you up in the air with majestic mountains and lush green views all around. I didn't know the feeling either, until I visited this small town in Himachal Pradesh - BIR BILLING. Nestled in the beautiful Himalayas, this place is known as Asia's highest paragliding site. Bir is not only famous for Paragliding but has some outstanding Monasteries which are architectural wonders in their own way. But apart from its famous tourist attractions, this place has a lot of hidden gems to offer. Based on my personal experience, here is a list of all the places you should definitely include on your next trip to Bir Billing. I have also have covered other important points like how to reach Bir, how to commute within Bir Billing and where to stay. So lets get started!!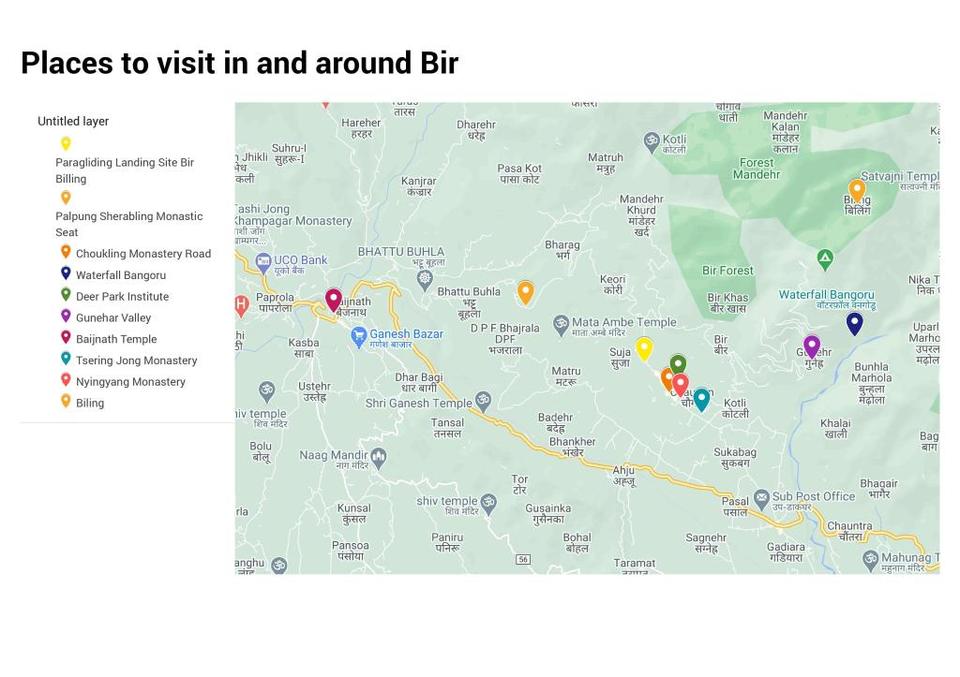 Link to the above map - https://www.google.com/maps/d/u/0/embed?mid=1OTVRFZtocjWnGjh8W59qPCg_l6SC9Ay0
Best places to visit/Things to do in Bir
Paragliding in Bir
As mentioned earlier, Bir Billing is India's best paragliding site so it should be a must to try tandem paragliding here. In tandem paragliding, one glides along with an instructor and can simply enjoy the view while the paragliding instructor takes care of the technical aspect.You can either choose going for a morning ride or enjoy the sunset during the evening ride. The biggest pro of going early morning is that one can avoid the traffic jam to Billing. If you personally ask me how my experience was, it was something which I cannot pen down in words! My one true recommendation would be that even if you have a fear of heights you should definitely try this. The experience is something you will take with you for lifelong.
Watch Sunsets at Bir Landing site
One of the things that I enjoyed a lot during my 2 days stay in Bir was watching the gorgeous sunsets at the landing site here. I would head towards this place every evening and then wait for the sun to set down and would be pleasantly surprised every time. Sunsets here are gorgeous and no two sunsets will be the same. The sky lights up in different hues of orange and pink and with the mountains in the background, it truly is a wonderful sight to watch. So, if you love sunsets like me, then watching a sunset at the landing site is the best way to end your day in Bir.
Palpung Sherbaling Monastery
Palpung Sherabling Monastery is one of the largest monastery located in Bir. The monastery is located about 6 km from the Tibetan Colony Market, in a small village called Bhattu. This monastery is also known as the Bhattu monastery and offers the most amazing backdrop in the form of Dhauladhar ranges here. As this place is away from the hustle bustle of the main town, it is quite peaceful. You can either take a mountain bike (Cost: INR 100 - 200 per hour) to reach this place or hire a cab (Cost - INR 400)
Tsering Jong Monastery
Another popular monastery that people often explore in Bir is the Tsering Jong Monastery which is located before the Tibetan Colony and is a 15-minute walk from the market. This monastery has a beautiful design and architecture and has a huge enclosure inside which houses a park and a residential area as well. The entire area is beautifully decorated with trees and flowers and there is also a café inside this monastery enclosure where you can eat or chill for some time. On the opposite side of this monastery, you will find an empty field with Prayer flags all around which gives it a really colorful and charming feel.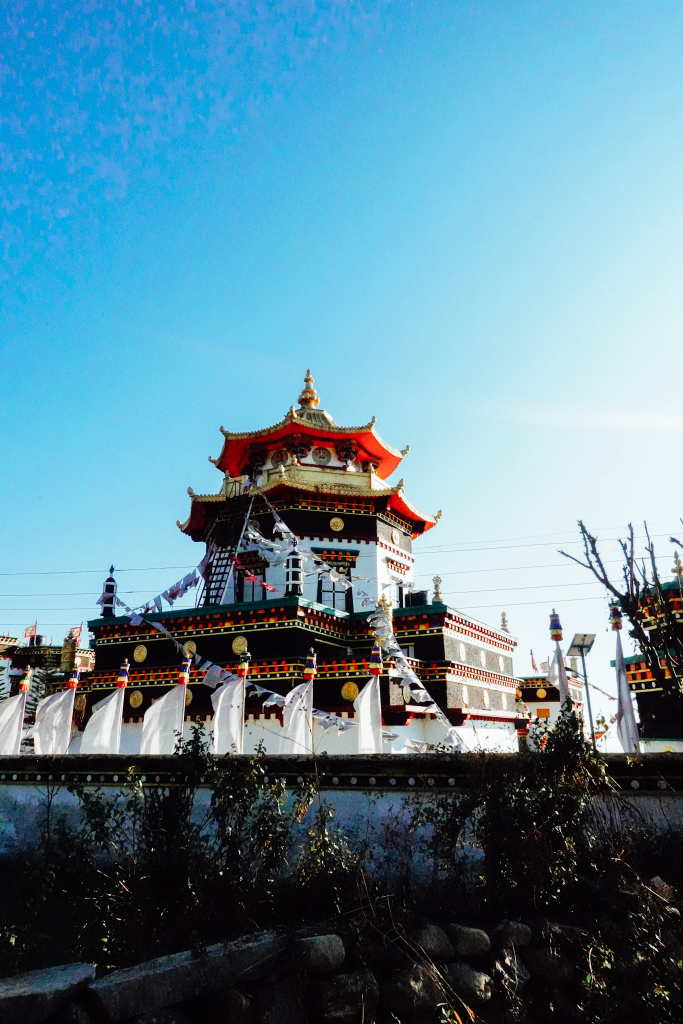 Chokling Monastery
Another popular monastery in Bir is the Chokling Monastery located in the middle of the Tibetan Colony. This place is the home to a huge Stupa and also houses a magnificent statue of the Padmasambhava. The best time to come here is usually in the evening as it is quieter around this time and one can also see the sunlight reflecting on the stupas here.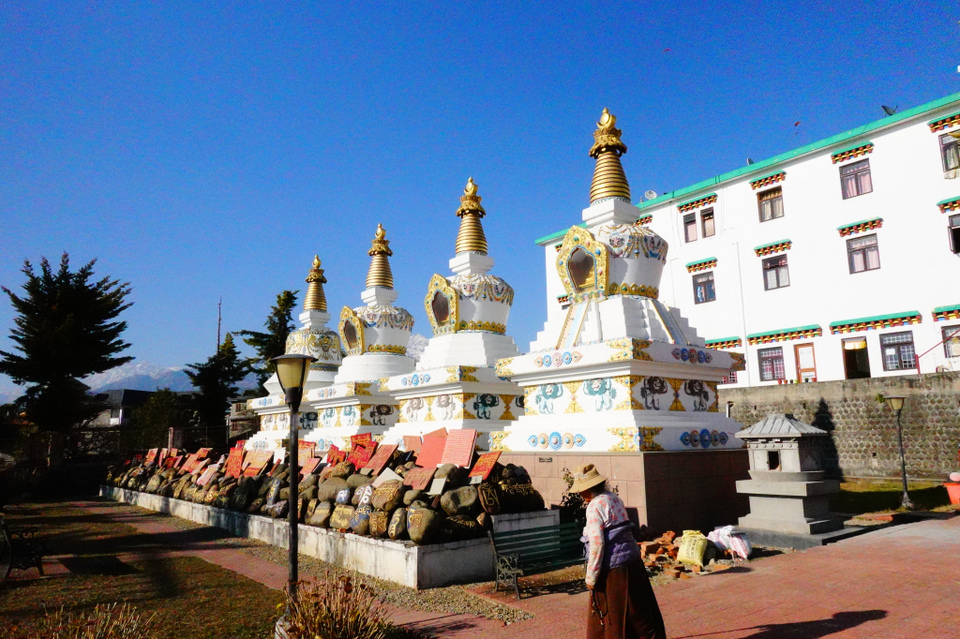 Nyingyang Monastery
Another famous Monastery in Bir, is the Nyingyang Monastery. A smaller monastery in comparison to the above mentioned Monasteries, but truly a sight to behold. The monastery is located right in the middle of the Tibetan Colony road. You will also find several young monks here who are studying and undergoing their training here. On a clear day, you might be lucky enough to see a few gliders just flying above the Monastery!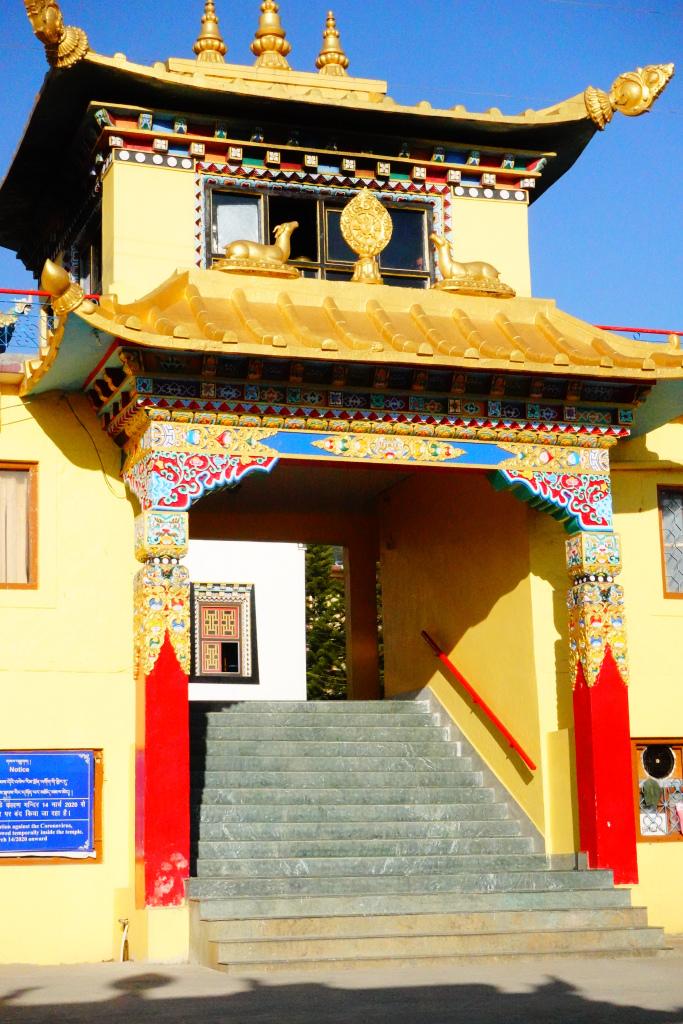 Note: Due to the recent COVID19 pandemic, the entries to all these monasteries are not allowed. Kindly check the advisory issued by the state before visiting this place.
Bangoru Waterfall
Bir houses many small waterfalls nearby which one can easily reach by either hiking or trekking. One such waterfall is the Bangoru waterfall. The waterfall is located approximately 5 kms away from the Bir main market. You can either take the help of a local to reach this place or reach this place by using GPS. Just head to the Gunehar village and then walk straight.
Deer Park Institute
Deer Park Institute is another popular place in Bir. In this institute, they teach the traditions of Buddhism along with Indian philosophy, science, and arts. To reach this place you have to walk towards The Trippy Tribe Zostel. You can find a black board in the main market pointing towards this place. One can walk straight and you will reach at the Institute. There are several workshops held here too which anyone can enroll in and there is a monastery here where you can spend hours meditating.
Billing Take Off Site
Another place which you should definitely include in your Bir itinerary is the Billing Take Off site. If you are someone who doesn't want to indulge into Paragliding but want to capture the view of the entire valley, then this the place to come. This is also the starting point of the Rajgundha Trek s well and there are several camps set here for people who are interested in camping for a night here. As this is the takeoff site, you will see people preparing for there tandem flight. Honestly, it is quite a joy to watch people run and take off from the edge of the peak.
Chaugan Tea Gardens
If you are in Bir, you should definitely visit the Chaugan Tea Gardens. You will find vast area of land covered with tea plantations and prayer flags gently floating above them. Here you can get to know the locals of Bir and learn more about their lifestyle. You can also buy tea from them and take it as a souvenir with you back home!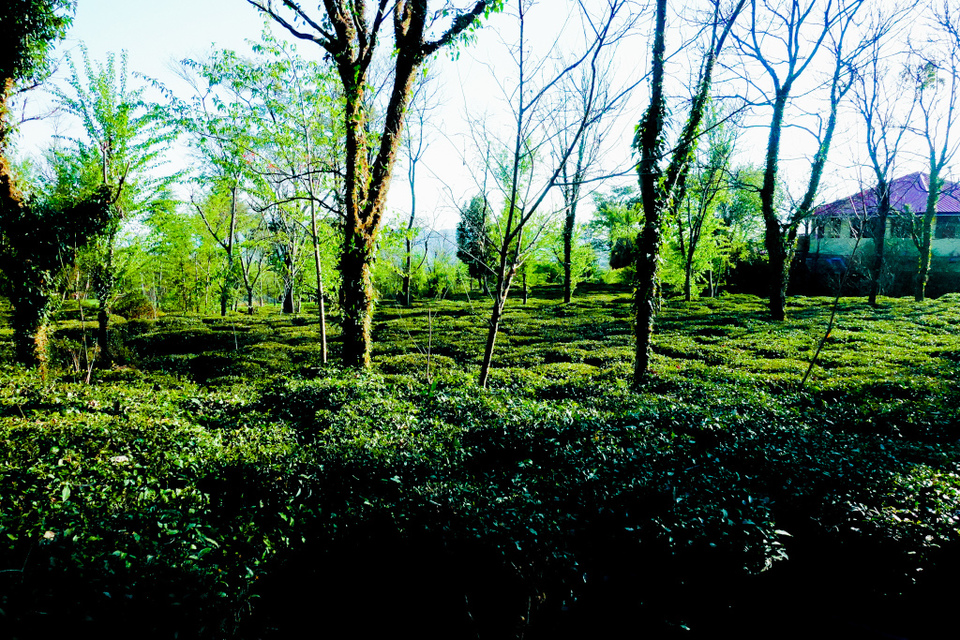 Baijnath Mandir
Another popular place to explore around Bir is Baijnath Mandir located 12 kms from Bir. The temple is a Nagara style Hindu Temple, constructed in 1204 AD. The temple is dedicated to Lord Shiva had has a Shiva Lingam secured inside the temple.Two long inscriptions are engraved on stone slabs in the main hall. Numerous idols are carved on the walls of the temple. Some of them dating prior to the present temple was built.
Other Adventure sports in Bir
If you are someone who loves to indulge in adventure sports I would highly recommend checking out bungee jumping, Burma Bridge etc. at Temple Run adventure (such a cliched name!!). You can find this company on the way to the waterfall. The other activities except for Bungee Jumping are priced at INR 800. The Bungee Jumping can cost you around INR 1500. They also have packages.
Other places you can explore (I totally would, on my next trip!)As my trip was short, I could only explore the above options listed. However, Bir has so much more to offer. The following are the places I would highly check out the next time I visit Bir - Rajgundha Trek, Barot Valley, Gunehar River Pools, Dharmalaya Institue and Palampur
Restaurants and Cafes in Bir
Well if you truly want to enjoy the Bir experience, you should and definitely try the amazing food the cafes in Bir have to offer. Out of the all trips that I have taken in my life (so far), food wise this place tops my list (and I am very very serious about this!). There are numerous places to eat in Bir Billing in a varied price range. So, you can easily find cheap yet delicious food here, especially in the Tibetan colony. The fact that the food at this place was one of the best I ever had, I am going to dedicate an entire article on it. So watch out for my next blog where I take you through some of the amazing places to eat in Bir.
How to reach Bir-Billing
As the distance between Delhi and Bir 515 kms, I would suggest taking an overnight bus. You can either travel by Volvo buses or HRTC. The HRTC buses can cost around INR 1500. There are other carriers such as Laxmi travels, Snow region tours etc. which can cost around INR 900-1200. These buses take 12-13 hours to reach and can be booked via the Red Bus app.
Train + Toy Train + Bus/Taxi - If you want to save some bucks on travelling but have ample of time on your hands, then this is the option for you. Take a train till Pathankot Junction and then take the toy train till Baijnath station. Once you reach Baijnath, you can take a taxi till Bir or you can wait for the bus. However, during the Covid times the frequency of the buses have reduced a bit and you may end up waiting for long!
Taxi/Own car - If you have your own car, you can definitely drive down to Bir as the roads are decent. It will take you around 10 hours to reach Bir. However, this can add up-to the cost a lot and heavy on your pocket!
Being a small town this place is easy to get around. You can cover most of the places mentioned above on foot. If you are someone who loves to cycle around, then you can rent a mountain bike. The rental starts at as low as INR 100 an hour. You can also book taxis and go to Baijnath Temple and Palpung Sherbaling Monastery. The best way to get to Billing is by hiring a 4 by 4 car as normal cars might face a difficulty in getting to the higher regions.
Accomodation
Bir offers tons of accommodation options. The places has zostels, hostels, homestays, guesthouses and hotels to choose from.Zostel/Hostels in Bir - If you are a solo traveler or tight on a budget, Bir has a lot of zostel/hostel options to offer. If you want the cheapest option then there is the 6-bed mixed dorm for 399 INR or the 4-bed mixed dorm for 449 INR. You can also take a standard room for approximately 1200 INR. But make sure that you book in advance because, in the peak season, Zostel Bir tends to remain sold out. Also, if you are planning for a busy weekend then you might see a surge in the prices. So, plan your trip carefully and book your stay in advance.Hotels and Guesthouses - There are some Guesthouses, hotels, etc. to stay here too which you can find on Booking.com or on Makemytrip.com. My biggest tip while booking any Guesthouse would be, to call them in advance to check if they are operational or not. Trust me, I have done the mistake of not calling my guesthouse and finding the same being shut! - Another way to save some big bucks is to opt staying in a homestay. You will find a bunch of homestays in the Chaugan area. You can negotiate the prices with the people operating these homestays and can strike a good deal!
Best time to visit Bir
February to June is the best time to visit Bir. However, during the summer months i.e. April to June this place can get really crowded. If you are someone going for your first Paragliding experience, I would suggest booking the same with some company during the summer months. If you are feeling adventurous, you can also visit Bir during the rainy season. Also, the entire valley looks fresh and lush green at this time which is quite therapeutic and calming.
How many days are required to explore Bir Billing
Based on my experience, a two nights trip would be apt to cover the best of what Bir Billing has to offer. But if you want to explore Barot Valley and go for the Rajgundha trek, I would suggest extending your stay by two more nights!
So that's my ultimate guide for a short trip to Bir! If you are looking to truly unwind and spend some time in the lap of nature then this is the apt place for you to go.
If you have any specific queries, put them in the comments section. Will get back to you soon.
Follow me on Instagram for more - https://www.instagram.com/rituparnadey/
Love,
Rituparna
If you think adventure is dangerous, try routine