I was travelling in Spiti for a month, without much of a plan except for wanting to visit Chandratal on my way back to Manali. It was one thing that I had looked forward to even before I began my journey, and was disheartened to know that there was no public transportation to Chandratal. However, I was bent upon visiting it, and was told I could hike from Batal for 13 kms to get there. This was definitely not an option; with a 20 kilo rucksack and another backpack I could barely manage to walk till the kaza bus stand. Trusting my luck in hitchhiking to continue for a few more days, I got on the bus to Manali and decided to get off at Batal. The whole of Kaza seemed to want to go to Manali that day, and with great difficulty I stuffed my bag and myself into the already packed bus. I was glad to get out of the bus for a breakfast stop in Losar, after sitting on the edge of a seat for nearly two hours. I got myself a plate of parathas with potato curry, and was busy eating till a group of four people settled down on the table next to me. We got chatting, and was told that they were travelling to Manali, stopping by at Chandrataal for a couple of hours. I was welcome to join them, they said. In no time, I pulled my luggage down the bus, into their Innova and was set to visit the much looked forward to destination. It was a long drive, and an extremely beautiful one. My new friends were genuinely nice, had great speakers and a taste for good music which was the perfect recipe for a memorable ride.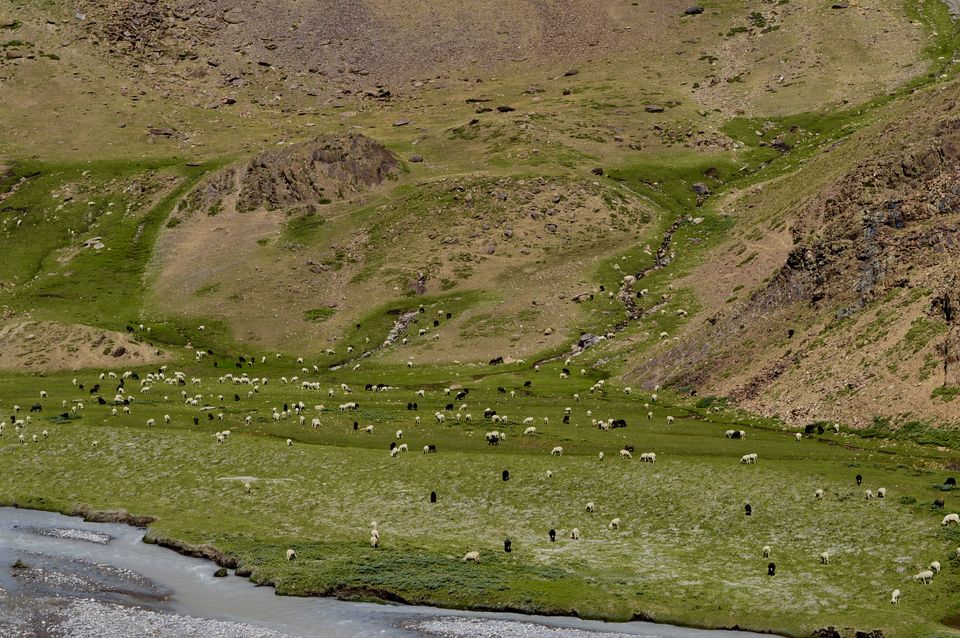 We reached the base camp at around 2 pm, calmed our famished stomachs with Maggi and started up to the lake. The base camp is about 3 kms from the lake, as no one is allowed to camp closer than that as a rule. Vehicles are allowed for another 2 kms, after which one has to go by foot. The last kilometre of walk is quite spectacular, especially when you get the first glimpse of chandratal. The clear blue waters amidst vast mountains is a sight that should only be seen to fathom its beauty, no words or pictures can do justice.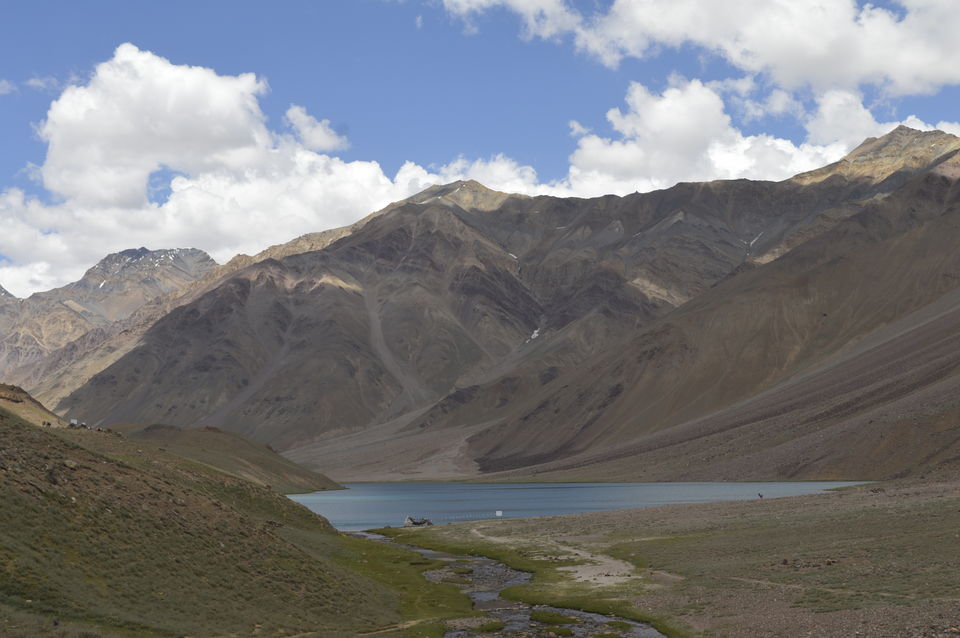 Surprisingly and fortunately, were the only one there at that time. The water in the lake is crystal clear, and one can drink water straight from it. I sat by the lake for an hour or so. Sitting under the hot sun, dipping my feet in the cool teal blue waters was even better than what I had expected it to be.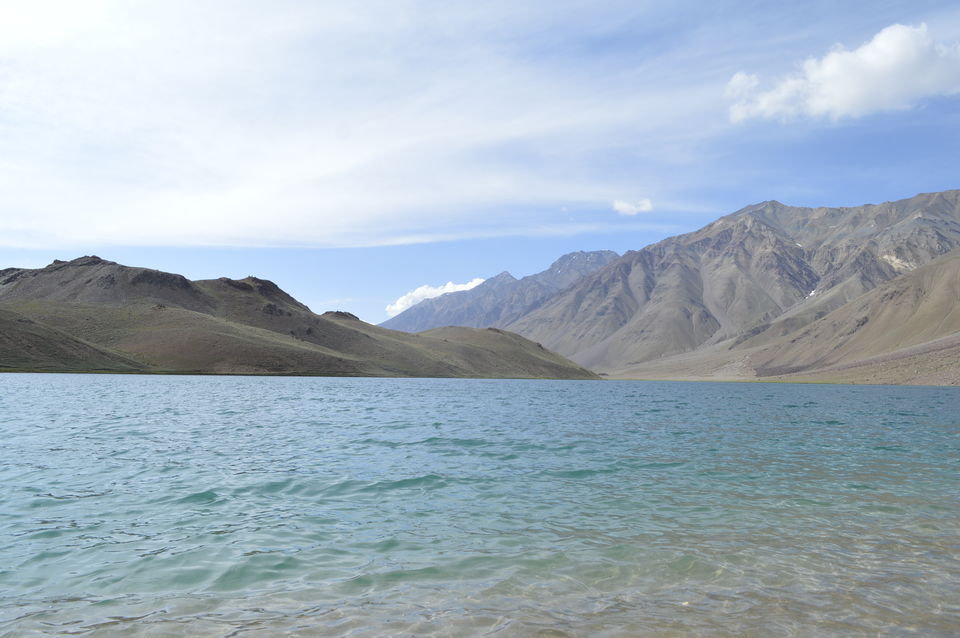 Within an hour, the lake started getting busy with many travellers now reaching Chandratal. Thankful for the alone time we had with the lake, we went back to the base camp, where I met some acquaintances from Kaza. They were spending the night at the camp, and heading to Manali the next day. They has space in their vehicle, and I gladly accepted a spot. My new friends headed back towards Manali, while I dropped my luggage in one of the tents. (Note: We stayed at a camp called Jamaica; if you are planning to spend a night at Chandratal then please choose one of the other camps. They were much nicer for a lower price. Jamaica was an absolute rip-off without proper fire and food)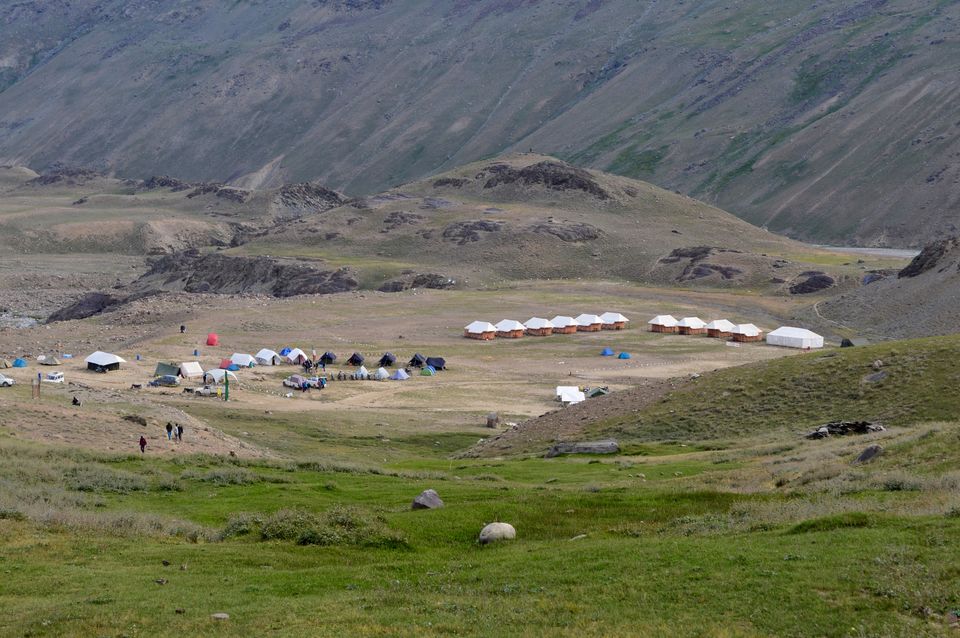 I went up to the lake again, this time with a merry punjabi couple. I sat by the lake for a couple of hours, with feet dipped in while the water started turning cooler with time. I took a walk around after a while as it started getting very crowded and headed back while the sun was setting.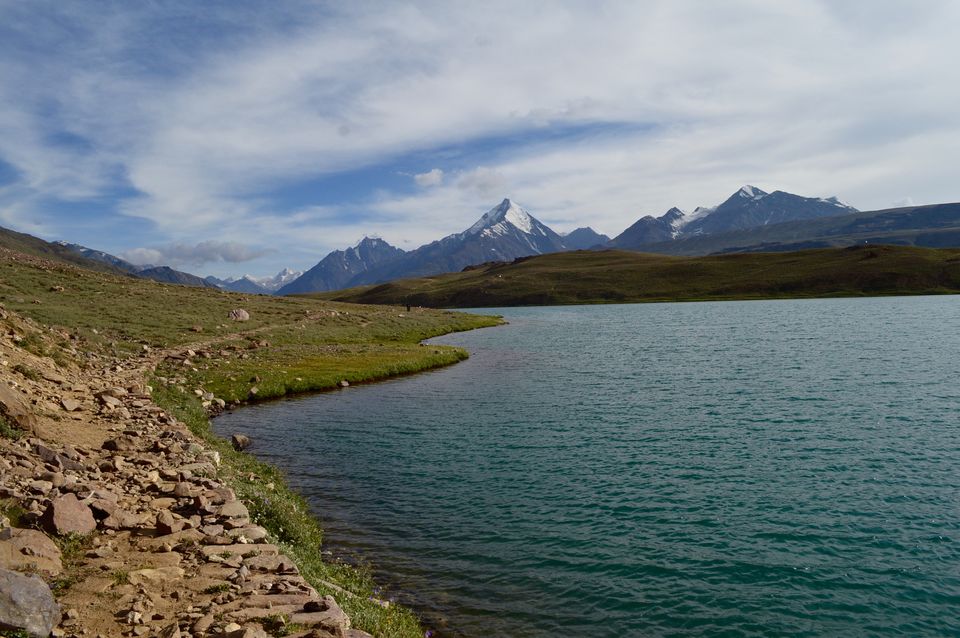 The colour of the lake is said to be different at each time of the day, and I got to witness this as it turned from teal blue to a darker shade as evening was approaching.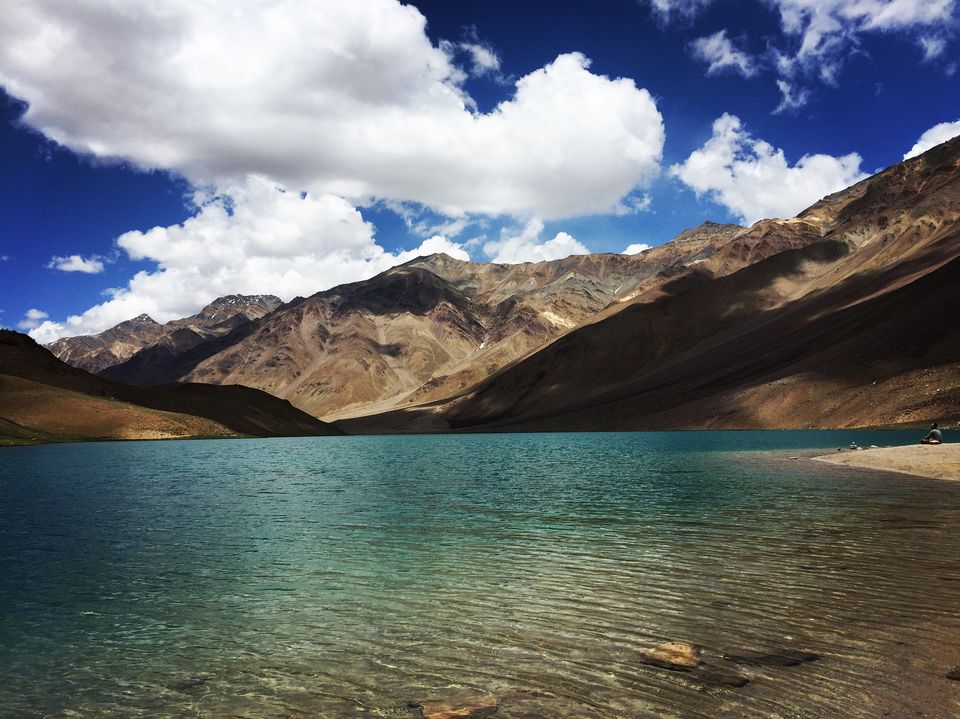 The night at Chandratal was my coldest ever; It was sub-zero temperature with absolutely no heating around. It was also the best skies I have seen - billions of stars, with the milky way adorning the bejewelled sky. Soon enough after dinner I was wrapped under five layers of clothing, including thermals, zipped up in my tent, in a sleeping bag covered with two thick woollen blankets. Yet, I could feel the chill upto my bones, and it took a couple of hours to get warm enough for me to sleep.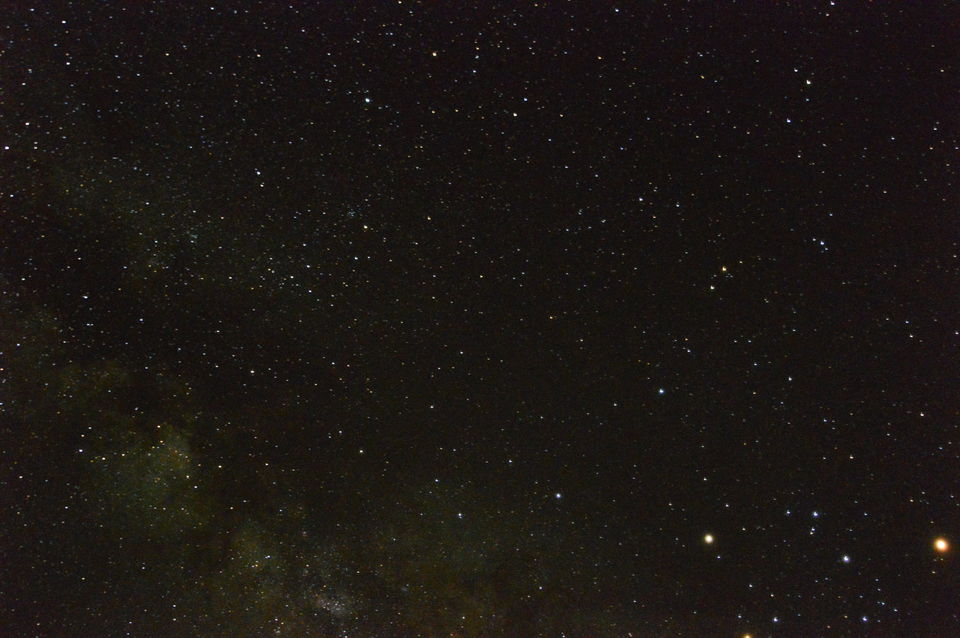 The next morning, we took another quick trip to the lake, hoping to see the reflection of the mountains. However, it was a misty morning with the mountains covered with clouds. Satisfying ourselves with a few minutes of the lake, we set off for Manali. If you are visiting Spiti, then do make this a part of your itinerary. Just spend a couple of hours here if you do not have a day to spare, it is totally worth it.