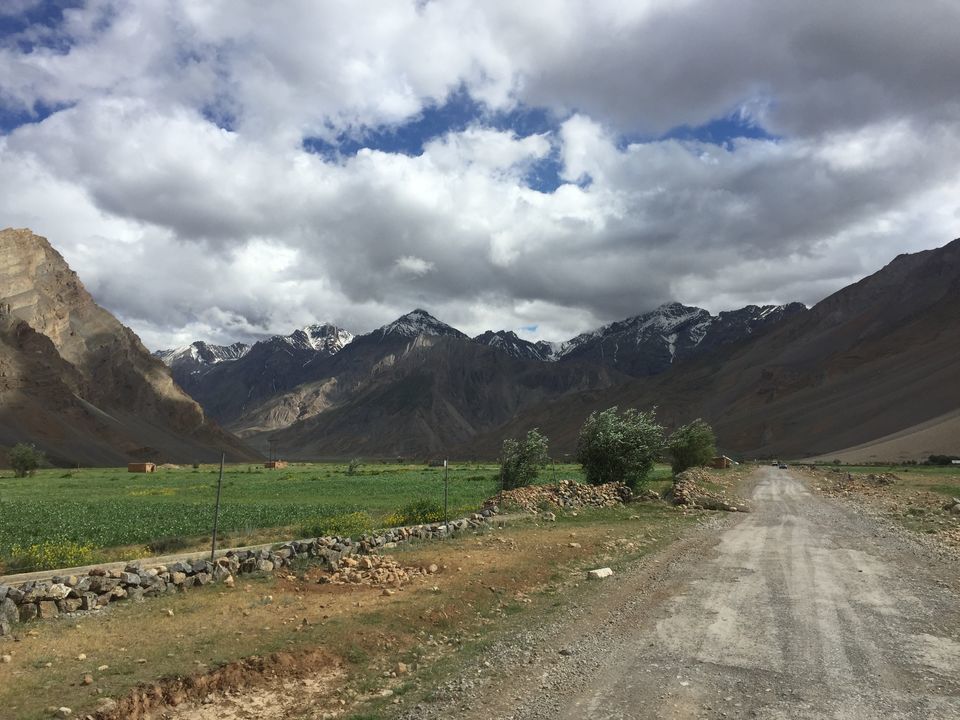 Alright !! From hard paper to e-paper I have always been trying to confide my travel memories into a nutella jar . Well the fetish is very clear to me . I want to taste the whole of my travel experience at once . Now , you know its a myth . You can never have enough of what you persevere during those hours and days of your travel . So my travel experiences brings me here .
This post is going to tell you how I changed my plan from the stereo visit to Leh Lahdak and visited Spiti and Lahaul Valley instead . This plan was switched over a couple of Biras'(beer) , so not all drunk plans go in waste you see . **Whink**Day 1 : We flew from Bangalore in the first week of July 2017 . We took a late night flight and reached Delhi .
From Delhi we had our bus to Manali in the evening .
Bus Booking : You get good sleeper and semi sleeper AC and non-AC Volvo buses from Delhi. Charges around 750 – 1500 INR .
You can save 1 day by flying direct to Kullu Airport which is 20 steps from Bhuntar . From Bhuntar you would get cabs or local bus to Manali .
However , the flight rates are kinda high if your flying direct .
For cost-cutting you can enjoy an amazing bus ride and travel the roads from the very beginning .
We reached Manali around 11 am . We chose to stay near old Manali just to escape from the commercial taste of Manali city . Hotels were available at our reach . If you are visiting in peak season you can pre-book your hotel to get a place of your choice . People like me, who donot believe in bad luck can figure out someplace to stay as cheap as 500-1000 INR . You can try Zostel . Try the food places around Manali with live acoustic music in the evening .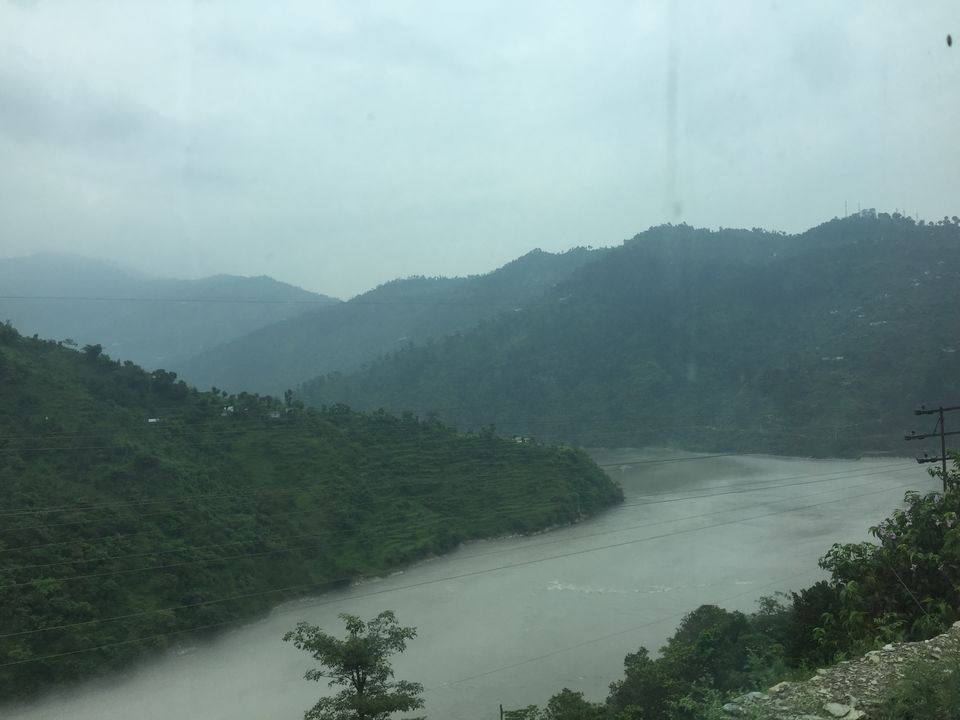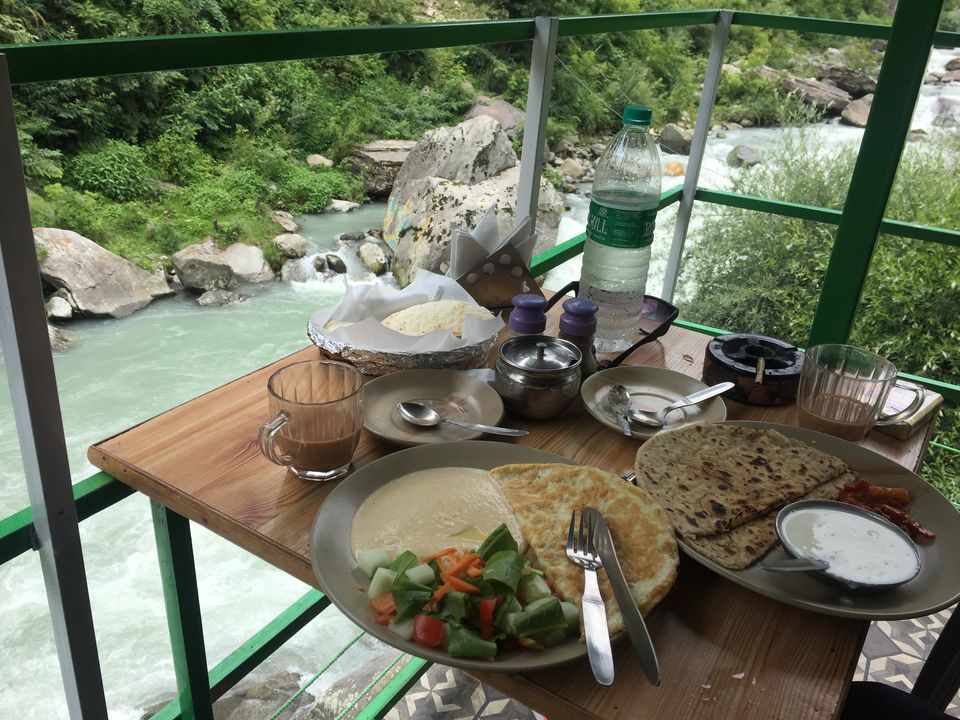 Day 2 : We started early morning around 7 am in search of bikes rent . I had done my homework before I could rely on anyone's service . BRM is quite popular for its excellent condition bikes and services . We rented it from Himalayan Garage . We took a 500cc dual-stroke Enfield . 350 cc was not an option as it was monsoon and also for travelling the terrains in Spiti your bike needs power so as the rider . It is very important for the rider to choose the right bike and make sure you carry spare parts and tool-kit for any hassles on the road .
Bike Rent : 500cc can range upto 1200 – 1500 INR/day with a security deposit of 10k-12k (refundable) . Don't compromise on bike conditions . As your bike would be your GOD for your entire trip . You need road permit to cross Rohtang Pass which is only valid for a day . You can arrange the same from http://admis.hp.nic.in/ngtkullu or you can ask the bike renter to arrange the same for you .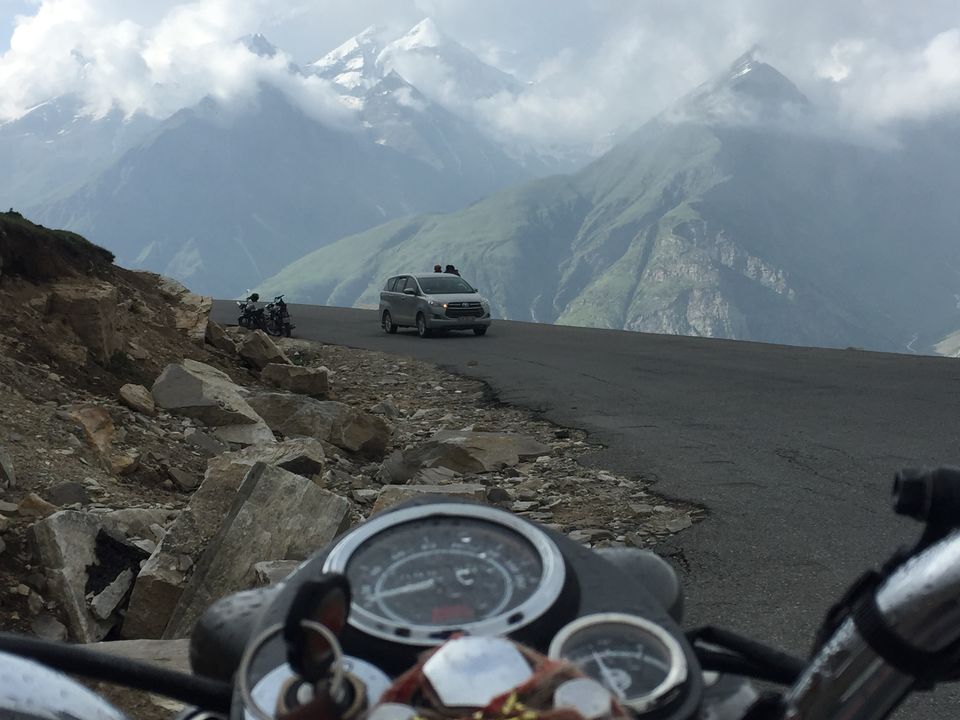 Heads-up : Tuesdays Rohtang Pass is closed . Make sure your travel dates align this .
From Manali to Kaza it is just 201 Kms . Due to extreme road conditions riders (including cars) takes around 11-15 hrs .
Day 3 : We started around 10 am which was quite late to reach Kaza keeping the time frame in head . So we took a pleasant ride to Rohtang Pass which is like 51 kms from Manali . It was bone shivering so dont forget to put on warm clothes and gloves to avoid cramps .
Spending couple of hours in Rohtang Pass we headed down and reached Koskar , a small and beautiful village which comes on the way to Keylong and Leh Ladakh . This is a diversion of around 5 Kms from the road you need to take for Chatru .
Day 4 : We left Koskar early morning after having the best Aloo paatha in the village for breakfast around 9 am . Our next destination would be Chatru which is around 17.3 kms.
As locals says do avoid the roads post 1pm – 4 pm as the ice melts vigorously between this time and Chatru has the most dangerous roads with over 25-30 waterfalls . When I say waterfalls , Riders please dont think its just a view to overcome . The roads are treacherous with small and huge pebbles and thigh height water through which you need to make your way . The ride is difficult definitely if you are a solo traveler . If you are two one has to make its way through the bone chilling water and also can help pushing the bike through the road.
Make sure you are already mentally prepared to meet no roads and only water in this area till you cross Chota Dhara and reach Lahaul .
There are no phone services or electricity at Batal . In the Spiti Valley only BSNL phones work .
Short breaks and we reached Chatru where you can have your lunch . Travelling through beautiful terrains and valleys we reached Batal .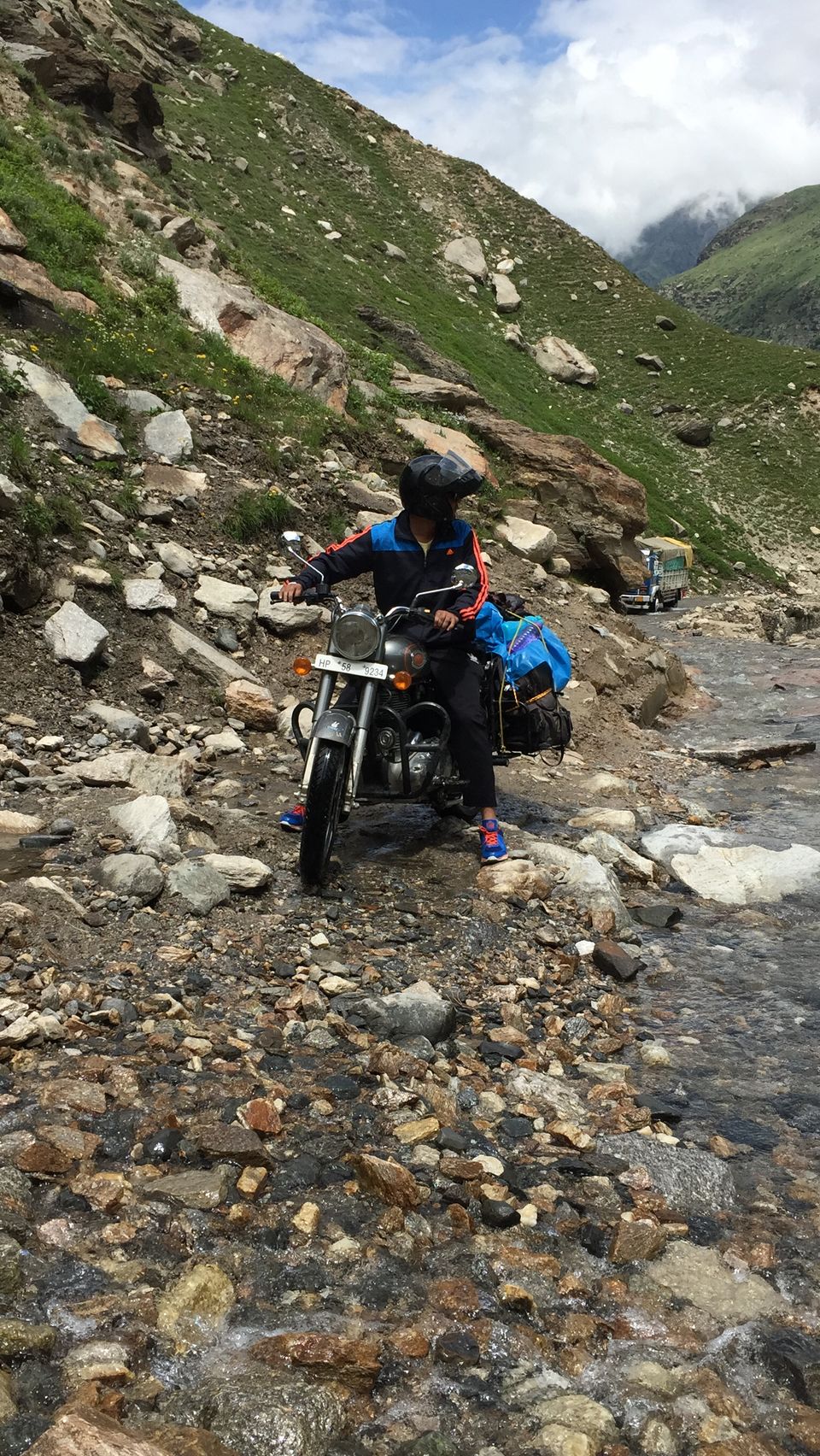 The roads gets better ( metal roads ) only before 20 kms from reaching Kaza .
Day 5 : Our ride from Batal to Kaza had another break where we visited Chandratal Lake before Kaza . You can visit the same while coming back from Kaza too . Please follow my post Way to Heaven for details about how to reach Chandratal lake .

Day 6 : We left Chandratal around 11 am and started our journey to Kaza . So from Chandratal you reach Kaza via Kunzun Pass , Lahaul and couple of beautiful villages like Hansa , Pangong etc. We reached Kaza around 5 pm . The best part of riding your own vehicle is you can enjoy your trip the way you want .
The second check post after Rohtang would be at Lahaul. Dont forget to check in .
At Kaza the hotels were quite packed and it was worse at night . You can book hotels prior or again give your luck a chance . You would find Zostel in Kaza too . Home stay Cost : 500-1000 INR . Variety of foods are available at Kaza . So, you can engage yourself into awesome food breaks at Himalayan Cafe , Kaza.
Petrol Pump the most important for travelers is available . After Manali , Kaza is the next stop for petrol so better you carry an extra 5 ltrs along with a full tank from Manali ( 500 cc Enfield ) .
The time we reached there I had headache and mild nausea due to the altitude. I could not eat much at the night. I was better in the morning. Please do carry medicines and keep yourself enough hydrated during this trip . Spiti as desert terrains have very less greenery hence oxygen level is not sufficient for an adult.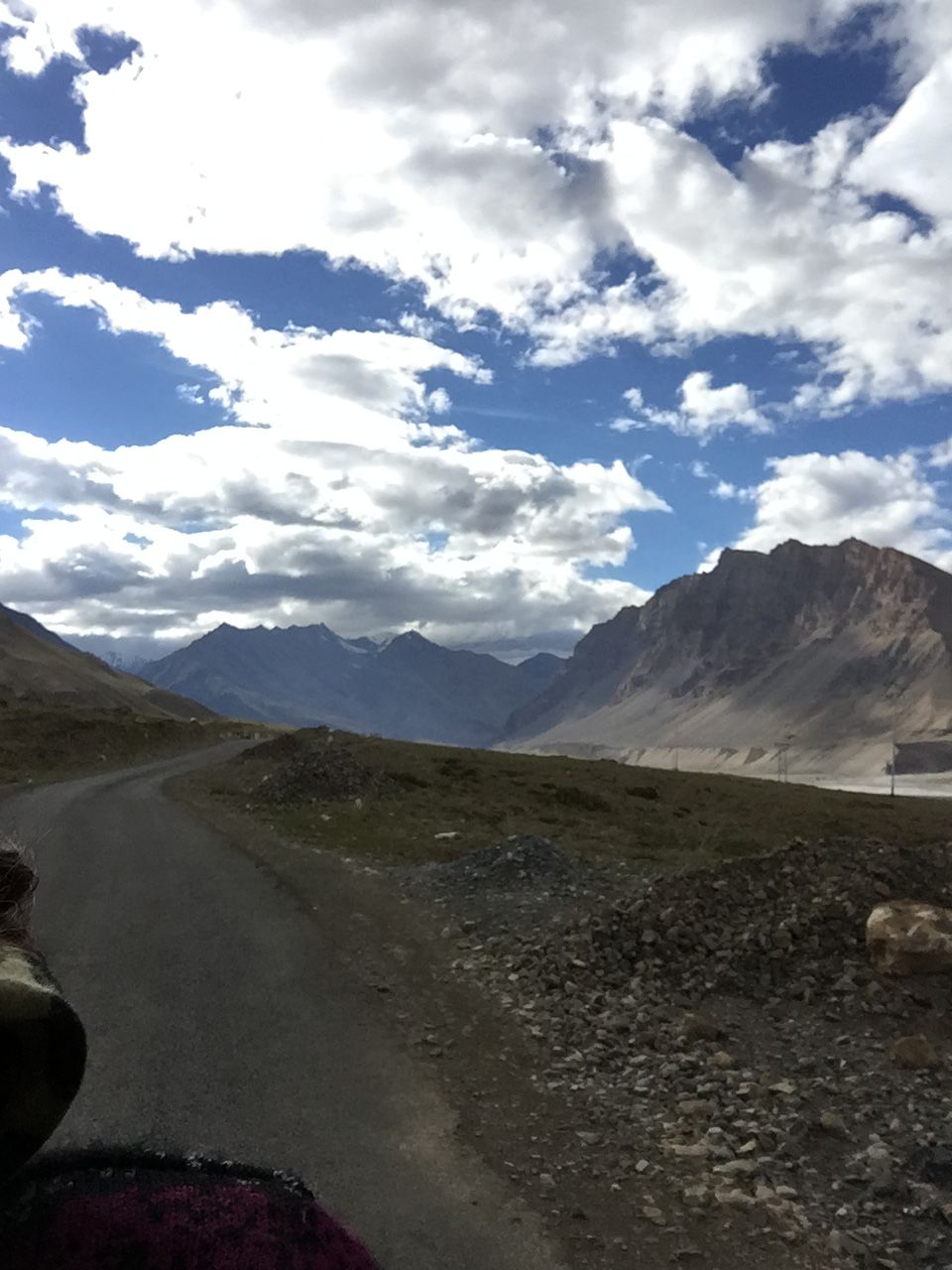 Day 7 : After 7 days of travelling we were quite exhausted so we thought we would give ourselves a little rest and take the day to chill . However for that day we thought to cover Dhankar monastery and lake and Key Gompa . 47 kms frow Kaza we reached the place . Pretty descent roads and beautiful terrains on the way . We reached the monastery which first looked like a abandoned yet well maintained village .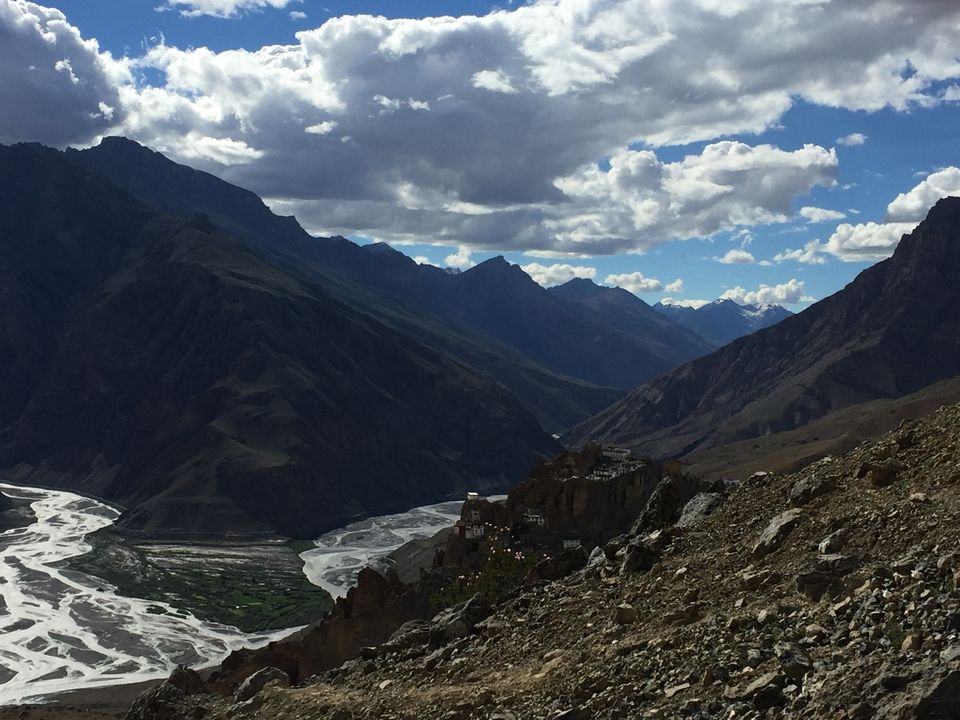 Dhankar Lake : This mythical lake is a trek away from the monastery . Now guys the trek stretches around 3 kms from the monastery . The only challenge to reach this lake is the heat and scarcity of oxygen . So please be well prepared and carry sunglasses , enough water and cap . Average time taken is 1 hr to reach the lake . There are no sheds around the lake . Do carry food too if you are planning to stay for long beside the lake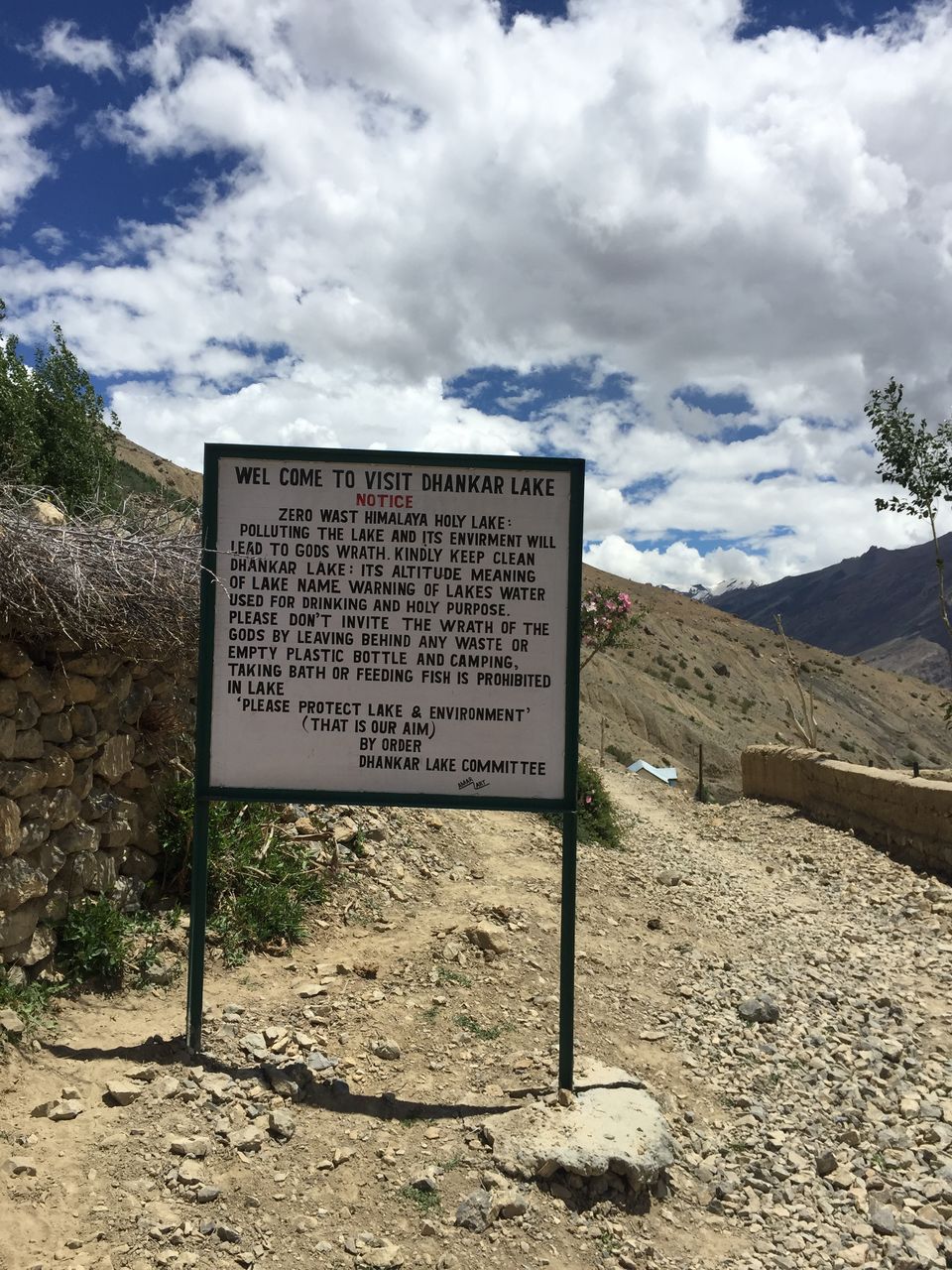 Day 8 : We planned this day to visit Kibber monastery (14 kms) and Sakya Tangyud Monastery which is located at a distance of 4 Kms from Kaza. This place is a popular destination among those practicing Buddhism .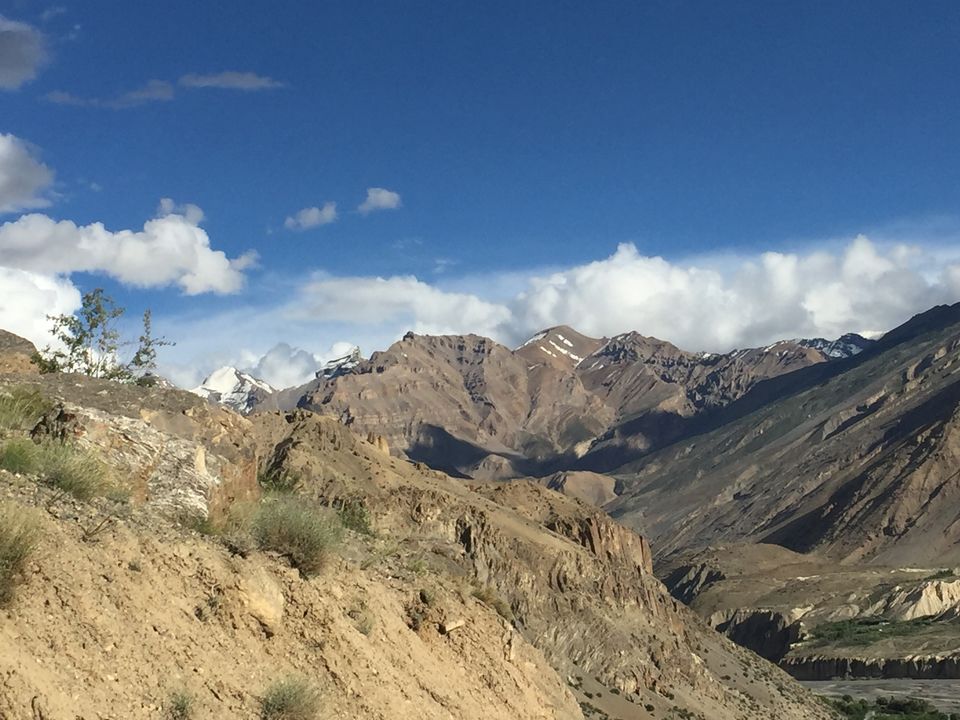 Day 9 : We started from Kaza around 8 am and reached Manali at one shot . Time taken : 13hrs . We enjoyed our stay back at Manali and the next day we started for Parvati Valley .
Warm clothes ,
Bike gears ,
7-8 pairs of socks ,
Caps ,
Vaselin for body and lips ,
Mask ,
Suns-scream lotion ,
Polythene s cover your foot while crossing waterfalls or rent boots on the way ,
Waterproof luggage's ,
Tablets for headaches or any breathing problem ,
Volini Sprays ,
Gloves ,
Enough food that will keep you hydrated .
Please carry less clothes and make sure the luggage weight is equally distributed .
Make sure you have a safe ride and do write to me if my post was of any help to reach your dreamland .
Love and Light .
Frequent Searches Leading To This Page:-
manali food restaurants, places to eat in manali, activities to do in manali, manali itinerary for 3 days, manali trip from delhi, where to stay in old manali, top manali tour packages with prices from delhi