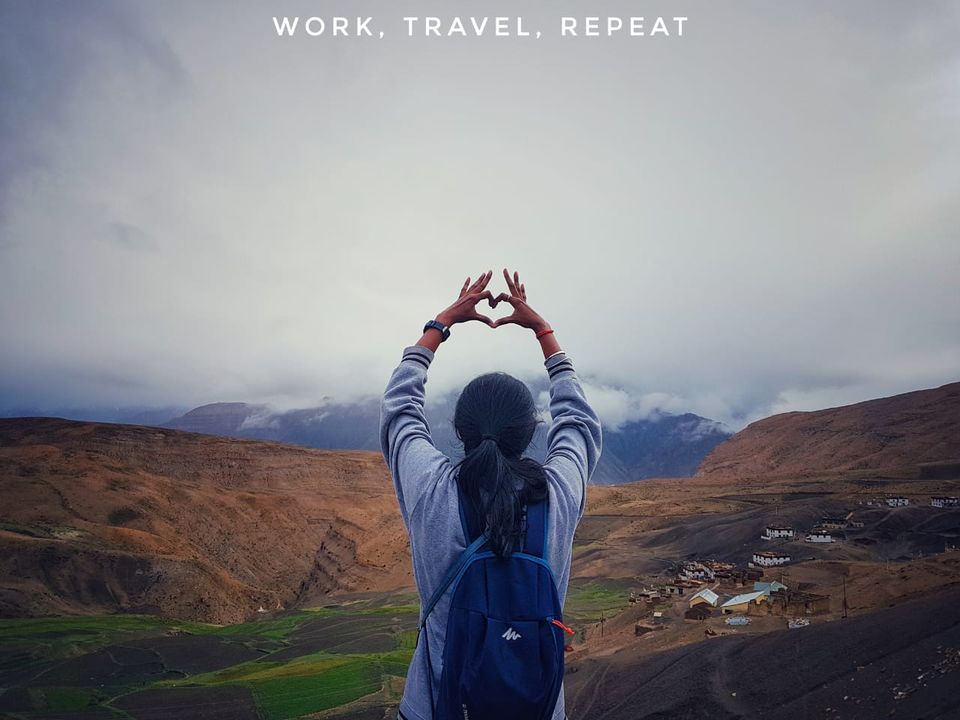 Travelling and wandering is my cup of tea, coffee, juice. It's been four years since I started travelling. But this time I was totally unplanned for the trip to Spiti valley. One of my good friend was planning for a solo trip and I was the add on in his solo trip. I hope he has no regrets of taking me with him on this trip. In fact I would like to say a big thanks to that wandering soul, because he is the one who always inspired me to travel and explore. So my dear folks, I'm going to take you through my Spiti trip, it might be a short and crisp summary of my trip. If you guys want to read my entire journey, so you can catch me on my blog, wandersay.wordpress.com.
From let's say may, I was reading, listening and watching about Spiti valley. The cold dessert of India. Every time I watched photographs of Spiti I was left speechless. Natural beauty, mountains, empty roads and that sparkling sunshine fascinates me. One day my friend told me that he is planning for Spiti. I was like ok dude, enjoy have Fun. I never had anything in my mind that I could join him in this trip. Later on one more member added in that trip and they both booked their tickets. Before they went for this trip, I was dying to join them. I realize that sayali, you need a break from this daily routine and you have to do it. Friday 29 June 2018, 4.30 pm was boarding time of their train and on Thursday, my friend casually asked me hey would you like to join us? There I'm. Without wasting a second I said yes. Somehow my 'shiddat' worked out. We checked train bookings and everything was done in last few hours. Right from bag packing to ticket booking. Mom dad also amazed watching me like this. Cause I never went on this kind of unplanned trip. But without any cross question, they allowed me and we went to Spiti.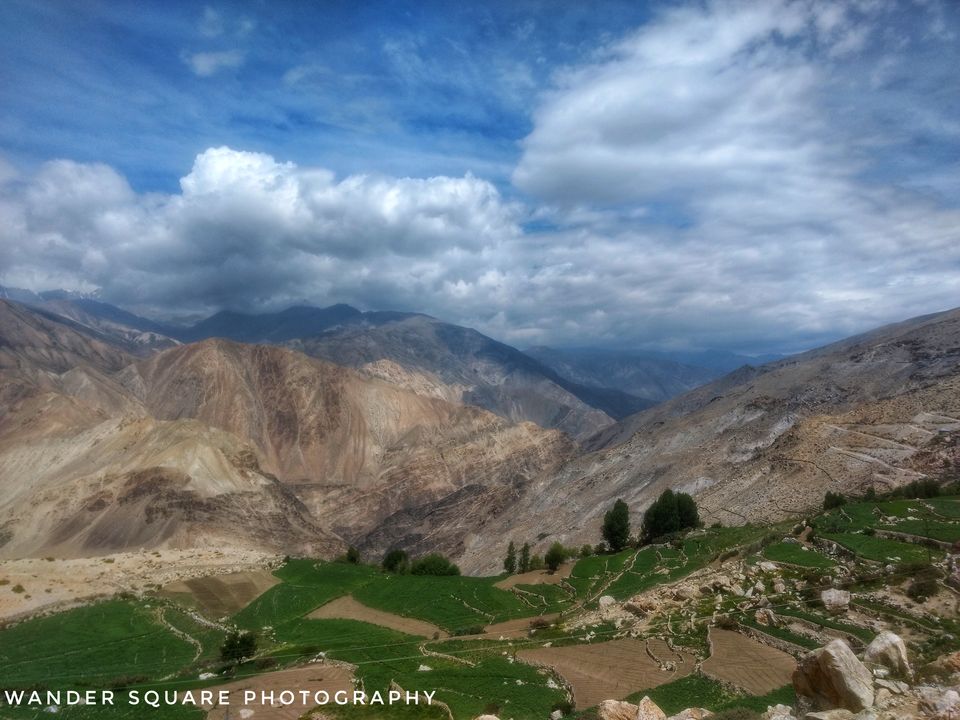 Our journey started from Mumbai. From there we went to Delhi, Chandigarh and from Chandigarh we took a public transport bus to Himachal Pradesh (reckong peo). Himachal Pradesh or as they say 'Devbhumi Himachal' is always there on my wish list and I was damn happy cause I was there, right in front of huge mountains, deep valley. we kick started our journey from there, and went to kalpa. roghi. these are the small yet so beautiful villages. From there we headed towards kaza, which was our base camp. Basically kaza is a junction you can say. From here you'll get may accommodation options to roam around the Spiti valley.
Kaza, Key, kibber, komick, hikkim, langza, tabo, dhankar, Nako are the places or you say villages which comes under the belt of Spiti valley. We went to visit those places on my dream ride. That is royal Enfield. For me sitting on royal Enfield is like 'Shaan', Pride. Yes I'm a die hard fan of Enfield And getting chance to roam around Spiti that too on an Enfield with truly passionate Wanderer was cherry on a cake. Monasteries, bridges built by BRO and love showered by locals was beyond our imagination.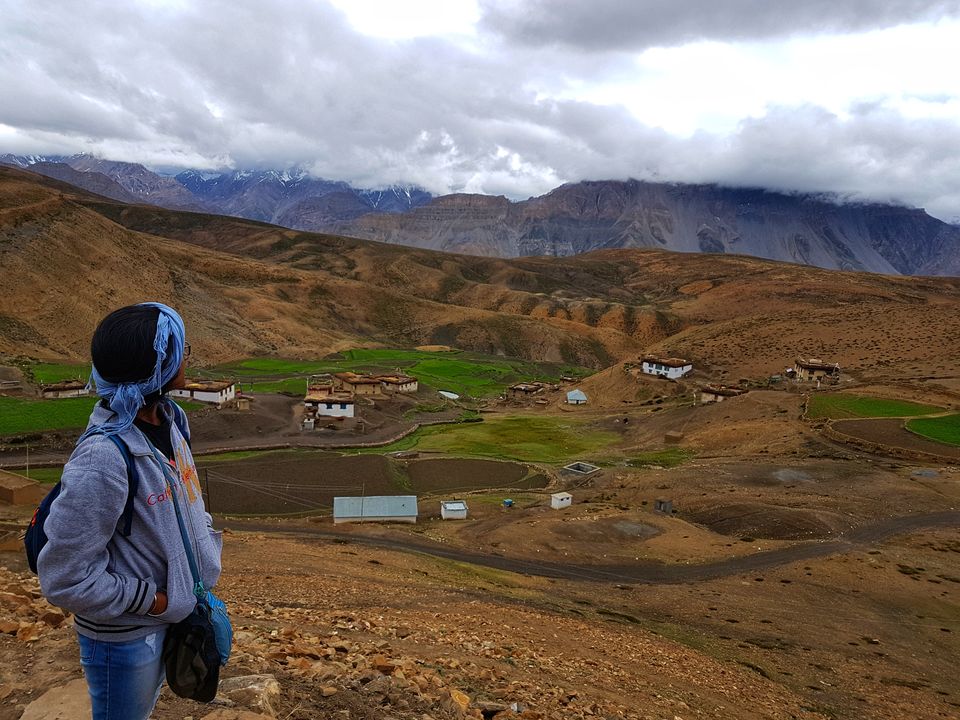 Two and a half days stay in kaza made me feel like I belong to that place. It might be a sugarcoated sentence but yeah! I literally fell for kaza, Spiti.... That peaceful place.
After exploring kaza we went to see chandratal the moon lake. and from there we traveled through one of the dangerous roads in the world. Which comes in Chandratal to Manali route. Kaza to Chandratal journey was also unforgettable. Cause here we 11 wanderers, who doesn't even know each other's name, were traveling like a single group. It felt so good that wandering community don't ask for your profession of anything. It just tests your passion for traveling and exploring. Even in kaza I saw many foreigners who greet us, shook hands with us and wished us for a better journey.after watching mesmerizing Chandratal lake we headed towards Manali. before that we took a halt in batal. actually it was a lunch break, where everyone1s near and dear chacha and chachi fullfilled our hunger with plate full of steaming rice and rajma daal. and this was an alarm to remind me that trip is about to end in few hours. For next few seconds I was just stayed quiet, cause I don't wanted to leave that place. But as someone says, you have to move on.... Cause something better is waiting for you. And we moved on.
After reaching Manali, we were in completely different world. A bit crowded place where families and newly weds couples were roaming around. Everyone was having fun everyone was enjoying that Manali trans. There we visited few more monestries and hadimba temple. As compare to new Manali I would go for old one. Peaceful and bit away from hustle bustle.
That's it, Manali was our exit point from that beautiful place. We headed towards Delhi from a bus. That runs overnight from Manali. It was Approximately 15 hours journey runing by the river side. I just can't afford to miss that so most part of that journey I didn't even sleep. Ha there are some exceptions.
Himachal Pradesh road transport bus dropped us at Kashmiri gate, From where we went to hunt some of the Delhi places. And around 4 PM we boarded a train, from Nizamuddin. I can't even express that moment, cause tears were just dropping from corner of my eyelashes, I tried to hide them but I was unable to do so. Finally I went to the door, from where I spotted that things are going far away from us and again city of dreams was waiting for us to manage some new challenges. I wiped my tears and promised myself that I'll be back soon on the same route... Or might be some other route... Till then I'm happy that my #Spitiful_Experience is with me....
#wandersay
#get_set_wander