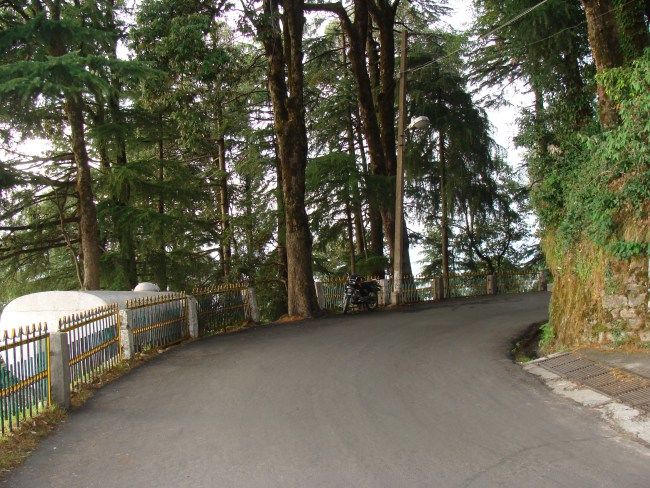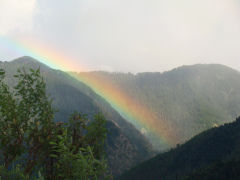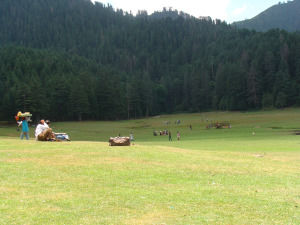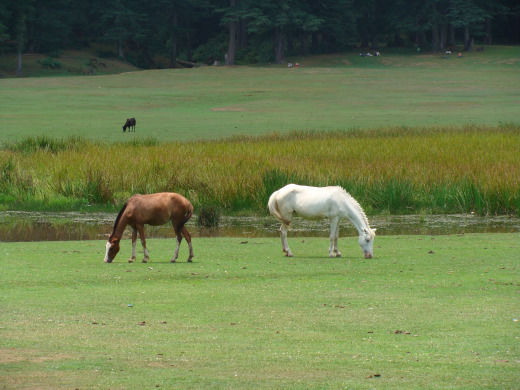 Dalhousie – a hill station in Himachal Pradesh surrounded by snow- capped peaks has its own magical charm. It still gives one a very colonial feel. Unlike other hills, it remains uncrowded and less noisy. The serene walk ways all over the station let you walk in parallel with the magnificent Dhauladhar ranges. To be honest, the walk ways are the most exquisite feature of Dalhousie.
The evergreen coniferous trees, scaling up to heights of 40 to 50 meters stand with their heads held high- a proud sight with the beautiful queen nestled safely in midst. There is not much to do here as a tourist except relishing the proximity to nature. In today's data driven and fast paced world, it is like visiting your grand-parents who have been able to keep their abode free from the wireless data flowing. Well, chances are there wont be much of social internet networking, but the silver lining is that it would leave you to interact with the people around you physically, something which we are missing on nowadays.
Hence in a nutshell its WALK and TALK with your Buddies! Dalhousie is all about walking those roads free from traffic,noise and pollution and filling your lungs with much-needed cleaner air.
The lovely sitting shelters made for the commuters is such a thoughtful addition by the authorities. Its so quite and peaceful with the freshness and chill in air and birds chirping all around. One can sit for hours with a book and enjoy the calmness of the mountains that stand ahead in sight. A cherry on the cake would be sighting a beautiful rainbow somewhere. No words can do justice to that experience. The nature is all you have for company…a divine feeling!! You feel truly blessed to be in the presence of such a sight.
24kms from Dalhousie is Khajjiar – the officially proclaimed "Mini Switzerland of India". It is a saucer shaped green patch encircled by Deodar trees. As you drive from Dalhousie to Khajjiar (one hell of a ride) with all the swinging to and fro within the car and making occasional stops to pick up amazing natural pine cones(once back home, you can paint your own rainbow on them!), the beautiful scenery starts to unravel as we move closer. There is a strong eagerness to reach the destination. And then from some height the curtain is raised and far down there, a small green carpet is seen. As the car descends the trail, you keep getting close to Mini Switzerland. The lush green patch is a nice picnic spot.
I would not really call it the Mini Switzerland but that's the closest one can get to the Swiss without the hassles of a Schengen Visa! Its an open space for just lazing around and grabbing some junk food goodies. Yes, being totally a tourist haven, there are local vendors out there ready to make a hole in your pocket for even a simple water bottle. With the horses gazing (unfortunately not the Swiss cows) all over the place, there are a few spots that would create a perfect postcard – one which you would be interested in sending to your long distant relative and exaggerating about the Swiss experience.
One word of caution for those reading this – the experience that you derive out of Khajjiar could be very diverse depending on when you visit the place. It is simply exquisite during or just after the monsoons but I would not recommend a summer visit as the lush greenery seems to be missing and looks quite dull. Even if you do plan a summer visit, I would suggest travel with good company of friends which would still make the journey worthwhile.
Dalhousie on the other hand stays pristine throughout the year! I have been there twice during different seasons and loved it all the same!
So to summarize, the journey from Dalhousie to Khajjiar that I undertook in July (monsoons) remains a beautiful memory and I would ask all the readers to definitely experience it once.