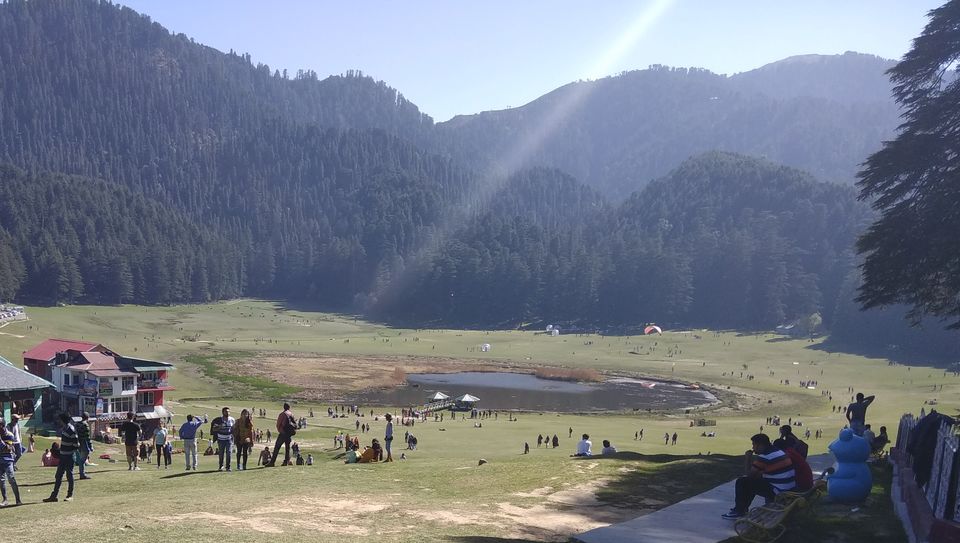 I had heard a lot about Khajjiar being called Mini Switzerland, and I was very excited to check it out on our trip to Dalhousie. A huge lush green meadow with a lake, ringed by dense forests – what's not to love about it, right?

YOU CAN ALSO READ - DALHOUSIE TRAVEL GUIDE

About Khajjiar
The quaint hill station of Khajjiar is popularly known as India's Switzerland as well Gulmarg of Himachal. Khajjiar is a nature lover's heaven with picturesque vast meadows, dense deodar forests and some majestic views of snow-capped mountains. Khajjiar is situated at a height of 6500 feet and bestowed with natural beauty and a pleasant climate. There are various adventurous activities to do here such as paragliding and trekking, making it a popular hill station for tourists.
Mini Switzerland
As to why it is called Switzerland of India, here's the reason - On 7 July 1992, Mr. Willy T. Blazer, Vice Counselor and Head of Chancery of Switzerland in India brought Khajjiar on the world tourism map by calling it "Mini Switzerland". He also put a sign board of a yellow Swiss hiking footpath showing Khajjiar's distance from the Swiss capital Berne-6194 km. Khajjiar is among the 160 locations in the world that bear topographical resemblance with Switzerland. The Counselor also took from Khajjiar a stone which will form part of a stone collage around the Swiss Parliament to remind the visitors of Khajjiar as a "Mini Switzerland of India".
How to reach Khajjiar
By Road
From Delhi, Khajjiar is connected by road and is 520 km from New Delhi. You can drive your car to reach Khajjiar.
From Dalhouisie, Khajjiar is around 25 km from Dalhousie. By road, you can drive your cab or you can take a cab from Dalhousie to reach Khajjiar. It takes an hour or so to reach Khajjiar.
By Rail
The nearest station to Khajjiar is Phatankot. It is around 120 km away, and you have to take a cab or a bus to reach Khajjiar.
By Air
The nearest airport to Khajjiar is Kangra Airport. It is around 180 km from Khajjiar. From there, you will have to take a cab to reach Khajjiar.
Best time to visit
SUMMER – The best time to visit Khajjiar is between March and June. The summer months enable you to enjoy sightseeing as well as various activities such as paragliding and zorbing. The weather is warm yet pleasant and the nights are cool. However, the sun may be too harsh sometimes, and you should carry a sun hat to beat the sun. Tourism in summers is at its peak and I'll advise you to pre book your hotel rooms.
MONSOON – The months from July to September constitute the monsoon seasons. Unlike most of the hill stations, Khajjiar can be visited during the monsoon season. It is actually the season where the place comes alive. Though it does rain here, it does not pose any threat of landslides, etc to the tourists. Khajjiar gets rejuvenated, adding to its charm. Visit Khajjiar in these months to truly know why it is called the Switzerland of India.
WINTER – Starting from October, Khajjiar experiences the winters till March. The weather is extremely cold and it snows too. For the snow lovers, this is the best time to visit Khajjiar. However, it may be difficult to reach Khajjiar at this time, and there may not be many options for your accommodation.
Where to stay in Khajjiar
Most tourists who visit Khajjiar choose to stay in Dalhousie. There are tons of hotels so there isn't any problem in finding accommodation there. However, to truly soak in the essence of Khajjiar, I recommend that you stay in Khajjiar itself. There are accommodations suiting every budget in Khajjiar. For a luxurious stay, you can opt to stay at Deodar Manor or Hotel Royal Residency.

For those seeking local hospitability, there is a hotel and some cottages run by HP Tourism at Khajjiar where the tourists can stay. Besides that, there are two rest houses one each of P.W.D. and Forest Deptt. There are also various homestays. You can consider Anjali Homestay Or Puri Guesthouse.

For those on a budget, you can choose to stay at Hotel Mini Swiss.

MY KHAJJIAR EXPERIENCE
We started from Dalhousie early morning; Khajjiar is at a distance of 25 km. It took us about an hour to reach Khajjiar. The drive was very beautiful. However, by the time we reached there, the traffic was horrible. There was a long line of cars waiting, and it took us about an hour to actually park our car. Just by looking at the number of cars, I knew that this place was not for me. I could already feel that Khajjiar would turn out to be some over-crowded and over hyped hill station.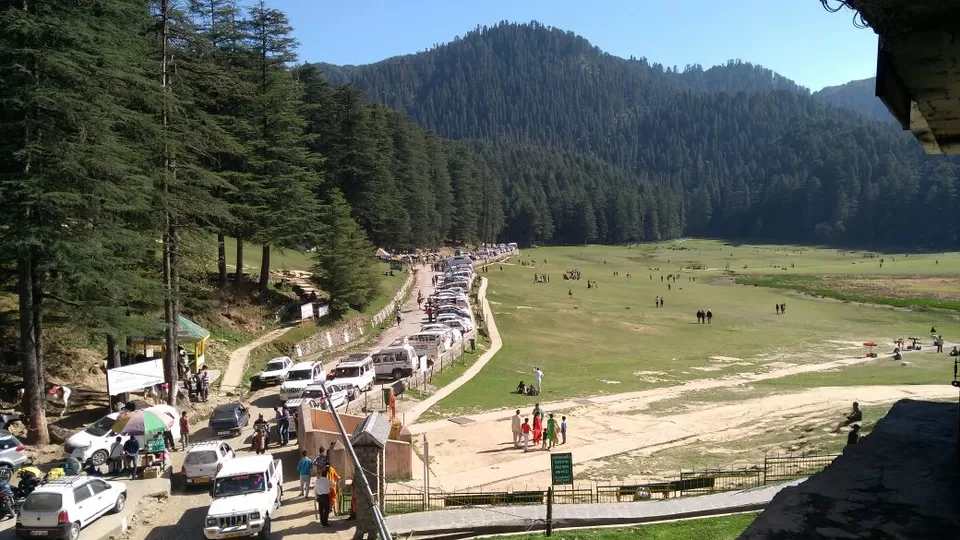 As we made our way to Khajjiar, the view took my breath away. The uniquely saucer shaped meadow surrounded by dense Deodar forests with a lake in the middle was just picture perfect. Also, I couldn't help but notice that Khajjiar has a rare combination of three ecosystems – forest, pasture and lake. Since Khajjiar is situated at the base of the Dauladhar mountains, I was able to get panoramic views of the mountains.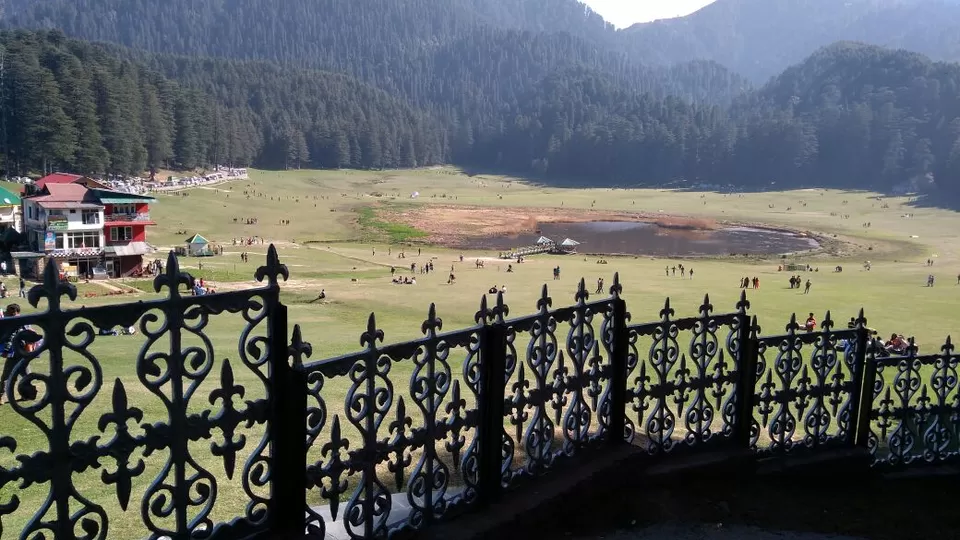 I wish that the picture perfect destination was everything I had hoped it would be. But it was not. It was sweltering, and there is no place here to escape the heat. And talking about escaping, if you want to have some peace and quiet and escape the 'people', then this place is not for you. There are hundreds of tourists here, kids running around screaming, families having picnics.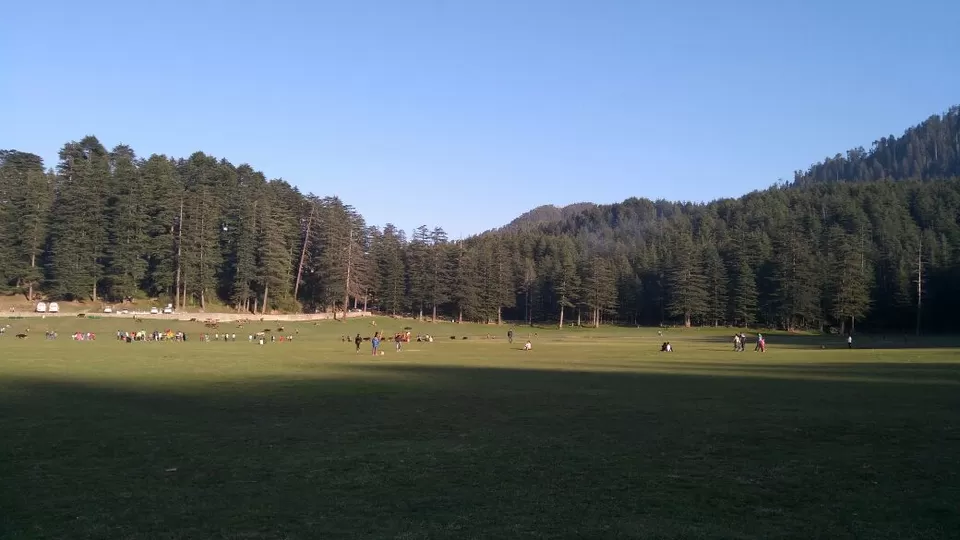 Also, the Khajjiar Lake at the centre of this landscape looked quite dry and unkempt. Apparently, the major attraction of the place is the island that floats, which is actually a cluster of grass growing on the lake's surface. But there was no grass – just garbage everywhere. It should have been managed better by the tourism department.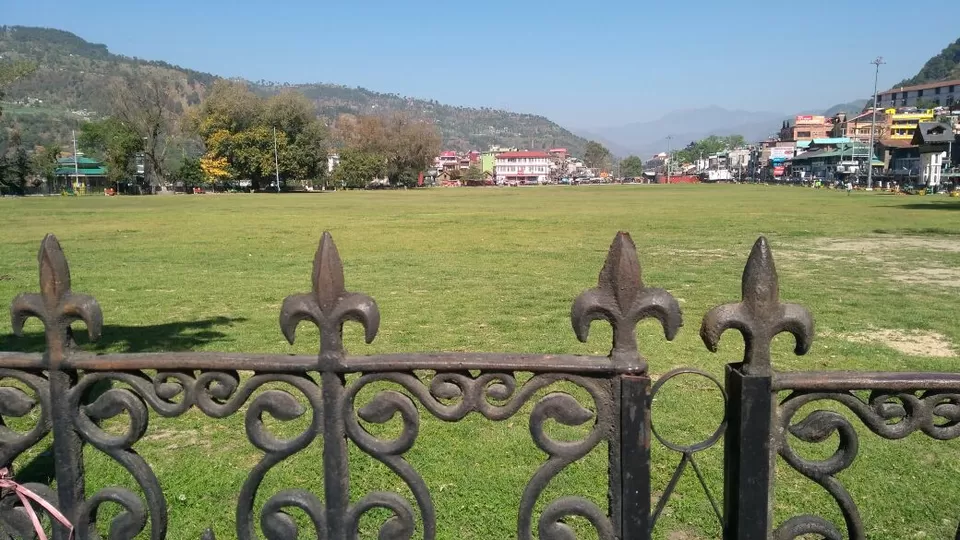 Since the sun was too harsh, we decided to first grab some lunch. We headed to the Government Hotel called Devdar Hotel. We actually had our brunch there. Service was slow, and the food was just okay. We stayed there till the weather improved.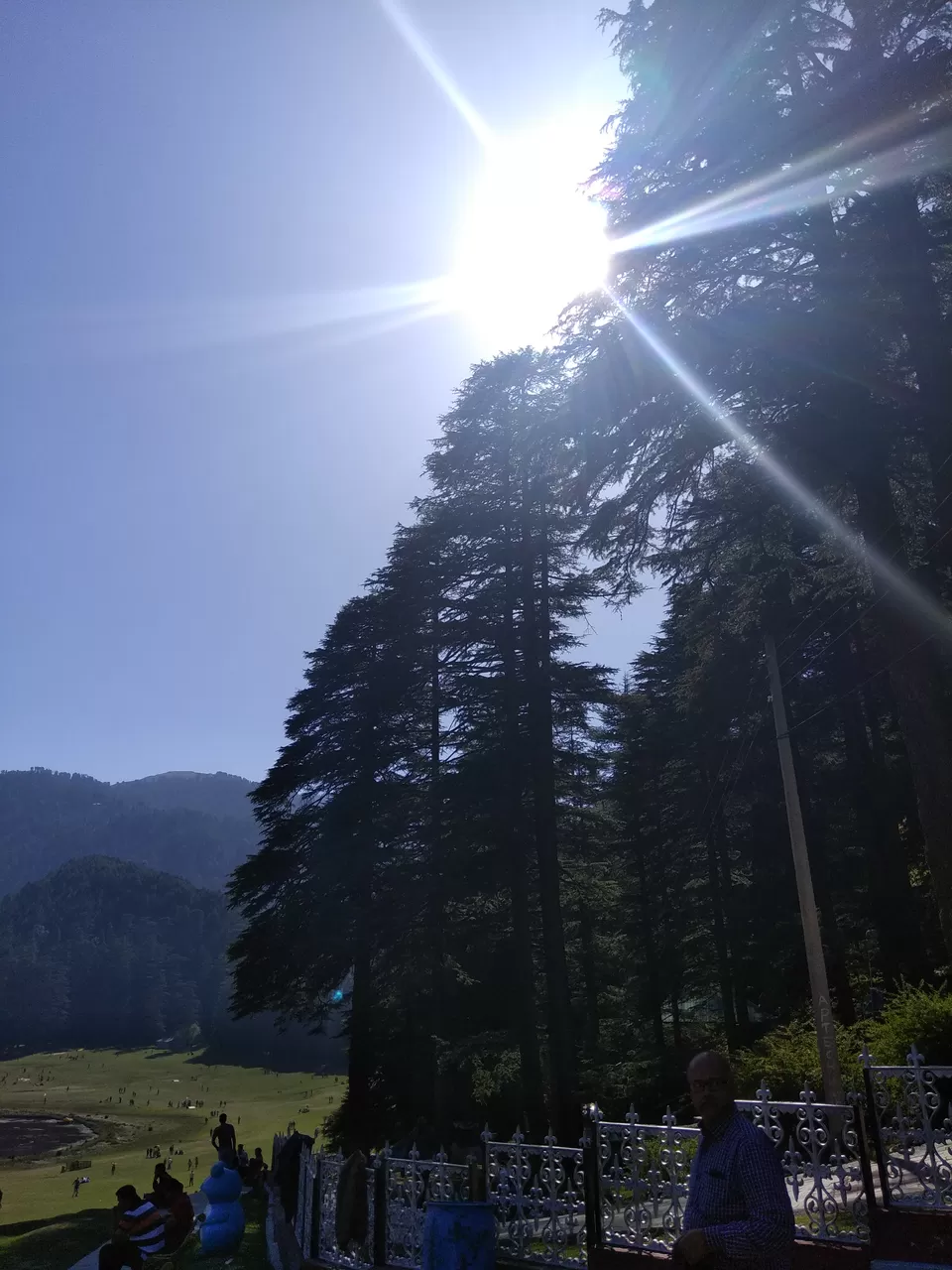 Rather than being dispirited, I decided to make the most out of my trip. While there are tons of things to do in Khajjiar, it is primarily a family picnic spot. Most of the activities here are aimed towards kids. You can see popular activities like paragliding, zorbing and horse riding here. The downhill slopes makes it a perfect place for zorbing.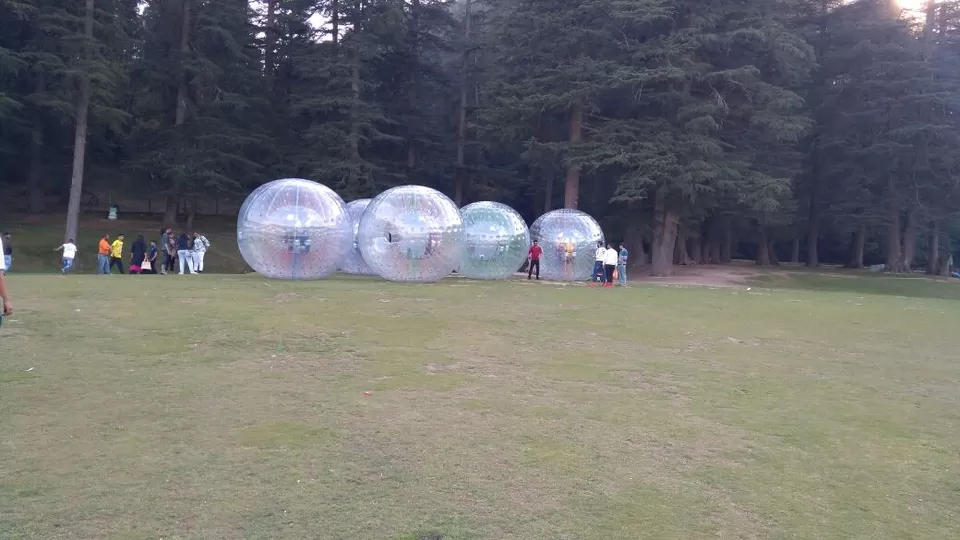 Once the sun began to set, and the heat subsided a bit, I took a stroll around the meadow. I soon saw the Khaji Nag temple. The temple is nestled near the houses and the restaurants in the meadow. Legend has it that the Khaji Nag temple was constructed by the king of Chamba and is dedicated to snake worship. The Khaji Nag temple was originally established in the 12th Century and was renovated in the 16th Century. It is a temple dedicated to 'Nag Devta'. This is one of the oldest temples of Himachal Pradesh. Khaji Nag temple and the wood carvings reflect Hindu-Mughal architecture style and pattern. Resting on the bank of Khajjiar Lake, this temple boasts of idols of Shiva, Hidimba, and images of Pandava and Kaurava. And apparently, the age-old practice of goat sacrifice is still practiced here in the temple.
Moving on, I climbed the bridge to go over to the lake, only to be left disappointed. Since it was summer, the lake had dried up a bit. Even worse, it looked like no has taken care of the place in years. Talk about the star attraction being ignored.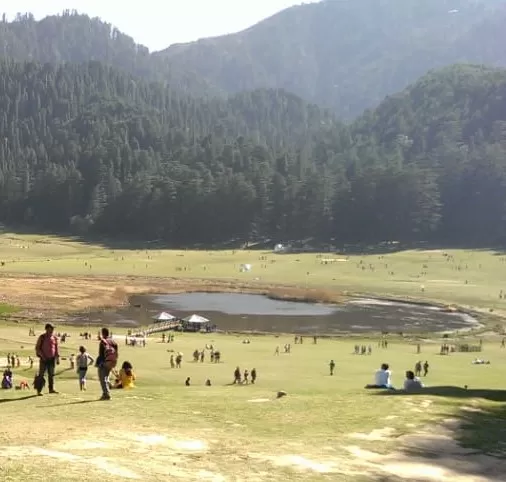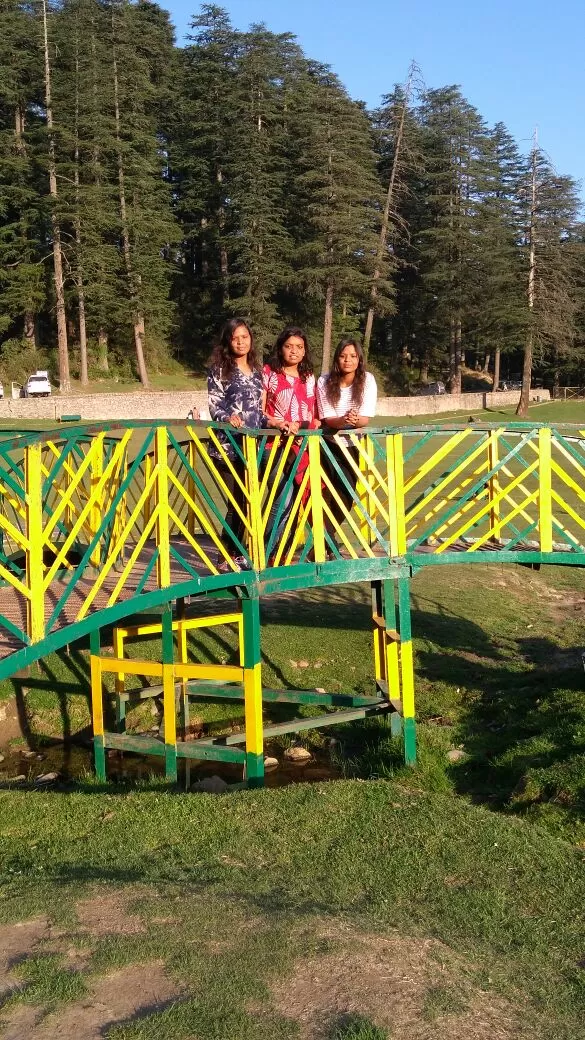 Just when I was about to lose hope in this place, I saw very cute rabbits running around me. I soon realised that there were two kids – rabbit keepers – with two more rabbits with them. It turned out that it was a very popular activity among kids to get their pictures clicked with the rabbits for Rs 10 or 20 depending on the season (just like I did at Dainkund Peak). The rabbits were too cute to resist and I naturally went and played with them for a while.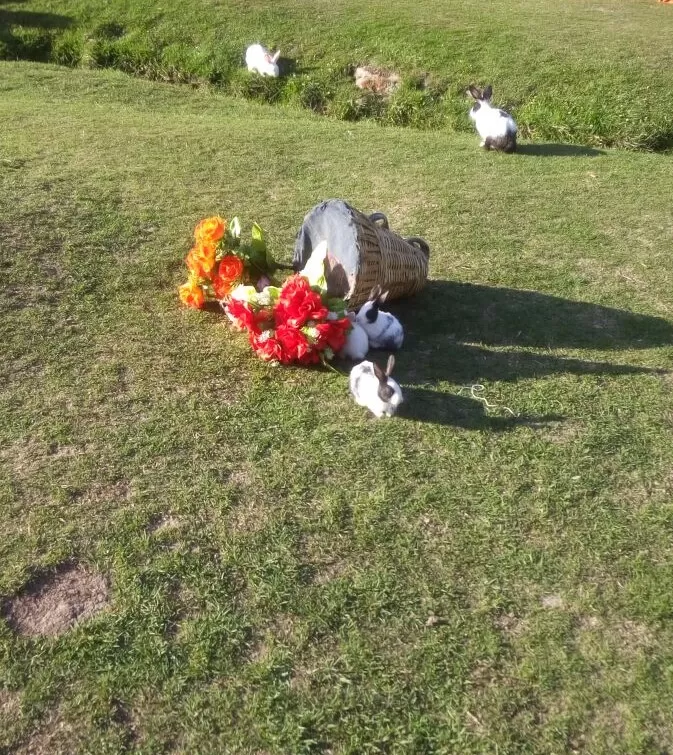 And just not rabbits, I saw a lot of sheep in the meadows too. I thought I'd try my luck with them, but nada. They just all ignored me. Call me crazy but I felt rejected.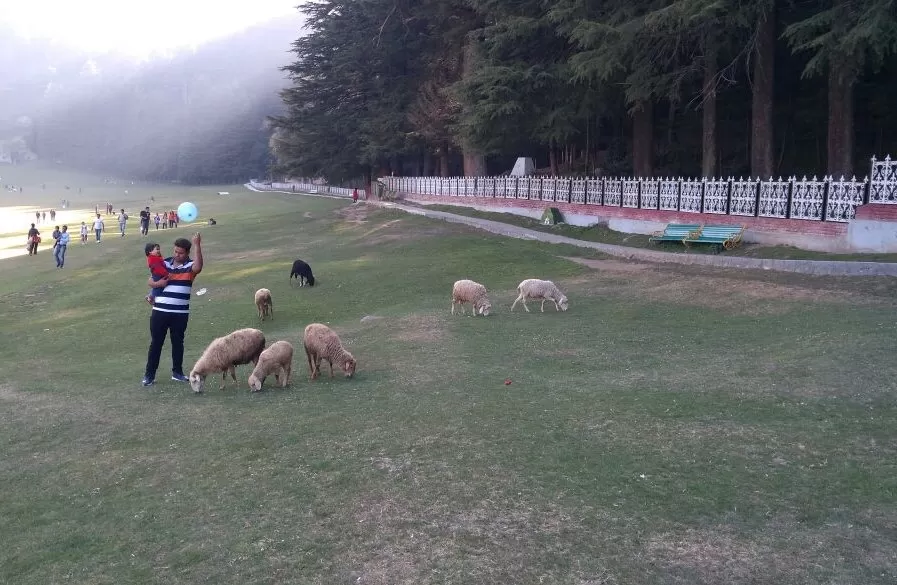 I also spent a good amount of time just patting the horses, and watching them trot around. There is a proper path defined for horses and this is one of the most popular activities to enjoy at Khajjiar. I also heard the horse owners tell the kids a few tricks to ride the horse.
You can also see the Khajji Cottage here.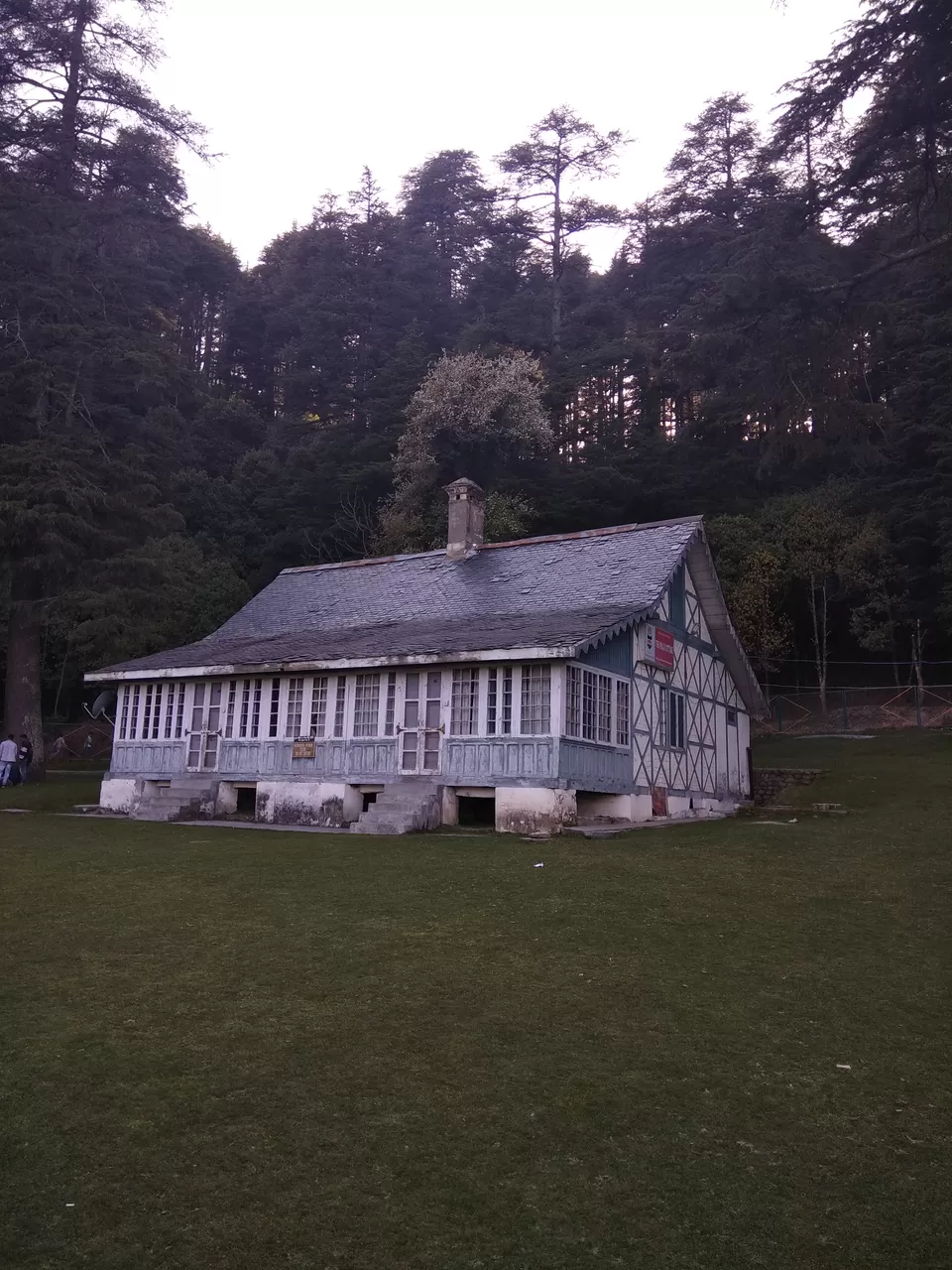 I had heard that you can also have a photo shoot in Himachali dress, but I did not see anyone offering that activity anywhere so that was a bummer.
While this hill station was not suitable for a person like me, I must admit that I could spend hours just looking at the meadow ringed by the dense forest. It is just so mesmerising. I imagined how beautiful it would in winters with snow all around. Settled on a picturesque setting amid Himalayas, and snuggled amid a thick cover of deodar and pine trees with the snow-capped Himalayas in the backdrop, Khajjiar is a delightful picnic spot for friends and family. Bring your badminton rackets, Frisbee and a football and you're guaranteed to have a great time with your family and kids.
Conclusion

Was I disappointed with Khajjiar? Not really. Though I was a bit sad that the place was a bit crowded, I could still salvage my trip. In my opinion, there was nothing wrong with the place specifically, it was just the sweltering weather that dampened my mood. If you're looking to go to Khajjiar, just make sure that it isn't insanely hot that day since there is no shelter from the sun there. Khajjiar did offer some of the best mountain views I've ever seen in my life. The major reason why I didn't enjoy my trip was because I hadn't planned it properly. I didn't know what all I could've done there. All in all, a trip to Khajjiar, if planned properly, can leave you spellbound.
My tip? If you're up for some family time, then this is perfect place to go to. Kids will absolutely love Khajjiar. There is no doubt about that.
But if you're looking for some 'me' time, then this place isn't really for you. Too many people during peak season. And I doubt you'd want to go zorbing or horse riding here. If you're looking for some peace and quiet, it's better to come in winters and enjoy the snow covered meadow. Though I doubt you can try any activity in winters and the lake would be snowed up, it hardly would make any difference since the lake is unkempt anyway. Also, there will be few tourists visiting so chances are that the whole meadow will be yours. Also, winters means no sweltering, and no sweltering means actually being able to enjoy being outdoors.
If you do plan on visiting Khajjiar during the summer season, here is a list of things (apart from strolling around, seeing the temple and the lake) to do and places to visit AND SOME TIPS to make your trip actually worthwhile.
1. Stay at Khajjiar itself.
I cannot stress it enough. There is accommodation for every budget. The sunrise and sunset at Khajjiar can be breath-taking. Do not miss the highlight of your trip.
2. Kalatop Wildlife Sanctuary
The Kalatop Khajjiar Sanctuary is a wildlife sanctuary which has a wide variety of flora and fauna. It is densely covered with Deodar and Fir forest. The place is a popular spot for picnics and trekking. The wildlife sanctuary comprises of trees like Blue Pine, Green Oak, and Rhododendron, and one can spot barking goral, Himalayan black marten, langur, jackal, bear, and leopard within the sanctuary. There are small tributaries of River Ravi, that makes this place look scenic and spectacular.
3. Explore the Kailash Villages
One of the best things to do in Khajjiar, if you have time, is to explore the quaint and scenic Kailash Villages. The villages are known for their apple orchards and are hidden in the forests. Just stroll around the villages to soak in the scenic beauty.
4. Go trekking
Khajjiar is the starting point of various treks to Dalhousie and Chamba. You can choose to trek to Dainkund Peak. Khajjiar to Dainkund is a 3.5 kilometre easy to moderate trek. The trek starts 6 kilometres from Khajjiar on the Dalhousie-Khajjiar road and ends at Pholani Devi Temple at Dainkund. This trek with a well-defined trail and moderate ascent is an excellent trek for beginners and children. The trek offers excellent views and a beautiful camping site.
5. Panch Pandav Tree
Near the rest house stands a unique tree, with six shoots. Locals believe that five of the shoots represent the five Pandavas and the sixth shoot represents Draupadi. It is one of the must see things in Khajjiar.
6. Like any popular weekend getaway, Khajjiar can be best enjoyed on a weekday.
If Khajjiar still does not appeal to you, I have a couple of suggestions for hill stations you can pay a visit to. They are -
1. Bir-Billing - Paragliding at Bir Billing is a must! Read my paragliding experience at Bir Billing here.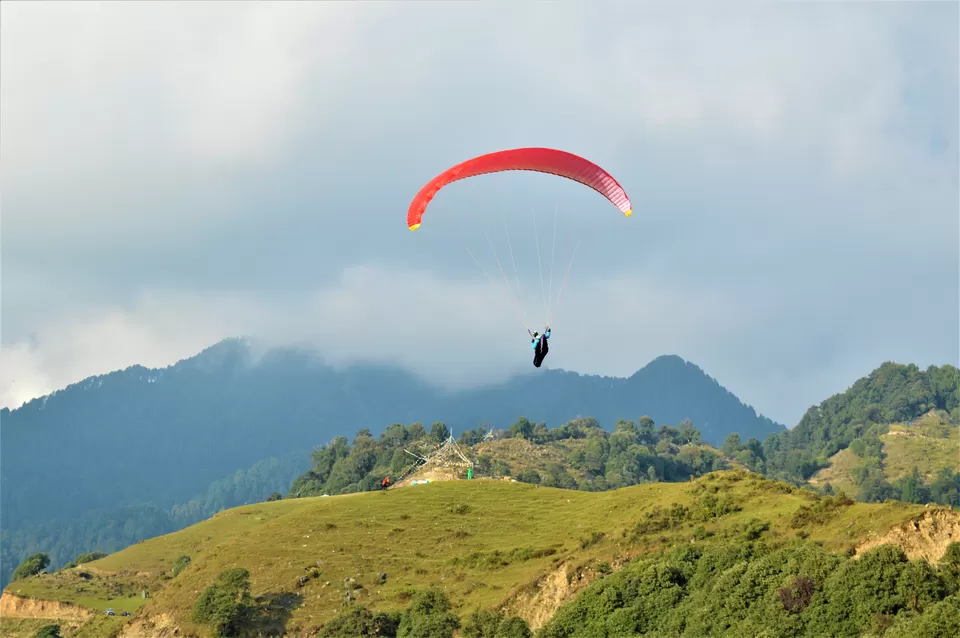 3. Sainj Valley - Himachal's best kept secret. Truly beautiful with scenic views. We had our first homestay experience here at Astha Homestay. You can read our homestay review here. And you can read my Sainj experience here.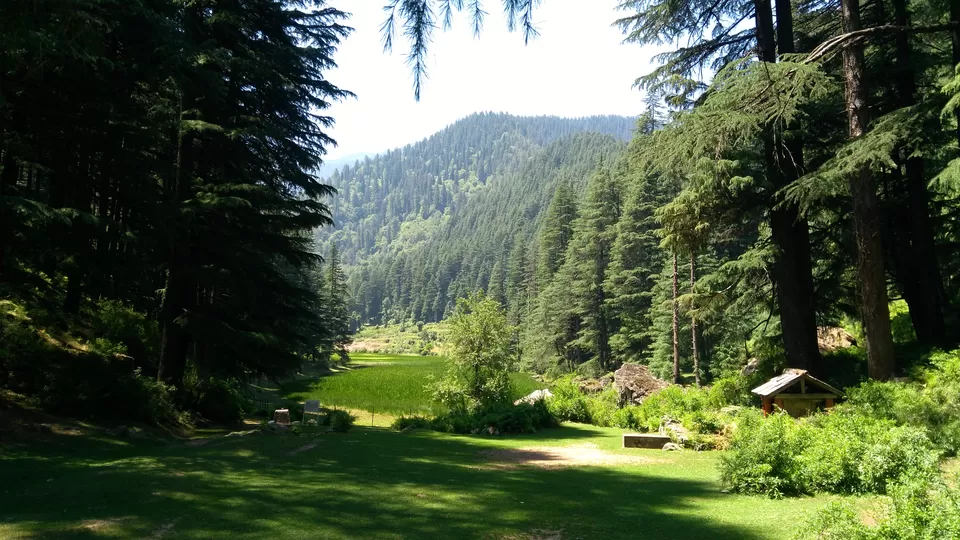 Another gem in Himachal Pradesh, Jibhi has fast become a fan favourite among travellers. Splashing in the Tirthan River, trekking to the Serolsar Lake and trout fishing are some of the things you can do in Jibhi. You can read my Jibhi adventures here.
You can read more of my travelogues at my blog.
You can also find detailed travel guides for various destinations here.
You can follow me on my Instagram account for more travel photos :)