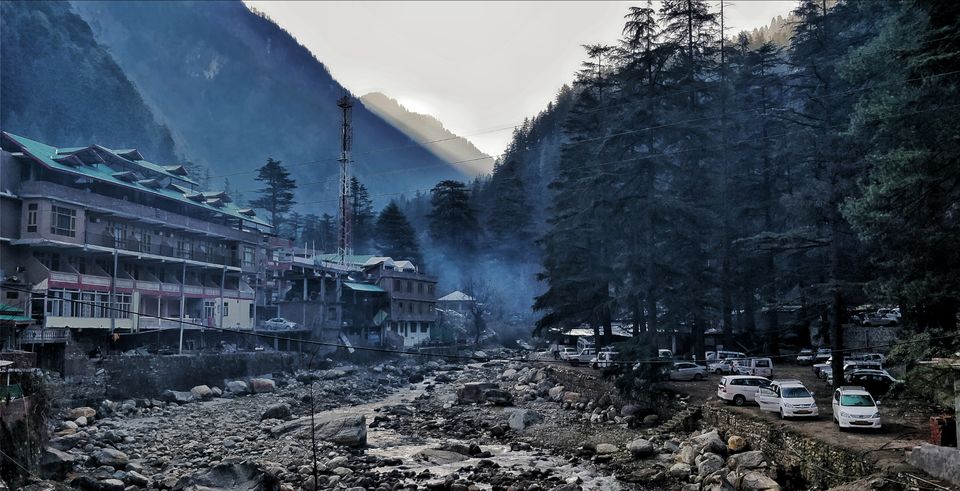 Budget - Rs. 3000 ( 1N/2D ) Includes - Ticket Cost, Stay, Food.
"We've Climbed the Mighty Mountain. I See the Valley below, and It's a Valley of Peace. 😍☺️".
It Has Been truly Said That "Curiosity Is Good. Especially about New Places!" And Yes Everytime You Plan a Trip to a New Place, You Will Be Curious about the Sceneries, Weather and Beauty of Nature You Will Witness.
Kasol Is a Hamlet in the District Kullu, Himachal Pradesh, Northern India. It Is Situated in Parvati Valley, on the Banks of the Parvati River, on the Way Between Bhuntar and Manikaran.
So, It Was the Winters of 2017, and a Long Weekend Also from 26 January to 28 January. I Had Not Planned for Any Trip for This Weekend as I Had Just Made Trip to Rajasthan Last Month. So, on 26 January, after Getting Bored Whole Day, I Finally Decided to Go Kasol. Packed My Bag and Went to Kashmiri Gate ISBT.
Getting There - Kasol Is 521 Kms Away from Delhi Which Has a Very Good Connectivity from the Capital City.
Only One Direct Bus Is There for Kasol, If You Can't Board Then Take Any Bus to Manali and Get down at Bhuntar. From Bhuntar, Buses Ply on a Direct Interval of 15-20 Minutes to Manikaran. You can Easily Book Bus through the Official HRTC Website to be on a Safer Side.
Touchdown - I Boarded a Bus to Manali at 7'40 Evening (Ticket Cost - 600) and It Dropped Me at Bhunter at 7 Am. So, I Took a Bus from Bhuntar Which Was Heading to Manikaran ( Ticket Cost - 30).
It Was January and the Winters Were on Its Peak. And It Was My Fault Didnt Checked about the Temprature and Didn't Put Cap/Gloves Etc in My Bag. The Moment Bus Started to Move Towards Kasol, the Chill (Very Chill 😫) Breeze Started to Enter the Bus. With No Cap, Gloves I Was Shivering like Hell. And the Temprature When I Got down Was -4 Degrees. Even, I Was Not Able to Hold My Mobile Phone. First Thing Was a Hat and Gloves I Bought from a Shop Which Costed Me Rs 250 ( Bargain and Bargain ).
As My Trip Was Unplanned, I Had Not Booked Any Rooms. As It Was a Long Weekend, the Crowd Was at Its Peak Which Made It Difficult for Me to Get a Room. After Strolling Here and There, a Guy Told Me That There Is One New Home Stay Opened and Can Go There. It Was Bit on a Uphill Side, 5 Mins Walk from Bus Stop.
Nice View Family Guest House - Located 5-7 Mins Walk from the Main Market Little Bit Uphill. When I Reached There, I Was Awstruck after Seeing the House. It Had Mountains on Its Back, Front and Right Side and Big Garden Area. The Homestay Was under Construction at That Time, but the Ground Floor Dorm Was Ready with Bed, Racks Which Was Enough for Me to Stay. It Costed Me 250 for a Bed.
Exploring the Hamlet - After Getting Fresh, I Went out out for Exploring the Streets. After My Lunch at Mama's Cafe, I Went for Hike at Chalal Trail, There's One Bridge That Connects the Trail to the Other Side. While Crossing the Bridge, I Passed Through a Beautiful Scenry Having Parvati River, the Snow Capped Mountains and the Trail on the Other Side. And I Know, the Photograph Doesn't Do the Justice but What I Experience While Standing There, That Matters.
After Hiking Through the Trail, I Sat on the Banks of Parvati River. Only Thing I Remember of That Time Was the Sound of River Flowing, Chirping of Birds.
For Dinner, I Went to 'shankar Riviera Restaurant' for Dinner. To My Strange, There Was Snooker Table. 🤣 I Played for Nearly an Hour or Half. The Dinner Costed Me Around 500 ( Inclusive of Snooker ).
After the Dinner, Because of Hike and the Journey, I Went to My Homestay. The Temprature at That Time Was -6 Degrees. The Bonfire Was Ignited, so Just Sat There till Midnight, Listening to Music and Staring at the Stars Which Was a Heaven Bundle for Me.

Walk to Manikaran - It Was My Second Day in Kasol, Woke up Early Morning and Started of to Manikaran. Manikaran Is 5 Kms from Kasol, so I Thought to Cover It by Walking and Enjoy the Chill Temprature, Sound of River Flow, Chirping of Birds, Fresh Air and Peace. .
Enroute I Saw One Cafe One the Other Side of the Valley. To Go There One Should Cross the Bridge -" Chojh Bridge". I Thought to Go There to Have Breakfast with the Valley View. When I Reached the Halfway to the Bridge, I Saw Towards My Right and Moment I Turned, I Was Awstruck with the Beauty . I Qiuckly Took out My Camera and Captured This Amazing Beauty.
At Last, the Time Was near to Leave the Beautiful Hamlet and Return to Daily Hassle of Life Which Is Most Disappointing Moment of Any Bagpacking Trip.
That Was All about My Budget and Unplanned Trip to Kasol. How Was It ??. Do Mention in the Comment Box.