Deep in the Himalayan highlands lies a tiny village, a village with a minuscule number of beautiful and colorful houses looking just like lego blocks on the massive mountain cliff. This is the last village in the fabled Parvati Valley of the northern state of Himachal Pradesh. It is connected by a treacherous road from the hippie paradise of Kasol and the final stretch of 3kms from Barsheni is mostly closed to traffic especially during the winter months. After this village there are no more motor-able roads. Yes I am talking about the winter wonderland of Tosh, the apex village of Parvati Valley. The village that is supposedly blessed by the Lord Shiva himself when he meditated for 5000 years near a place called Kheerganga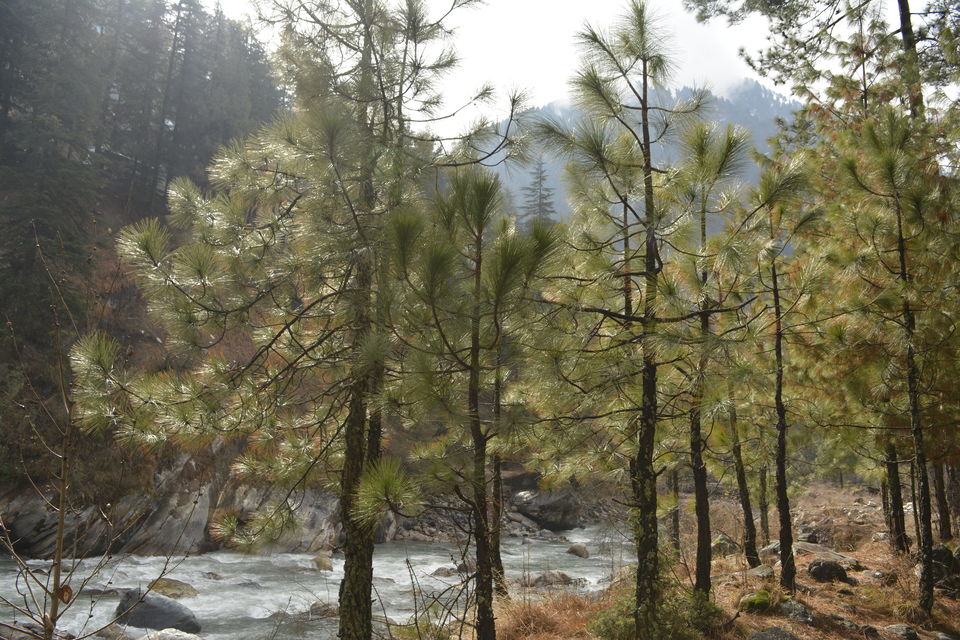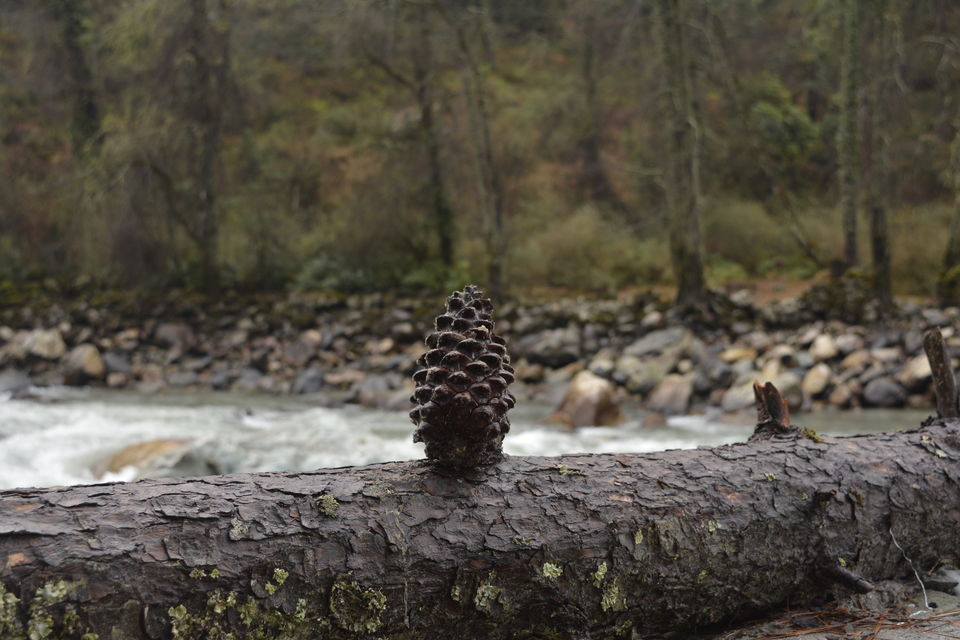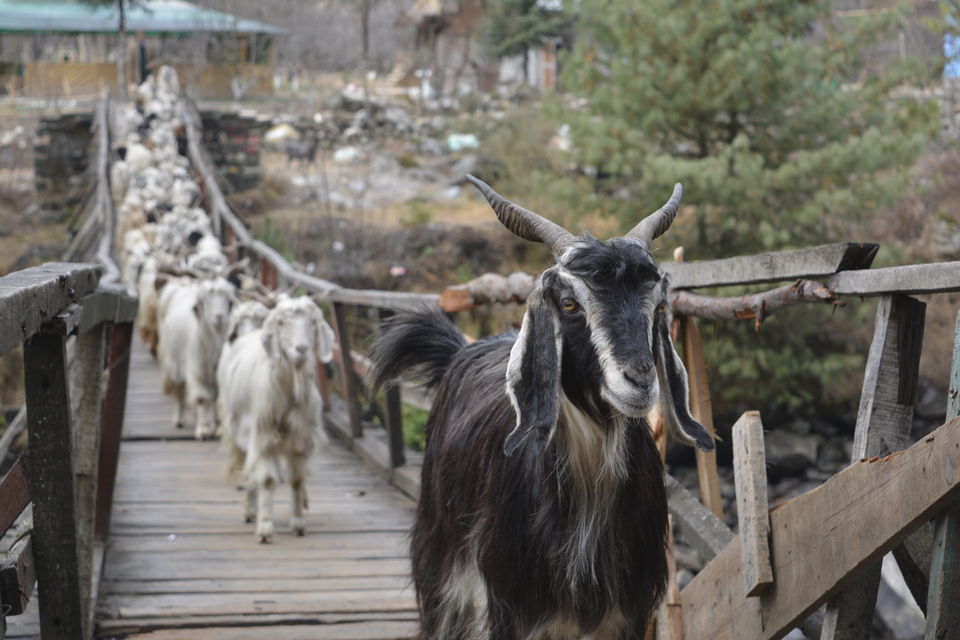 Last week we trekked to this beautiful village and this trek in the middle of winter thru the snow covered hills was one of the most fulfilling journeys I have undertaken. It is generally advised not to visit these places during the winter months as it is treacherous and excruciatingly cold, but all these advisories don't tell you few things – it does not tell you about the beauty of the cold winters, it does not tell you about the spectacle which is created when the crimson hues of the sun drench the icy peaks, it does not tell you about a tiny mountain stream flowing over the frozen hills.
And now as I sit at my study table overlooking the foggy Delhi evening I realize that this is a trip which was really worth taking. Yes a winter trek to Parvati Valley and especially to Tosh is a must do.
The Journey:
Day 0/ Day 1: Delhi – Bhuntar – Kasol
We, a group of 3 planned this sojourn, taking advantage of a long weekend in the end of January. We wanted to cover parts of the Parvati Valley in the Kullu region of Himachal Pradesh. We made Katagla forest our base, Katagla is a small but stunning village at a distance of about 5 kilometres from Kasol. To reach Katagla we took an overnight Volvo bus to Bhuntar. It takes about 12 hours to reach Bhuntar from Delhi and we reached around 10 AM. Please note most of these buses go to Manali and one has to get down at Bhuntar, a town situated a couple of hours before Manali. From Bhuntar there are two options, one can book a car to Kasol or take a local bus. We took the second option as we wanted to experience the local way of life. These buses are generally small private buses which run to the temple town of Manikaran, famous for its boiling hot springs. The bus we traveled in was jam packed mostly with local people. It was a bumpy ride as the bus struggled to gain altitude thru the winding Himachali roads.But I stood by the door enchanted by the awe inspiring scenery outside and oblivious to the chaos inside the bus. We reached Kasol in about 2 hours and as we disembarked we could feel the chilly winter breeze piercing our skin. We had a quick lunch in a cosy café and then booked a car for Rs 150 to reach Katagla village. We had pre-booked at the Katagla Forest Retreat and it was a beautiful bungalow by the river. It also had a small restaurant and a bonfire beneath the starry night sky and the evening was spent in coffee and conversations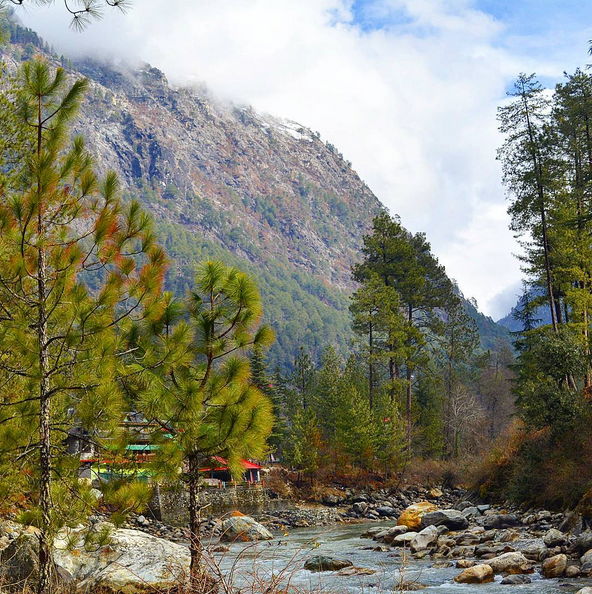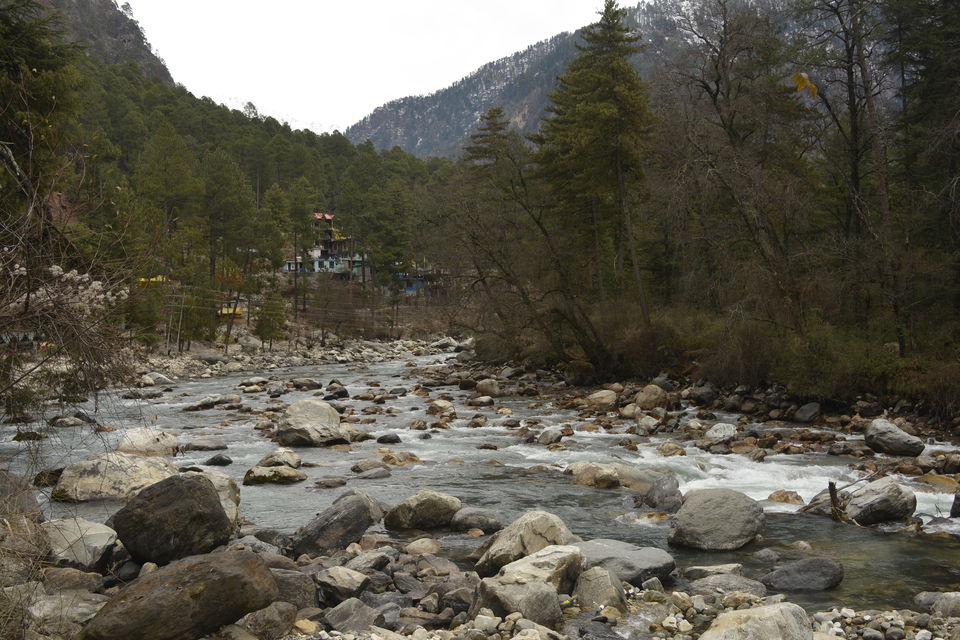 Day 2: Kasol- Barsheni- Tosh – Manikaran:
Today was the big day when we planned to reach Tosh, a village high up in the mountains. After discussions with our resort owner, we booked a cab to Barsheni early morning. Please note at this time of the year Barsheni is the last point till which a car can go. Barsheni is situated at a distance of about 15 Kms from Kasol but the gradient is quite steep and it takes about 45 mins to reach this tiny village. From Barsheni we needed to trek to Tosh and this was the most difficult part. Not because the incline, it was a moderately inclined trek but the main issue was the slippery road conditions caused due to the snow.It involved slipping multiple times as we walked over a thin layer of ice on concrete roads. As we struggled walking in the snow our eyes feasted on the stupendous natural beauty surrounding us. Dark pine trees dotting the huge snow clad mountains with tiny houses resting precariously on the slopes made it look otherworldly. The air was chilly and there was a hint of rain which made it all the more exciting. After slogging for about an hour we could see a few colorful houses on the white slopes and that's when we understood that we have reached our destination. To reach Tosh one needs to cross a small bridge over a fast flowing mountain spring which flows into the Parvati River somewhere downstream.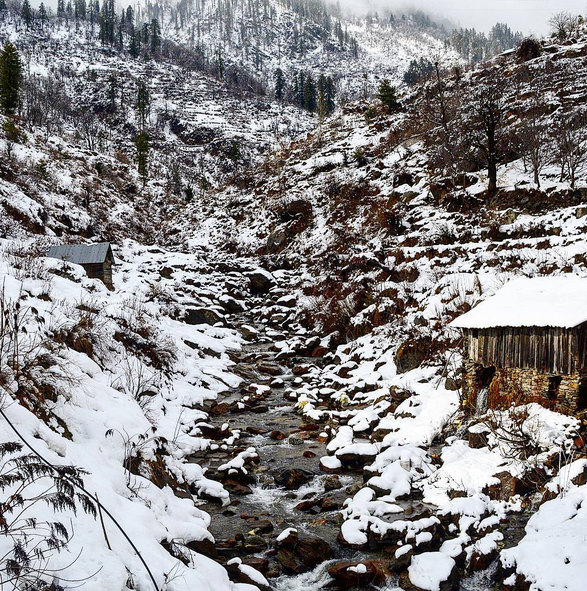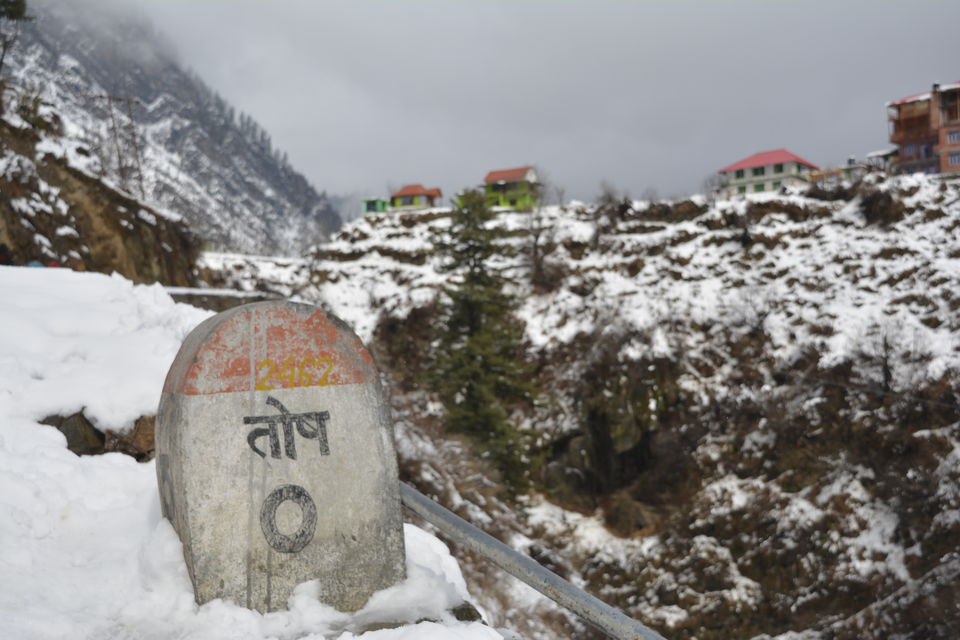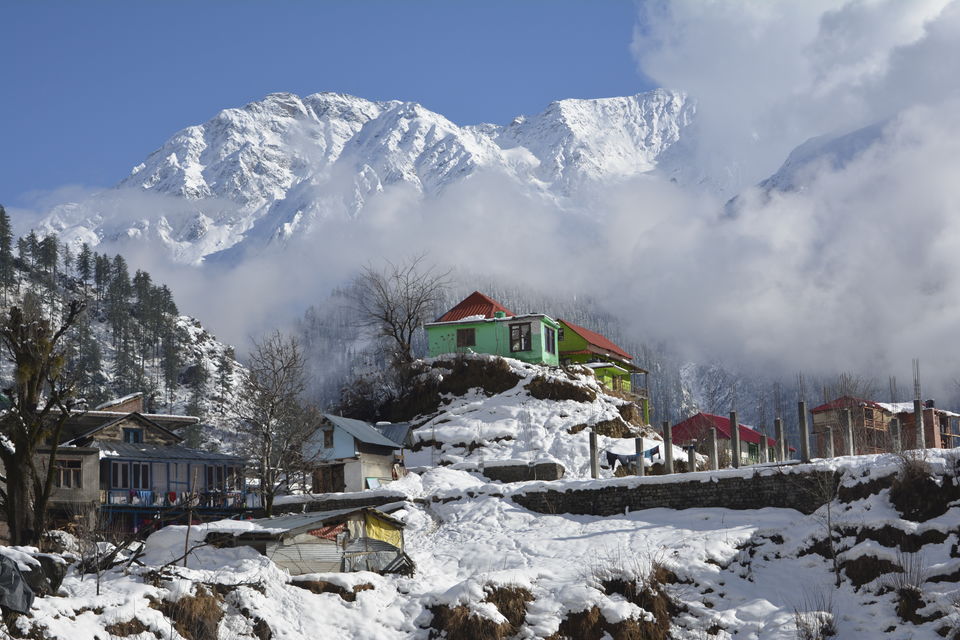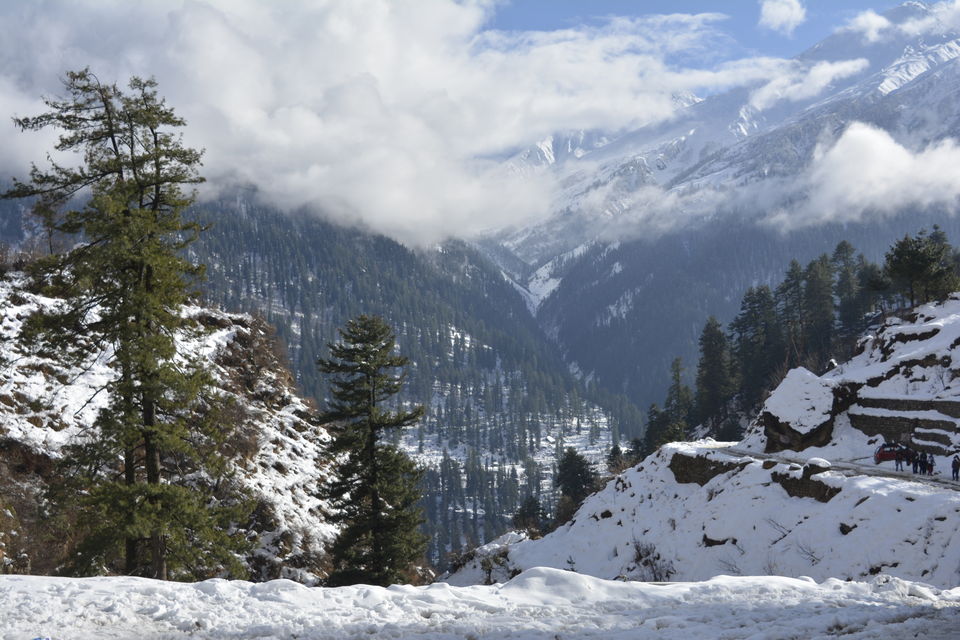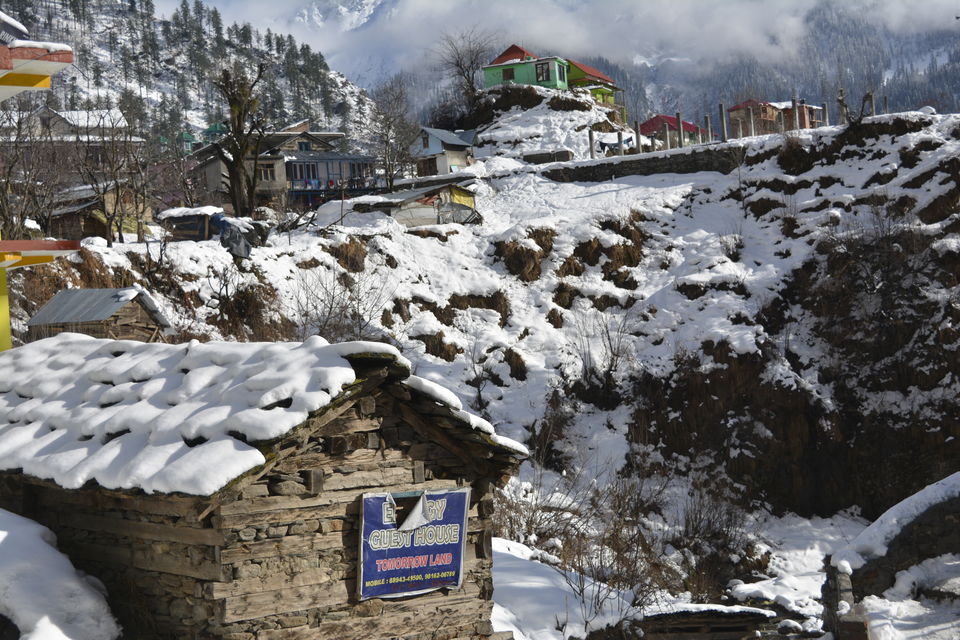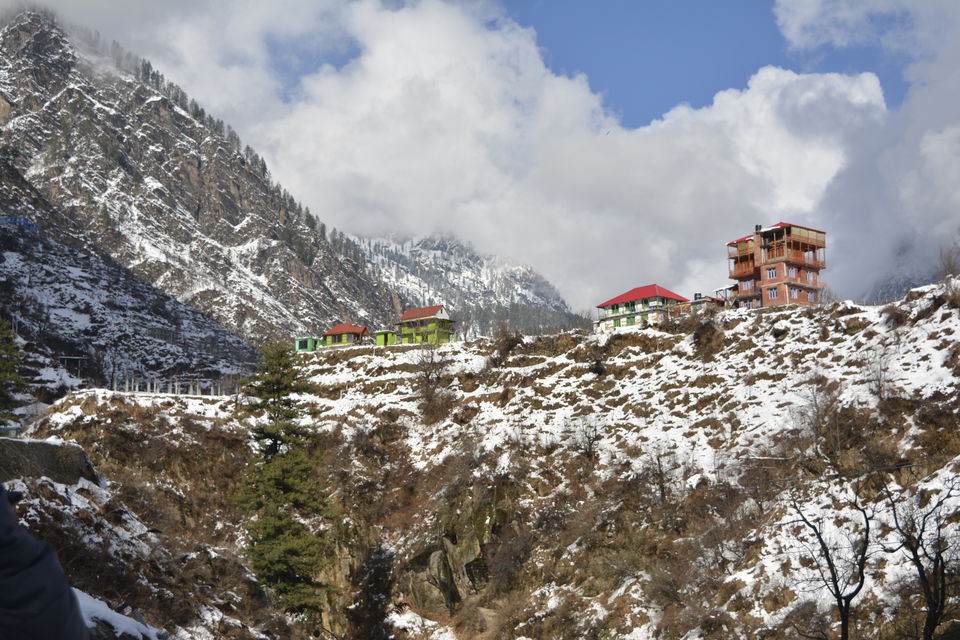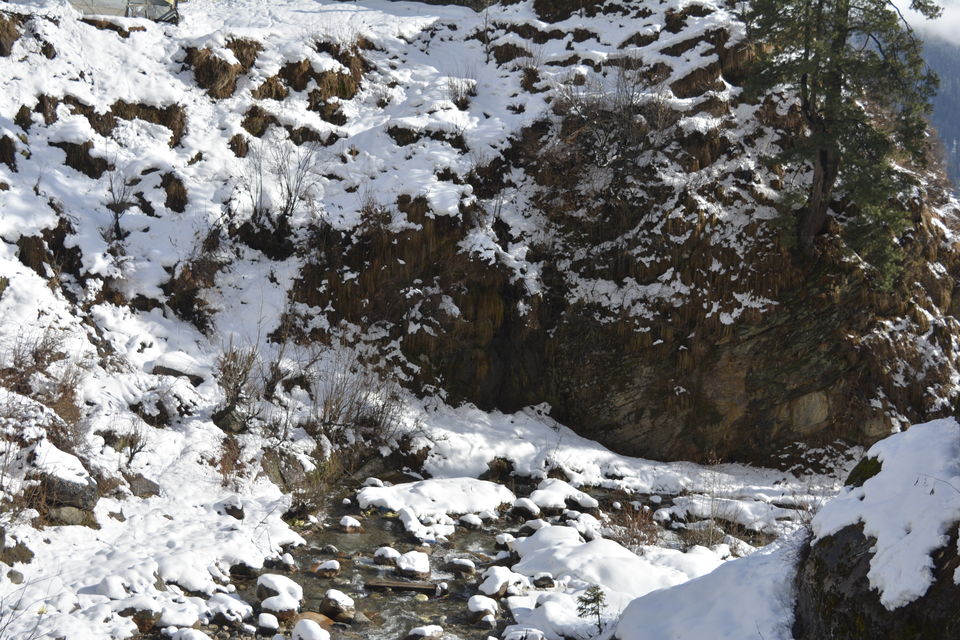 Tosh itself is a small dreamy village at a height of 7874 meters above sea level with a couple of homestays and cafes. There are also a few beautiful houses, but the one thing we understood was that living here in this visual paradise is a struggle especially in the winter months when the temperatures are mostly sub zero. The locals said that there has been no power or water since the last couple of days as the water pipes burst after freezing. We had a streaming bowl of maggi and a glass of lemon tea at a local café known as Shiv Shakti café. Just as the evening was beginning to fall and the shadows grew longer, we trekked back to Barsheni from where we took our return cab. On the way we managed to halt for an hour at Manikaran Sahib a famous temple town in Himachal Pradesh. Although it looked like a regular temple town found at other Indian locations, it was quite special as it had a number of hot spring spewing out flames and smoke from beneath the earth crust. It is said Lord Parvati used to bathe in these hot spings and she had lost her earrings here, hence the name of the place (Mani- Jewel Karan- Ear) The place was a bit cramped but there was a spiritual air about it. We were back at our riverside bungalow by the evening.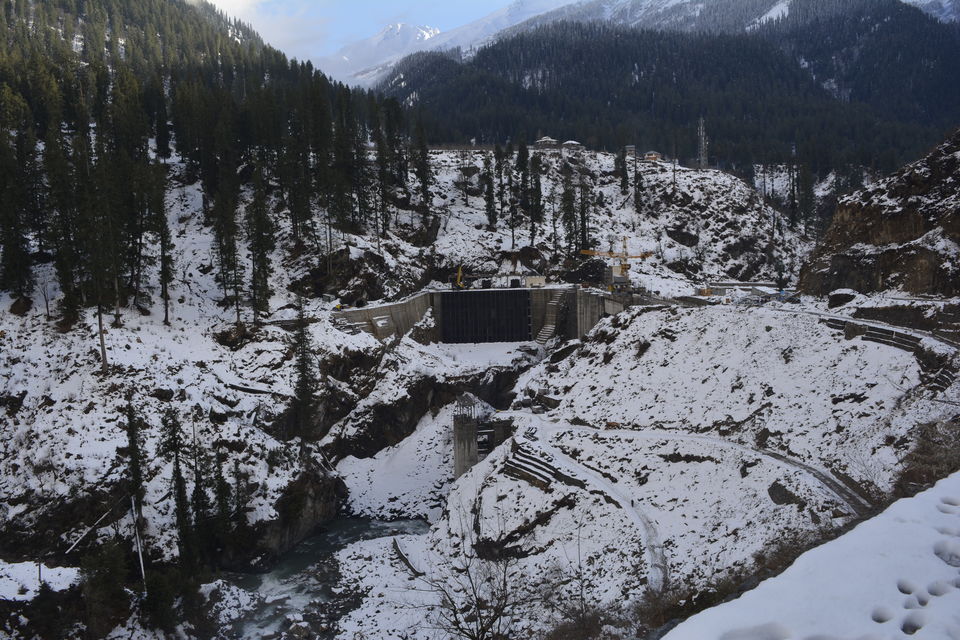 Day 3/ Day 4 : Kasol- Bhuntar- Delhi:
This was the day when we had to return to base and we had our bus from Kasol, so after a quick breakfast we decided to trek to Kasol from Katagla through a mountain trail. It was a beautiful path thru dense pine forests with the mighty river for company. The trek was about 4 kilometres long and it passed thru the quaint little village Chalal, famous for its pristine beauty and psychedelic culture. This village is where most of the foreigners who come to Kasol set up base for the peaceful atmosphere. We reached Kasol in about an hour. We checked-in for an Israeli lunch at the well known Evergreen Cafe. It was cosy little wodden cafe overlooking the high mountains specializing in Israeli delicacies . By evening we took another local bus to Bhuntar from where we were back on our way to our mundane lives but with a dream in our hearts to come back to the mountains.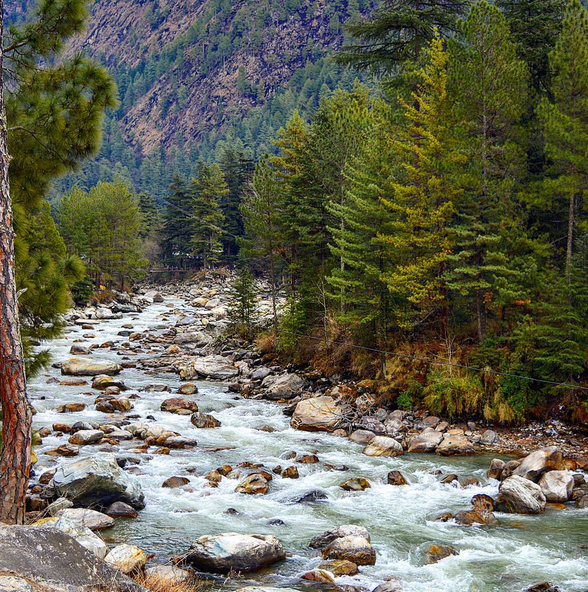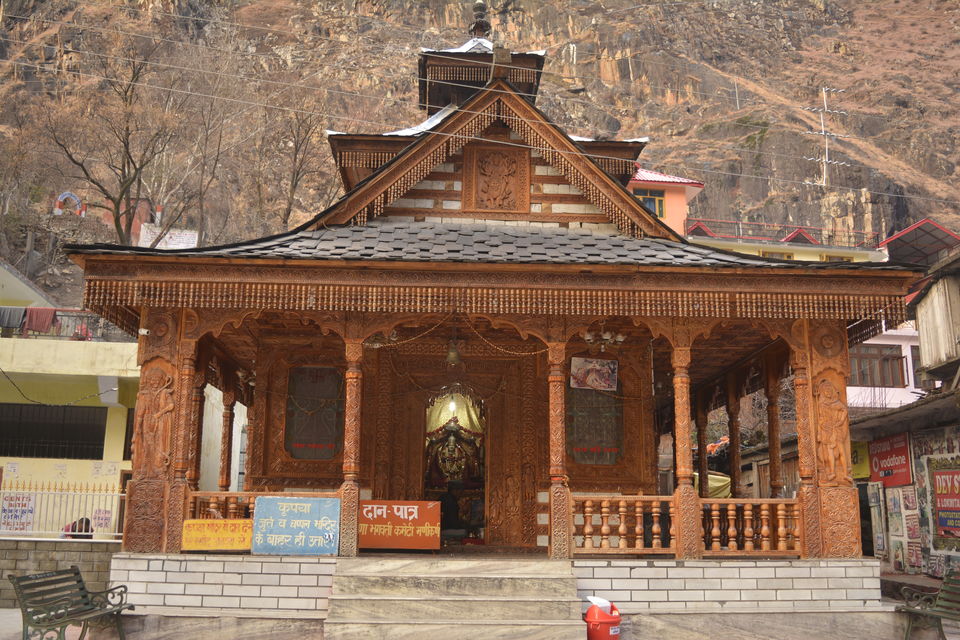 Travel cost (per head):
1. Delhi to Bhuntar – Rs 1300
2. Bhuntar to Delhi – Rs 1300
3. Bhuntar-Kasol (Round Trip)- Rs 100
4. Cab to/fro Barsheni- Rs 2000
Total: 4700
The stay was Rs 4300 for 2 rooms/2 nights
Place stayed: Katagla Forest Retreat