It was full moon night & we were having our dinner on the bank of river and guess what! Power went off at the campsite & they did not have generator. Soon, moonlit parvati river & hills were in front of us & we were spellbound by the sheer beauty of the ambience. Believe me, I never experienced such full moon night. We will remember this forever!! There was a small bonfire arrangement before we call it a day. But the night was really very special.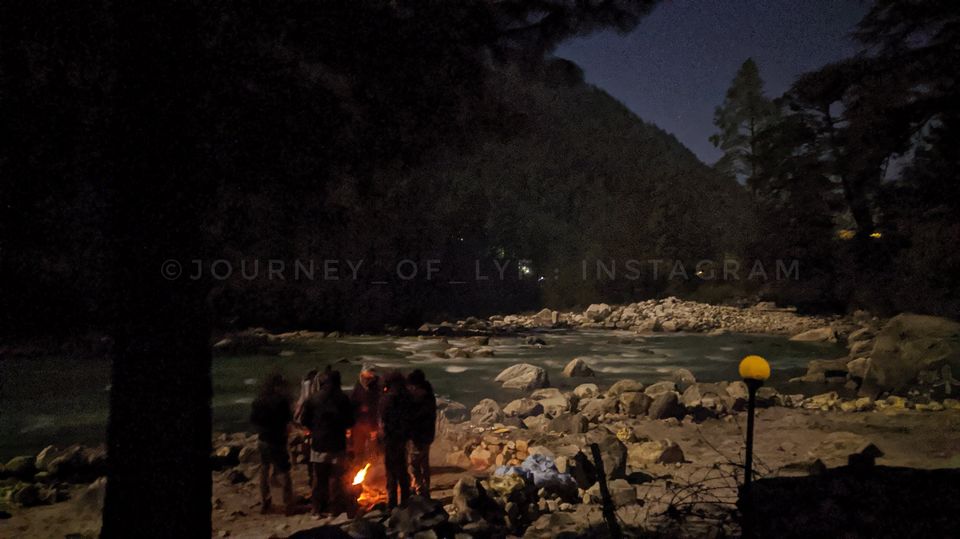 We don't remember exactly when we slept hearing the sound of gushing river!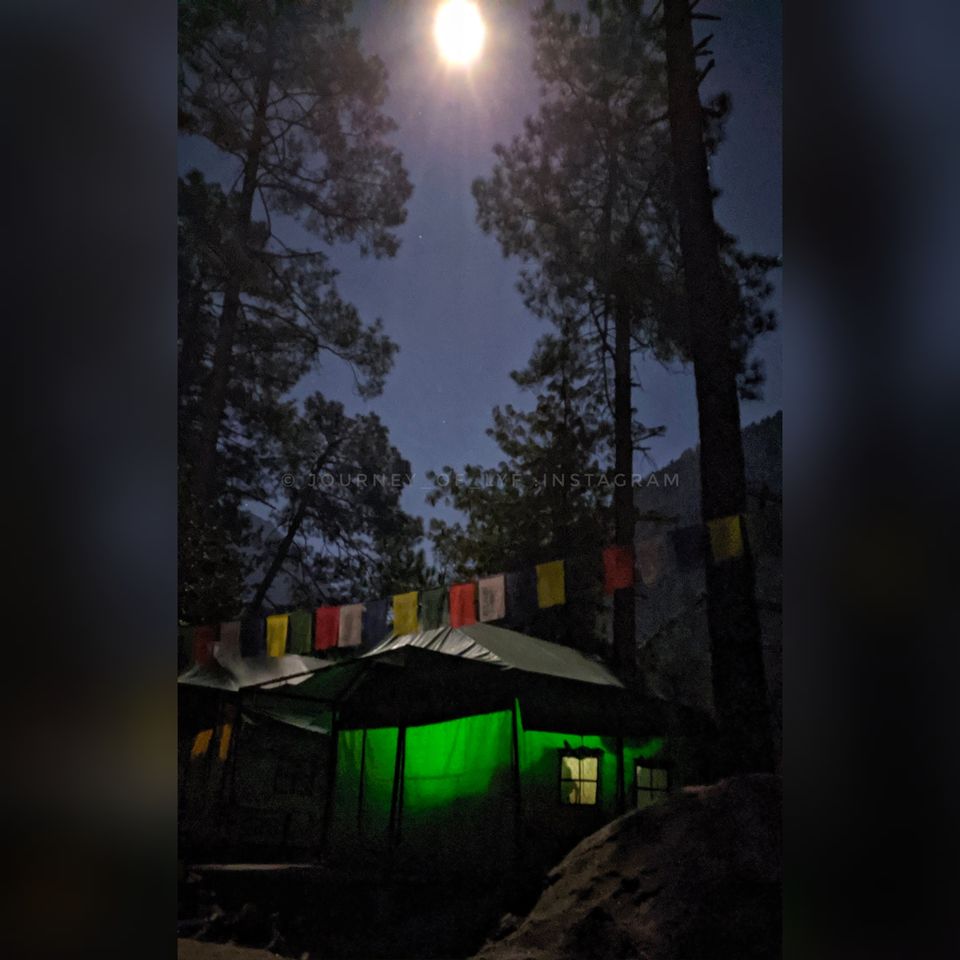 We had our breakfast sitting on a rock beside the river. We played with couple of adorable dogs over there, before we start our return hike to Kasol.
The view just got better with the weather like this:
Took some time to soak the beauty
After a hiking back for an hour, we spotted hot spring below the bridge once we reached that metal bridge area; so we went straight towards it.
Spent some good time there before we grabbed our lunch at a lovely café near Kasol Market, named Evergreen Café.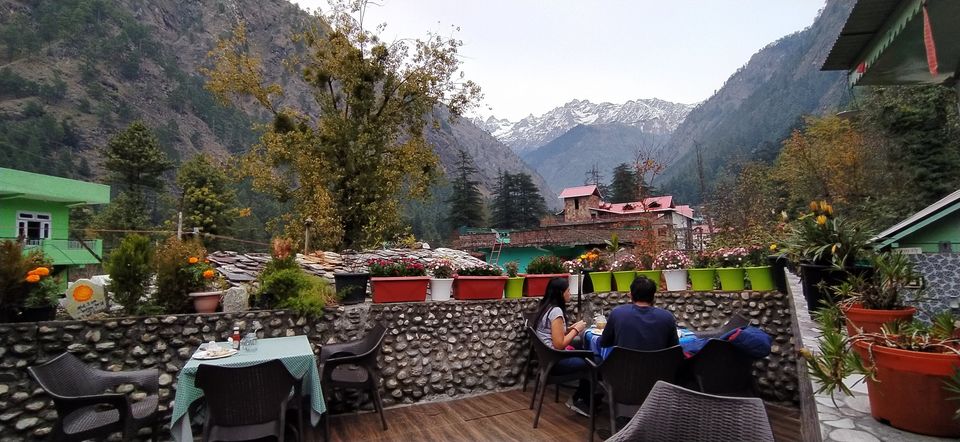 We finished our delicious lunch sitting in the open area overlooking Himalayan range & then it was time to start our 3rd hike on day 3. After sumptuous lunch we decided to take it easy to reach Jari, which is the starting point of the hike. Booked a cab from Kasol taxi stand & reached Jari.
Now, we had to hike towards Baladhi Village and our stay was booked at Paravati Riverside cottage. You need to spot that English wine shop on the main road & just opposite to that shop, hike trail is laid down towards the village. You can alternatively call the hotel they will guide you.
At the very starting point of the hike, we found two sticks which were kept nicely on the trail side. We picked up those two sticks & started our hike. Oh god, it was so calm & beautiful hike.
No one around us, in deep silence, nestled amidst the woods, the overcast weather every part was plying a roll to make our experience richer.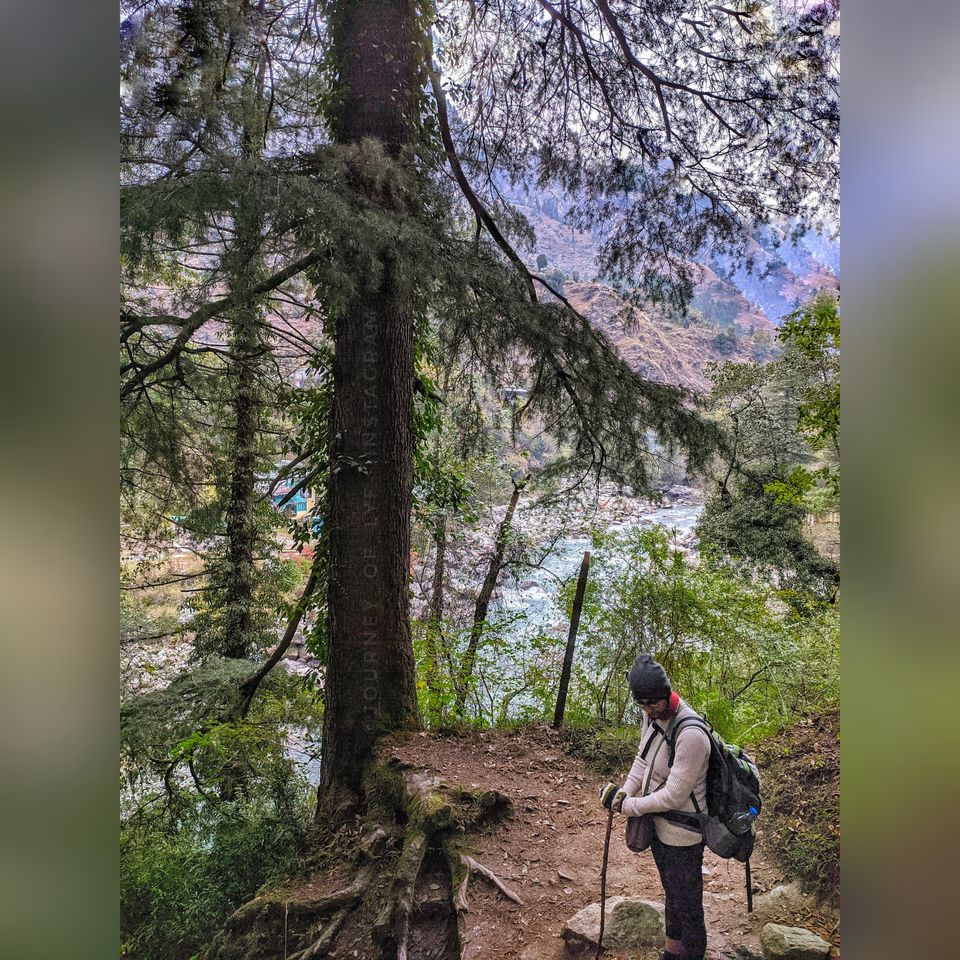 The hike is not tough but not really recommended for a family especially if one is coming with luggage apart from backpack. We crossed apple orchards on our way. There' a small tea stall on the way.
Want to see how was the place? You can watch our story here:-
After around an hour of hiking down, guess who welcomed us to the homestay. Meet Simba: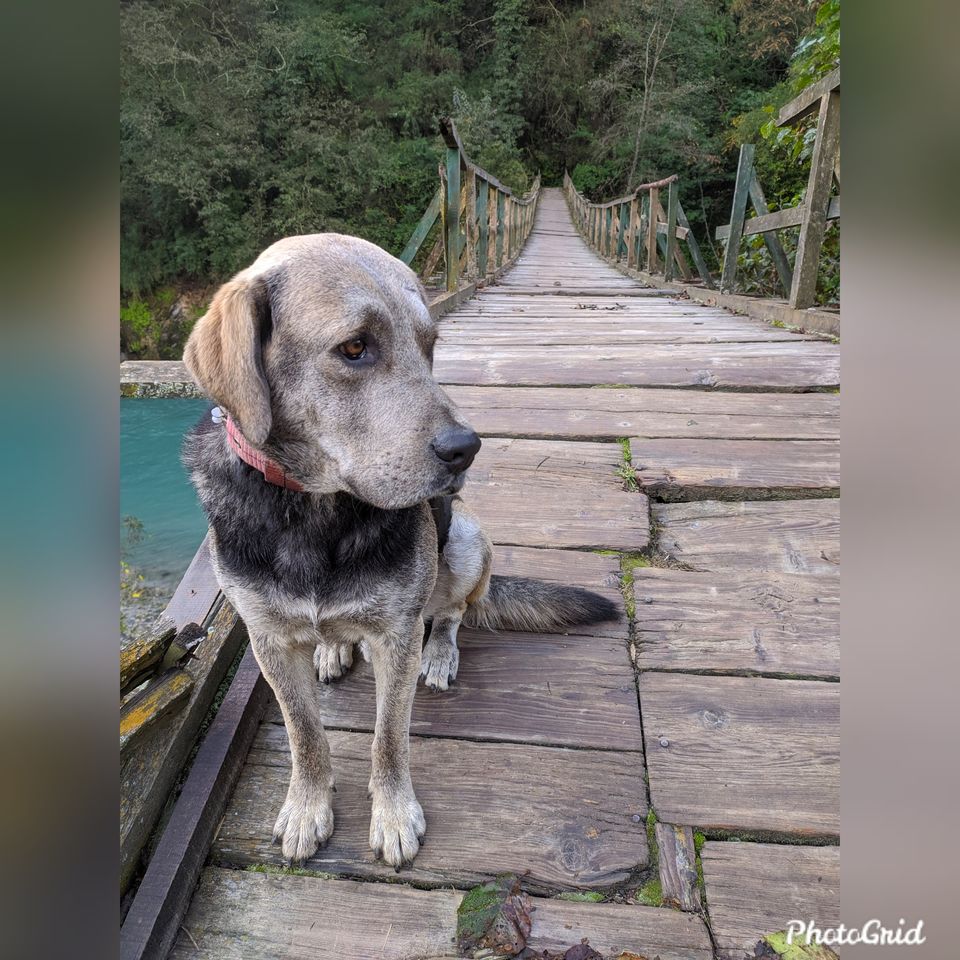 We found our stay is having a balcony like this, bang on the bank of River Parvati. We just sat down here with Adrak wali chay & Pakoda, got into more indulging adda like never before and soaked in the sheer beauty of this place.
We dint realize when time had passed & time is up for our dinner. Once again we slept listening to the music of gushing Parvati river beside us.
Woke up little early to go to riverside for a walk. Simba accompanied us all throughout. We enjoyed the serenity of the place & had our breakfast at that favorite balcony after coming back from the walk.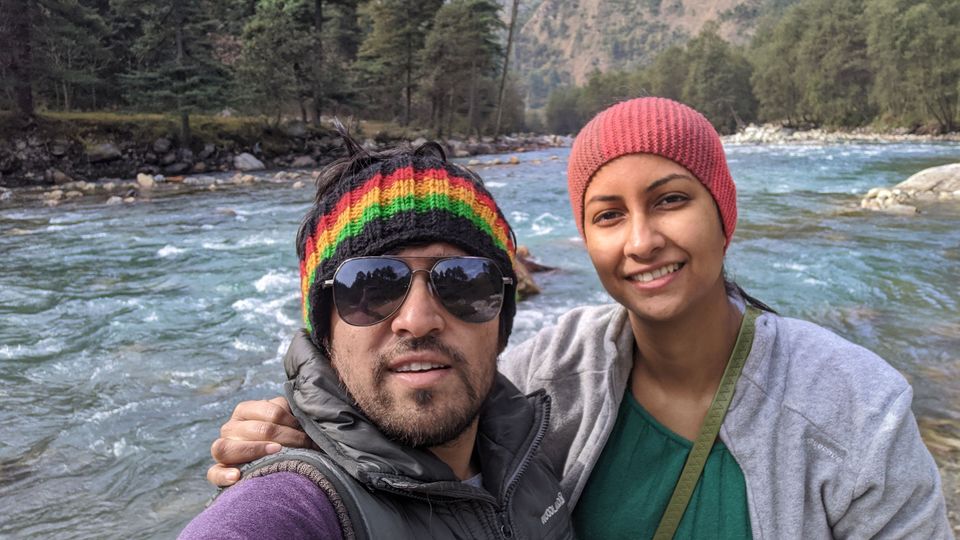 Suddenly a message came that our bus to Delhi has been cancelled! We quickly booked another evening bus & started our hike up to jari and this time Simba was there with us. It was so lovely to hike with such a nice soul. Accompanied us till the main road of Jari bus stand.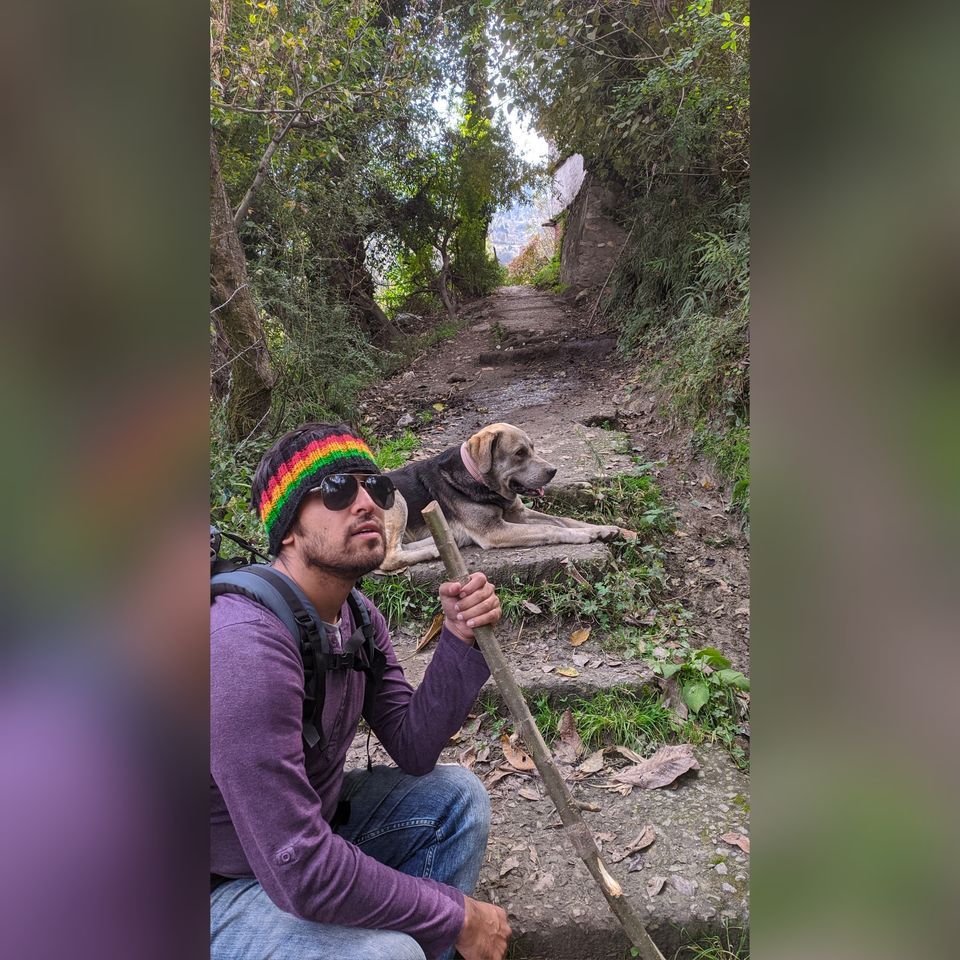 At the end of our hike, we kept those two sticks exactly at the place where we found. We reached Jari Bus stand around 11 in the morning.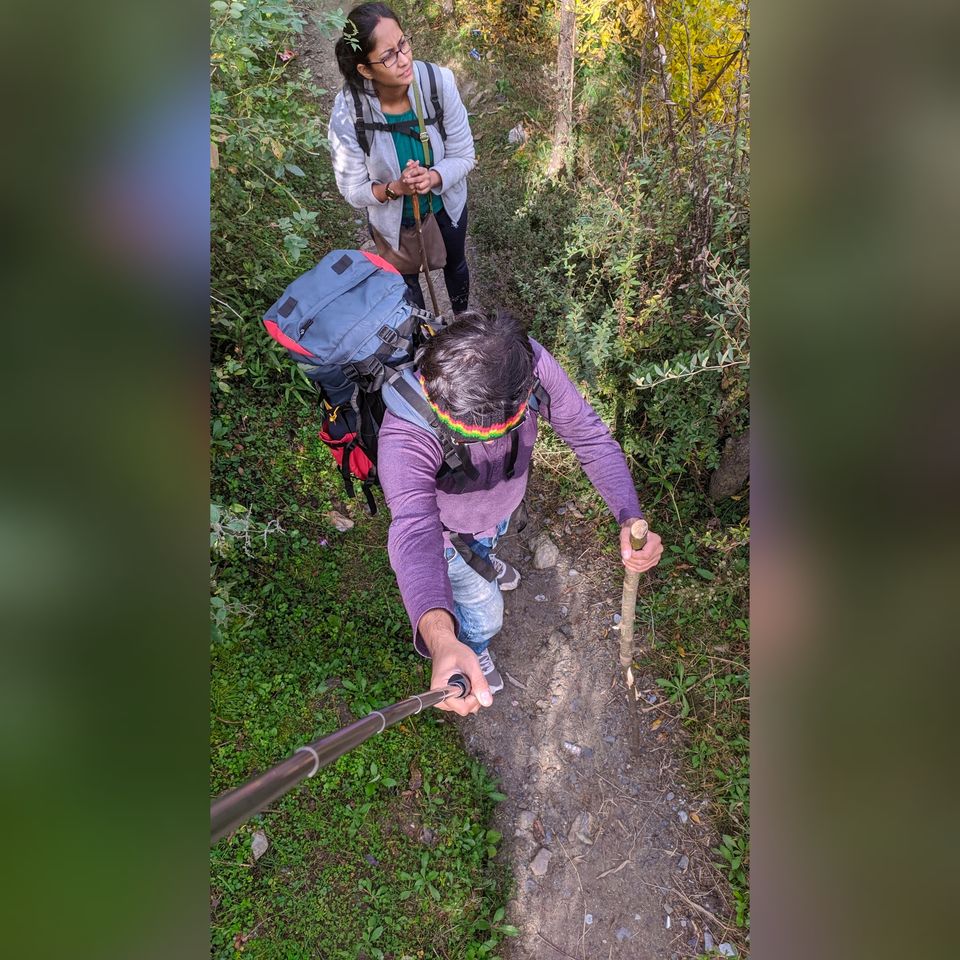 This was our last day & we had the entire day on our hand. So we decided to head to Manikaran Gurudwara & have our lunch at Kasol, as Kasol is having better cafés. So we hopped into a local bus once again till Manikaran & visited Gurudwara. Saw that famous hot spring, clicked some photos. So here is a snap from my wife's insta account.
After that, we came back to Evergreen café once again for our lunch before taking local bus for Bhuntar.
It took around 1.5 hrs or so to reach Bhuntar. And we finally faded away from Parvati valley as we boarded our bus to Delhi.
Signing off for now! hope you've enjoyed the content & it is helpful for the fellow readers.
Part 1: https://www.tripoto.com/himachal-pradesh/trips/hike-in-parvati-valley-tosh-kasol-chalal-baladhi-manikaran-part-1-3-5fd61f57d1753
Part 2: https://www.tripoto.com/himachal-pradesh/trips/hike-in-parvati-valley-tosh-kasol-chalal-baladhi-manikaran-part-2-3-5fddde4f8837a