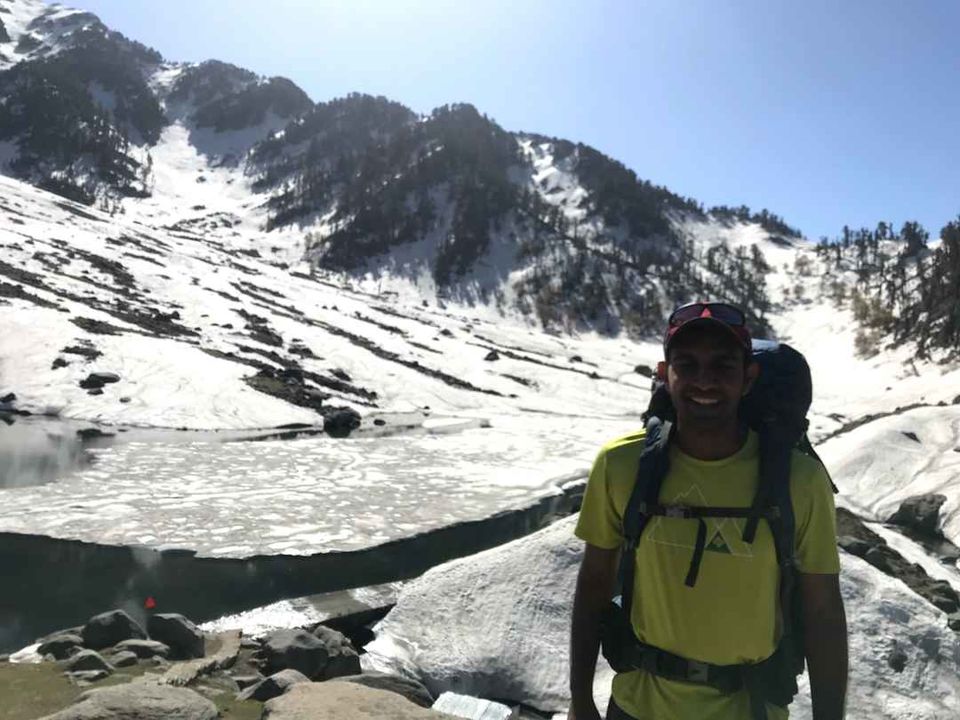 Now that you have taken the first step by clicking the link of this trip, I will let you in on the surprise. The place in discussion is the lake which is famously known as the 'Kareri Lake'. I took this short trip lately with a couple of friends. Having been in Hyderabad from last one year, I was gravely missing the fragrance of the mountains so I just had to go even if it was just for 2 days. Here's a picture from my Instagram handle to get you started
To set the context, this was my second time on this trail with the first trip around 5 odd years ago. The last trip concluded with us getting caught in heavy rains which eventually gave way to flash flood that swallowed one (out of 2) of our tents leaving all 4 of us drenched and sitting in one tent waiting for the first spec of natural light to show us the way. Let's just say that we (Kareri Lake and me) didn't depart on particularly good terms so I had to come back.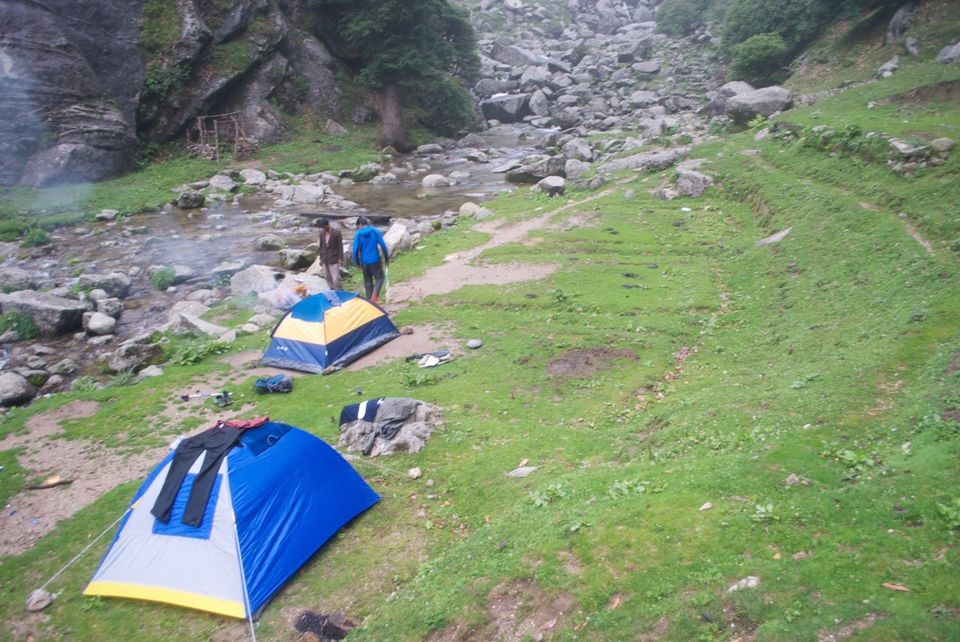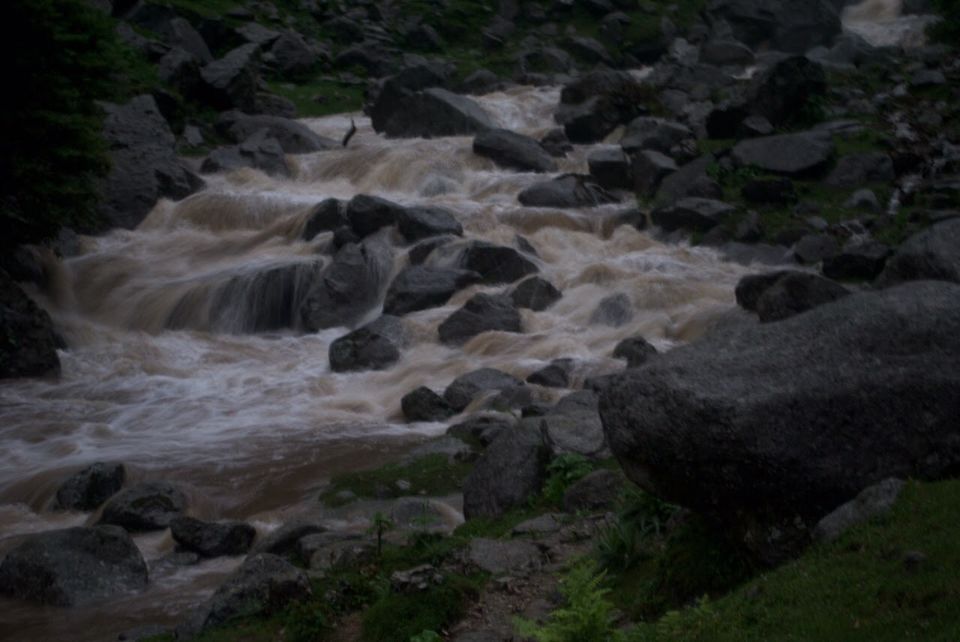 Alright, now that we are past this let me tell you the place has changed a lot in these 5 years. The last time around there were no tea stalls or pre-set camping sites on the way whereas now you will find one right around the corner (more on this later). Merely this shows you the fast pace of commercialisation in the area, so if you wish to visit the place I would recommend not delaying it any further. Let me give you a short description of how we went about the trek, I will try to include some useful & 'not' easily available pointers as well.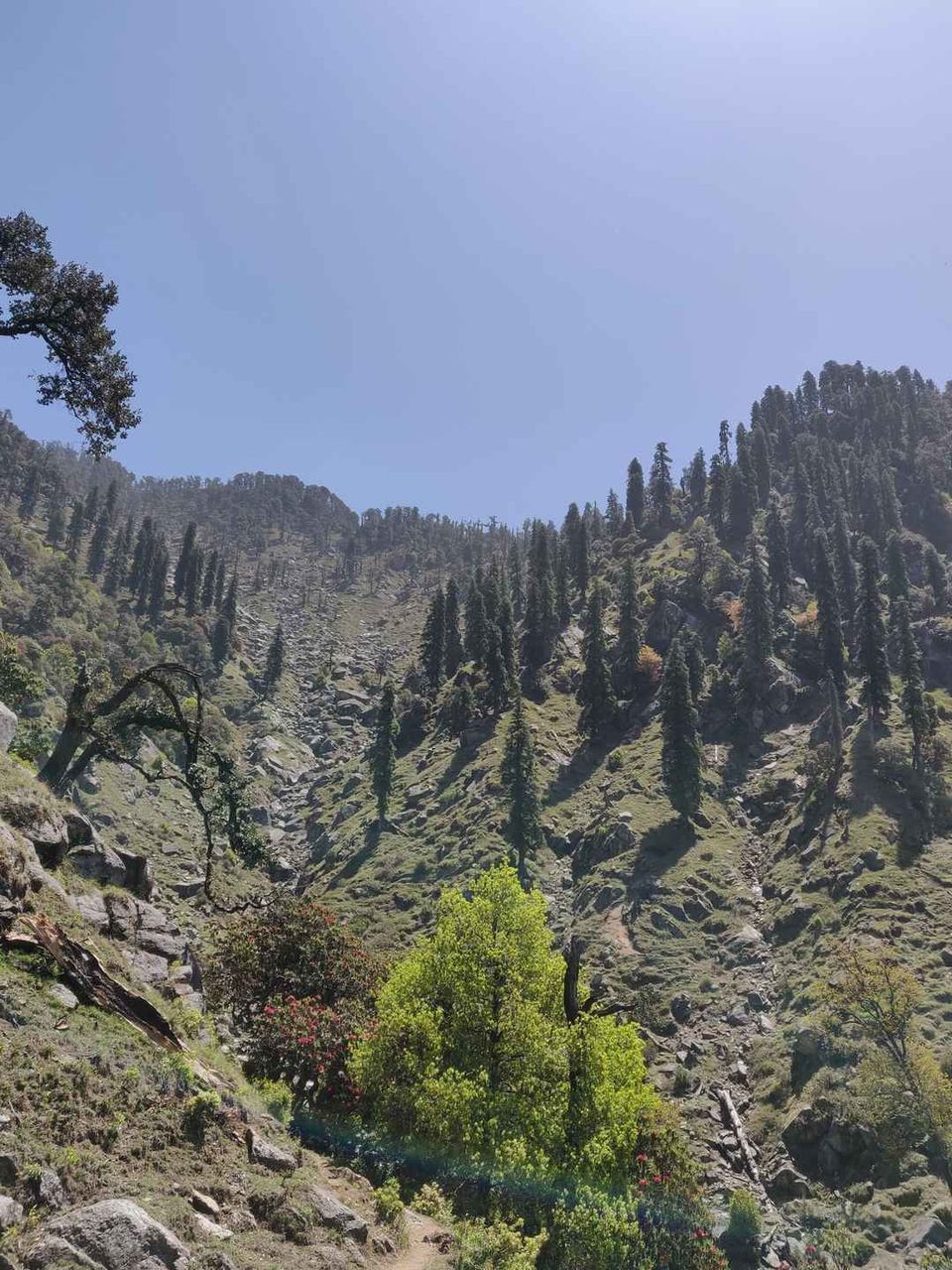 We took a bus from Delhi to Mcleodganj (~30 minutes ahead of Dharamshala) in the evening at around 8 pm and reached around 7 am the next day. The bus generally takes 10-11 hours to cover the distance. For the trek, one needs to get down at Dharamshala (bus stops near the petrol station), then hire a cab for Kareri village via Ghera.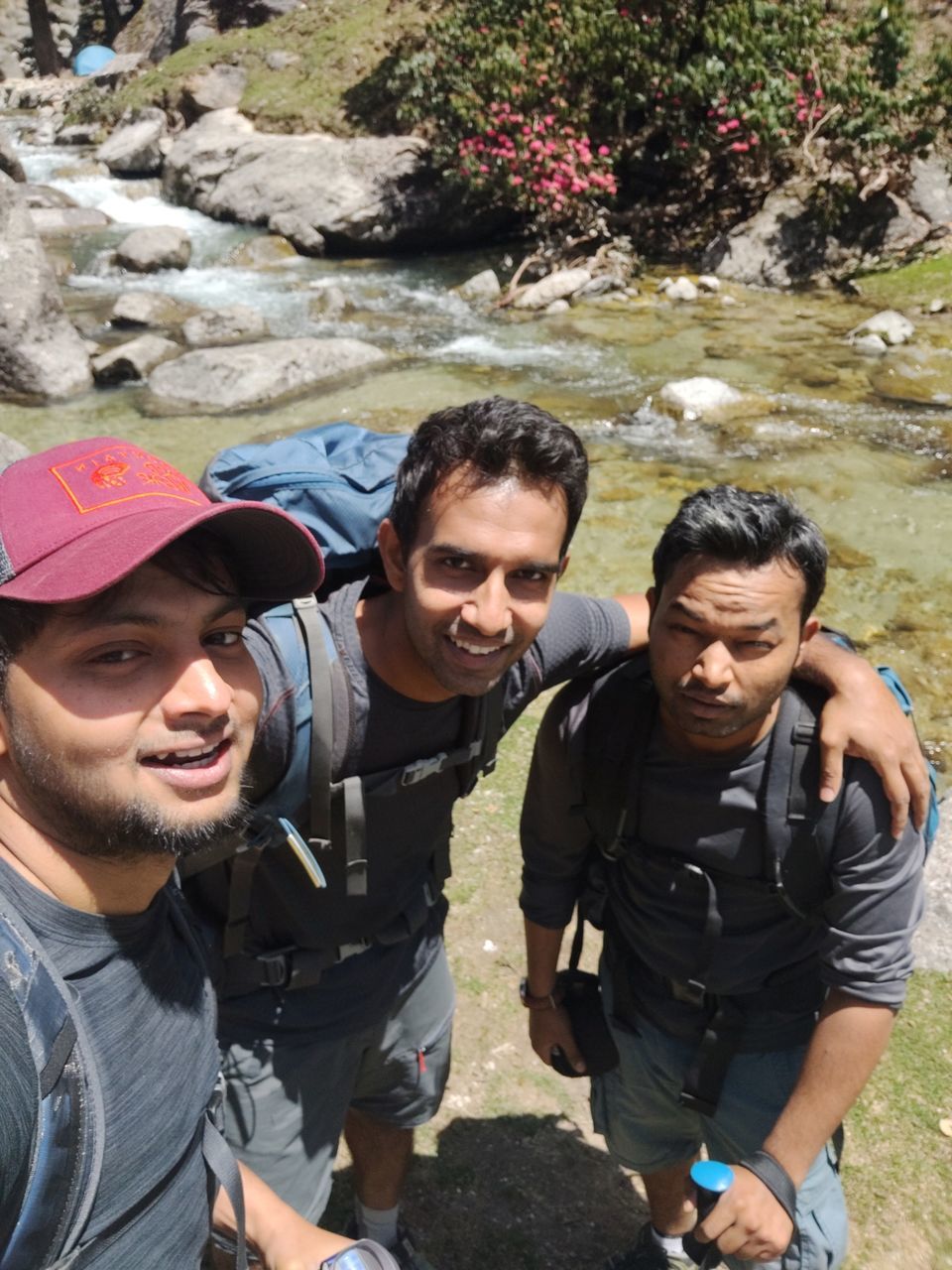 **Important** It is possible to start the trek from 3 locations - (1) Ghera - This village comes before Kareri and has a few tea stalls. Starting from here would mean 1 to 1.5 hrs of extra uphill walking till Kareri village. I started from here in my first trip (2) Kareri Village - This is the most popular starting point. Freshen up, eat something and start your trek. We started our trek from here. (3) Bridge after Kareri Village - With just a tad bit of driving surface for the local cabs, this point would further save around 30-40 mins of walking (and 150 mts of elevation gain) as compared to Kareri Village
After the bridge, the trek is mostly uphill with a well laid down trail covered in the shade of rhododendrons.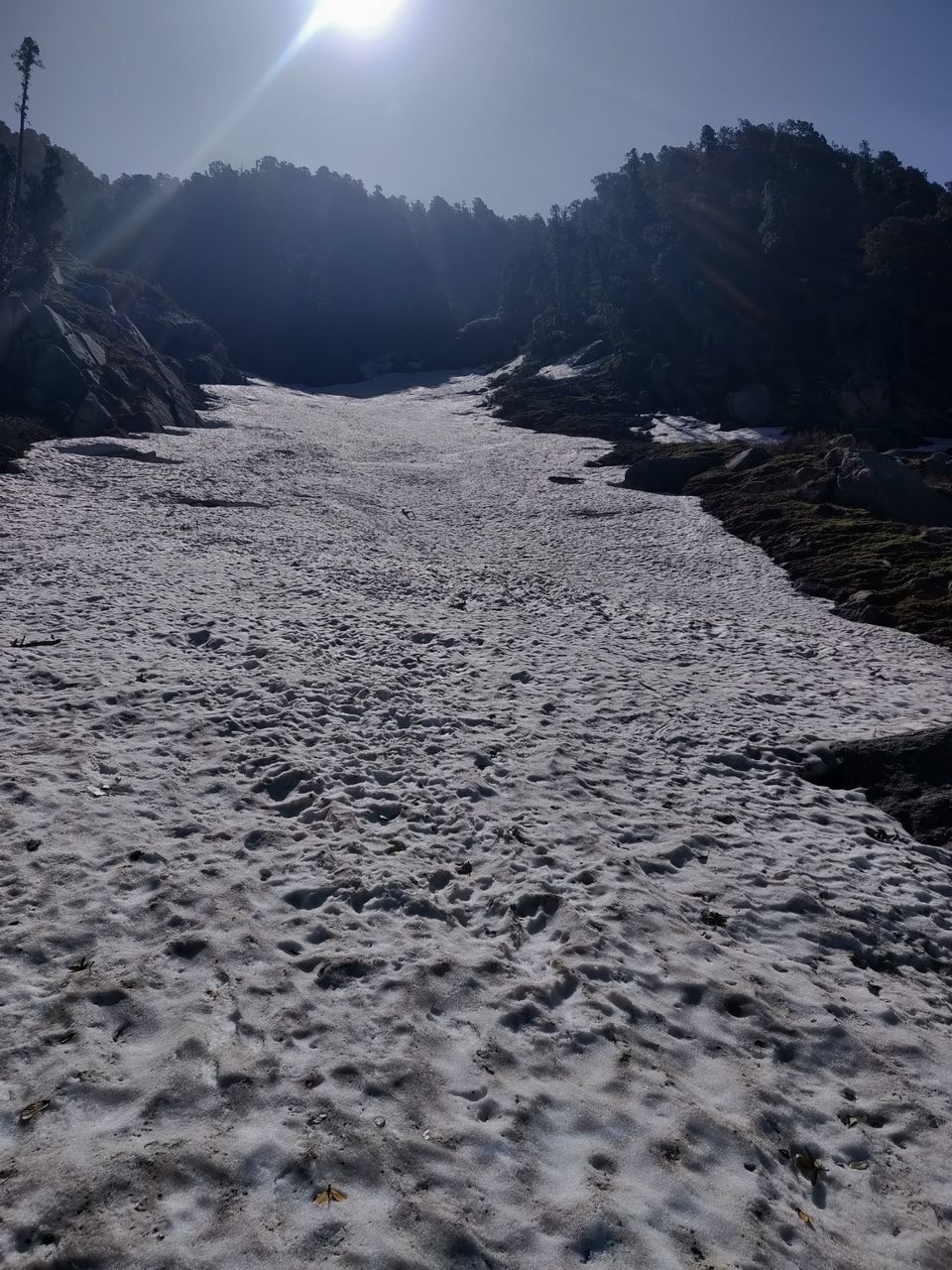 There were in total 4 camp sites on the way with around 20 mins gap in between each. The last camp site is at an elevation of ~264o mts and is about 2.5 kms (~2 hrs with good enough snow cover) from the lake. The first camp site should appear after ~3 hrs of trekking. I have assumed an average time of around 6 hrs to cover the distance from Kareri village to the lake (we took ~4.5 hrs to cover this)
**Important** You can plan to camp at any of these camp sites based on the distance you want to travel in one day. Also, it is possible to rent tents from these sites and carry on your own if you want to camp at the lake (there are no camps or tea stalls at the lake, at least till 1st week of May)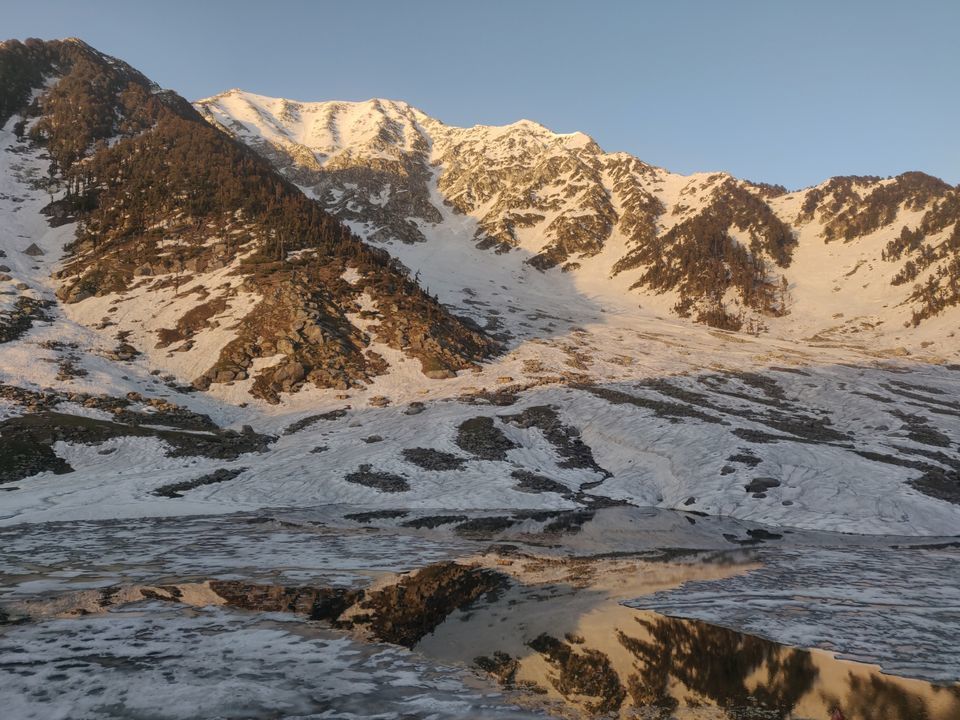 We wanted to spend the night at the lake so we rented a three person tent (arranged by Bablu, owner of tea stall at first camp site), got some rice khichdi packed in a plastic toffee box and left for the lake post having lunch at the last camp site.
There was more snow than we expected in last couple of kilometres, so a pair of crampons or micro-spikes would have come in handy.
As we reached the destination, we first came across the temple which oversees the lake. It's an absolutely delightful scenery. After absorbing the vast landscape in front of us, we went to take a dip in this glacial, semi-frozen lake. And believe me when I say this 'the water was heart-stopping cold'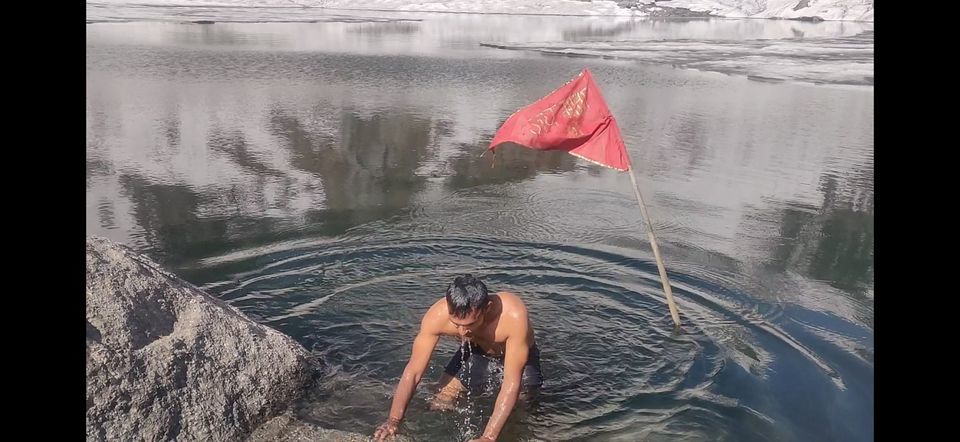 Once we got our normal sinus wave back, we got down to the work of looking for a good place to pitch our tent and finding some dry wood to get a fire going for ourselves.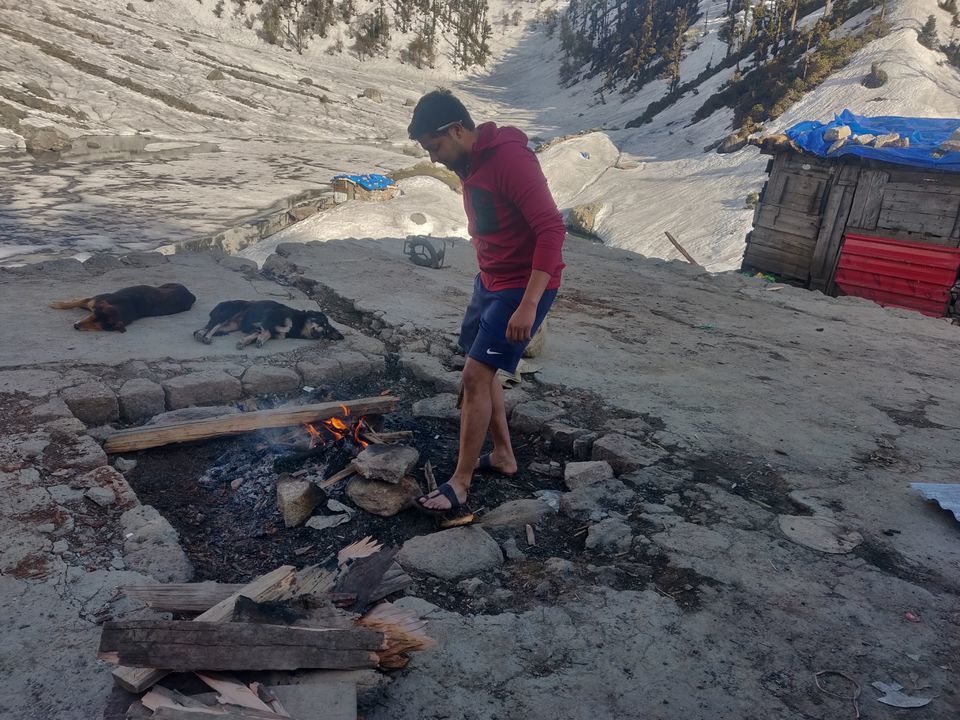 The fire came in handy to dry the clothes as well.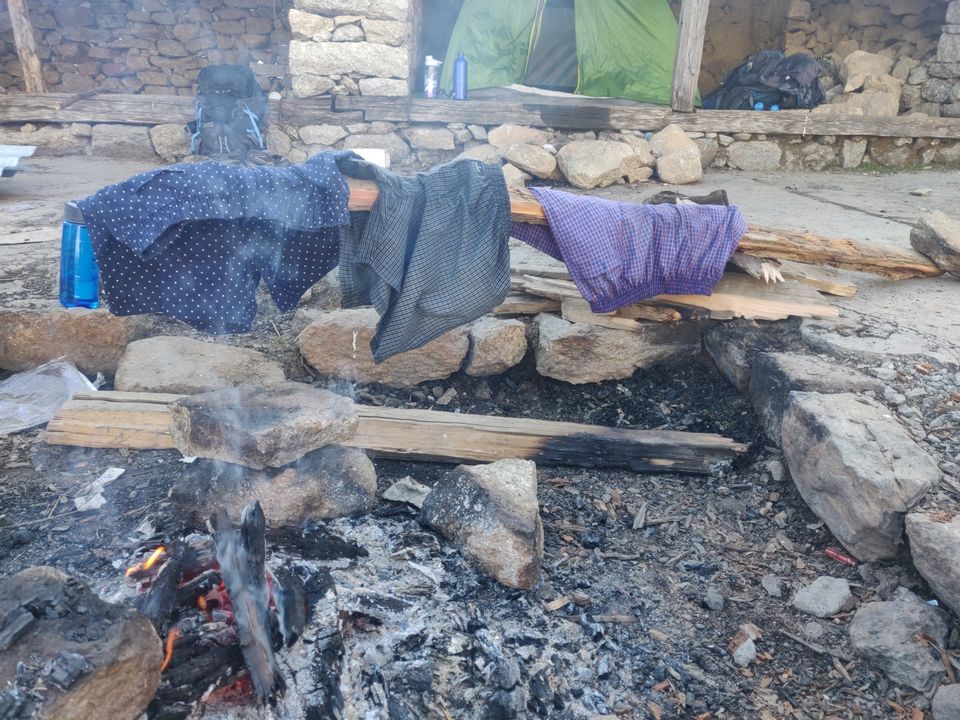 Luckily there were some temporary compartments near to the temple where we finally pitched our tent, the walls provided shield from the cold winds during the night. It was just us and 3 mountain dogs in the whole area.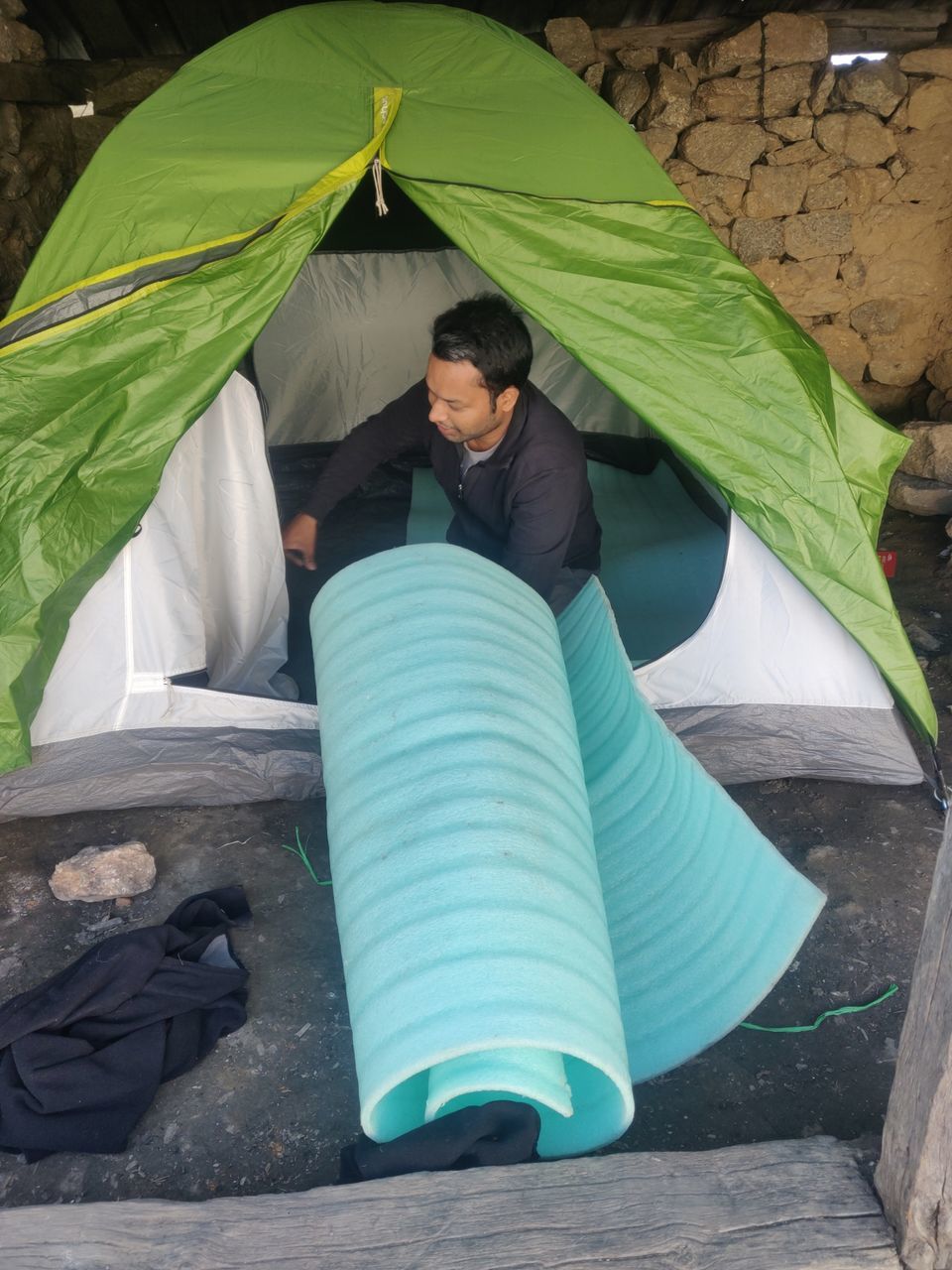 When the sun went down in the evening, the winds got fierce.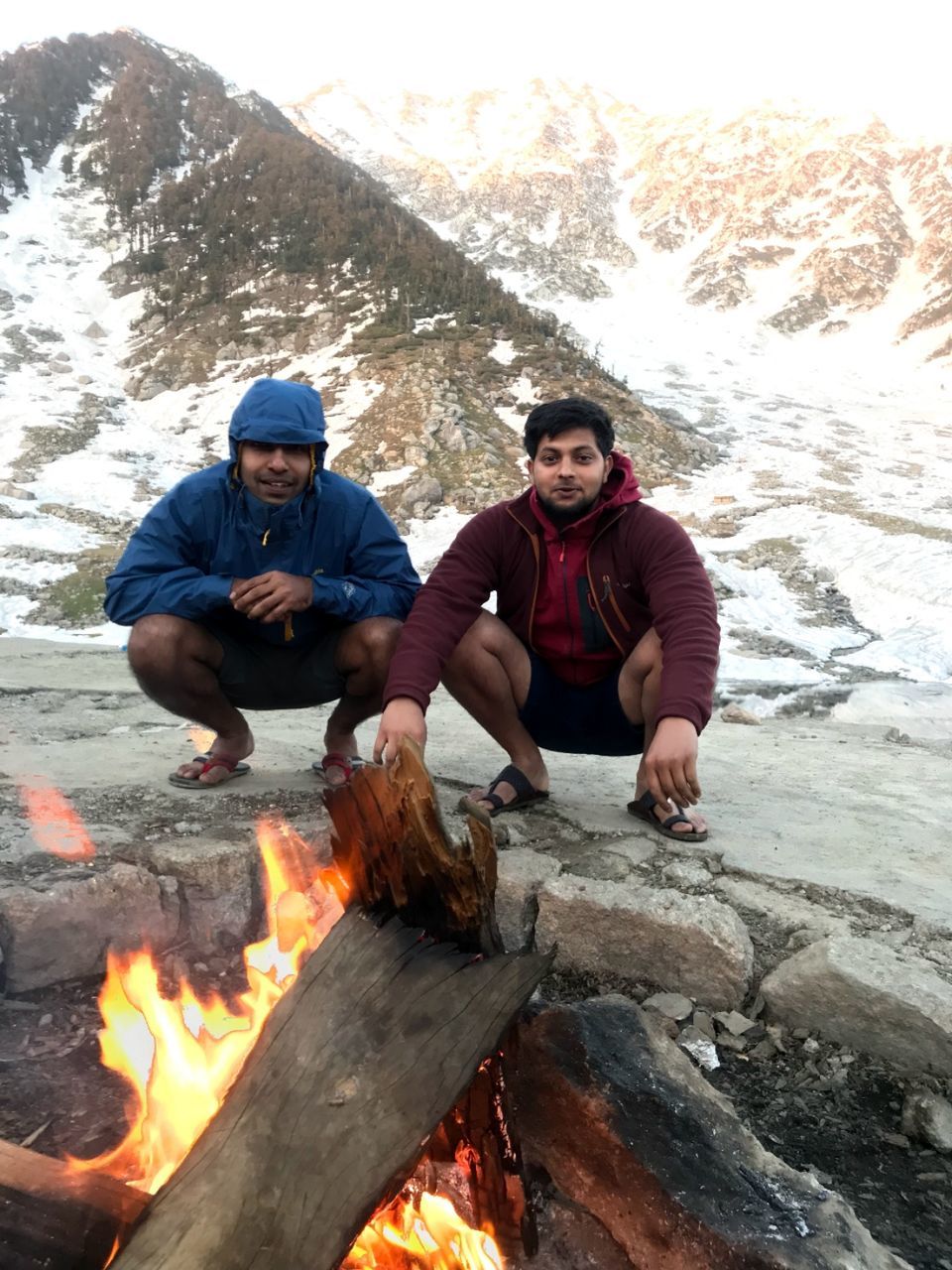 As we woke up the next day, the morning sun was shining over the snow laden mountains. We lazily started with the morning rituals, packed our things up (packing the tent and sleeping bags make for a good warm up exercise), collected all the garbage and started the return journey.
The snow was harder and slippery on the way back, so we had to be careful. It took us around 2.5 hours to reach the bridge from where we hired a cab to Dharamkot.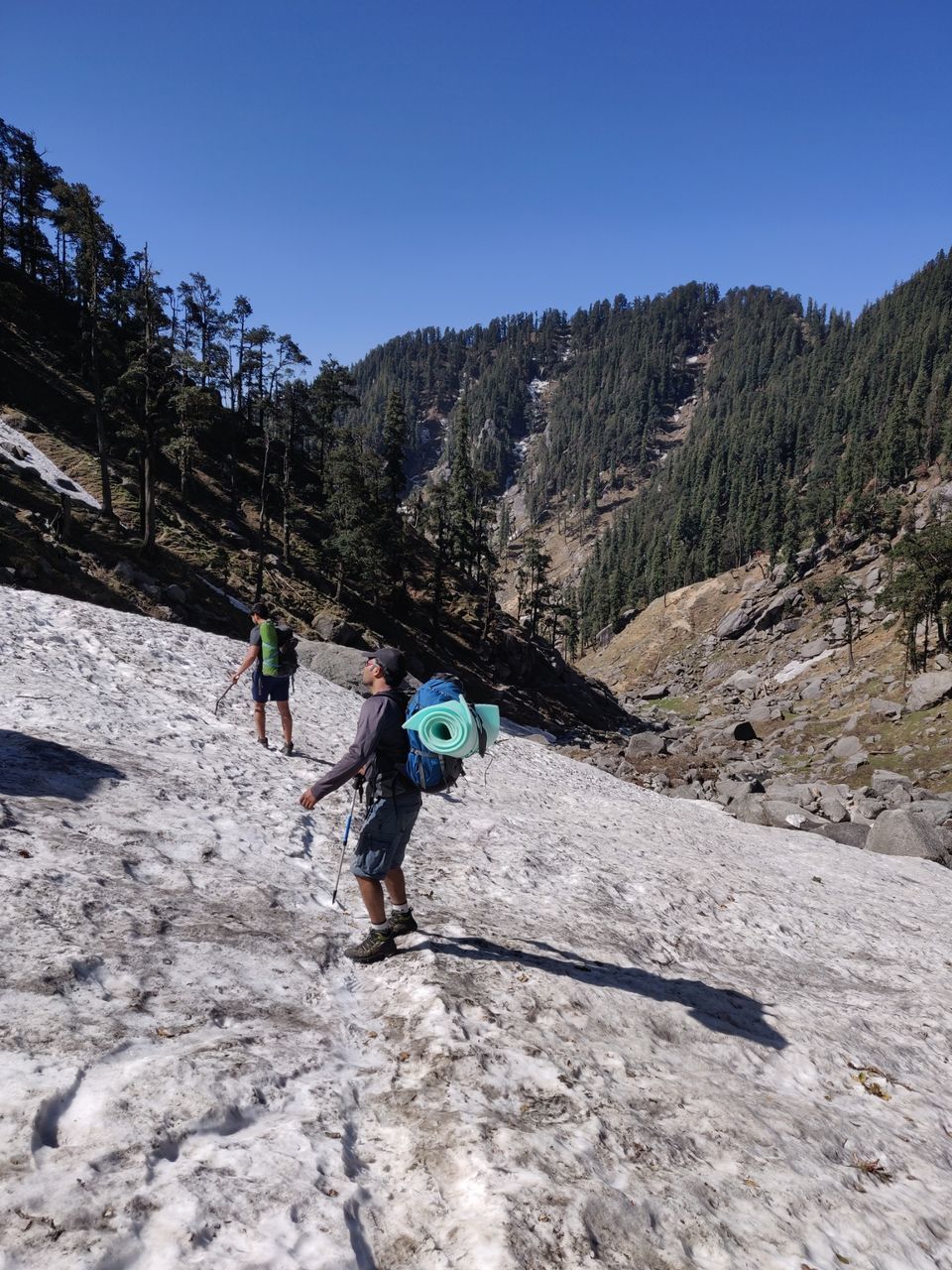 **Important** This is a moderately difficult trek with a total elevation gain of 1200 metres from Kareri village (altitude of ~1800 mts) to the lake (altitude of ~3000 mts) and a distance of ~9.5 kms. I measured all the distances and altitudes using my TomTom all sports GPS watch.
Though I would have missed a lot of things, I just hope that this is useful to at least some of you. I guess open conversation is the best way to get a better understanding, so I am happy to provide clarity (to the best of my abilities) regarding anything that's bothering you.