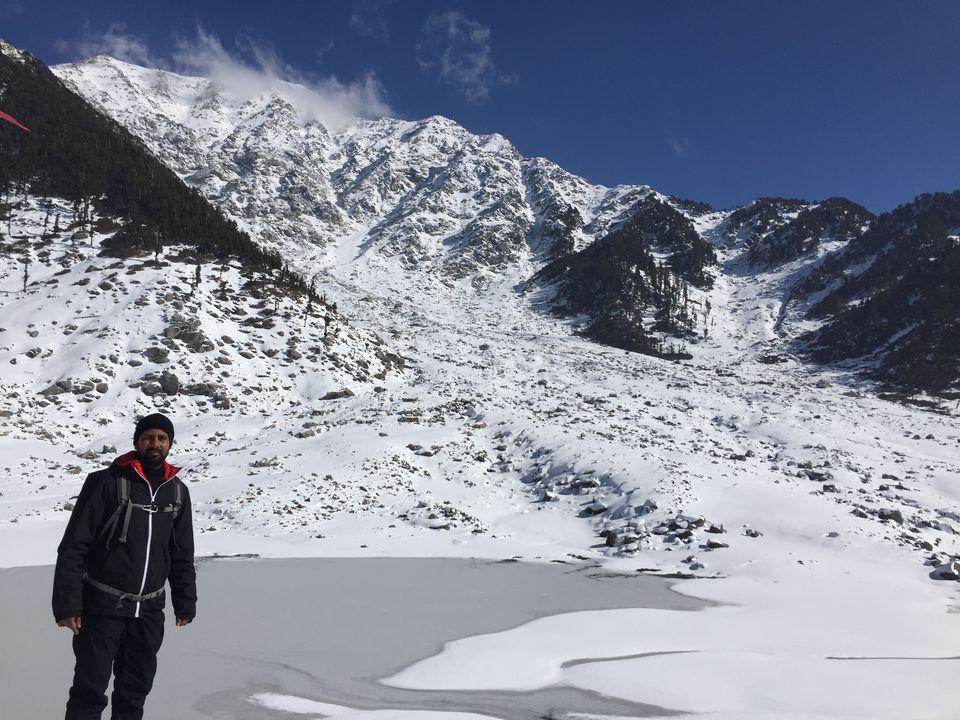 What's up People, Hope you guys are good & safe, due to this pandemic 2020 travel plans were screwed but i was lucky to manage my 2nd trip of this year if you guys know me that's awesome, if you are new here consider subscribing to this profile am Nikhil Talwar a part-time Travel Blogger | DJ | Producer & a Hippie Soul, I run this blog Voyageurs from Delhi to spread travel knowledge as much as i can. The last trip was i posted about Jim Corbett | Kainchi Dham | 06Jan2020, you should go & check it out on my Tripoto profile.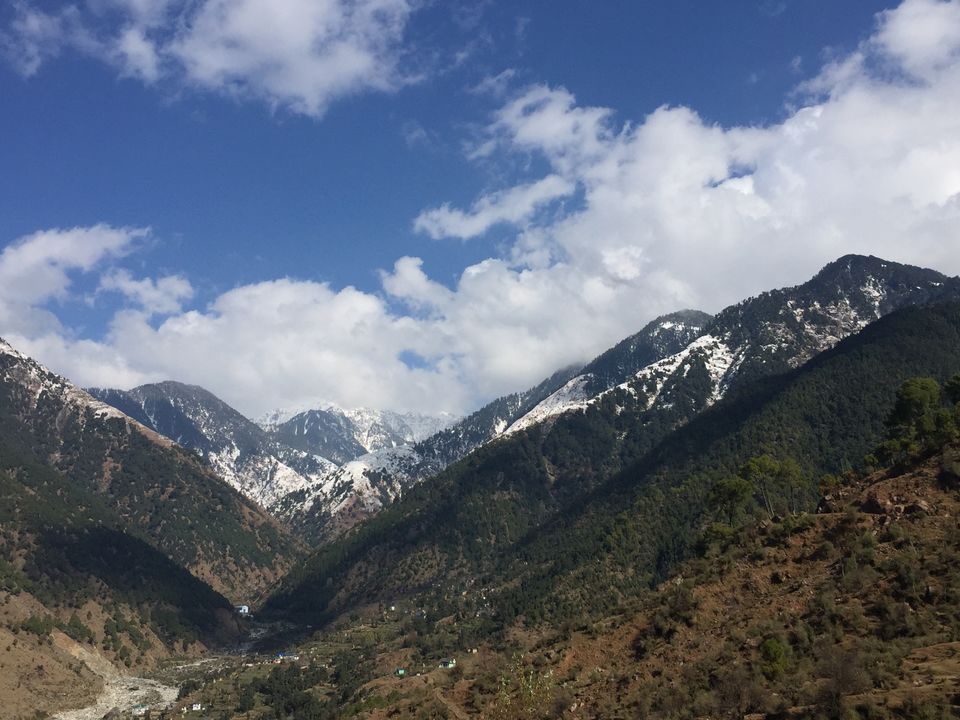 Kareri Lake is a place we choose to Trek we my travel buddies we were group of 3 boys this lake is known as a glacial lake, is a lesser known glacial lake located in the Dhauladhar range. I never visited this place before. It was my first time, Delhi to Kareri Village 10 hr 38 min drive (489.7 km) via NH 44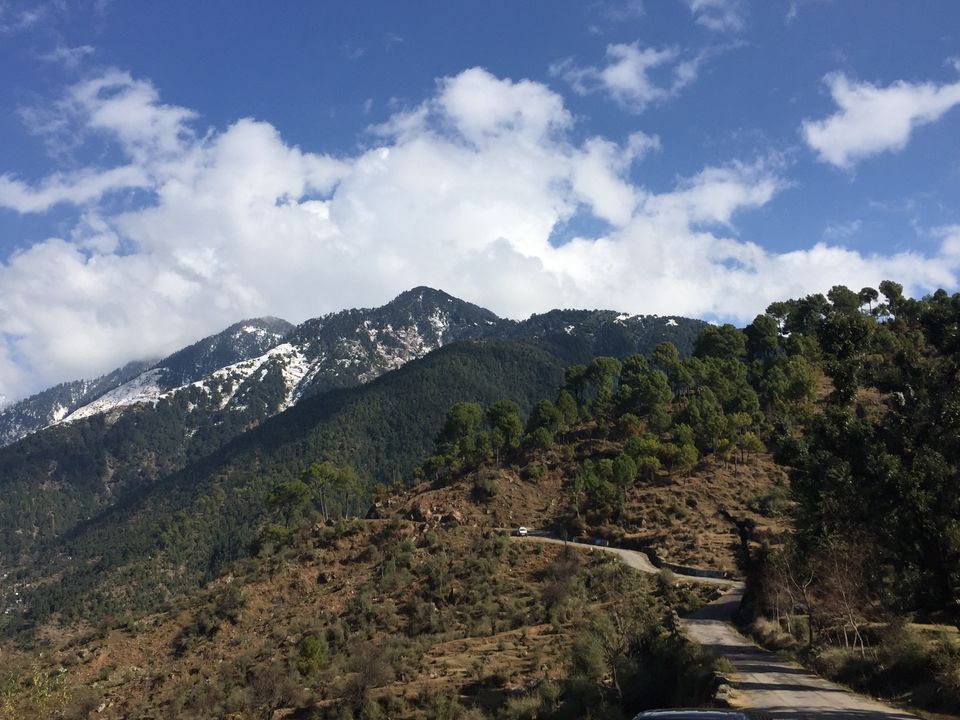 We drove our car to Kangra from Delhi at 04:30am and reached 6:30pm at Kangra, Himachal Pradesh, The Guest house owner was really very warm he told us to Get yourself with some food at we had already bought our food from Kangra and drove towards Salli village & reached at 9:30pm just due to covid we dropped the idea of traveling through Roadways bus but i must say that a trip through a car or a cab is going to be even more awesome with the music you love check out my Travel Playlist Mix

So we reached at Salli Village by 9:30pm it was unbelievable looking at the mighty Dhauladhar range. Before coming here I had read all the blogs and collected info on how to reach here, we had to go to a village Salli, which is supposed to be the last point till vehicles can go and beyond that it's a 5 km drive to Kareri Village.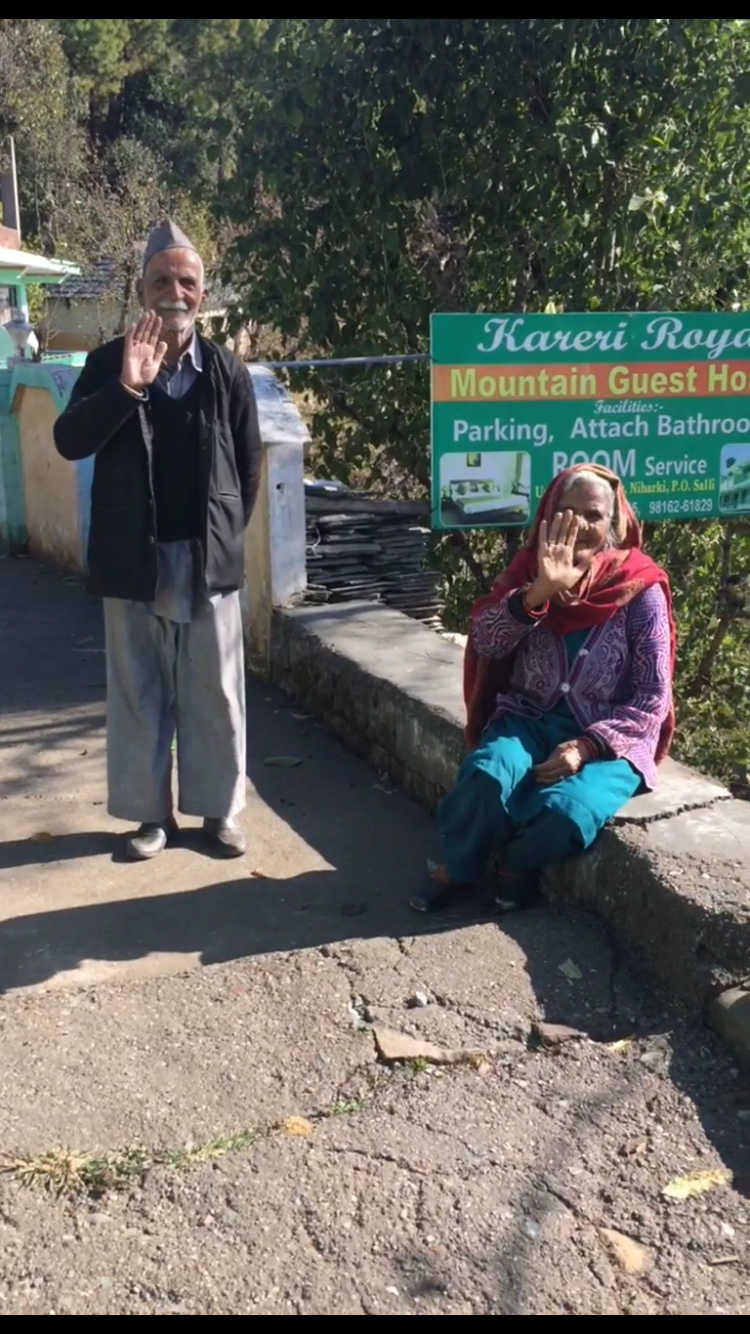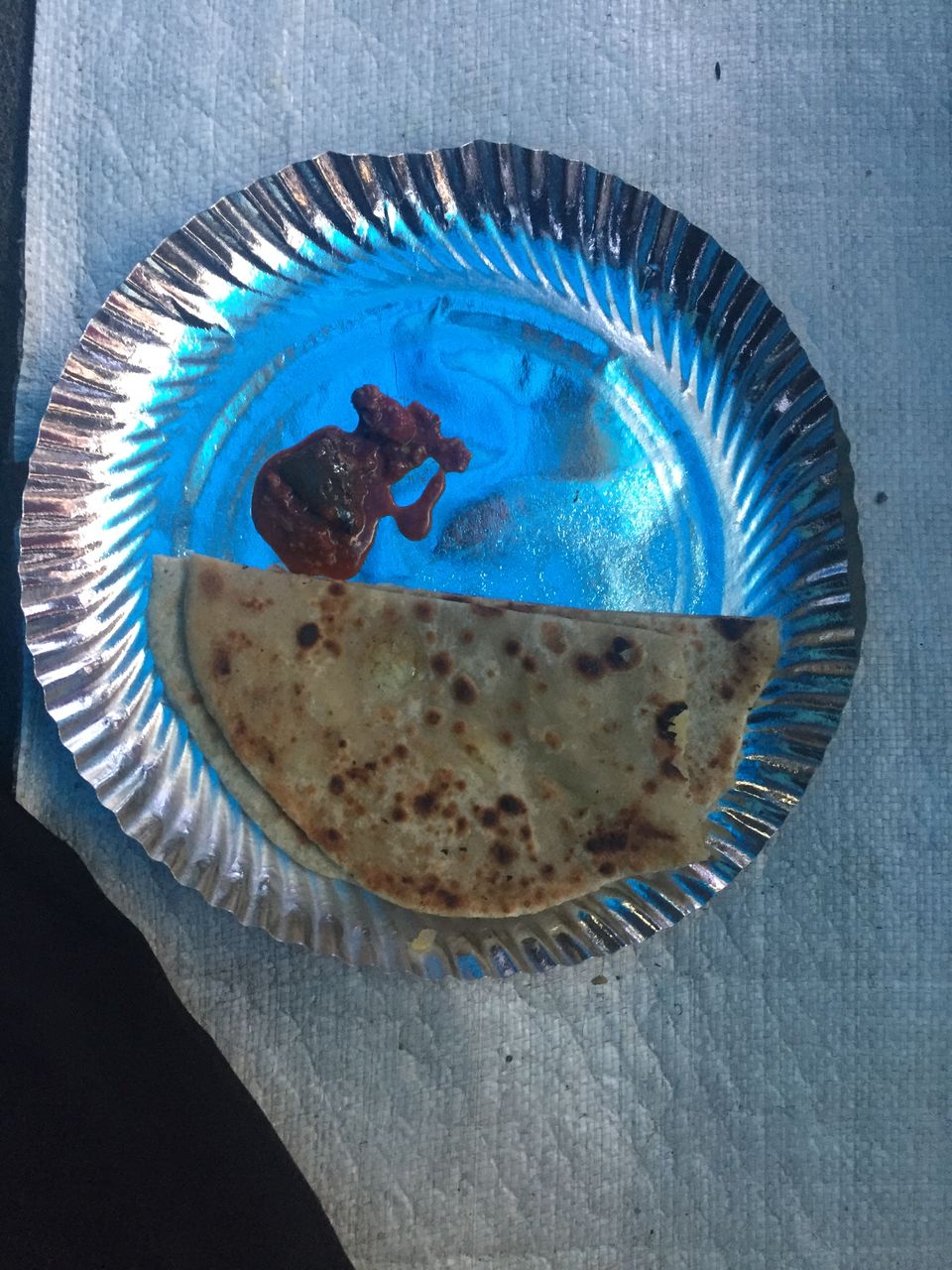 After having breakfast in Kareri Royal Guest House, we drove to kareri bridge, and there we parked our car in a up coming Hotel couldn't remember the name. Everyone was suggesting us there to hire a guide for trek who will take all the camping material with you, no one will be there at the Half point to give you those materials and they gave us price for 2000rs per person to trek till the Half Point (& according to me it was to high) and we rented the camping material at 500rs Here we Got 3 sleeping bags, 3 Yoga Mat, and a 1 Camping tent, we really got the best deal here but the tiring part was that we increase our load, we started the trek at 3pm, It is only 15-16 kms one side of the trek, starts from the bridge, there is a tiny trail going up to the mountains just next to the shop that's your way. After going for 30 minutes through this trail you will reach a small reservoir that's where you will have to cross the river by stepping over the very lagrge rock and continued our trek through to the jungle, you will find another tea stall after 30 minutes on river side. The trek is all uphill and it gets difficult as you move ahead but the breathtaking views of mountains and the rivers following you all the way is enough to refresh you.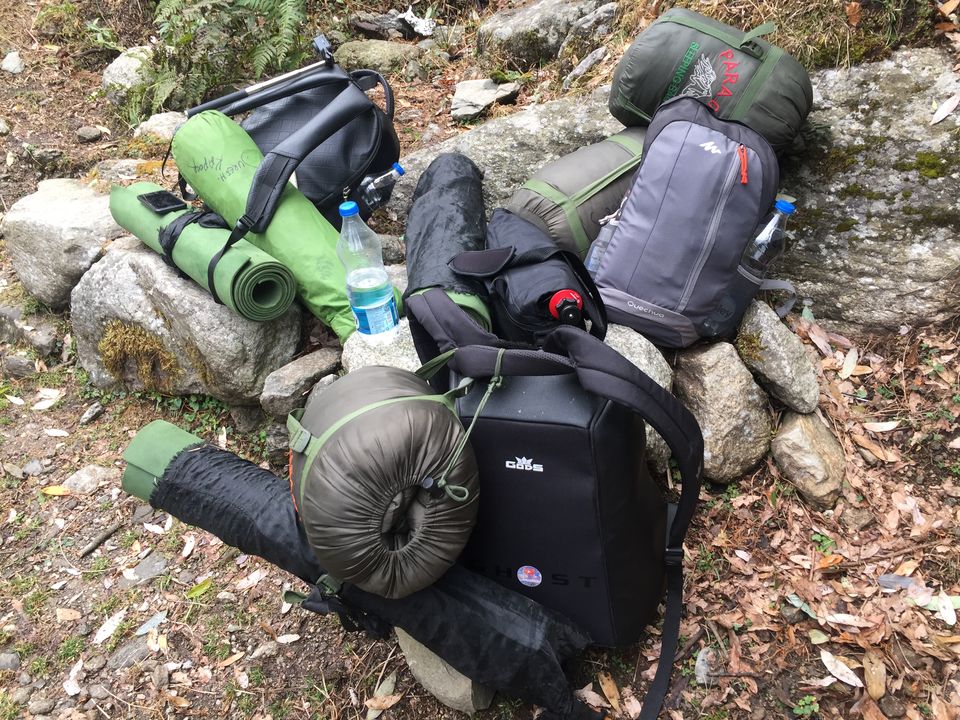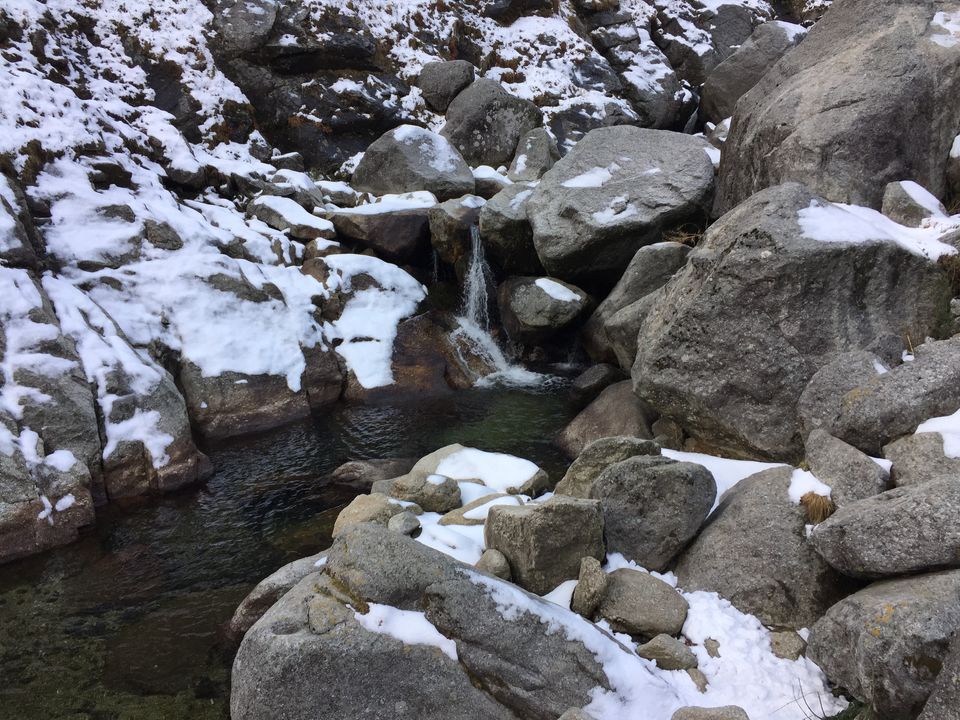 After 4 hours on the trek you will find the size of the rocks getting enormous then you will reach a steel bridge and you will have to cross this, after crossing the bridge you reach the Halfpoint of the trek (Reoti), it's a small camping ground, river and a shop. Some guys camp here for the night and we did too. We reached here 6:30pm set up our camp as the guy from whom we rented the material he told us DIY while renting the tent. After resting for 30 mins We had a couple of shots of RUM (Ps: not encourage you for Alcohol) because it was tooo cold there -5degree Temperature and we realise our tent has a capacity of 2 persons and we are 3 it was difficult to sleep in a one camp, so we spoke to the cafe owner SAM he helped us with a one more tent at 300rs. I slept there with all our bags and shoes and my two friends slept in the other one. The night was freezing; we were shivering the whole night.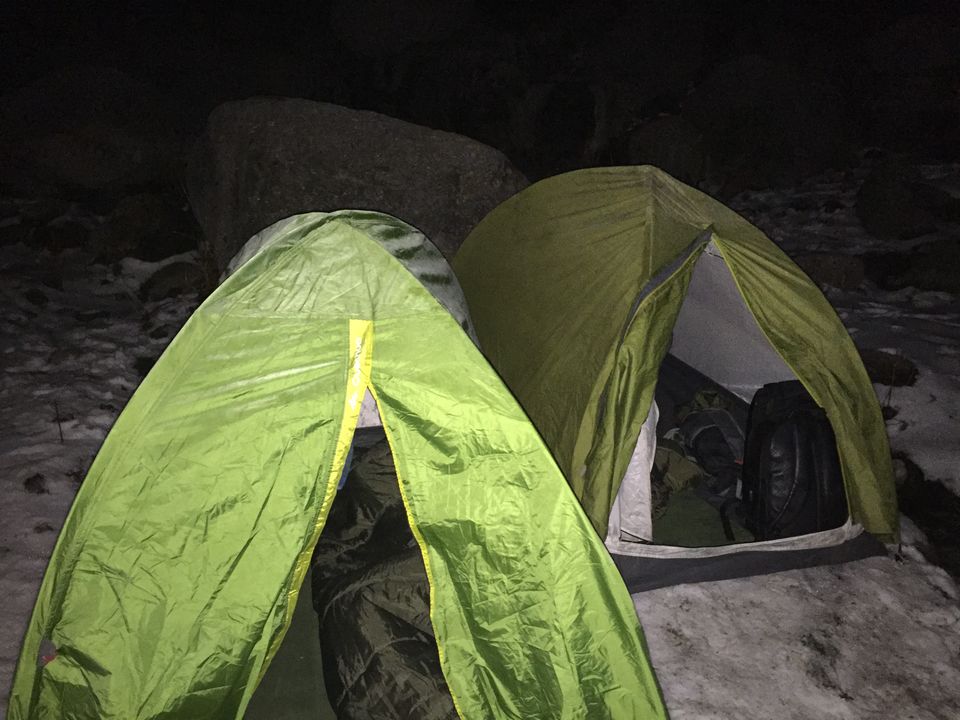 We got the dinner there at 150rs per plate of DAL Chawal unlimited from SAM Bhai.
Tip : Here is the Tip for you don't need to carry the camping gear you will get at the same rate up there in Half point (Reoti) SAM +919816108832 contact him there he'll sort everything for you there #thanxmelater in your instagram stories.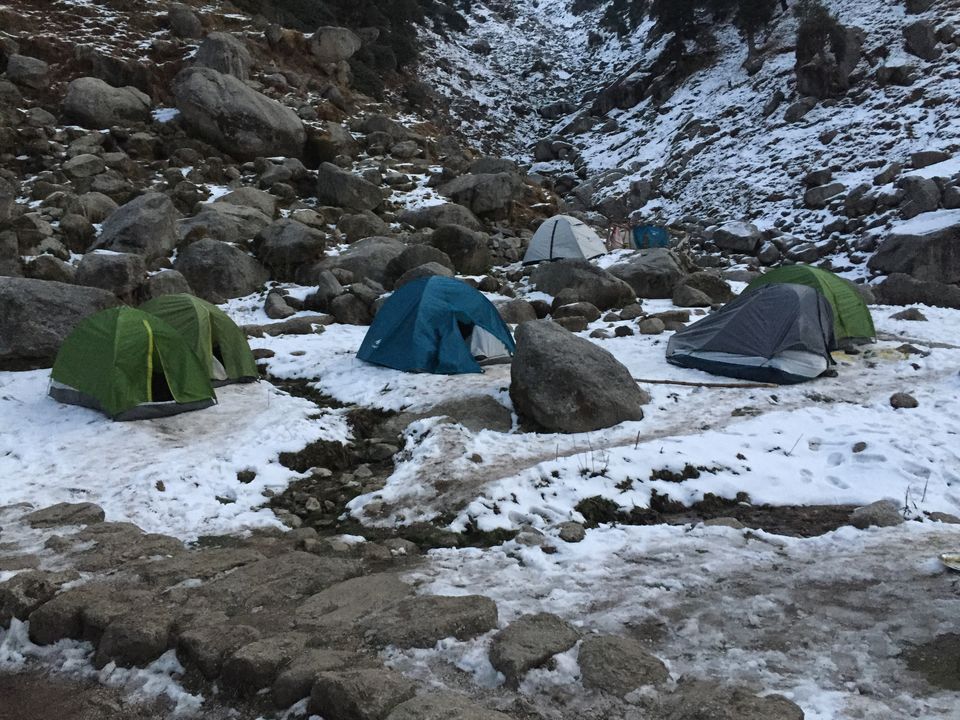 Next day we started the trek once again, its 4 kms uphill from here, had our meals from the cafe and started heading after another 3 hours into the last strenuous stretch of the trek we reached Kareri Lake.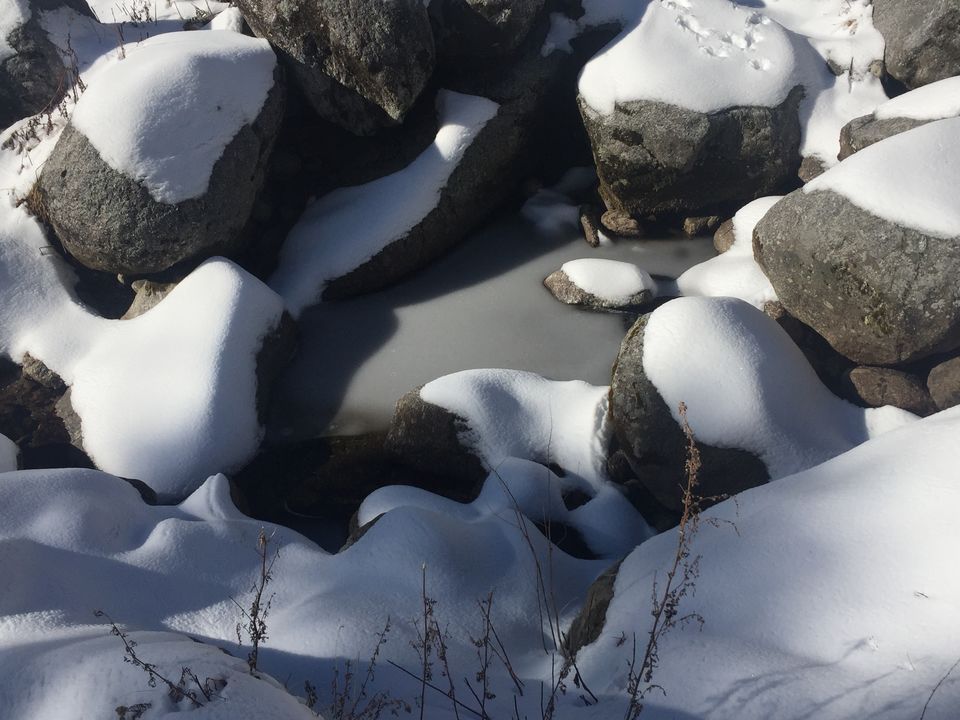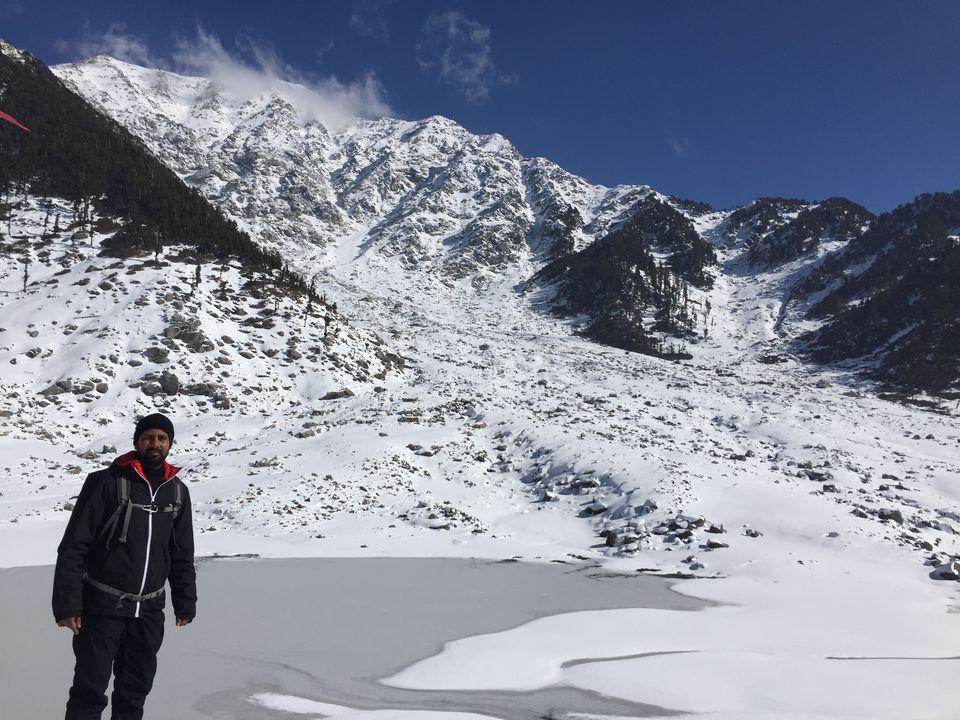 The morning sun brought warmth, we trekking on the glacier in the morning but we couldn't do it all the way. It looked heavnly. The crystal clear water, the glacier in front of it . The Mountains covered with the Snow. My Feet was disappear in the snow, one of the best moment ❄️ ❄️ ❄️ Lake was frozen, hands were shaking, feet were chilled, and remember to carry good quality of hiking shoes so the your feet, so that you can save them for getting wet, temperature -10 degree.... The water was so clear that you can see the reflection of the whole peak in it.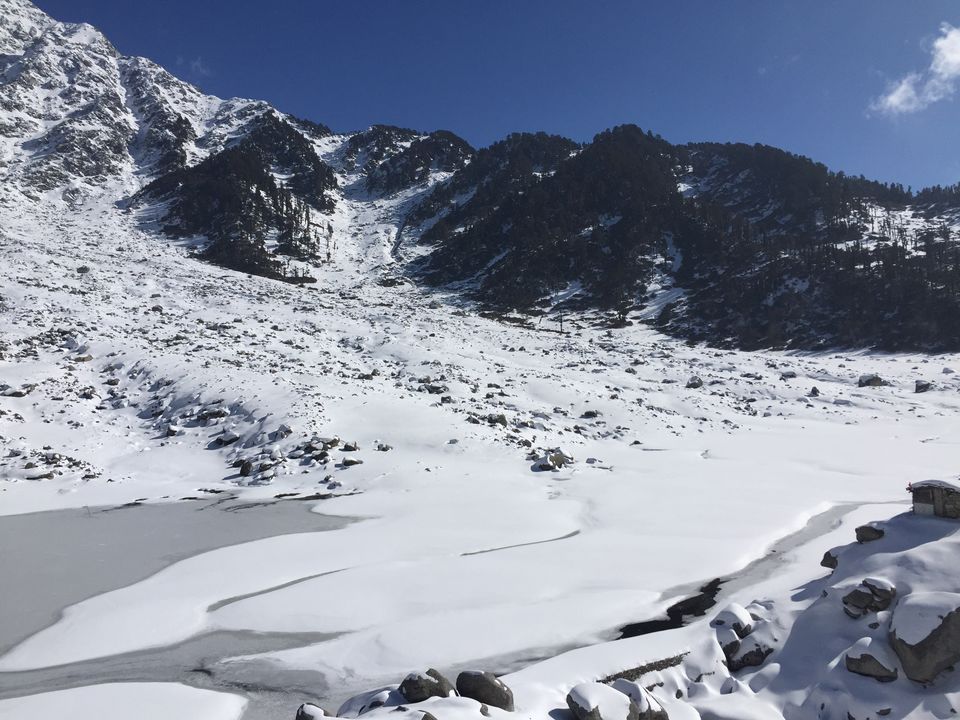 We strolled around the lake, clicked pictures, As soon as the sun went down it was almost freezing, no one was there at the temple premises we spend some time by clicking some drone footage. We clicked some more photographs and went back to our tents at around 2:30pm when the sun started going off & wrap up our tent tied from our backpacks started heading back to the bridge by the same route.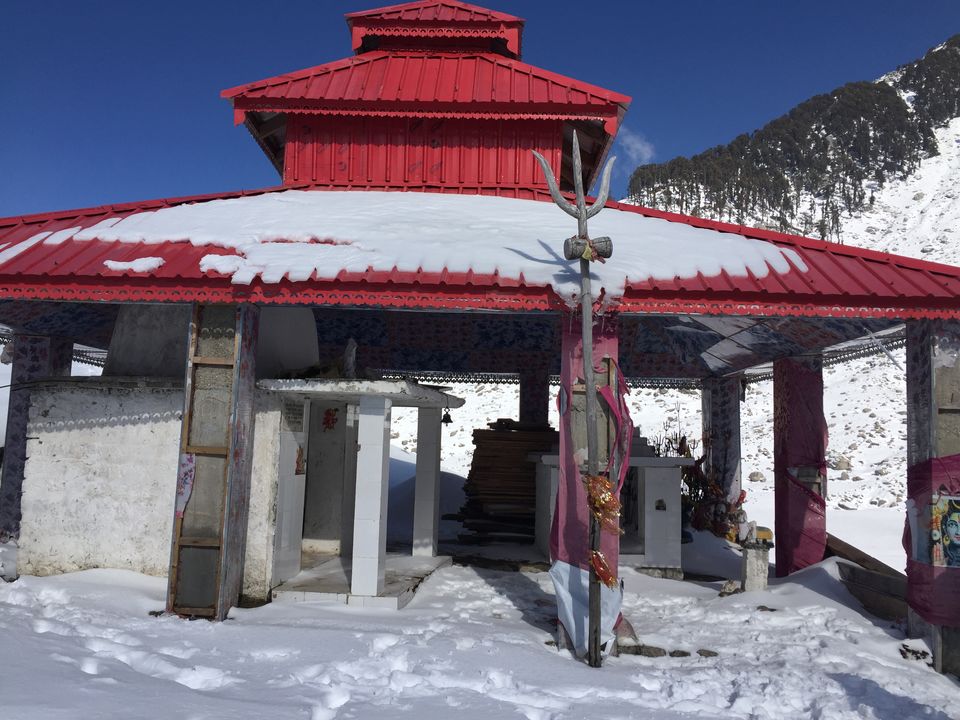 After this tiring journey we took out car from hotel parking and reached to Kareri village by 5:30 PM. It's a very small village consisting of 20-30 houses, with Dhauladhar right back of it and a forest rest house at the end of the village. We talked to the forest rest house official, he gave us a room on his home stay he told us we can stay for 600rs. per night but usually booking is done from Dharamshala but we can stay since they didn't have any booking. The meals were served by his family members at home stay 120rs./meal. We enjoyed the quiet evening sitting in front of the rest house as the temp kept dropping until we started feeling cold.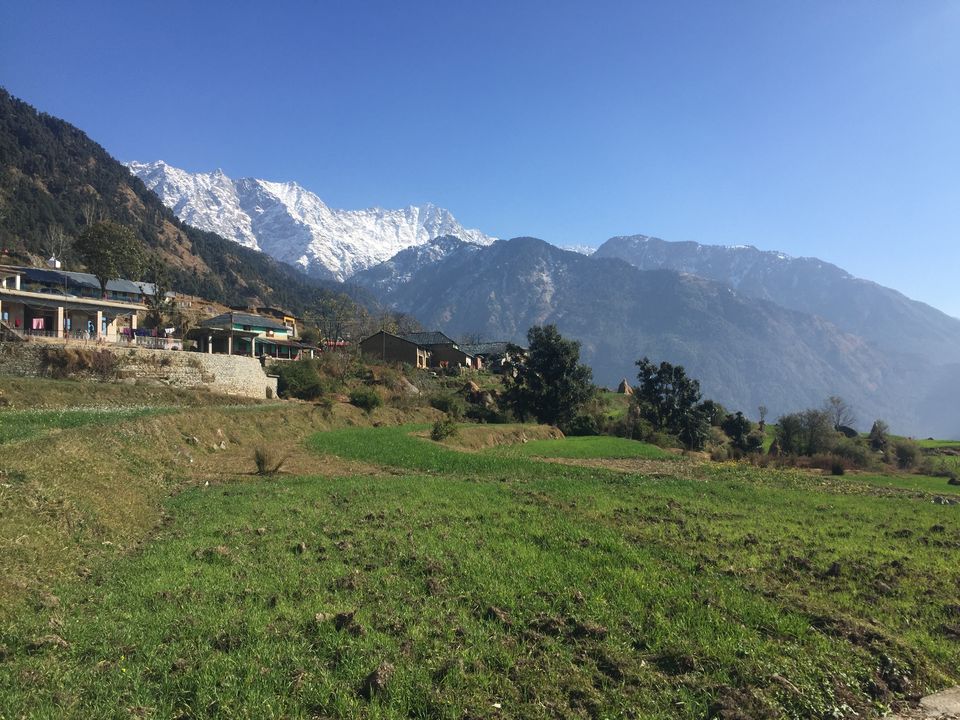 Total trek distance both ways 35Kms (approx)
Day 0: Drive the car to Dharamshala from Delhi at 04:30 am
Day 1: Reach Kangra by 06:30 pm. Get yourself filled with some food at Kangra. Reach Salli Village by 9:30pm. Get accommodation in Kareri Guest house (rs.600). Spend the night at Salli village and resting.
Day 2: Get up early and We drive to kareri bridge, and there we parked our car & start the trek. Reach (Reoti) by 6:30 pm Setup the Tent. Camp overnight.
Day 3: We started the trek once again, its 4 kms uphill from here, had our meals from the cafe and started heading after another 3 hours into the last strenuous stretch of the trek we reached Kareri Lake. Start journey to your way back at afternoon. Reach Kareri village by evening (You can choose to either rest in Kareri village or continue your journey to Delhi.)
Day 4: If you rest at Kareri village overnight, then start heading back to Delhi.