Sainj valley, a world famous UNESCO heritage site, attracts travelers from all around the world, and in turn attracted this power couple from Delhi.
Suchita and Vikas Tyagi, living in the hectic hustle bustle of Delhi decided to move to the picturesque Sainj valley with a dream to set up an eco stay in the Great Himalayan National park. That's not all, they wanted to provide a space where travelers can experience the history and ever moving culture of Himachal. Suchita and Vikas decided to take up help from the locals and construct a Kath-Kuni styled architecture homestay.
They wanted to provide relief and comfort to a travelers soul by creating a home away from home, and ended up creating a marvelous place. They have made a massive contribution to the heritage of this country and appealed to the heartfelt wishes of every traveler.
Kath-Kuni is very traditional to parts of Northern India, and the architecture is such that there are alternate wooden panels and stones, this in turn helps the structure go as high as 7 storeys.
This dream took Suchita and Vikas 3 years to be fulfilled. Traditionally, a Kath- Kuni doesn't have a bathroom attached to the house, but Suchita and Vikas realized the complications and problems that may follow by having a far off bathroom and got one constructed in the house.
That's not all you get here,
Haven't we all heard of the Himachali Dham?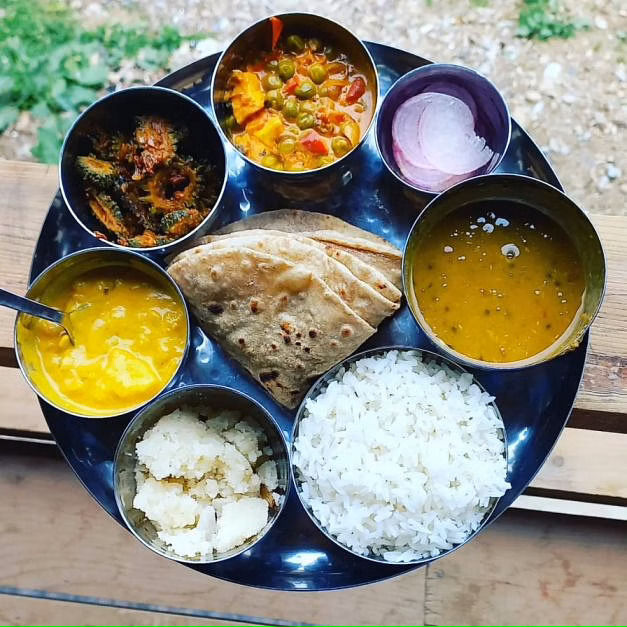 This dish is served at the homestay, with all fresh, local ingredients and spices. Suchita and Vikas have taken considerable steps to enhance the journey of each person that comes their way.
The best part about these small homestays, is the personal touch and wild experiences. Why go to a typical crowded destination, when there are places that make you feel in touch with yourself and in touch with nature.
So cozy up in a traditional homestay and eat mouth watering Himachali food, at this home away from home.
Comment below what is your favorite go to place in the Himalayas