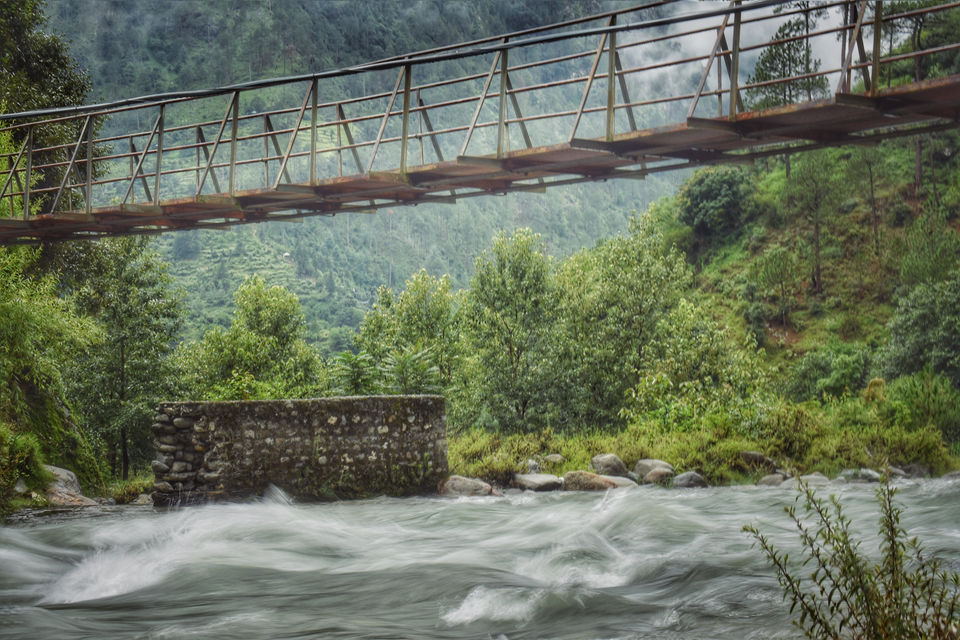 'What you seek is seeking you '- read it somewhere this morning while my head was on an illusionary tour of random thoughts! And I say, Travel more often to see your life being surrounded by more of such fine meaningful quotes!

Today I am writing about a place which remained in my list for 2 years. During this time, I read numerous blogs and kept painting views of this poetic place in my mind. In actuality, as I stood there I realized not just in real life but in my imagination too I am terrible with my drawing skills!
Let me share a few snaps before I reveal more -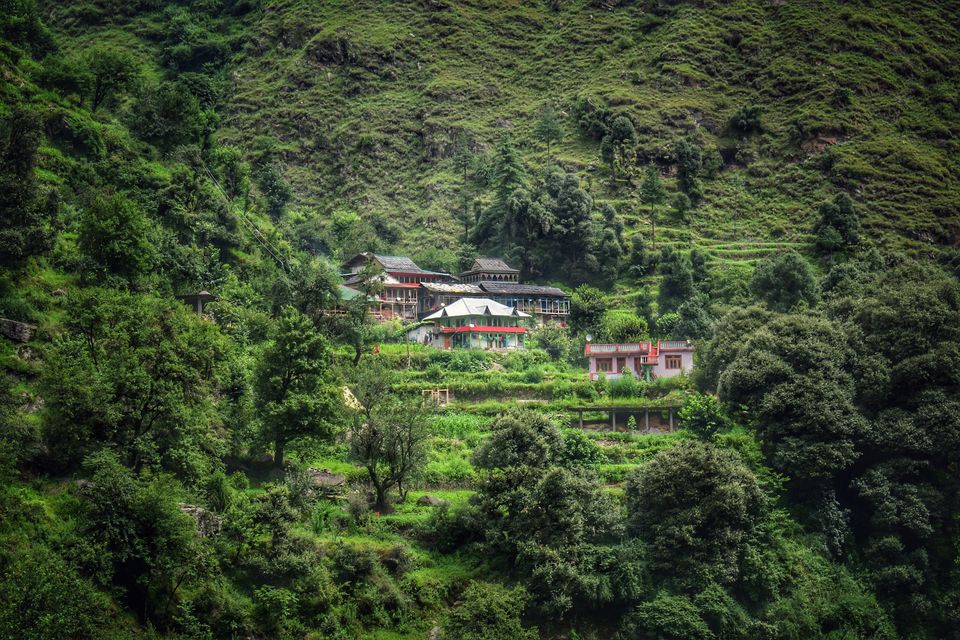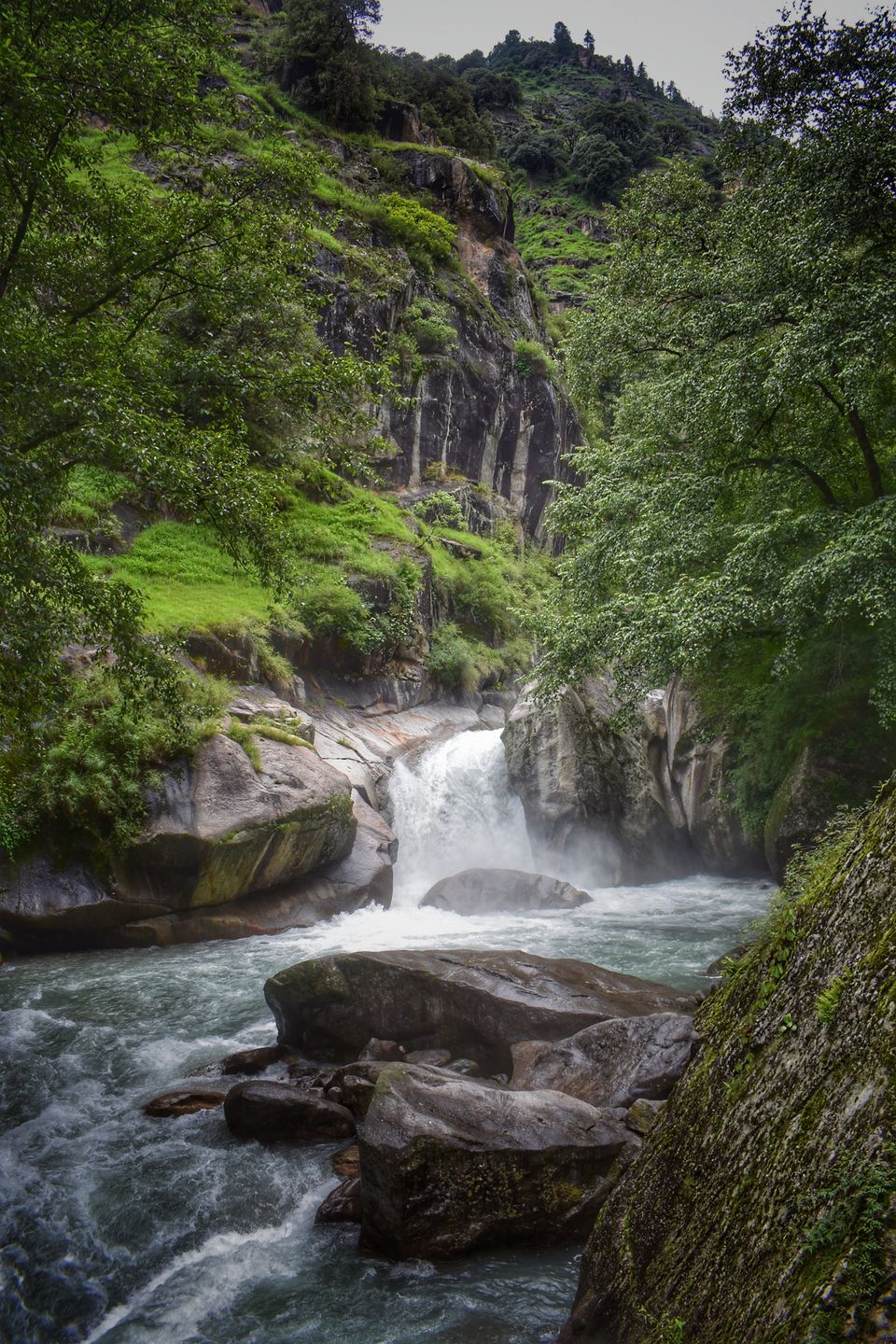 This place is home to one of India's national parks - Great Himalayan National Park which aims at preserving Flora and Fauna spread over the Himalayas. Any guess still?
Yes, it is Tirthan Valley!
I don't want you to confuse between different places in and around Tirthan Valley. Because I did the same and I know the pain!
If you google Tirthan Valley, you will get a list of places like Banjar, Gushaini, Jibhi, Jalori Pass, GHNP, Sharchi. You can consider Banjar as your starting point for exploring Tirthan Valley such that Gushaini, GHNP, Sharchi lies on the right side of Banjar and Jibhi, Jalori Pass towards the left.
Jibhi and Jalori Pass - The valley in Jibhi (Jibhi Valley) is a bit different from that of Tirthan. (Yes I can read mountains, crazy isn't it) Although there is not much to explore in the valley, you can always find this valley interested with slow travelers and hippies. Jibhi waterfall is one of the major attractions, apart from some relaxing cafes.
There are two routes to reach Banjar (Tirthan Valley) from Delhi/Chandigarh, out of which one is via Shimla. You will cross places like Shoja, Jalori Pass, Jibhi if you choose to drive via Shimla. But it is approximately 50 km extra compared to the other one.
The other route is via Aut tunnel. If you are traveling by your convenience then simply use google map. However, if you go by this route you need to take a detour from the tunnel towards a place called Bali chowki. From Bali chowki again there are two diversions, you can take the left road which goes to Banjar. Except, if you are one like me who prefers public transport over luxury on mountains, then here are a few details -
Bus 1 - Book your ticket in a bus going to Manali or Bhuntar. Get down just before the Aut tunnel or at Aut station.
Bus 2 - Frequency of buses going to Banjar is as scarce as you can imagine. So you can hop onto any bus going towards Bali chowki. If you are lucky enough, you might also get a direct bus till Banjar.
Bus 3 - Get down at Bali chowk and hop on a bus going to Banjar.
Bus 4 - Finally, after 1.5 hours of your journey you will reach Banjar bus stand which is a pretty big one for Himachal.
However, your journey doesn't end here, from Banjar you again need to take a bus going towards Bathad to reach Gushaini. A majority of stay options are set up in Mungla which lies 2 km ahead of Gushaini. Besides, if you are visiting the valley off-season then this place can be all yours!
Places to visit -
You will spot the river as soon as you enter Tirthan Valley and you can spend your entire day sitting by the riverside staying in Gushaini or Mungla.
This waterfall is 15-30 mins hike depending on your fitness and speed from the main road in Mungla.
Guess what? For me, this trip was all about visiting this village called Chehni, absorbing the vibes of the place and the historic fort called Chehni Kothi! However, this is in the opposite direction of Gushaini. A chat here with a local helped me learn that this village is not under any government rules and the villagers strictly adhere to conserving their vintage beliefs and authenticity. And, it one of the reasons why tourist are not allowed to enter the temple here.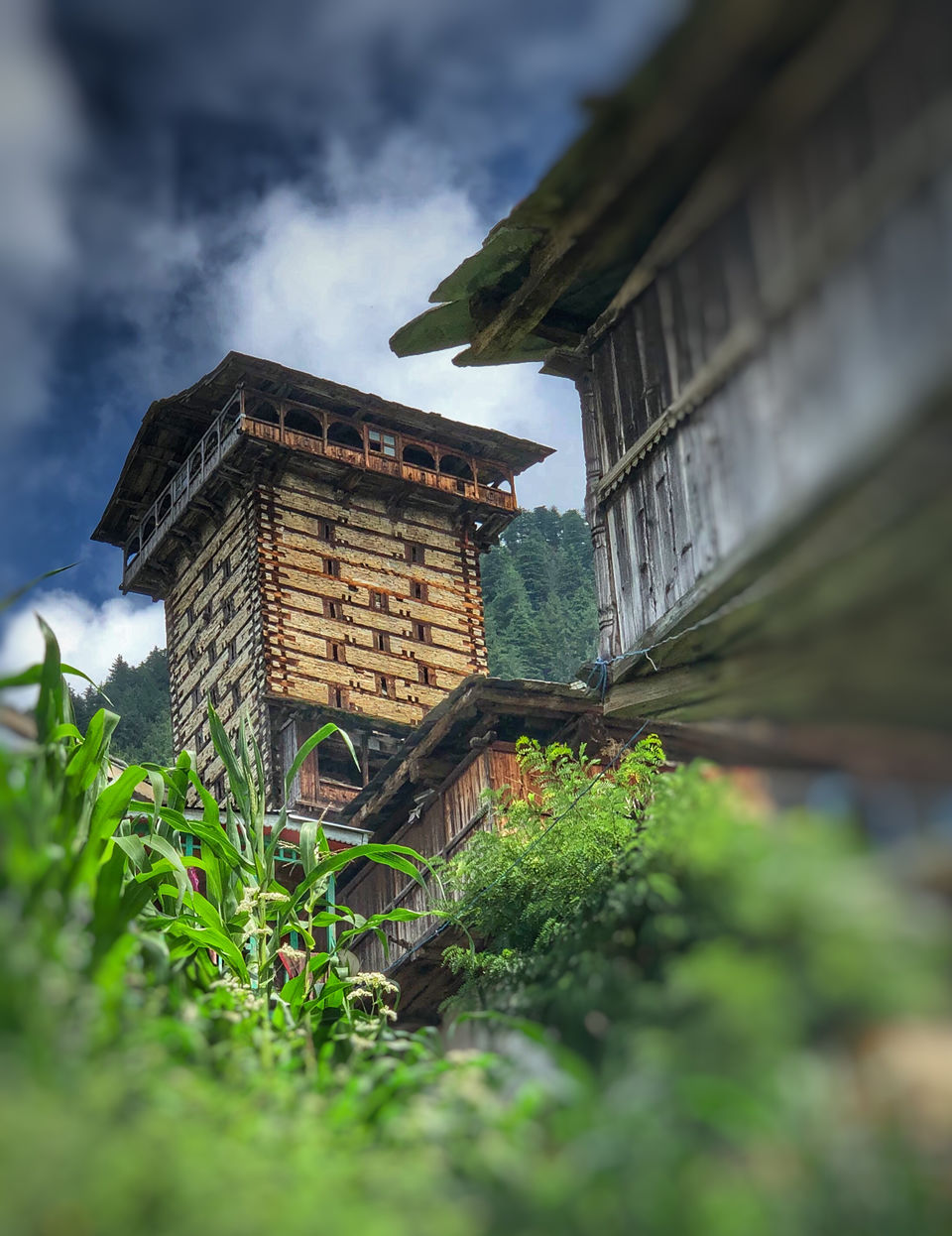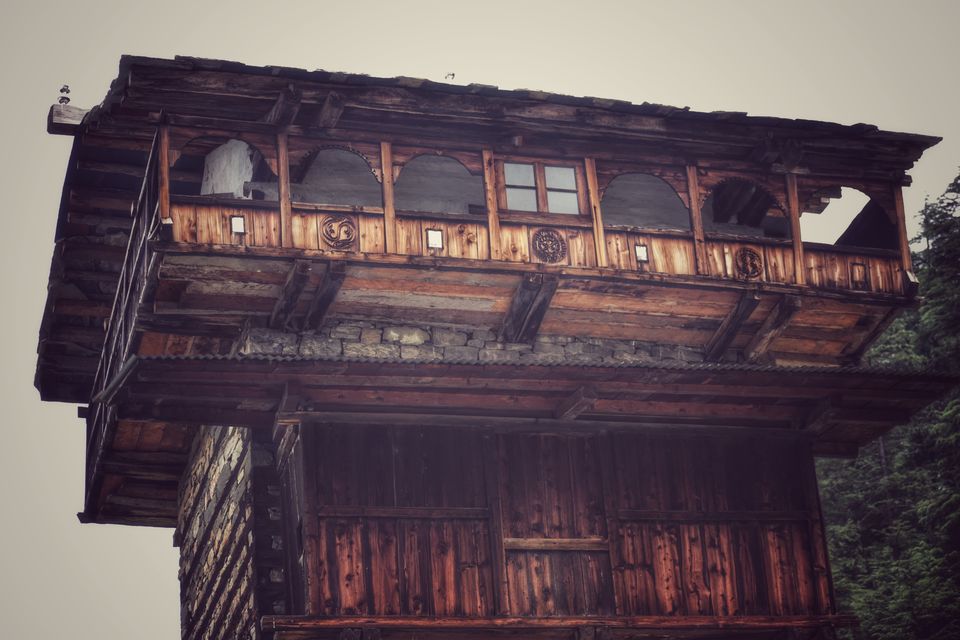 This Kothi was built by a king some thousand years ago in remembrance for his wife 'Chehni' who died of illness. The fort is built in traditional Himachali architecture called Kath Kuni. The Kothi stands tall with 7 floors after the 1905 earthquake destroyed the top two floors.
To reach here - you can take a bus going towards Jibhi and get down at Shringa Rishi temple. A short hike of 45 mins from the temple will take you to this unique village. Also, if you are pretty good with your bike then you can ride uphill for some more distance. Though that will just lesser the distance you trek, you still got to trek! I didn't see any homestay in the village (one of the reasons being more tourists means more commercialization and then the government takes over control) but there are 3-4 small cafes which remain closed off-season. For as I was really hungry, one of the villagers willingly opened her cafe to serve me some delicious Maggi!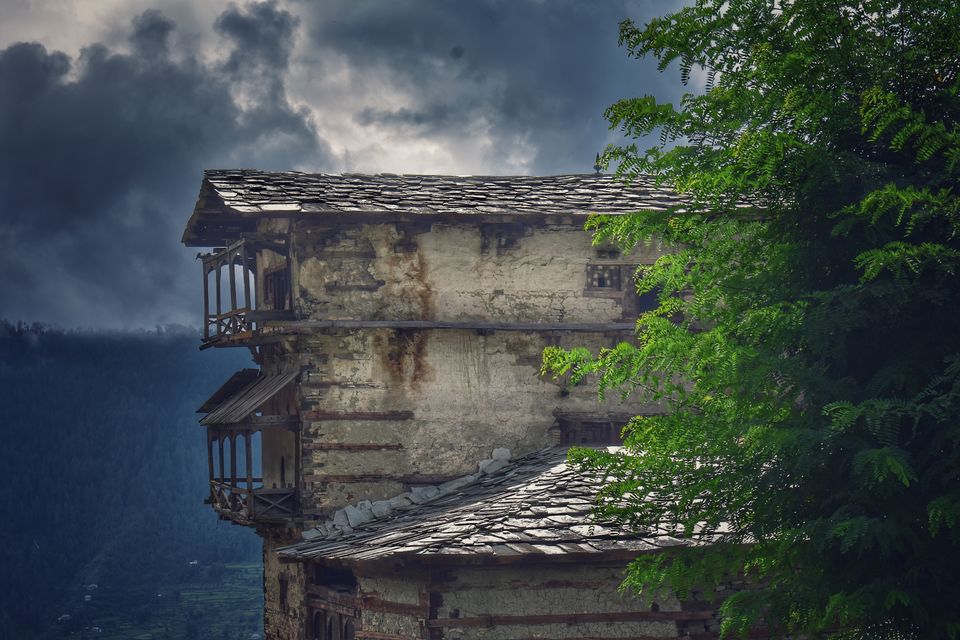 As I mentioned above, this park covers a vast area and is home to diverse Flaura and Fauna in the Himalayas. Most travelers confuse short day hikes with other treks in the region. You can choose to do a trek to GHNP gate from Gushaini village.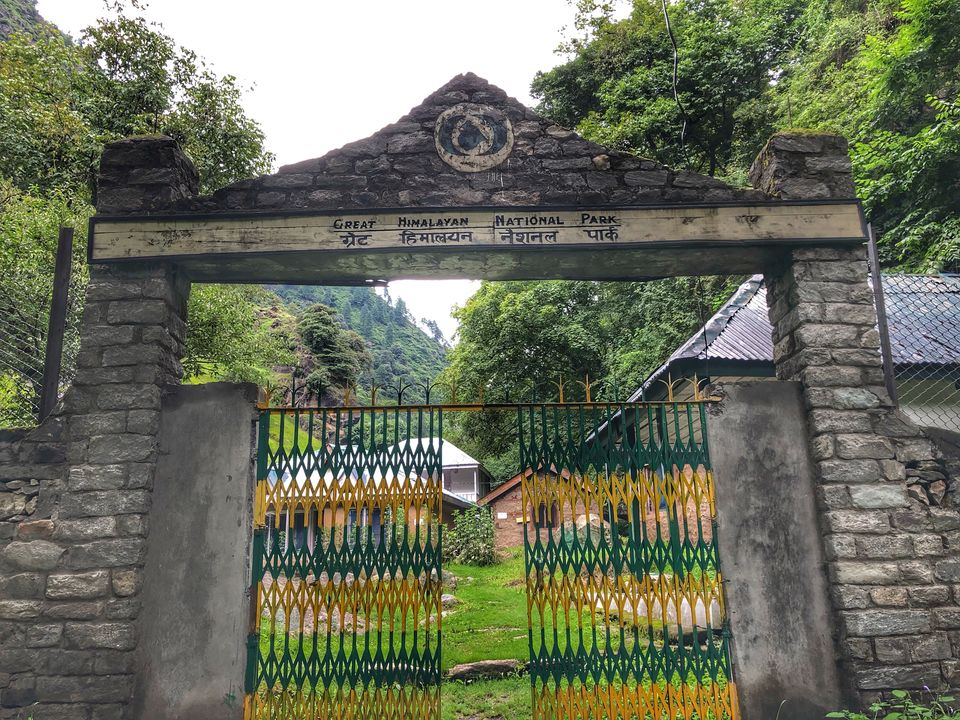 This one is a total of 16 km and can be covered in a maximum of 6 hours including all your unplanned stops and lunch stop.The trail is pretty easy and takes you through thick Deodar forest with some scenic waterfalls and streams.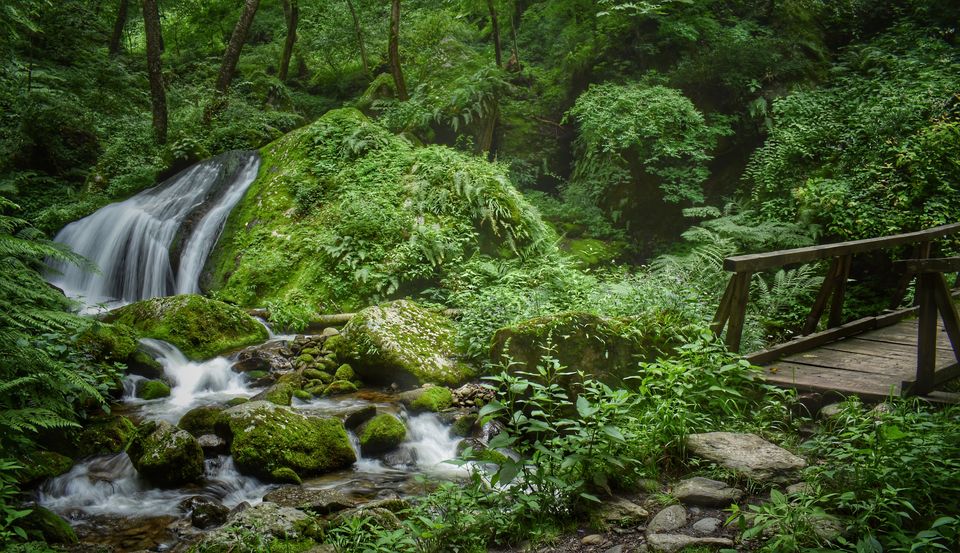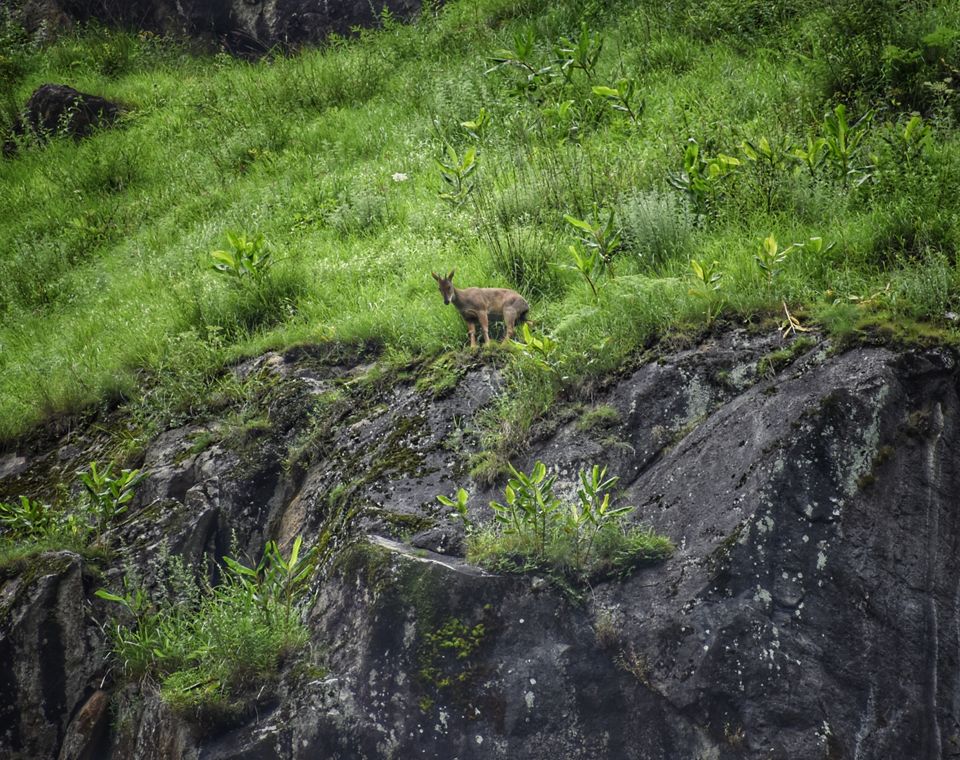 Other trek option in the region takes around 4-8 days. Shilt Hut Trek with Rakhundi Top is one of the lovely treks in the region which can be completed in 4-5 days. If you are making a long trip of 8-10 days then you shouldn't miss out on Tirth Trek, this trek takes you all the way up to the source of Tirthan river. People of Tirthan valley call it, 'Jannat'. I am sure, it is!
This village in Tirthan Valley is local's favorite. Sharchi is the 'most beautiful village (place) in the valley' is what they believe. The village is beautifully situated on the top of a mountain at a distance of 17 km from Gushaini. Not having much to do, this place is ideal for someone who loves to travel slow.
Few things to note :
1. Gushaini in Tirthan Valley is one of the best in India for Trout fish farming. You can try your hands on trout fishing with a valid permit. This license/permit allows you to enjoy fishing for 45 minutes. To my better knowledge, it costs 600 INR approximately inclusive of the permit, fishing rod and a local guide to help you out with your skills.
2. Don't miss out on Tirthan's local wine which is prepared using jaggery and a specific wood. It hits you like a lullaby.
3. Tirthan Valley is not a weekend getaway kind, you need to have 4-5 days to get fulfilling experience.
Disclaimer: Traveling by public transport in the valley can be strenuous so unless you are traveling by your vehicle, you can hire a taxi for some part of your journey. Just as I always say, your travel to any place in the mountains is incomplete, if you miss out on public transport!
Last but not least, the most important piece of information/advice - Any place you are traveling to, just leave your footprints not plastic in any form.