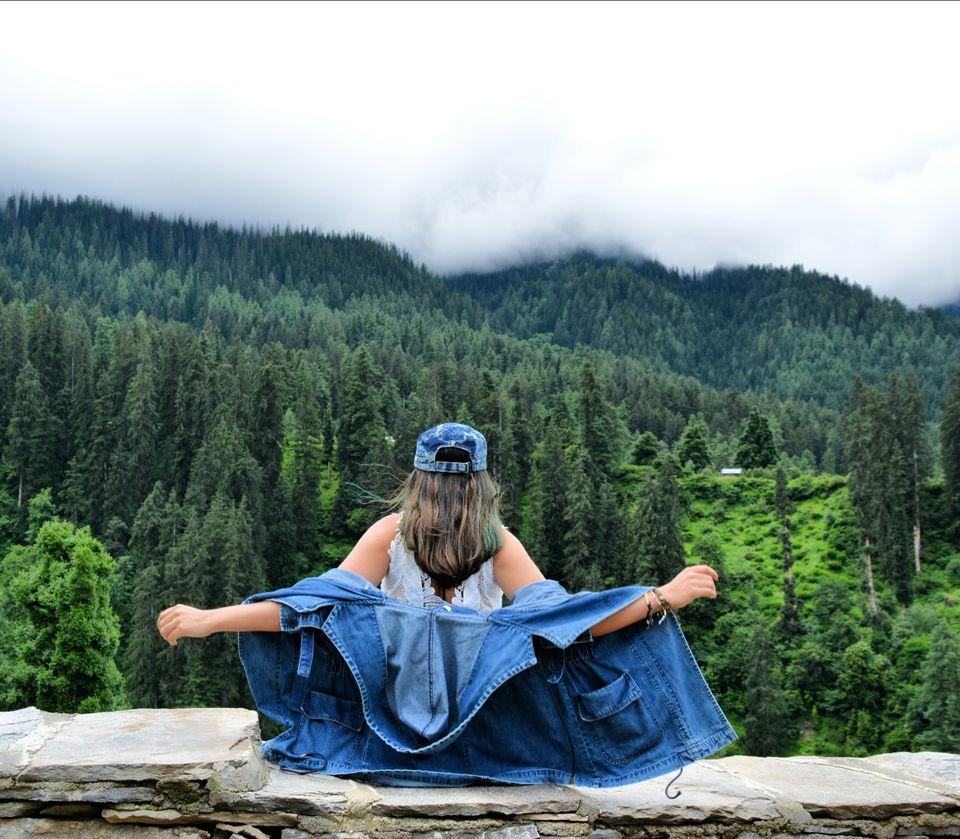 It is always recommended to take a break from your busy lifestyle and go to the best of places where you are a little isolated yet very connected to your inner self .So this time we went to explore some beautiful, underrated and less explored villages of Himachal.
We took Indo Canadian bus from RK Ashram Delhi in the evening .We reached Kasol around 9 am in the morning.From Kasol we booked a taxi to Barsaini which is the last motorable road.Reaching Kalga is all hike from there,that is why this valley is less explored,we reached Barsaini at 10:30.We hiked for about 45 minutes and reached our guest house around 11:30.We stayed in Holy Cow Cafe which is a beautiful guest house on the top of Kalga village, it has one of the best sunset view.Kalga is plastic free valley so everything was so clean and pure surrounded by lush green vegetation.There was apple garden everywhere and full of red apples and complete valley was looking green with a tint of red.
Tosh village trek
We went to Tosh village on the second day which is around 2-3 hrs trek from Kalga.
We started in morning , the weather was pretty awesome.Most of the journey was covered on foot,you walk from between the villages experiencing their daily activities.Its a great lesson for us to realize that with such limited resources,how can people sustain so amazingly well.It is a very calm n serene village.People mostly rely on apple and other crop vegetation along with animal rearing and poultry.We come across a small bridge when we enter Tosh,it has stream flowing below it.The narrow streets from there take you towards valley which has an artificial storage for water,which is released from top and water rushes downstream,it is a great scenic beauty.
Pulga Tulga trek
We started in the morning around 8 am.It is one of most beautiful treks where you need to cross rapidly flowing river stream twice,the bridges are mostly wooden and it's quite scary at times.Its around 3 KMS trek with amazing valley and river flowing throughout the way.It ends up in the isolated village of Tulga n Pulga.It is one of the best villages I have been so far in terms of natural beauty and view.It is characterised by lot of age old wooden houses,which look very classy.After exploring it for 1 hour,we settled down at a cafe and had breakfast.Food was great as usual.We headed back after that.
We explored some local areas and went to apple garden to pluck some apples,we had breakfast at Sunrise cafe.It is highly recommended for the amazing food and ambience that it offers.We went back to our guest house and spent rest of the time in guest house and looking at the lush green valley.
All throughout the trip,what was most exceptional is the warmth of pahadi people.They are so helpful and would like to guide you in the best way possible.Special mention needs to be done for the 4 legged friends,the dogs there.They follow you everywhere,even upto 5-6 kilometers at times,just to be with you,guiding you and making sure you're safe.All they need is lots of love n cuddle.A general advise would be to carry a pack of biscuits for them,they ll remember you forever.
Our trip was very fun filled and relaxing.The quality of air and surrounding is so mesmerizing that it stays with you long after the trip ends.Also makes us realize the simplicity of people around there and their struggles for daily chores.We should everyday thank almighty for the ease of life provided to us,where everything is so easily available and organized.
Where to stay : The Holy Cow Cafe,Sunrise Cafe
Near by places:Tosh,Kheerganga(1 day trek),Pulga & Tulga
Things you ll need- trekking shoes,warmer,sunscream,sunglass, umbrella.