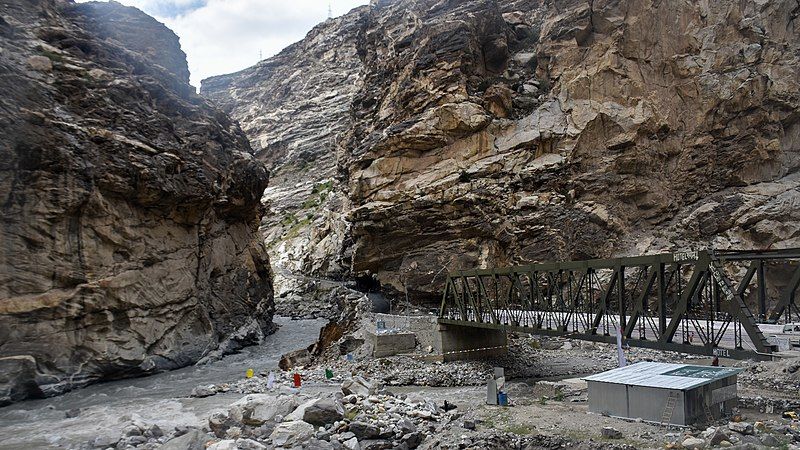 During our road trip from Shimla to the Spiti Valley, we came across Khab, a magical and spooky area. When you get to Khab Sangam, you can see the historic silk route on your left and the Spiti River on your right.
The village of Khab is located in Himachal Pradesh, India, a mountainous region. Near the India-Tibet border, in the valley of the Sutlej River. State capital Shimla is accessible through National Highway 22 from Khab. It is located at the junction of the Spiti and Sutlej rivers in Khab Sangam.
The Sutlej River, which originates in Tibet's Mansarovar Lake, and flows through the Spiti Valley, meets the Spiti here. Tashigang Gompa, a centuries-old monastery, is close. The 22,400-foot (6,800-meter) Reo Purgil peak may be seen, as can the chilly desert of Spiti, which is just across the bridge.
Huge mountains flank both sides of Khab Sangam in Himachal's Kinnaur area. Because the area is surrounded by mountains, it can appear to be haunted when the sky is cloudy. We stopped in Khab on our way to Spiti Valley and again on our way back.
The magnificent valleys of Himachal Pradesh's Lahaul and Spiti districts rely on the Spiti River for their existence. Lahaul and Spiti are separated by the Spiti River, which originates in the Kunzum Range of the Himalayas. The Pine River is one of many Himalayan streams that feed it. Depending on the location, the Spiti River can be wide and shallow or narrow and deep. In the absence of rain, the Spiti River must rely on melting glaciers in the Himalayas for its water supply.
There are five rivers in Punjab state, the longest of which is the Sutlej. Around the Sutlej River, the well-known bhakra dam was constructed to offer irrigation and other services to the surrounding villages.
In the direction of the Spiti Valley from Shimla, Khab is a must-see destination.