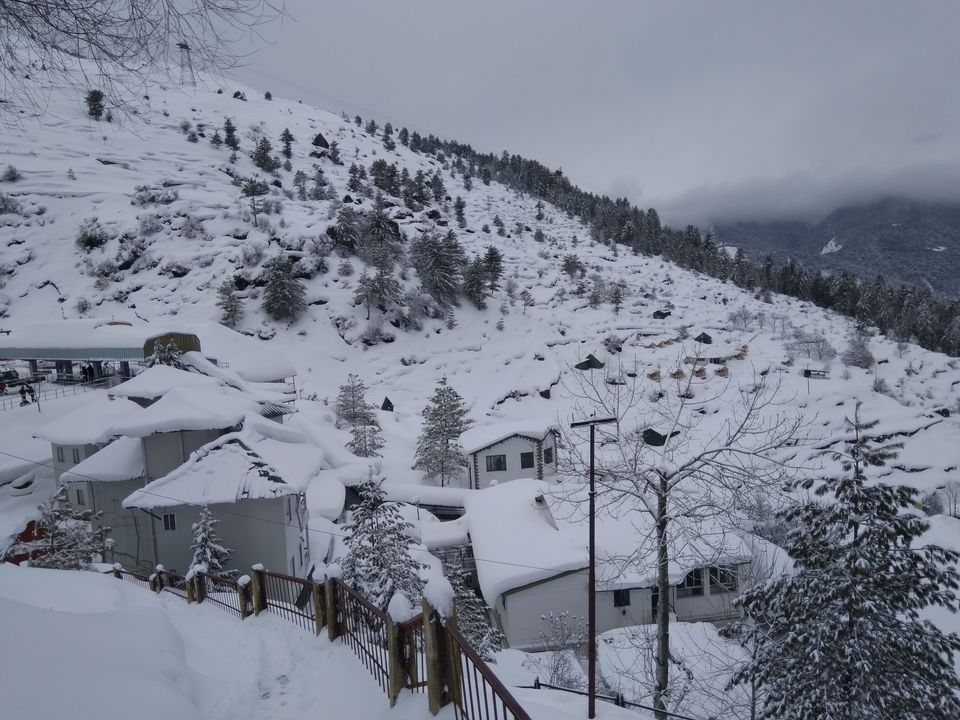 You know how we have our minds set on this one particular place we want to visit no matter what but it just doesn't happen? Well, it was Auli for us. We have been meaning to visit Auli for a good five years now, but somehow a plan never materialized. We managed to convince our friends to go with us to Bir - Billing, Tirthan Valley, Sainj Valley and even Jaisalmer. But Auli was something that was very difficult to plan.
Auli is the best skiing destination in India, and is still considered as an offbeat location. Only marketed as a tourist destination after the state of Uttarakhand was made, Auli covers an elevation from 2,519 m to 3,050 m making the slopes perfect for skiing.
You don't have to be a ski enthusiast to enjoy Auli though. Auli can be enjoyed throughout the year as it is an all year round destination. You can go on numerous treks and get a picturesque view of the snow clad mountains during the summer.
(THIS IS JUST A TRAVELOGUE. YOU CAN READ THE COMPLETE AND DETAILED AULI TRAVEL GUIDE HERE)
TRAVELOGUE
DELHI TO JOSHIMATH
We had to get off at Tower No. 8 as we had planned to spend a night in Auli. It was snowing and we spent some time reveling in the snow and taking photos.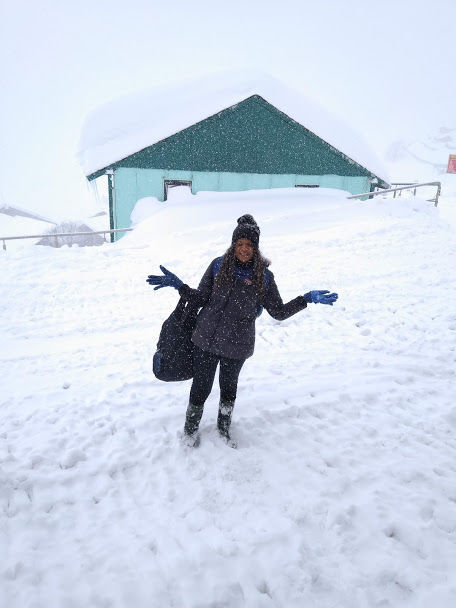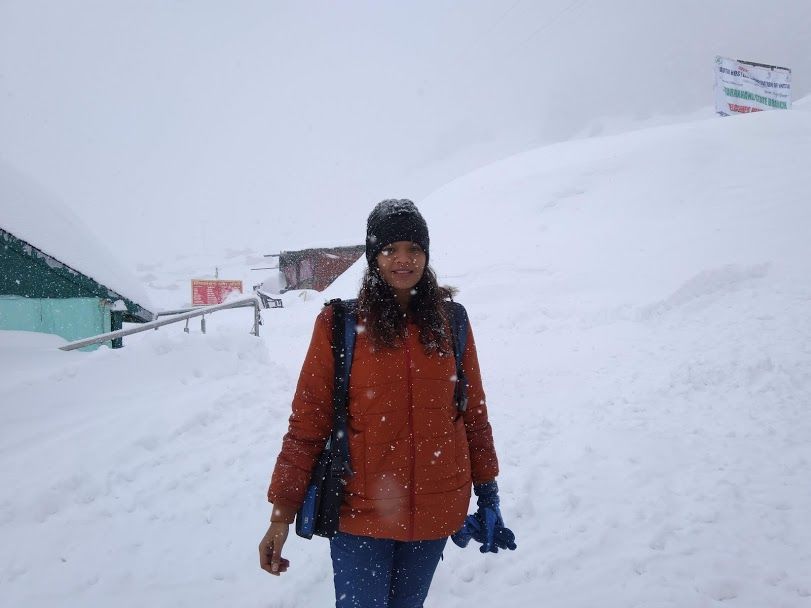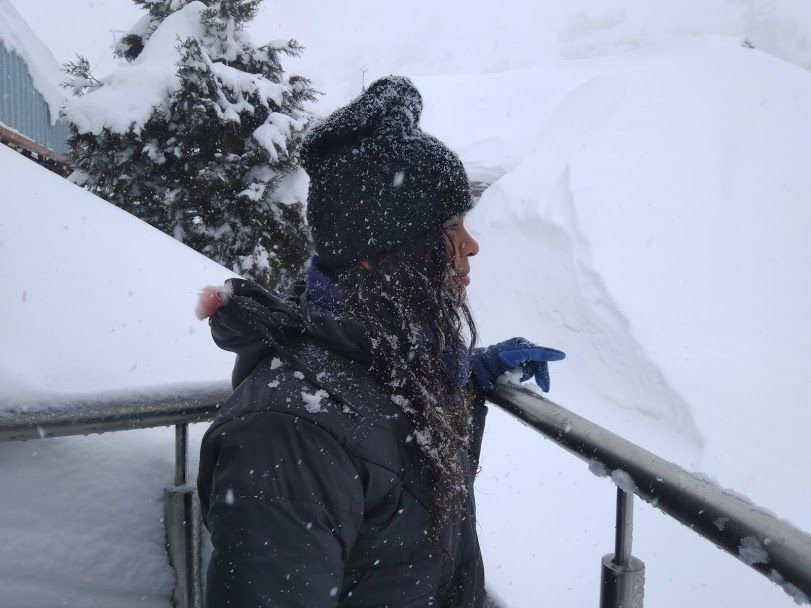 27th Jan 2020. We started as a group of five college friends but were sadly cut down to three. We boarded a UPSRTC bus from Kashmere Gate ISBT at 9.30 pm and reached Rishikesh at 4.10 am. It was a comfortable six hour journey and we stopped at midnight at a dhaba. It had been raining continuously ever since we had boarded the bus. We were hoping that the rain would stop by the time we reached Rishikesh but it only started to pour down harder. This somehow made me certain that it was snowing in Auli.
Also known as the cable car, or the Gondola Ride, the ropeway is the longest of its kind in India and is the perfect way to reach Auli. The cable car covers a distance of 4.5 km in about 25 minutes. The cable car operates once the capacity of 25 people per trip has been filled. Although it is heavily priced at Rs 1000 per person, I highly recommend you to take this ride. It is an experience in itself and provides you with picture perfect aerial views of Auli, which are a sight not to be missed.
Day time visitors get three hours to roam around Auli and have to return on the time slot allotted to them. Night stay visitors can return the next day in any slot between 9.15 am and 10.55 am.
We took our bags, sat on the chairlift, and looked back at the memories we made here. The cable car left us at Joshimath and we returned to Hotel Mount View Annexy to stay the night. After dinner, we went to sleep.
We caught the 6 am bus to Rishikesh and bid adieu to Auli with a heavy heart. The drive to Rishikesh took a solid 13 hours thanks to the construction work going on and the landslides.
We took the 10 pm bus to Delhi and reached Delhi at 4 am. This concluded our dream trip to Auli.
Au revoir, Auli.
We were supposed to catch the early morning bus to Joshimath that left from Rishikesh. However we missed the direct bus and had to reach Joshimath by taking the other local bus. We had no idea how much we'd have to endure. The road conditions are nothing less than pathetic. Rishikesh to Joshimath usually takes around 11 hours. We boarded a bus that left us at Karanprayag. From there, we took another bus to Chamoli and from there we took a bus that finally left us at Joshimath. By the time we reached Joshimath, it was already 5 pm and we were exhausted. It had taken us almost twelve hours to reach Joshimath from Rishikesh. The journey takes us through the five prayags but I was honestly so tired that I couldn't even bother taking photos. It was such a shame because the views were spectacular, and the river flowing through was a pretty sight.
JOSHIMATH
We made our way to our hotel - Hotel Mount View Annexy. There we got to know that it had been snowing all day at Auli. While it was very exciting thinking that it might snow the next day, the Manager hit us with the bomb - the road to Auli had been blocked due to snow, and that the ropeway had been closed till 1 pm. We were worried about our plans as we had planned to leave for Auli early next day.
After having dinner, we went to sleep hoping that tomorrow would be different.
We woke up at 7 am and looked out of our window. The mountains had been completely covered by a thick blanket of clouds.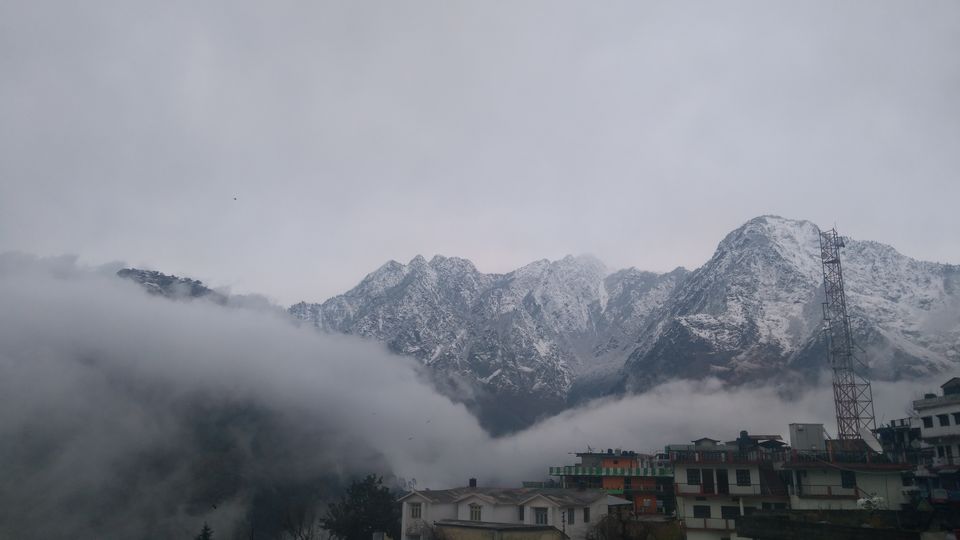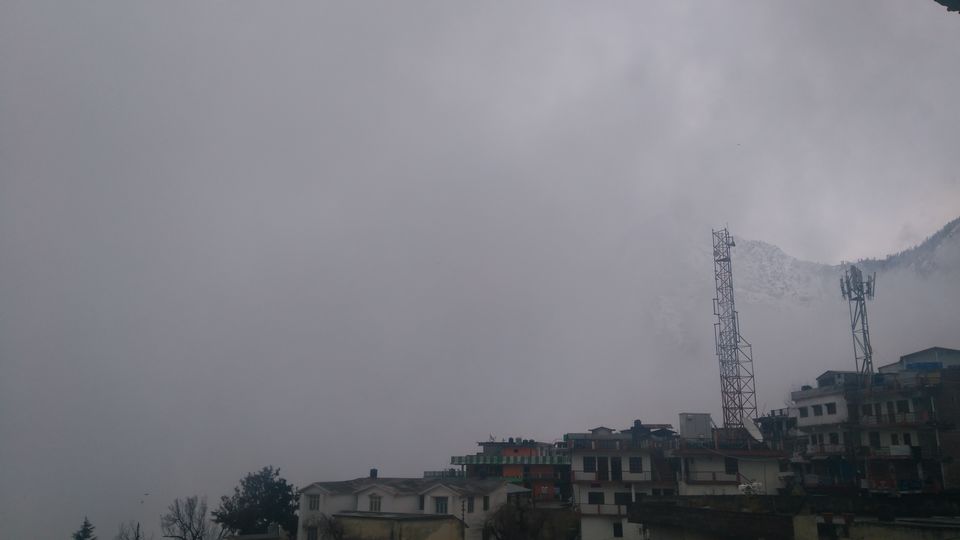 We couldn't believe our eyes and went out. We made our way to the Ropeway to get our tickets for the cable car. On the way, we spent some time admiring the beauty of the town.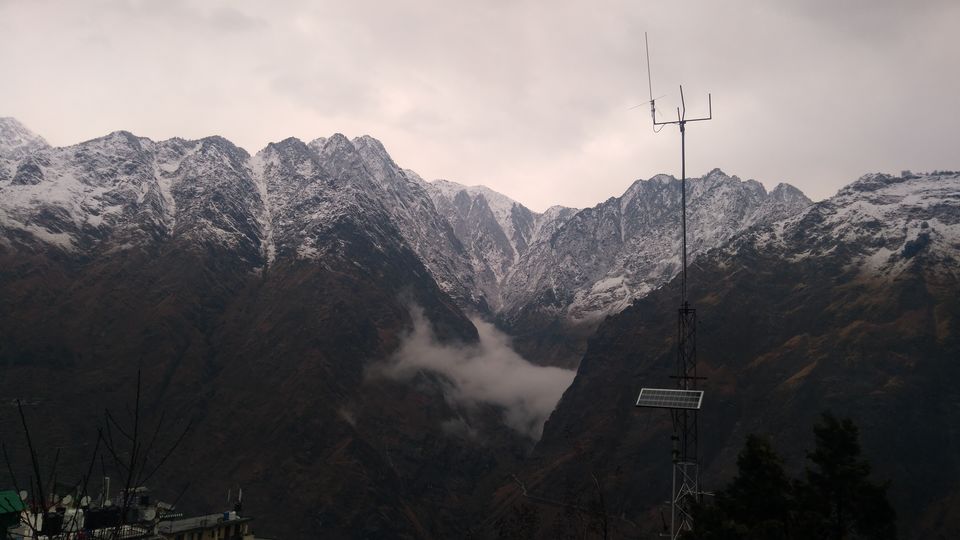 We stood in line to buy our tickets. It was a good thing that we came early as around 8.30, the line started to get long. One ticket costs Rs 1000, which includes the return journey as well.
ROPEWAY TO AULI
We also bought boots for a shop right next to the ticket counter for Rs 100. You get them for Rs 50 if you return from Auli the next day before 10.30 am.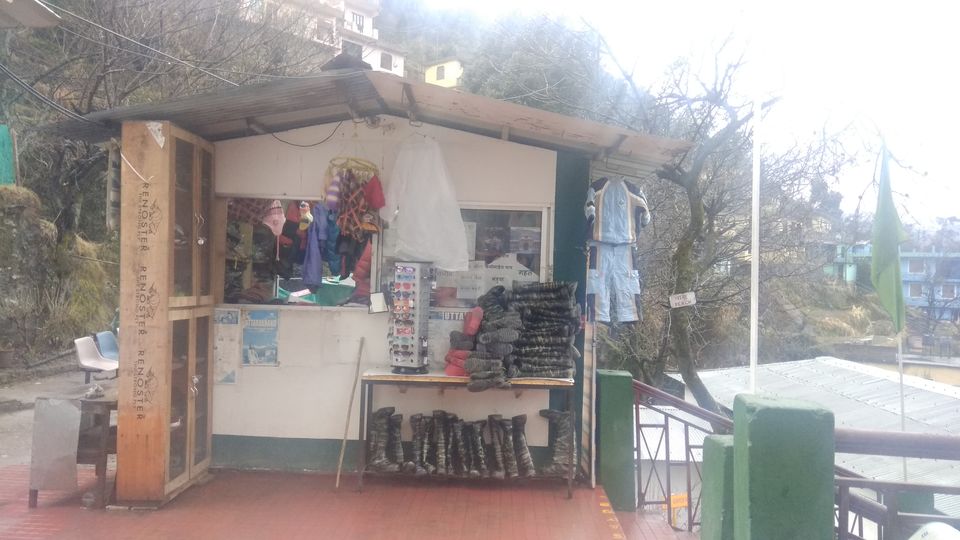 As we started our journey, we were excited. This was it. We were finally going to Auli. Our dream was about to come true. From inside the cable car, we were left spellbound. The landscape changed right in front of our eyes. We saw a snowy paradise. We saw many huts and pine trees, all covered under a thick layer of snow. It felt like we were in Narnia.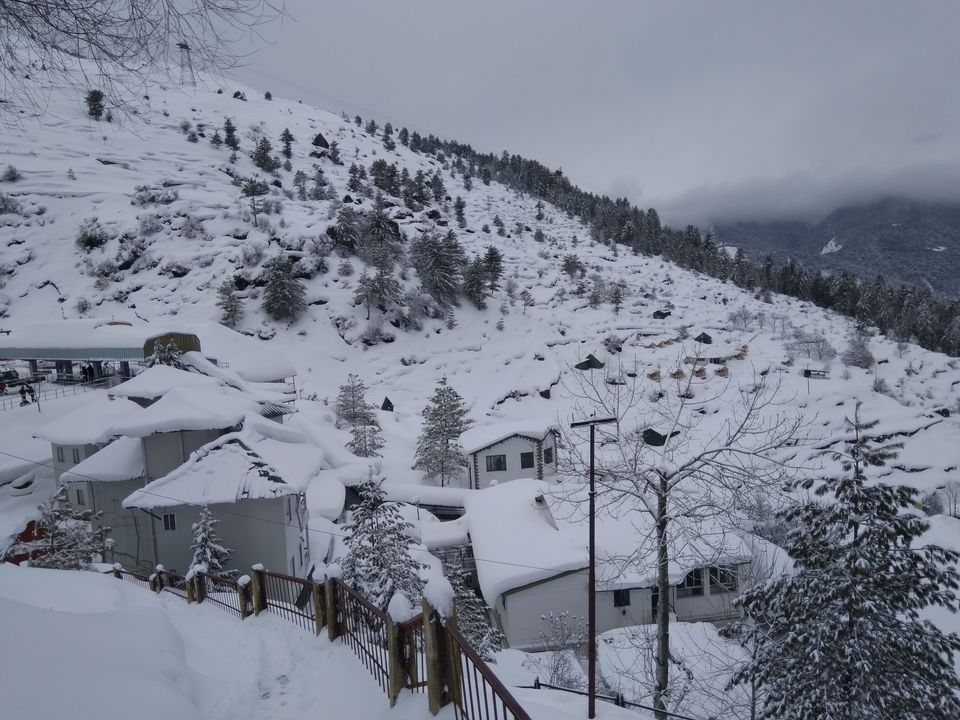 From there, we had to take the chair lift.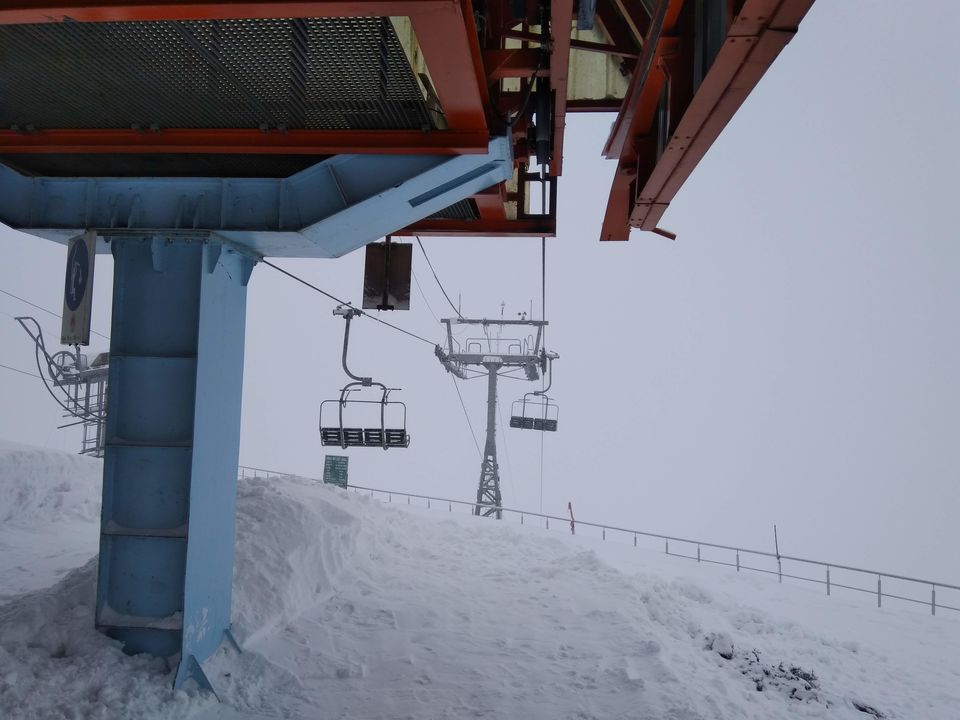 Because of the snowfall, I could hardly see anything. But the experience was so exhilarating. The feeling of being up so high in the sky was like no other.
We waited for a person from the hotel to help us carry our luggage to Manik Resort. The way to the hotel was slippery and we slipped many times trying to make it to our hotel. Ultimately, we decided to just slide down the slopes to our hotel and man, that was fun.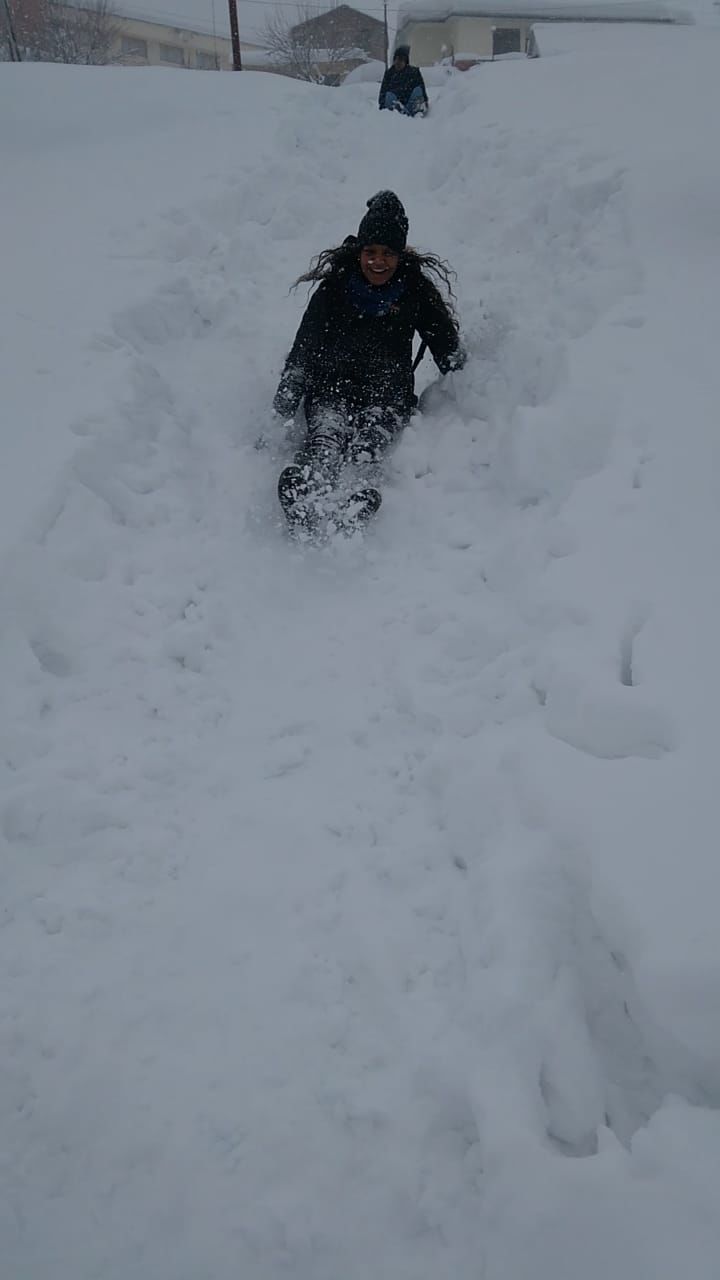 Once we reached our hotel, we decided to relax for a while. My feet had gone numb thanks to the snow getting in my boots. We were informed that the water had frozen and we had to ask for h0t water at the reception. It was so cold up here. It was freezing.
We decided to go outside to play in the snow for a while. Bring out the kid in us. We had a snowball fight. Made snow angels. A terribly disfigured snowman. Stuff like that. We also made friends with these adorable dogs there.
We also had some really delicious maggi at a nice small shop near our hotel. We chatted with the owner and had a nice time talking about Auli. We then headed to the chairlift and went to the temple near it. The view from the temple was everything. So pretty.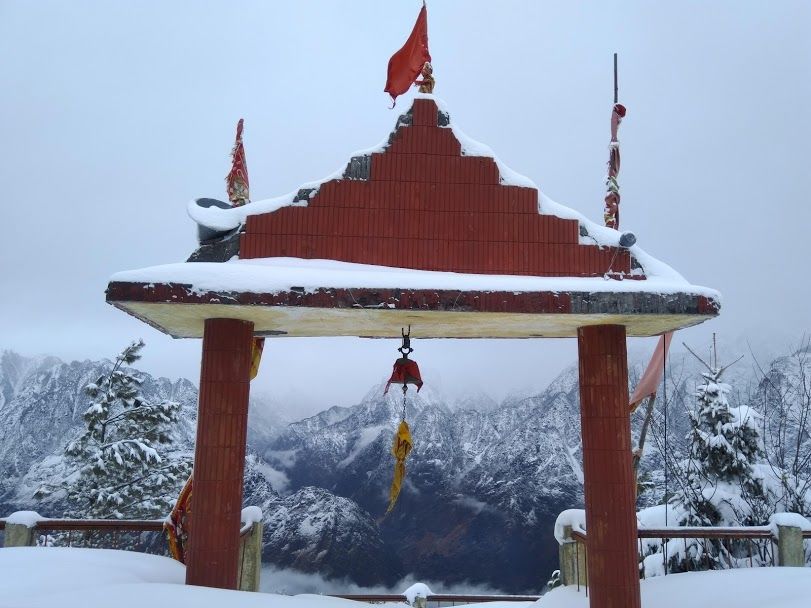 We could see the huts and the resorts in the surroundings all covered in a thick blanket of snow. Talk about Narnia?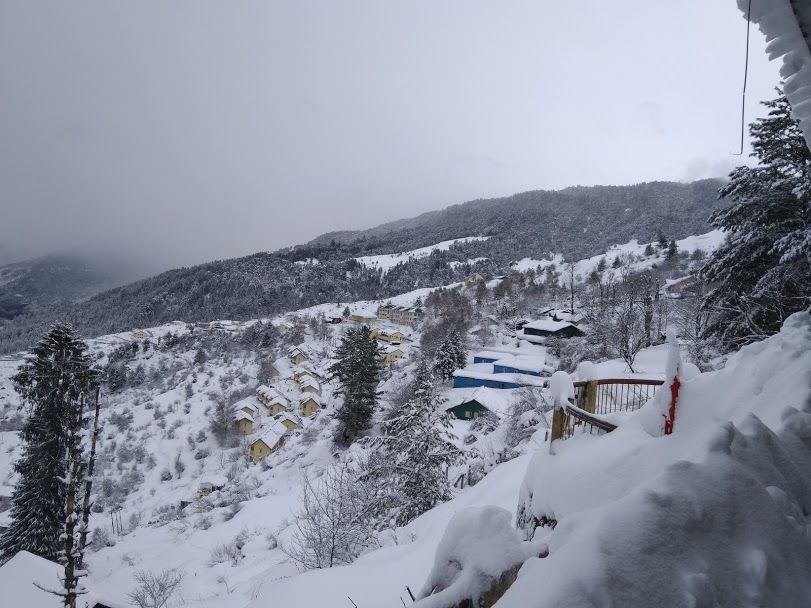 With such perfect backgrounds, we took some more photos.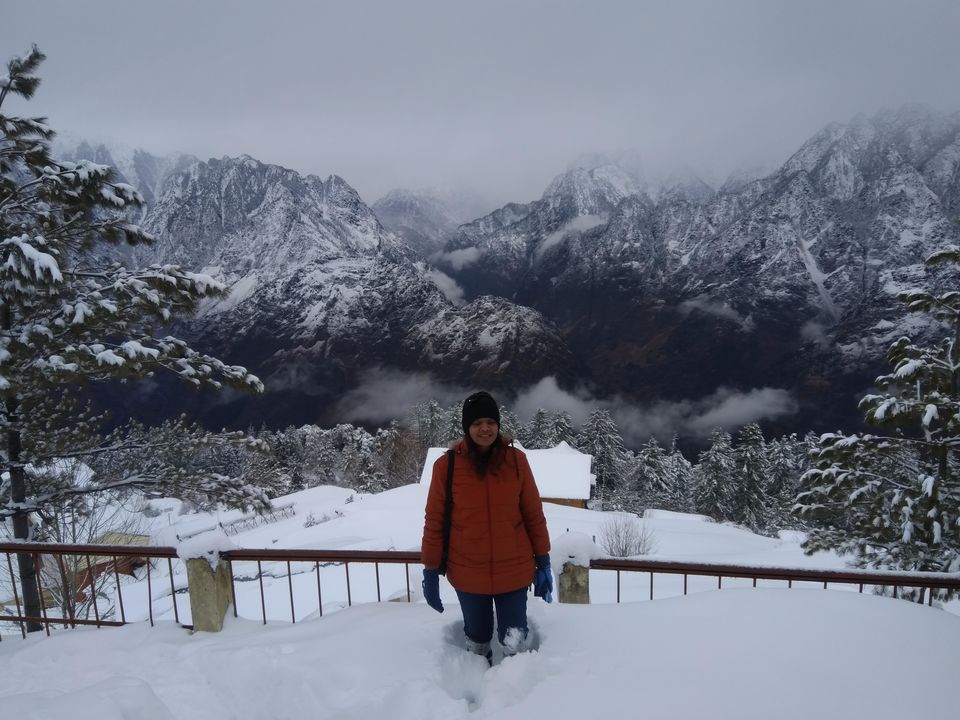 AND THIS. It literally felt like it was Christmas.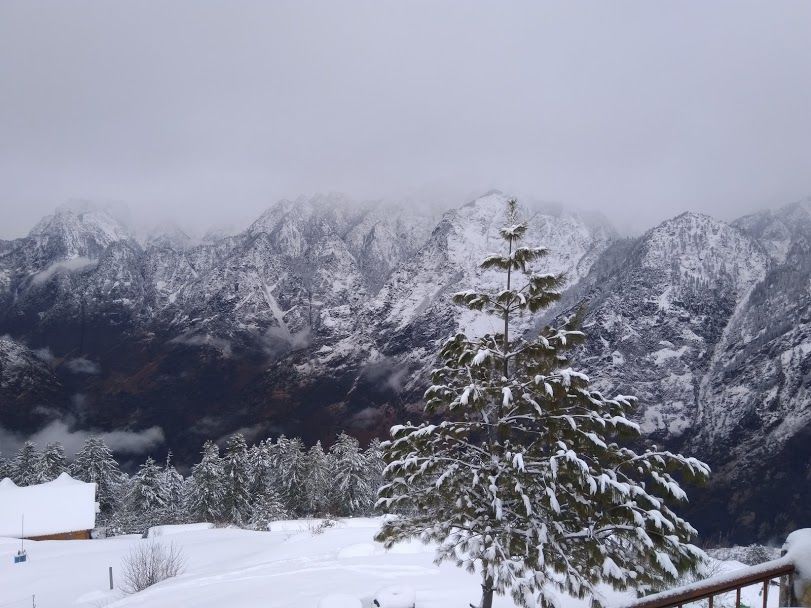 We took this panorama photo of Auli.

And then we played with the dogs again. I am so not a dog person but somehow, I always end up loving the mountain dogs.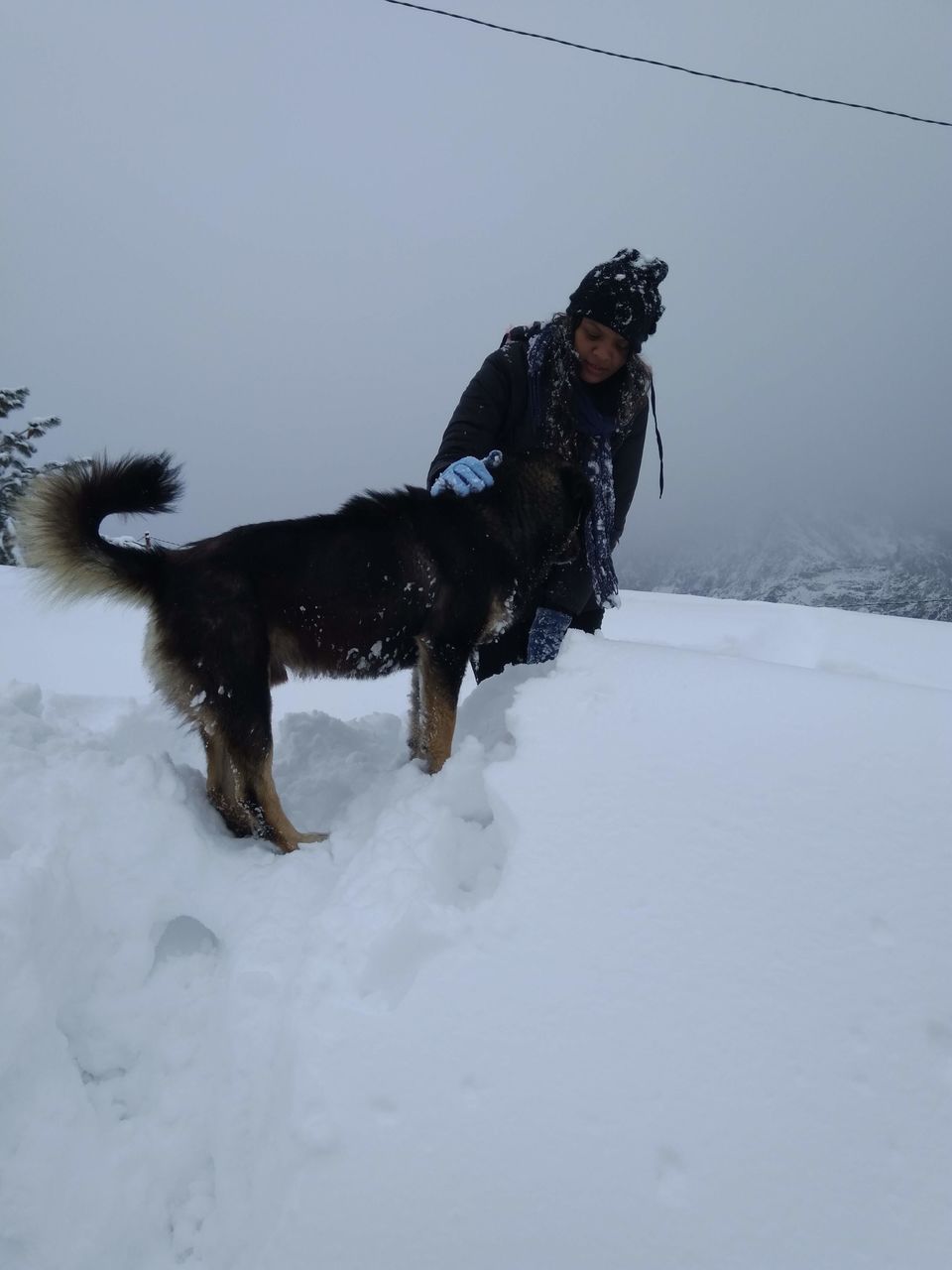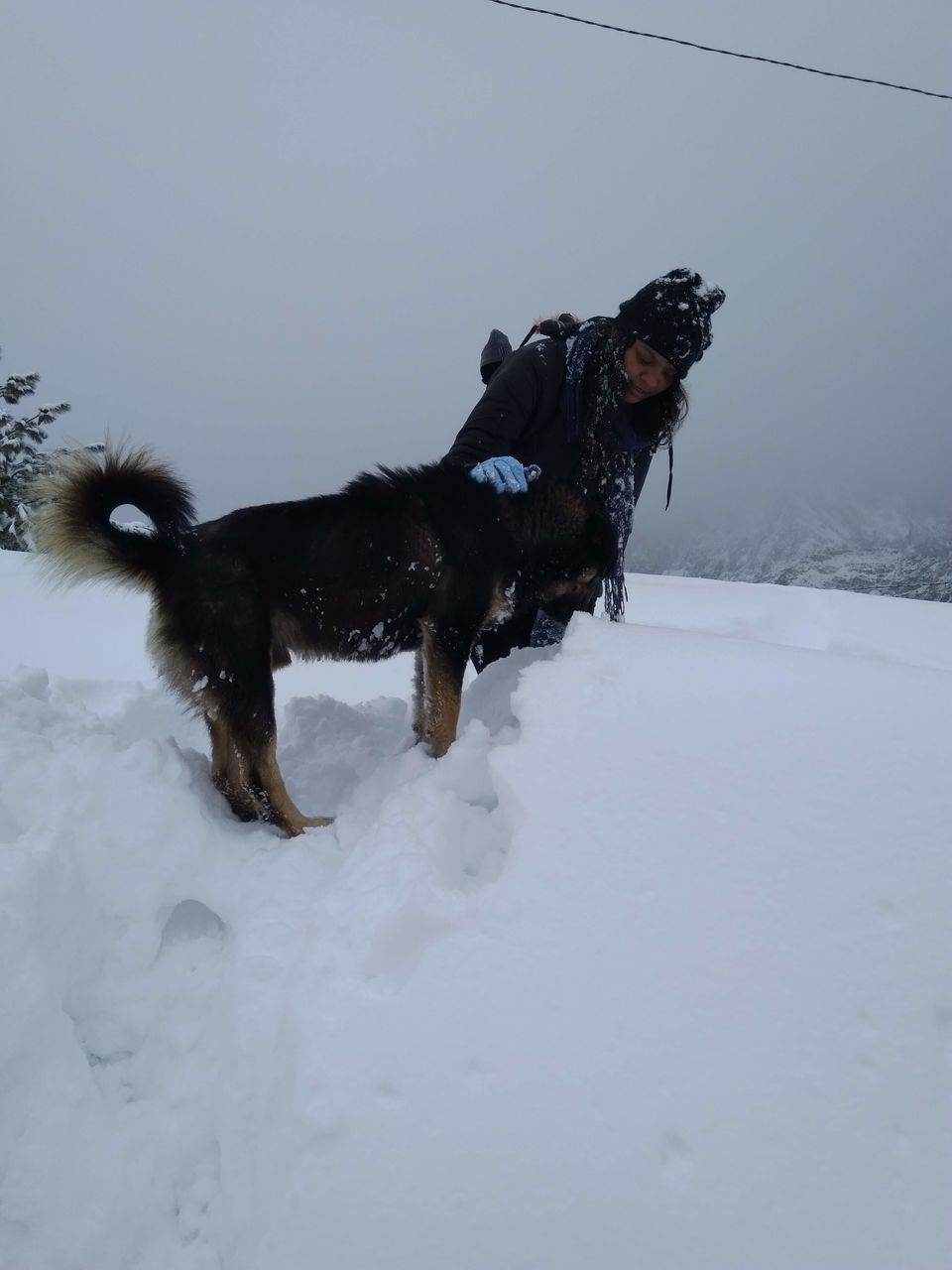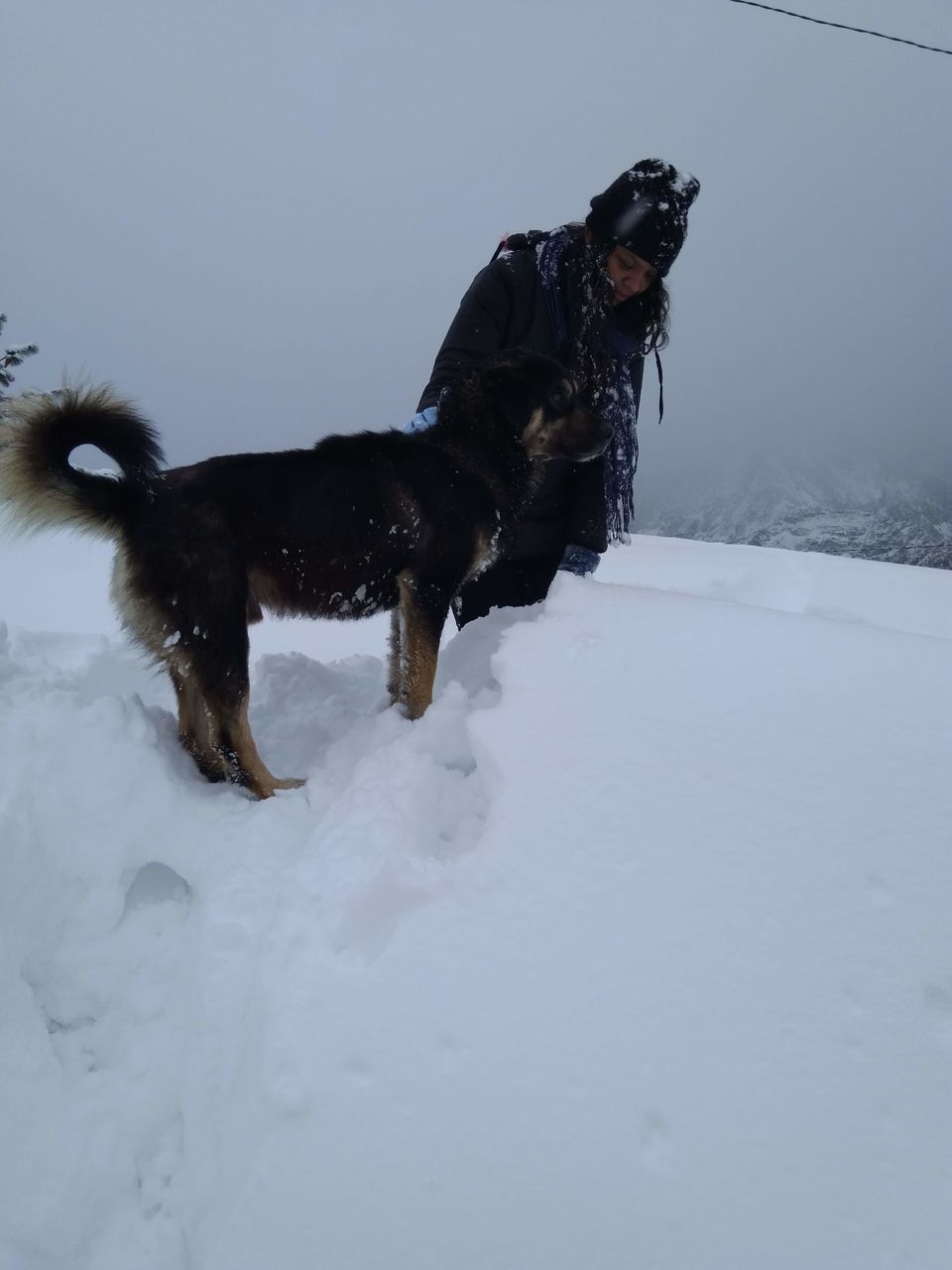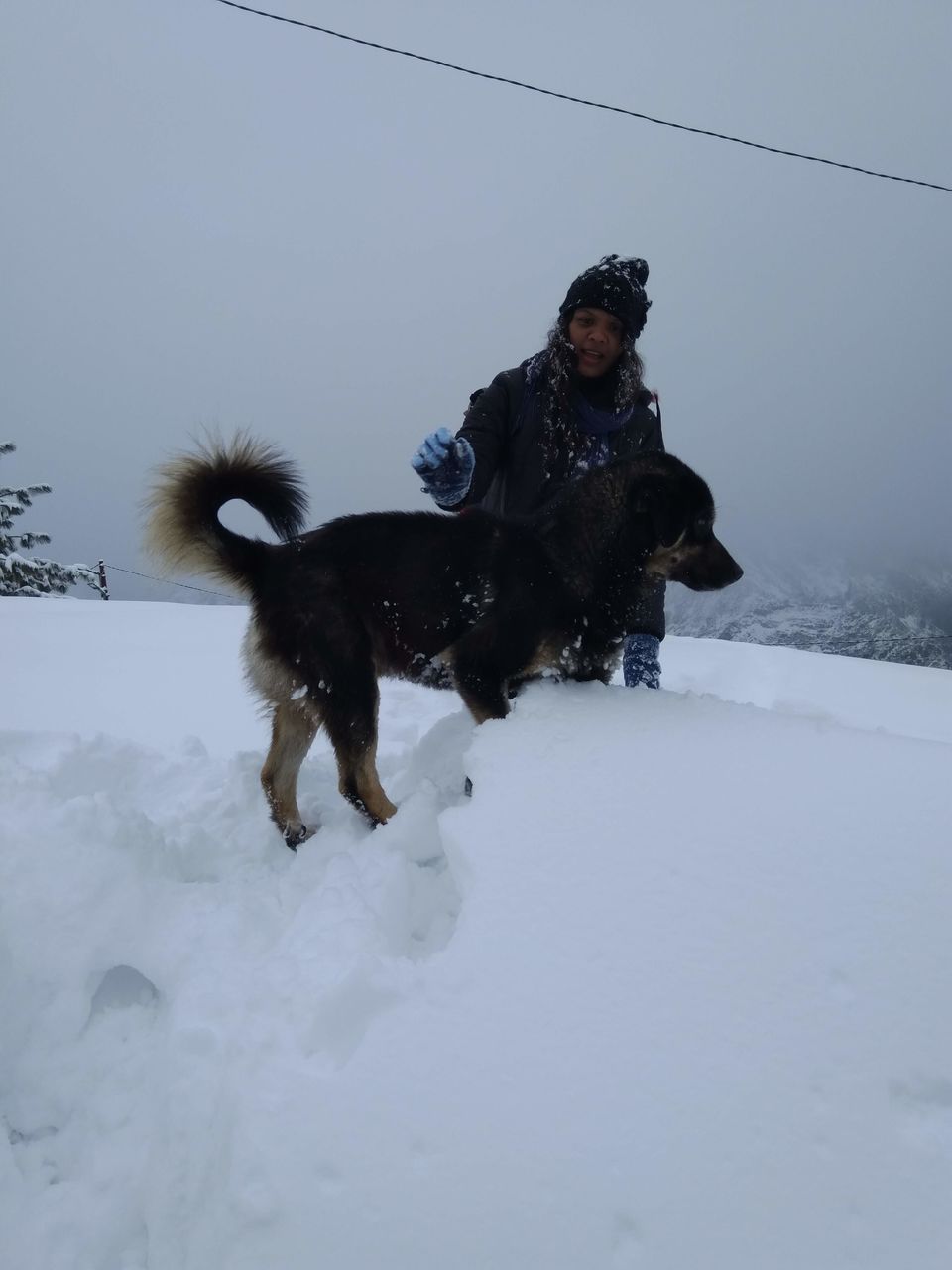 After chilling out for some time, we decided to call it a day and returned to our hotel, again, sliding down our way to our hotel. We were supposed to wake up early the next so we could go skiing. After having dinner, we went to sleep.
We woke up feeling very refreshed and excited. The reason we came to Auli was to try our hand at skiing. I knew we would just fall and embarrass ourselves, but that's the whole point. That's where the fun lies.
We checked out of our hotel and made our way to the chairlift. We saw the sun kissed mountains and man, it was so hot today. You wouldn't believe it had snowed the previous day. We somehow reached the skiing point after stumbling down a lot of times.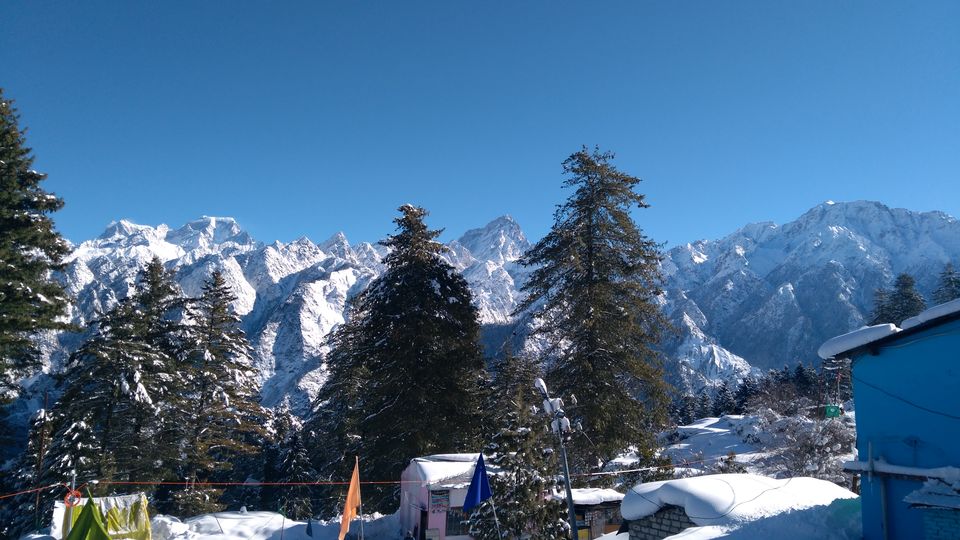 We dumped all our bags at our skiing instructor's shop, and were given skiing boots and all the equipment. The slopes here are damn perfect for skiing but we had taken an hour and a half's session so I wasn't really sure how much we'd be able to learn. We could see the locals and the Army peeps having the time of their lives skiing down the slopes.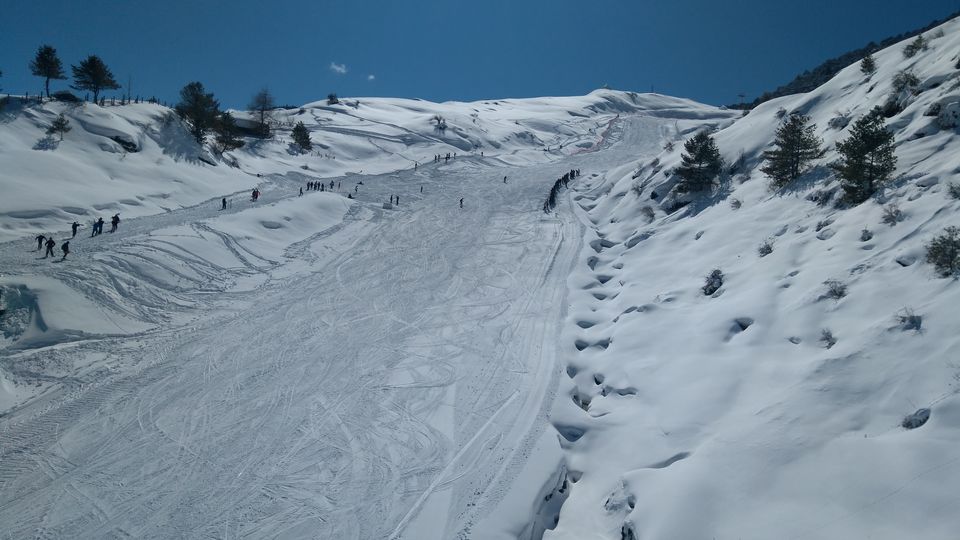 And I am proud to say, I sucked.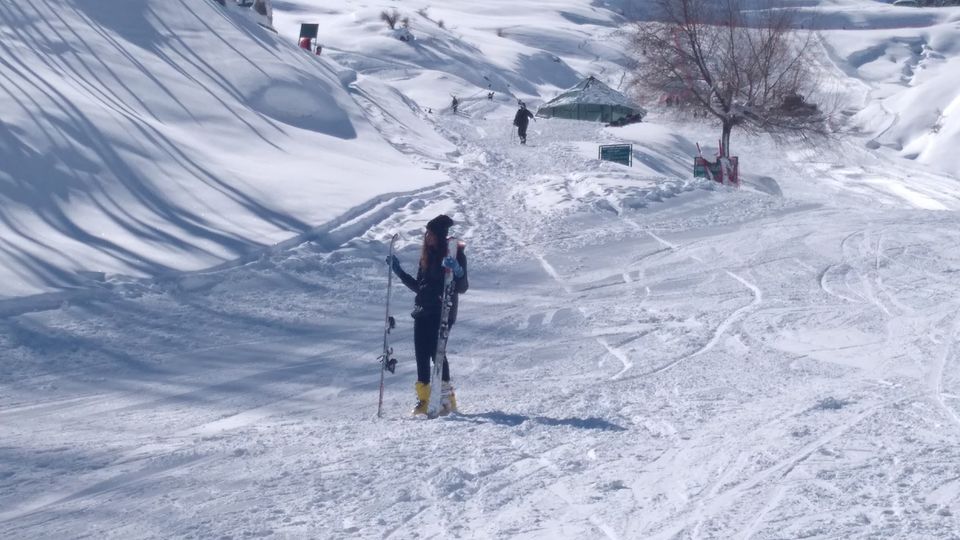 Here's a breakdown of what to expect during your skiing session -
1. You'll first be asked to change into these really heavy boots. They'll be tightened further by the clasps. This is done so that there is no space for any movement below your knee.
2. If there is snow on your shoes, your instructor will hit them with the ski so that all the snow falls off, enabling you to push your heel down on your ski, and lock your boots in place.
3. You'll be taught the right posture for skiing. You should keep your hands on your knee, make your feet V shaped and just look ahead with your body weight pushing you forward. Getting the balance depends on every person. The sooner you get the hang of it, the higher you can go on the slopes.
4. Your instructor will help you learn the basics and you have fun.
Did I do all this? Yes. Did I succeed? No. I had a terrible time trying to get the balance right and fell so many times. Since we were three people, and just one instructor, he had to divide his time so that he could teach all of us.
I highly recommend that every person gets a personal trainer as you get more time to learn. All the focus will be on you.
Our trainer was Pradeep and you can contact him at 9897530162. An hour long session costs Rs 500 and a two hour session Rs 750.
For the skiing enthusiasts, one can also sign up for the 15 day skiing course organised by GMVN every year.
After what felt like eternity, I finally managed to ski without falling and after that, it was a breeze. We had so much fun.
But it was my sister who aced it right from the start.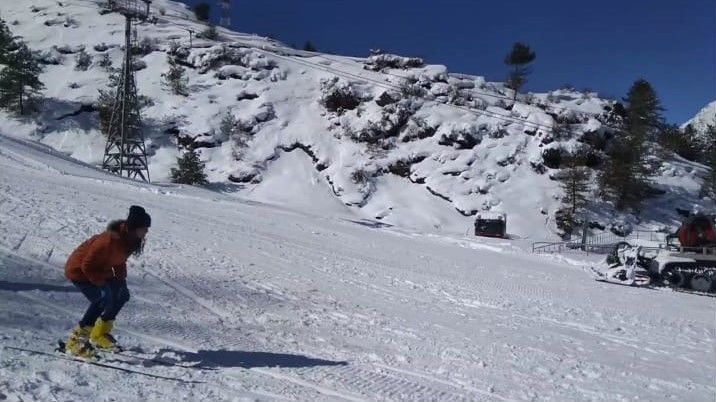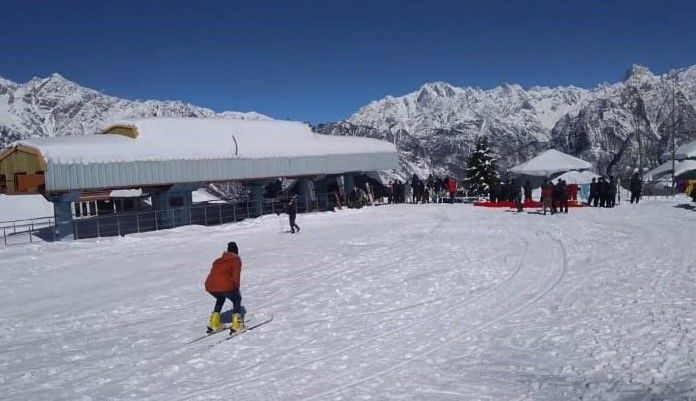 After our skiing session was up, it was time to say goodbye to Auli. We had already extended our stay here and had to negotiate with the chairlift authorities to let us change our return time slot, which they very gratefully did.
TRIP COST BREAKDOWN
BUS
Delhi - Rishikesh Rs 500
Rishikesh - Delhi Rs 500
Rishikesh - Joshimath Rs 390
Joshimath - Rishikesh Rs 360
ACCOMMODATION
Joshimath : Hotel Mount View Annexy - Rs 1000 per person (x 2 nights) = Rs 2000
Auli : Manik Resort - Rs 1750 per person
FOOD
Maggi, Aloo Parantha, Paneer Butter Masala all three days plus stop at dhabas, coffee, tea etc - Rs 800
MISCELLANEOUS
Boots - Rs 100
Auli Ropeway Ticket - Rs 1000
Skiing - Rs 700
Chairlift - Rs 500
Heater at Joshimath Hotel - Rs 200 (x 2 nights) = Rs 400
TOTAL COST - RS 9,000
You can check out this POST for my complete AULI TRAVEL GUIDE.
You can read more travelogues and travel guides at my blog here.
You can follow me on instagram to see more travel photos :)
Frequent Searches Leading To This Page:-
Uttarakhand winter destinations, places to visit dehradun uttarakhand, hotel in jim corbett uttarakhand, uttarakhand tourism contact details, uttarakhand travel guidelines corona