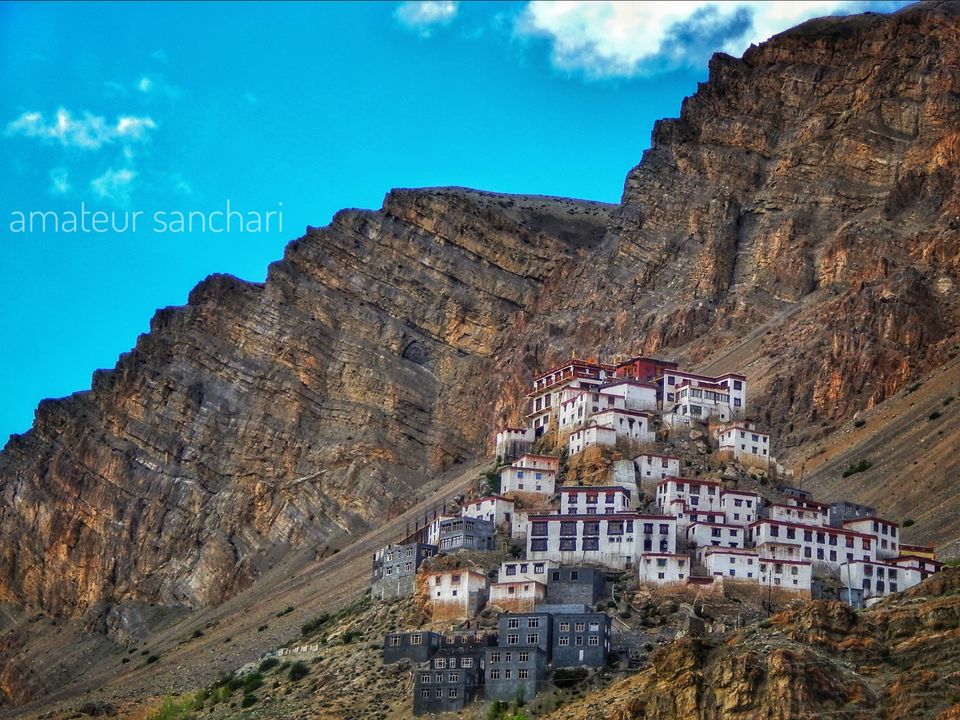 A trip to Spiti Valley is incomplete without paying a visit to "Ki Monastery" or "Ki Gompa" (spelled "Key monastery" on Google). Situated at almost 14,000 feat above the sea level, the Ki Gompa sits on a beautifully picturesque landscape. With a stunning view on all directions, it attracts a fair amount of tourists and travellers from both inside and outside India. The fact that Ki Gompa is the largest Gompa/monastery in Spiti valley and that it is easily accessible from the city centre "Kaza" attracts all kind of travellers to this surreal destination. The Ki Monastery also runs a school in their premises and in the evenings you could see these little monks every where playing and running around. For some reason I find these little monks more adorable than the average city kids who usually succeed getting on my nerves.
Ki Monastery is located 15 km away from "Kaza" which acts as a capital city of the Lahaul and Spiti district, Himachal Pradesh.
Getting to Ki Gompa is actually pretty easy if you are aware of the bus timings or have your own/rented vehicle or you want to cycle from Kaza to Ki Gompa (the 14.6 km can be cycled and its uphill from Kaza, and obviously it's very physically demanding. But I did meet two 22 year olds who did it and their advise is that you don't take anything other than water with you, and you don't give up, just take it slow and it's doable) or if you are a backpaker like me, then you could always hitchhike ( I travel alone and it's easy to get a ride since you don't need much room). If you are traveling in group you could you could hire a shared can from Kaza, you might even be able to arrange to pool with some other groups going to the same destination.
It takes just under an hour to reach Ki Gompa from Kaza. I hitchhiked with a lady who people around the city fondly call "Kullu Aunty".
Kullu Aunty dropped me off at the gateway of the monastery. From the gateway the monastery is still a few minutes walk away. The monastery has a cafe/hotel right next to it, I went in and had some chai and breakfast (aloo paratha with some veggies, it was yummy!). I asked the hotel people if they'd look after my backpack (always pack as light as possible I had a big ass backpack with me - 75ltrs stuffed) while I went inside the monastery.
If you want to wander around any city/street/monuments and you don't want to carry your heavy backpack with and you don't have a room you could ask any local shopkeeper to look after your bag. But you have to be sure about the kind of place and people you are traveling to. For example the Himachal Pradesh is very friendly place with the best sort of people and traveling alone is not a problem as long as you travel responsibly.
Ki monastery is the biggest monastery in Spiti valley and can house hundreds of monks. Not many people choose to stay at Ki, they usually just visit Ki and move on to "Kibber" village which is the nearest village to Ki Gompa. For those of you who choose to stay in Ki Gompa, there are mainly two options available for you. One is to stay at the hotel right next to the monastery, they provide pretty decent accomodation. The next option is to stay at the monastery itself, the monastery provides dorm facility with food for just ₹250. I'd suggest taking the latter option because it will be a unique experience living with the monks.
There are only a few Buddhist monasteries in India that lets you stay inside the monastery itself, apart from this the monasteries provide a quaint and peaceful atmosphere. I believe experiencing it at least once in your life is a must.
All that being said I took none of the above mentioned options and chose to camp in Spiti instead, I decided to camp in Ki Gompa because I had already spend a night in a Buddhist monastery in "Tabo" and also because I travel on a shoestring budget and because I wanted to make use of carrying the tent around everywhere I went. One of the monks, an old man showed me where I could setup a tent which was near by the Buddha statues which was located a little down from the monastery. As soon as I saw the place I made up my mind to camp for the night, I could camp with a view to the Himalayas and at night I could see the lightened up Ki Gompa.
I reached Ki Monastery in the evening after visiting "Dhankar monastery", so I didn't get much time to go around the monastery on the first day. In the cafe next to the monastery I met with a couple of students from Mumbai who had cycled to Ki all the way from Kaza.
Sanmesh and his friend started their "Spiti circuit" from the Shimla end covering places like Kalpa, Kinnaur etc and I met them inside the cafe in Ki. They cycled to Ki all the way from Kaza, which was ofcourse really tiring especially if you consider the fact that the entire Spiti valley lies at around 14,000 ft from the sea level. They decided to stay back at the hotel in Ki and get rested well before they head back to Kaza (you could rent bicycles from Kaza for a really cheap price and they will provide you with all the safety gears too). I could say that they were so happy and proud that they made it all the way to Ki on bicycles and they were right to feel that. Sanmesh has a passion for photography and we decided to try capturing the Milky way galaxy on photo latter that night.
Astrophotography in theory is very simple but to actually do that is a different thing entirely (especially if you don't know where to look/point the camera at). It gets really cold during the night and it's freezing when the cold wind blows on you and you are bound to get runny nose, it took almost an hour to find and catch a decent picture of the Milky way. Sanmesh took some beautiful pictures of the Milky way and let me tell you once you know where to look you'll be able to see the Milky way with your naked eyes! (Astrophotography involves showing all the lights in the sky highlighted so you can't see the stars or the galaxy like in the picture)
The Spitian night sky is one of the most beautiful things my eyes have ever witnessed. The sky is so clear, the air so fresh and clean and unpolluted. Man has not yet destroyed everything and places like Spiti fills you with hope and warmth. To witness the Milky way like I did, I feel like life is worth living for moments like this. Seeing the galaxy wide and open in front of like that, that absolute sense of amazement I experienced watching it will forever remain one of my fondest memories. I kept glancing up at the sky all the way while walking back to my tent.
I slept in my tent peacefully that night after smoking up. The next morning I woke up early and didn't waste time and went straight to the monastery as Sanmesh had told me that I could get breakfast at the monastery in the morning of I went in time however as by habit I reached there late and one of the monks told me that the food is provided to the people who stays inside the monastery itself and also that the breakfast was already over, he told me that I could get breakfast at the cafe out front. I had missed out on staying inside the Gompa and I was really looking forward to eating the food inside the monastery. All I had to do was say that I really wanted to try the food the monks there have and he invited me to the kitchen! Small encounters and experiences like these convinced me that the Himachali are by far the best people I've ever come across with. They are genuinely good people who will always help you if they can.
The monks, like the rest of himachali people are extremely friendly and as I expressed to one of the monks that I wanted to try the food served to the monks there he almost immediately invited me to their kitchen for breakfast even though I was not a guest there. They served me chai and a round bread which wasn't particularly sweet, but the highlight was the namkeen chai (salty) and the powder served with it. You drink the namkeen chai and you mix the powder in the chai to make a sort of paste which you can then eat. If you want, you can also have the tea with the monks inside the prayer hall where they eat according to the rhythm of the instruments playing the prayer music, but unfortunately you can only have the tea there and not the powder which is exclusive for the monks.
The monastery like I mentioned is huge and you have access to most places as a visitor including the terrace which gives you a breathtaking view of the Spiti valley. It was a sunny day and yet it was cold, the idea of a cold desert is baffles me. Ki being a really old monastery has architectural features complimenting all that it has faced throughout its time. Ki monastery overcame war and even an earthquake. If you are someone who appreciates a nice quiet peaceful surrounding or someone who enjoys stargazing or someone who appreciates watching a new culture and like being surrounded by some of the best people in the world then I promise that you will not be disappointed by "Ki Gompa".