So, your much-awaited plan to Spiti is finally on. And by now you must either be reading about the things you do in Spiti, or searching about some offbeat experiences there. Let me take you through the not so frequented destinations of Spiti.
While a regular Spiti itinerary takes you through some of the most beautiful places and unique experiences in Spiti including Gue Mummy, Tabo, Dhangkar Village, Pin Valley, Kaza, Ki, Kibber, Langza, Hikkim, Komic, Losar, Chandratal, here are some of the places in Spiti, which are not in the usual circuit, and hence, not frequented by many. Places that usually a first time traveller misses, either because he/she is not aware of these, or due to lack of time. But if you want to experience Spiti in its truest form, do try and visit some of these places on your trip there.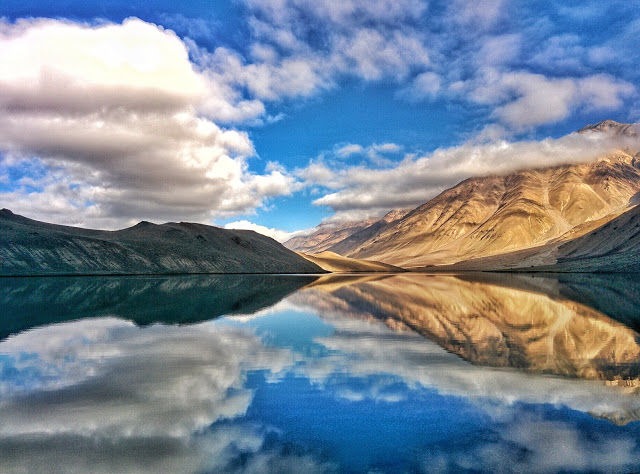 Mane Village
One of the most beautiful villages of the region, Mane is a relatively lesser-visited village of Spiti. Once a huge village, it was flooded, causing a lot of damage, which eventually resulted in dividing the entire village in two parts – Mane Yogma (Lower Mane Village) and Mane Gogma (Upper Mane Village), both of which are motorable now.
Mane Village can be accessed by taking the bridge between Tabo and Dhangkar, and going to the other side of the river. The people are really warm and hospitable, and welcome travellers with an open heart. Mane Village may not have a lot to offer to a tourist in terms of a market, restaurant, things to shop, but surely has things to offer to an experiential traveller, like strolling through the lanes, conversing with the locals and spending your time in absolute peace.
Don't expect any fancy hotels at Mane. Accommodation is limited to homestays and camping, which can be organised on request.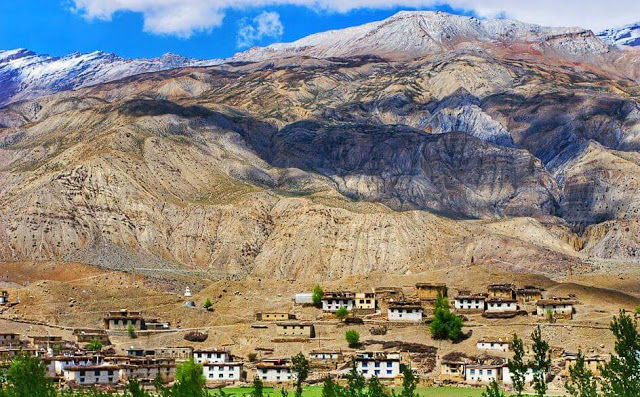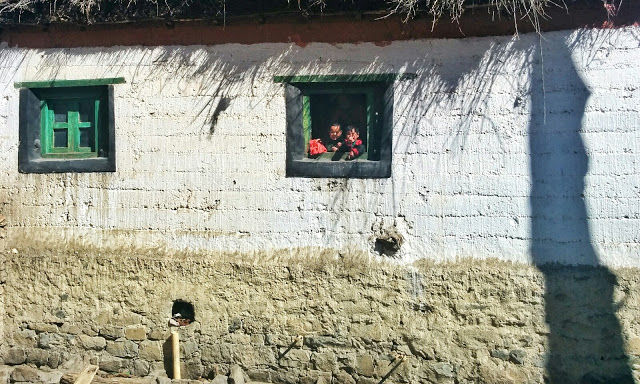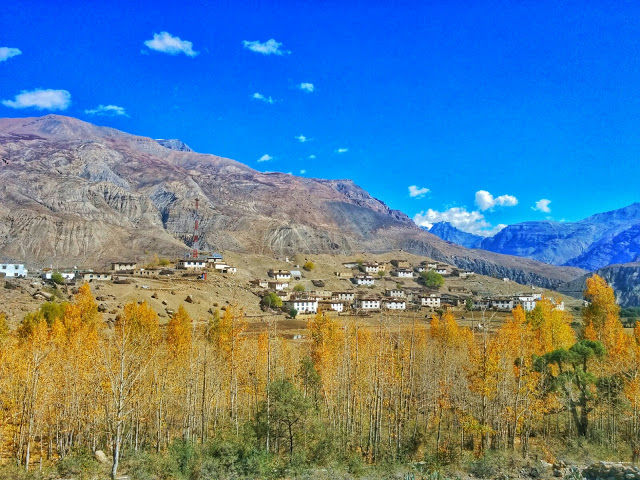 Sopona Lake
Now you've reached Mane Village already, and your wanderlust soul wants to do more. What better than to take this little trek with medium difficulty to Sopona Lake, which is roughly 5 KMS from Mane Gogma, and tak
es roughly about 3.5-4 hours to reach. Sopona lies enroute the majestic Manirang Paas, which is amongst the highest mountain ranges.
Sopona is a glacial lake, which means it forms when the snow melts from the glaciers and accumulates there in the form of water. This also makes it a seasonal lake. You may be lucky enough to see the lake with clear water and a majestic backdrop, or may be disappointed by the not-so-good-looking lake, depending upon the season you choose. Many have been disappointed by witnessing it dry as well.
But the walk to Sopona Lake is fantastic. It can test a newbie trekker, and would be refreshing for a regular one. But what's even more fantastic about Sopona Lake is the presence of Snow Leopards (Pug Marks and droppings can be seen around the lake) and the Himalayan Wolves in the region. So keep your cameras handy, in case they come and say a hello to you. Camping can be arranged from operators in Mane Village.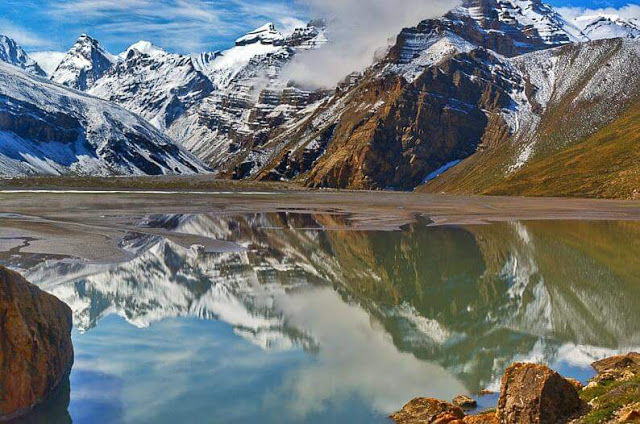 Kakti Village
What would you call a village with just one home in it?
A Village?
A Kingdom?
A Different World?
A Heaven?
In case you are still wondering, people in Spiti call it Kakti.
Kakti is the smallest village of Spiti, and has just one home that houses a family. Out of the 5 family members, 3 are permanent residents, while 2 other members are away for studies. Tsering, the owner of the house stays here with his family, and one of his kid studies in a college in Haryana. They also have a dog, named 'Tiger', who is not so guest-friendly, probably because he is not used to them. The village has connection to electricity, a 10 KM motorable road and cable TV.
It is believed that this village had a water body that served (some say, still serves) as a water source for Kaza. It was a barter system between Kakti and the public bodies (in Kaza) to provide electricity and other basic facilities in return of the water.
Now if it features on your list, do not forget to carry along milk, sugar, vegetables, groceries or some ration for the family staying there. Because when you visit, you would definitely be treated to tea, biscuits, snacks or food. But remember the difficulty with which they procure it from the nearest market, which is Kaza, at a 10KM motorable distance, which they travel on foot.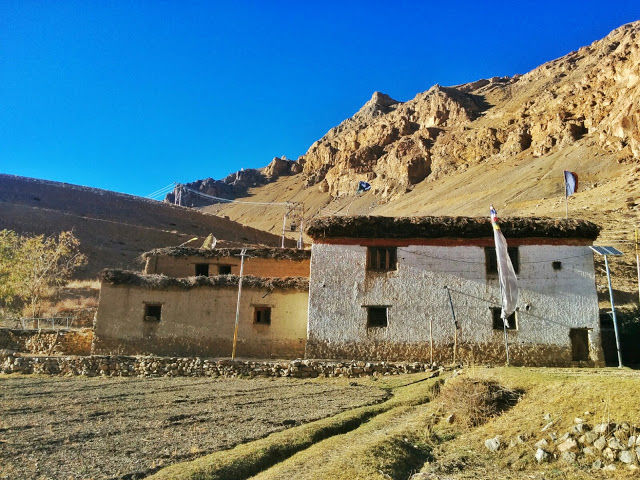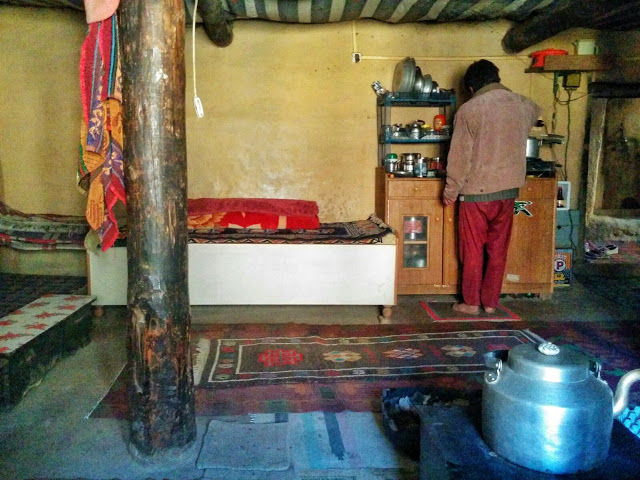 Dhangkar Lake
Dhangkar (commonly used as Dhankar) Monastery features in almost everyone's travel plans. And why not. While the monastery is jaw-dropping, the entire village itself justifies its name Dhangkar – which means a Fort on the Cliff. The confluence of Pin and Spiti rivers give Dhangkar a magnificent backdrop as well.
But what people usually give a miss is the solitary beauty, Dhangkar Lake, which is just a 3KM walk away. Situated in a barren land, one needs to cross the loose gravel track to reach Dhangkar Lake. Surrounded by mountains, this is a fish-shaped lake, which in itself is quite amusing. The water here is not as crystal clear as in the mighty Chandratal, but the surrounding environs, make it a must-visit place.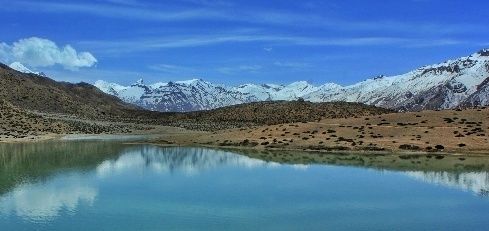 Kanamo Peak
Standing tall at 5965 meters (19,600 feet), Kanamo Peak is probably the easiest 'almost 6000 meter' peak to cover in Spiti, or anywhere in the world. Located abover Kibber and Ki Gompa, the holiest mountain in Spiti, Kanamo which is made up of two words Ka (white or auspicious) and Namo (hostess or lady) is also known as the White Hostess. The White Lady peak does not require any mountaineering skills & is one of the few trekkable peaks which are easy to climb once properly acclimatized. Summit requires establishing a Base Camp near Kanamo Lake and the summit approach is from South East side of the ridge going via an incline climb of scree and boulder moraine. From the summit one gets a 360 panoramic view of Ladakh, Spiti, Kullu and Kinnaur side peaks.
Chicham Village and the Zula (Cable Car)
Chicham may be just another village in Spiti, but is as picturesque as one can get.
It is the kind of village that everyone sees yet barely a handful visit. The reason? It lies on the other side of the mountain when you visit the famous Kibber Village. And until now, there was either a Zula (Cable Car) to connect the two villages in 10-minutes, or a 3-hour long road journey. Being completely off the circuit, almost everyone gave it a miss. Only the adventurous souls took the cable car. Imagine. Two cliffs, a villages on each side, a gorge separating it, angry waters gurgling 500 feet below and pully-system with a swinging basket & a rope to hold on. Breathtaking.
Now, a bridge has been built to Kibber and Chicham, and for sure many would be visiting this lovely village. But do not forget to take the Zula (cable car) from Kibber for a once in a lifetime experience, I mean, if it still exists.
La Darcha Grounds
Barter system may sound like ancient history, but even in the money-oriented world, it existed in Spiti. And La Darcha Ground was the place where traders from Ladakh, Spiti, Rampur, Kinnaur, and even from Tibet and China used to converge and exchange goods with one another. In fact, Spitians still exchange horses for Yaks and vice-versa. It started to be celebrated like a festival, welcoming the summers in the month of July. The traditional La Darcha fair has a great social, cultural and economic significance. The fair was discontinued in 1962 due to increasing Chinese aggression. But with the efforts of tribals and local administration, it was it was revived in 1981, and it was decided to hold the fair at Kaza, where it is celebrated in August every year.
So, you may plan on visiting this historical place, which lies very close to Chicham Village, and experience the vibes that still remain.
Gette & Tashigong
If you want to see wilderness in its trust form, Gette & Tashigong is the place to be. Just take the little road from between Ki & Kibber, and in just a few kilometers of driving down, you'll witness the magic of this place. Even before you reach the two villages, you may witness herds of Ibex, Blue Sheep & Yaks and see the Wild Horses galloping freely in the wild.
The road would take you to Gette, a village with just 7 houses and then Tashigong, a village with just 6 houses. Sounds surreal already?
Though, quite a bit of people have started taking this road lesser travelled now, but many still give it a miss. If you are short of time, and cannot visit the other mentioned places in this article, this is something you cannot afford to miss.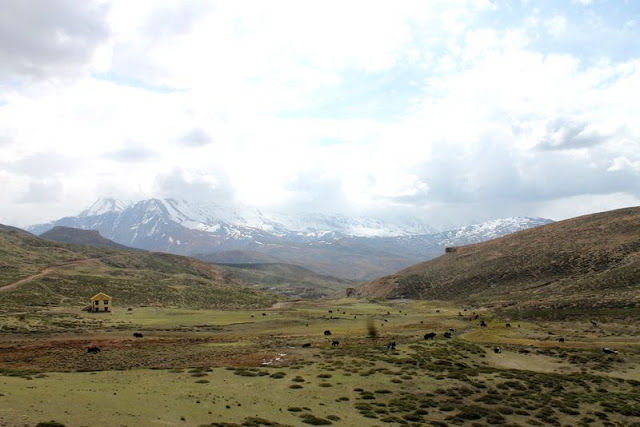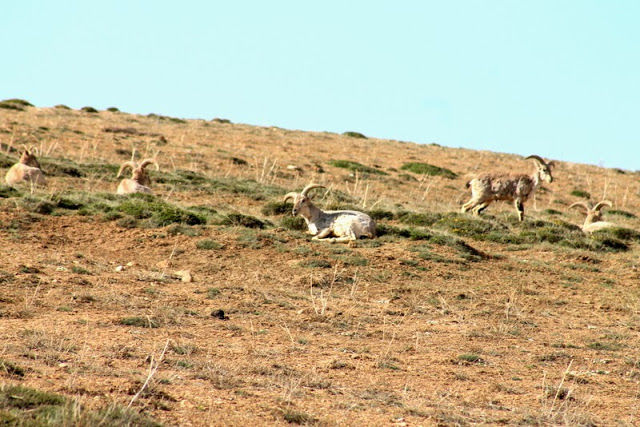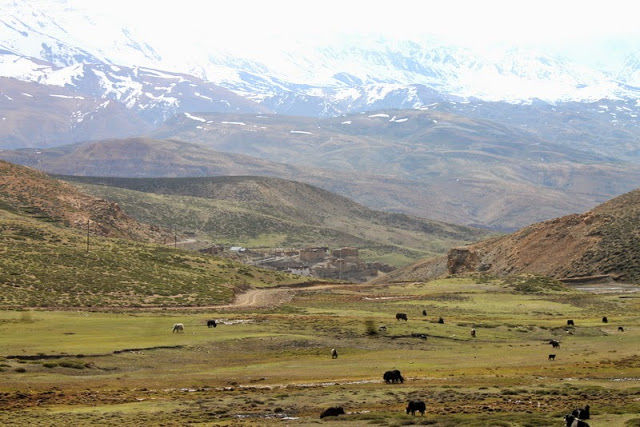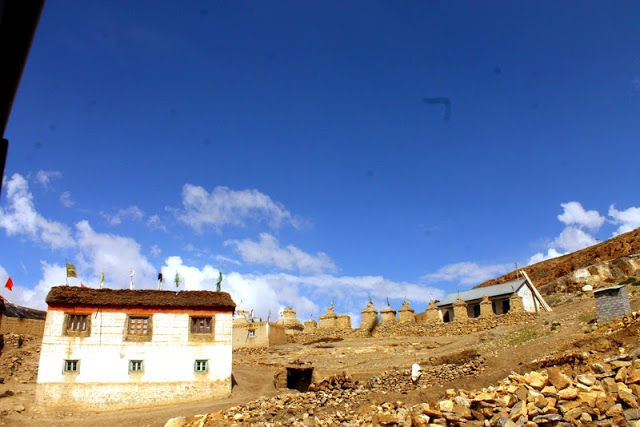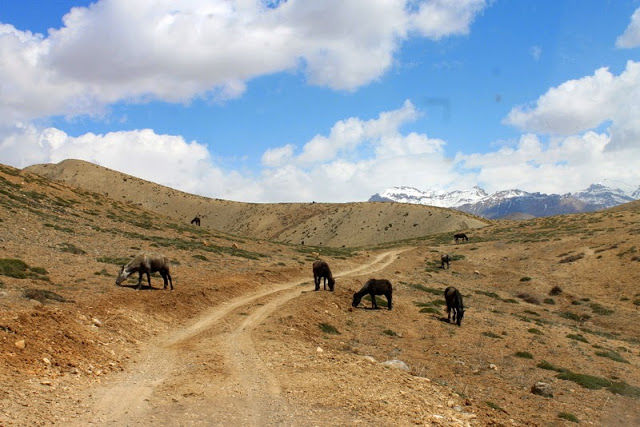 SS Tso (An undiscovered and unnamed lake of Spiti)
Now that I have mentioned Gette and Tashigong, here's a place, closest to my heart – SS Tso, an unnamed lake I discovered and has now been named after me (my initials) by my friends and fellow travellers.
While walking in the wilderness between Gette and Tashigong, I stumbled upon a small lake. But the wandering soul in me took me a little further. And in just a few more steps I reached another little lake, which looked majestic. I connected to it immediately. Took a parikrama. Found an Ibex Horn there. Sat on its bank and felt the serenity of the place.
After walking down, I checked with the locals of Gette Village, and they informed me, while the first lake is the source of water for them, and has some name (can't recall) the second is totally untouched by even the villagers, and that only animals use it for drinking purpose.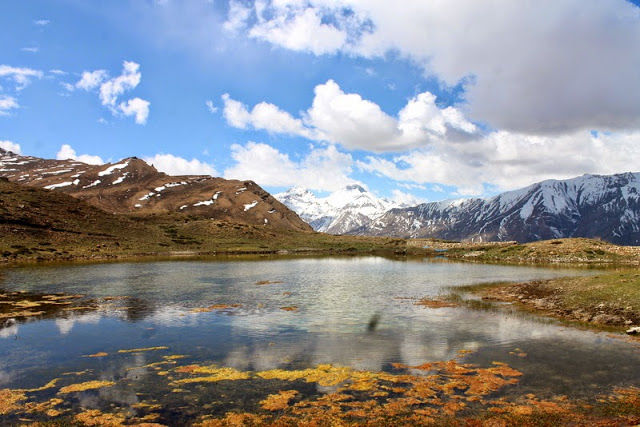 Pangmo & Morang (& Sherab Choeling Nunnery)
Pangmo & Morang are the kind of villages you would drive through (Between Losar and Kaza) without even noticing them. When there was no proper road through these village, one appreciated the raw beauty where they were. Now, with a proper road in place, one just breezes through, without even realizing the beauty that these little villages behold.
If Pangmo & Morang are known to you, it is probably because of the Sherab Choeling Nunnery and Insititute at Morang, where a lot of nuns are from Pangmo.
Whereas a lot can be written about the nunnery itself, but one can find it extensively on google. I'll stick to the lesser-visited Pangmo Village. It looks like just another village of Spiti, but surely one of the most hospitable villages there. When locals of Pangmo were asked about their favourite places in Spiti, they unflinchingly chose their village, because they believe it is in fact the most beautiful one out there.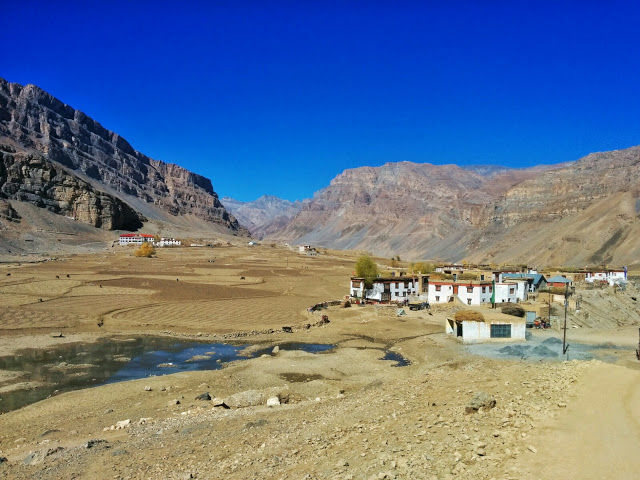 Samudri Tapu
Everyone visiting Spiti experiences the most magical moment when they witness the Lake of the Moon – Chandratal. Many have written about its beauty in their own unique ways. But close to Chandratal lies another beauty, Samudri Tapu.
It is the glacier, which is the origin of river Chandra. Its glacial melt also forms a huge water body, a few kilometers ahead of Chandratal. If one wants to witness absolute serenity, there can't be a better place than this.
It is advised to not venture out alone there. The route may be confusing. Also, one needs to rappel across the river to reach there. Camping is arranged by camp operators in the region.
Lhalung
Home to one of the oldest Gompas in Spiti Valley, Lhalung is situated at the foot of Tangmar Mountains. These mountains are believed to change several colours in the day, to depict the changing moods of the deities of the region.
Lhalung literally means 'The Land of Gods' and it is believed that Lhalung Devta is the head of all Devtas of the valley. There is also a sacred tree in Lhalung, which is believed to be as old as the Lhalung Monastery. This monastery was founded in Spiti by the great Tibetan Translator, Rinchen Zangpo. His legacy is famous right from Tibet to Bhutan to India.
Demul
Demul has something for every kind of traveler. Fantastic homestays for a laid-back experience for people who like slow-paced travel and for trekkers, some off-roading opportunities for the adventurous souls, and a homestay management system that would leave you speechless.
Let me recap this wonderful system in the words of Himanshu Khagta, who has mentioned this in his blog "…..every homestay in the village gets its turn to serve the tourist. Unlike other villages of Spiti, the hospitality in this village is controlled. It works like a taxi union. You cannot choose a home stay. The village coordinator allots them turn by turn. He explained the rules clearly. The weirdest one was that you cannot stay in one house for more then a night. You have to keep shifting everyday during the period of your stay. This idea was conceptualised by an NGO who did an amazing job of giving the village solar electricity for two hours daily."
Langza – The most fossil rich area in the world
Langza is a poet's dream. An artist's muse. A singer's paradise. At an altitude of 4200 meters, Langza is one of the most picturesque villages of Spiti. The village is adorned by a beautiful image of Buddha and an ancient temple more aptly called 'Lang' said to be the Abode of the Deities of the region and over 1000 years old.
Everyone visiting Spiti is aware of Langza, but what many do not know is about the things it beholds. Apart from its beauty, one of the main attractions at Langza is its rich fossil reserve, known as 'Chaudua' in local language. Historically, millions of years ago, Spiti lay submerged under the Tethys Sea. Remnants of that distant past can still be witnessed in the Spiti valley, which is regarded as the most fossil rich area in the world, as per the Geological Survey of India and the Geological Society of America.
Don't forget to walk up to the mountains and look under the rocks to find some yourself. Although possession and collection of fossils are illegal in India, the locals in the village sell these collectibles to the travellers visiting their village.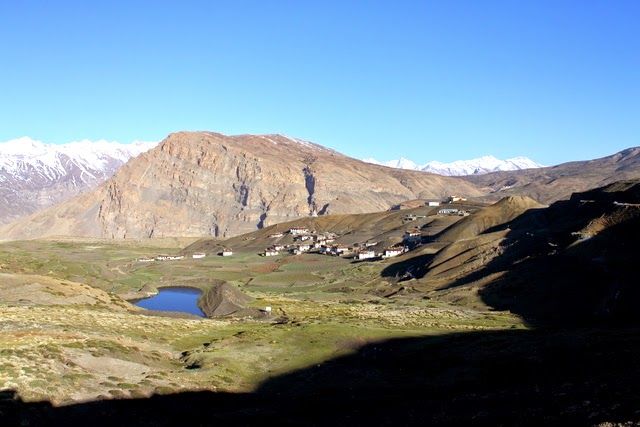 Footnote
I first visited Spiti in 2005, and since then, the place just feels like home to me. You can connect to me on my social handles for any information on this, or any other place, for a quicker response.