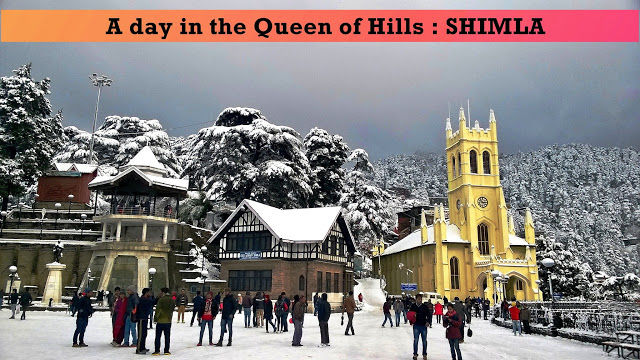 My trip began at 10:30pm from Delhi. I took a bus to Shimla from Vidhan Sabha near "Majnu Ka Tila".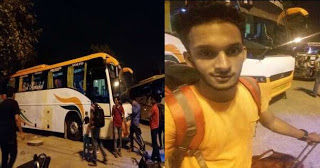 I soon passed by "Sukhdev Dhaba" at Sonipat but the bus did not stopped there.
The highway was in good shape; I passed by fields and towns quickly in the air- conditioned vehicle. I will cross the state border of Haryana first, then Punjab, then Himachal. My mobile operator didn't missed any chance to notify me about the different borders I was crossing.
This road was built to induce motion sickness. Tight, twisty turns all the way up the mountain. I kept my eyes firmly out the window and managed to avoid sleep as I wanted to witness every single thing.
The bus stopped at a Dhaba in Haryana named "Mayur Vatika" for the dinner. I had a Punjabi plate for my dinner.
Soon the bus started to move towards the much awaited Hills i.e Shimla. I didn't
realized as to when I fall asleep.
I woke up early in the morning and as soon as I woke up, I was in the Solan district of Himachal Pradesh. It was raining in the region. The view was beautiful. These mountains are not empty, hillsides full of trees... quite a few houses and little towns were all along the way.
Shimla was the "British Summer Capital" then. The route between Shimla and Delhi got a lot of traffic. But nothing was quite like that first glimpse of what a city on a mountainside looks like.
The road was blocked with the fallen tress due to heavy rain. So my journey got delayed by an hour .
There was a single of road. The main, twisty road through the middle has just enough room for one vehicle in each direction. I cannot see how one would access the majority of houses built on those hills.
I came across the vehicle parking area of Shimla near the "Victory Tunnel". I was
astonished to see that Shimla could also have such huge visitors.
Reaching Shimla, my first point of attraction was "The Victory Tunnel". It was just 20 footsteps away from where the bus dropped me in Shimla. I headed through the Tunnel to reach the "Mall Road" on the top. Well it was not the regular way to reach the Mall road but just a short cut which was only known by the locals.
It took me around 20 mins on foot to reach the Mall road entrance. I took a shortcut way near the tunnel to climb the top as suggested by a localite. That shortcut really helped me avoid the rain.
Entering the Mall Road, I came across the beautiful Heritage building which was now occupied by BSNL office. The building has big clock which gives it a colonel look.
The Heritage building, BSNL office in Mall road
Office of the superintendents of Police,Mall Road
On moving towards the Mall Road Shimla, you will come across few fruit vendors selling fresh fruits which are grown in the nearby locality of Shimla.
I reached the "Scandal Point" . Scandal Point is located where the Mall road joins the Ridge road. A meeting place for locals, tourists and lovers. It is also famous for the statue of the Indian freedom fighter Lala Lajpat Rai. One can relax here as there are many benches to sit and enjoy the beautiful view of the city. Right next to the Scandal Point is the fabulous stone colonial structure of the General Post Office.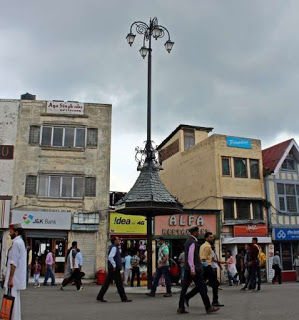 Unlike any Indian city I've been to, the main spiritual attraction here is not a temple but a church. Although I also found a "Kali Bari "on my way to the church but It was not as famous as "The Christ Church"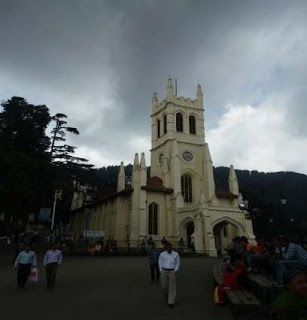 The flat spot atop the Mall Road where the church rested was a popular place for tourists and I saw quite a variety. There were also certain tourist activities.
You could pay to take a ride on a fancy horse.
The most persistent salesman showed me photos and offered the chance to put on traditional clothing and get my own photograph taken. I declined a I was much happy in looking others wearing the same and I loved to take photos of them instead.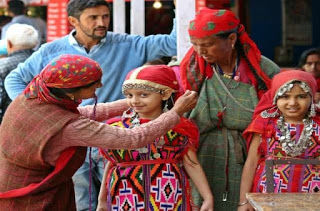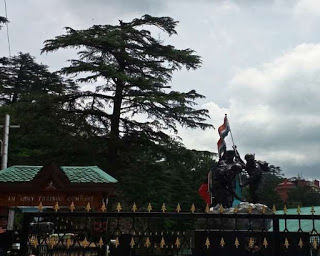 Also at the top of the hill were statues of Mahatma Gandhi , Indira Gandhi and other statues of the Indian Army officers.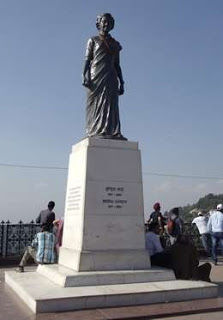 My favorite part of Shimla was a surprise to me. As I was walking along the steep sidewalk that led up to the church... I turned around to take a photo of the street below, but glanced upward briefly.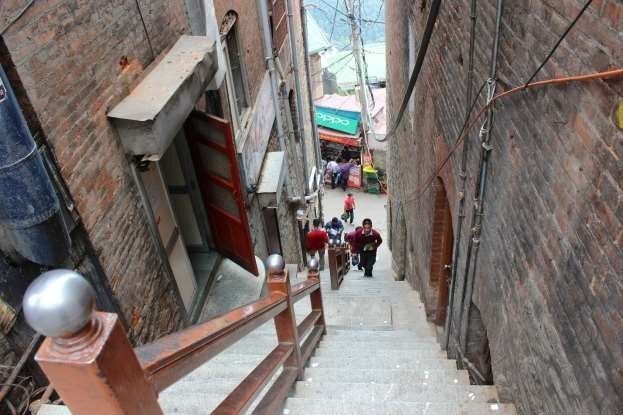 Then I saw it.I saw a giant structure of Lord Hanumana which was build high above the hill. The place was called "Jaakhu" Temple.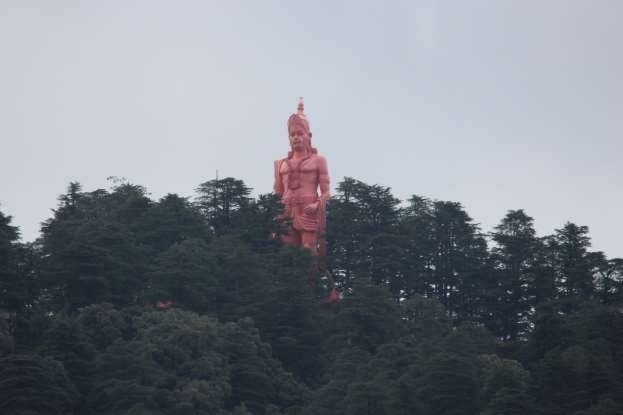 GIANT STATUE ON TOP OF THE MOUNTAIN!
It let my eyes bug out of my head for several minutes. If I had more time, I may have considered trying to hike up to it.
Seriously, how was that thing built? Further, the local people told me it was all made from one piece of big stone. This had blown my mind... wow! It was so amazing to see the statue covered with Shimla's foggy weather.
Another awesome thing about Shimla: Sidewalks
Down the stairs to the next level was the Lakkar Bazaar,Mall Road Shimla
The lower marketplace; feeling a bit more local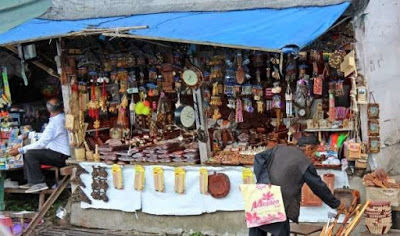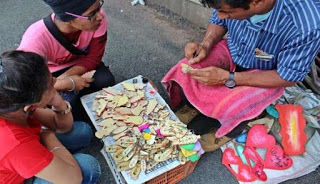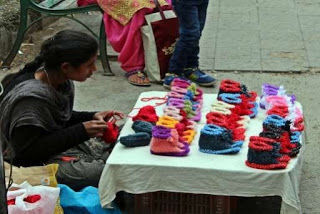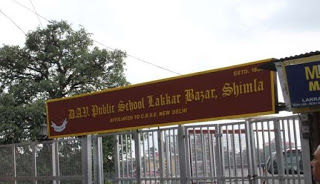 Stairs, elevators, and steeply inclined sidewalks. That is how you get around as a pedestrian in Shimla. How does furniture make it up? I saw several men carrying heavy loads including a guy with a refrigerator on his back. Every time I saw one of these men, usually with his whole body - and sometimes forehead too - strapped to thing on his back (and sometimes bent over double to carry it), I let him by. I almost took a photo of one of them, but even if he would not have seen me, it seemed slightly rude, like I was treating his labor-intensive job as my tourist attraction. I settled for photographing this monkey momma along the same street instead.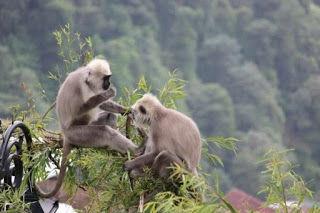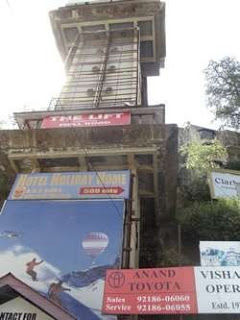 In the middle of the town is something simply called "The Lift" which is what it sounds like: an elevator (a series of two elevators actually) that takes you up from the main street level to the main pedestrian level. The Lift (10 rupees a ride) was quite helpful for senior citizens to take them to the top. The elevators were fairly small, and often had a line to get in (though not a long one) but they did the job.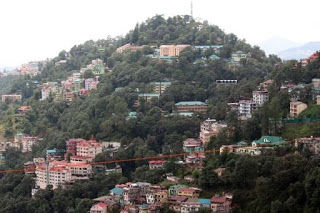 The mountainous roads gave me chills inside to see deep valleys just a few inches away from me. It was indeed a breathtaking experience. I came across several schools on my way - schools right inside a valley and children effortlessly climbing to their classrooms. This was something unusual for me to watch. Everything here is stuck to the mountains - schools, colleges, government buildings, temples, hotels, houses and private offices. This is the specialty of a hill station like Shimla.
Shimla View from the Mall Road
The evening was interesting. I met up with a man (age 54), the guy was from Mumbai) who had traveled from Mumbai all alone.
I met this man accidently in the Indian Coffee house situate at the Mall Road Shimla. I went there to have some snacks and cold coffee. The man started the conversation by asking as to what is my profession as he saw me taking pictures of random people and places while sitting in the coffee house. I started saying that I'm a Traveler and working for a Travel Company named Four Little Birds Resorts. Further I also asked the person about his work and I was so glad to hear that even he was a traveler. He is a head of International business in a company based in Mumbai. He further spoke that he has settled in Shimla for the last 2
months. He said that his work Is mainly done over the Internet so it is not necessary for him to be at one place only. So, he decided to go to different beautiful places and live there for some months. He has rented a home near the Jakhu Temple.
View from the Mall Road Shimla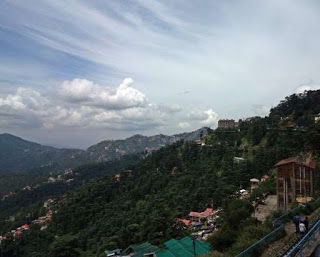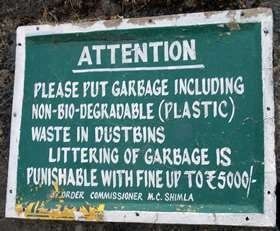 I like that this left sign board exists. (There is also a ban on smoking in the whole city, which I found out the hard way, even though I had seen the sign.) I still saw
garbage, but less of it and almost none on the streets. I couldn't tell if that was because it is easy to toss trash down the hill (out of sight) or if people actually litter less. Also, I like that the fine is Rs 5000.
Oh, now they tell me (Also, watch your spectacles!)
Shimla was really a cool place, both temperature and atmosphere. I can see why all the richer folks in Delhi escape here as soon as the summer heat hits. (Summer vacation for kids starts at the beginning of May, apparently, so these places get even more crowded.) It almost seemed there were as many hotels as houses.
I'm curious to visit other "hill stations" now.
My next stop is the beautiful town Palampur.