I was visiting Spiti as a volunteer for Ecosphere, and spent my first weekend in Mud. I travelled back to Kaza from Mudh, early in the morning Monday. I spent the day by the Spiti river in Kaza and in the evening, the head nun at the Morang monastery came to pick me up along with two more young nuns. They arranged for a cab just so I could have a comfortable ride, which made me feel extremely guilty. They were treating me in the nicest way possible over the coming weeks, to the extent that I found it unbearable at times (in a nice way)!
When I first came to Kaza, I felt it was the most remote place anyone could be living in. There was hardly any electricity, internet was unheard of and BSNL signals were weak at the best. But then I entered Morang, and Kaza suddenly felt like an urban establishment in comparison. Barring a few houses and the monastery itself, there was nothing to suggest that this place was inhabited! There was no electricity, no phone signal of any strength, no shops and most importantly, no toilets even. This, I had definitely not anticipated!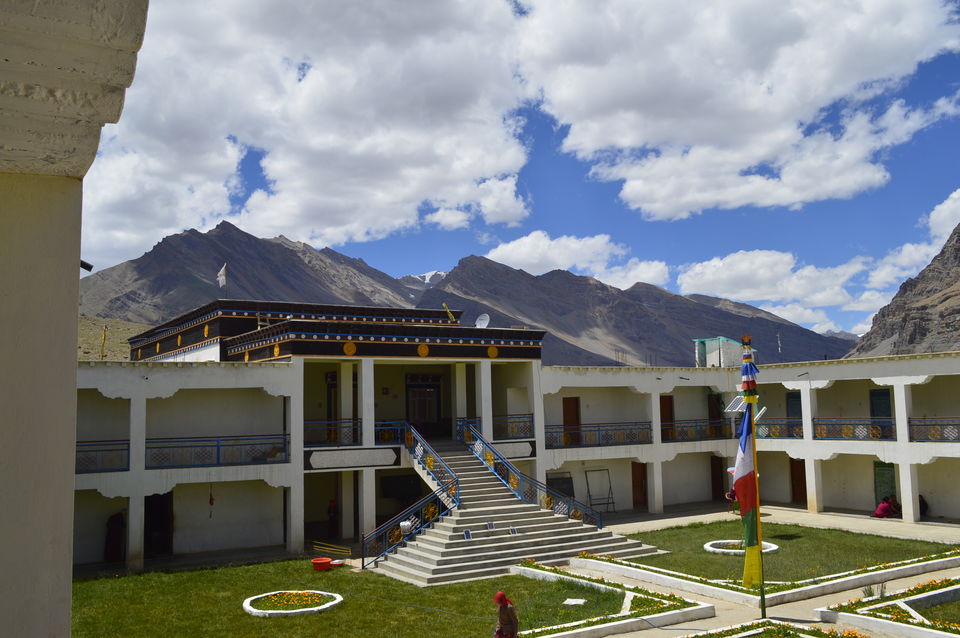 I was there to teach the nuns spoken English and some basic computer skills. The nuns were of all ages, the youngest being 5 years old and the oldest about 60.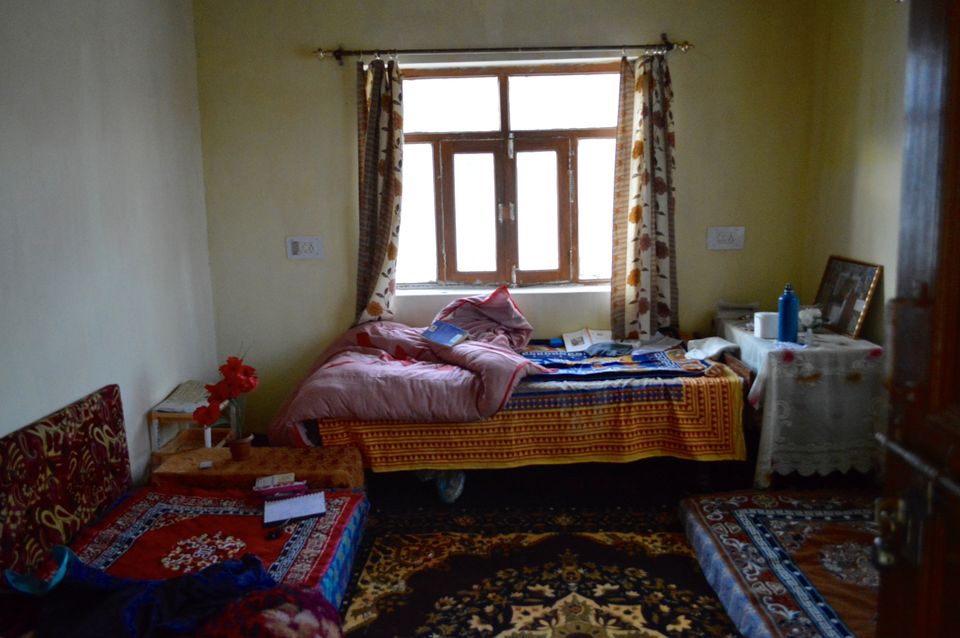 I was shown my room, which was cozy with two beds, red covers and a carpeted floor; It was much more than what I had expected. I had absolutely no idea about life inside a monastery, and every day was a great revelation into the their way of life.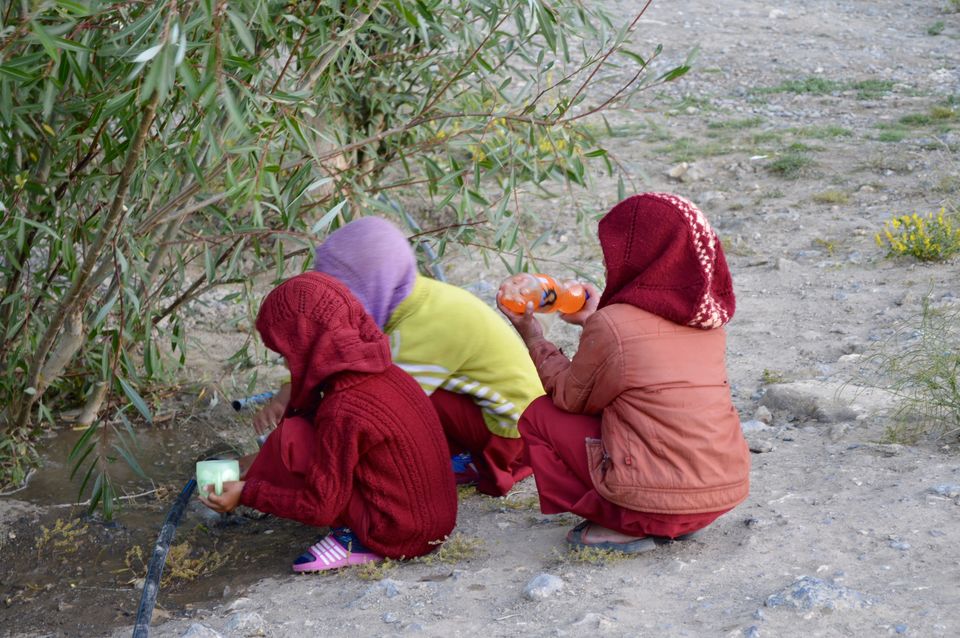 There were about 50 nuns in the monastery, with a head nun and a monk who teaches them Bhoti (A tibetan language, which is now considered endangered) and buddhist scriptures. The young nuns go to school during the day, and study the scriptures in the evening.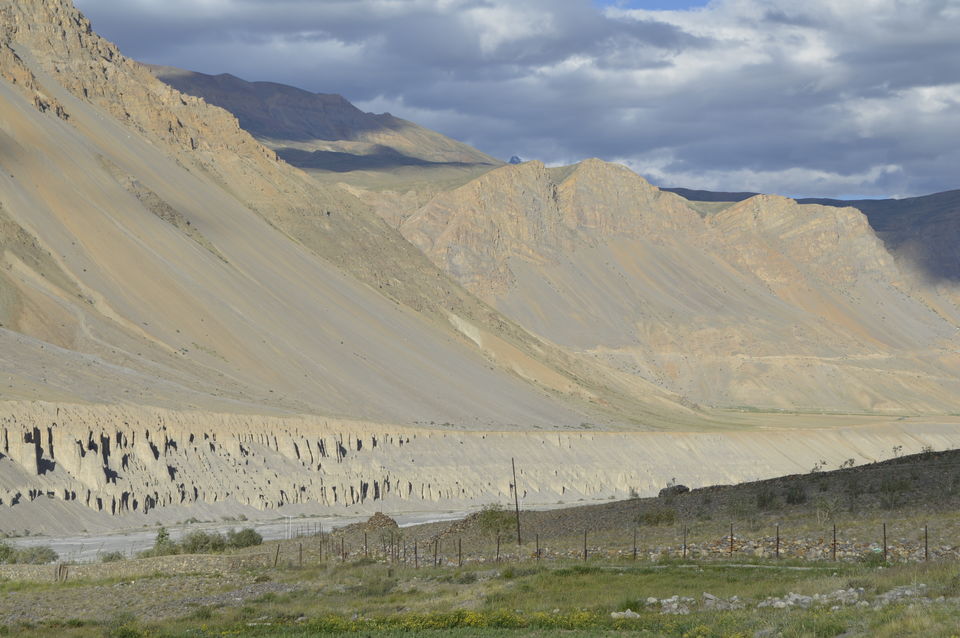 I used to take classes for them at different slots each day - one for the kids and two for the adults. They all lived on bare necessities, and had nothing more; yet they are the merriest bunch of people I have come across. Although I was there for a brief period, the warmth they exuded was overwhelming.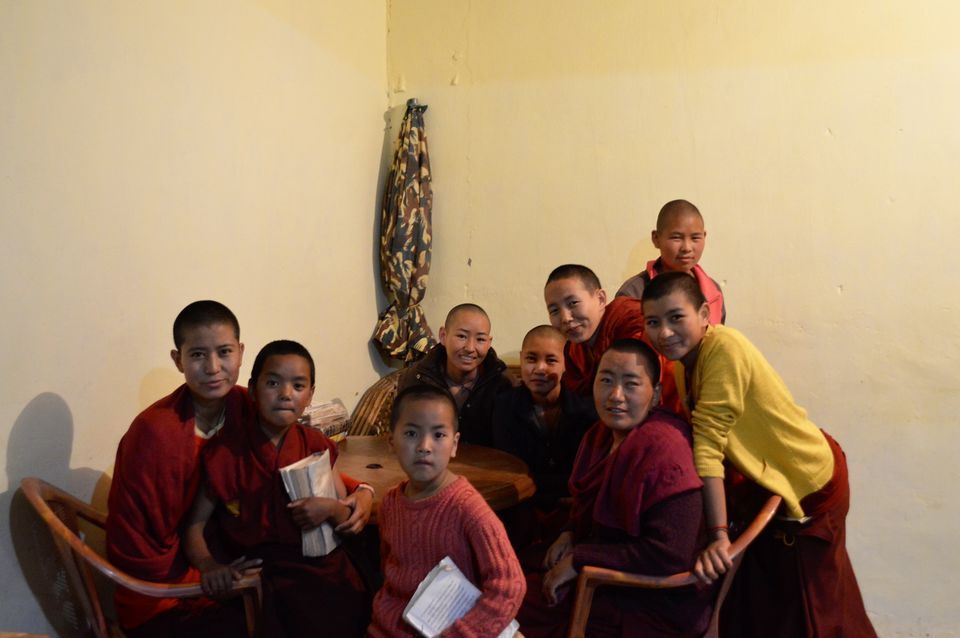 Most of them were extremely shy initially, and wouldn't even look at me when I spoke to them. This changed within a few days, and over the English classes, I got to learn about their families, their lives before they joined the monastery and many interesting anecdotes about their everyday life. They too were extremely keen on knowing more about my life in the city, my family, work and travel. As much as I enjoyed classes with the adults, teaching the kids was fun at another level. They were just kids, after all, and like anywhere else naughty, hard to control and extremely noisy.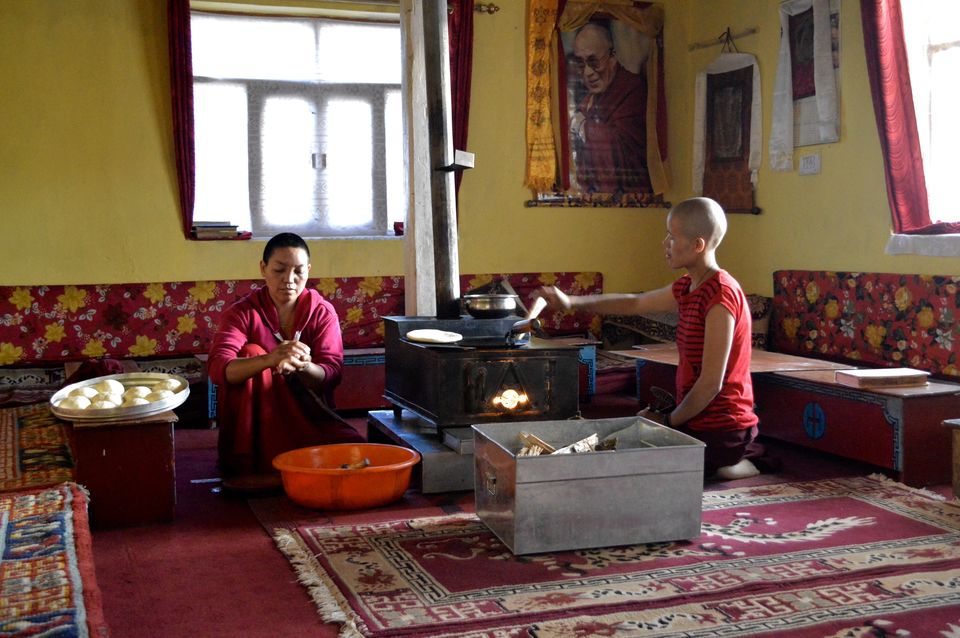 The nuns took turns in cooking meals, which were as varied as rice and dal, thenduk, thopthop (something like momos), sweet rotis, spitian bread with vegetables, egg and keu (local version of pasta), and all of them accompanied by a spicy chilli pickle that totally satisfied my south indian tongue. Not to forget, the flavourful mint tea that they made with fresh mint from their garden.
The day before I left, they threw me a most unexpected farewell party; complete with bollywood songs, spitian music, steaming hot cups of tea, fried snacks and even gifts! It was an extremely touching gesture that shall remain with me always.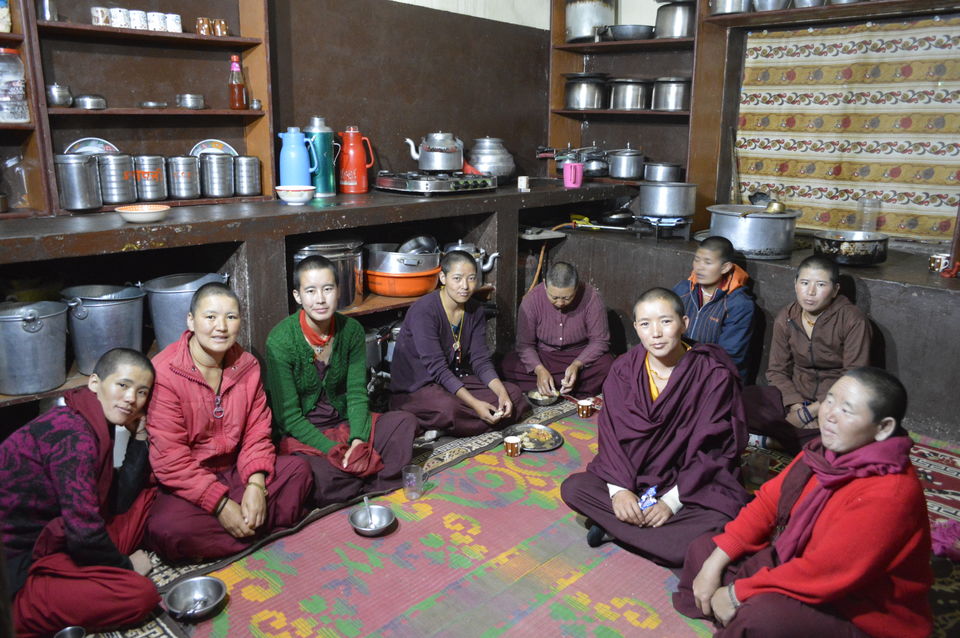 Anybody is welcome to visit the monastery; so if you are in Spiti, do try to visit. It is about 30 minutes from kaza, towards Manali in a village called Morang. The monastery is called Sherab Choeling institute, and an extremely beautiful place with even more beautiful people. You can even stop there for a meal, they are most welcoming.