I was in Spiti valley, India, for a whole month, with a long list of places that I wanted to visit. I was volunteering for Ecosphere, a social enterprise based out of Kaza, the main town in the valley. I had my weekends free to travel around the valley. The whole valley is remarkably stunning, and the more time you spend there, the more you fall in love with it. 
It is a cold desert, and any form of greenery is hard to come by; but the vastness of the mountains and their various shades and features is an experience that one mustn't miss. So, my first weekend in Spiti and I was deciding between Kibber and Tabo, when one of the travellers there mentioned Mudh, which marked the beginning of Pin valley. 
Pin valley, unlike Spiti, is lush with green mountains and seemed like an inviting option after spending a five days in Kaza. So I set off with a small backpack with essentials for 2 days; alone, without any idea of where I would stay or what I would do. I would probably not make such an unplanned trip anywhere else in India, except in Himachal Pradesh. There is something about the people and the place that evokes instant trust.

Mode of Travel - I took a bus that runs daily from Kaza to Mudh, with quite a few stops in between. It is beautiful 2 hour ride that leaves from the Kaza bus station at 4 pm. It is highly advisable to get there an hour earlier and block yourself a seat - trust me, you do not want to make that journey standing. On the bus, I recognised a fellow traveller I had met at a Cafe in Kaza; a Canadian girl who was also by herself, and we both hit it off pretty well.
For those interested, the bus also stops at Kungri, another beautiful village that has a monastery. You could spend the night in the monastery and catch the bus back to Kaza the next morning.
Accommodation - After a two hour ride, we reached Mudh, a tiny village amidst the vast Himalayas. I can still remember the view I was treated to as soon as I alighted the bus; I was spellbound for the first time in my life. It was at that moment, I think, that I fell completely in love with the Himalayas. I made a mental note to visit Mudh again before heading back home, although it did not happen. The first guest house we spotted was Tara Homestay, and I would recommend this to anyone visiting Mudh. It was the best accommodation I had during my whole stay in Spiti. Hannah and I took a corner room that faced the valley and glaciers. We were charged Rs 750 a night, but there were much cheaper options starting at Rs 150!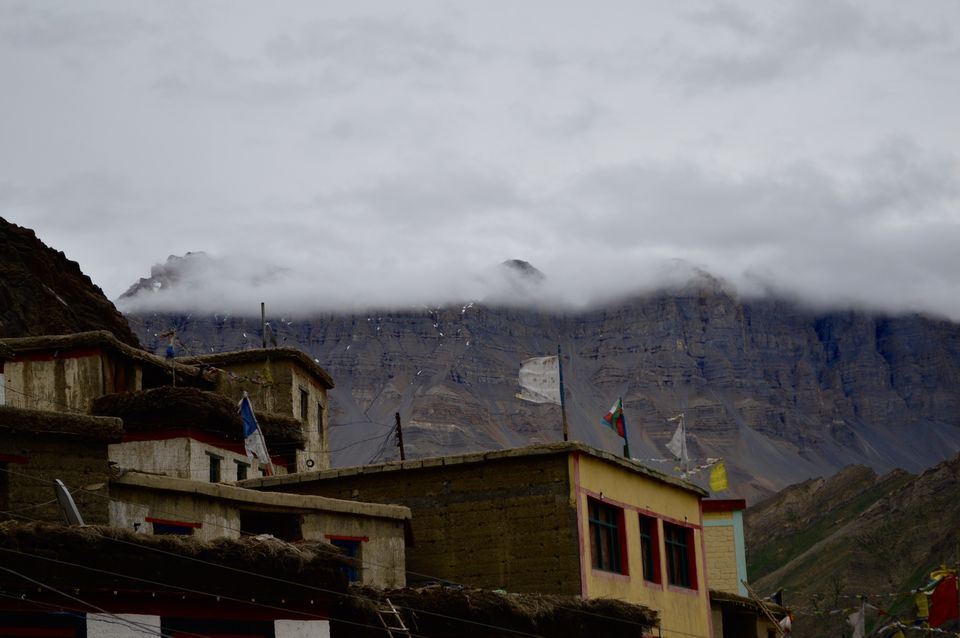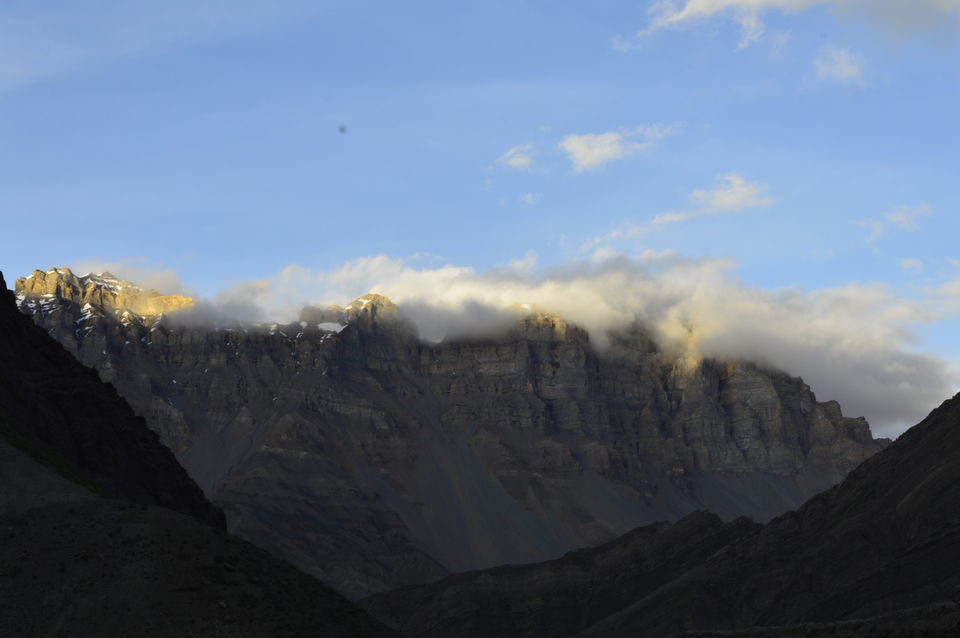 The rest of the evening was spent drinking some lemon-ginger tea and doing simply nothing else. It was the nicest feeling to be sitting right opposite of a glacier, pulling my jacket hood over my head trying to protect against the cold wind, eating some hot Thendhuk, and chatting away with my new canadian and Israeli friends.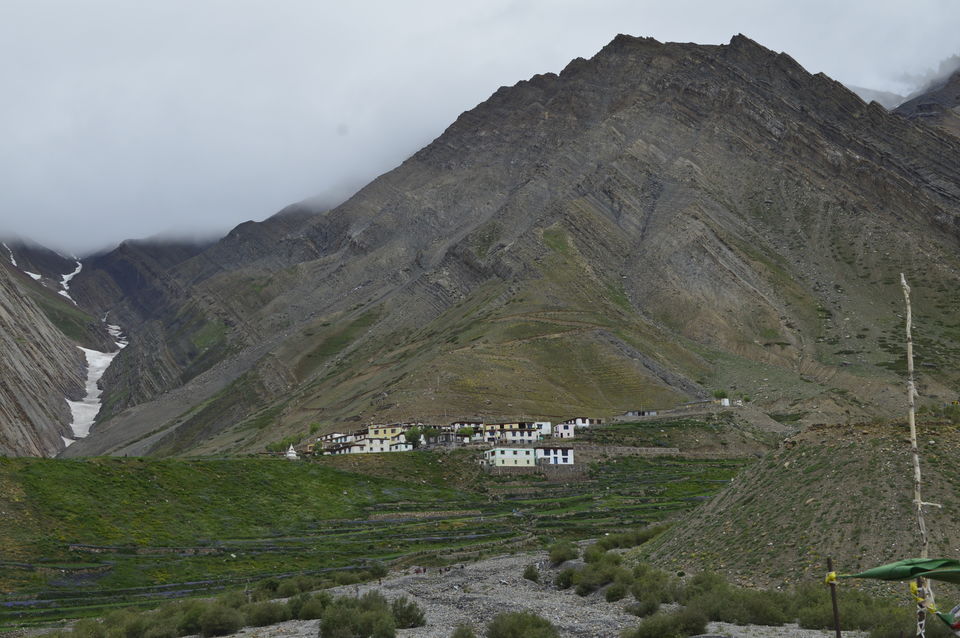 The next morning, I took long walks along the river, trying to dip my feet into the colder-than-ice water, listening to the soothing sound of flowing river and had a heavy brunch of Eggs, Toast, Nutella to go with it and a few cups of hot tea. It only seemed appropriate to follow it up with a cosy afternoon nap, walking around the village after that and ending the day with an early dinner of Thukpa with Hannah.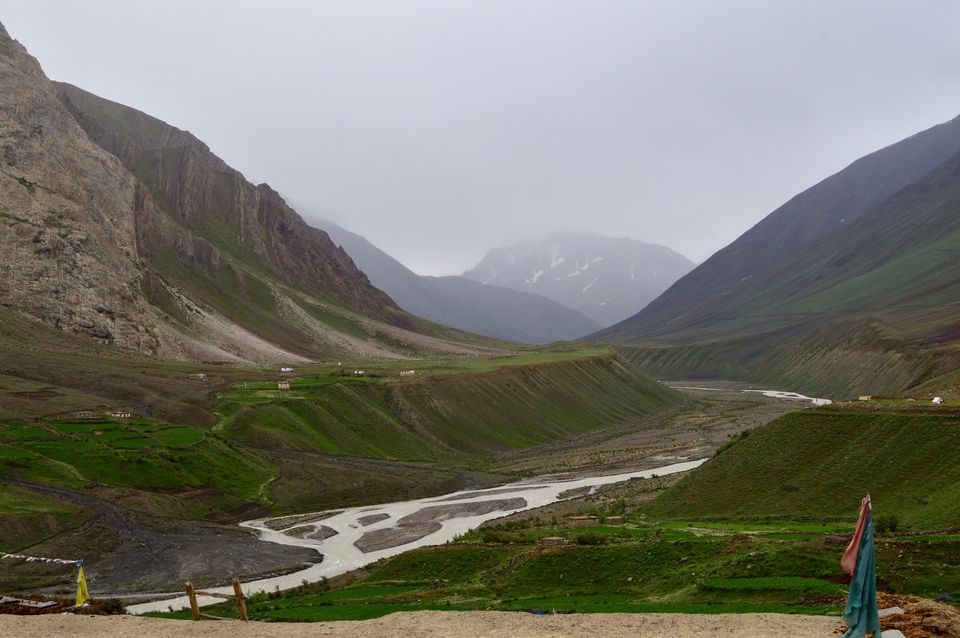 On one of the walks, I came across a hanging bridge that looked like it might give away any moment. As soon as I crossed it, a few donkeys were forced to walk over to the other side, and it was quite a sight to watch some of them scared to their bones at the prospect of walking on it.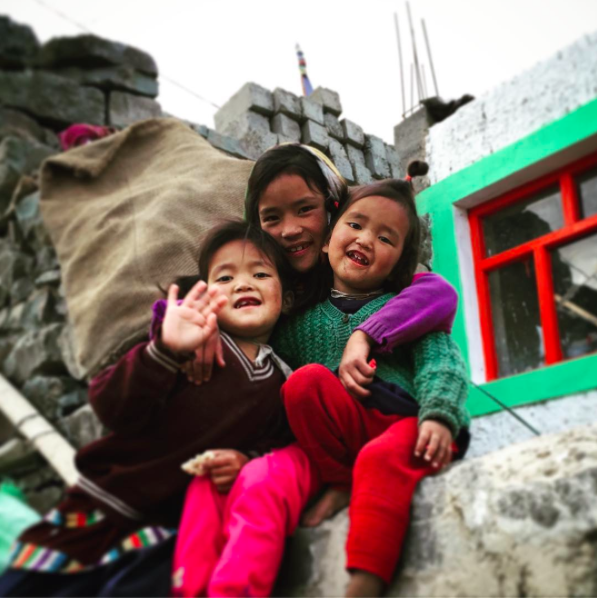 When in Mudh, or anywhere is Spiti for that matter, make it a point to talk to the kids. They are extremely friendly and , and ask you for 'chacalate' as soon as you wish them Juley ('Hello' in Spitian). The sisters in the photo above were ecstatic as soon as I gave them a few toffees, and insisted I click a photo of theirs!
I caught the bus back to Kaza the next morning, and as much as I loved Mudh, I could not wait to experience the rest of Spiti.
Note - There are absolutely no phone signals in Mudh, so be prepared to be out of network for as long as you are there.