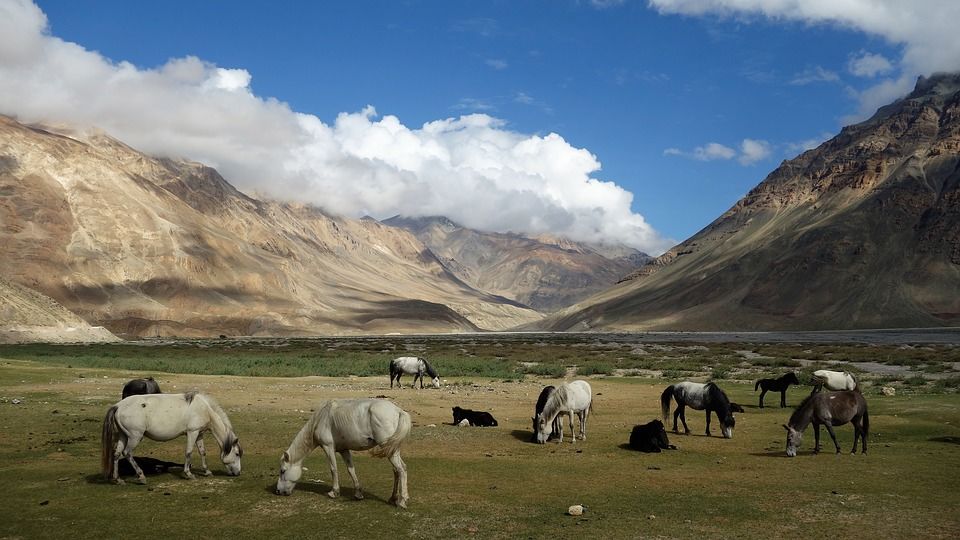 Day 1: Manali to Kaza
We head from Manali to Kaza. Enroute this way you will come across a lot of beautiful mountain ranges. The journey is going to be 11 to 12 hours on road but believe me, you won't regret sacrificing your sleep. Travel to spiti is more about the journey and not only the destination. The entire route is really amazing and we can't keep our hands off our cameras.
So our first stop was at MARHI 11,400 feet for breakfast. The entire place is surrounded by snow-capped mountain ranges. We spotted a small stupa nearby so walked till there to see the beautiful view of the valley.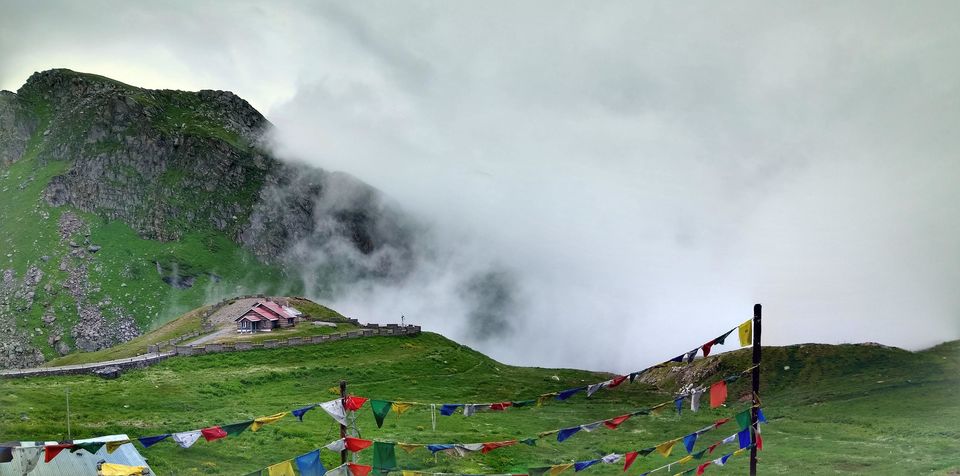 It was lunchtime and we stopped at the popular Chacha Chachi Chandra Dhaba at Batal.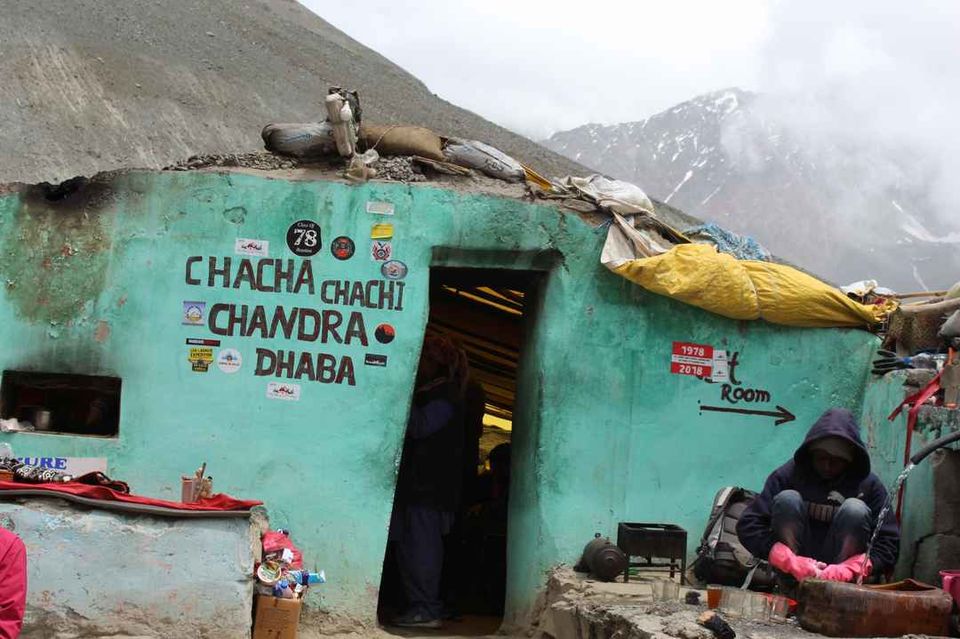 We crossed ROHTANG pass, mountain ranges were entirely covered with clouds. The next place we took a halt at was CHATRU, its small village having a population of 120. There are few shops for eating and beautiful landscape all around to capture into your cameras.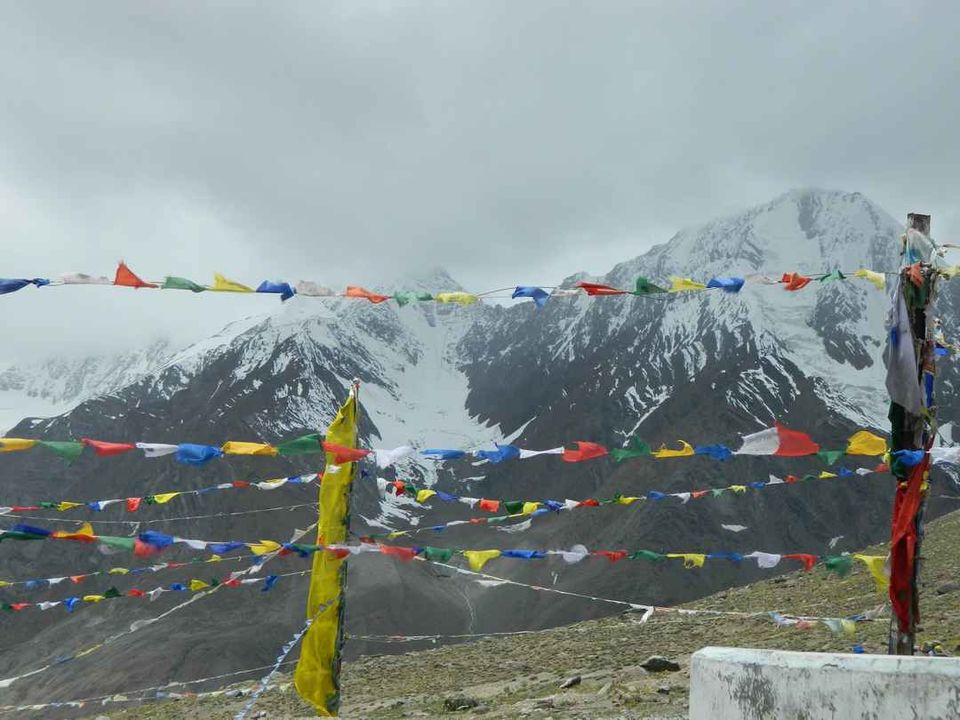 The next halt was at KUNZUM PASS. The pass is a treat to the eyes, it is surrounded with mighty snow-capped mountain ranges. People believe that kumkum Mata dwells in the temple at the pass and protect us from all evil forces. One thing you cannot just miss on the entire trip is Buddhist prayer flags, flying high with the wind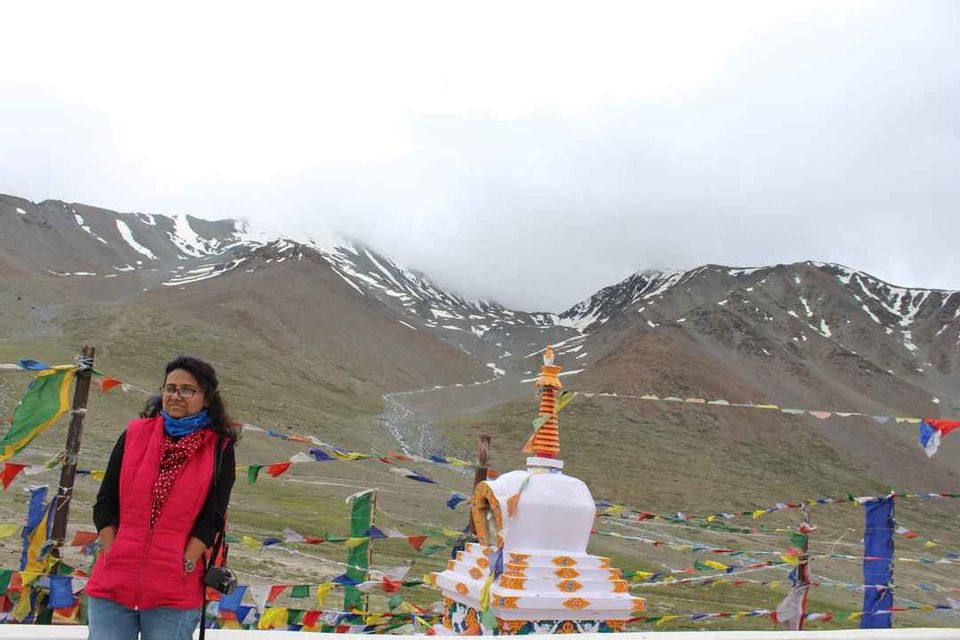 Entering Spiti, the first village we crossed was LOSAR 13,400 feet above sea level. Houses here are made up of mud to maintain warmth and are painted in white.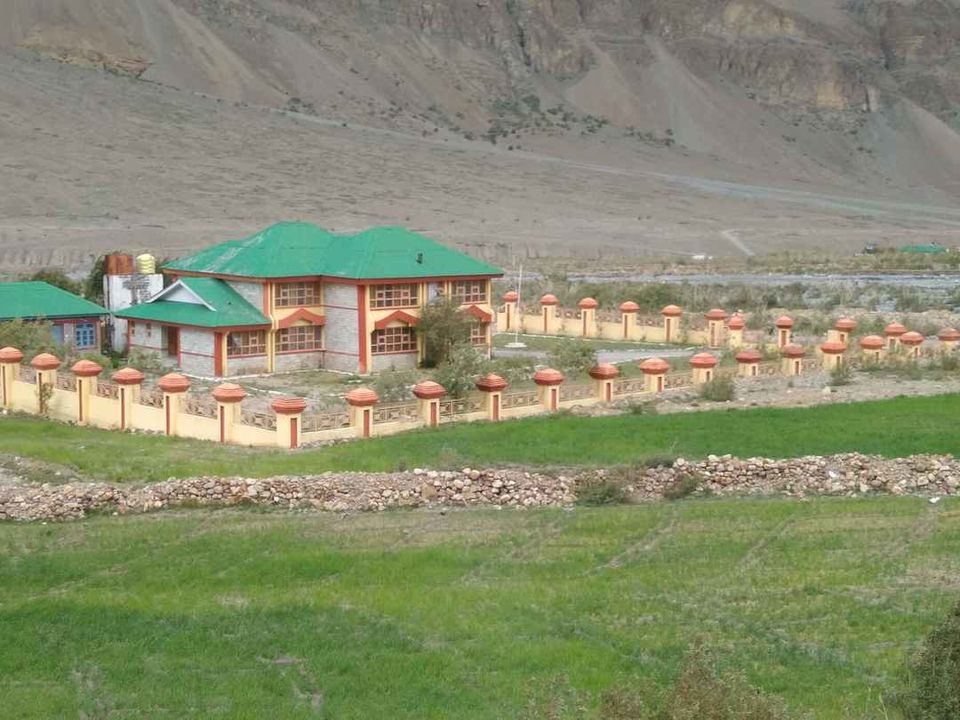 The roof corners are covered with husk and tree leaves in order to prevent damage during the snow. Not to mention it is one of the chilliest villages in the spiti region and has a population of 242.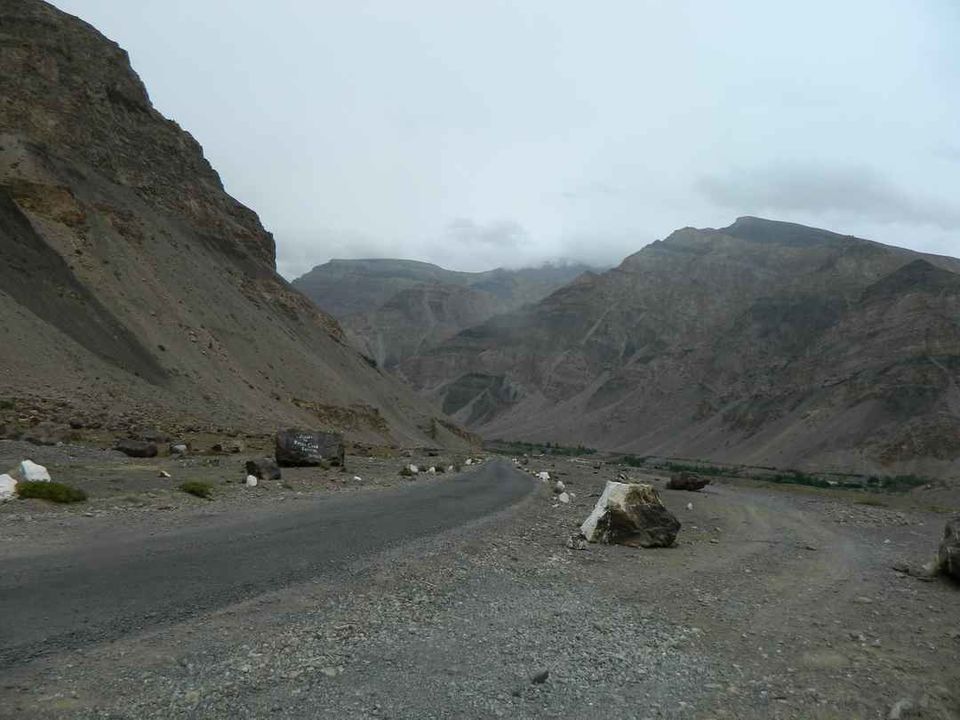 We reached Kaza by evening. It is the largest village in Spiti. We explored the market and tasted not to miss momos and thukpa. There was a monastery just behind our hotel 'Sakya Abode' where we could see young lamas in their red bottoms and jackets on the top. People here lead a very simple life and will welcome you with warm hearts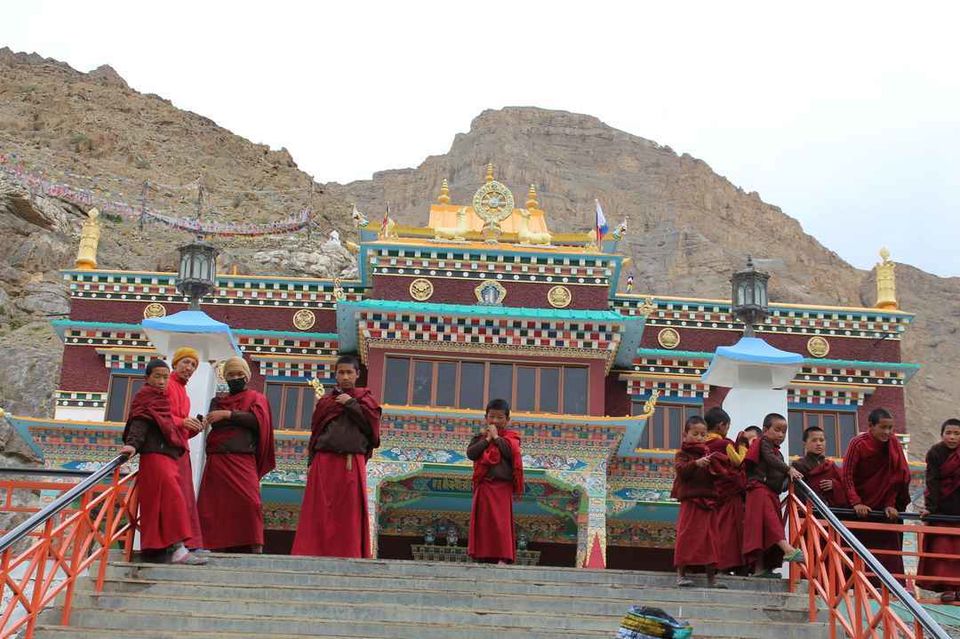 Day 2: Tabo and Gue
Today we had two destinations to cover – Tabo monastery and Gue village.
Gue village is known for the mummy of a lama, India's only Natural Mummy. It is around 500 years old and still intact with teeth and skin. Villagers once in a year gather to cut the nails and hairs, yes they grow, though very little but yes.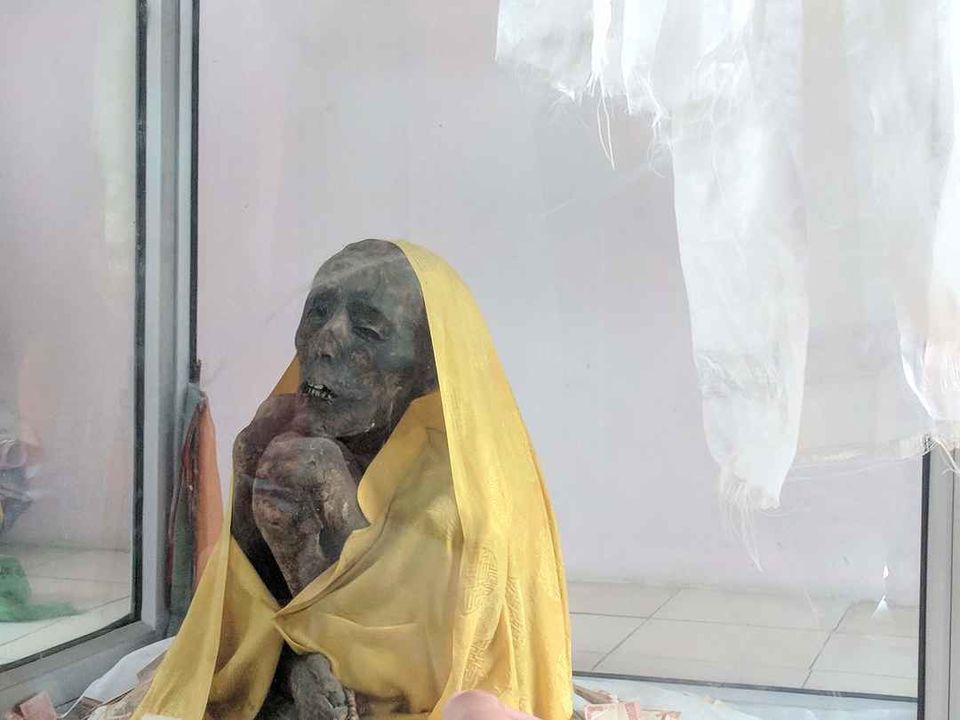 It is kept in a glass box inside a small room which can accommodate only 5 to 6 people at a time. It is allowed to take pictures of mummy but without flash as artificial light might damage the mummy.
It sits firmly with its fist around one leg, chin resting on its knee. It is said the lama went through the self-mummification process while being alive. Spare some time, sit there and stare into the eyes of the lama, you may find a feeling of inner peace.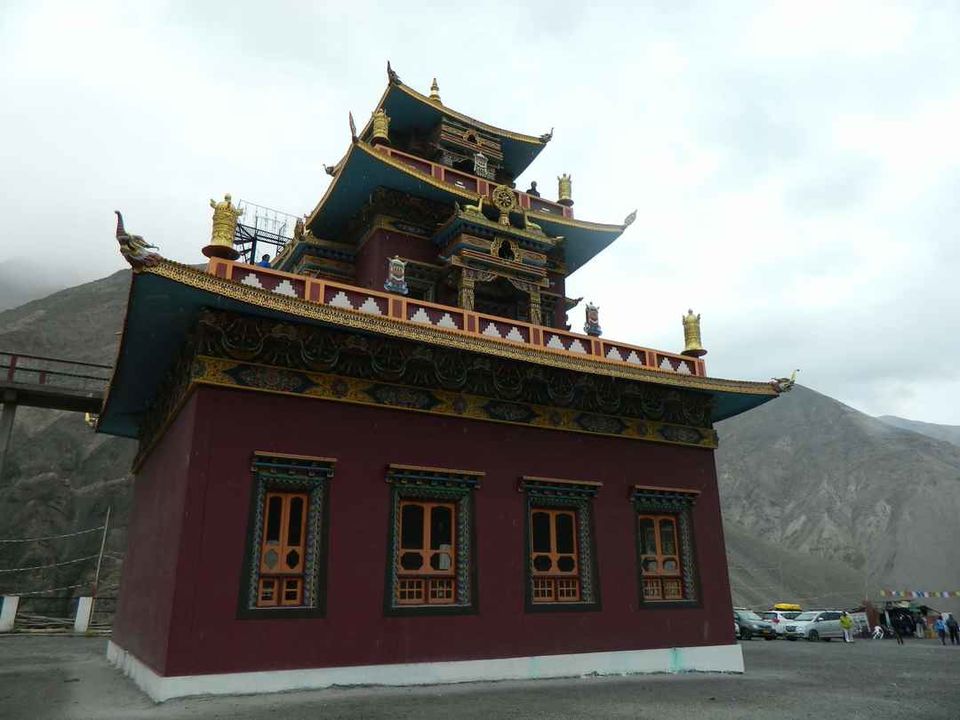 Another village of spiti we entered was Tabo. Tabo monastery is around more than 1000 years old monastery and also has a newer version of it built adjacent to the old one.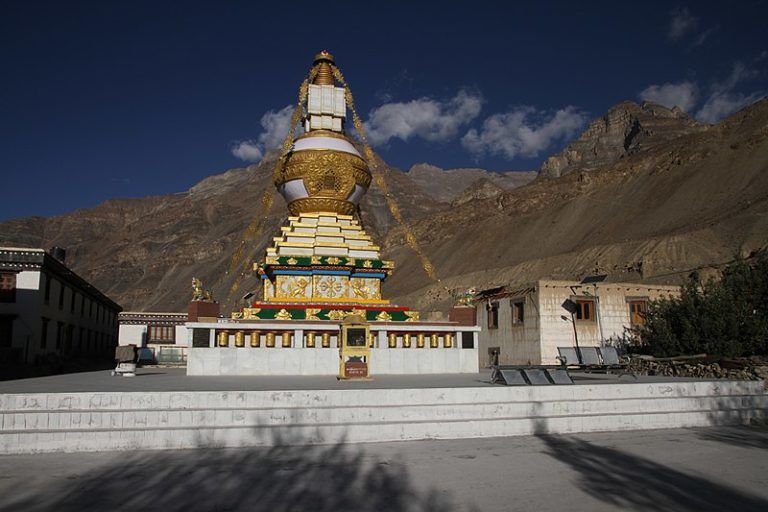 There is no artificial light allowed inside the monastery as it could damage the paintings drawn on the walls. Among all the Buddhas framed on the walls,6 had already received the enlightenment, and hence the circle around their images was huge than the other ones.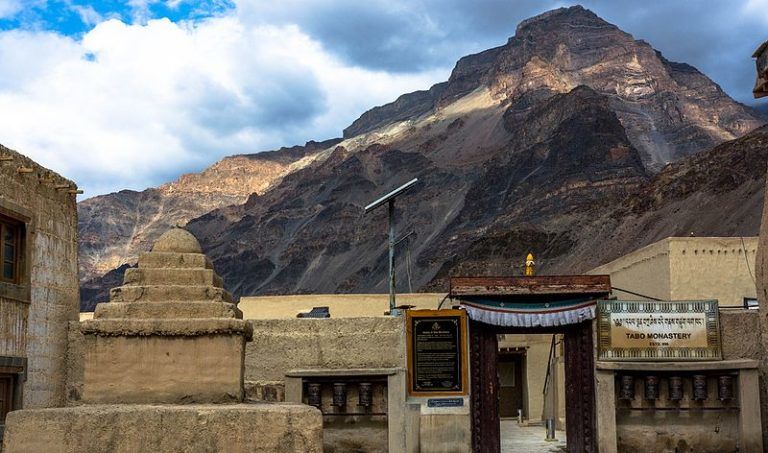 Why Water is kept in front of all God's in Monastery?
Inside the Monastery, often, the bowl of water is seen in front of all God. Monks change this water before sunrise and sunset. The reason is, rich can offer anything to god be it gold, money but a poor can only offer water which is purest of them all. (As told by our local guide)
Day 3:- Hikkim, Komic, Langza, Key and Kibber
Today we started visiting a few villages of spiti and trying to know more about the Spitian culture. The First village we reached was Langza altitude of 4400 meters. This place has a huge Lord Buddha structure overlooking the entire valley.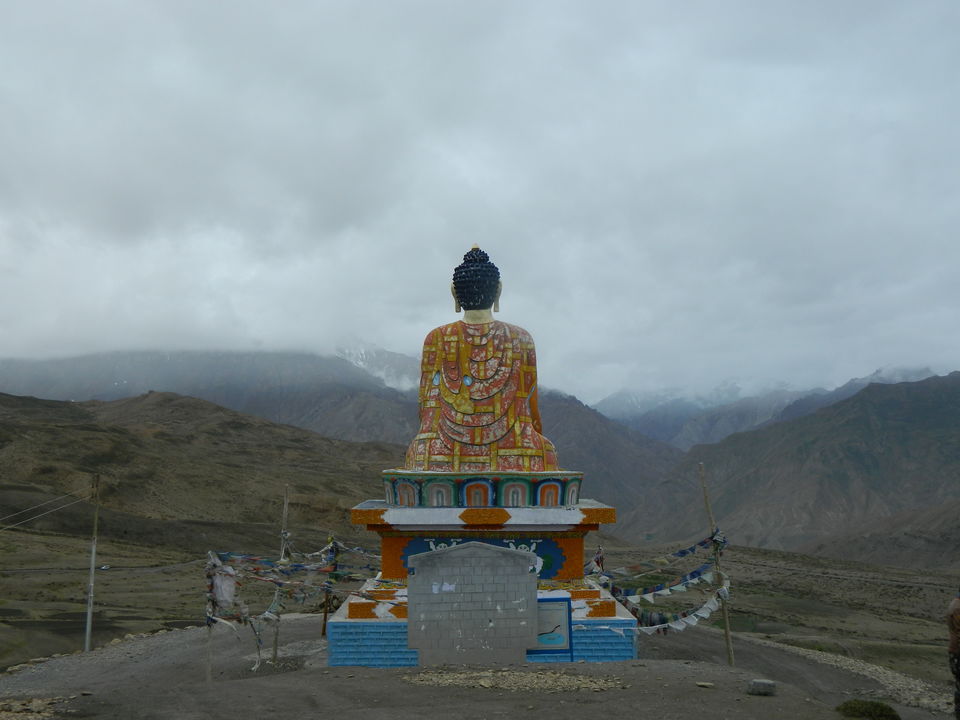 Also down we can see the beautiful mud houses painted in white. We walked down to get a closer look at these typical langza homes.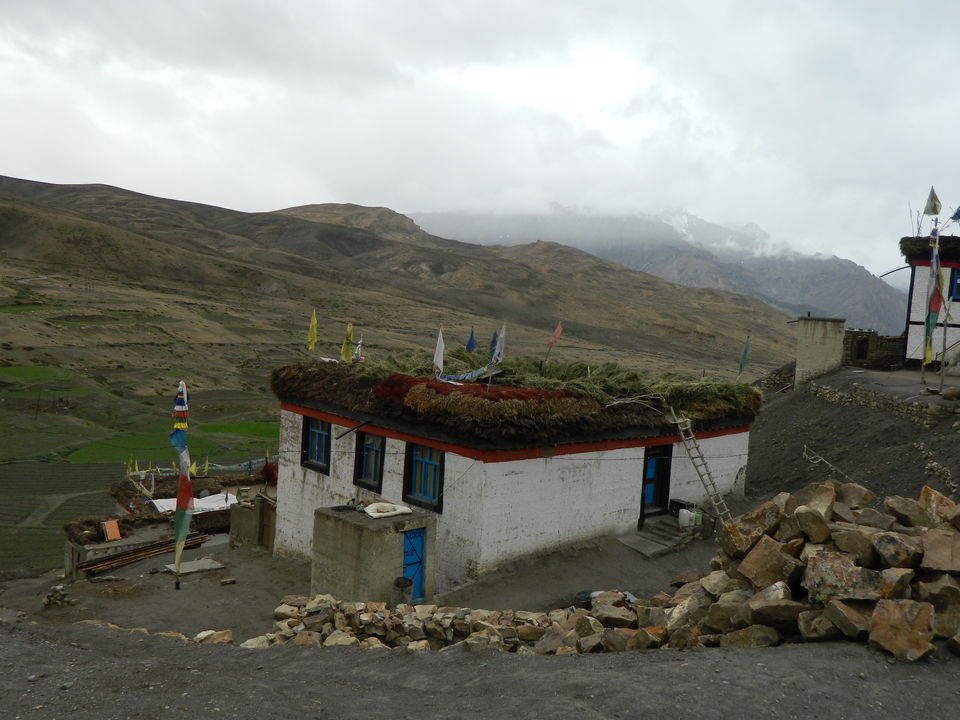 Next, we head to Hikkim at an altitude of 4440 m, this place has the highest post office in the world. The post office is inside a small home. You can buy a postcard and post it to your loved ones. 
More I explored spiti passing through different villages, more I was falling in love with its charming landscapes and serene life lead by the Spitians.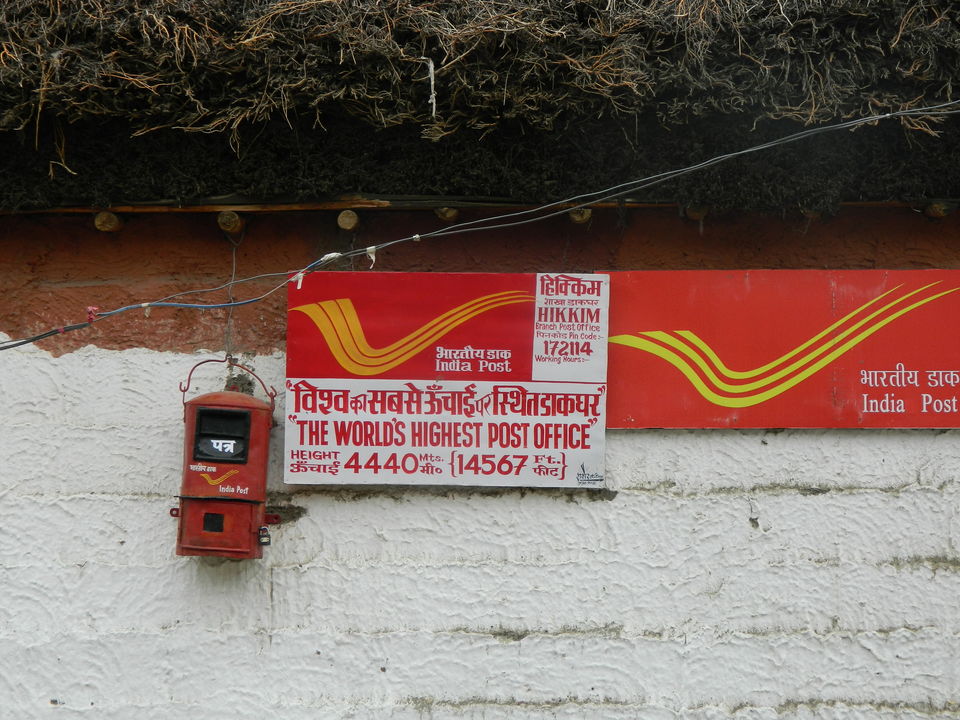 The next stop was at Komic-world's highest village in spiti connected with a motorable road.
We also visited Tangyud Monastery. The monastery was really good and had paintings all over the walls. They had red carpets all over the place where monks sit and do chants and prayers. In the other monastery, girls were not allowed so we just stayed back till other people visited the place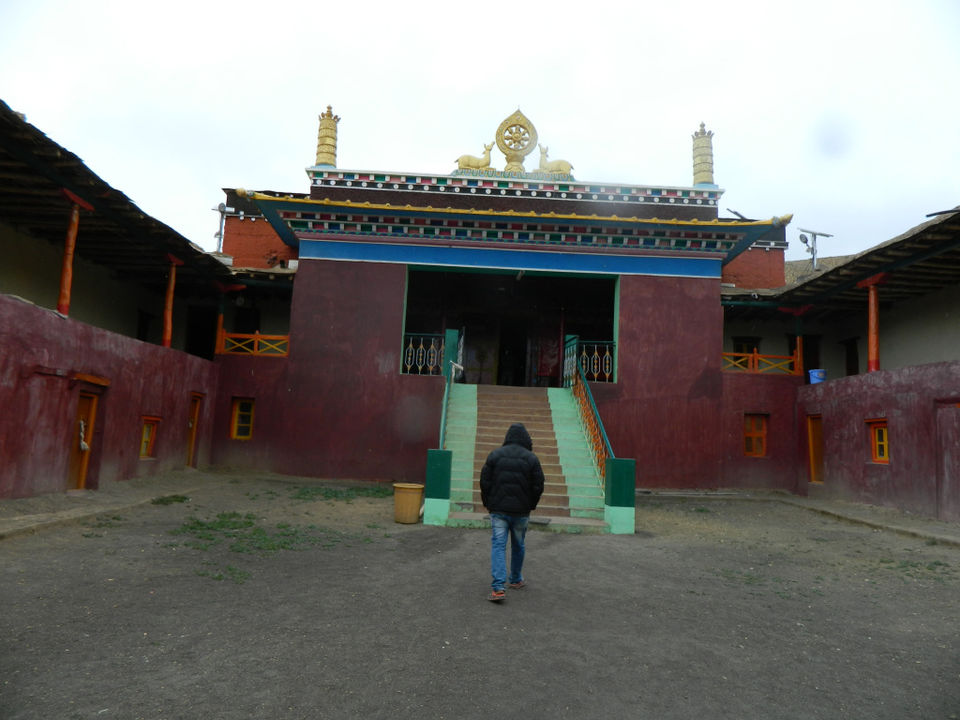 The next stop for us was Kibber village and Key monastery. Kibber village is 4270 meters and is no less beautiful than any other village in spiti.
The village has around 80 houses, unique, given that they are made of stone instead of mud or adobe brick used extensively elsewhere in the Spiti valley.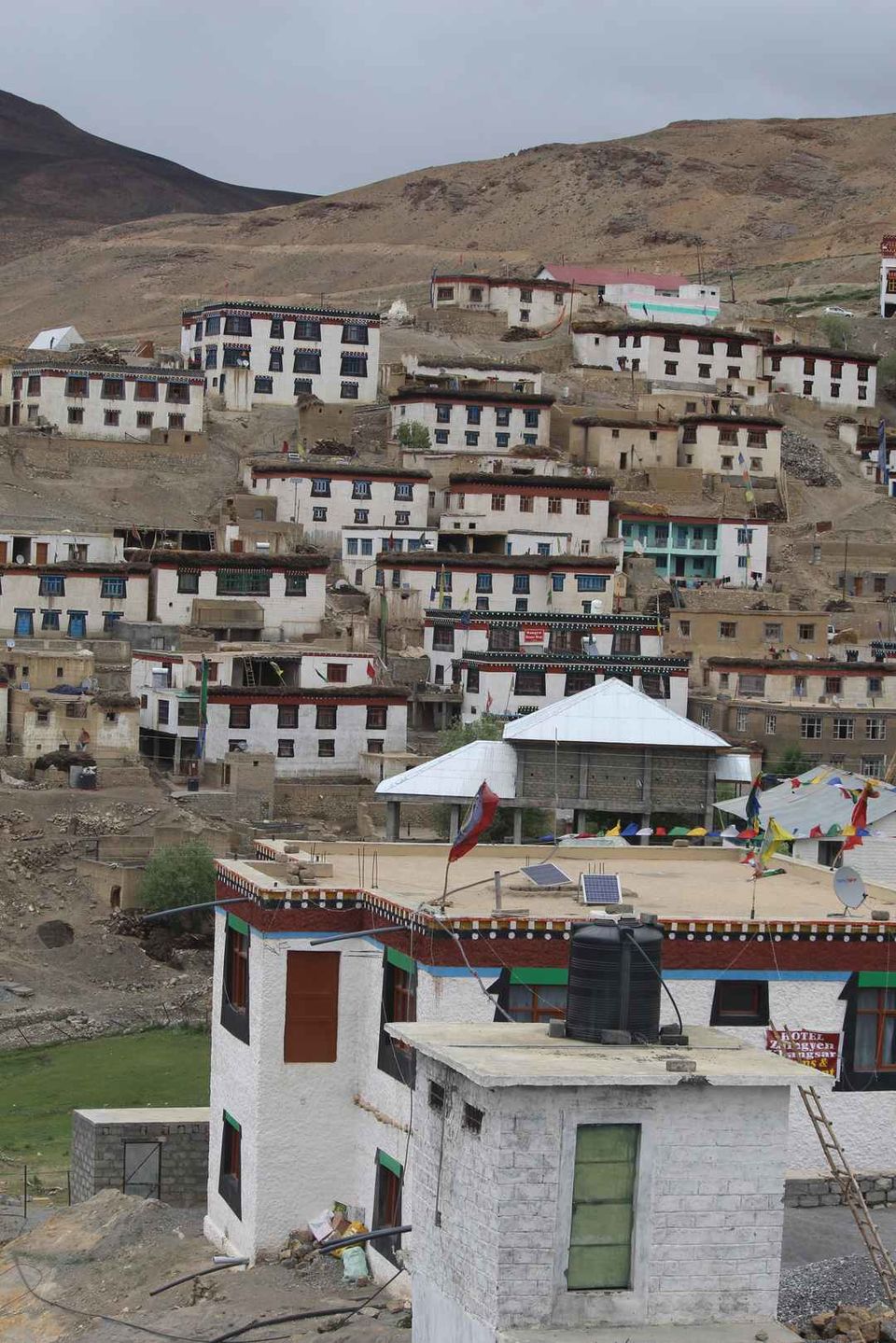 Kibber has a civil dispensary, a high school, a post office, a telegraph office, and a community TV set in the village, every house here is built in the same way and creates quite a picture-some landscape. Most of the houses here offer homestays and act as a source of income for them.
Interesting Facts—
A prayer wheel is a cylindrical wheel and has chant books rolled and kept inside. When we move a wheel we say those many chants at a time which one cannot recall and say verbally.
One who is literate or illiterate can in this way say the chants. So bigger the prayer wheel more number of the chants we are saying by moving them. The wheel is always moved in a clockwise direction.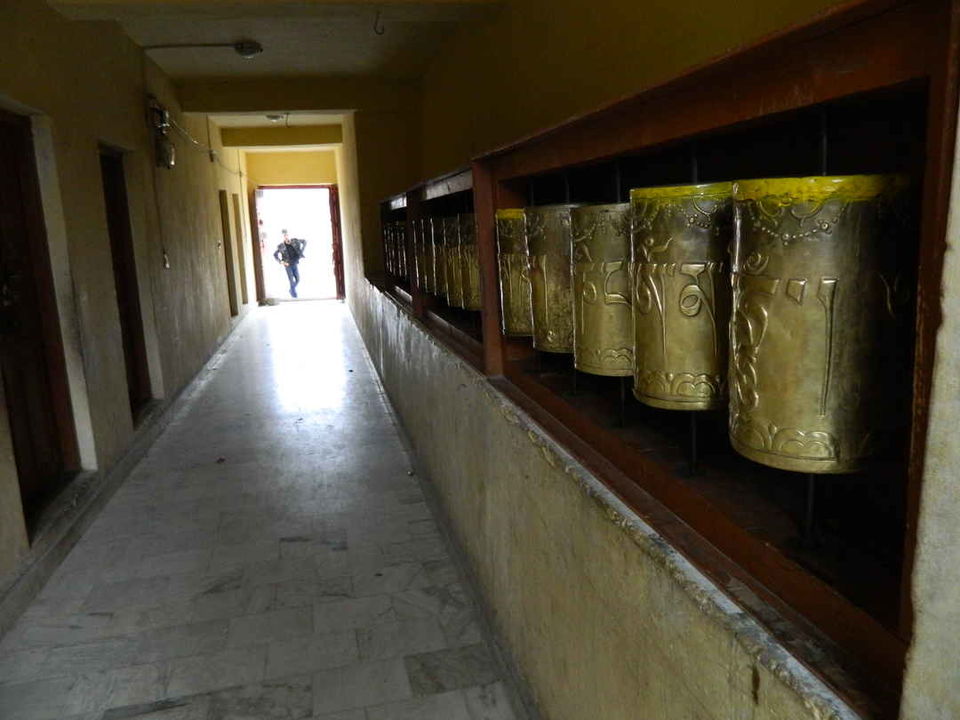 Day 4:Kaza to chandratal-Lake of moon
t took us 6 to 7 hours to reach Moon lake or Chandra Taal. Enroute we halted at LOSSAR village for the lunch. From the parking area designated for the lake, one had to walk a km in order to reach the lake. 
We were tired but the view of greenish and bluish shade lake surrounded by snow-capped mountains made all worth it.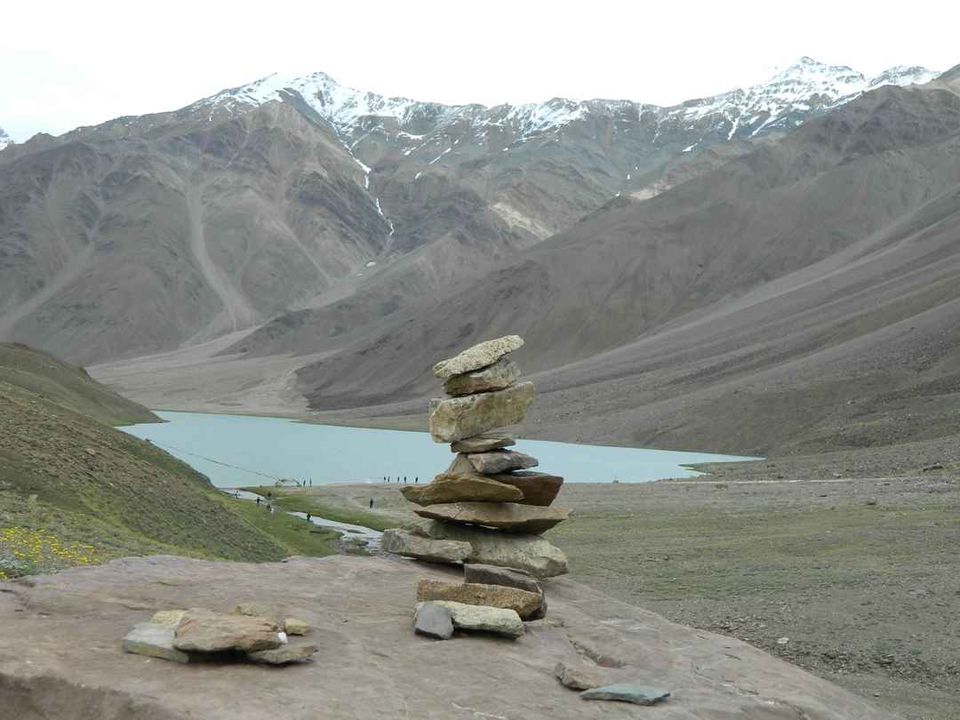 The entire lake parikrama is around 4 km. The view from each and every part is just mesmerizing. Sun was casting its shadow on the mountains, making them look more beautiful. Mountains were calling and I was already madly in love with them.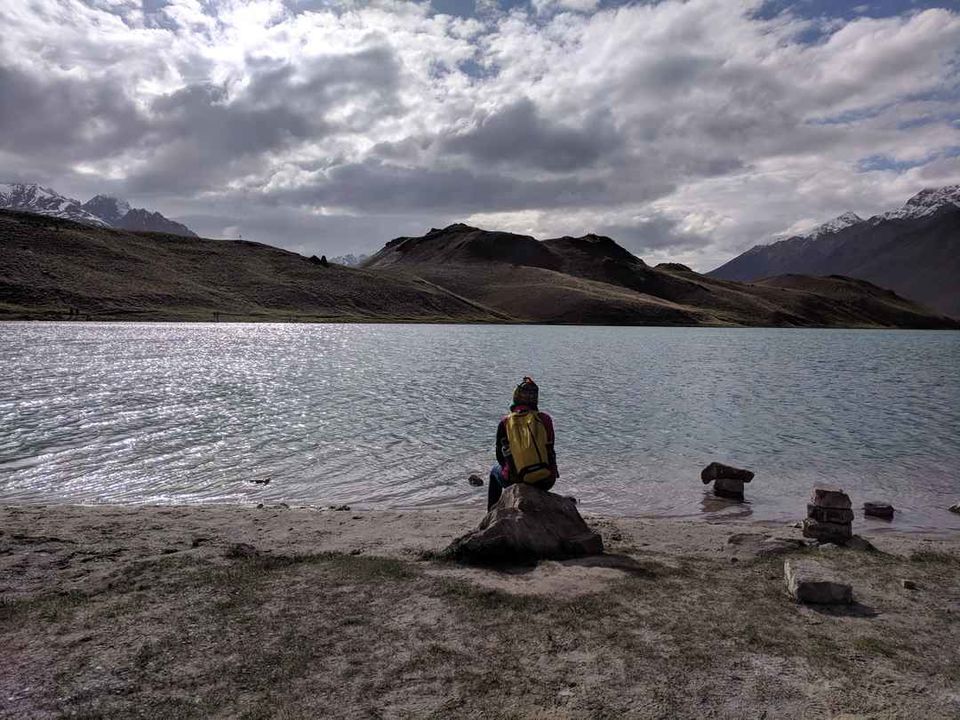 Campsites are 2 km from the lake, We stayed at Parasol camps, Chandra Taal. It was a deluxe tent with proper rooms, one double bed, and one single with proper washroom facilities. By the evening temperature started dropping and we were almost shivering, Camps had great arrangements from stay to food.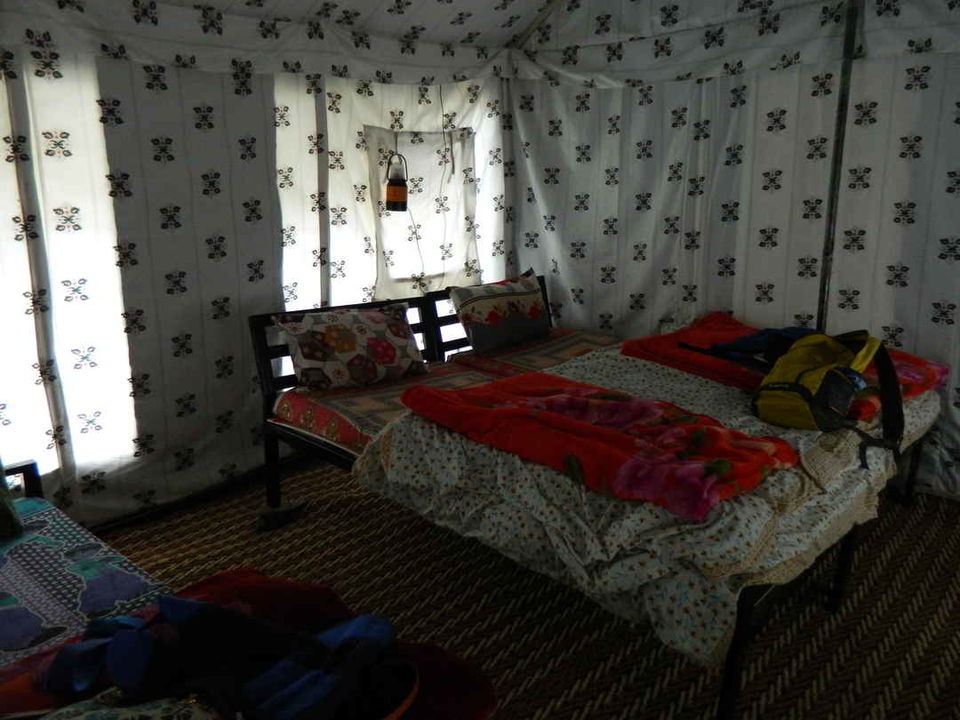 Next day we head back to Manali.
Leaving Spiti was not easy. Whenever I close my eyes I see those isolated mountains, barren land, and monasteries. The only sound we could listen on the roads of spiti was of wind, prayer chants, and your heartbeats.
**Don't believe what they say...go and see it **
Follow me on:
Facebook,Instagram ,youtube and My Website travelchecklistt.com