As you drift away from the bustling lanes of Mcleodganj and head southwest, roads become deserted and landscapes more verdant. Traversing a bumpy, dusty road would lead you to Masroor Rock Cut Temples. But this shouldn't be an excuse to skip this hidden gem of Himachal which bears a slight semblance to Angkor Wat of Cambodia.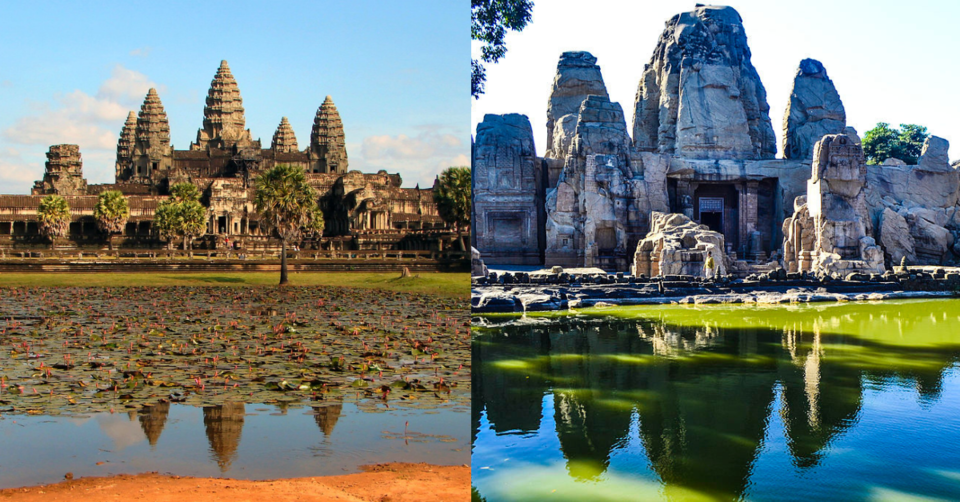 About Masroor Rock Cut Temples
Located in the Kangra district of Himachal Pradesh, the temples at Masroor consist of a number of rock-cut shrines where idols of various Hindu Gods and Goddesses can be found. The temples are carved out of a monolithic rock and is the only temple complex in North India built in a Nagara style of architecture.
The temple complex faces the snowy peaks of the Dhauladhar mountains and has four entrances, three of which aren't complete. There is a sacred water reservoir in front of these temples that perfectly depicts its reflection. If you love photography, the magnificent sight of the Masroor Rock Cut Temple won't fail to delight you!
History
Little history is known about the temple, however historians suggest that the temple complex was built in the early 8th century. A British officer, Henry Shuttleworth visited the temple complex in 1913 and brought it to archaeologists' notice. ASI later surveyed the complex in 1915 and many archaeological experiments were performed.
Myths and legends
According to a local legend, the Pandavas of the Mahabharatha built the Masroor Rock Cut Temple complex to reside during the exile from their kingdom and the water reservoir in front of the complex was made for Draupadi, the consort of the Pandavas.
If you're a culture enthusiast or like travelling differently, add this to your list of places to visit near Dharamshala!
How to reach
By road: Dharamashala is the nearest city(43km). Take a bus to Dharamshala and from there, hire a private taxi.
By air: Kangra Airport is the nearest airport(30km). You'll find plenty of taxis there that'll take you to these temples.
By train: The nearest railway station is at Kangra(53km) and from there, one can easily find a taxi.
Have you been to such unique temples in India? Write about your experience on Tripoto. Too busy to write? Check out Tripoto's stunning travel videos.
Frequent Searches Leading To This Page:-
masroor rock cut temple how to reach, masroor rock cut temple timings, masroor rock cut temple timings