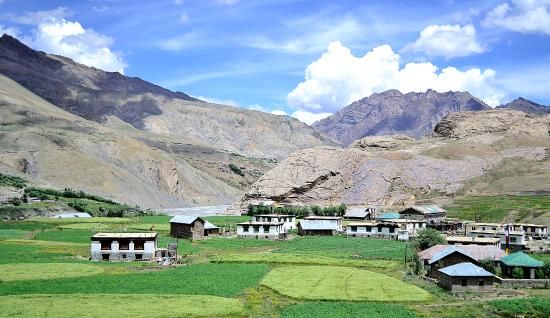 Mud (also Mudh) is a picturesque hamlet nestled in India's Pin Valley, the final settlement on the Indo-Tibetan border. It is accessible as a day excursion from Kaza. The natural beauty of Mud Village is difficult to explain, the peacefulness is unrivalled, and the road to Mud Village is as excellent as the destination. This is your comprehensive travel guide to Mud settlement in Spiti's Pin Valley.
Mud Village (or Mudh Village) might be considered the centre of Pin Valley. It is not the largest settlement in the valley; that honour belongs to the neighbouring Sangam Village. However, in terms of tourism, Mud is the destination for everyone visiting Pin Valley. The main reason for this, I believe, is because it is the final settlement and the road finishes here.
So everyone travelling this way intends to drive as far as the road allows, spend the night there, and return the following day. All of the other towns are destroyed along the route. The second reason is, of course, the perspective that you get from this site.
Mud Settlement is a tiny village in Pin Valley, situated at an elevation of 3700 metres (12,139 ft.) It is one of Pin Valley's 17 settlements and consists of roughly 40 dwellings and a few guesthouses. A motorable dirt road connects it to the rest of the state and the nation. The locals here rely on agriculture (and now tourism) for a living.
Mudh Village is roughly 50 kilometres from Kaza, 65 kilometres from Tabo, and 51 Kms from Dhankar. Shimla is roughly 440 kilometres away, while Manali is about 250 kilometres. The route to the settlement begins from the main Shimla Kaza highway at Attargo Bridge and goes for 34 kilometres deep into Pin Valley before arriving at Mud Village.