Tucked between the streams of Parvati Valley and the cold desert of Spiti, lies the land of the 'ghost cat'. Hosting some rare and unique biodiversity, the Pin Valley National Park spreads from the south of Dhankar Monastery (near the Tibetan border) to the end of Spiti Valley. As a natural habitat for several endangered wildlife, including the rare snow leopard (also known as the ghost cat) and plant species, the national park is a well-guarded treasure trove.
The Pin Valley National Park adjoins the Great Himalayan National Park (GHNP) on one side and the Rupi Bhabha Sanctuary on the other, and can be reached either by road or foot. The core zone of the park covers an area of 675 sq km and has a buffer zone of 1,175 sq km.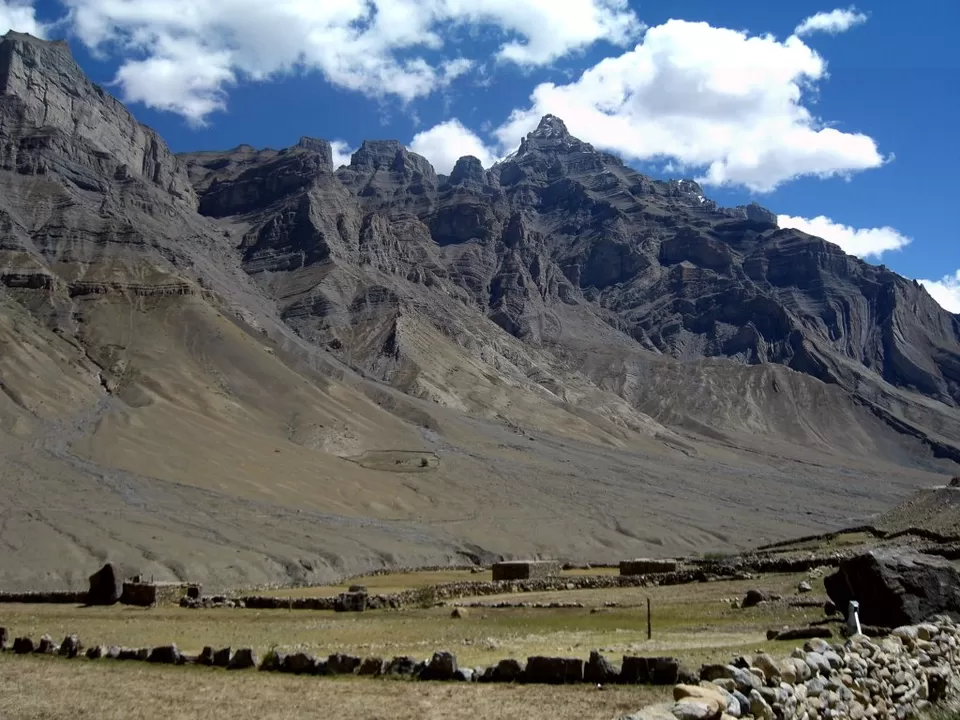 Starting from Gulling and ending at Mudh, the highest point of access in the Pin Valley National Park region is Ka Dogri, which is situated at an altitude of 20,000ft. Travellers, especially wildlife enthusiasts and botanists, find their way to the national park to spot rare animals such as the snow leopard, Siberian ibex, Himalayan snowcock and snow partridge; medicinal plants such as Aconitum rotundifolium, Arnebia euchroma, Ephedra gerardiana, Ferula jaeschkeana and Hyoscymus niger also thrive in the extreme climate.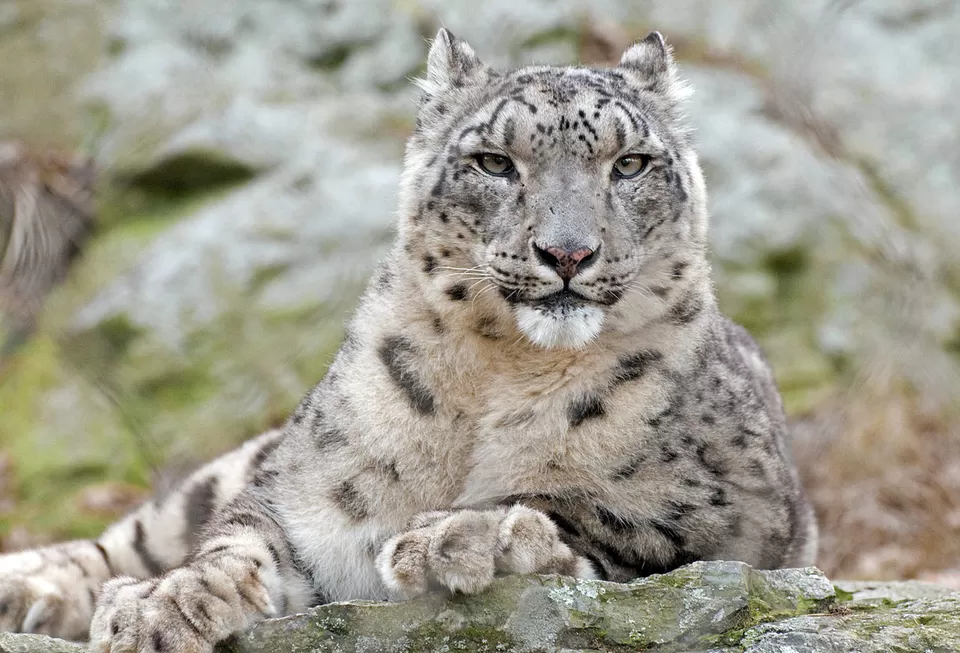 Since the Pin Valley National Park lies under 40km from the Tibetan border, you will require an Inner Line Permit (IPL) to even explore the Pin Valley region. To acquire the permit, visit either the district magistrate's office in Reckong Peo or the sub-divisional magistrate's office in Kaza. If you want to be a part of a snow leopard expedition, then contact trek organisers in Manali or Shimla. This is the only reliable package available online, and they take care of everything from permits and transfers to meals.
Where
The buffer zone of the national park covers a few areas (Dhankar and around) of Spiti Valley and the entire Pin Valley. It is situated in the Lahaul-Spiti district of Himachal Pradesh.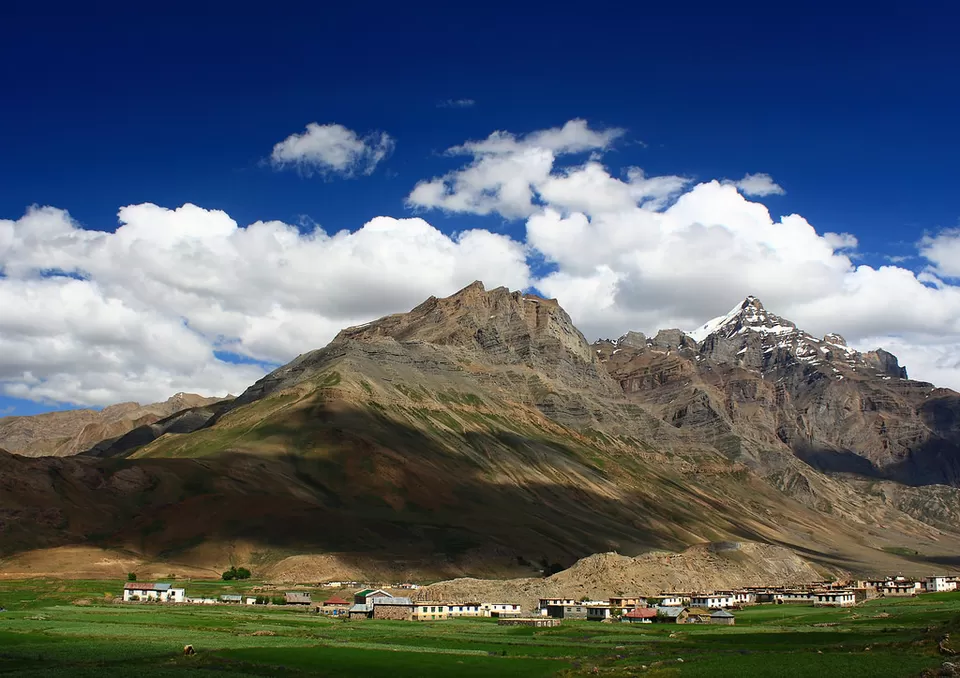 When
The best time to visit the Pin Valley National Park is from July to September. This is also when the roads to Pin Valley are accessible. The weather remains dry and arid, with significant drops in temperature at night and a harsh sun in the afternoon. August is touted as the best month to visit the national park, as this is when the weather and climate are most hospitable to travel and explore.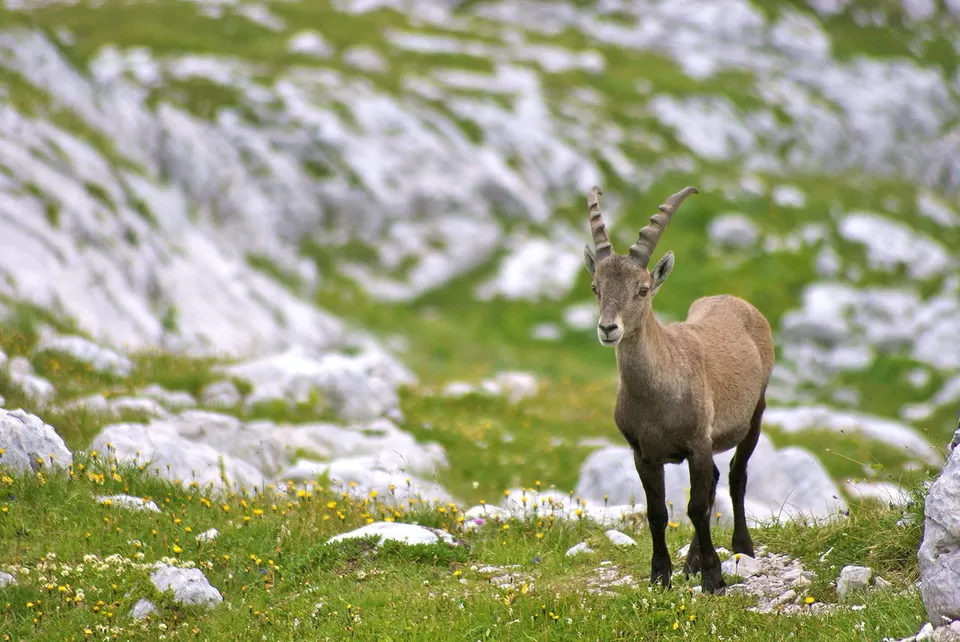 How to reach
To reach the Pin Valley, you will have to start your journey from Manali and reach Kaza first. Local buses and shared tempo-travellers or taxis are easily available from Manali. The buses to Kaza usually leave from Manali early in the morning, but confirm the timings and availability at the bus stop once you are there. From Kaza, take the route to Dhankar and diverge at the Attargo Bridge, which will take you across the Spiti River. From the Attargo Bridge, Gulling, the biggest town in Pin Valley is 16km away and will take approximately an hour to reach.
You can also enter the region from Shimla. Buses from Lakkad Bazaar leave for Reckong Peo every morning, from where you can take a bus to Kaza which will take you across Dhankar and also drop you at the Attargo Bridge. Buses to Mudh Village (last village inside the Pin Valley National Park buffer zone) move from Kaza at 4pm and reach the Attargo Bridge at approximately 4:30pm. You can catch this bus if you are travelling via public transport.
If you are driving to the Pin Valley National Park, then follow similar routes either via Manali or Shimla. Private and shared taxis to Pin Valley National Park are also available from Manali, Kaza and Reckong Peo.
This detailed map by travel blogger Vargis Khan charts the route for reaching and exploring Pin Valley National Park in great detail.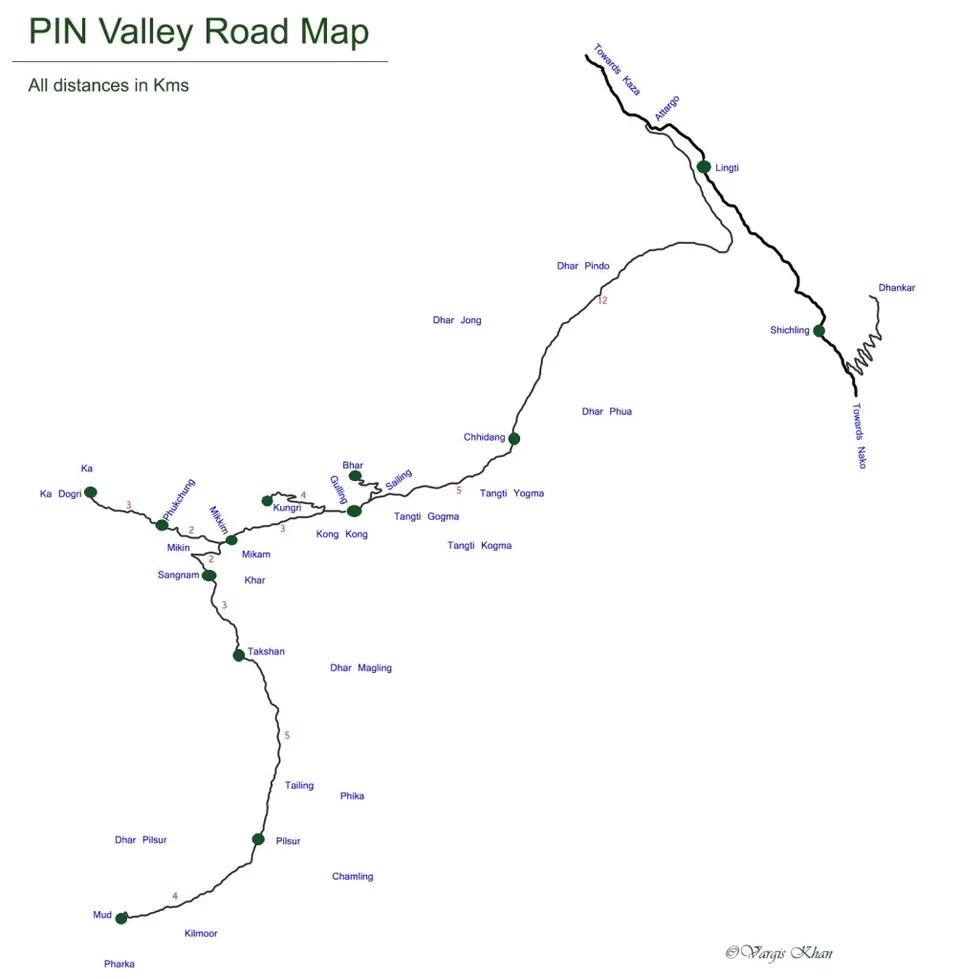 From Attargo Bridge, Gulling Village is 16km away and takes about an hour to reach. From Gulling, Mikkim is only 3.3km away and can be reached in under half an hour. After Mikkim, the village of Sangnam is 5km away and requires a 2km trek to reach. The final frontier, Mud Village is a 15km drive which takes over an hour. Mudh is regularly visited by travellers, especially trekkers, as it serves as a campsite for Pin-Parvati Pass and Bhabha Valley Trek.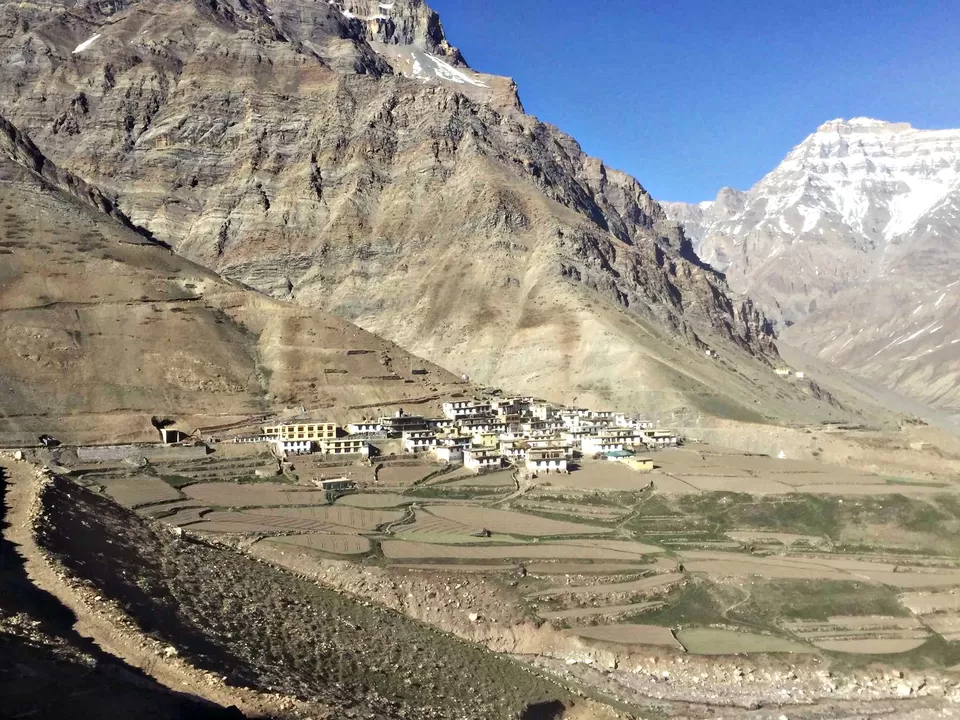 Stay
The four villages inside Pin Valley which provide accommodation options for the night are: Gulling, Sangnam, Mikkim and Mudh
If you are trekking in or around Pin Valley, then you will have to avail permits for camping, and also ask the Forest Department where they allow camping. You can also crash at any monastery on your way; Buddhist monks are welcoming and accommodating hosts. You can also spend nights at local homestays.
Here are some stay options in the villages of Pin Valley.
Hotel Himalaya: Gulling Village, tariff: Rs500
Narzang Guesthouse: Sangnam Village, tariff: Rs400
Ibex Guesthouse: Sangnam Village, tariff: Rs350
Tara Guest House: Mud Village, contact: Sonam Gialson- 09418441453, 09418441453, 08991723015, tariff: Rs500
Hotel Himalaya: Gulling Village, tariff:Rs400
PWD Rest House: Sangnam village, phone: 01906 – 222252
See
Kungri Monastery: The second oldest monastery in Spiti, the Kungri Gompa is under 5km from Gulling. Visit this monastery built in 1330 AD, and even spend a night in its pristine surroundings if you can.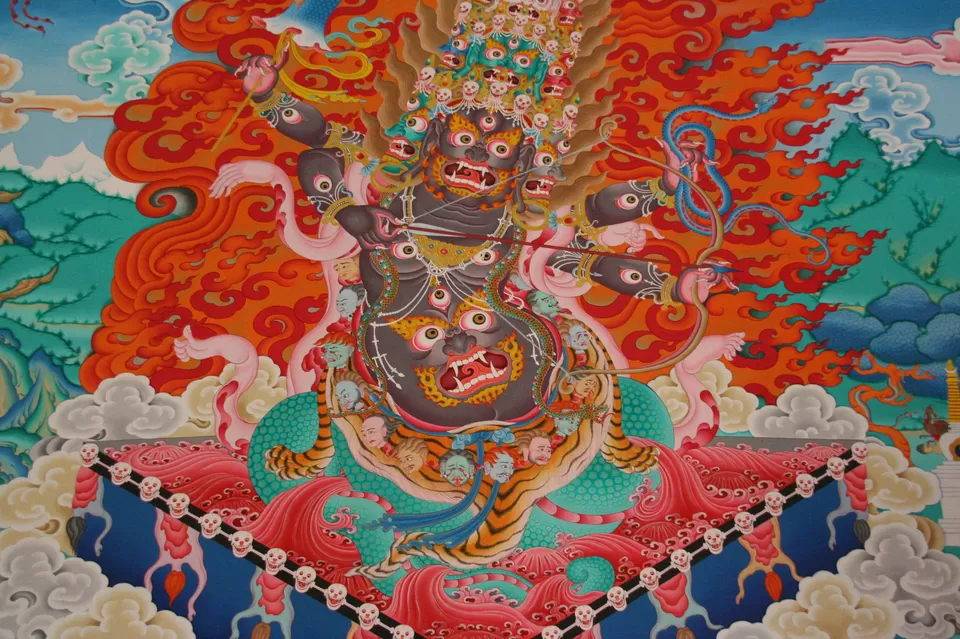 Confluence of Spiti and Pin River: At the Attargo Bridge, when you take the turn to enter Pin Valley, take a moment to watch the magical confluence of the two mighty rivers.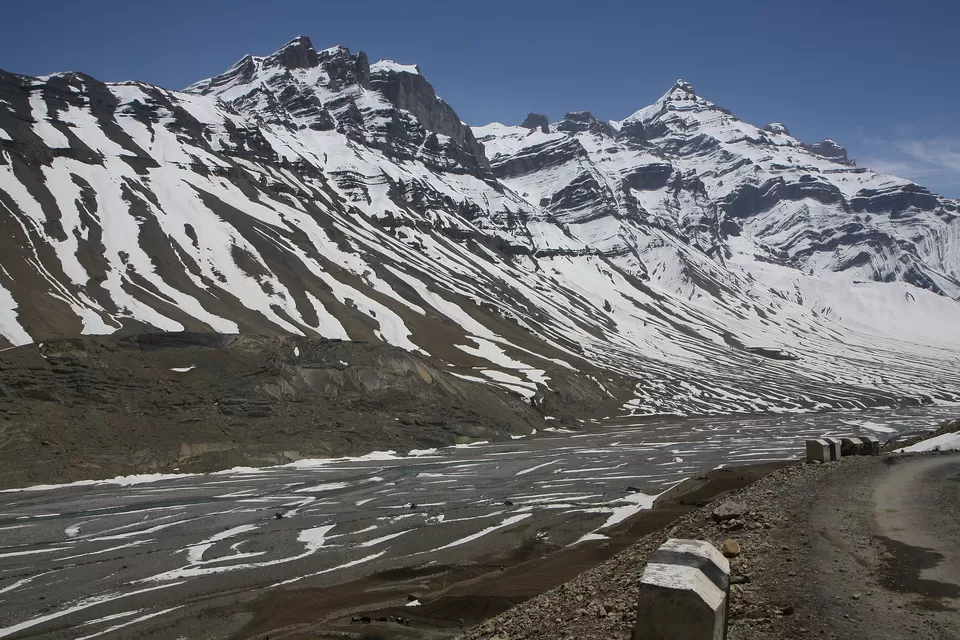 Pin-Parvati Pass Trek: This 10-day long trek from the Parvati Valley to Pin, is possibly the best way to experience the fascinating landscape and offerings of the Pin Valley National Park. The difficulty level of this trek requires prior experience, but it's definitely worth the effort.
Bhabha Pass Trek: This trek starts from the Mudh Village in Pin Valley and involves crossing the Bhabha Pass (approximately 16,000ft) to enter the Bhabha Valley in Kinnaur. Several trekking companies in Manali, Shimla, Kaza and Reckong Peo can help you if you'd like to go for the Bhabha Pass and Pin-Parvati Pass Trek.
While exploring remote areas, make sure you travel responsibly and follow sustainable practices. To know more about how to reduce your negative impact on the environment while travelling read: A Dummies Guide To Responsible Travel: Indian Edition.