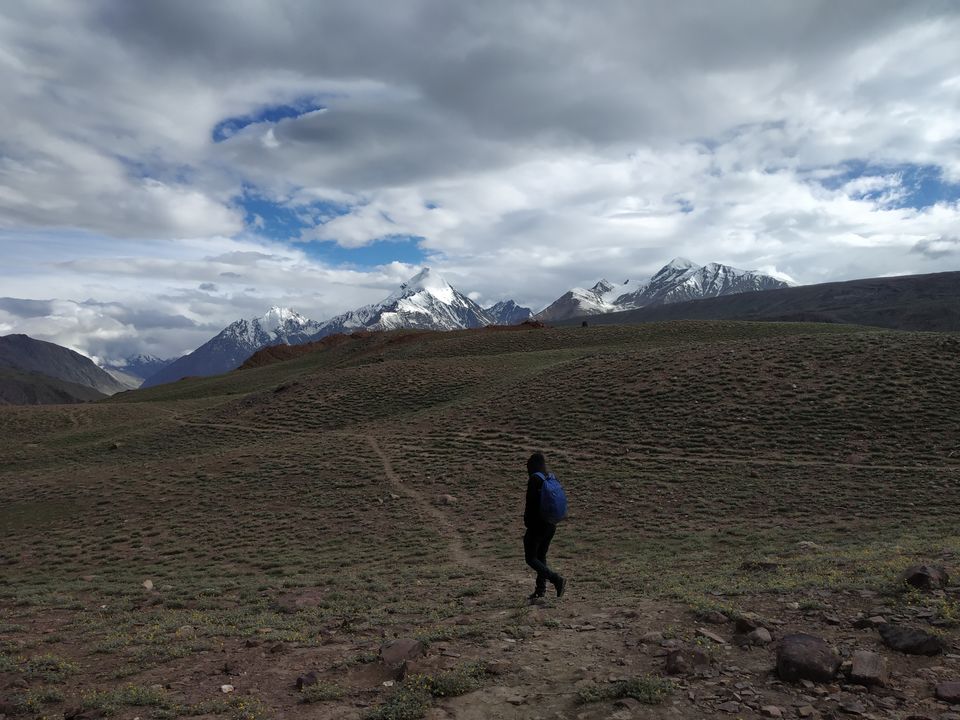 Fierce icy winds were blowing and visibility ahead was reduced to few meters, beyond which it was complete whiteout. Ahead was our guide, Kezang marching towards the peak followed by my cousin Ankit bhaiya and below me were two companions puffing with every step in complete tiredness. We already had a late start in morning from the base camp due to rain. Time was running out with weather deteriorating further as we advanced towards the peak. To insulate my face I had bandanna covering almost entire face except goggle on eyes. Every step felt a ton. After taking just 2-3 steps I required to remove bandanna to suck in the air to gain breath in already oxygen starved thin air. It took almost 2 hrs to complete the last 1 km of stretch. Finally the peak of Mt Kanamo at 4pm was greeted by 5 crazed souls out of the 10, who started the ascent yesterday(no worries! the rest 5 just turned back from the base camp due to headache and troubled breathing). Yeah, despite bad weather and late timing, the summit was done. We were at 19000 ft, easily the highest anyone of us ever had (almost at 65% altitude of Everest). But what was equally celebrating that one of our companion for whom it was his very first trek, panting and wearing somehow he reached only due to his unalloyed enthusiasm.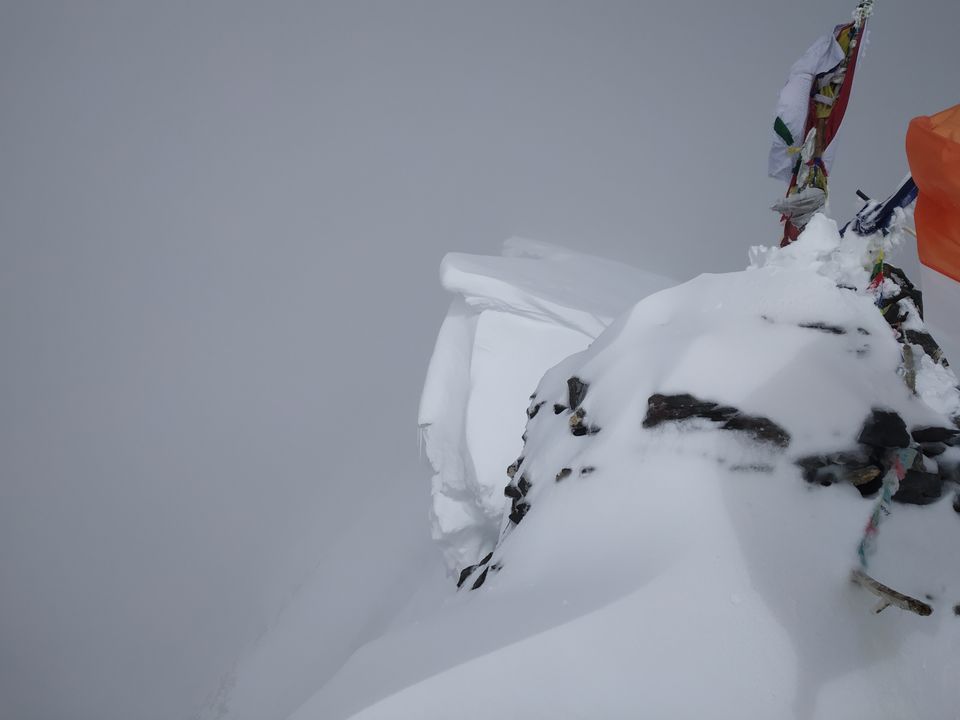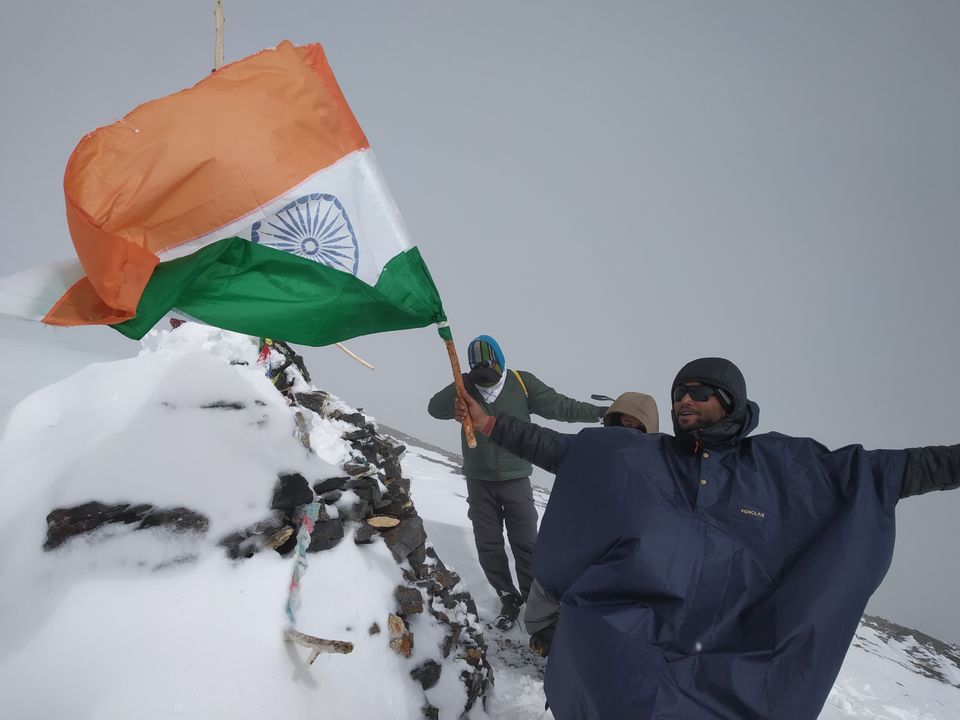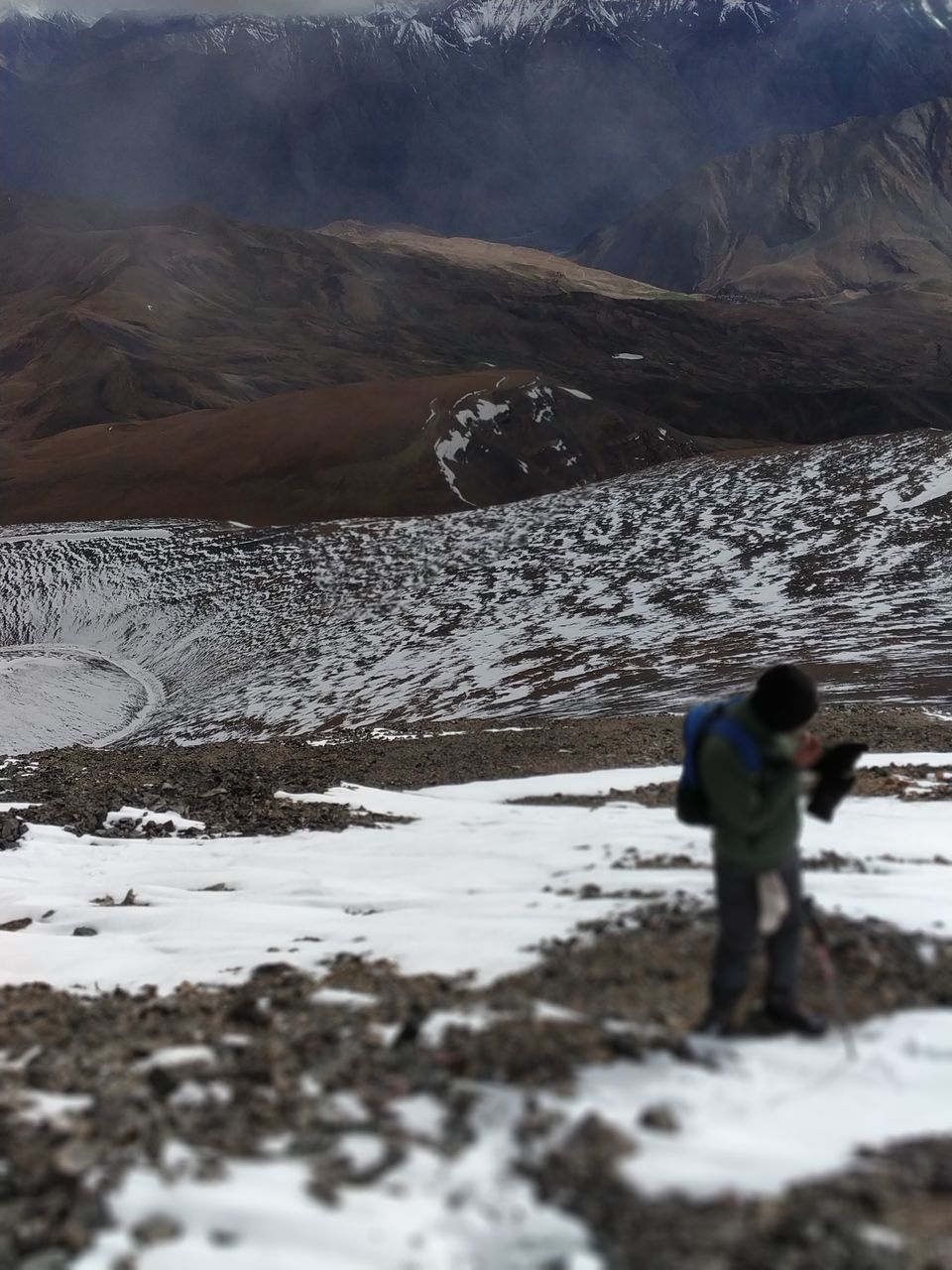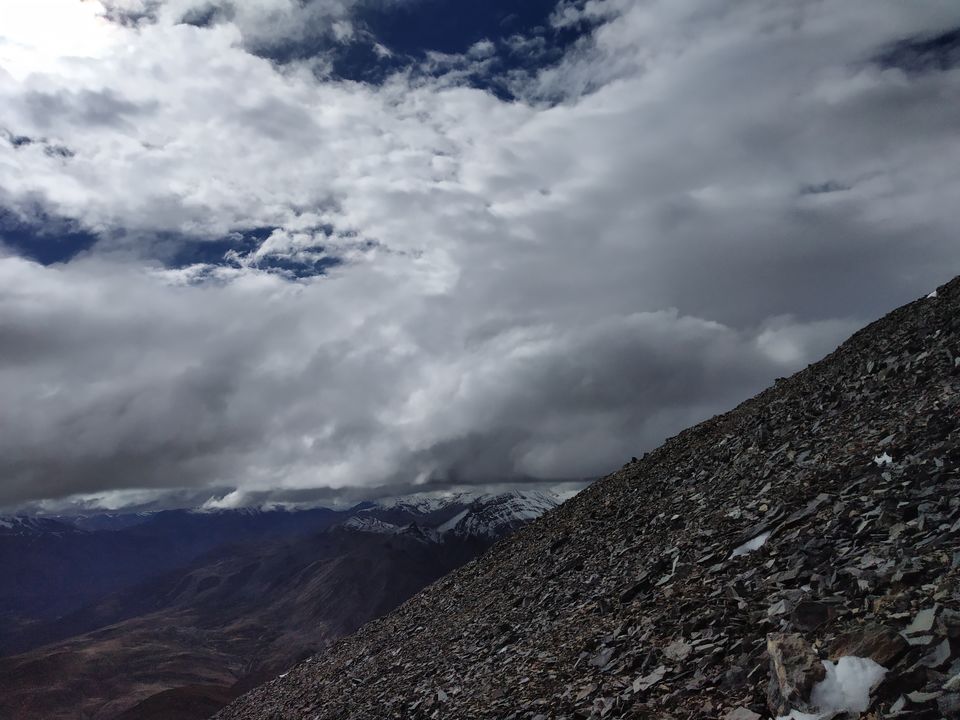 Rewinding 2 month backs when I and Ankit bhaiya were planning an extended backpacking trip, both of us had already been to Ladakh. Somehow we wanted to relish the similar landscape but less touristy. Spiti Valley became our obvious choice. Tucked along the north eastern side of Himachal at 125000ft, Spiti is a cold desert mountain valley with treacherous road connecting via Lahaul side from Manali to Kaza, headquarter and main town of Spiti . One can also reach Kaza via Shimla, the Kinnaur side gateway, thereby completing the circuit till Manali. And thus our plan was shaped:
Day1 : Shimla to Peo by bus
Day2 : Peo to Kaza by bus, ride to Mud by rented bike
Day3 : Mud -> Dhankar -> Hikkim -> Komic -> Langza
Day4: Ki -> Kibber -> Chicham ->Kaza, drop the bike and back to Kibber by bus
Day5& 6: Trek to Mt kanamo and back to Kaza
Day7: Kaza to Chandrataal Lake

Day8: Back to Manali -> Gurgaon
Now when I look back, I realize that it was our sheer frenzy that we had jam packed our itinerary without realizing how physically demanding it was. We only had pre booked tickets for bus from Delhi to Shimla, followed by Shimla to Recong Peo.
Completing the overnight journey to Shimla, we had a small layover during which we freshen ourselves at Shimla ISBT itself before taking the next bus to Reckong Peo. In the journey we met two crazy film-making students. Crazy because they didn't have any specific plan to reach Spiti and nor they had any concrete subject to shoot a short film for which they were going. In fact in midst of journey the guy even proposed to frame our journey as subject of his film as we pretty much had a kick-ass plan. However we took a light laugh and declined. Rather we convinced him to go till Peo and carry on journey to Kaza the next day, similar to ours. He in turn convinced his female companion and we all reached Peo at around 8pm. The town was preparing for the nap. After few hours of toiling we found a cheap dormitory at Rs 200 per bed and took the night halt there.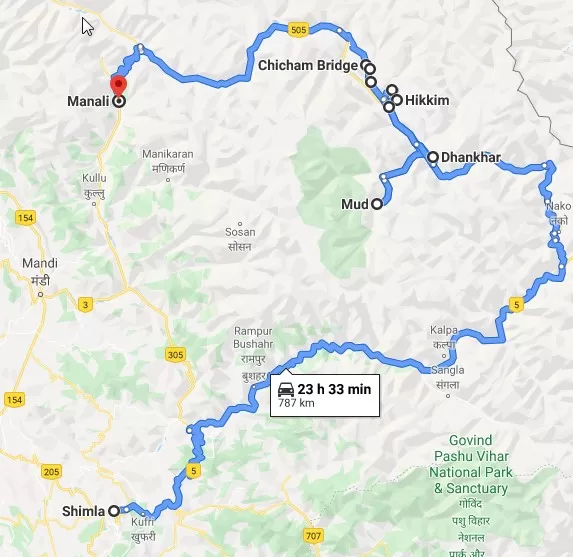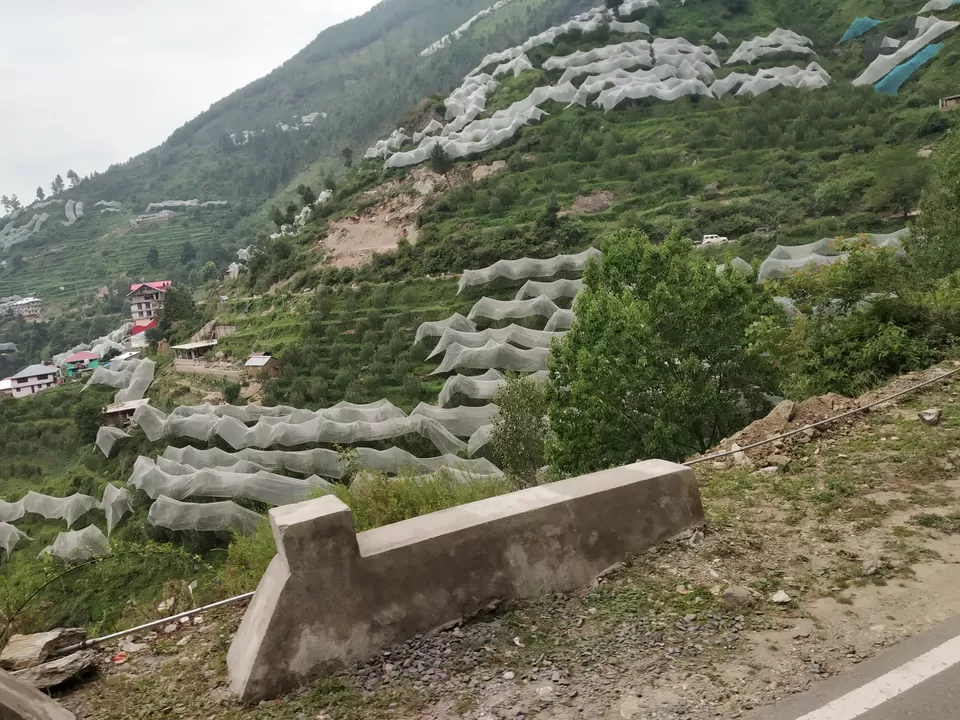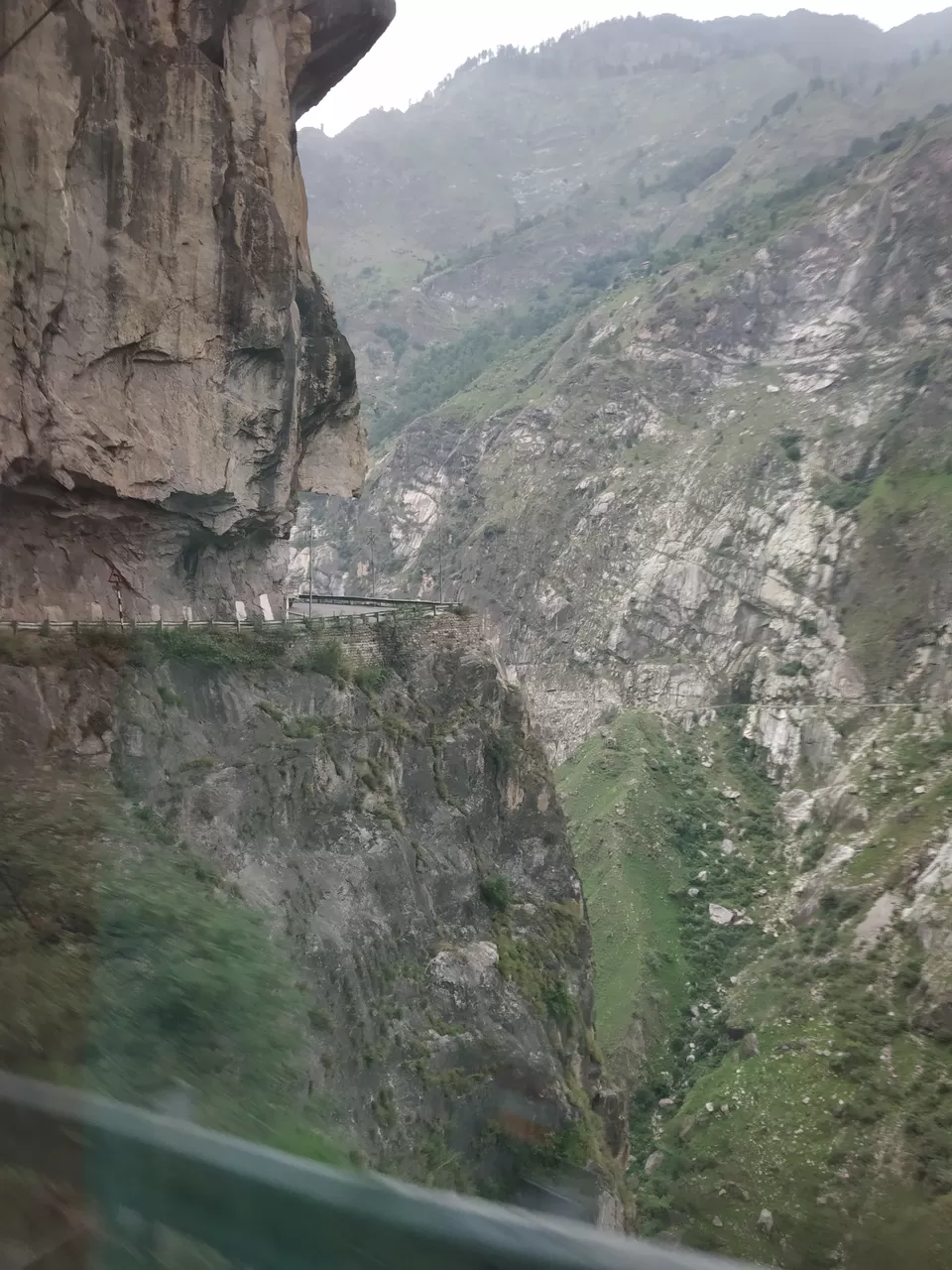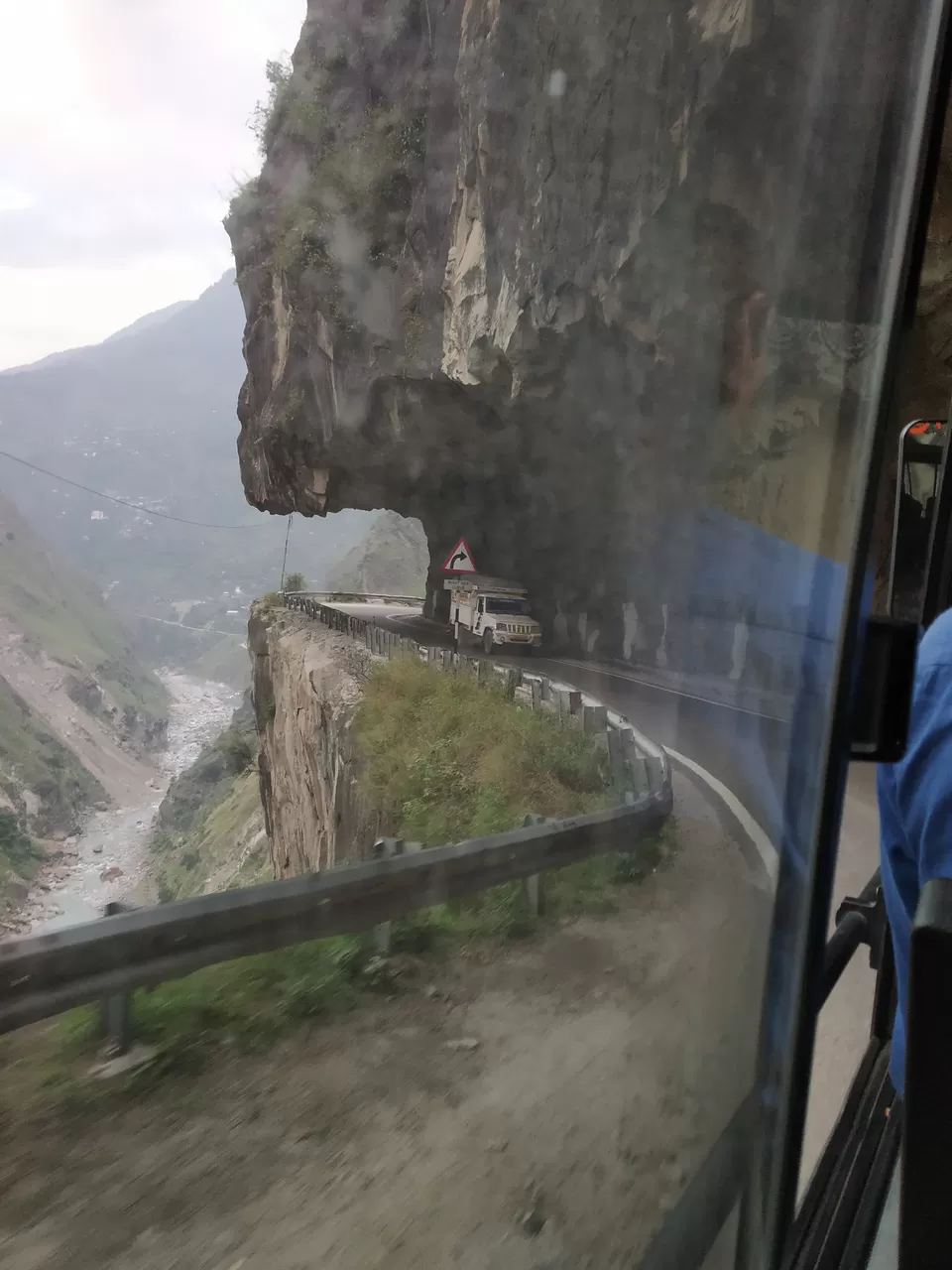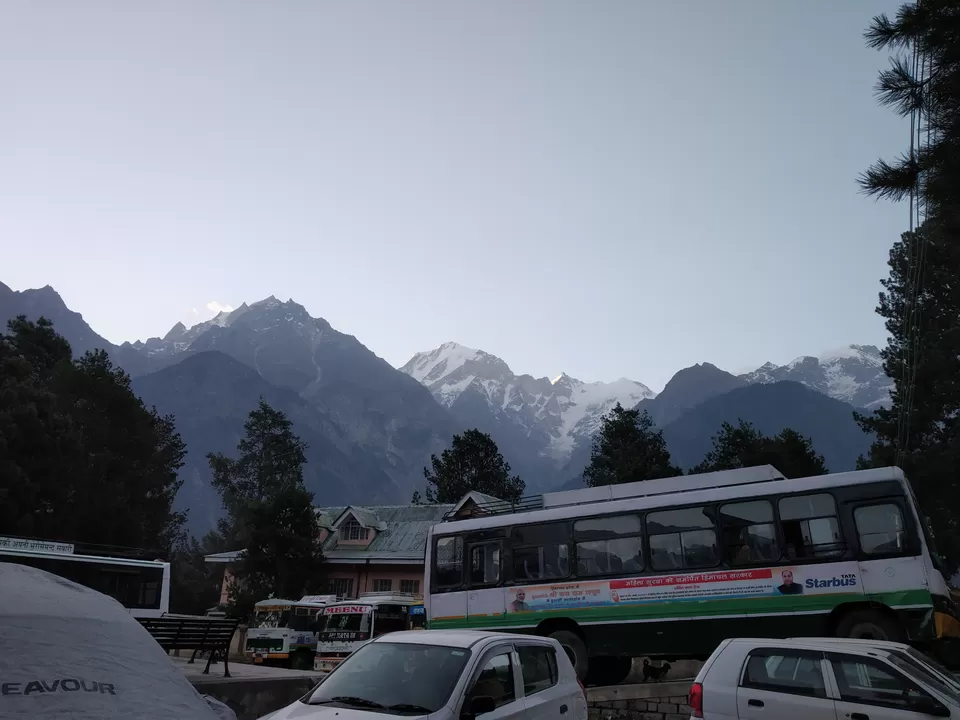 The bus left from Peo to Kaza at around 7am in the morning. The route today was going to change as we had entered the cold barren mountain valley of Spiti. It took us 8 hrs to reach Kaza via Nako , Tabo which are equally traveler paradise but we had to leave it until next time. Just before entering Kaza, two backpackers from Israel boarded the bus. They were hitch-hiking all the way to Spiti. They would keep walking on the road until next bus/vehicle would provide them lift in this remote place. We reached Spiti by around 3pm. Anshul Rawat, owner of Spiti Outdoor, a fine gentleman who despite running his own very excellent tour agency, helped us in finding alternative cheaper option in terms of bike and hotels. With his help we got a Pulsar for our road trip in Spiti from a nearby shop owner. And we went ahead to our next destination, Mud the same day. Mud is last village at the end of Pin valley with scenic settlement. The road to Pin valley diverges even before reaching Kaza, so we need to return backward and then took a turn to enter the Pin Valley. Here again in the route we met the same Israeli hitchhikers waiting for the next bus to drop them to Mud. We had a little chat and selfie and after wishing them luck, went ahead. The road was non-existent at many places with rough patches but somehow the allure of the journey and fear of impending darkness kept us going. We reached there well in time and roamed around the green farms in otherwise very tiny settlement. Easily it is one of the most gorgeous place I had ever been to and what added the charm was sighting of milkway at midnight. Yes, after my ladakh trip I had this agony of not able to had a perfect sky gazing that these high altitude offer but was blessed here in Mud. In middle of night around 3am I awoke my cousin amidst cold weather to try our luck. And boy! we were rewarded for our courage. There in complete dark sky, dense cluster of stars formed a full arch of milkyway above us. And soon I noticed one shooting star and my cousin another and I another. Suddenly for few seconds there happened a shower of star shooting across the sky, that left us gawking for what magic enfolded in front of us in those seconds !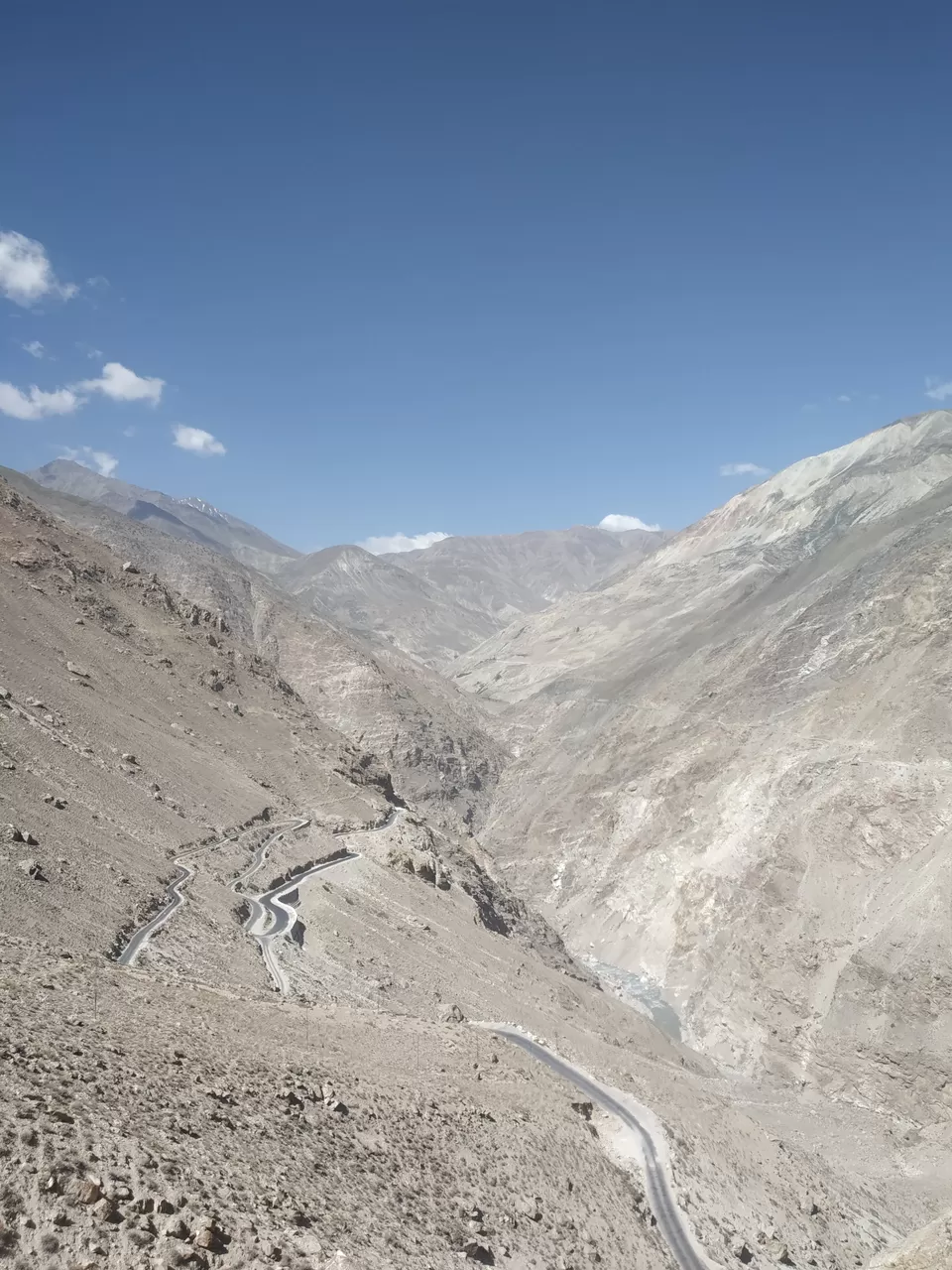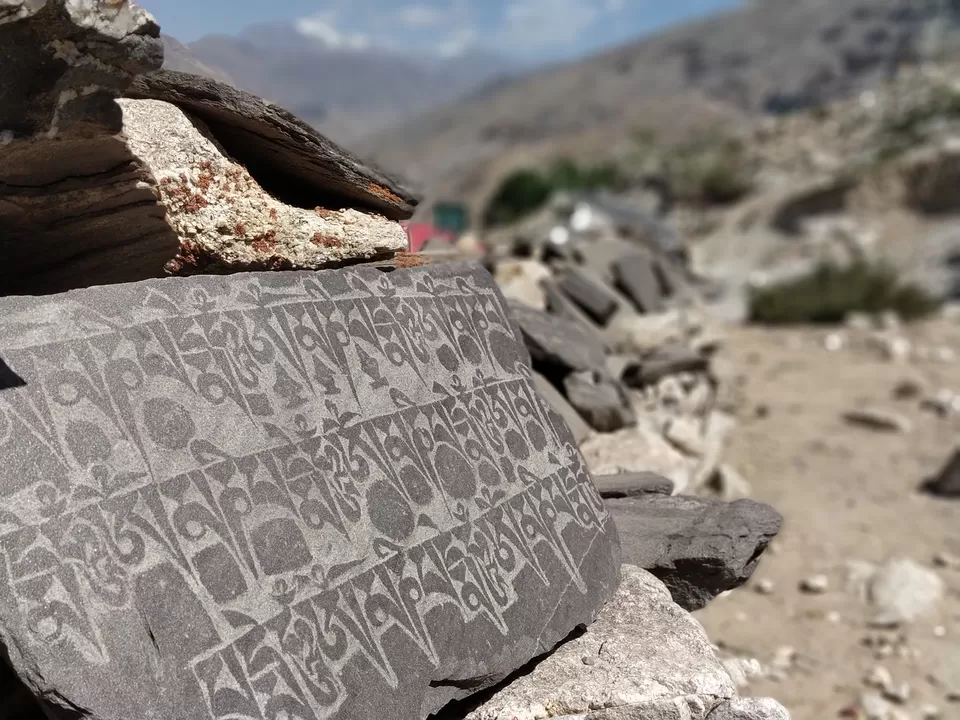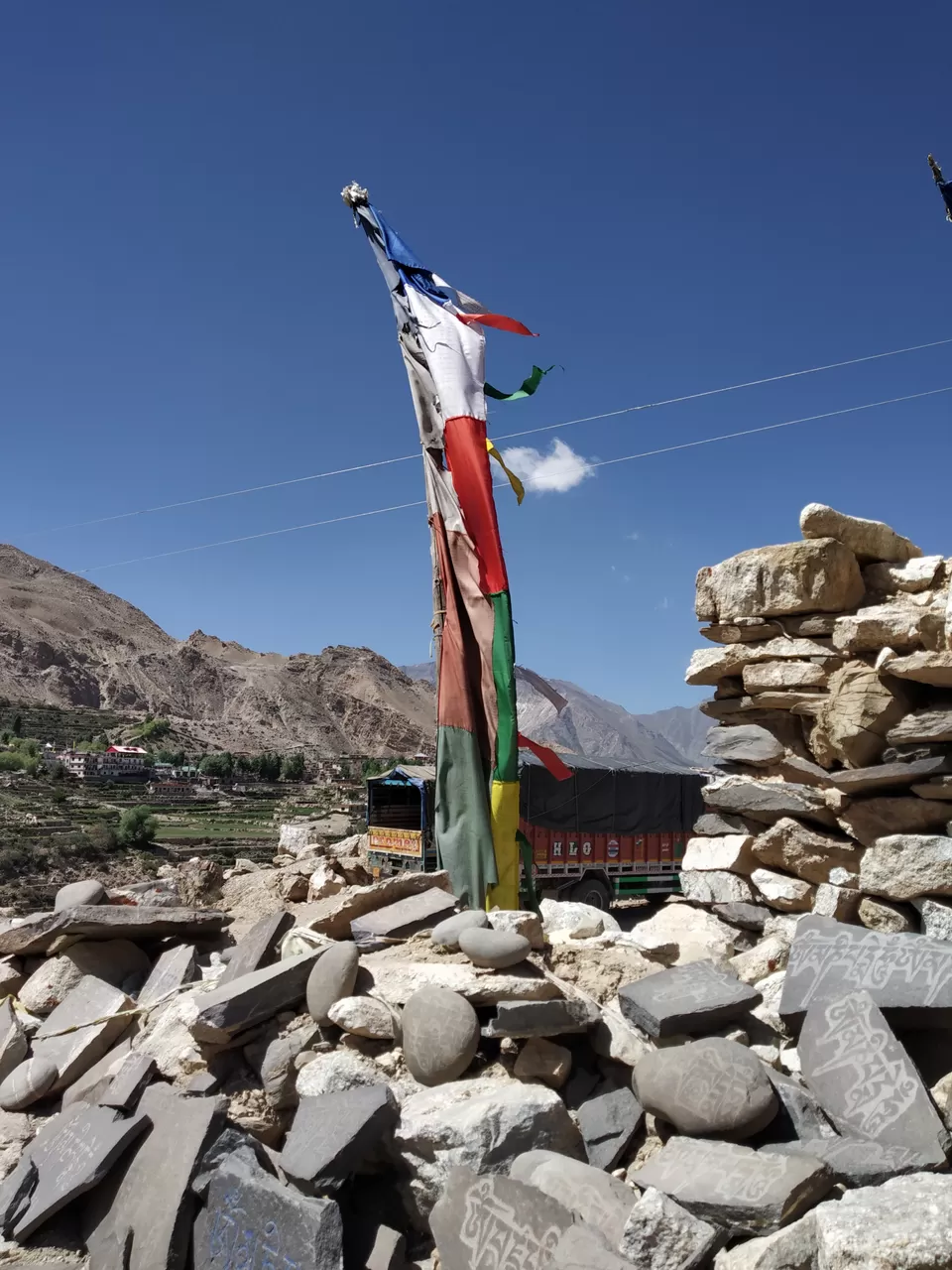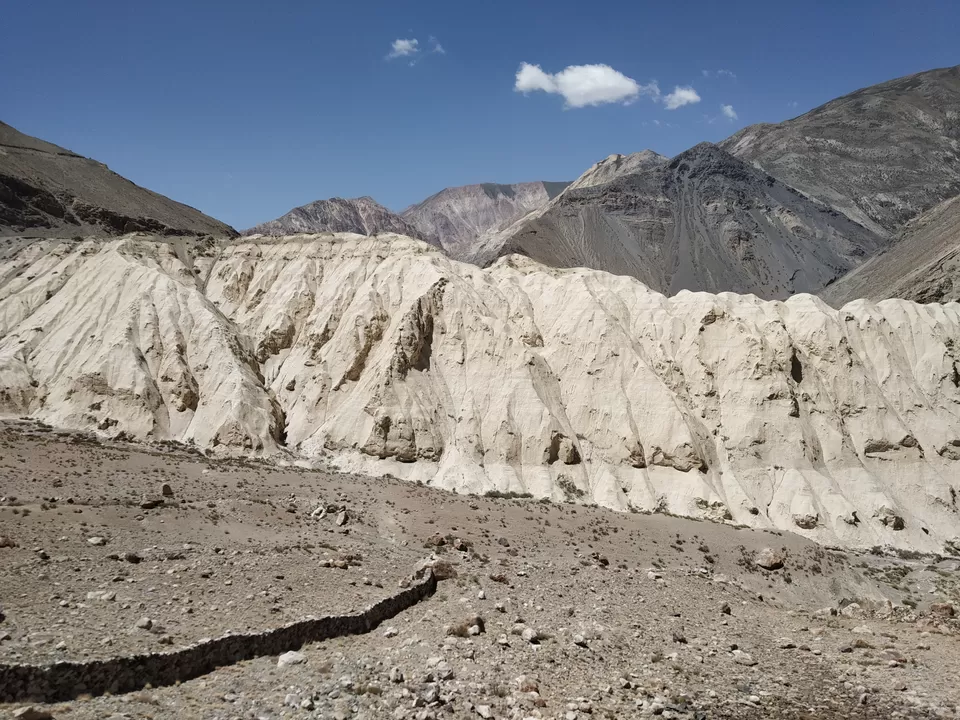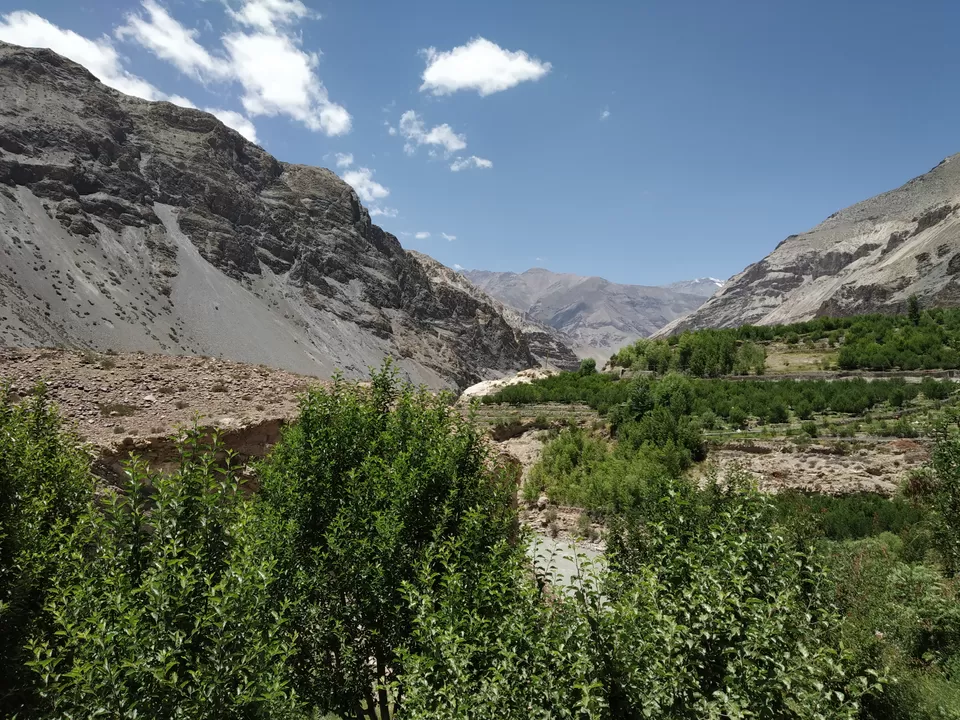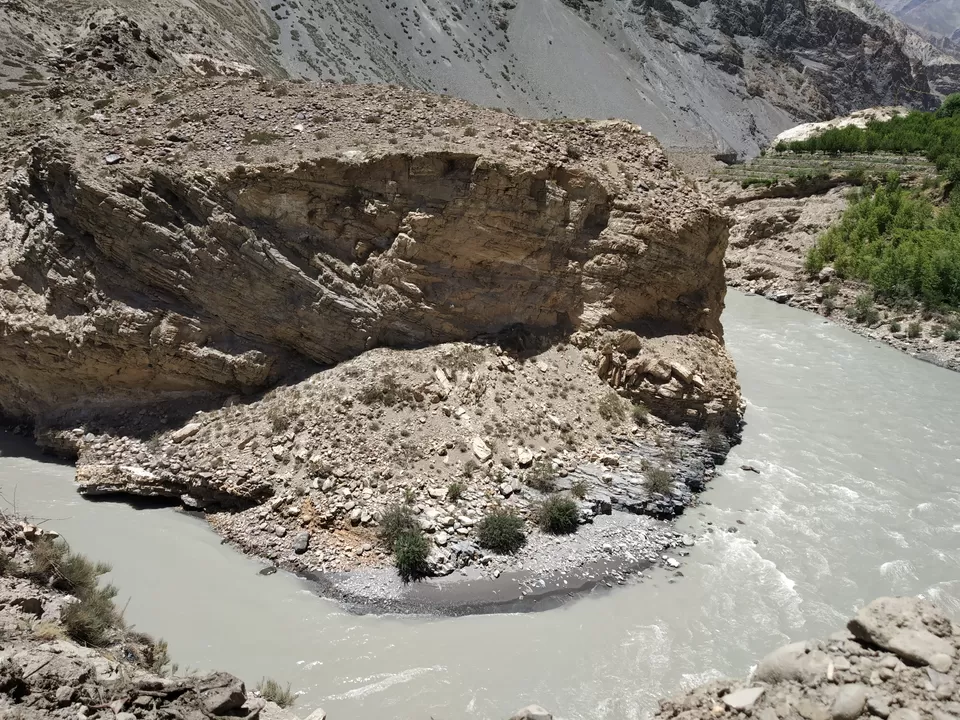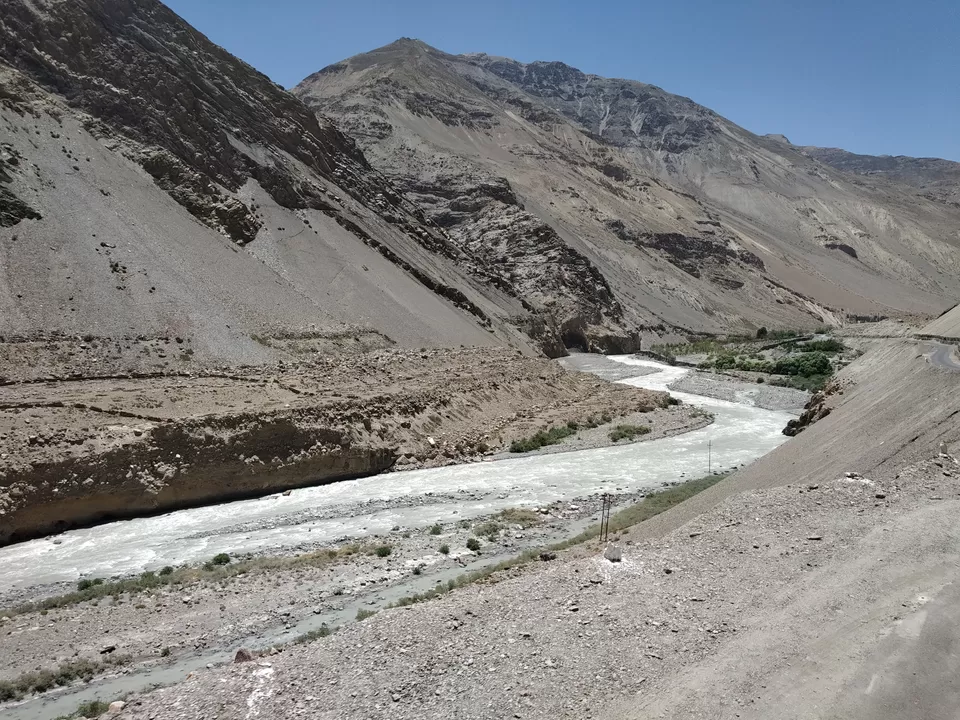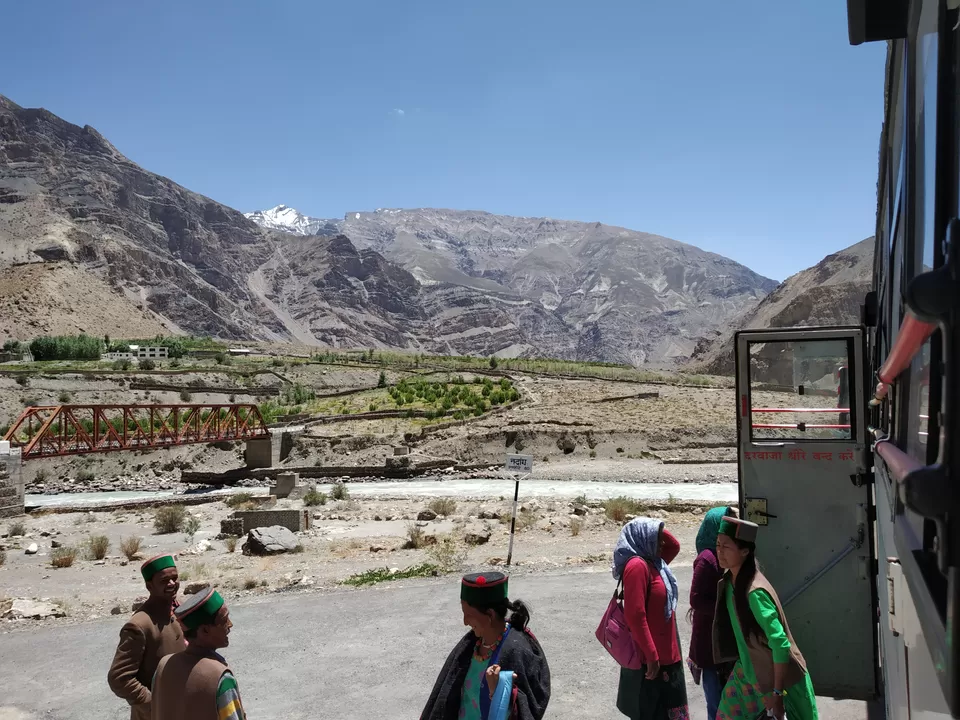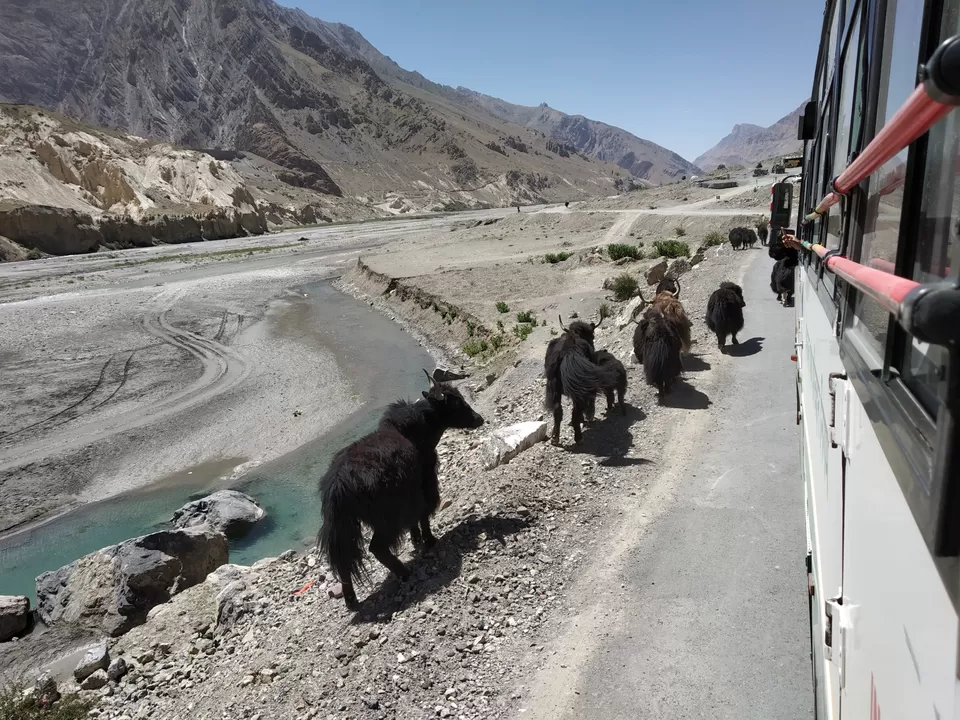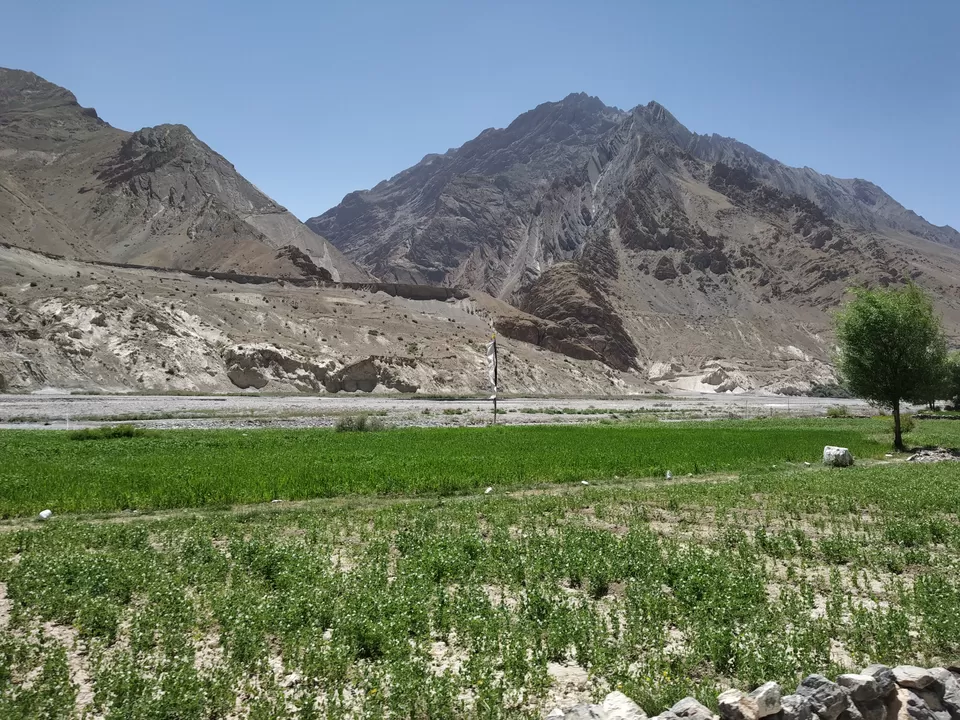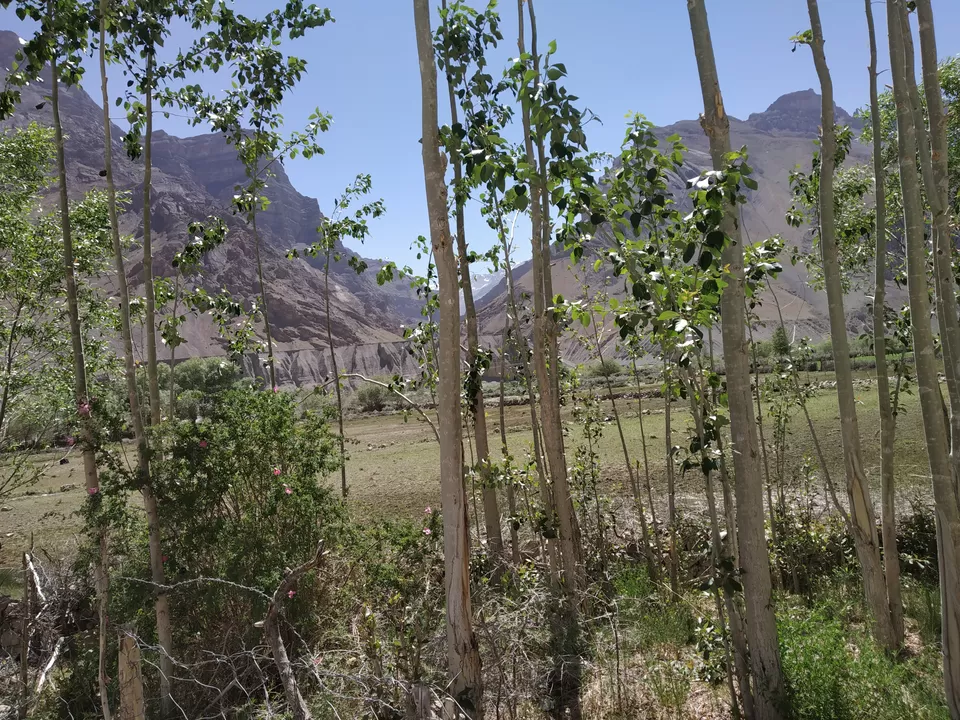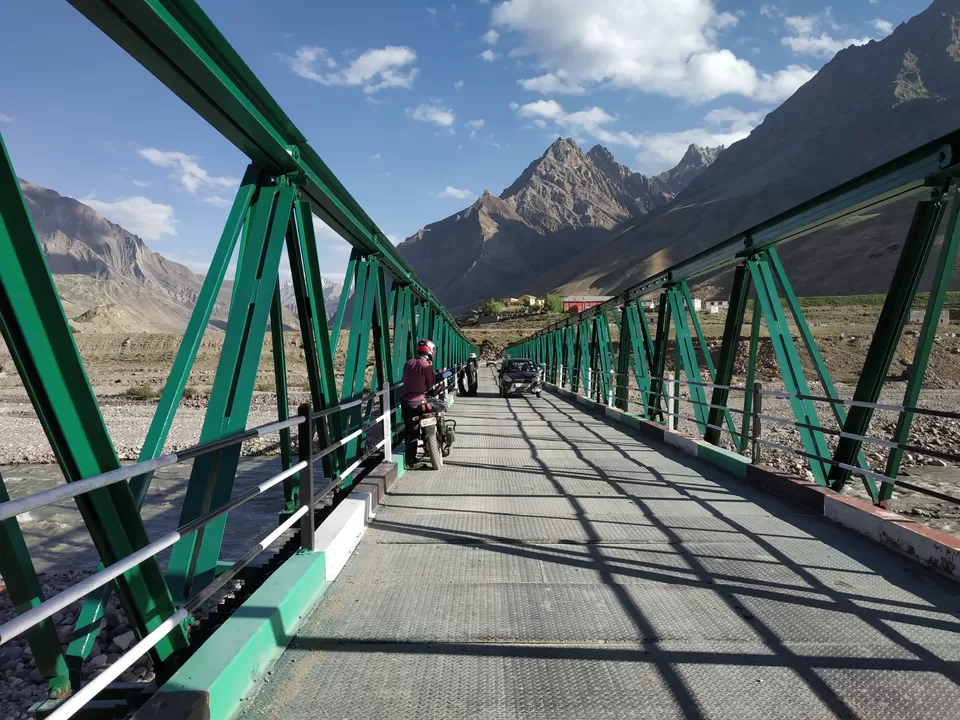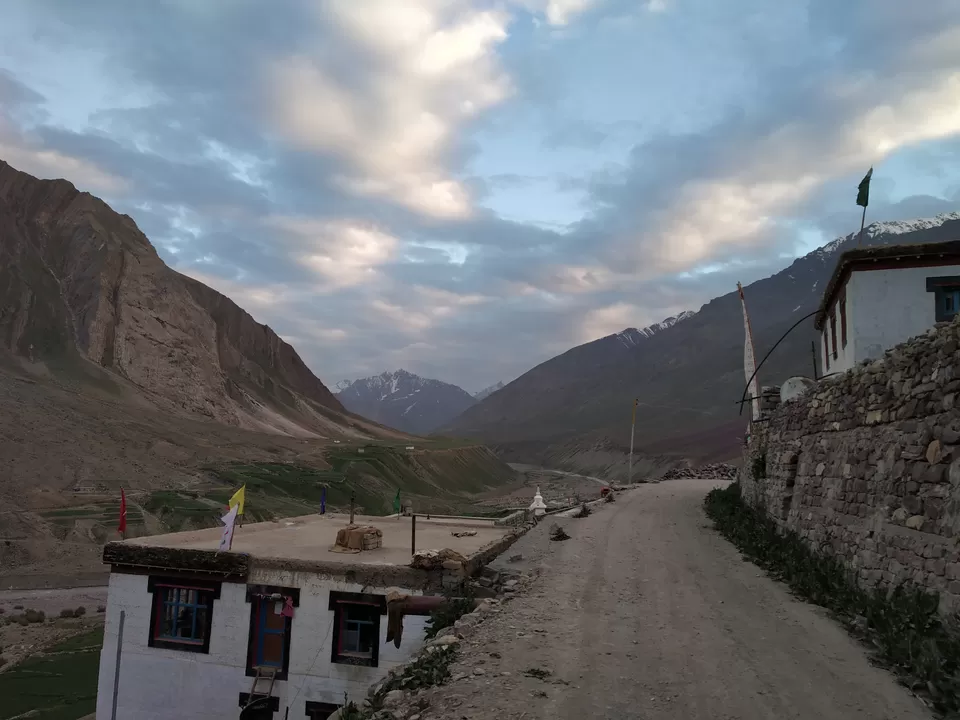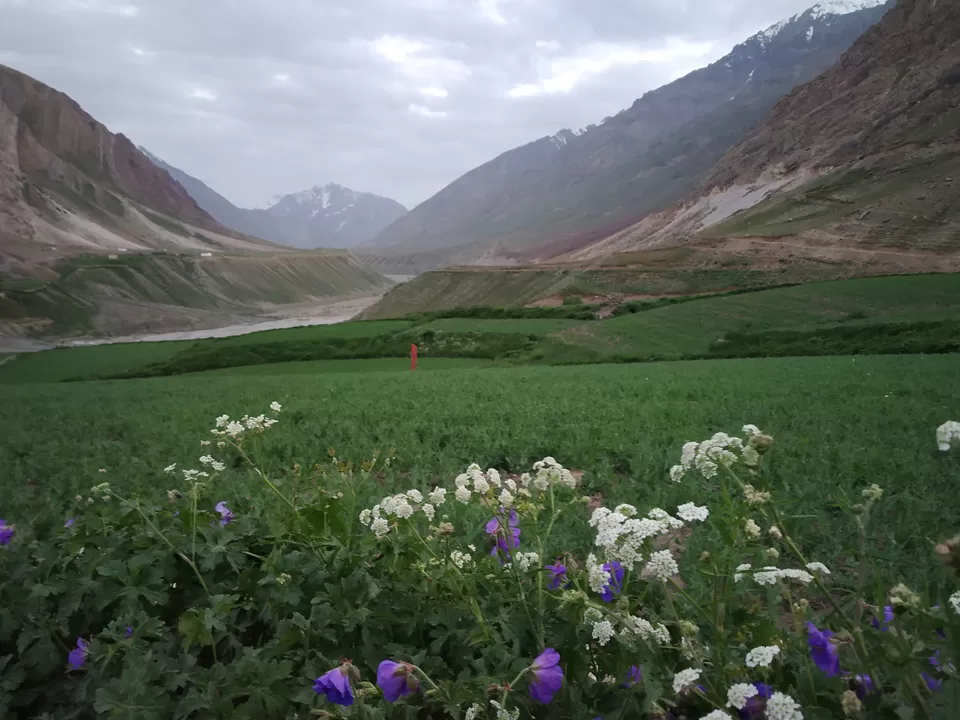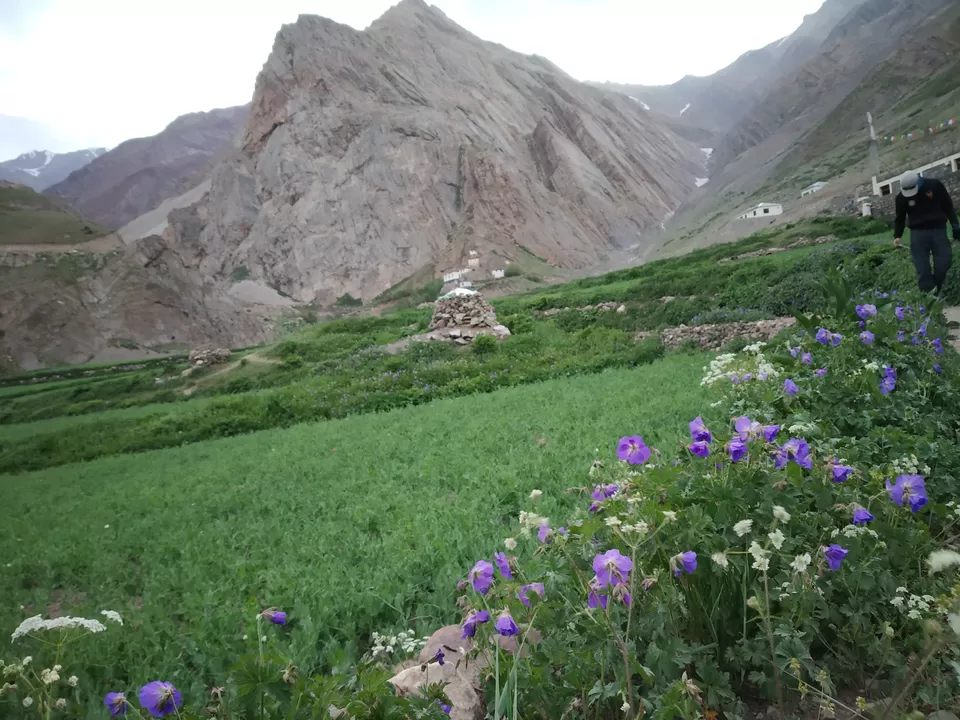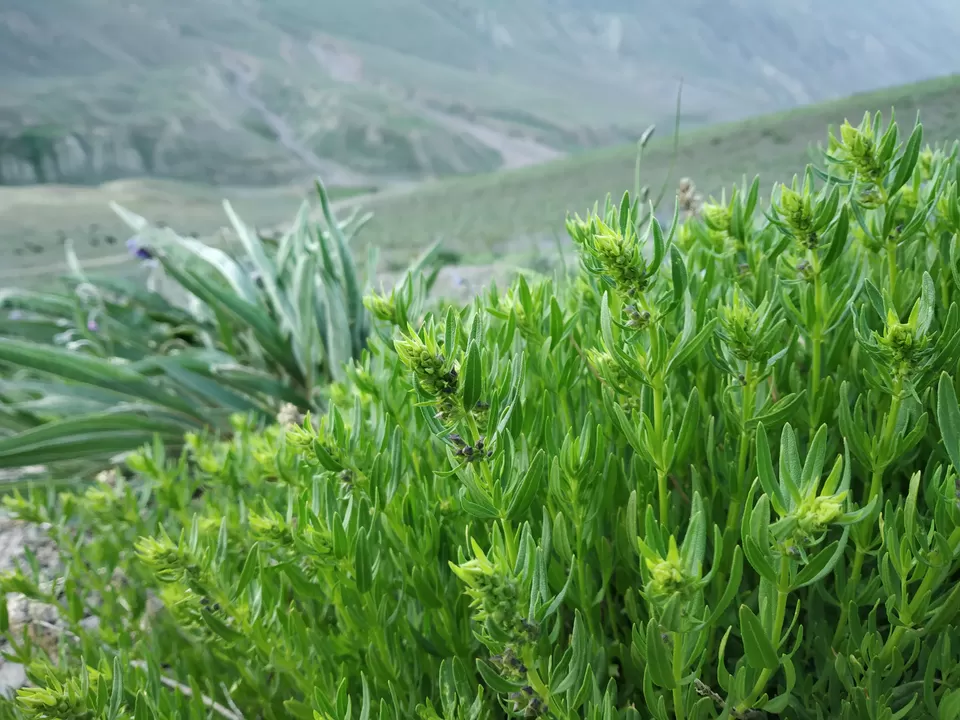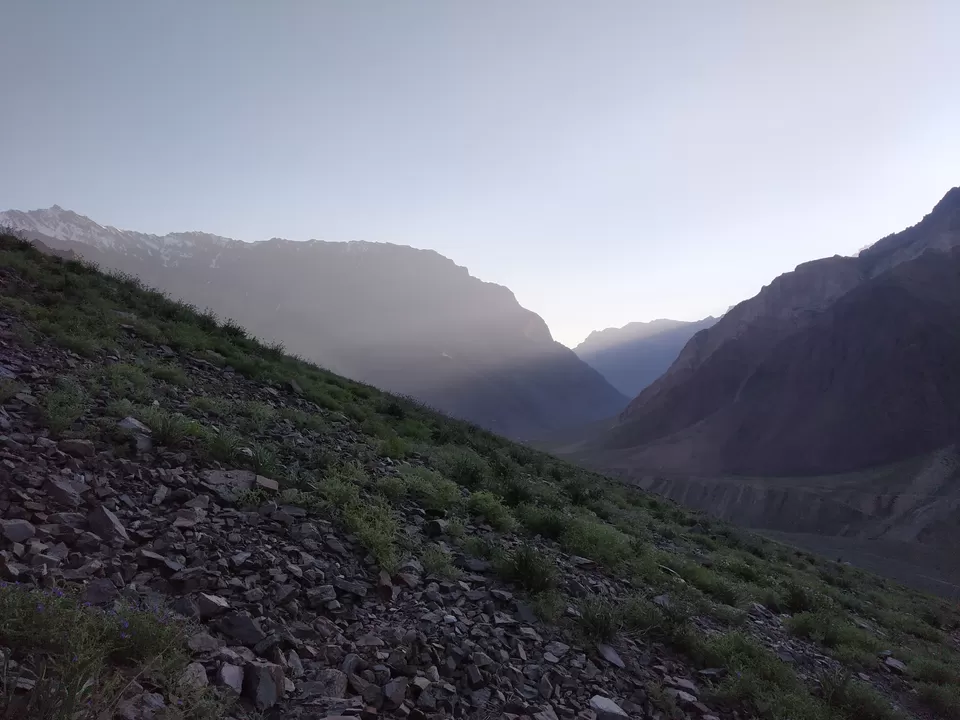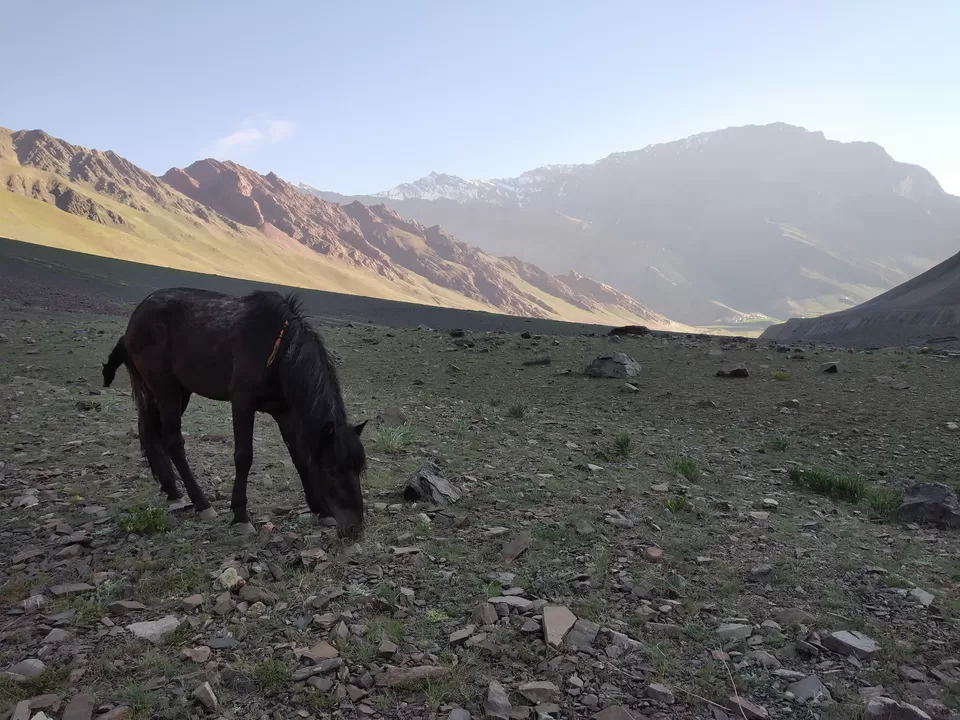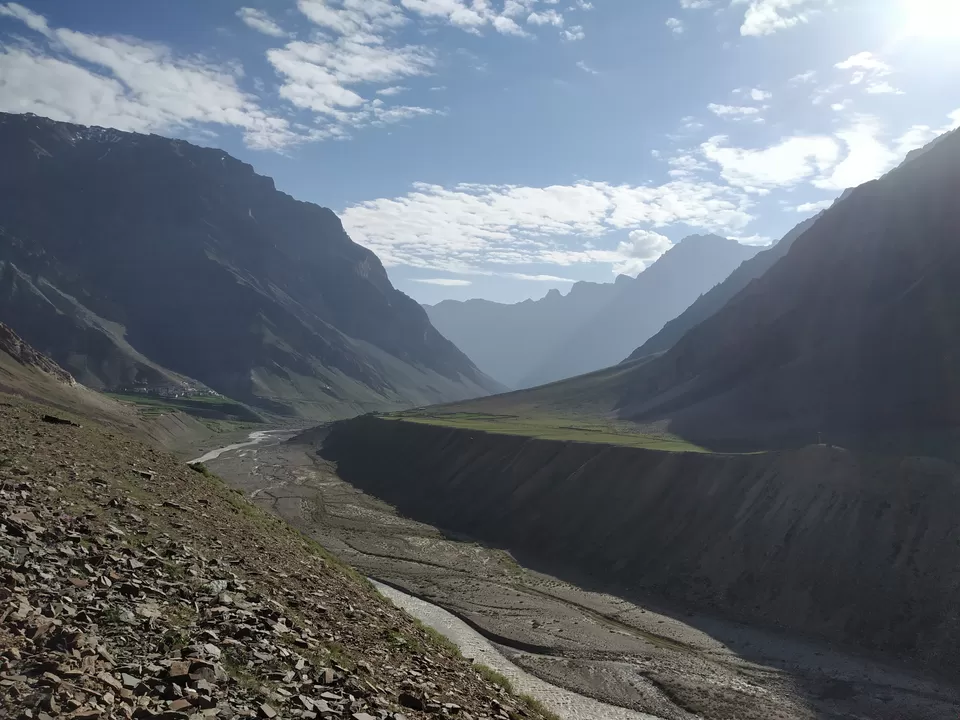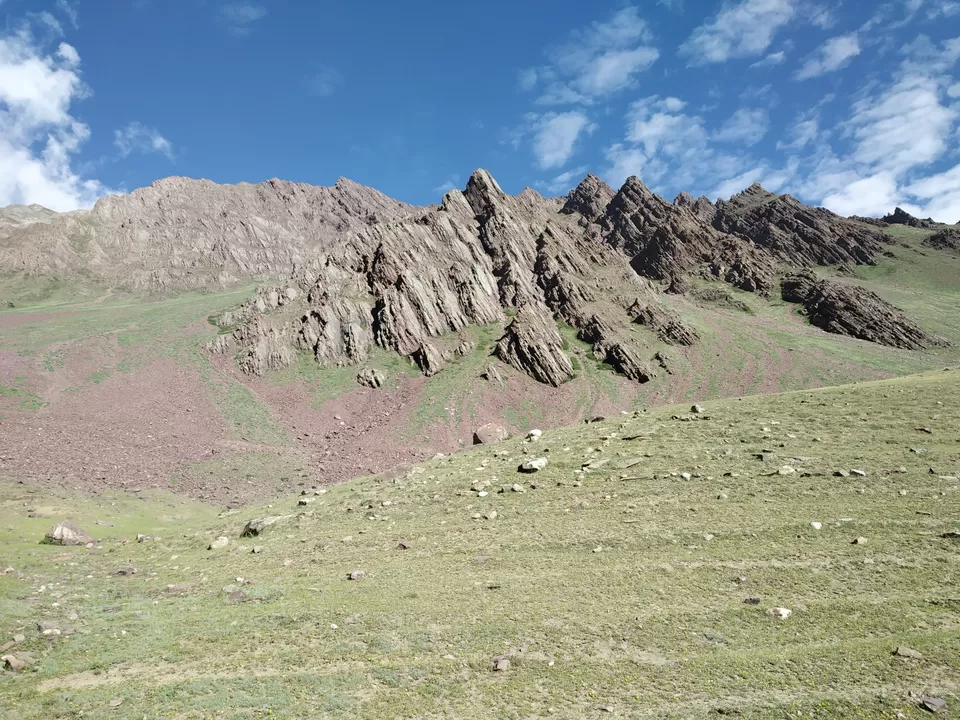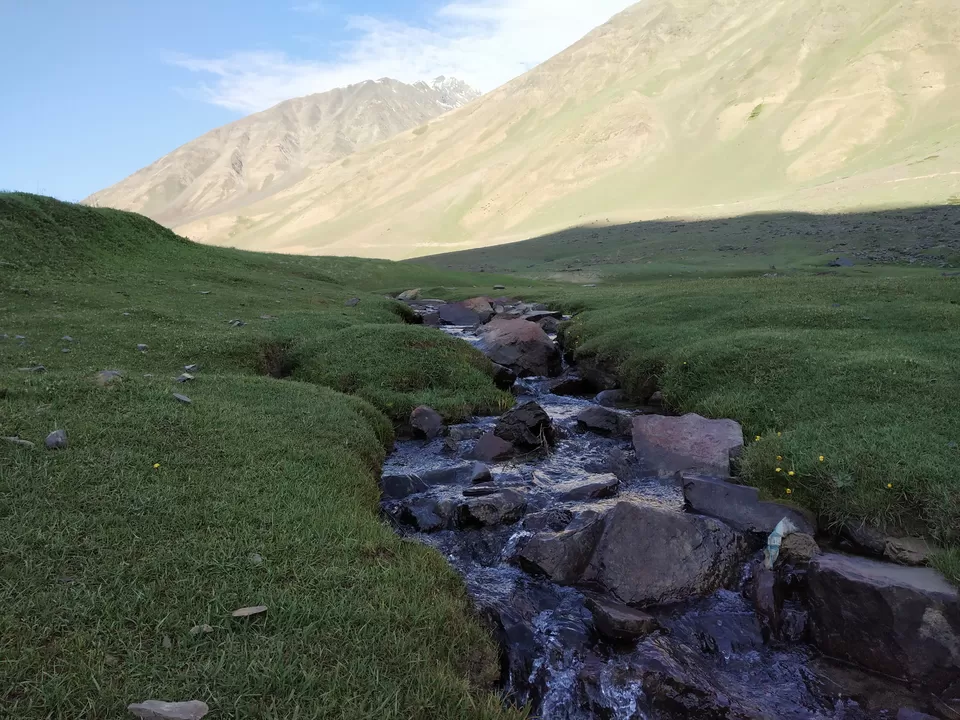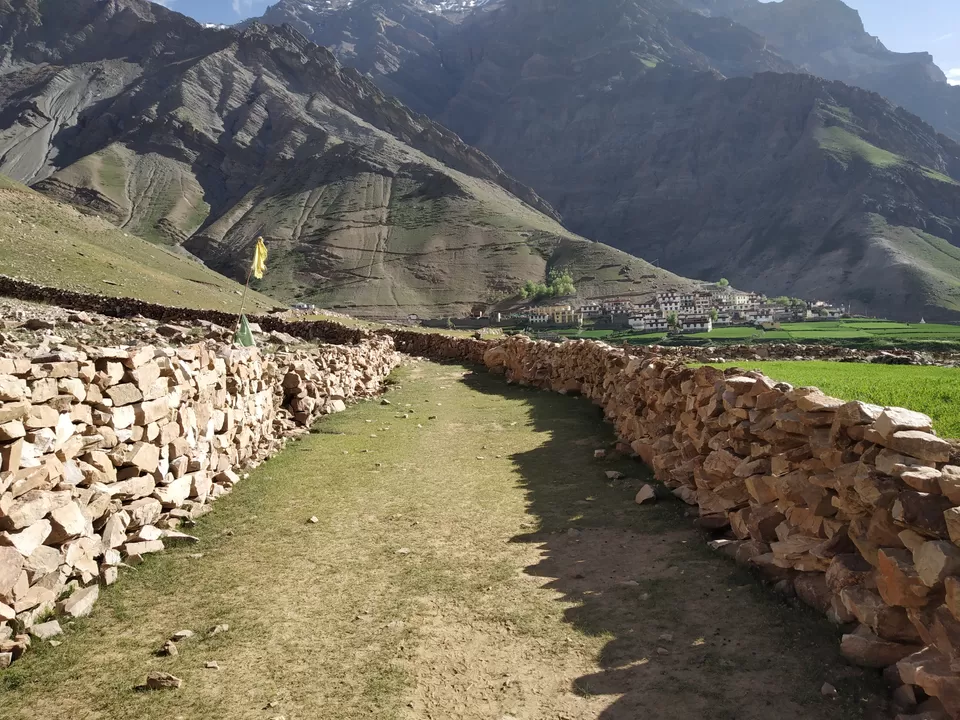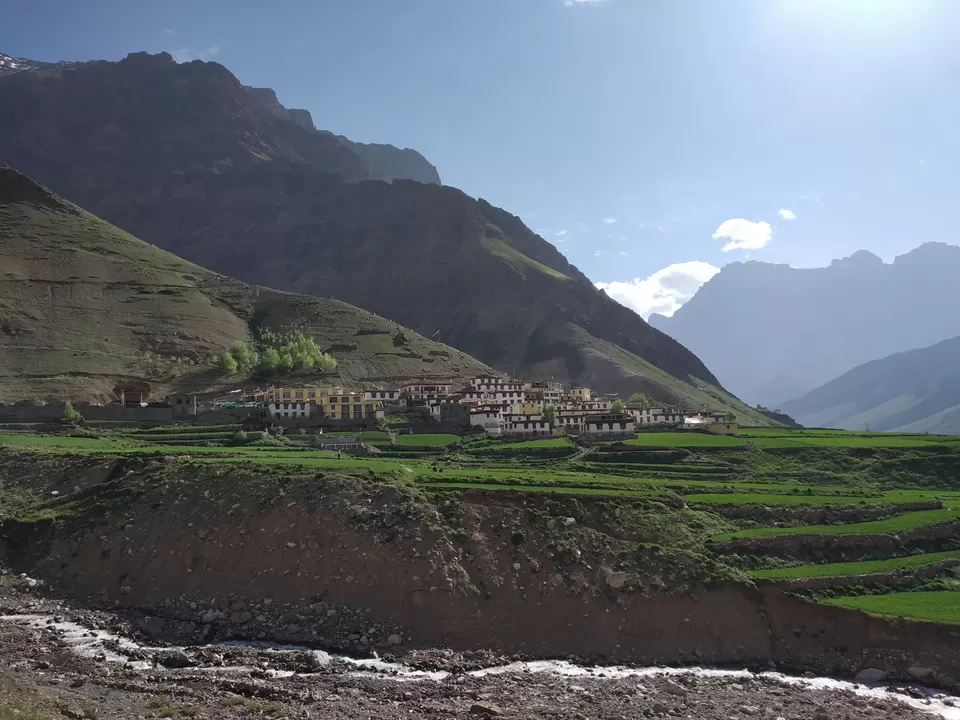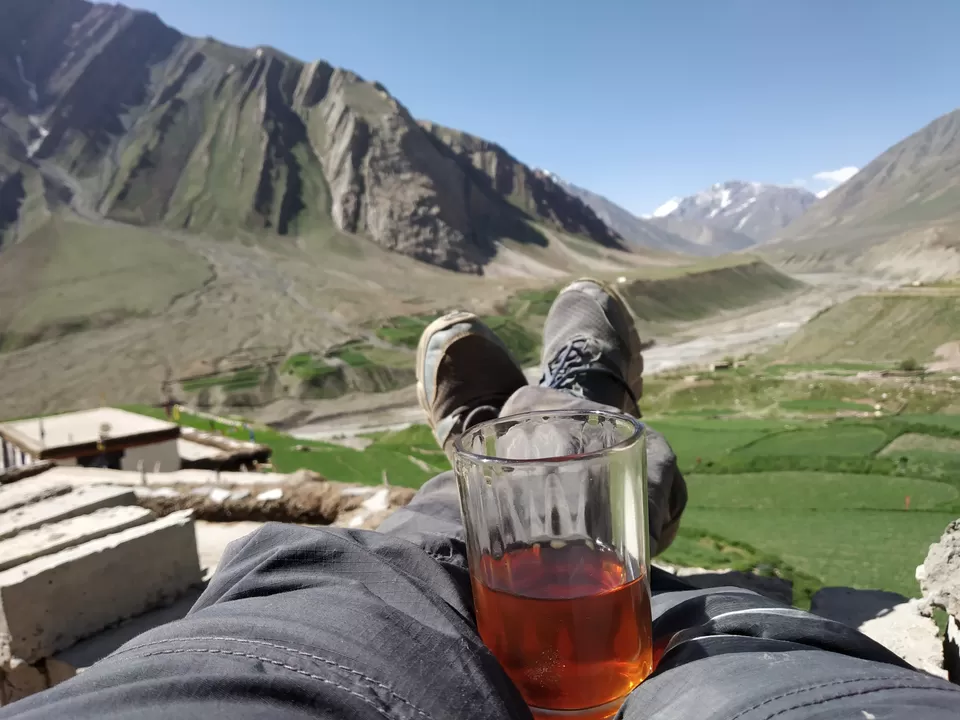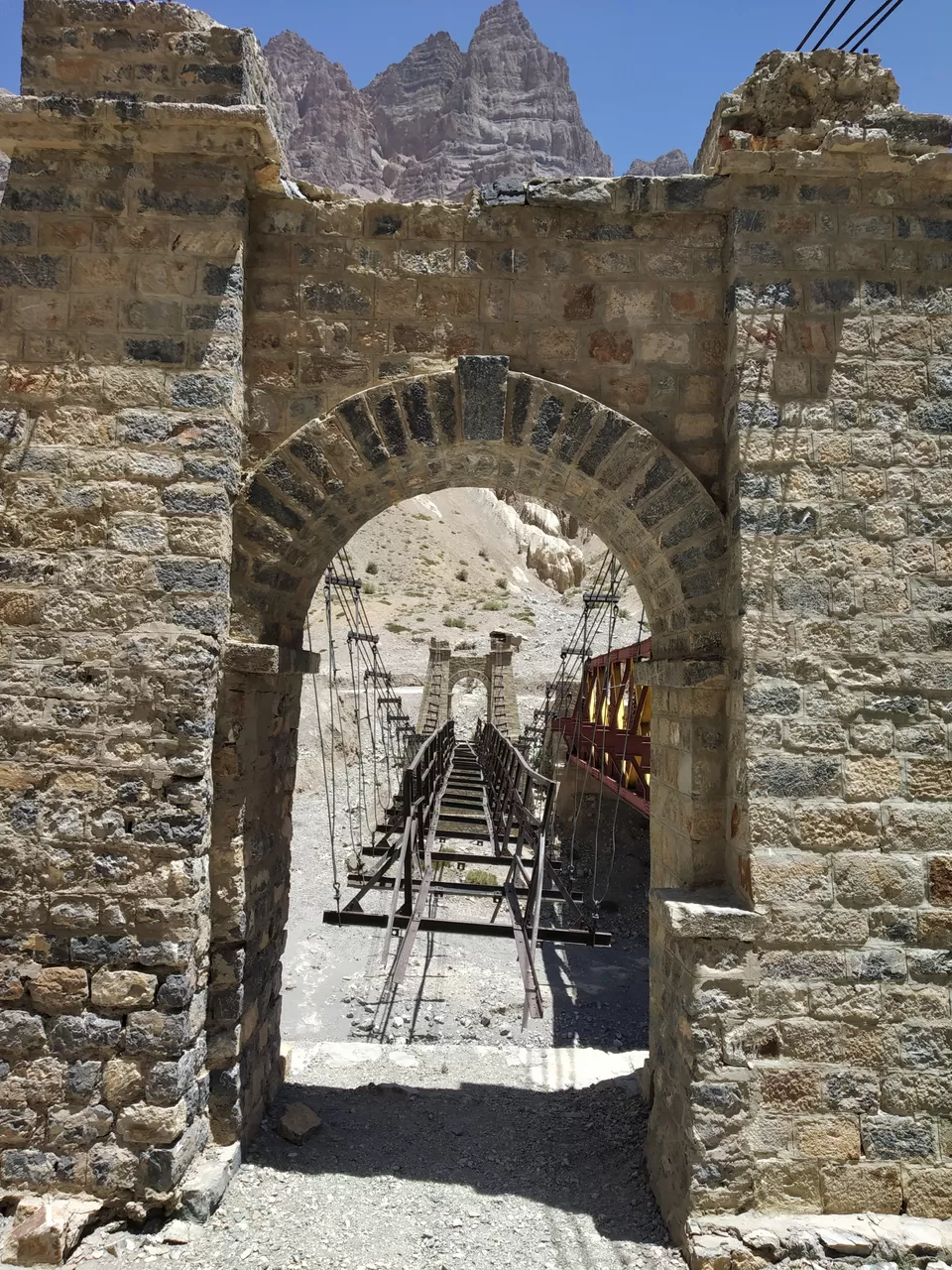 Morning we left for Dhankar Monastery, perched at cliff top. I remember an interesting anecdote that happened here. While returning, at one round corner we met a duo tired with their 500 cc bullet on other side of road, complaining the strenuous uphill and quizzing how we went in just 180 cc Pulsar. The answer came whirling between us- a doubly loaded 125cc Activa that went upwards. All the way, while we were hoping from village to village, we had left our heavy backpack in a boot space of a car at Kaza near the shop from we had rented the bike. We came in afternoon there to change and packed few clothes. Again we went ahead to our tour to Hikkim, Komic and reached at late evening to Langza, for the night halt.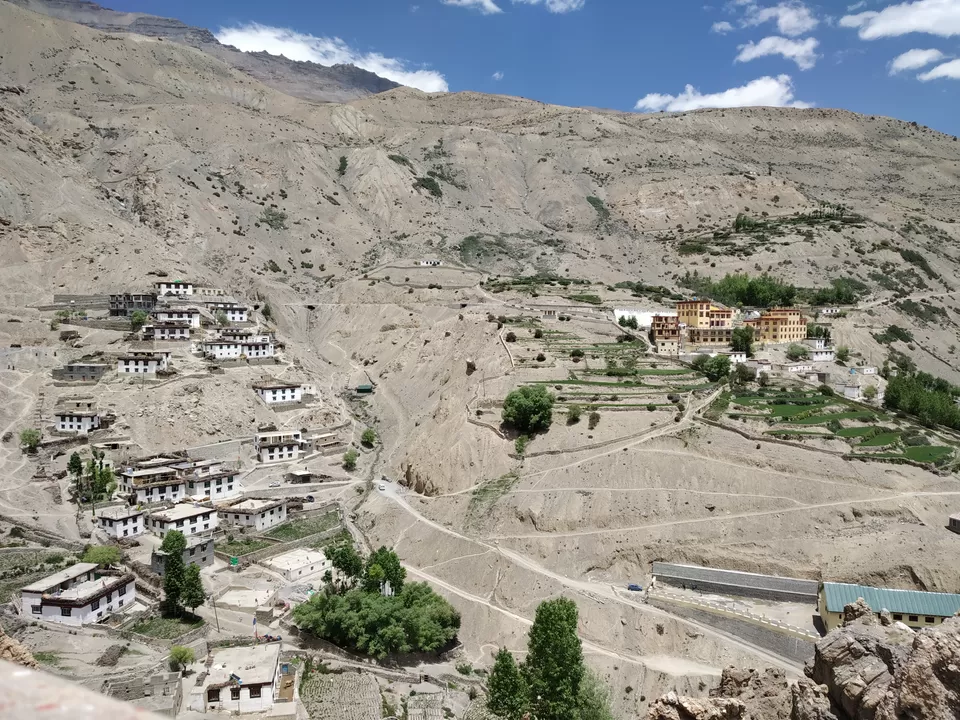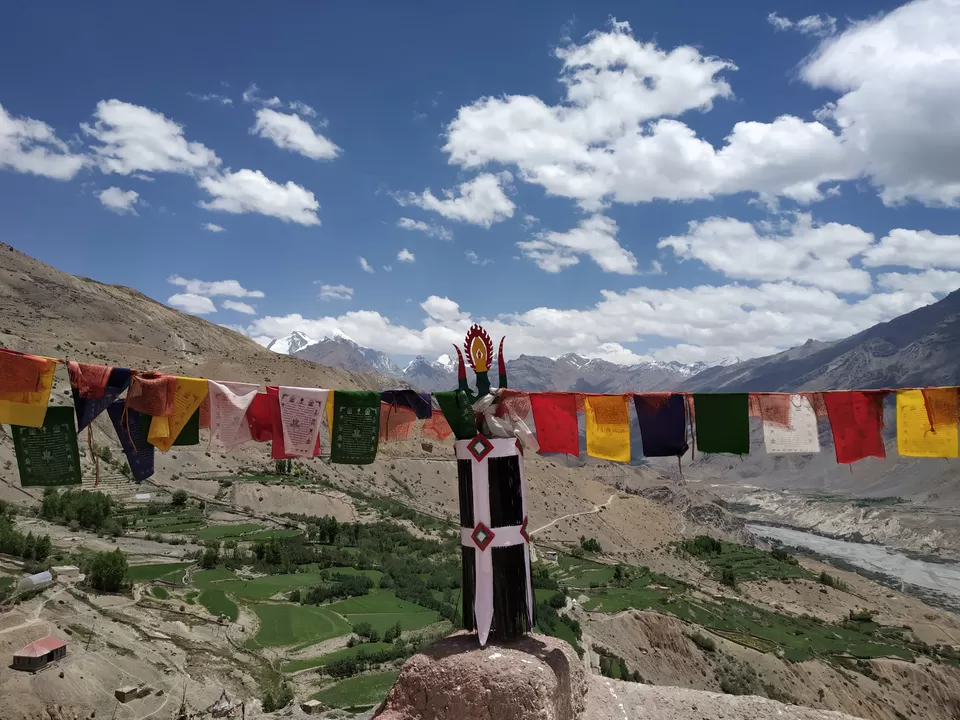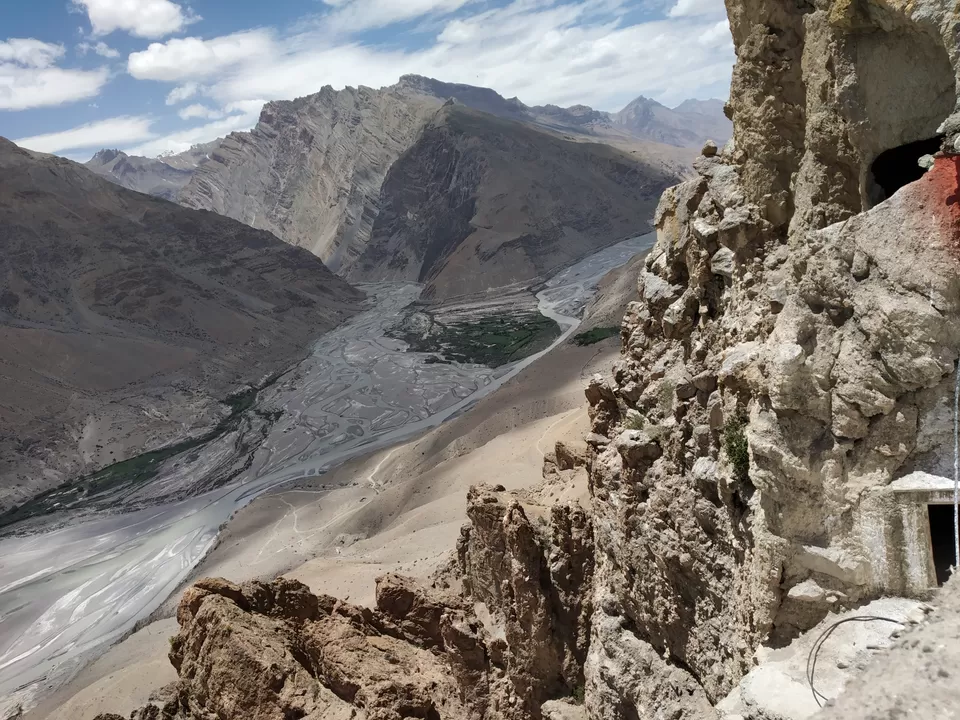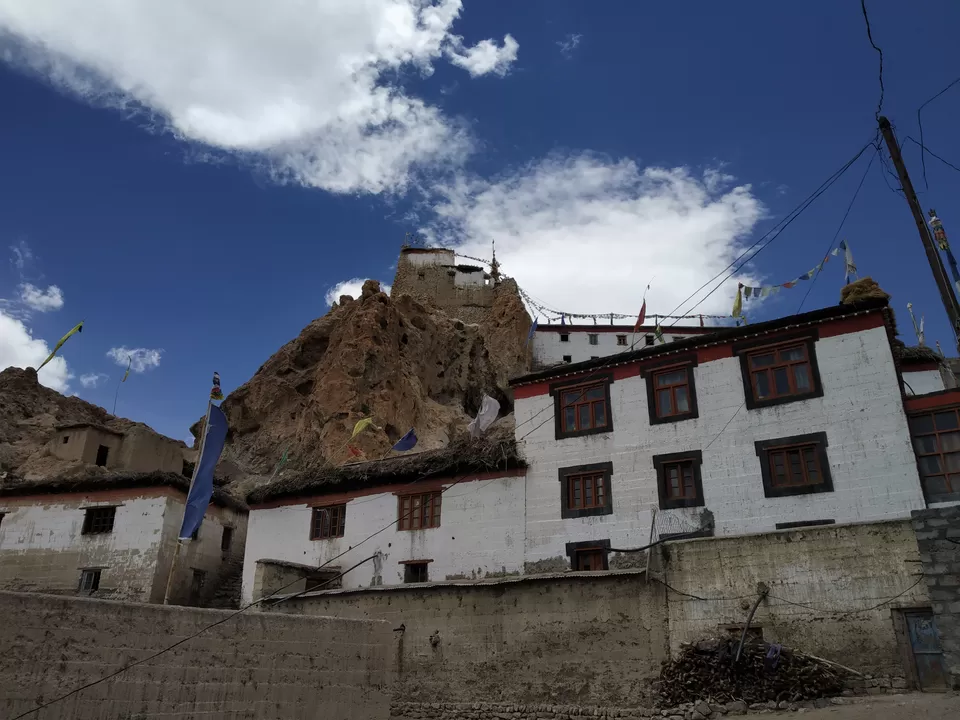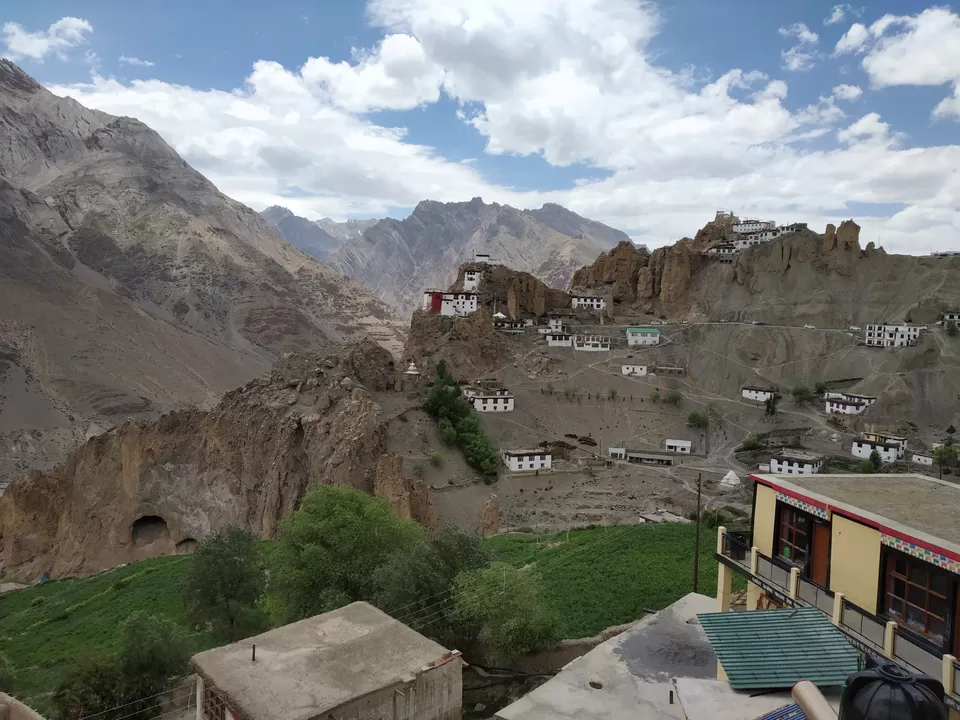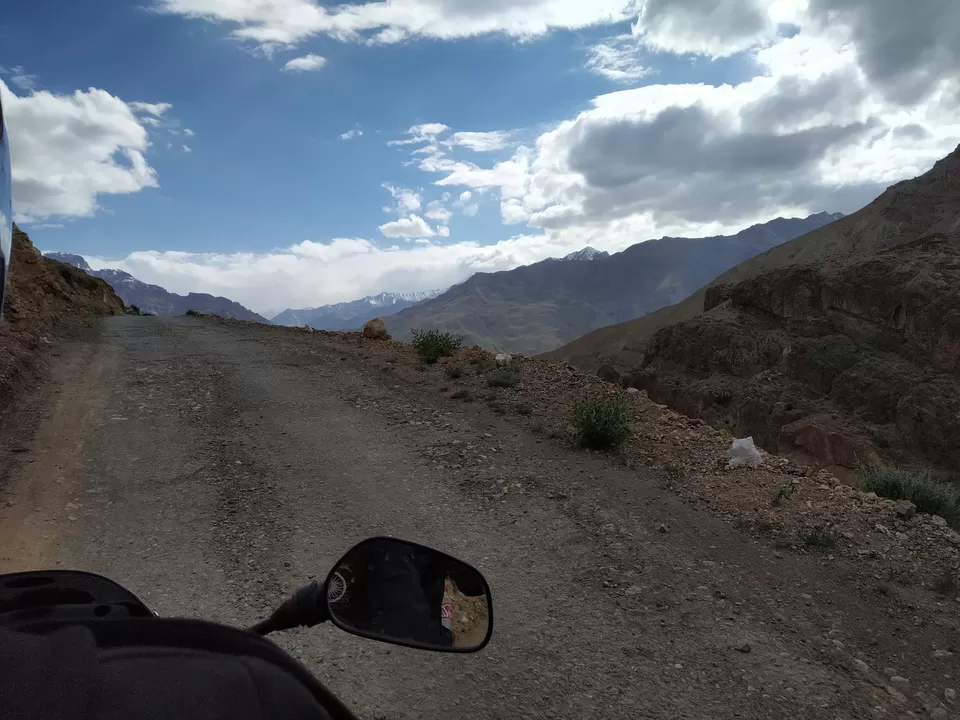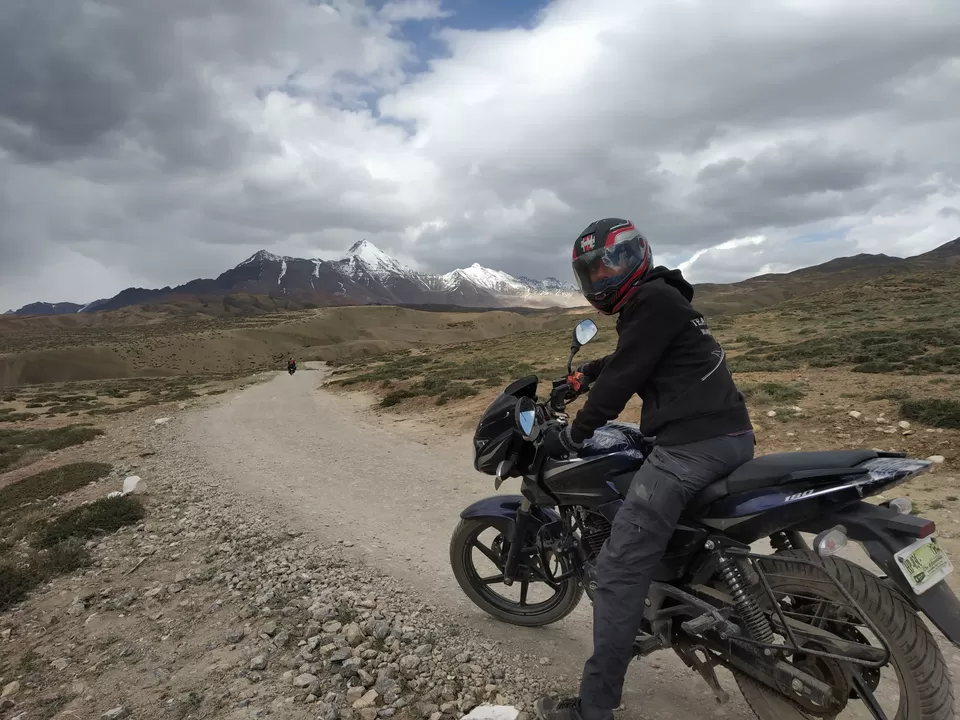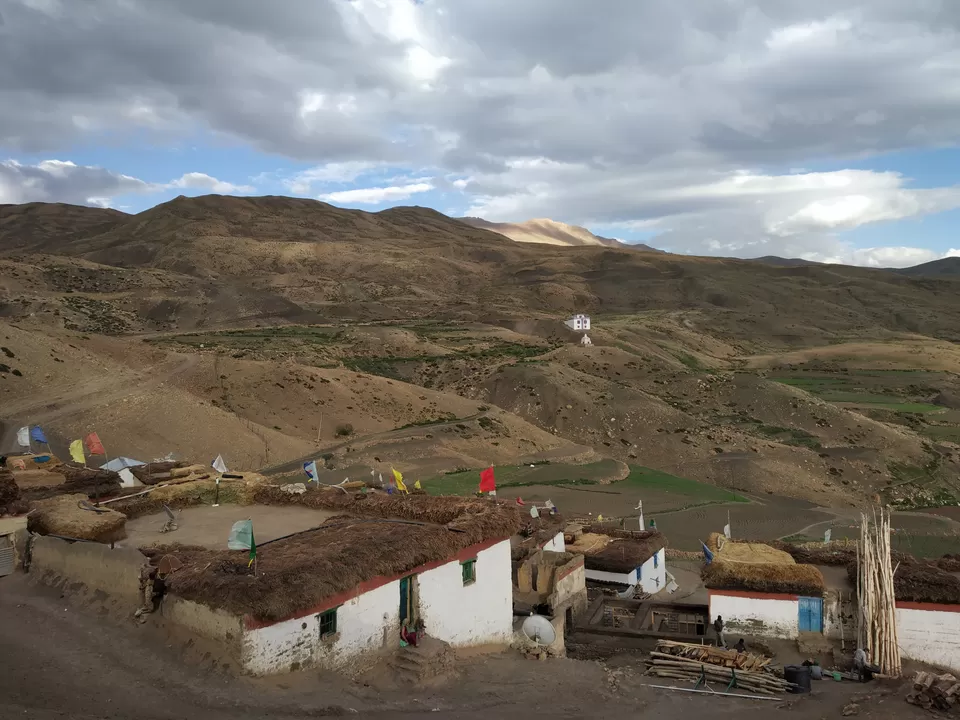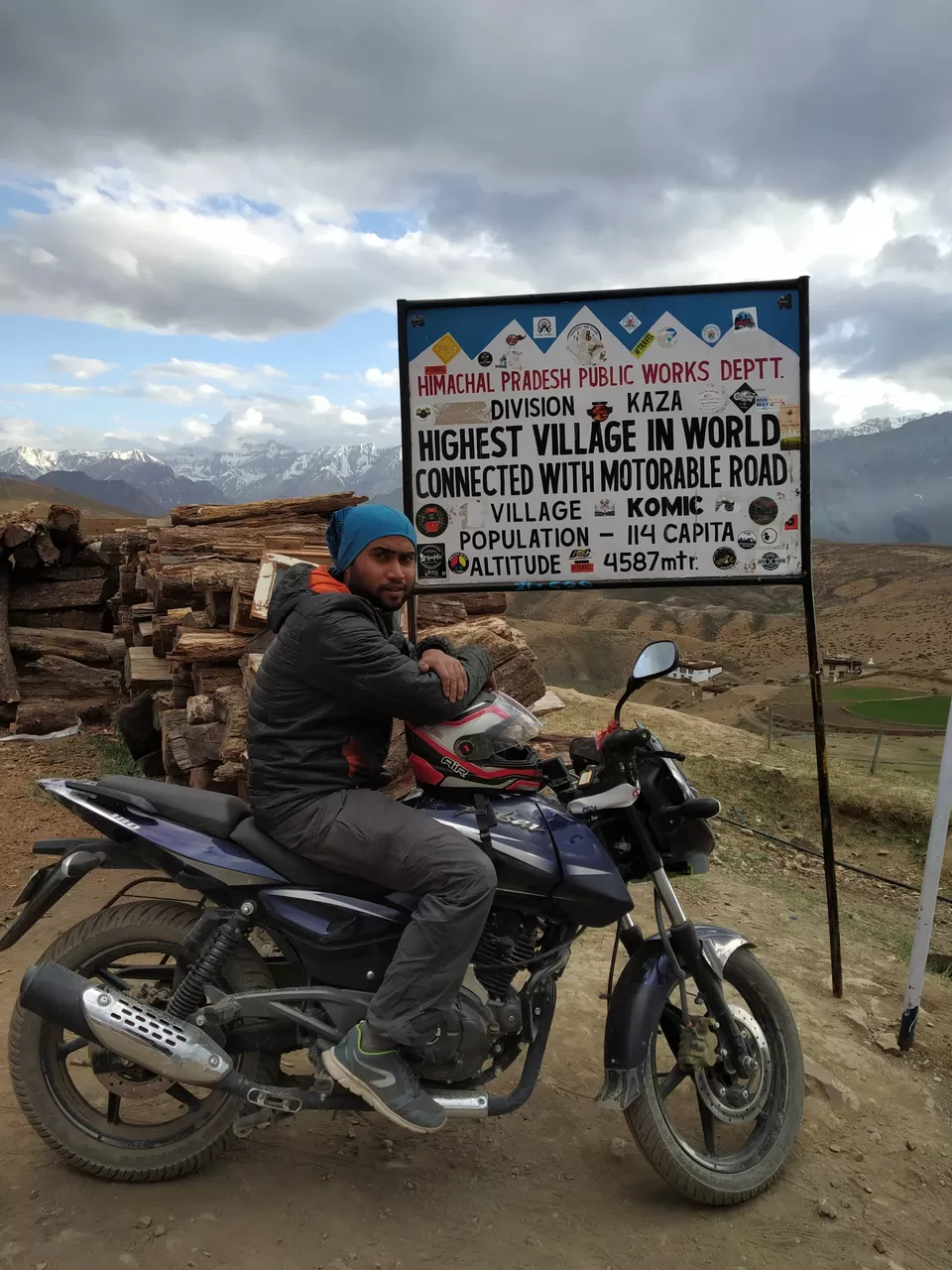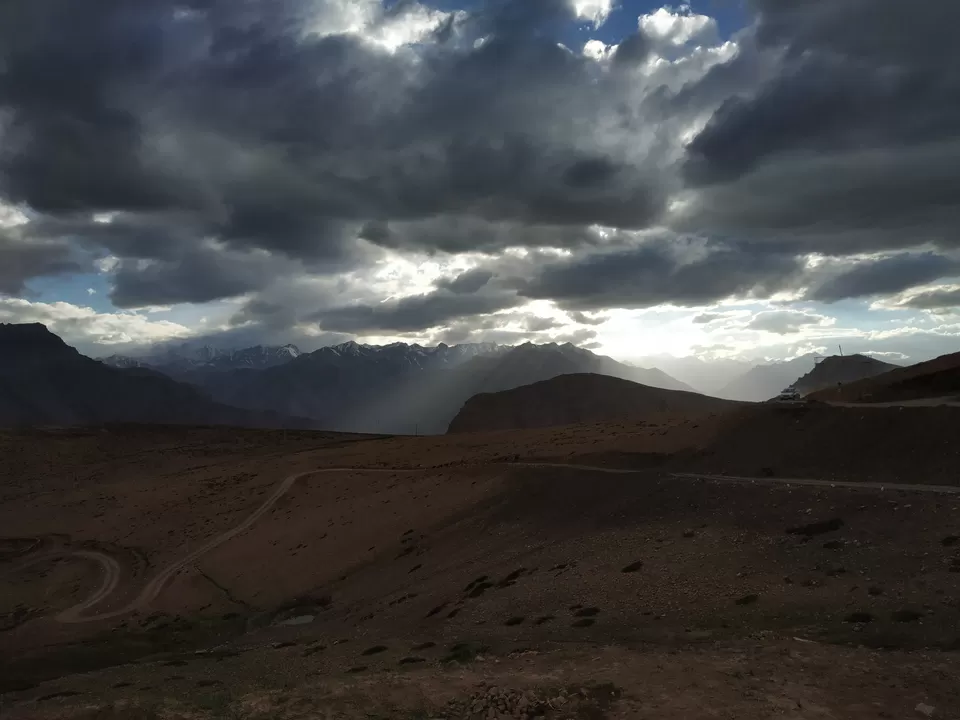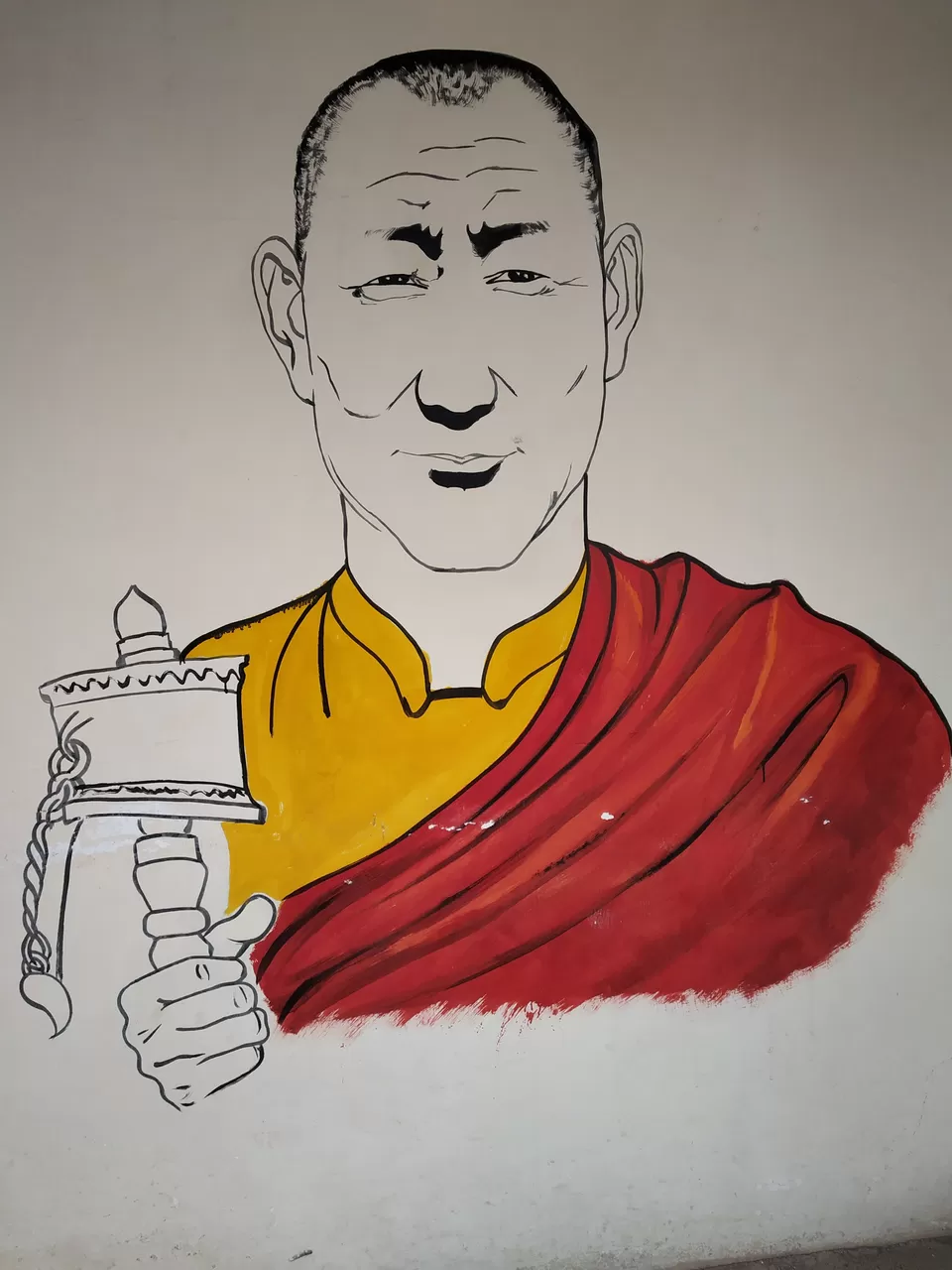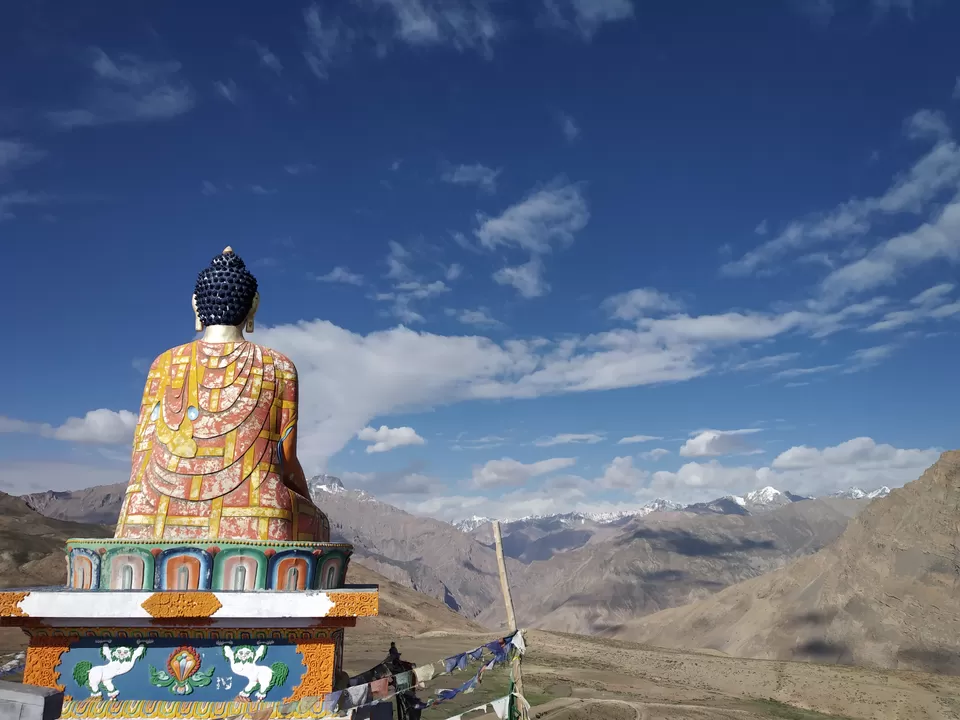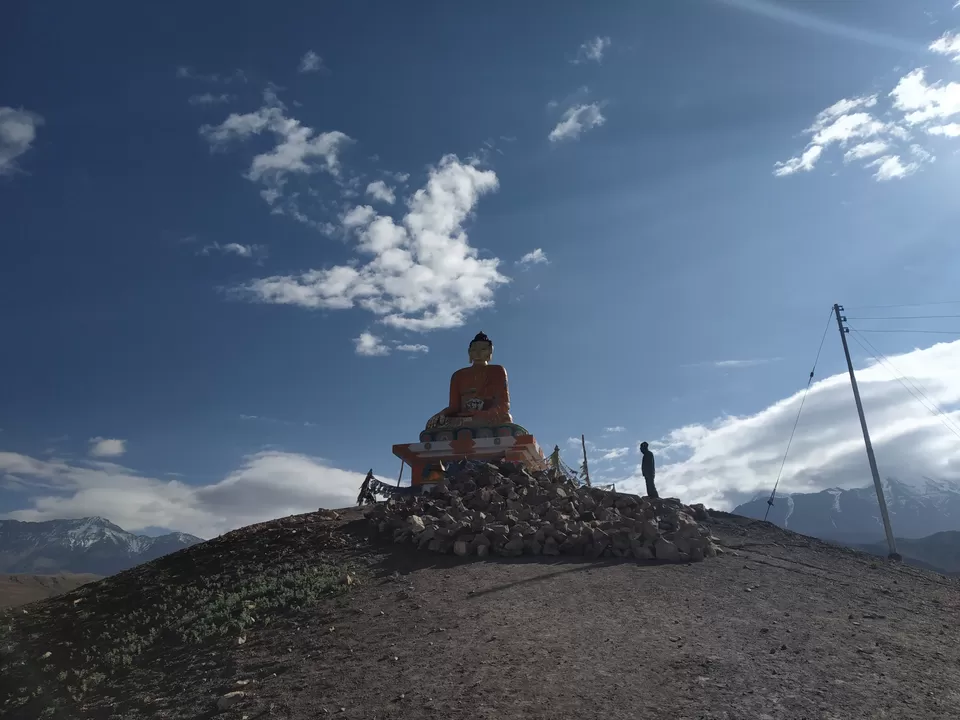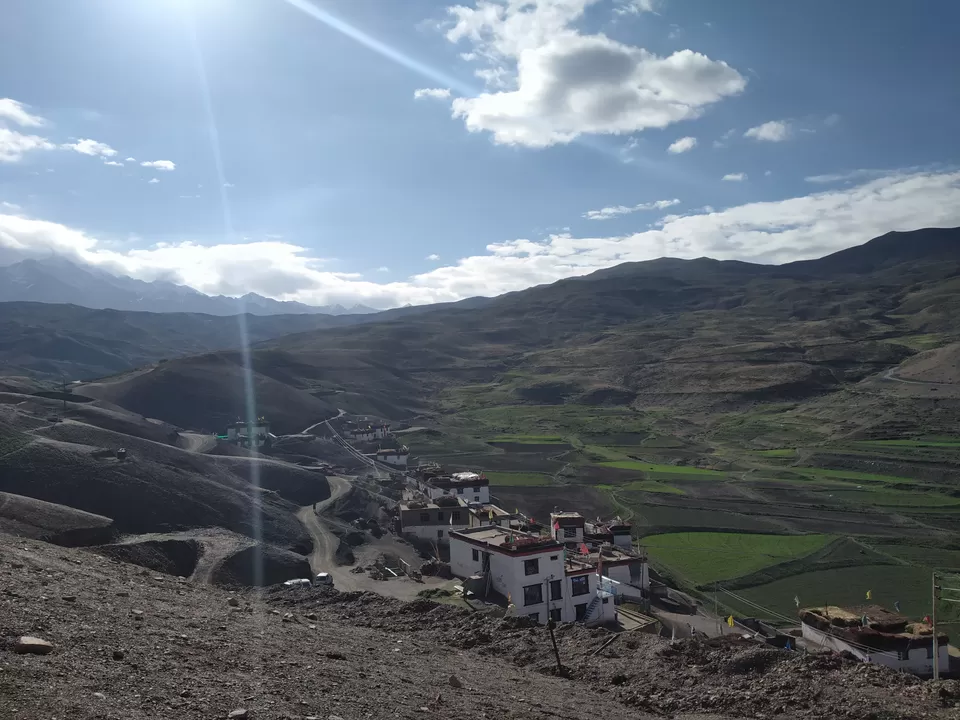 Today we left for our visit to Key monastery, Chicham bridge and short halt to Kibber, to enquire any batches for trek to Mt Kanamo. We had good luck as a batch of 6 boys were departing for the trek, the very next day. And we could join them at much discounted rate. In morning it was near the road while entering to Key monastery, we met again to the crazy filmmaker students, confused where to head next. Although arguing and blaming each other for delays and stuffs, they were surely having blast of an unplanned trip. We came back to Kaza, bid farewell to our bike, loaded our backpack and headed towards the bus stand to hop on the last local bus to Kibber in evening.However luck would have it, while loitering around the bus-stand for tea we came across the same crazy students, only to get offered for a special tea the boy was preparing at a nearby shop. Amused we went and were stunned to find the boy was making the tea in an elaborate manner. The owner was running across to fetch whatever ingredients he demanded for. But the wait was worthwhile. He made a lip-smacking tea with tinge of ginger and cinnamon. And the boy was proudly lecturing the owner about what the real tea tastes. Funny are the incidents when reminisce. The bus reached Kibber just before it went dark and there in the hostel we met our guide Kezang and 6 other fellow trekkers.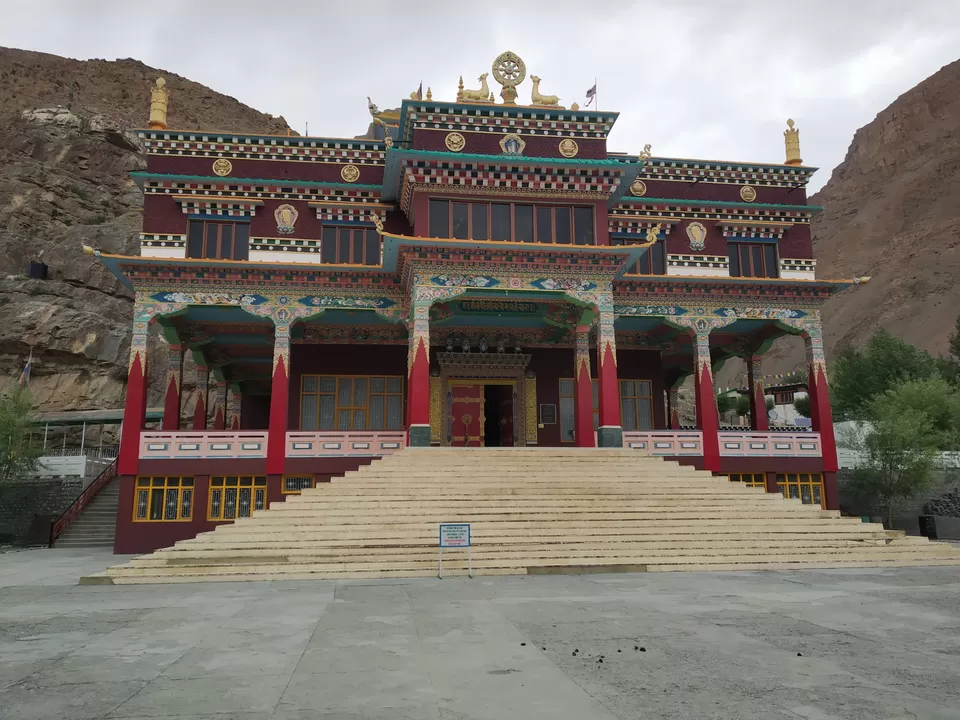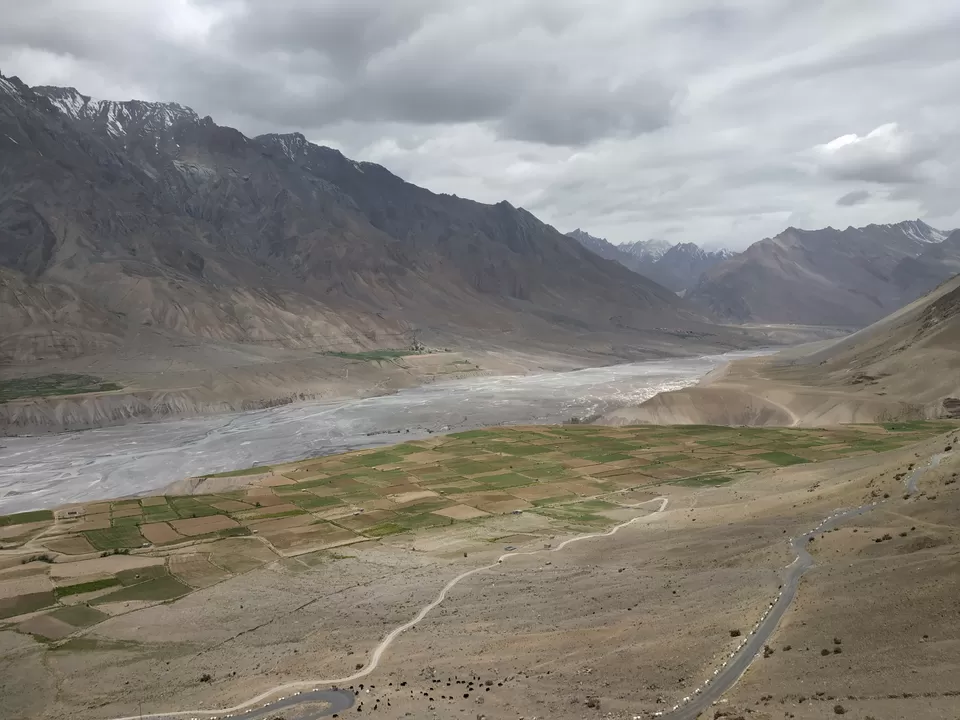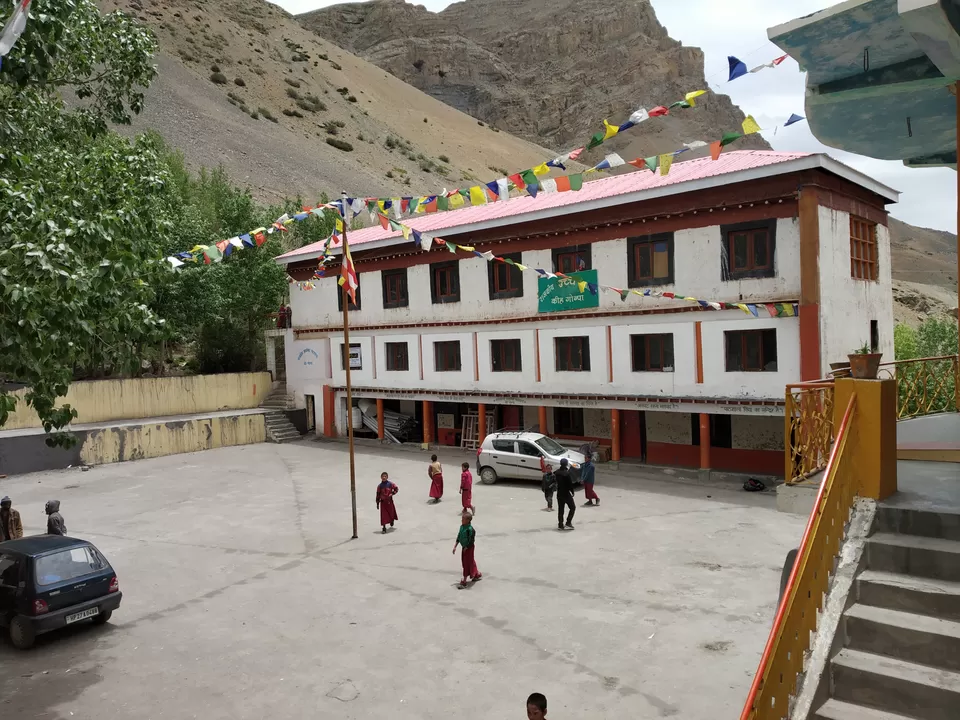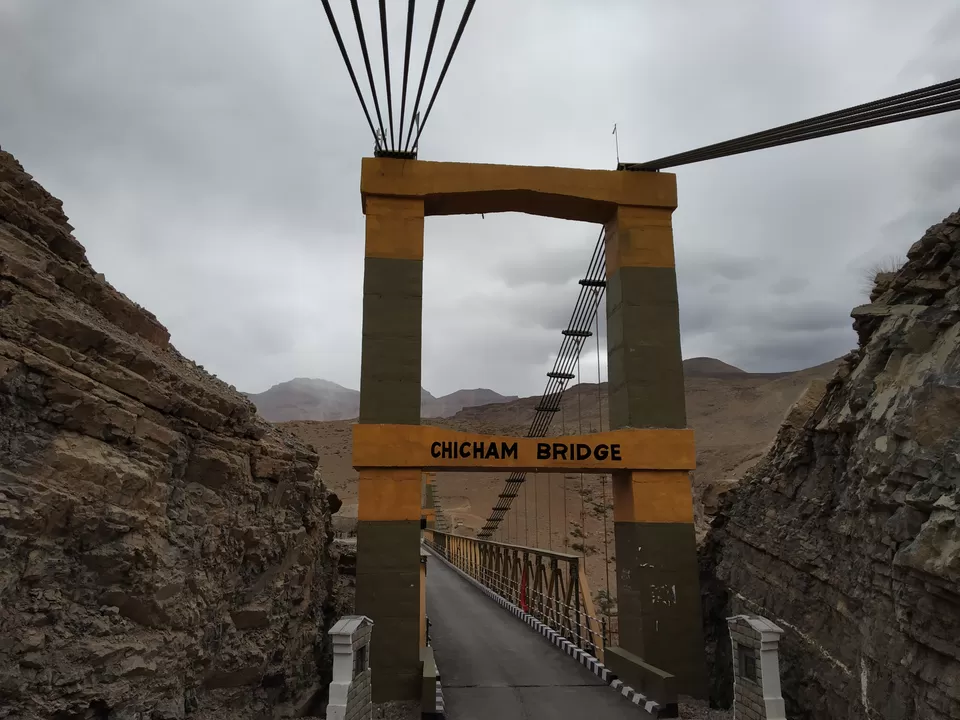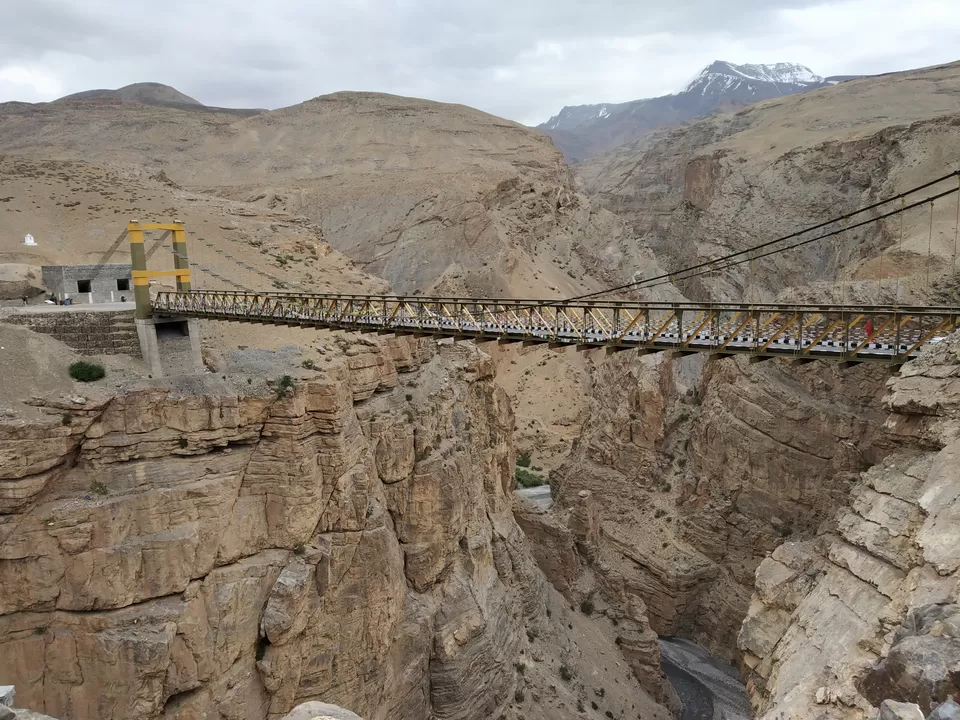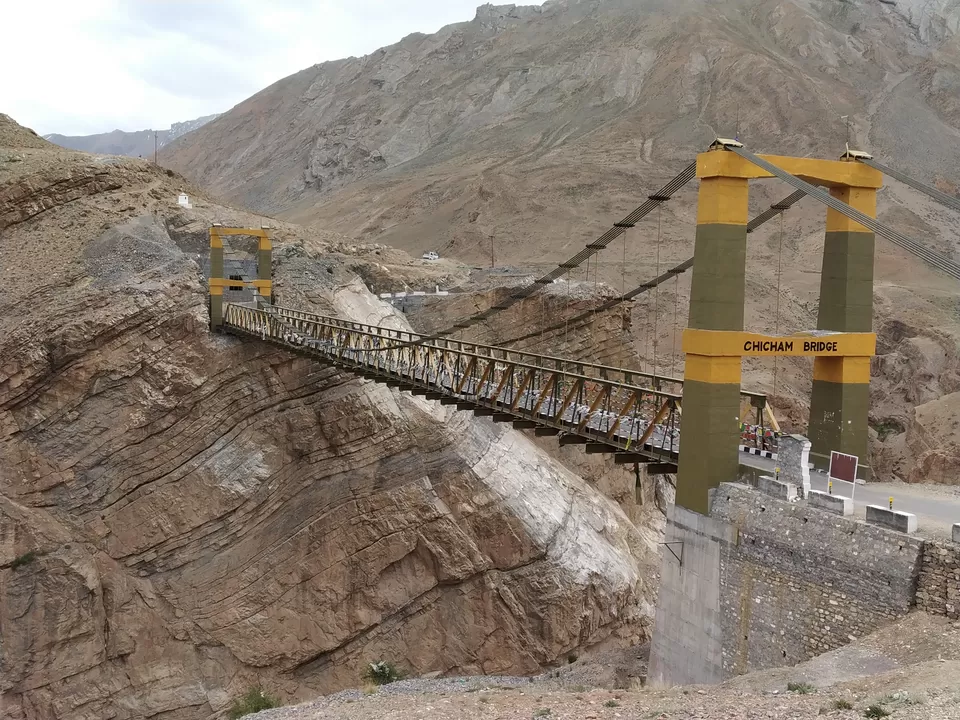 For next two day, the plan was trek to the Peak of Mt Kanamo and return. But weather scorned with our plan. It started raining and we had a delayed start to our camp on Day 1 of trek. Even during the journey it rained few times and there was complete cloudy white in the surrounding.
Next day was the summit day. Again due to angry weather god, the ascent was delayed. But somehow we reached the peak late afternoon and came down as fast we could all the way to village. It was complete dark by time we were at foothills. Guided by torches and mobile's flashlight we reached the hostel among the hurrahs and cheering of fellow mates. It was mission accomplished. As it was already late in the night, we stayed there and went to Kaza by next morning bus.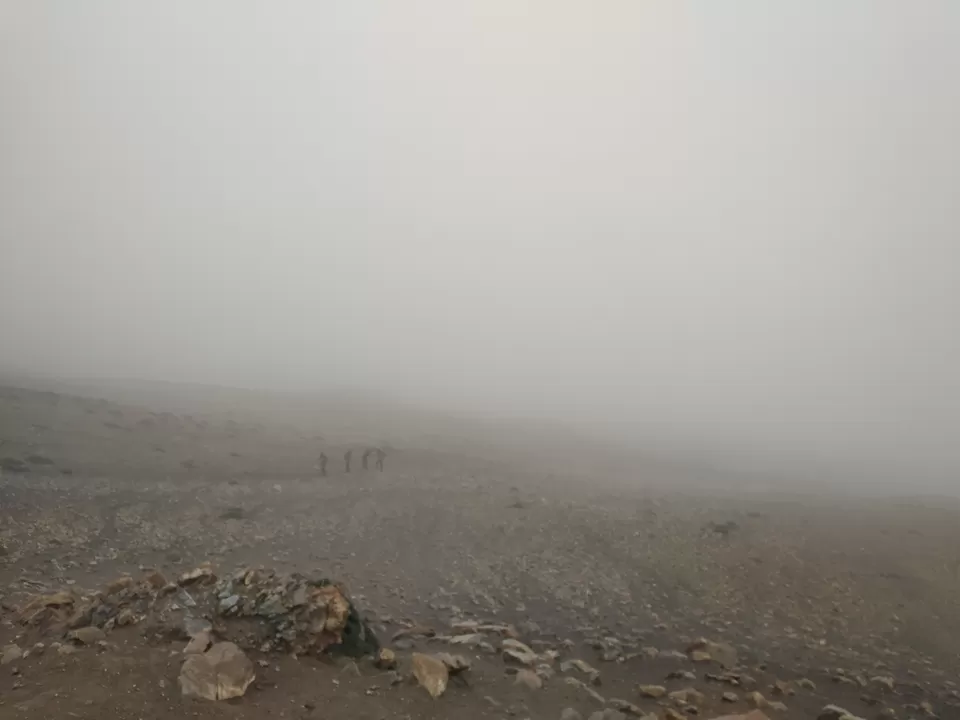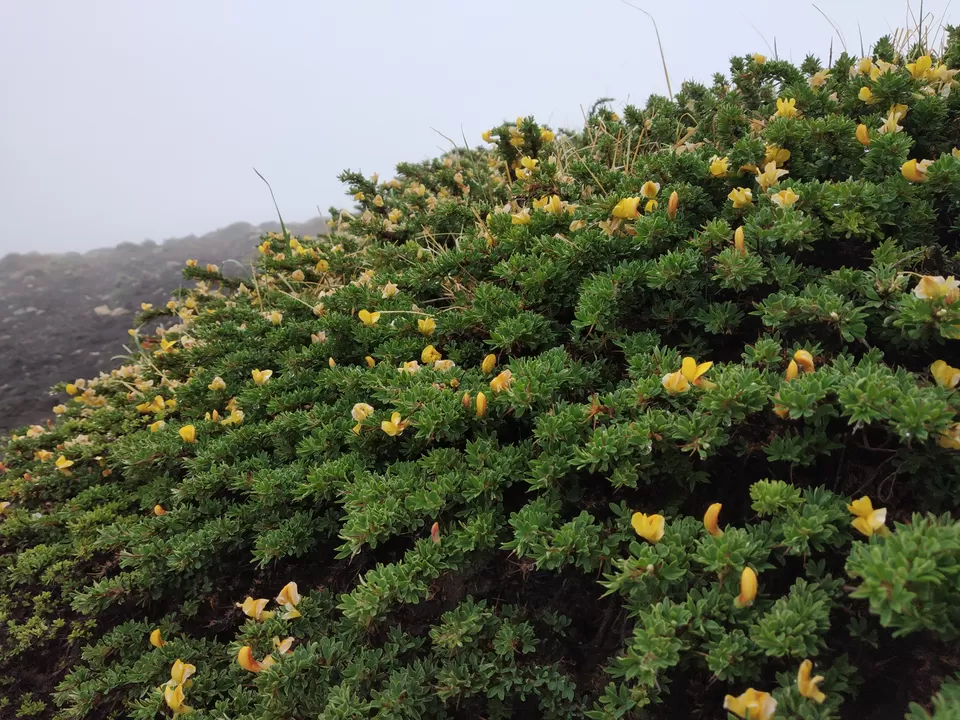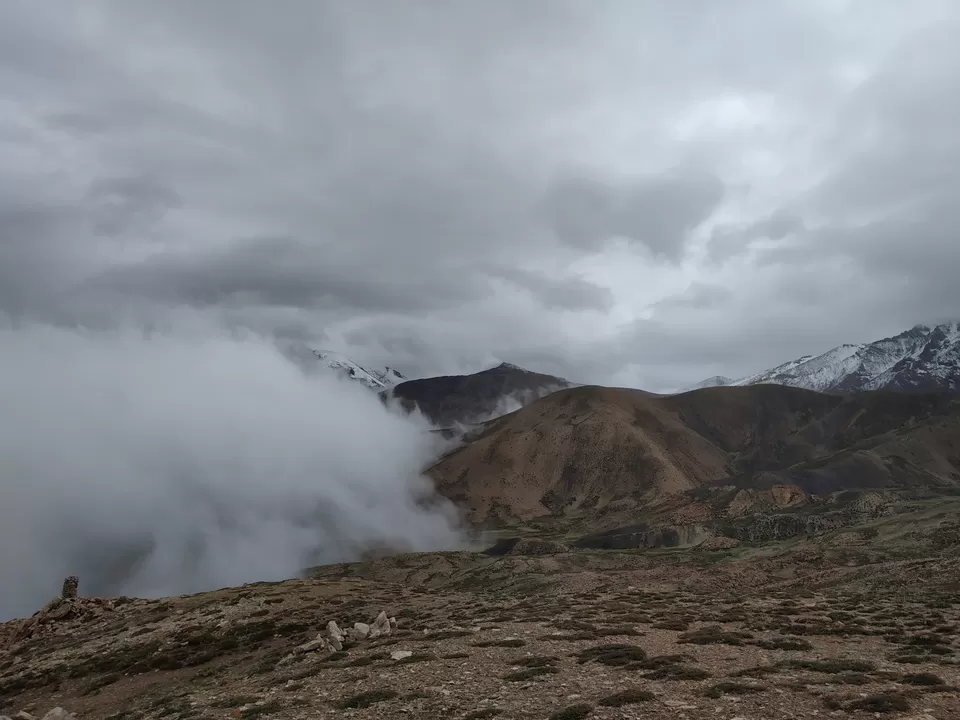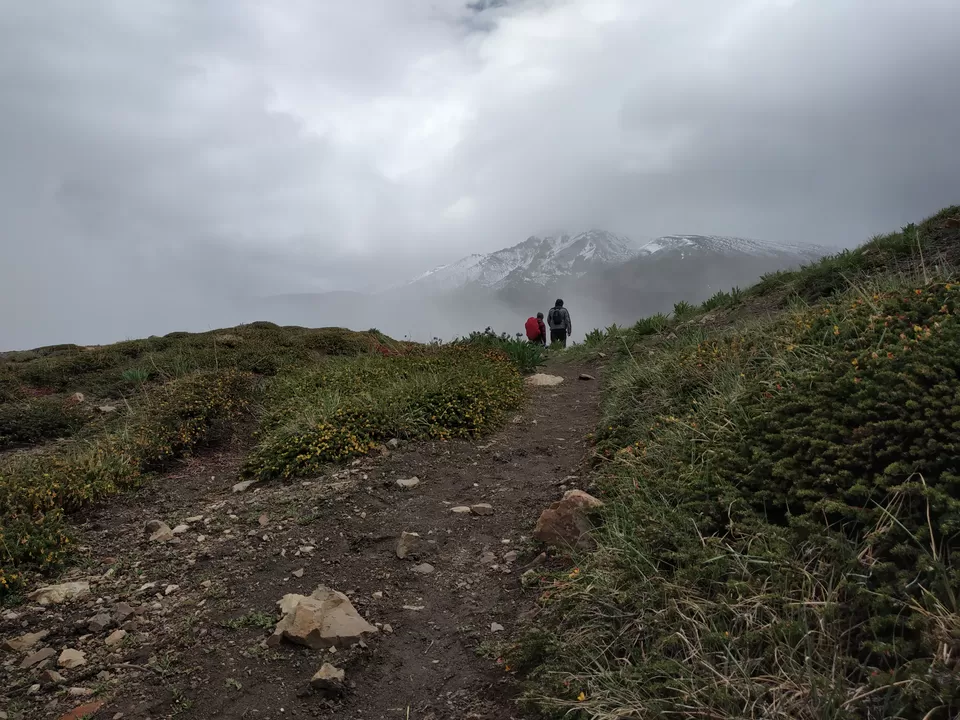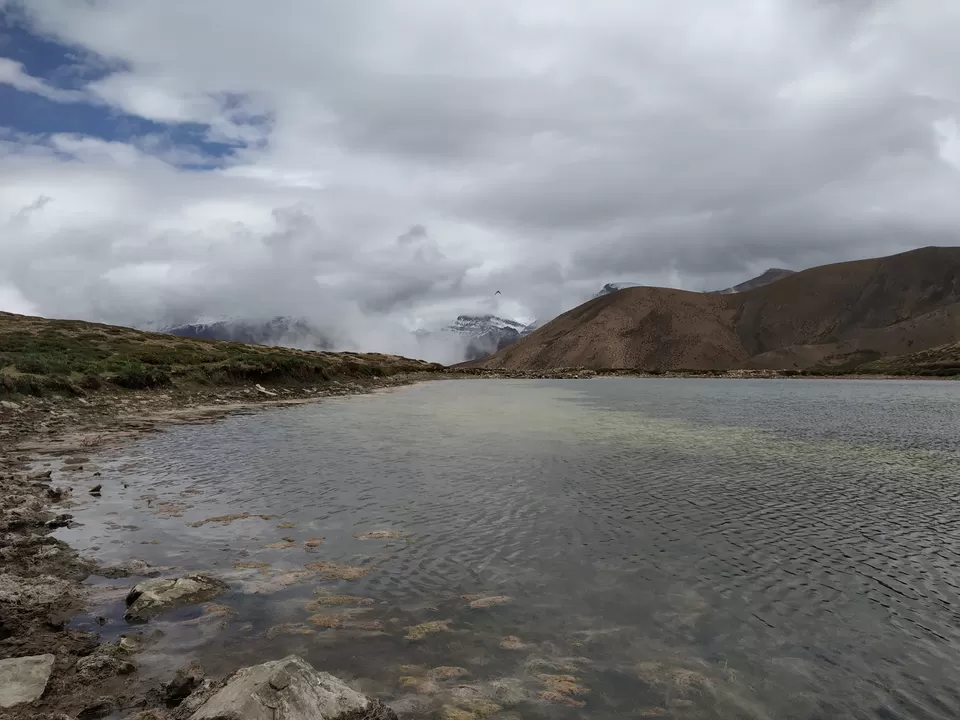 We had missed the early morning bus to Manali and our Chandra Taal trip was in peril. Taxi rates were too high for just two of us. Neither we could find any groups with whom we could join in. Once again Anshul came to our rescue. He offered a Mahindra 4X4 carrier truck that costed us 6K, the least we could find that day. The driver was his own brother and his one friend. We had bout of off-riding from the enthusiastic driver during the journey at some alternative patches. He offered us the beer and during the customary round to Kunzum pass, Ankit bhaiya just hanged in the open deck behind, to soak in the thrill of the ride. Really it was hell of a journey that came as an added perk on the trip today. Chandra Taal was equally mesmerizing and no amount of our picture can provide the justice to the adorable landscape we witnessed. We reached very late night to Kaza and with help of Anshul found a decent place to sleep for the night.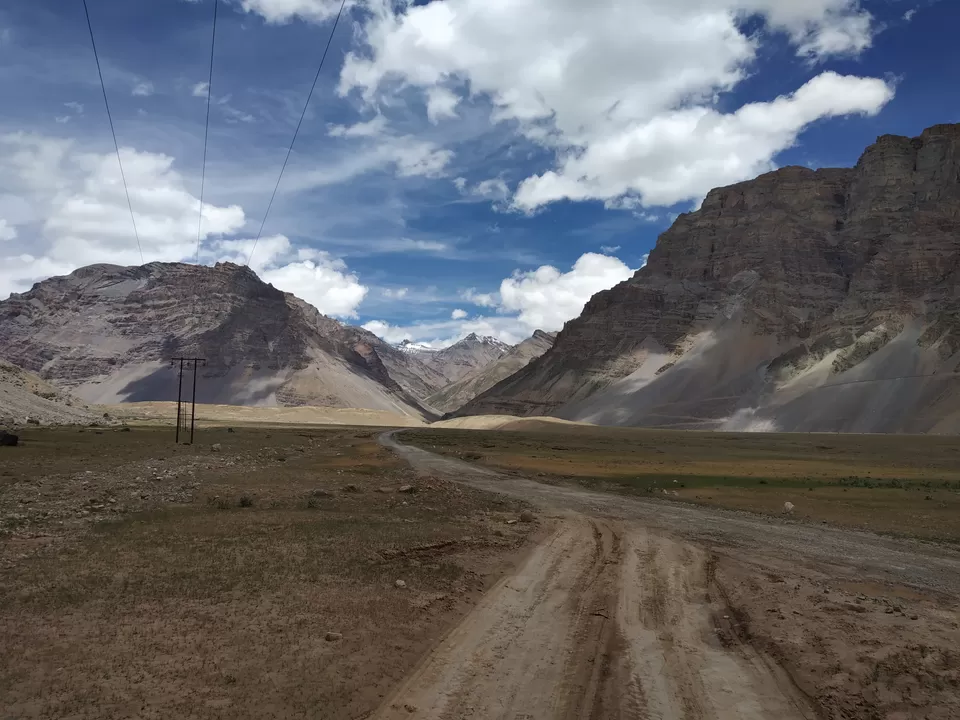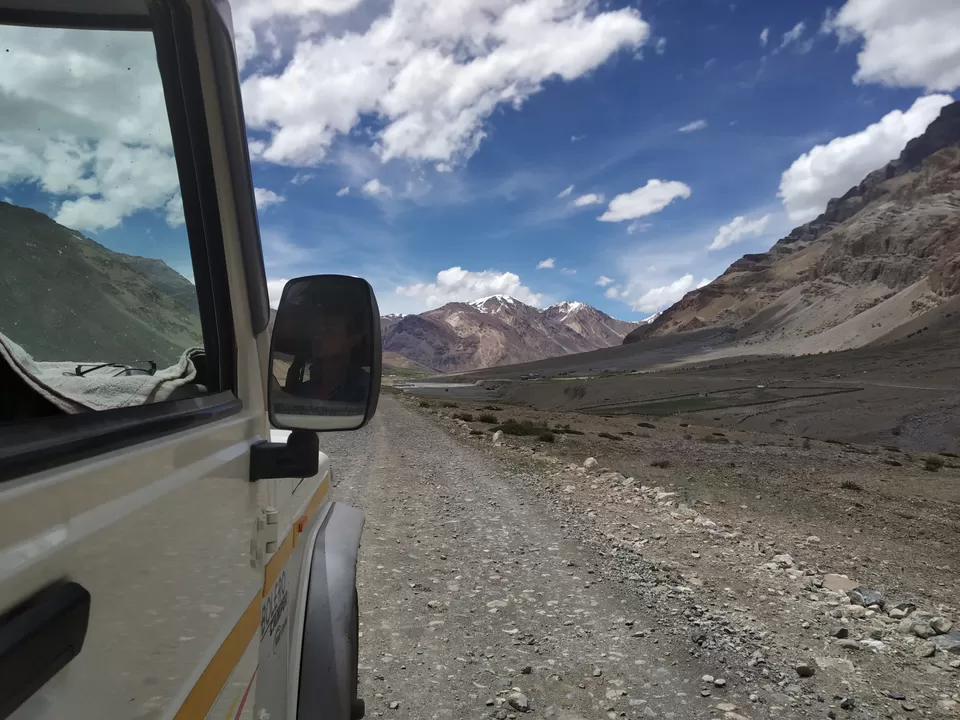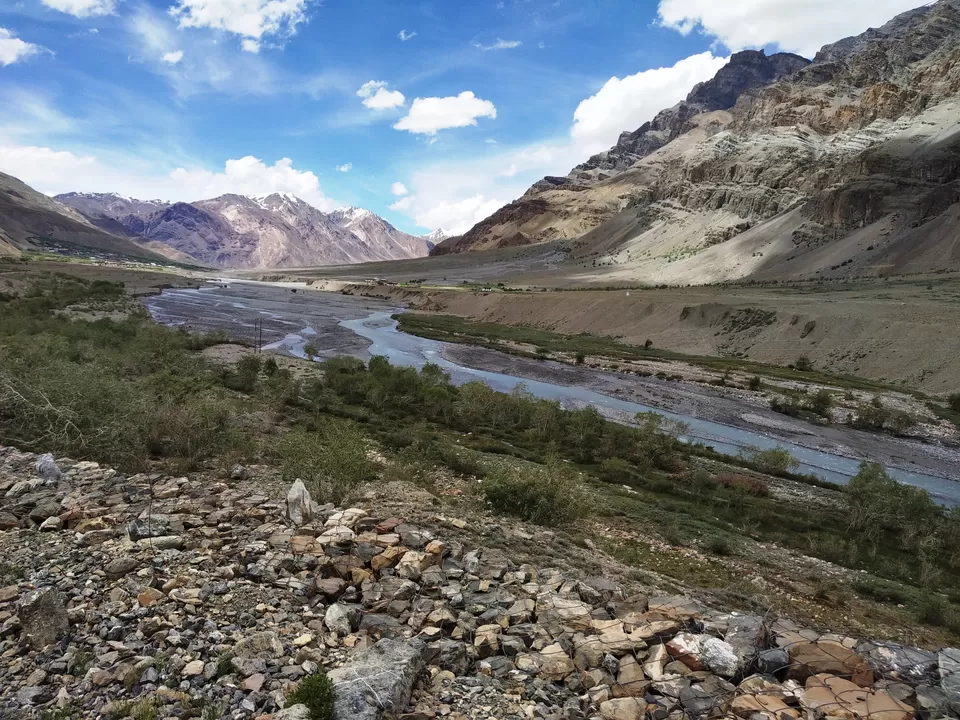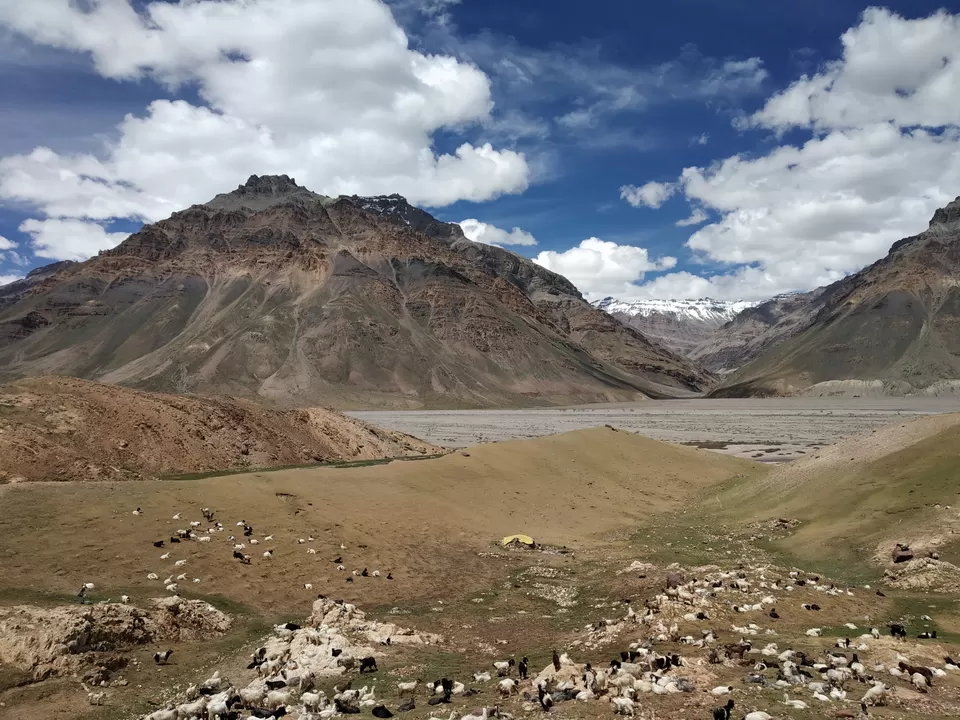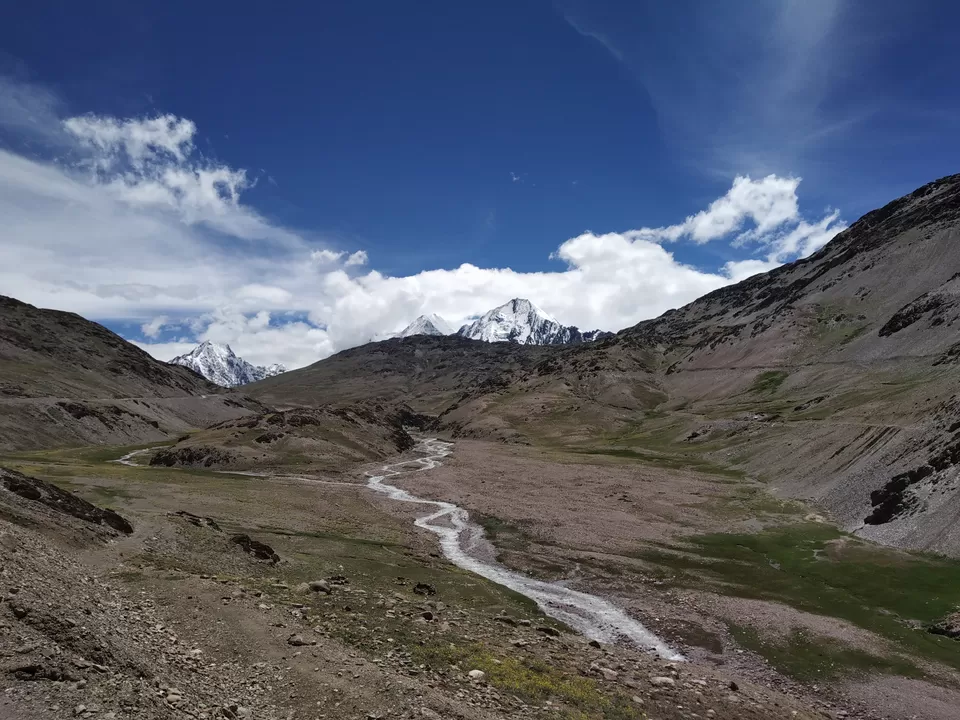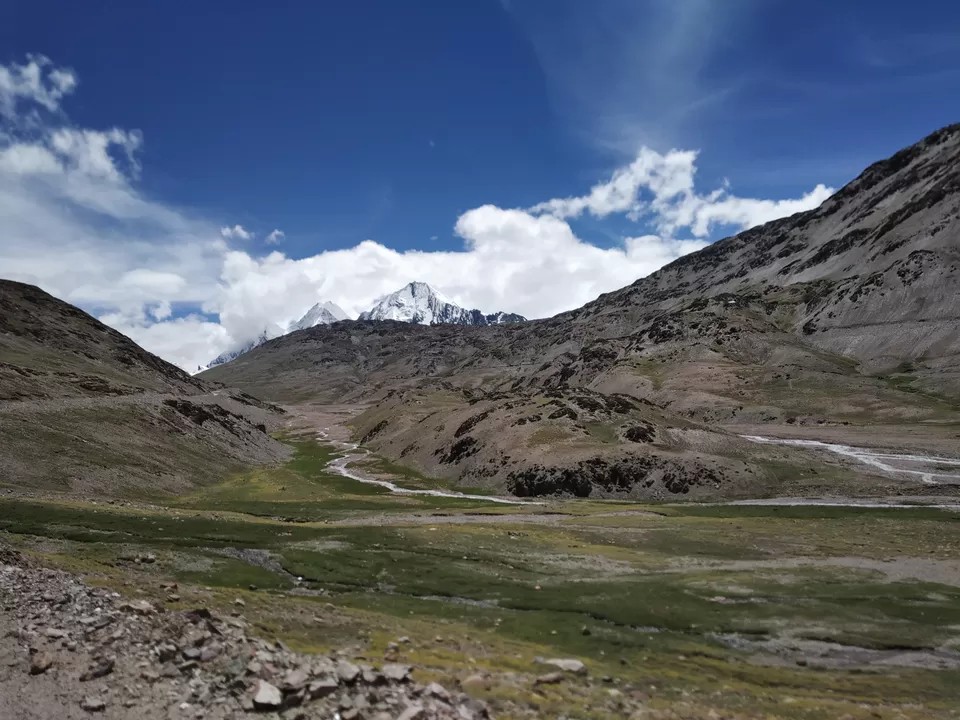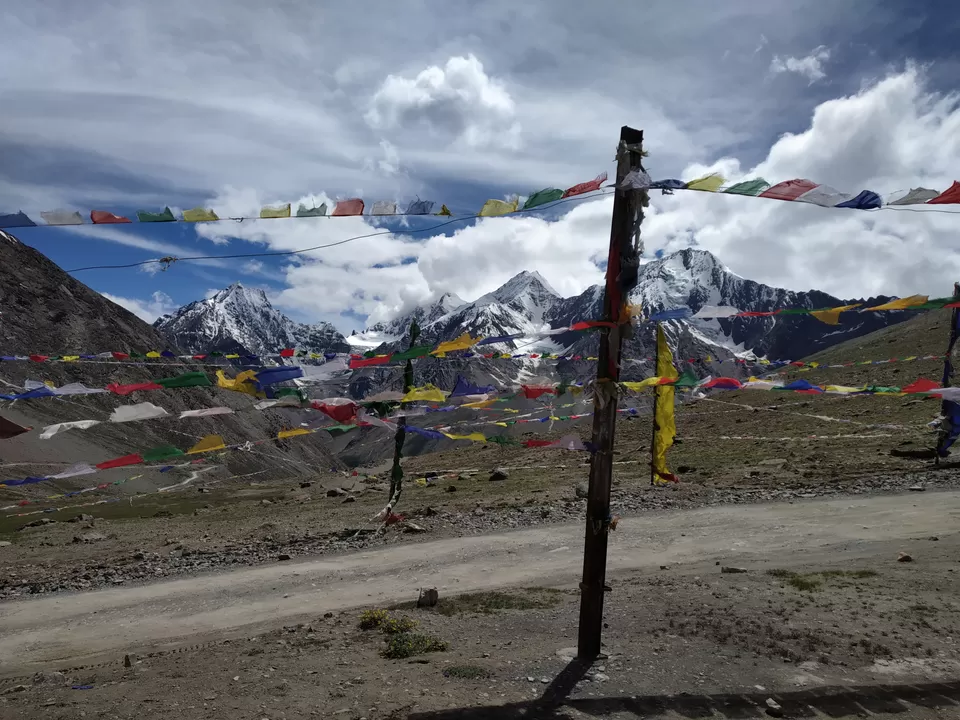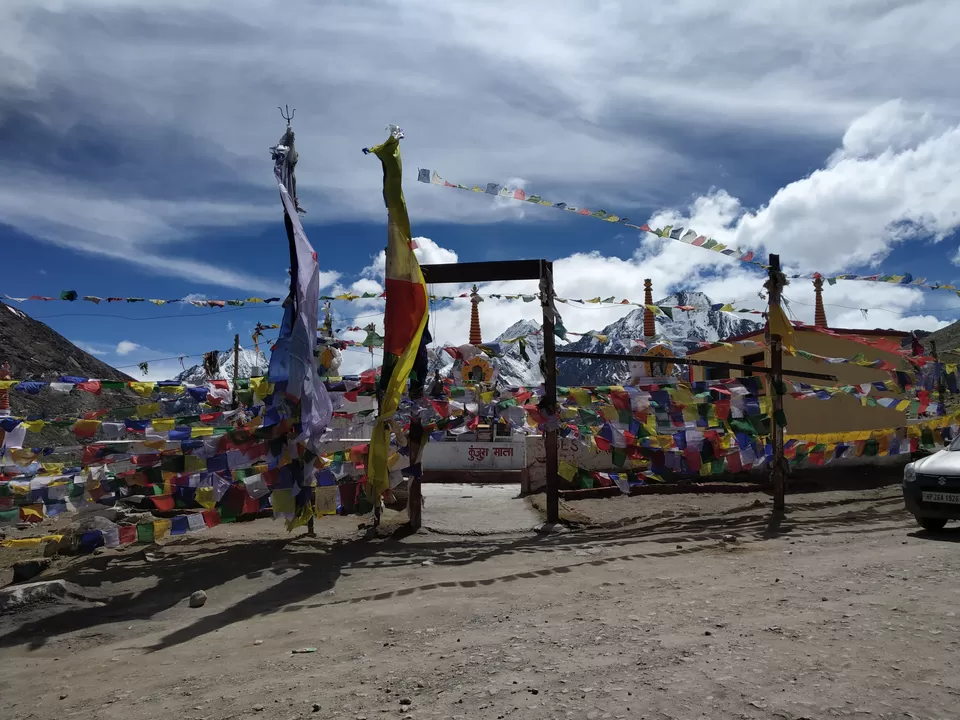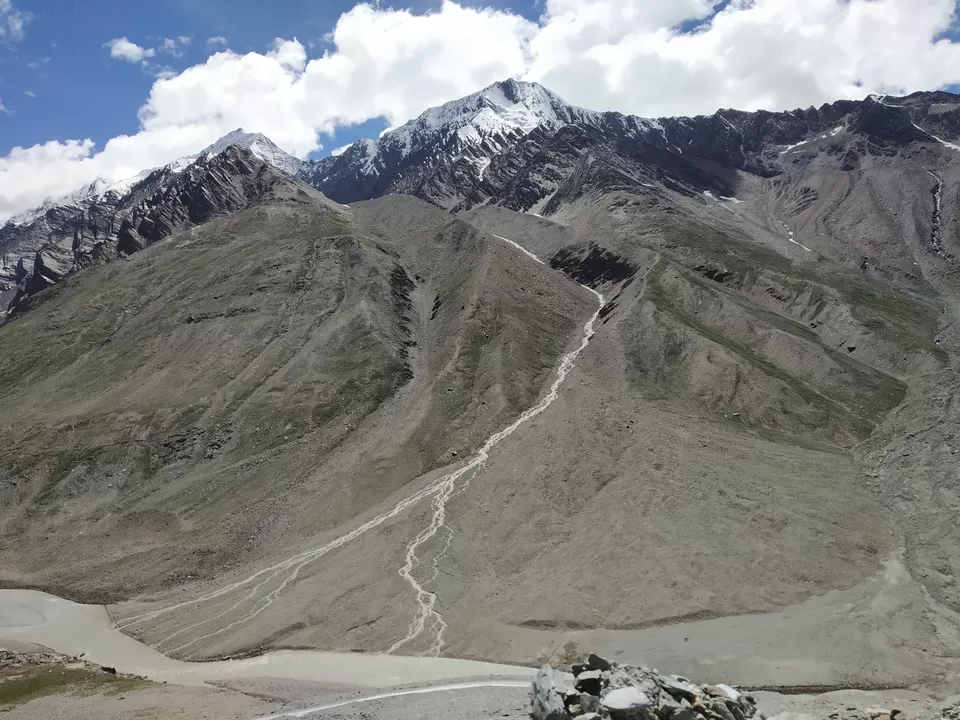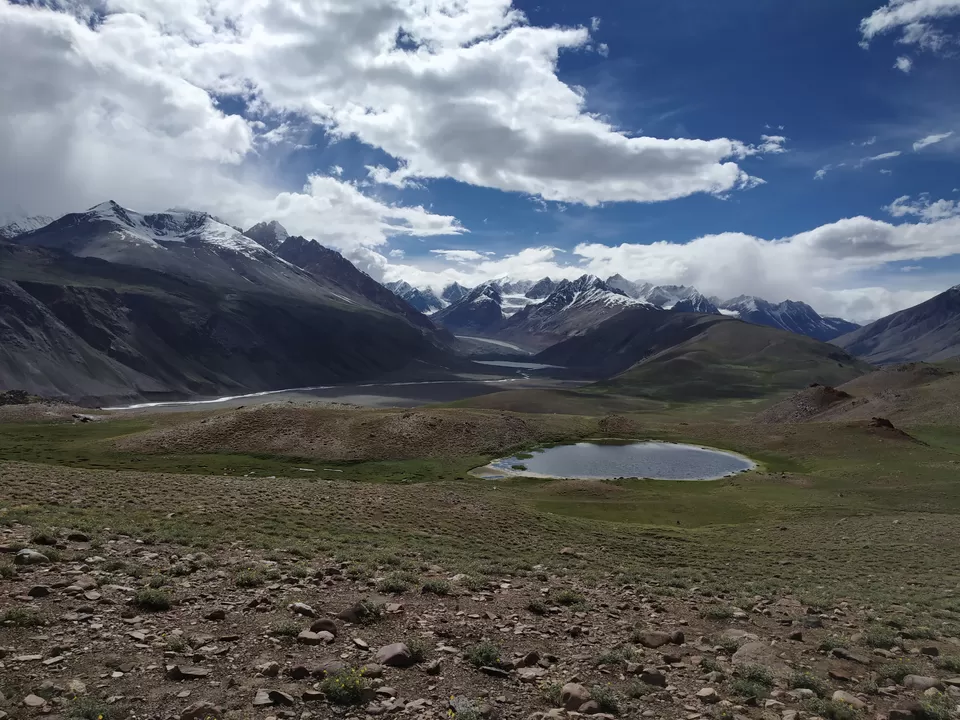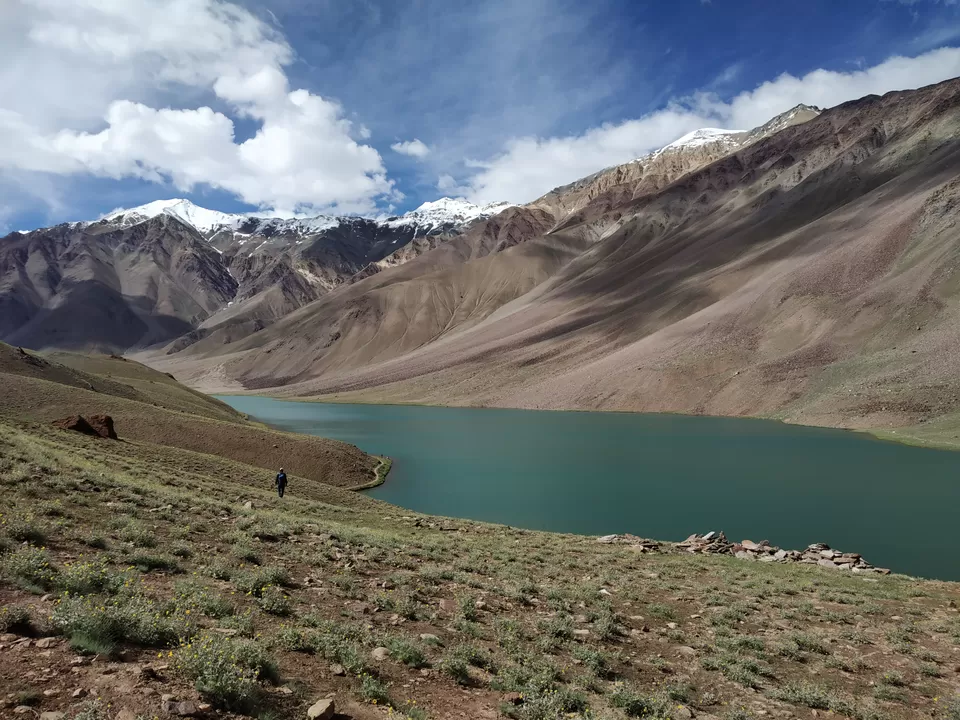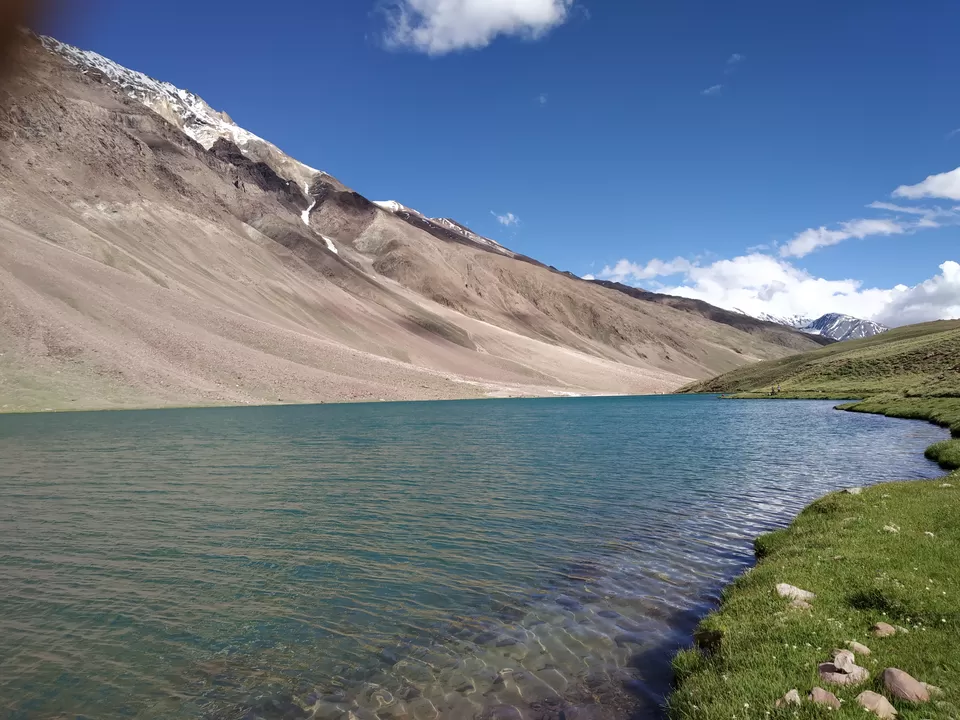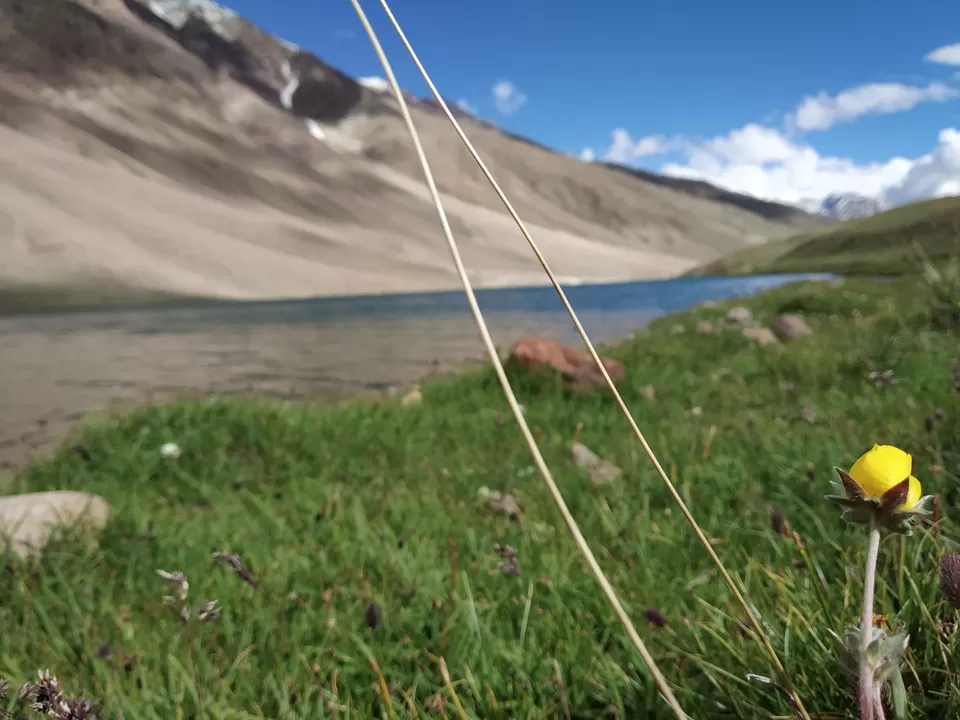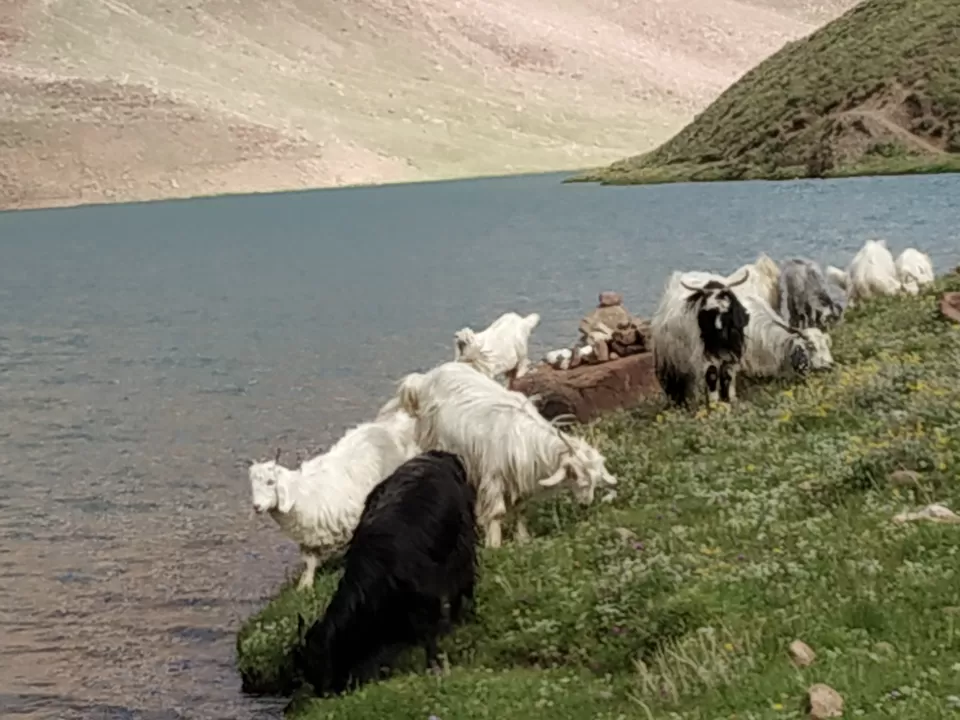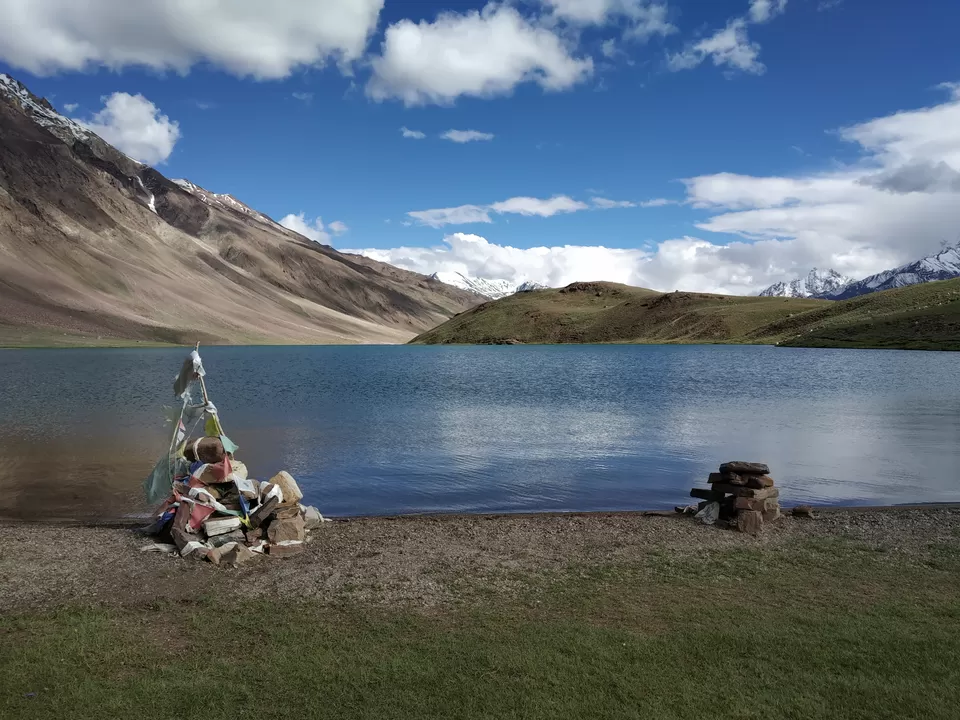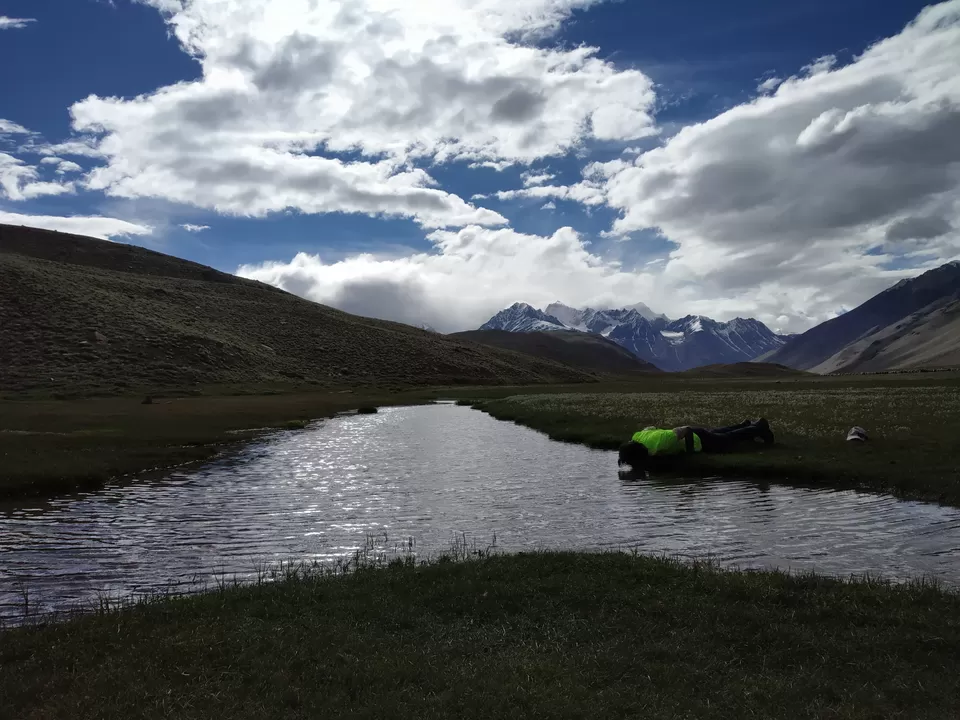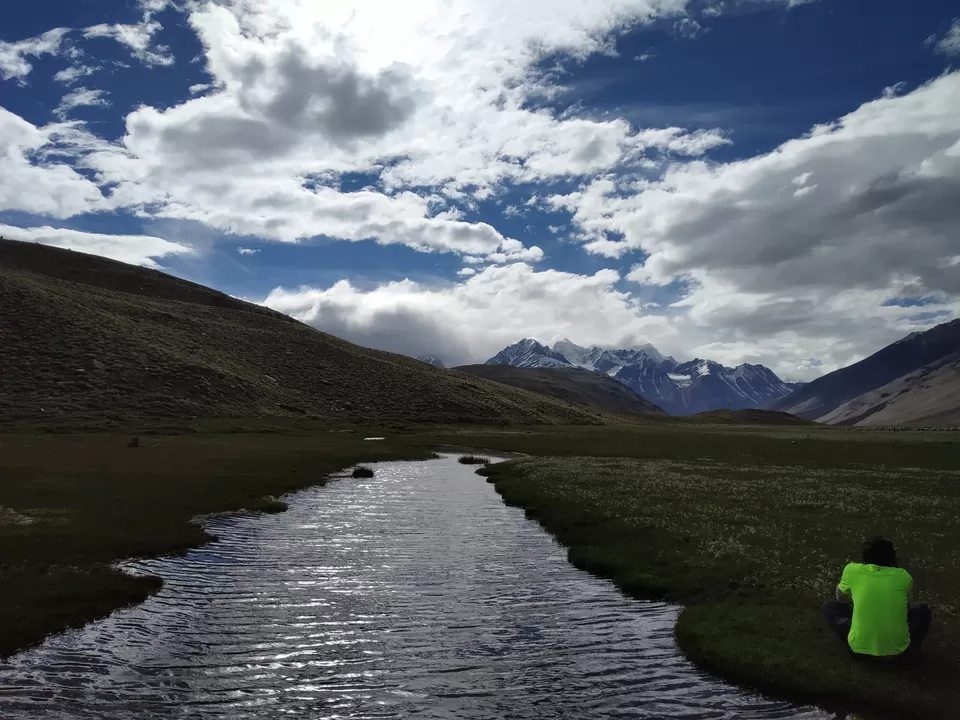 Early morning or rather 3am midnight we woke up to gets refreshed. Today we cannot afford to miss the Manali bus that departs by early morning 5am. Also the queue is long to get the ticket. In fact there were already scores of people waiting at bus stand at dawn. As soon the bus stationed, the crowd went frenzy to grab seats while making simultaneous attempt to get the ticket marked with seat nos. from the conductor. Unlucky, we got the last seat but there were many who even went without seats. The ride to Manali from Kaza is short compared to Shimla but notoriously bad due to non-existent of any tarred road. Hats off to the driver who skillfully navigated the bus among the nallahs, steep rocks and whatever worse a road can be imagined. In the journey we met many backpackers, young and old.
Summed up, the trip was satisfying because however late we got on most of the day, we didn't miss any of our planned destination. Against the race of time we completed the arduous journey and came back with mixed bag of emotions and adventures worth remembering for.