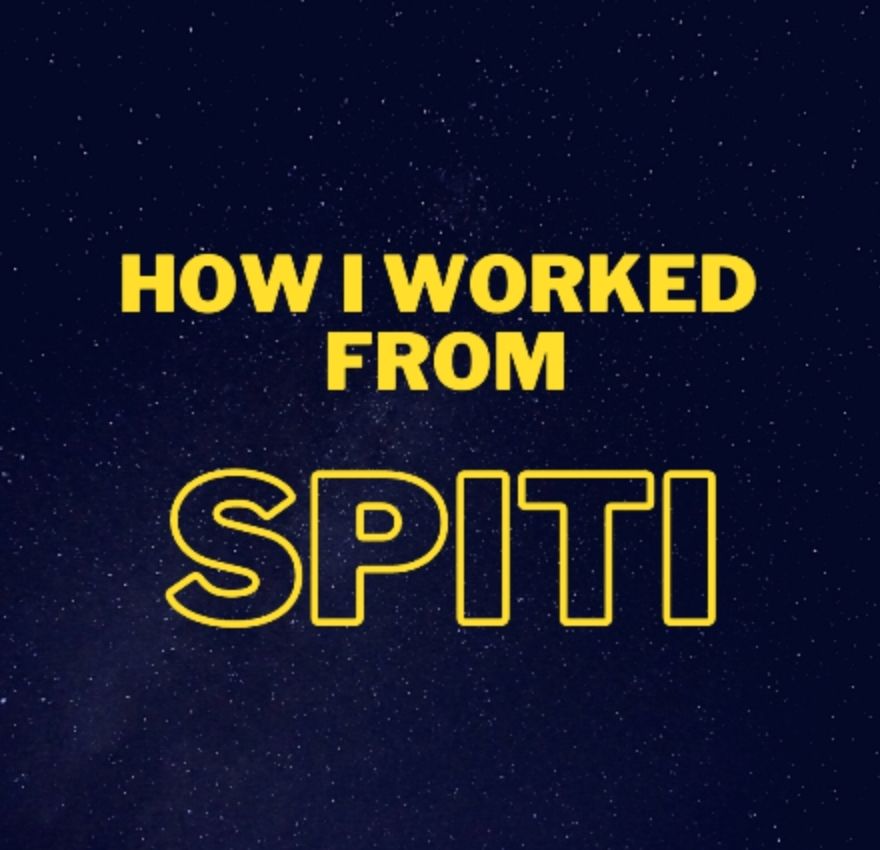 Spiti valley is the most sought after destination for all the adventure lovers. But it also happens to be one of the most unpredictable destinations when it comes to network connectivity. So, can one plan a workation trip to Spiti? My answer is Yes. Let me share how I worked from Spiti!
I started my journey from Shimla instead of taking the Manali-Kaza highway. I followed the following route: Shimla - Kufri - Theog - Jeori - Sarahan - Sangla - Chitkul - Sangla - Nako - Tabo - Dhankhar - Mudh - Kaza - Hikkim - Langza - Key - Losar - Chandrataal - Manali.
The route Shimla - Kufri - Theog - Jeori - Sarahan - Sangla has good 4G Jio and Airtel internet connectivity. You can do your bit of research and find properties with WiFi as well. I generally keep my "speedtest" on and choose the property that has the best speed. This is never pre-planned; something I do on-the-spot. And, I would strongly recommend to carry both Airtel and Jio sims because in Sangla, Jio often disappears. But, from my overall experience, Jio's coverage and speed is better than Airtel in the entire Himachal.
Chitkul doesn't have 4G internet connectivity. Only BSNL 2G works here. However, before 5-6 kms from Chiktul, you do have Jio 4G network. So, either plan for Chiktul during the weekend or choose an accommodation that is 5-6 kms or 10kms (for better range) prior to the village.
To my shock, Nako, Tabo and Dhankar had Jio 4G connectivity. I was informed that only Kaza has 4G network. Airtel doesn't work in the entire Spiti valley. Once you leave Sangla, Airtel disappears and only the Jio network is your saviour. All thanks to Ambani! The area before the Nako lake has good internet with around 10-15 mbps speed. When you leave for Tabo from Nako, the highway has internet at most of the spots. Tabo has the best internet with around 30 mbps speed. Then, the route from Tabo to Dhankar has internet for the first 15-20 kms, then it disappears. Before reaching Dhankhar, you have a small village where you can get internet. Even in Dhankhar, Jio works but you have to roam around the village/monastery to find an accommodation with best coverage.
Dhankhar to Mudh (Pin Valley): No internet at all. Even BSNL 2G doesn't work here. There is a bridge between Dhankhar and Mudh, that is the last spot where you could find internet. So, I suggest to plan for Mudh during the weekends. Its a beautiful village that has rainbow colored mountains. The valley is known by the name of Pin Valley. Roads are bumpy but every adventure starts with bumpy roads, don't you agree? If you love trekking, you can discover your own trekking spots here :) The famous Kheerganga trek ends here.
Mudh to Kaza: No internet in the highway. You get network after a very long time (2 hours I guess; it starts 7-8 kms before Kaza). Kaza is like the capital of Spiti. It was the first town to get 4G network connectivity. Speed is around 15-20 mbps here. But from my personal experience, I would recommend Tabo over Kaza as Tabo had better speed. Maybe because Tabo was not as crowded as Kaza. You can stay in Kaza during the weekdays and plan for Key, Hikkim, and Langza as per your working hours. Please note that Key, Hikkim, and Langza do not have internet connectivity. You can get network 3-4 kms before reaching Key but the actual village where the monastery is located doesn't have internet.
The next spot after Kaza where you can find internet ((Jio 4G) is Losar. Nowhere before, nowhere after. The next tourist spot, Chandratal, doesn't have network, not even BSNL 2G. You get Jio network after 3-4 hours at Sissu (a village before Manali). No Airtel here. And then, you have full network till Manali, it just disappears in Atal tunnel, which is a 30 mins affair.
How I worked from Spiti?
Now comes the main part. How I worked from Spiti?
So, basically, I would check my schedule one day prior to traveling and plan my day accordingly. If I have a meeting with a gap of 1 hour, I will travel for 1 hour and stop at the destination that has internet. Before going forward, I would talk to the locals and ask for the next network zone. If there is none, I would take a stop, have my meeting and then leave. For regular tasks, I would generally work early in the morning or late at night. Once I am done with my tasks, I leave for the next destination. Choose what to go for depending on the kind of person you are :) Please keep in mind that you have to be extremely flexible with your schedule to work from Spiti. If you can't, I would recommend Shimla/Manali over Spiti.
I need to connect to VPN, share my screen during meetings and all these worked pretty fine while working from Spiti.
I have tried my best to list out all the possible places with internet. I hope it's helpful in planning your workation trip to Spiti valley. You can reach out to me for homestay recommendations/suggestions or for any other queries.
Written by @thecarefreegypsy