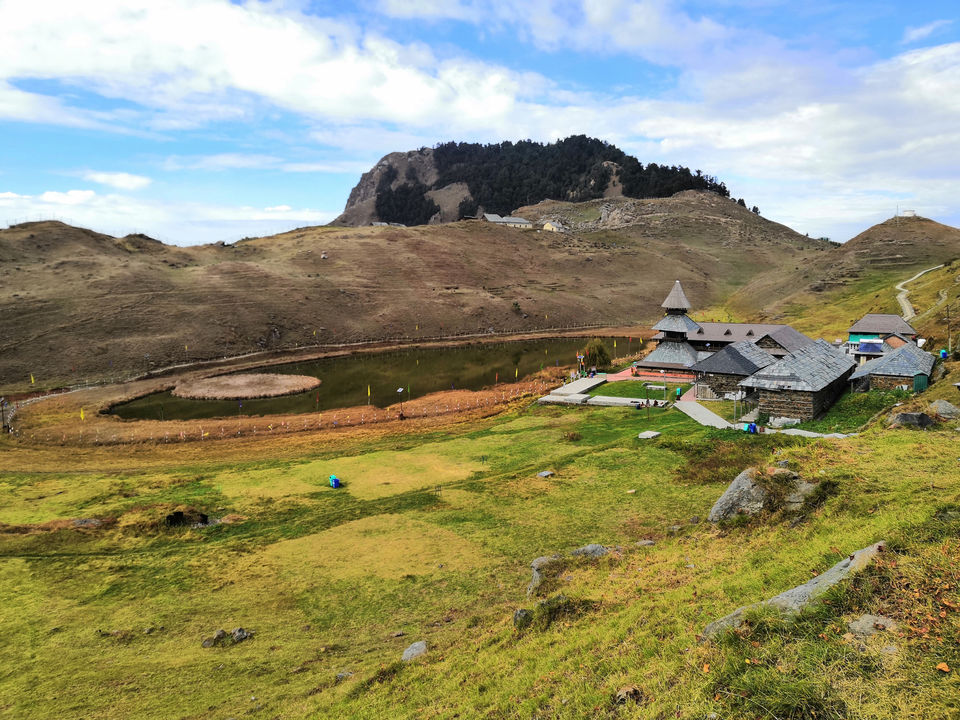 Haven't been anywhere in last 5 months so finally decided for 2 days short Trip. Since, I work in a place called Baddi (H.P), was only a bit easy to travel than people coming from Delhi and other places. Made plans but got cancelled as it happens (I hope it has happened with you as well). So, finally planned and began our journey from Chandigarh on a Sunday eve.
From Chandigarh we hired a self drive car (pre-booked) and reached Mandi around 11 pm as it was dark and traffic helped us control our speed. We were exhausted and there was nothing to explore in night so we slept.
We were exuberant and started driving at 6 am to Parashar Lake. Although it was a 3 hr drive but we took more than 4 hrs as we drove fitfully. Also it was one lane uneven road so had to drive carefully. As we reached higher, air got better and colder. Witnessed some beautiful landscapes. We took a halt for 15 min to click some pictures. The view was so mesmerising and quiet that we could hear birds yelling at us(Haha). Finally we culminated our trip by reaching the lake. We parked our car and climbed little bit as the lake was on the other side and in the centre surrounded by mountains. Voila! There we were on the top and we could clearly see the lake, blue sky and meadows around it. We then descended to reach the lake. There is one temple next to lake which houses the Sage Parashar (that's why lake's name is Parashar). We sat next to lake for 30 min and it was so peaceful and satisfying that we forgot the hustle bustle of our daily.
Next, we had paratha and pickle in breakfast. You can't find any shops but locals have made there their homes and they can provide you with breakfast if asked.
After staying for 1 hr we started heading to Manikaran. After coming down from Parashar, roads got worse, narrower and traffic was at its peak. Somehow we managed to reach Manikaran in the evening. Driving in middle of the curvy mountain road covered with trees on both the sides, river flowing on one side, water gushing and sun-rays peeping through woods was something never experienced before. We took room then and there only as it was not a peak time for tourists. After resting for half an hour, we went to take bath in hot water spring pool which is there in every temple. Manikaran is basically famous for Gurudwara. It also has various temples of Lord Ram, Ambey Mata, Shiv ji. Coming to hot water bath, the water so hot that it could literally burn you. It took me 10 min to figure out how I am gonna bath in super hot natural water. Anyhow I managed to pour the first mug of it and bathed for 30 min. This was the first time in my life that I bathed in such hot water. If you plan to go to Kasol or Kheerganga, I'd recommend you to go to Manikaran as well. Roamed around, had Maggie in the evening which costed ₹60. Reason is simple tourist place. Same goes for booze. Had dinner and slept. That was all for the day.
New day, new destination and last day of our itinerary. Our plan was to wake up early and drive to Kheerganga. But it failed because it rained. Again we went to all the temples, prayed and after having breakfast, we started our journey back to home. It was a 8-9 hrs drive and the first one hour of our drive was the best as sun was rising slowly, fresh air filled our lungs and scenic views made our morning more beautiful. What else do you want on trip when you have some crazy friends, satisfying landscapes and a thrill to overcome the challenges. Every trip is a memorable trip. Some have good memories and some bad. But one thing that's common is EXPERIENCE. You experience many things for the first as here I did. I drove for the first time in hills that too in day and night both. A bit nervous but had confidence in me and belief in god. We also had a bit of quarrel with local lorry driver because he was driving so recklessly that we could have met with an accident. My father always says a journey is successful only when you return safely to home or from where you started.
Cost estimation
* ₹ 2500 for Self drive car for 4 days( booked Hyundai i10 through MMT)
* ₹ 4000 petrol covered almost 700 km Chandigarh to Chandigarh
* ₹ 1500 for booze
* ₹ 1400 for room (800 in Mandi and 600 in Manikran)
* ₹ 1800 for food and snacks
* Total=₹ 11200 for 4 people
* ₹ 2800 per head and it was viable.