I went for a backpacking trip in May of last year in Spiti and Pin valleys in Himachal. This was a trip with no fixed itinerary. I just had a loose travel plan - get to Reckong Peo from Chandigarh, spend few days in Kalpa, and then head towards Spiti, with stops in Nako, Tabo, Dhankar, Kaza and Mudh. I also wanted to do some day-hikes in the area, keeping in with my belief that mountains are best experienced on foot. I went on two such hikes, near Nako and Mudh respectively. This report is a chronicle of those hikes.
1. Nako to Tashigang Hike
Nako, a midsize village in Kinnaur valley, can be called gateway to Spiti, if one is coming from Shimla. After spending couple of days in beautiful Kalpa, a village near Reckong Peo, I took 11am bus from Peo to Nako. One can also take early morning bus from Peo to Kaza and get down at Nako.
On the bus, I met two other solo desi backpackers, and a couple from Europe, all of us heading to Nako. We decided to stay at Lake view hotel, right on the banks of Nako lake. (There are several hotels, campgrounds and home-stays in Nako. In peak season, it is advisable to book in advance. Our hotel manager told that in July/August, sometimes people had to sleep in their cars due to unavailability of rooms.) One of the desi guys, A., was also interested in doing day hikes around the area, and talking to locals, we found about the hike to Tashigang, about 8-10 kms away.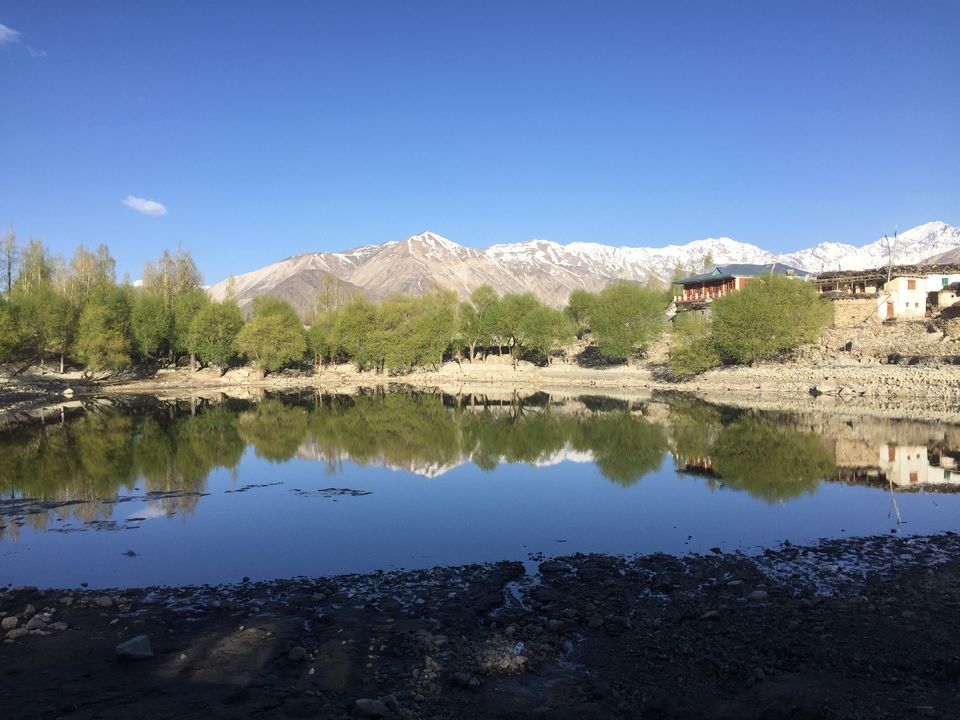 Tashigang is a small village close to Tibetan border. Actually if one heads couple of kms farther from Tashigang to Somang (Tso Mang in Tibetan), one can see the Tibetan plateau, or so we were told. Somang is an important Buddhist pilgrimage site. It is believed that Guru Padmasambhava meditated in the caves around Somang Monastery and one can see his footprints there. But trek to Somang requires at least 2 days, and we wanted to get back to Nako by evening, so decided to go up to Tashigang only.
So next day, early morning we started climbing the trail out of Nako, from an altitude of ~3600 m. (I don't have exact numbers, but the max altitude on this hike shouldn't be more than 3900 m.) For half an hour or so, this was a steep climb, and we ran into herd of sheep causing traffic jam on trail.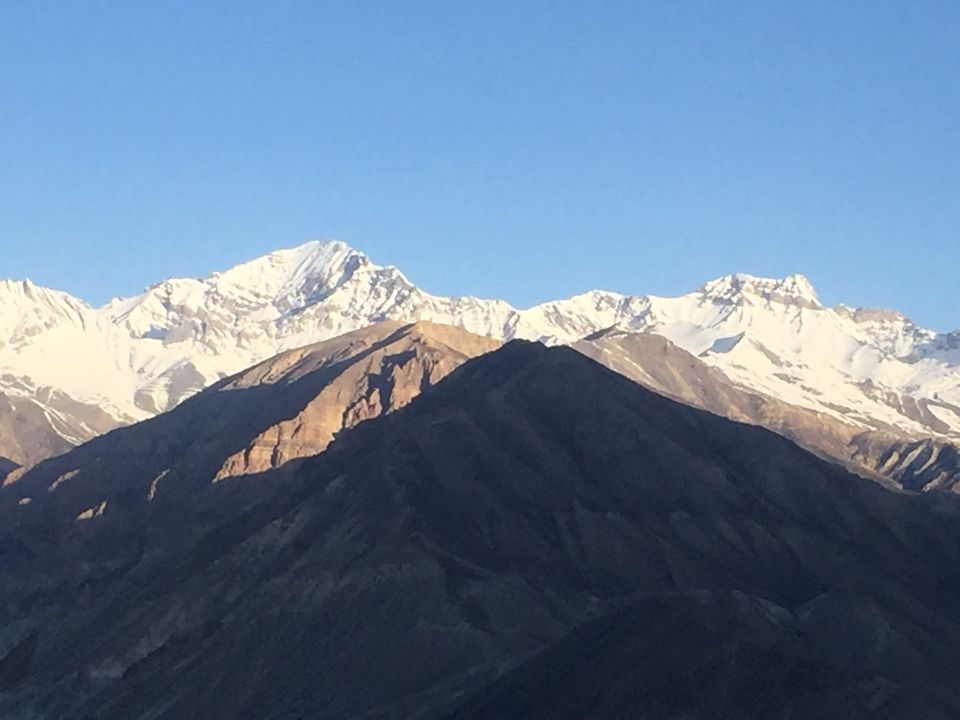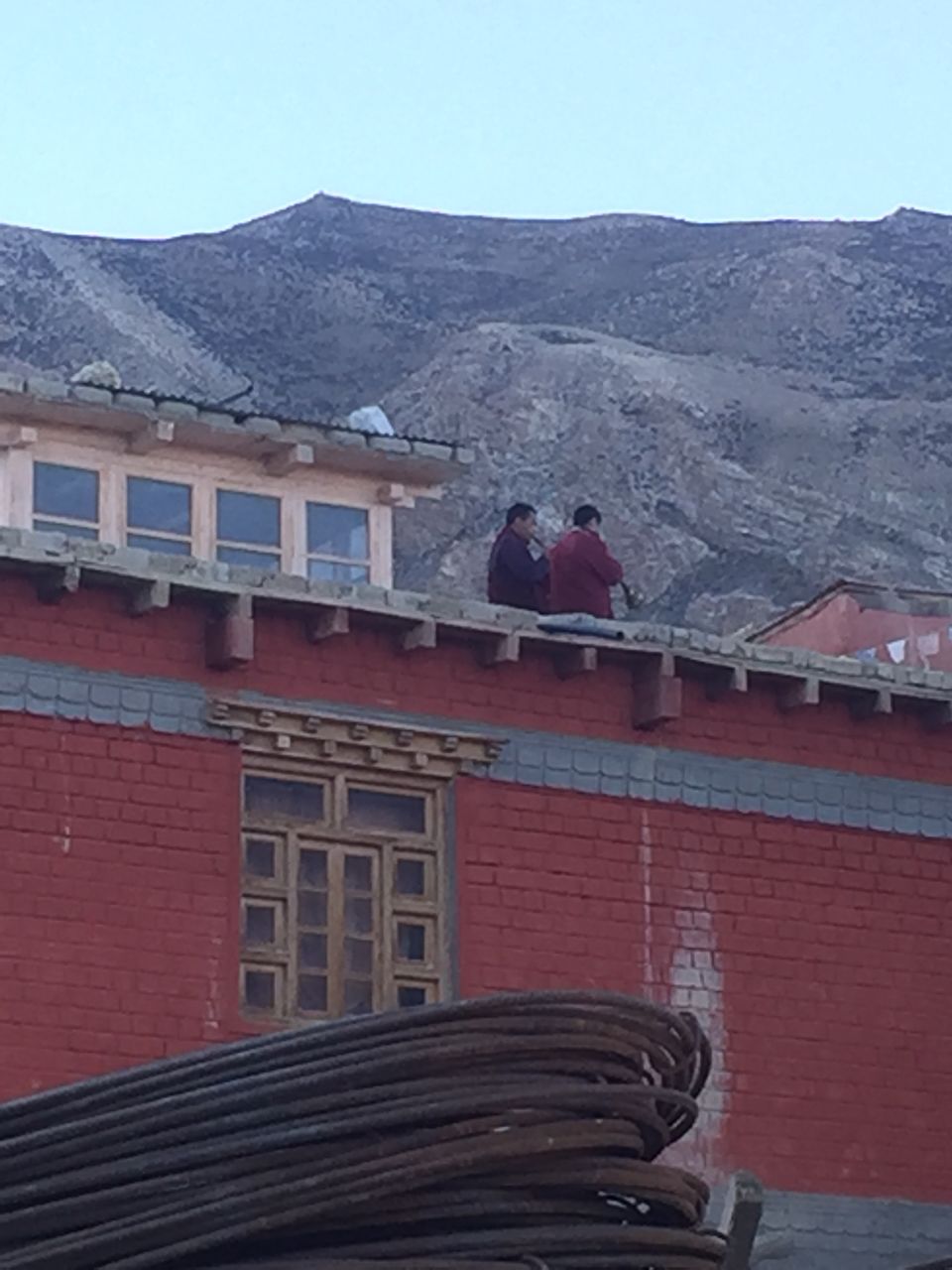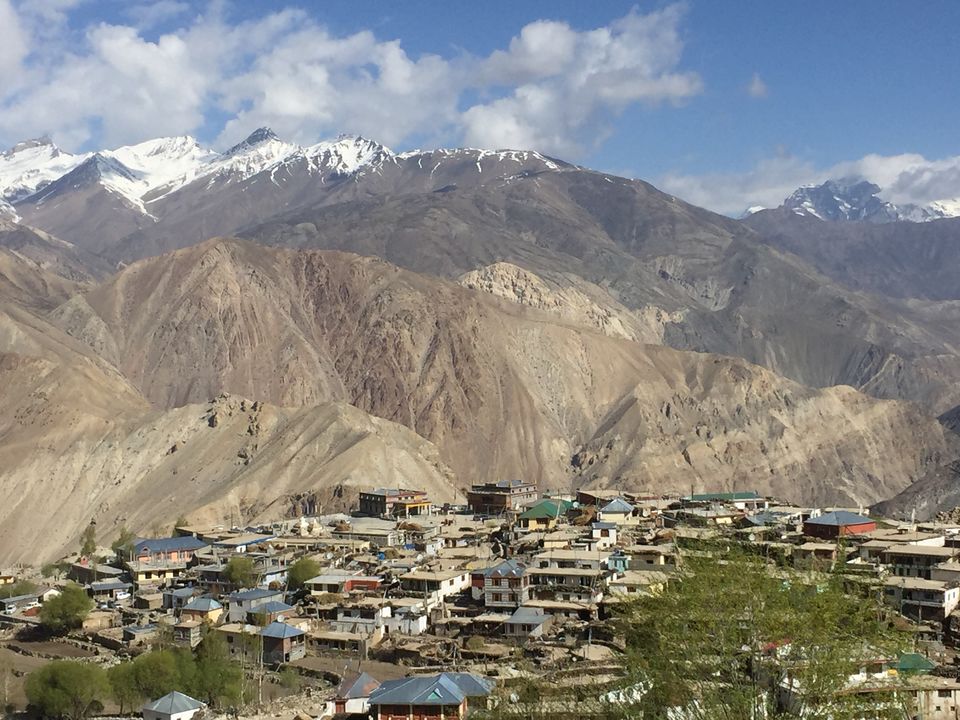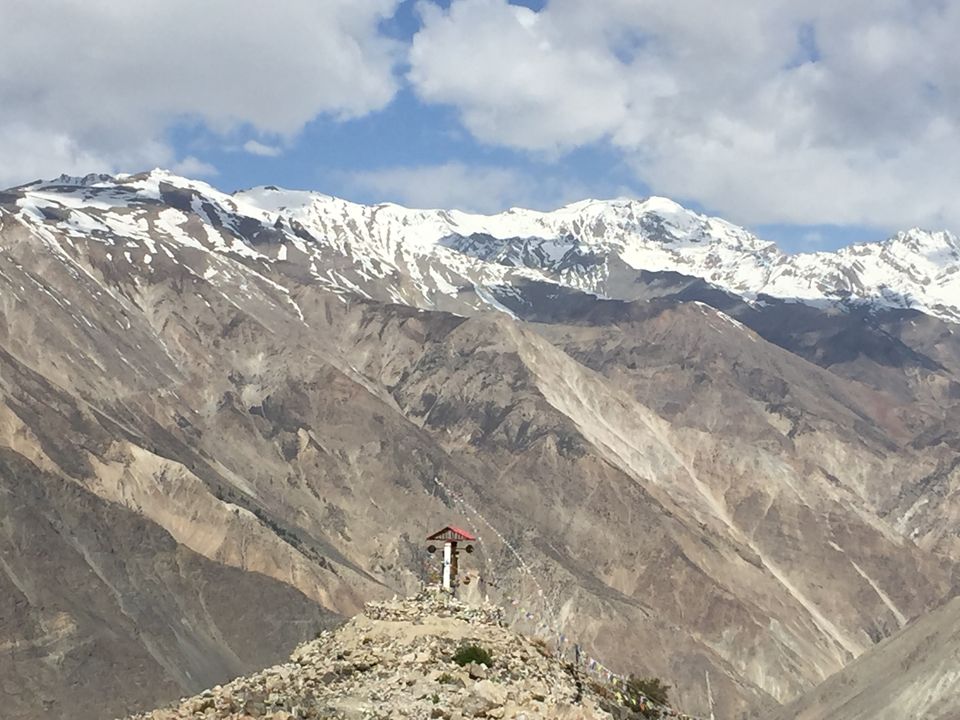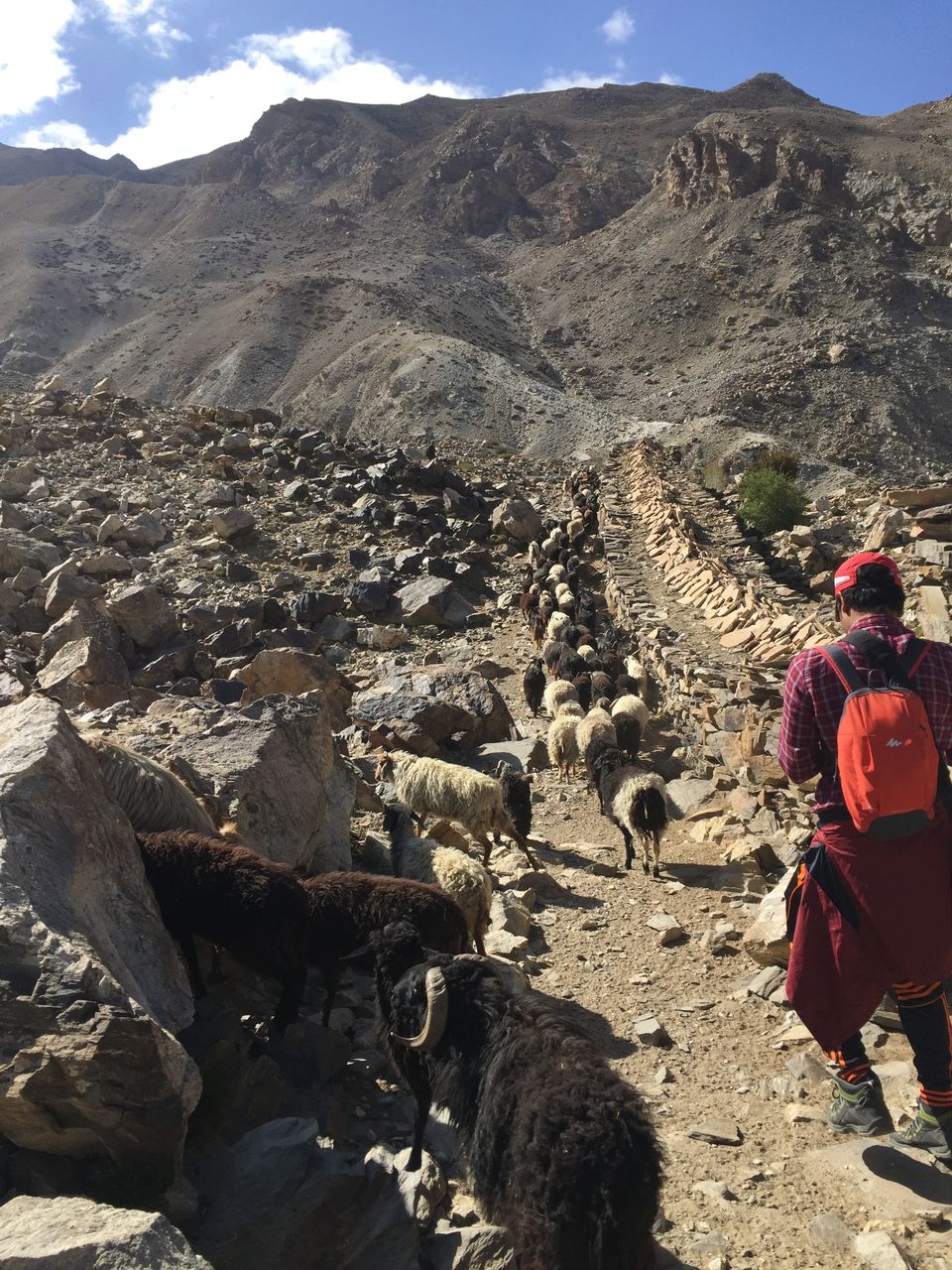 After the initial steep climb, the hike is mostly an easy stroll in the meadows. Though there are patches, where trail consists of walking on rocks for 10-15 minutes. After leaving the sheep-herd behind, we had the whole trail to ourselves. Wide open spaces, player flags fluttering in the wind, snow capped peaks all around, sound of river from the basin - somehow adding to the silence - and stillness all around. This is why we come to mountains.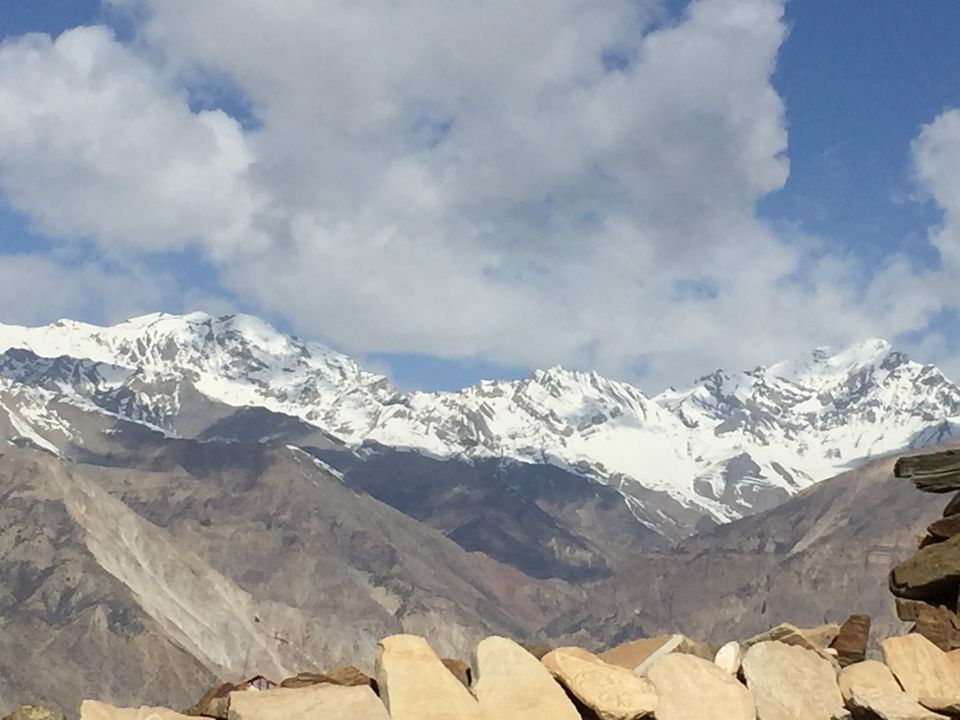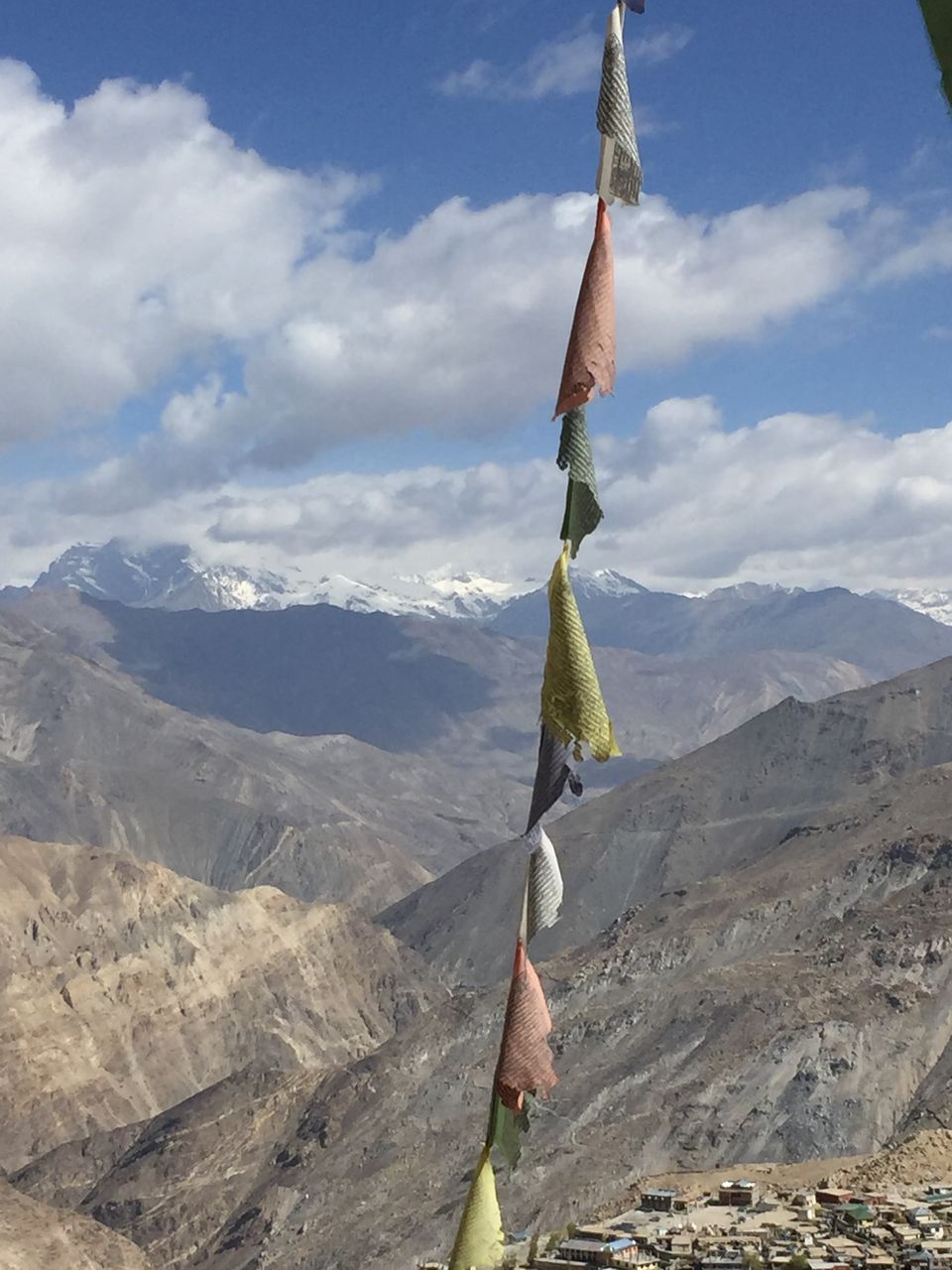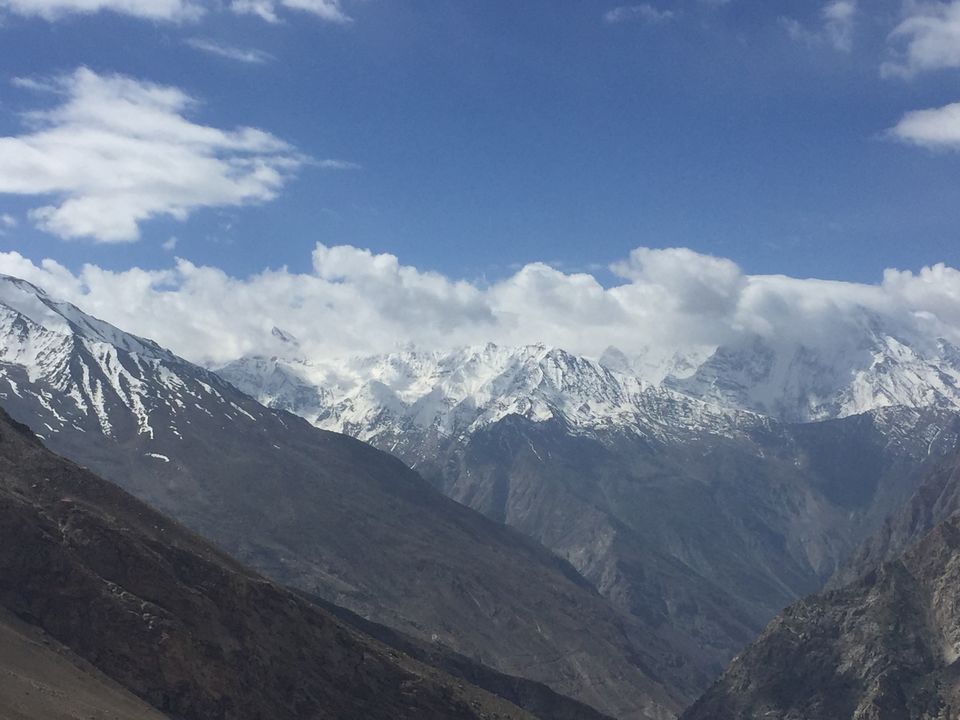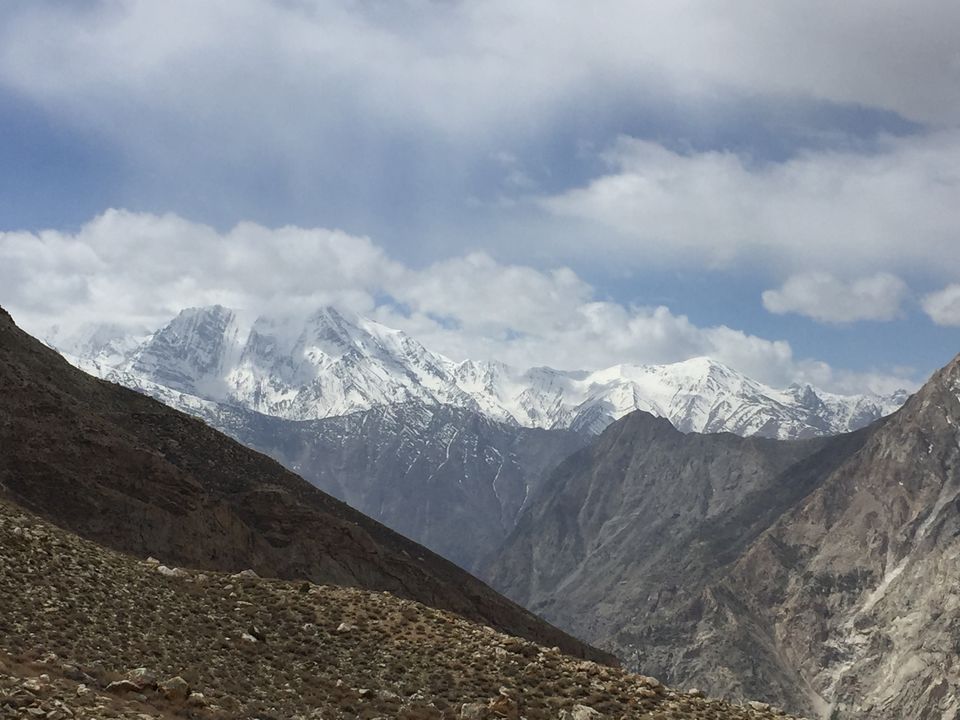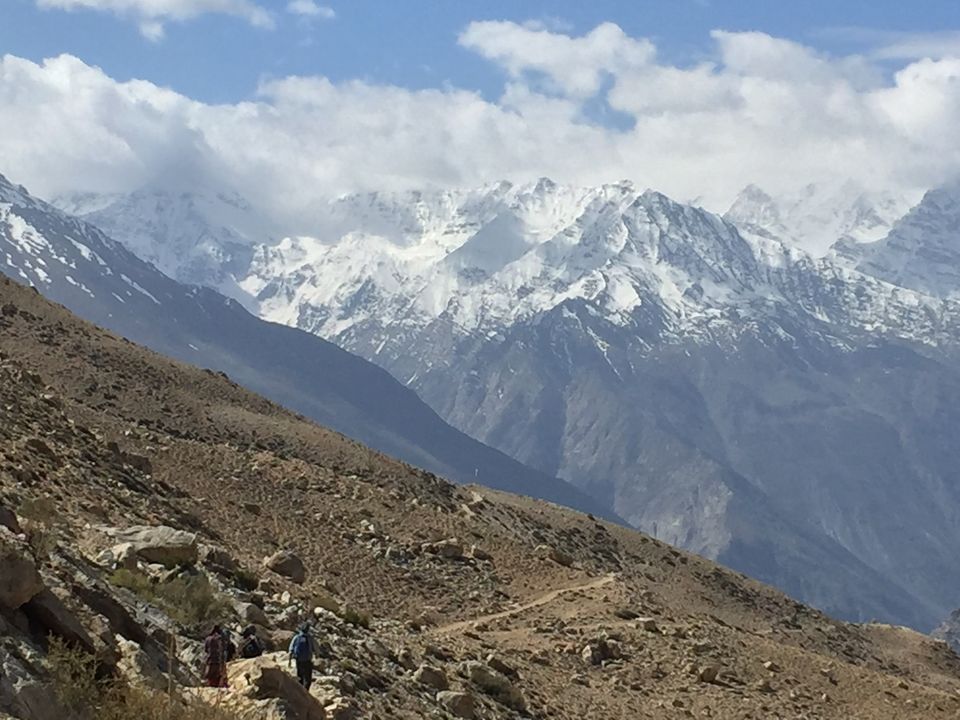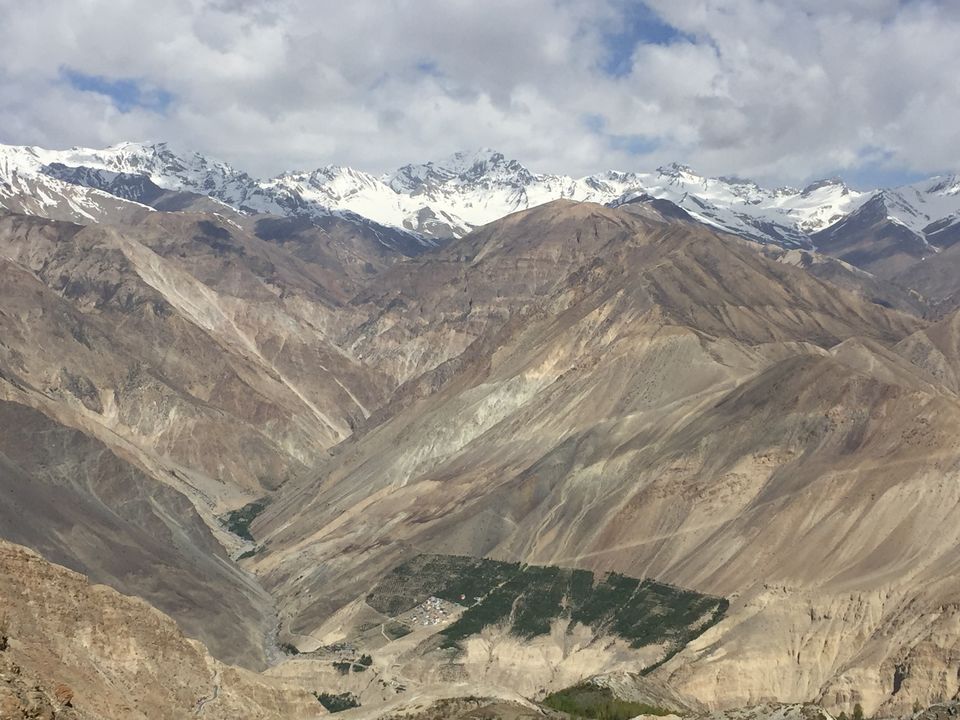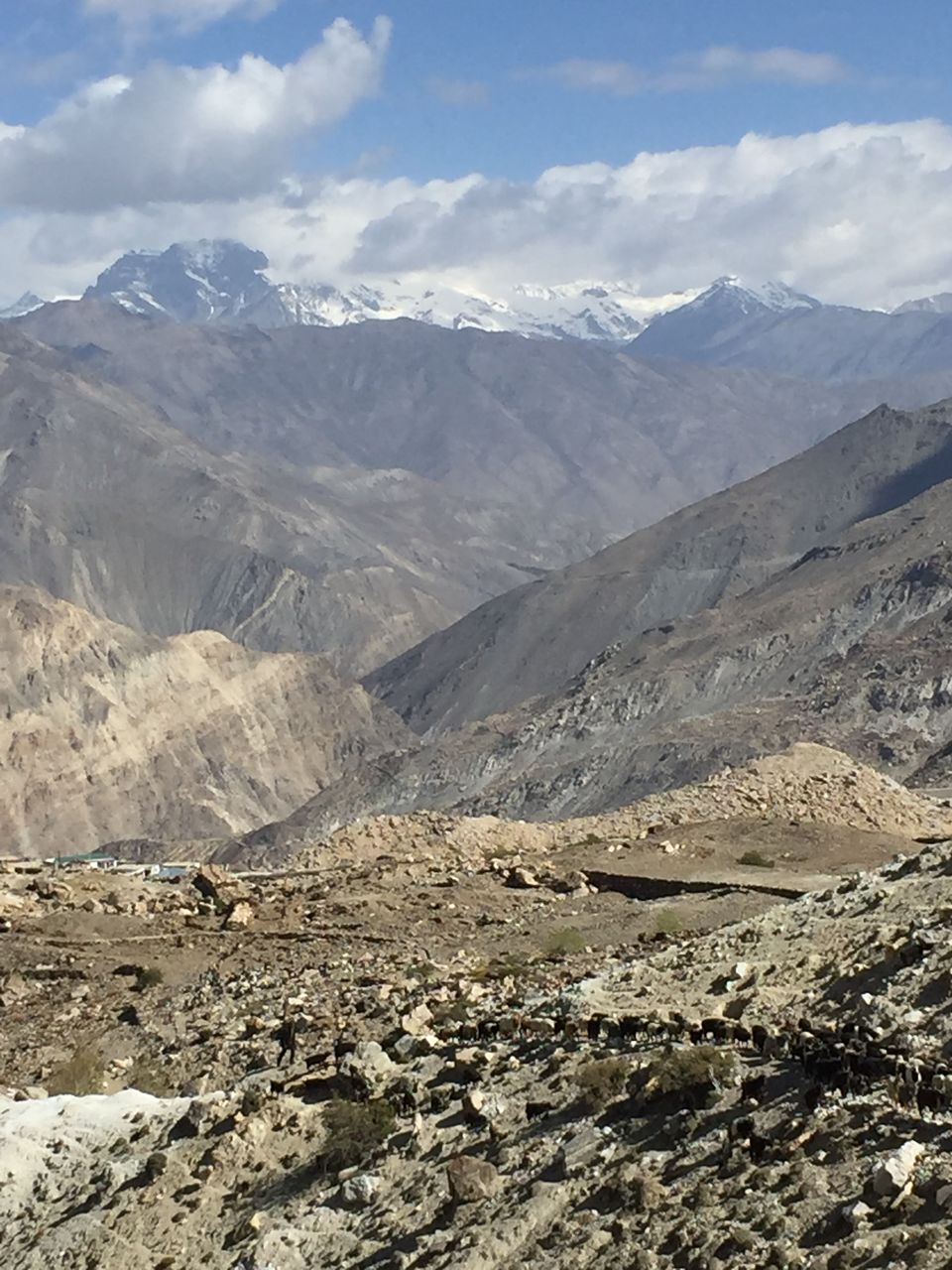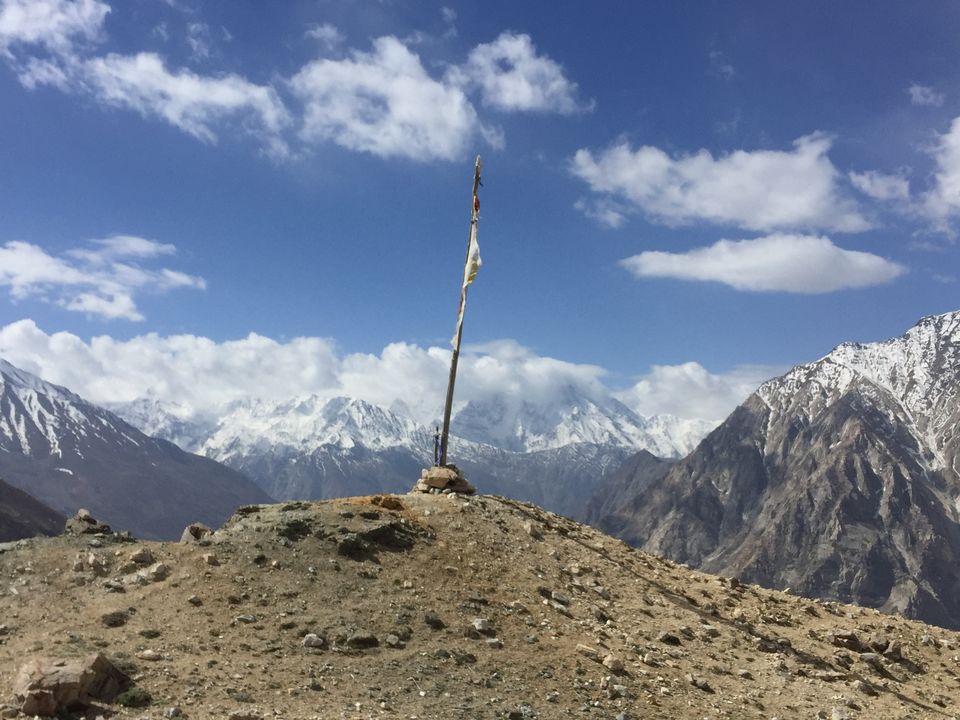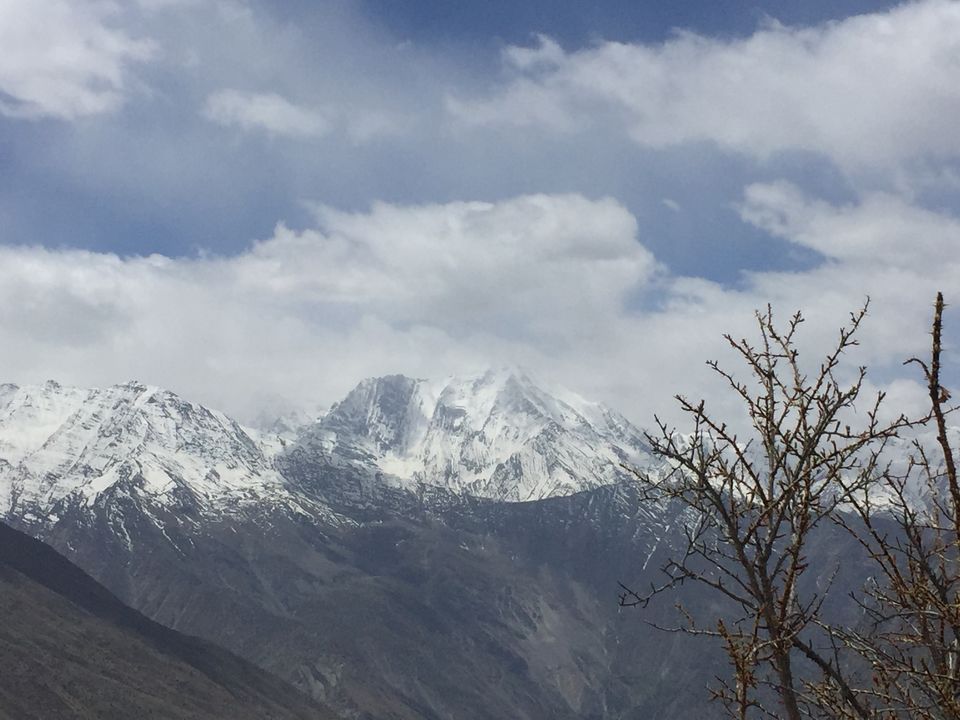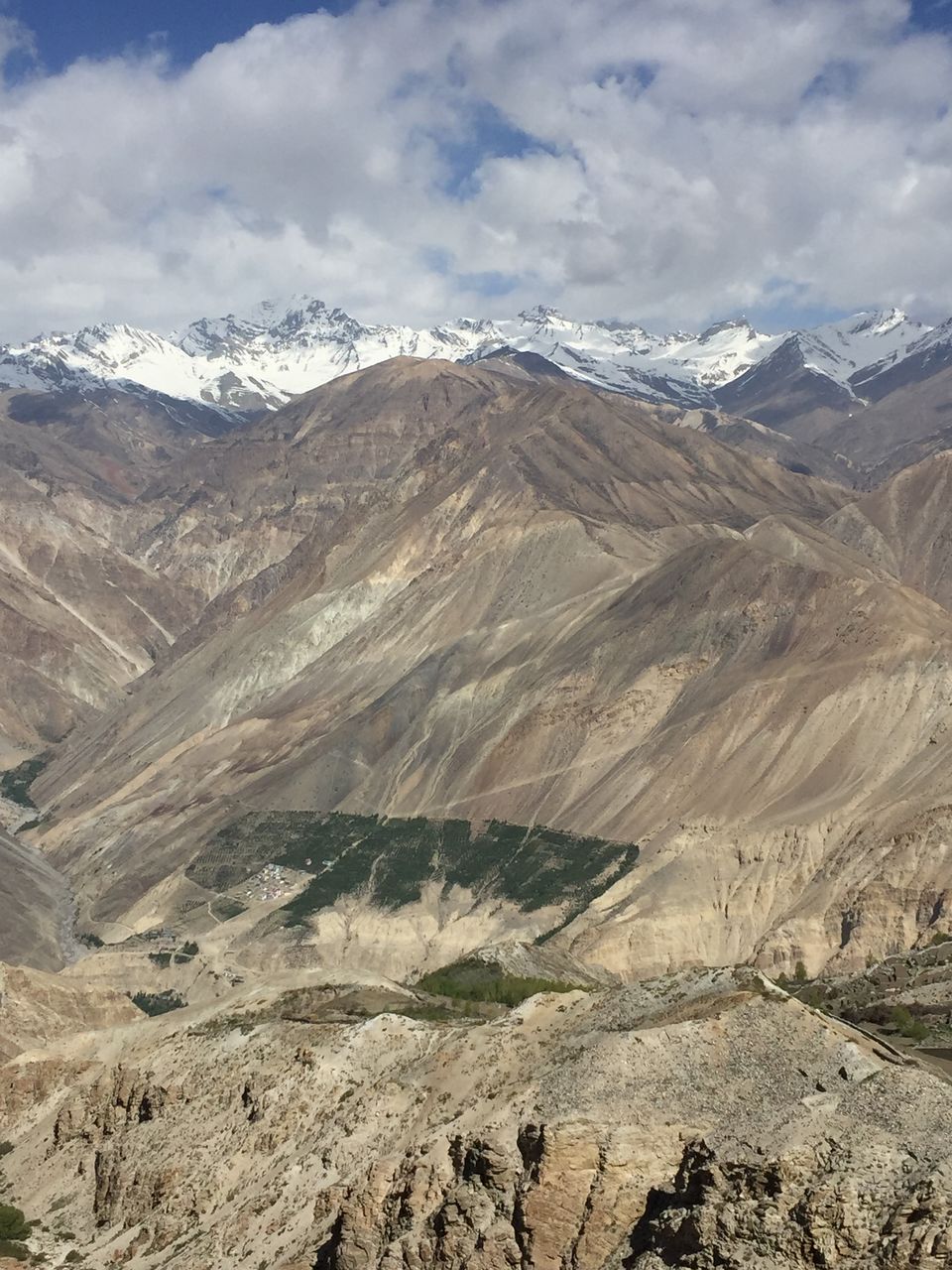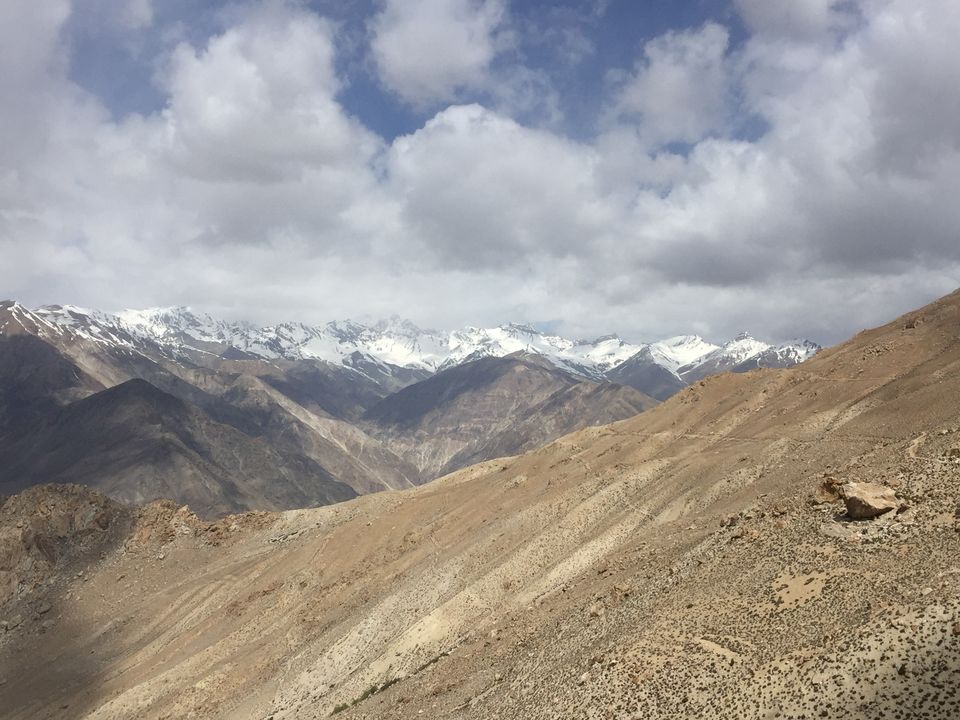 After a while, we ran into a group of four girls and their uncle from Nako, who were heading to Somang for pilgrimage. Besides our two groups, there was no one else on the trail. The experience of being there, among those wide open vistas, is a liberating feeling for us city-dwellers, used to living in claustrophobic spaces. Words and pictures can't really capture the essence of that experience.
Finally, after ~5 hours of walking we saw Tashigang from the trail. The village is perched high on a steep hill, with monastery at the top. Our friend from Nako showed us a short-cut to go straight to monastery. Otherwise the trail leads to village proper, from where one has to climb uphill to get to monastery. As we got to the monastery we realized that we were exhausted and trekking back today itself was out of question. One option was to spend the night in Tashigang in a home-stay. But it turned out that we'd reached the village on last day of a week-long Buddhist festival, and monks who had arrived in from nearby towns were returning today and we could hitch a ride with them till Pooh and from there either get a bus or taxi back to Nako. That sounded like an adventure so we said yes. We were offered a delicious lunch in sort of a common room/kitchen near monastery. We learned that during festival, every family in the village sends one member to the common kitchen where food is cooked for monks. And they absolutely refused to take any money from us for the food.
After the lunch, we hiked down for about 15-20 minutes to get to the Jeep, which was driven by the head monk (Who, a north Indian looking guy, was fond of drinking and villagers had included a bottle of whiskey along with offerings of barley, wheat etc. for the monastery. No further comments..).
Return trip did have some adventures in store for us. As jeep started its journey on muddy tracks, we ran into a huge rock which had tumbled on the road. We all pitched in - around 10 monks besides us - but couldn't budge the rock even by a centimeter. Again, our head monk came to rescue. He showed some impressive skills in navigation and managed to circumvent the rock. Finally after 15-20 minutes of bouncy ride, we got on the main road and they dropped us near Pooh. We'd already missed the bus due to 'a monk and a rock' episode, and it was getting late in the evening, so had to pay highway ransom taxi prices to get back to Nako.
Thus ended our day. Next time, I'll probably go all the way to Somang, staying overnight in Tashigang. Alternatively, one can just walk for few hours on the trail, have lunch, and then return to Nako without going all the way to Tashigang. Highly recommended.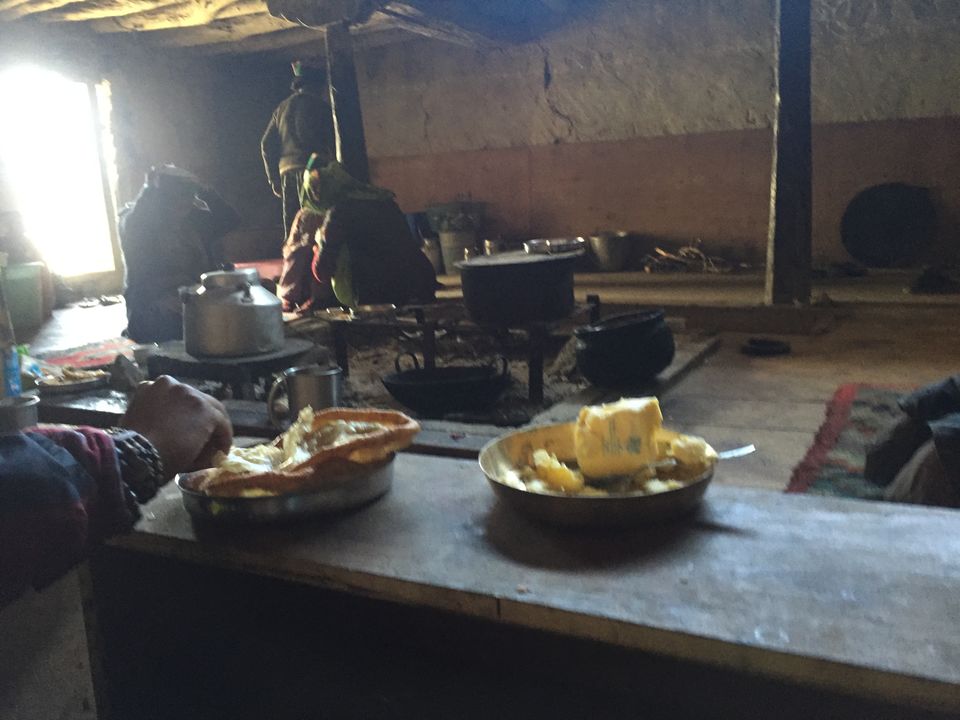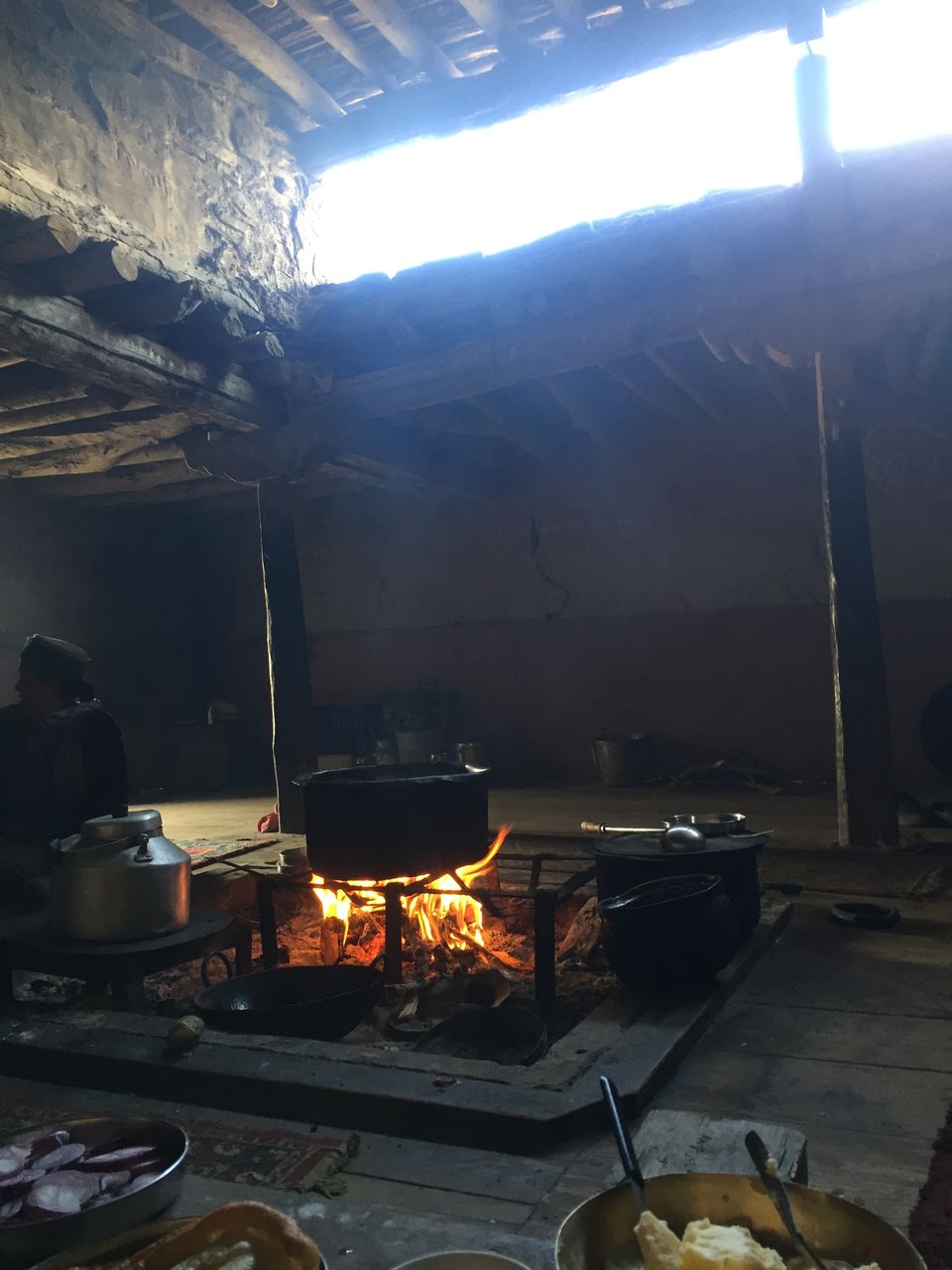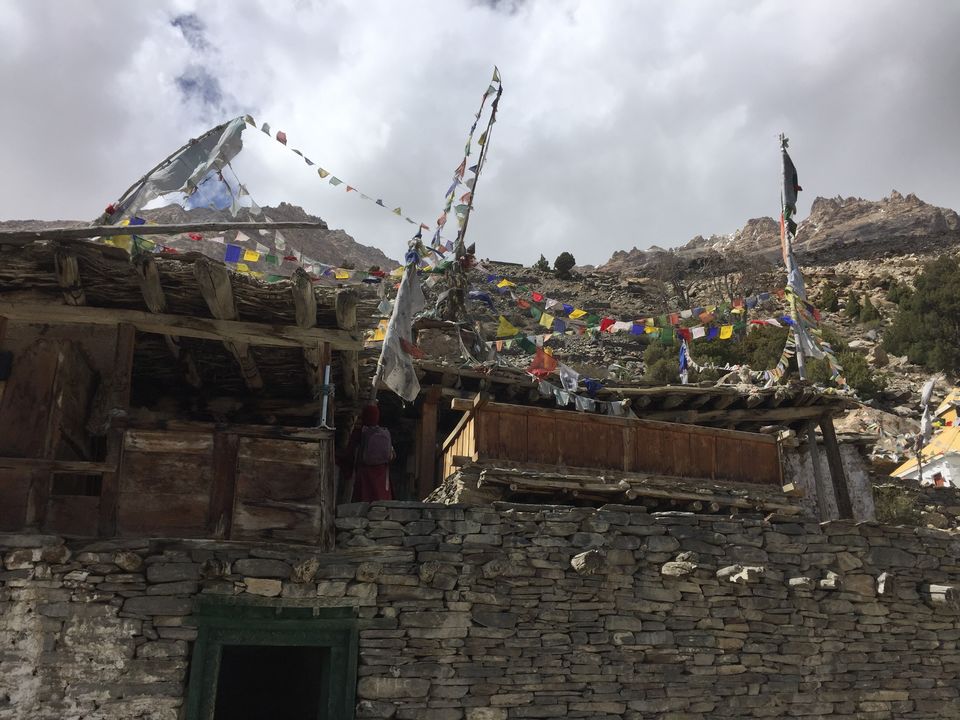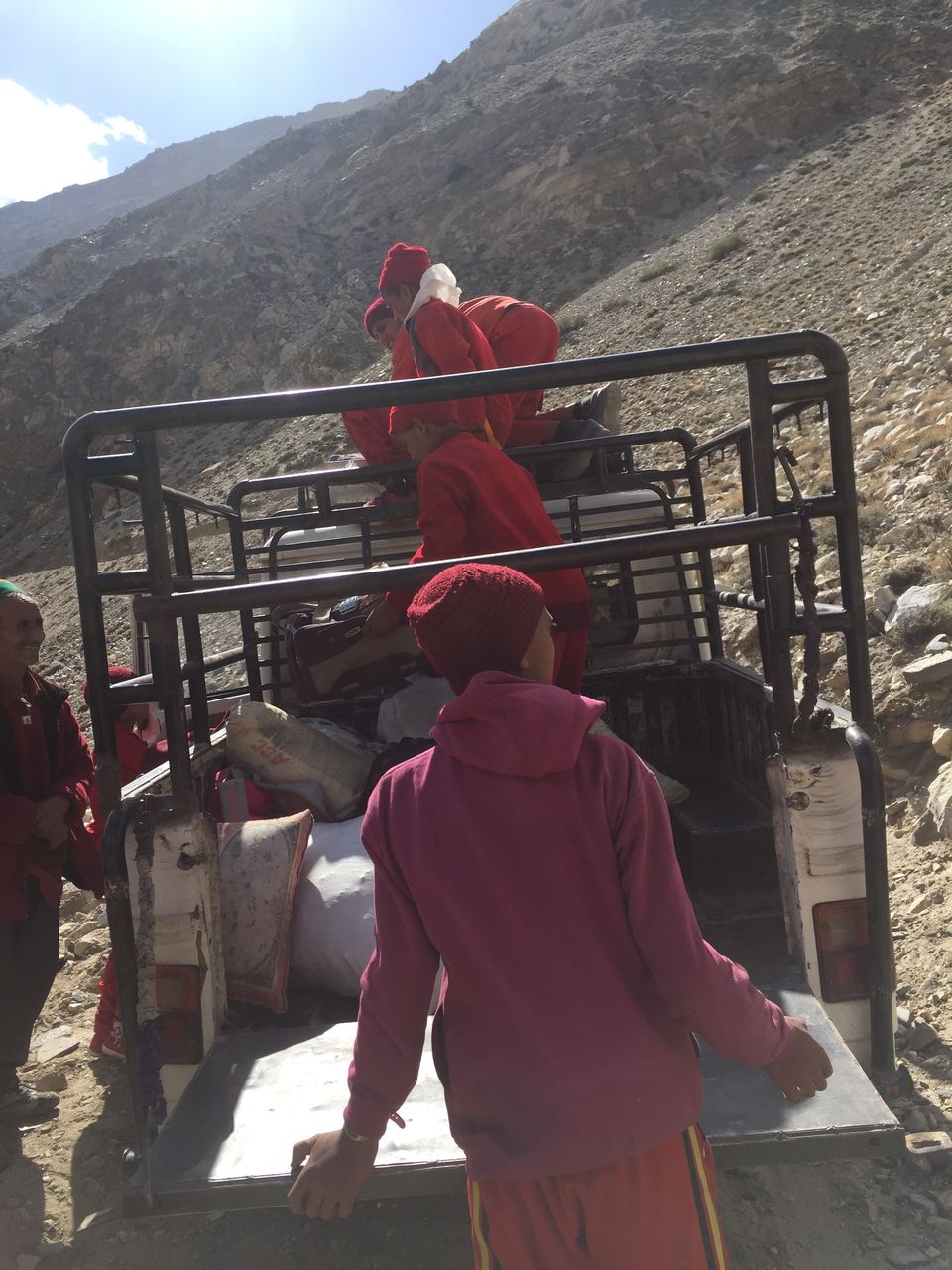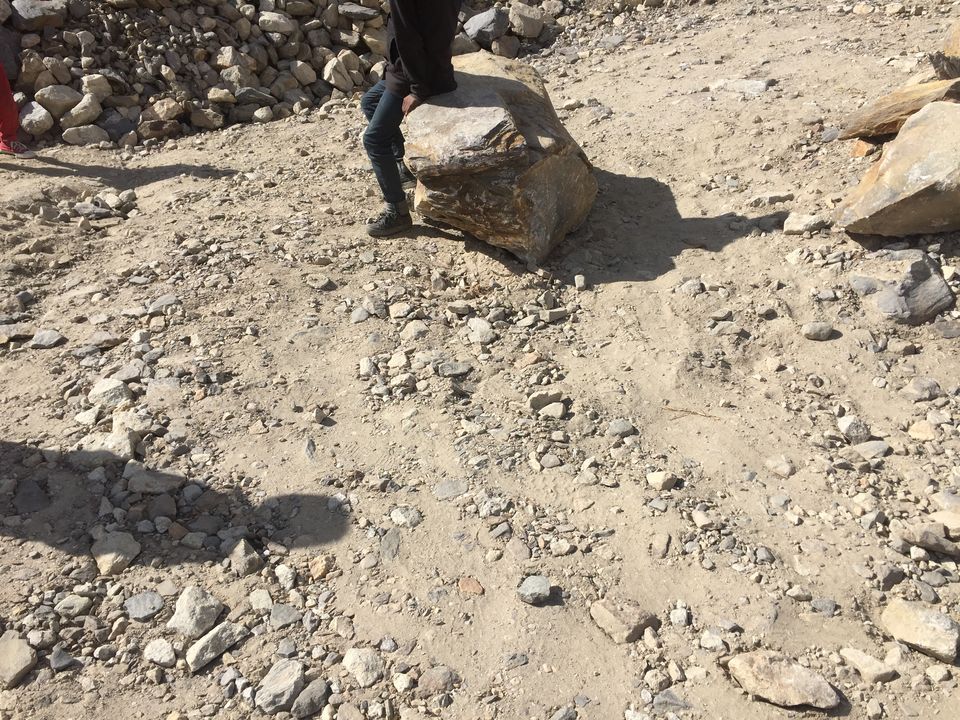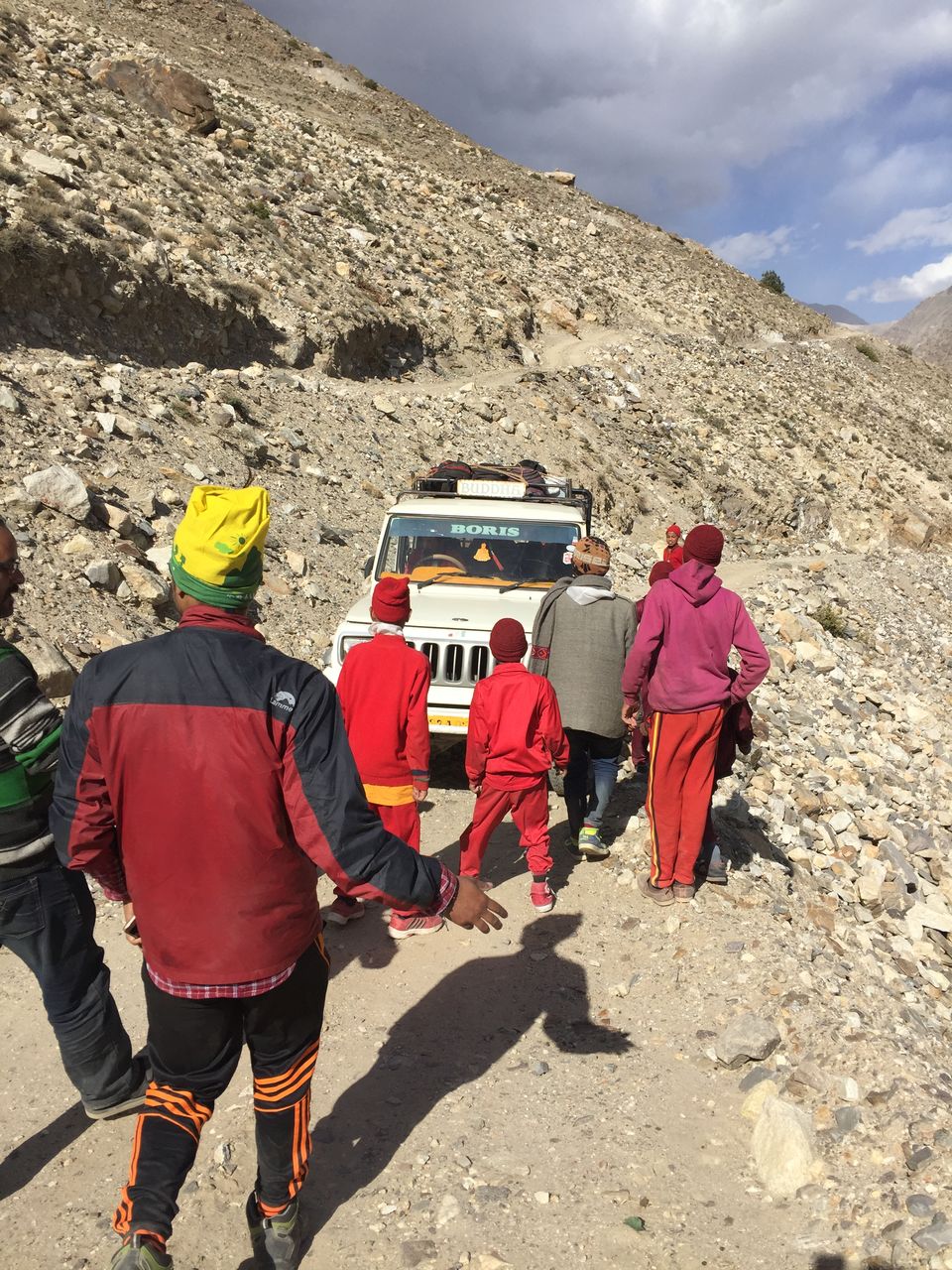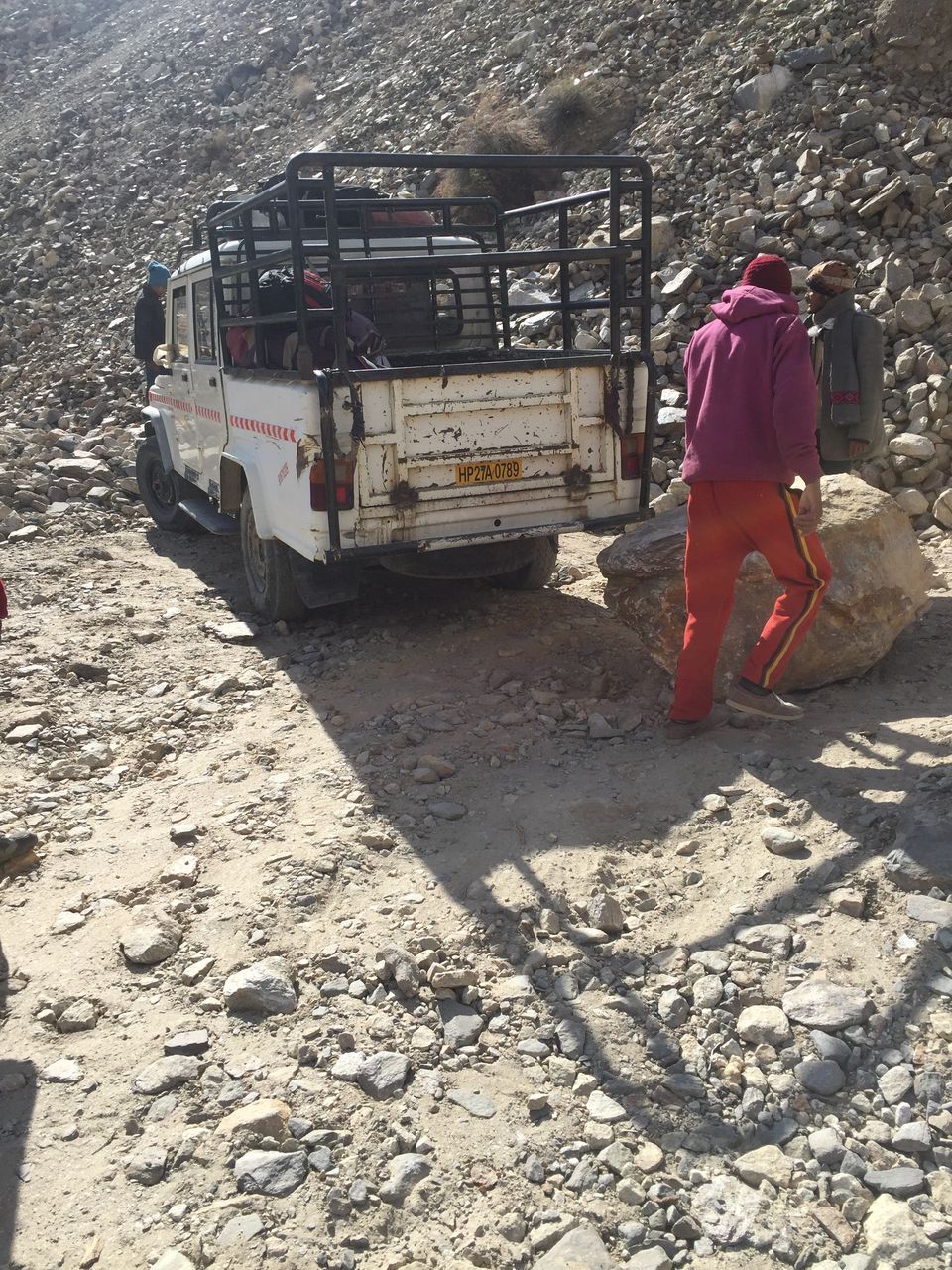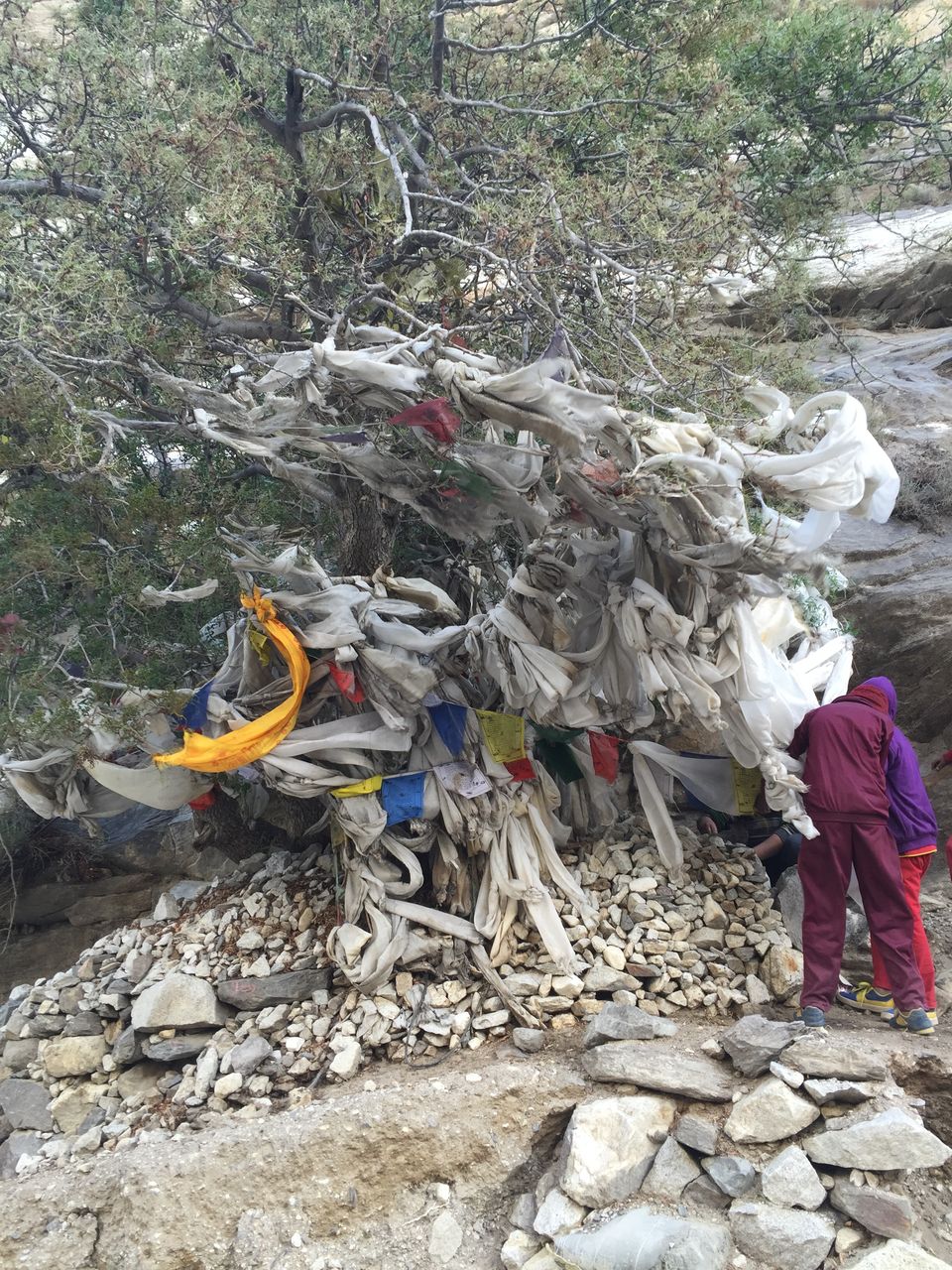 2. Hiking in Pin Valley
A. and I decided to travel together from Nako, and our next stop was Tabo. We took the Peo to Kaza bus, which arrives in Nako between 11am-12pm, and got down at Tabo (this was a gruesome ride as we didn't find seats and had to stand all the way). We stayed in Tabo Monastery guest house, and met a group of four geology students heading next to Pin valley to study fossils. We joined them next day, and took a taxi from Tabo to Pin valley, with a brief halt in Dhankar monastery. The drive to Pin valley is beautiful. One can also take a bus from Kaza to get there. Mudh is the last village in valley and has few home-stays. We found rooms at Tara home-stay, a seemingly popular place according to internet. Again, in peak season it is advisable to prebook, as rooms are mostly taken up for long-term stay by Israelis, who are very fond of the high (heh heh) places in Himalayas.
Another thing to note is complete lack of network connectivity throughout Spiti and Pin valleys. Sometimes BSNL is rumored to work, but don't bet your life on it. Only in Kaza, there is a decent chance of getting phone and wifi connectivity.
The owner of home-stay told us that we could go on a day-hike from village in the Pin valley national forest. One can walk as long as one wants, and then turn back. Eventually, if one keeps walking the trail leads one to Bhaba base camp, and Pin-Bhaba pass. Mudh is at an altitude of ~4000 m. and my estimate is that we didn't go beyond 4200/4300 m. during hike.
So next morning, we got some Aloo paranthas packed for lunch, and headed out. We'd to cross a raging mountain stream over a foot bridge to get to the trail. The hike was more like a nice stroll, on a well worn trail. Though after 30-40 minutes of walking, we started running into ice-patches/mini-glaciers covering the trail, and for a while it was fun to walk over snow, which was a little slushy, allowing us some foothold. Though there were few rough patches, 20-30 ft long, with a sharp incline and once I just sat down and decided to slide instead of taking chance walking on an extremely slippery slope. In July-September timeframe, trail should be without any snow. We occasionally saw villagers herding sheep, otherwise we'd the whole trail to ourselves. We walked for around 4 hours, had lunch near a stream, and then turned back. As we got close to Mudh, we met two ladies from the village who were herding sheep and they offered us tea. They told that sheep are owned by whole village and people take turns throughout the year herding them.
The views throughout the hike were spectacular, I'll let the pictures speak.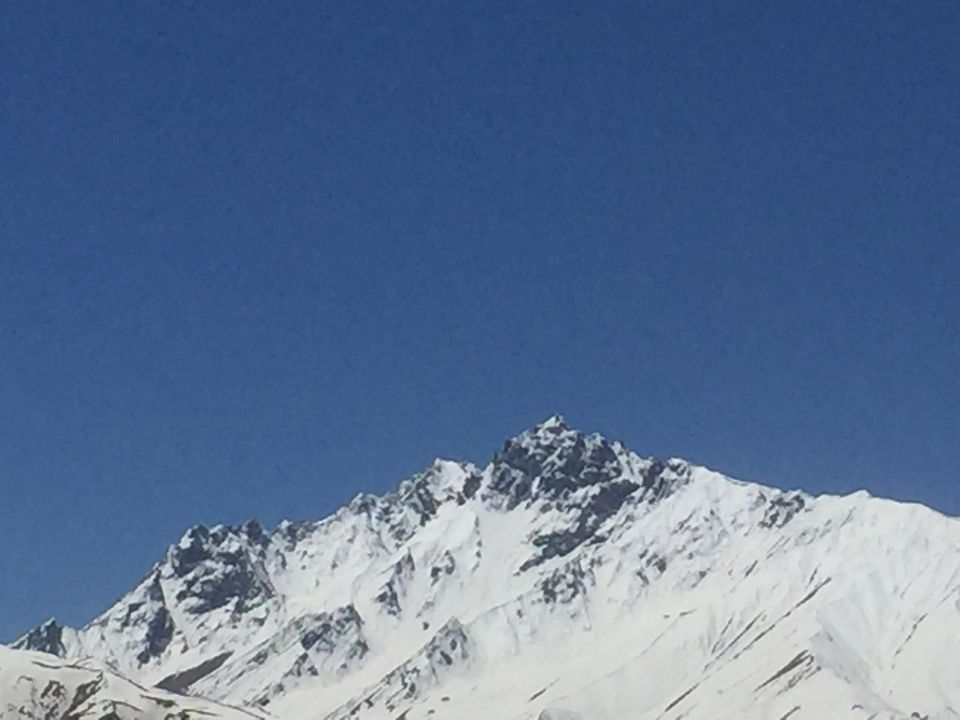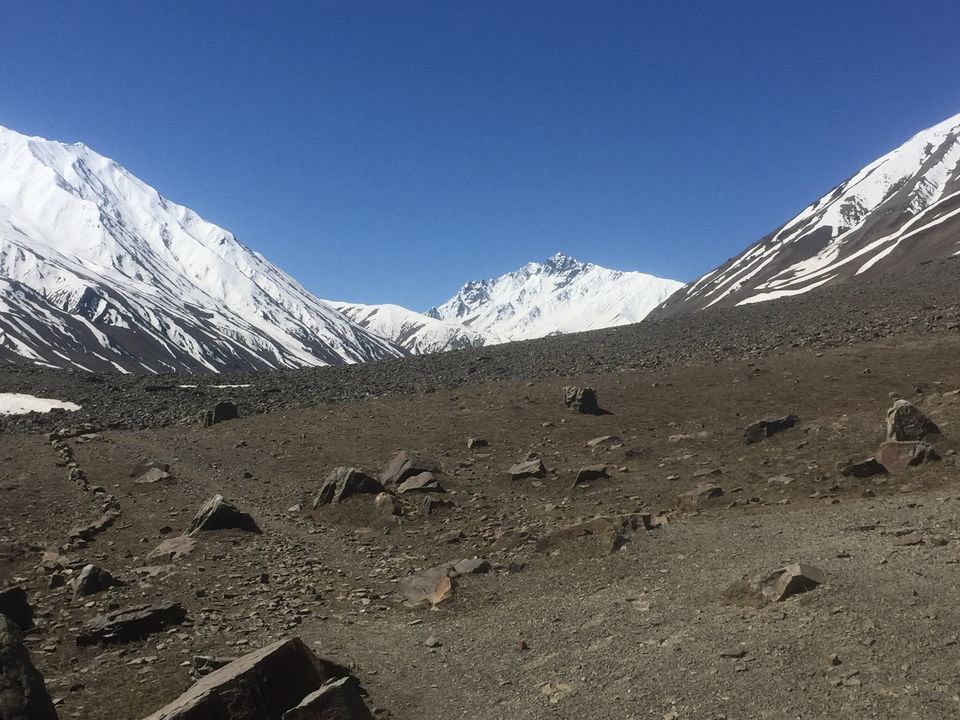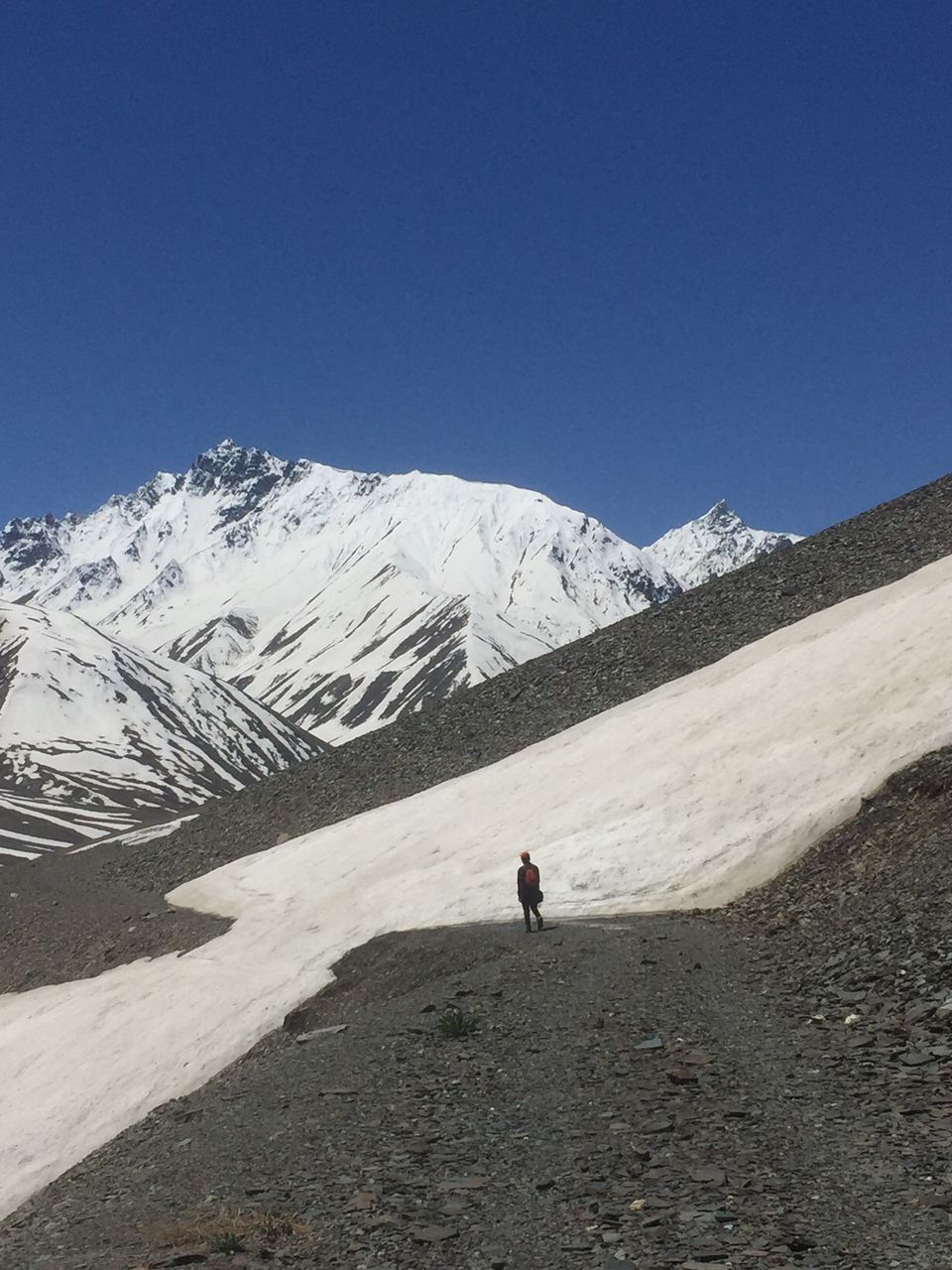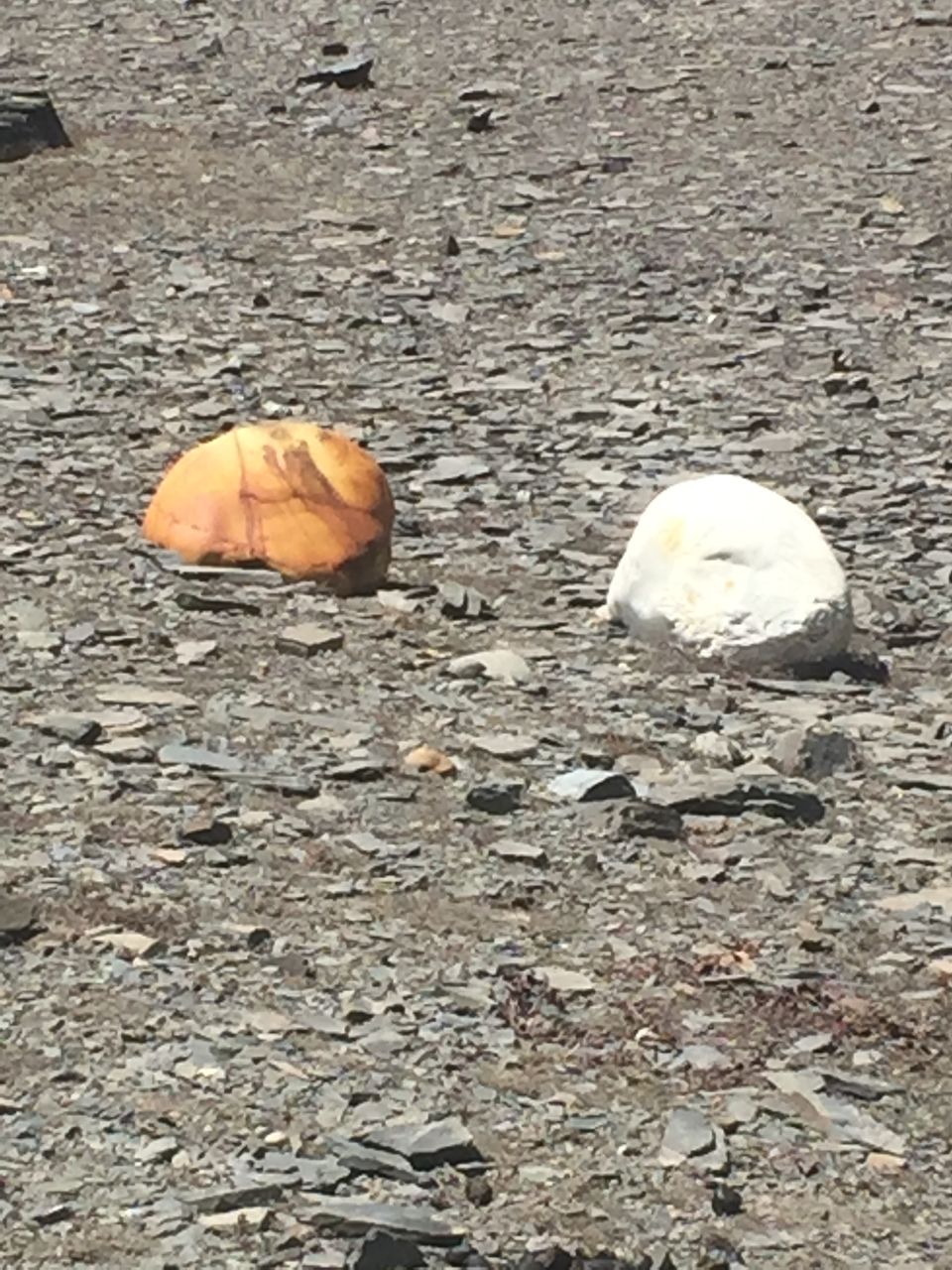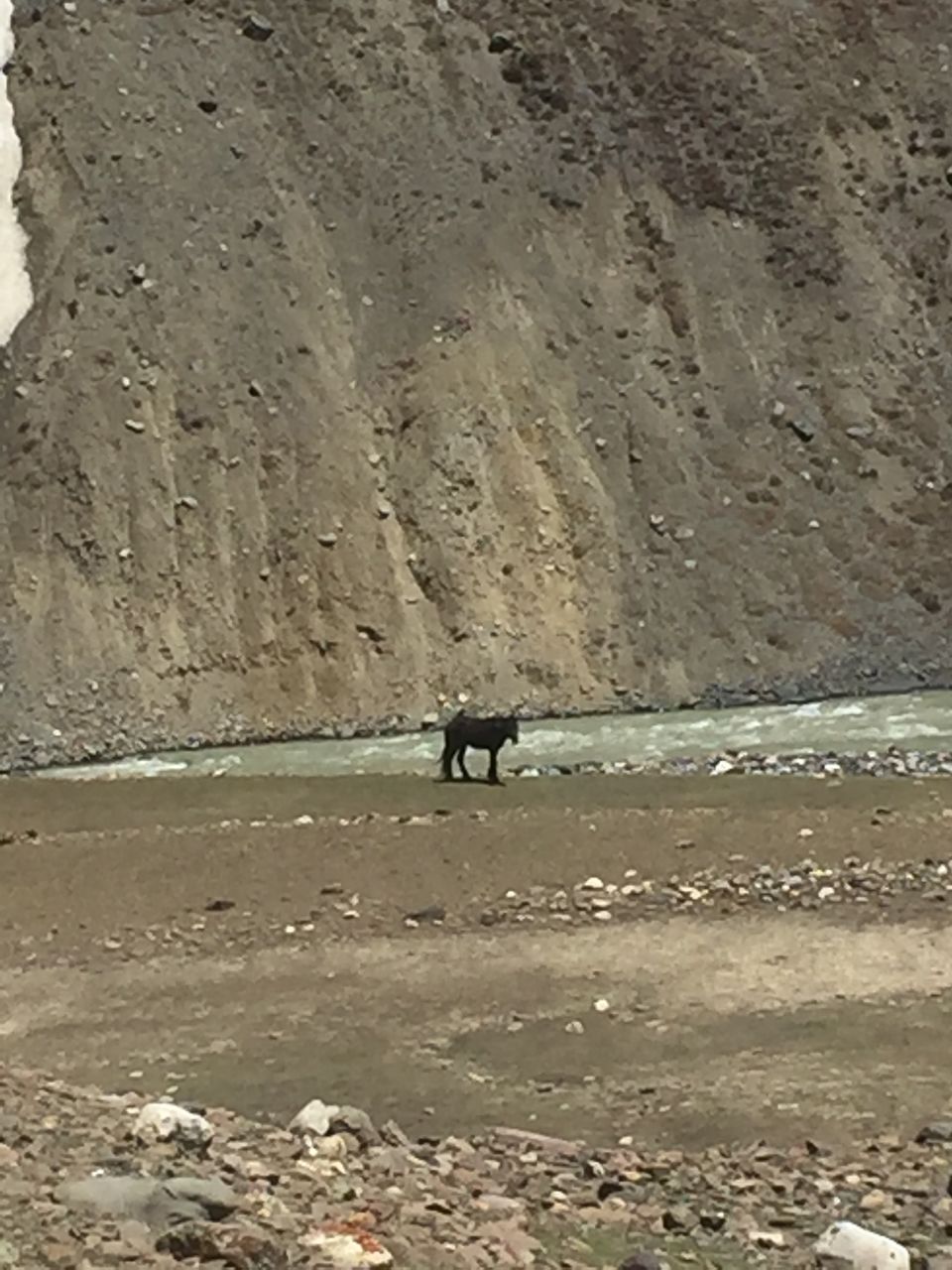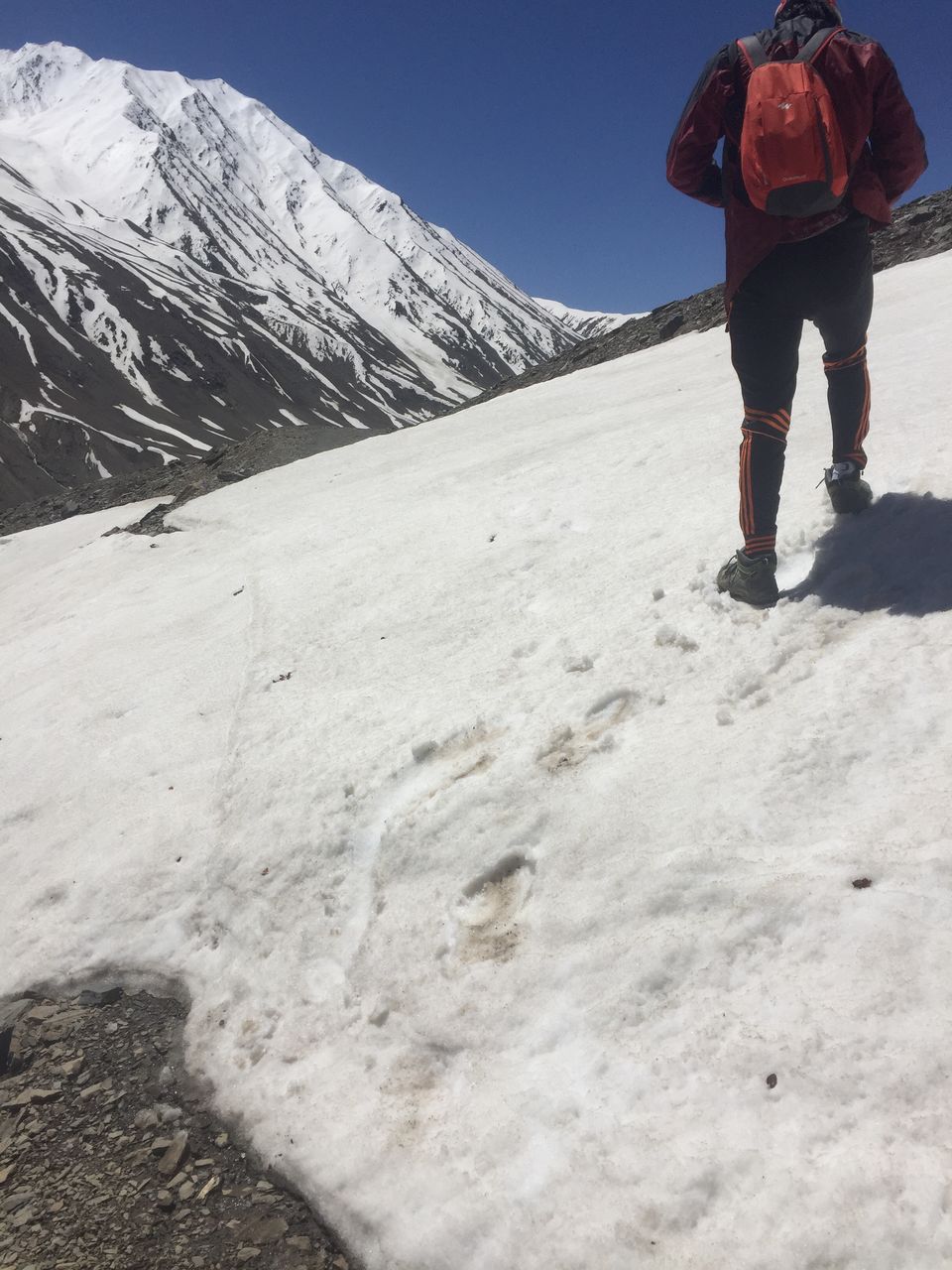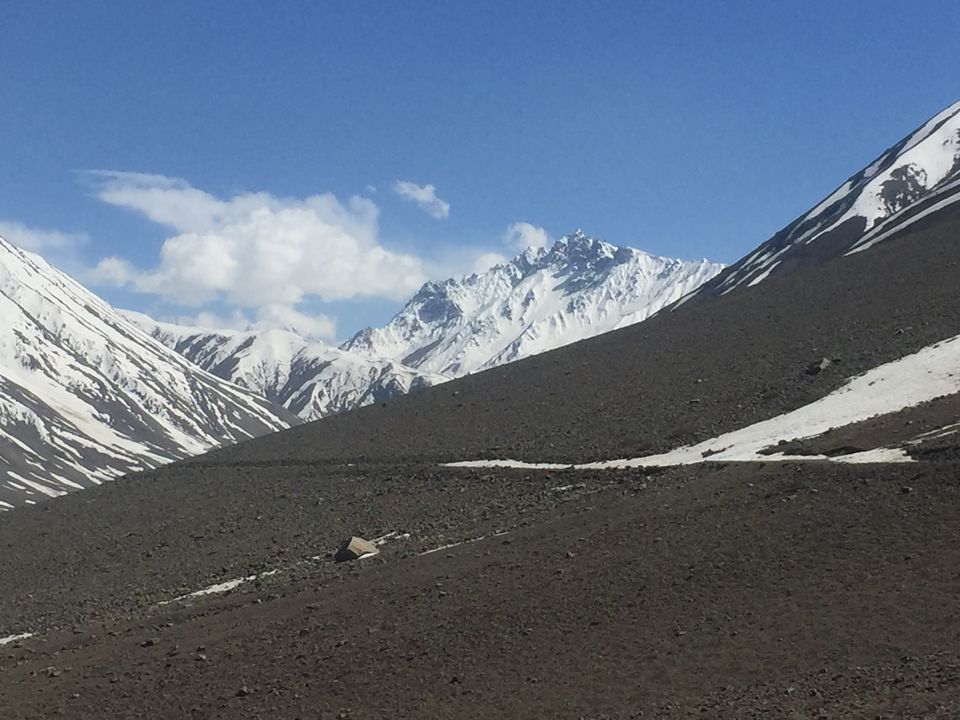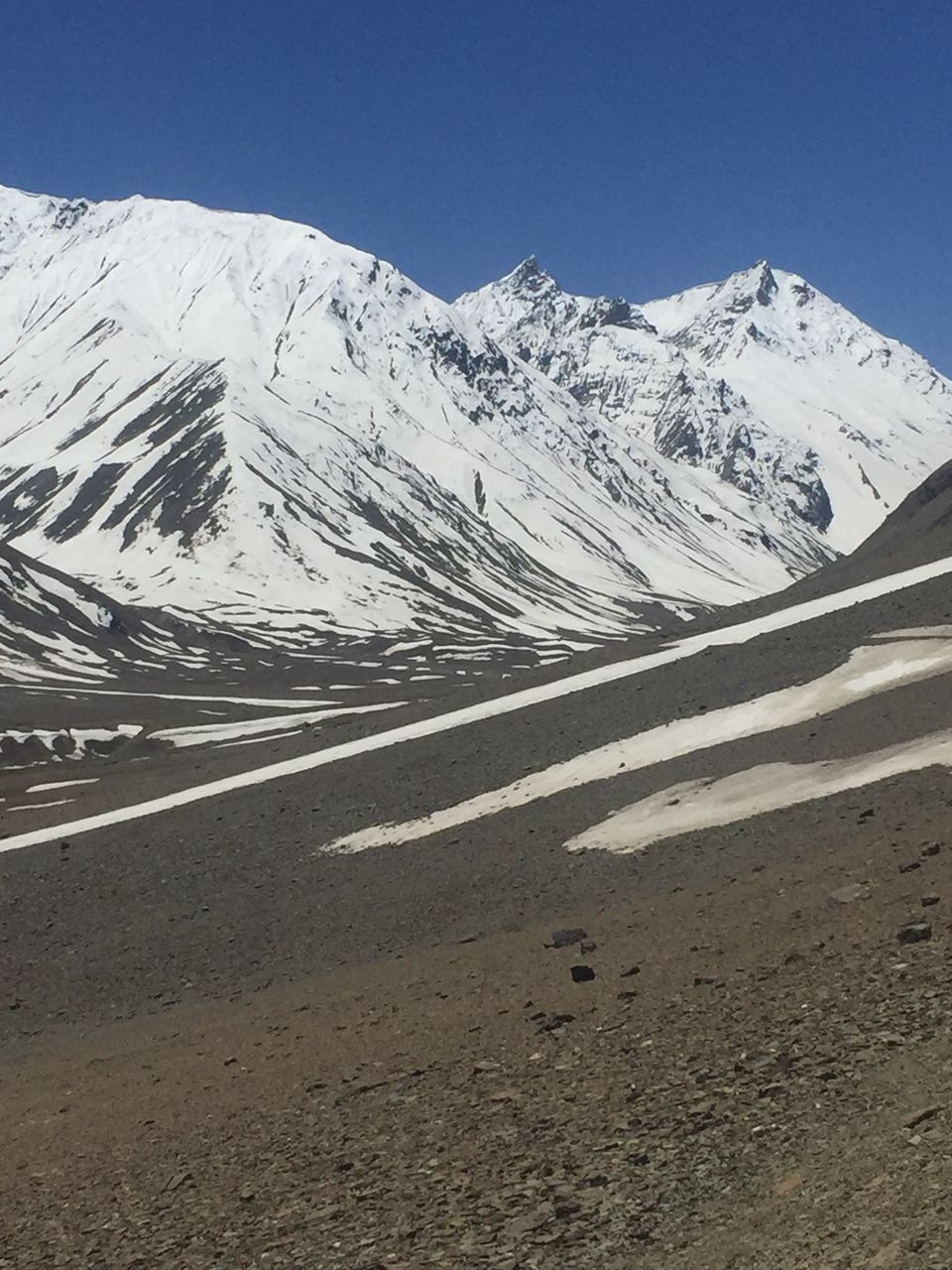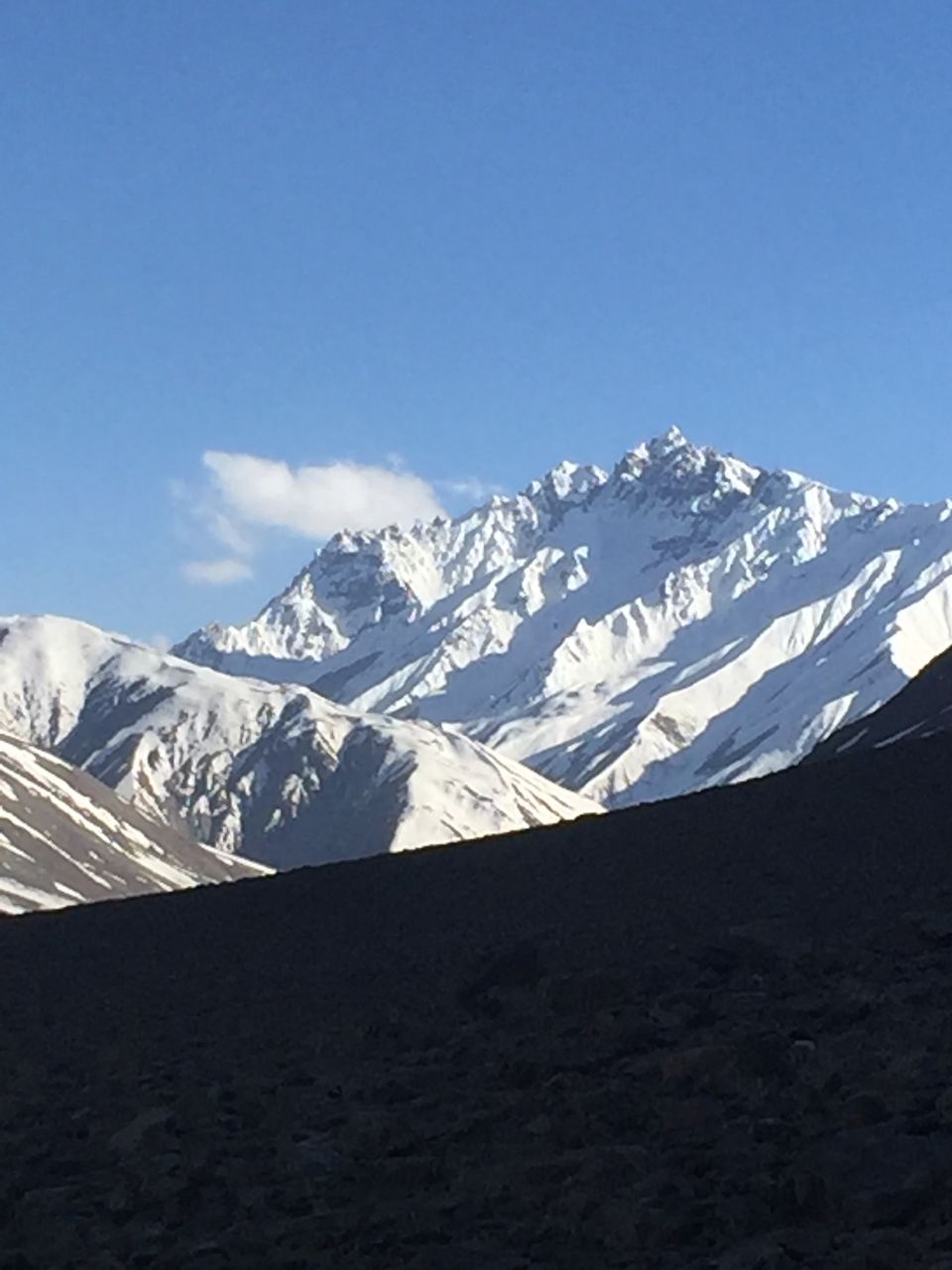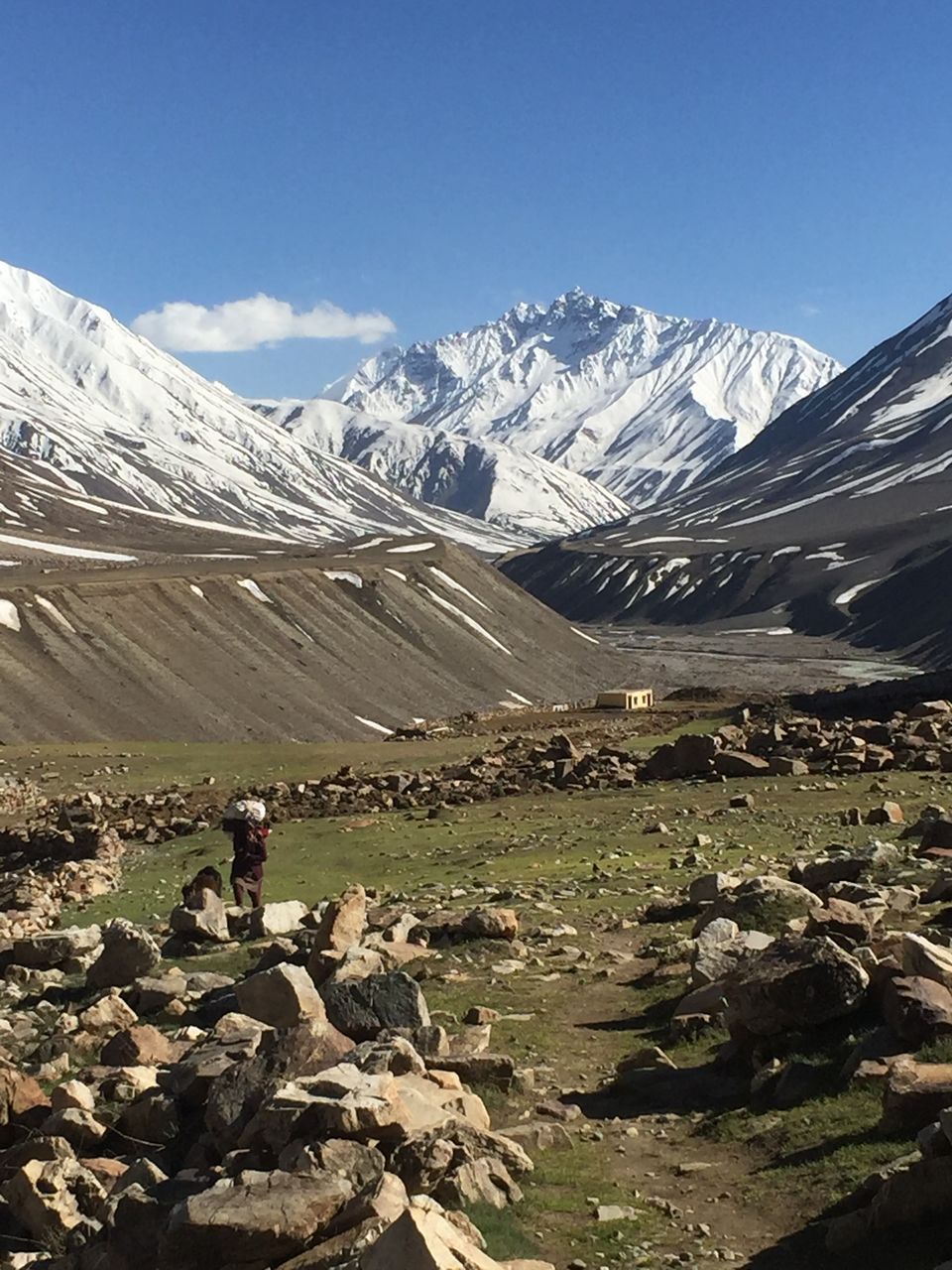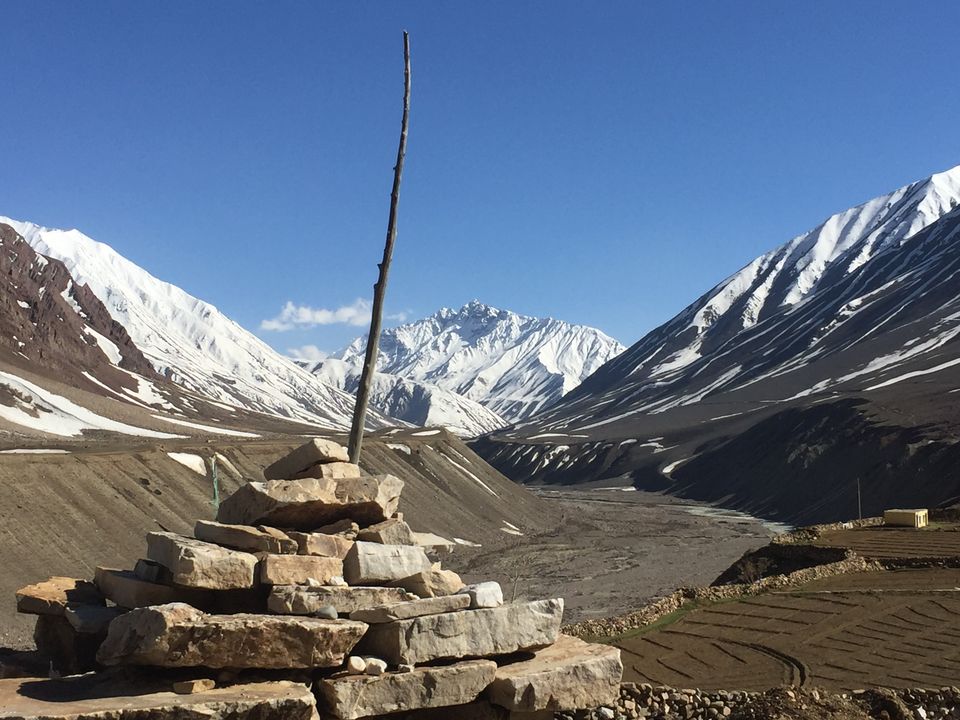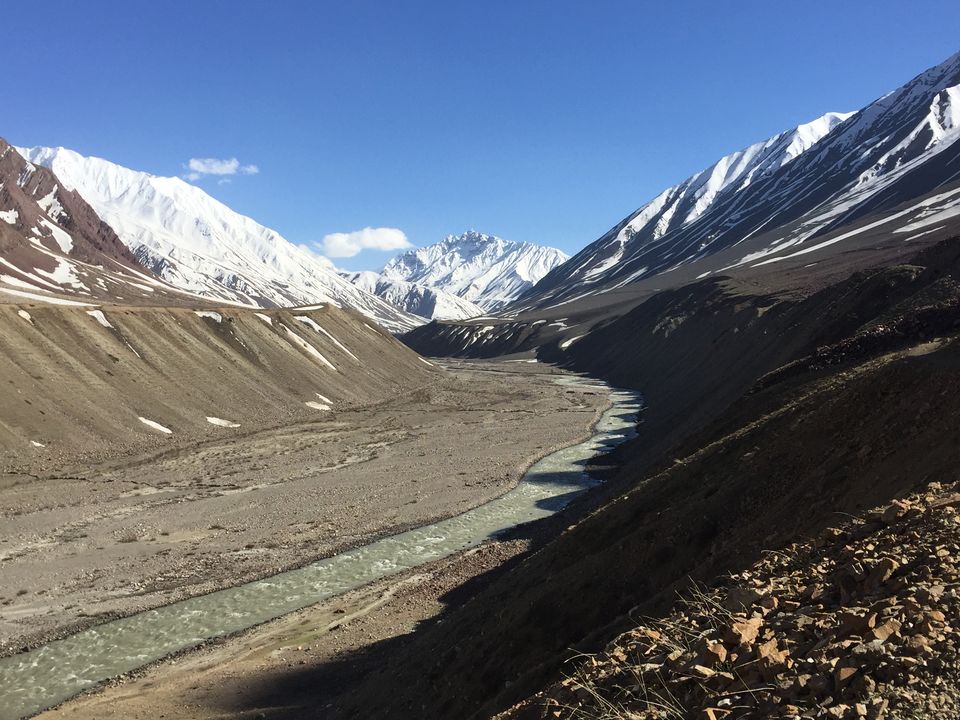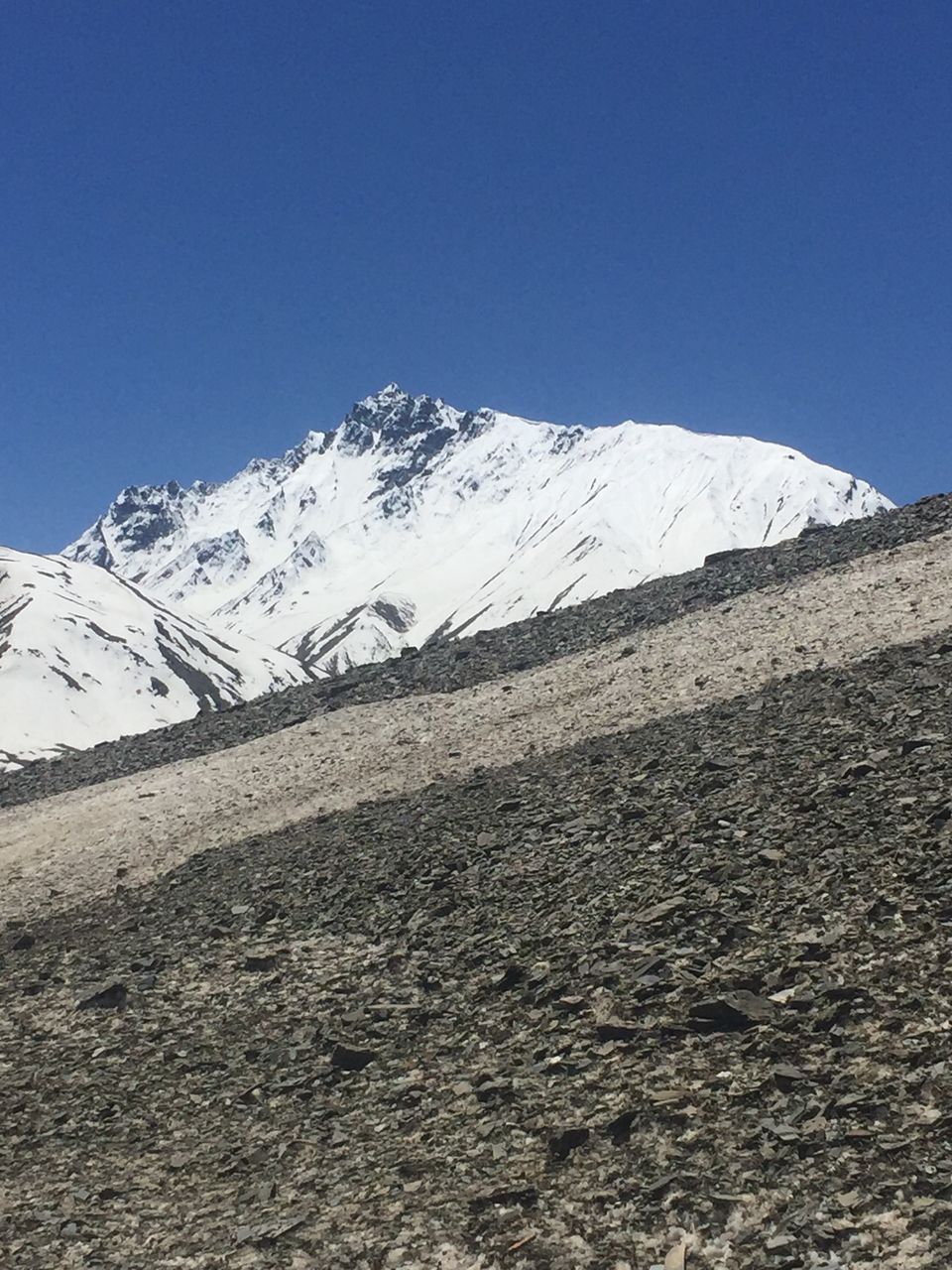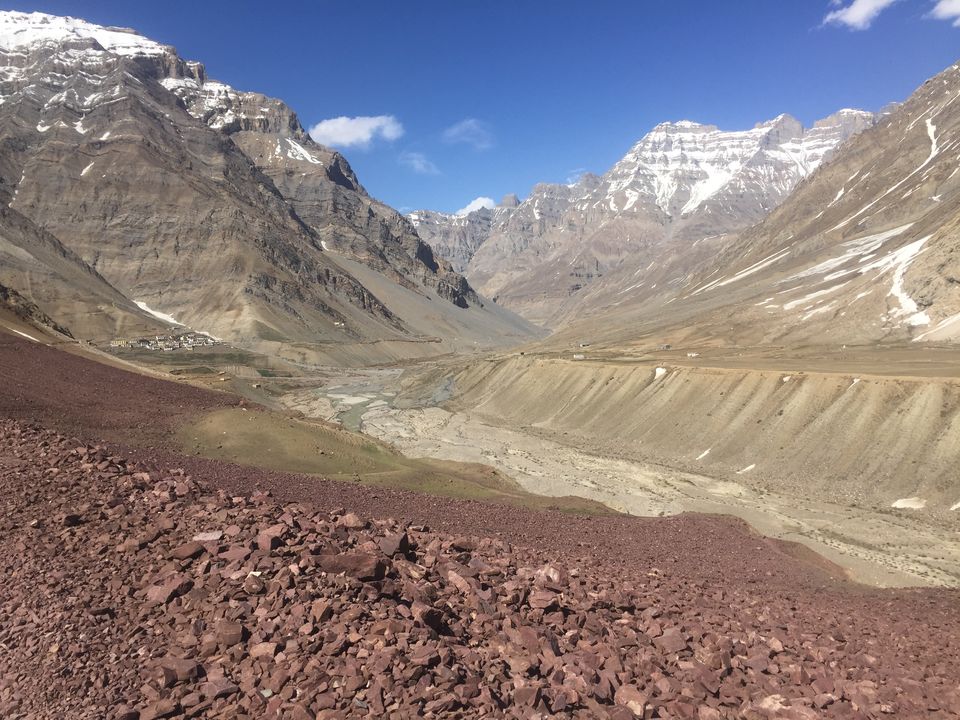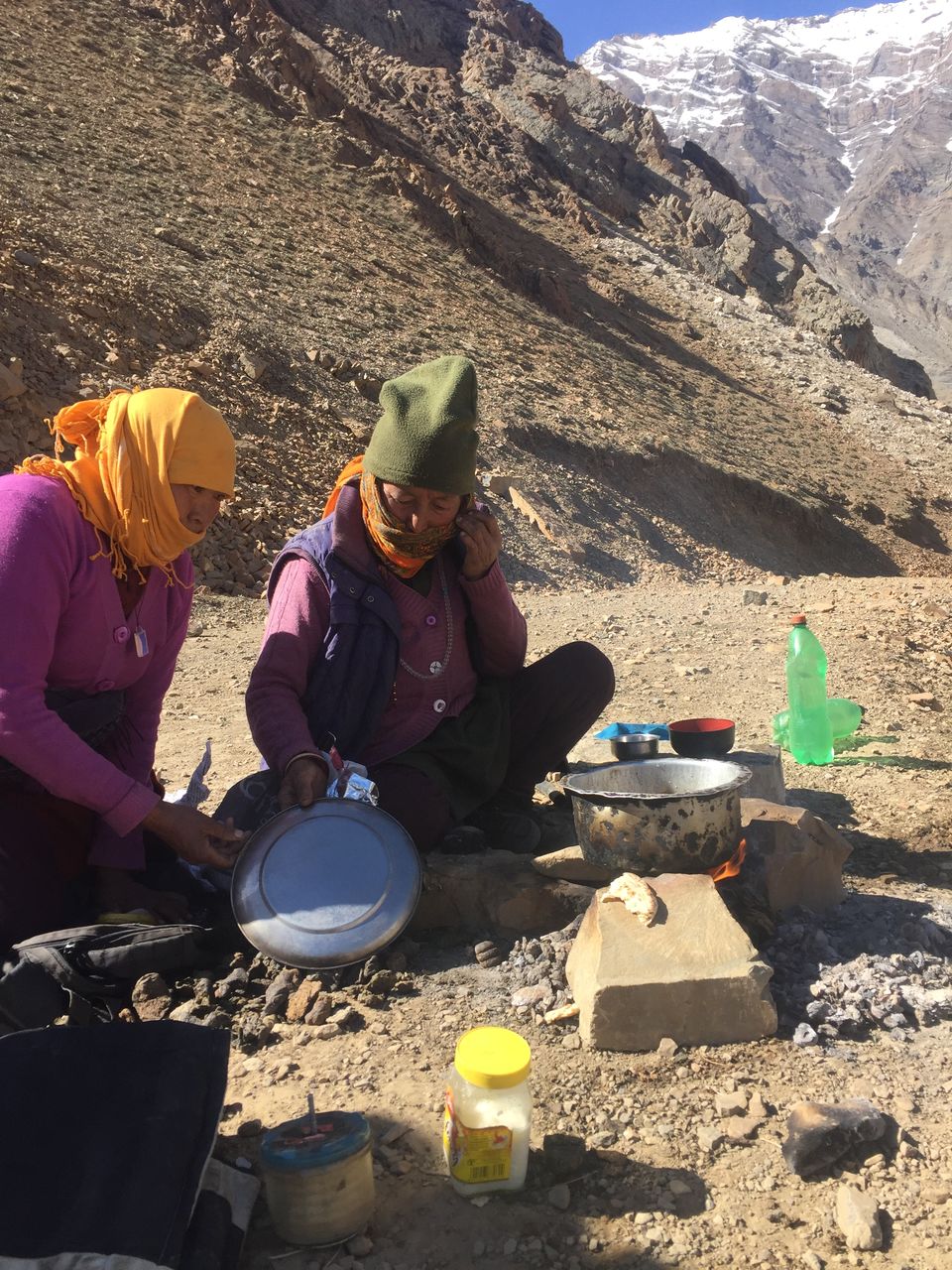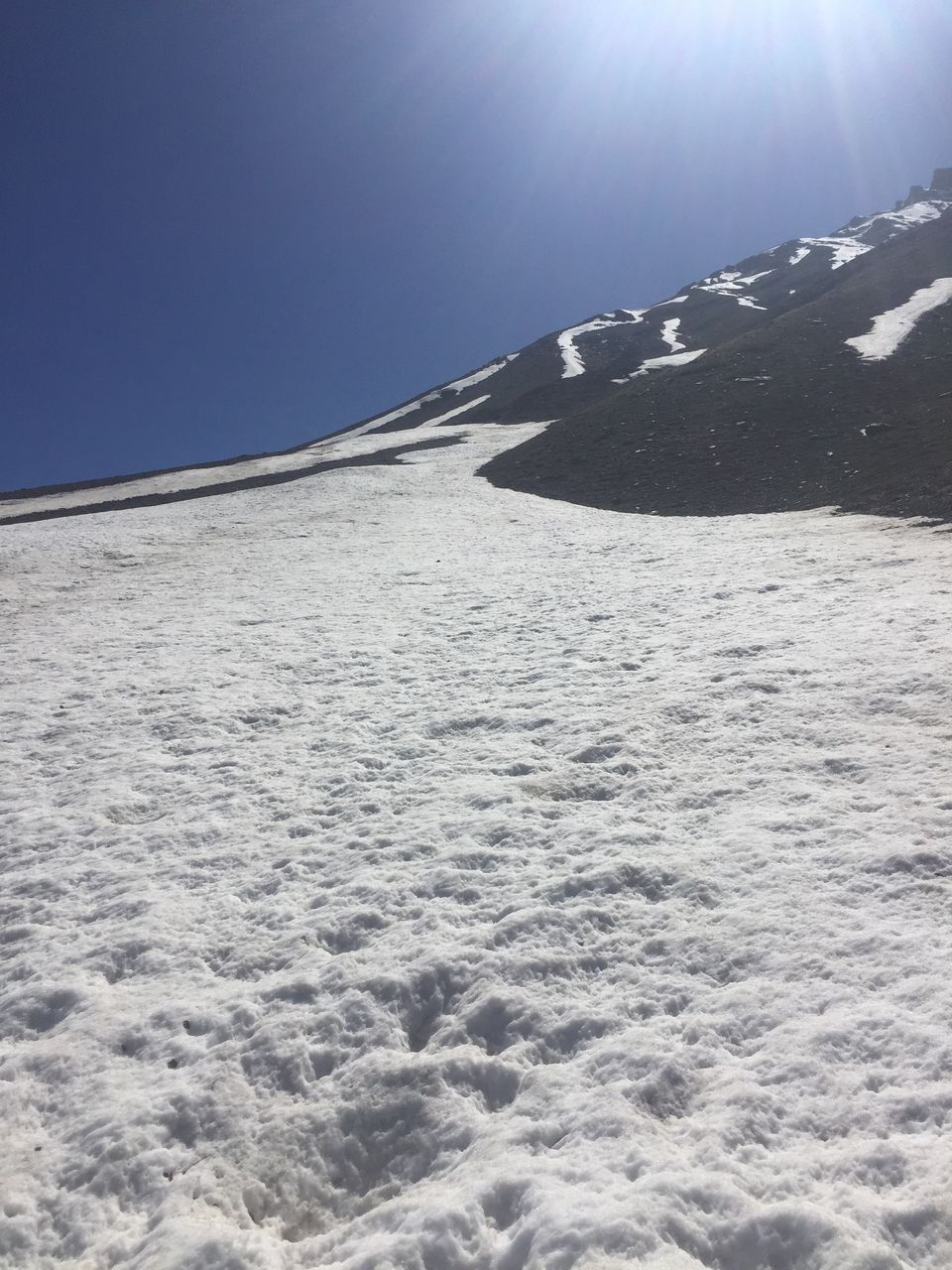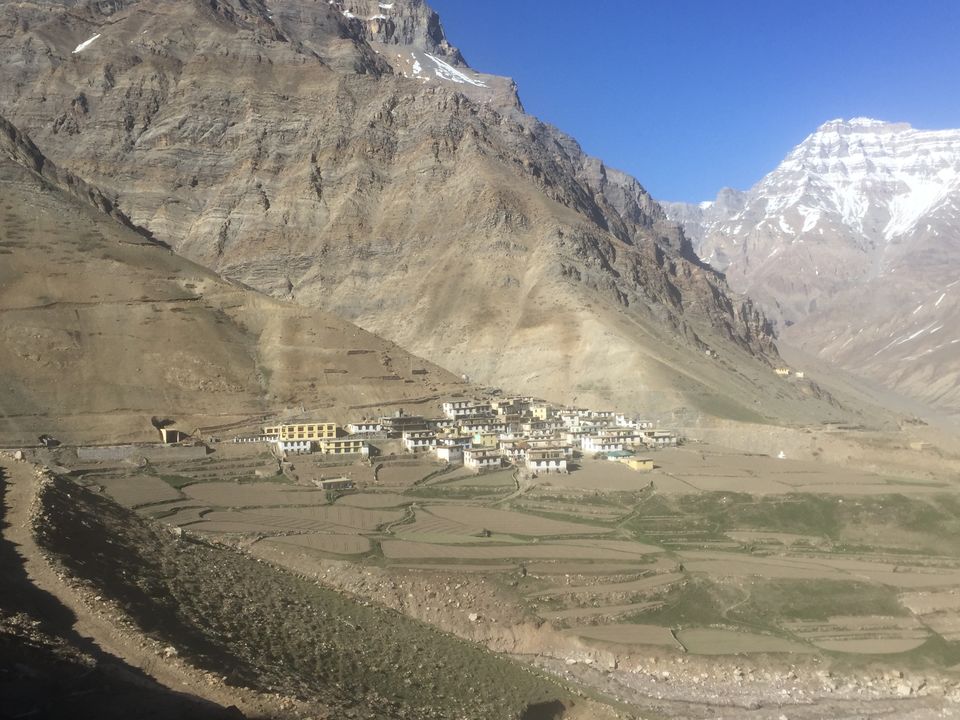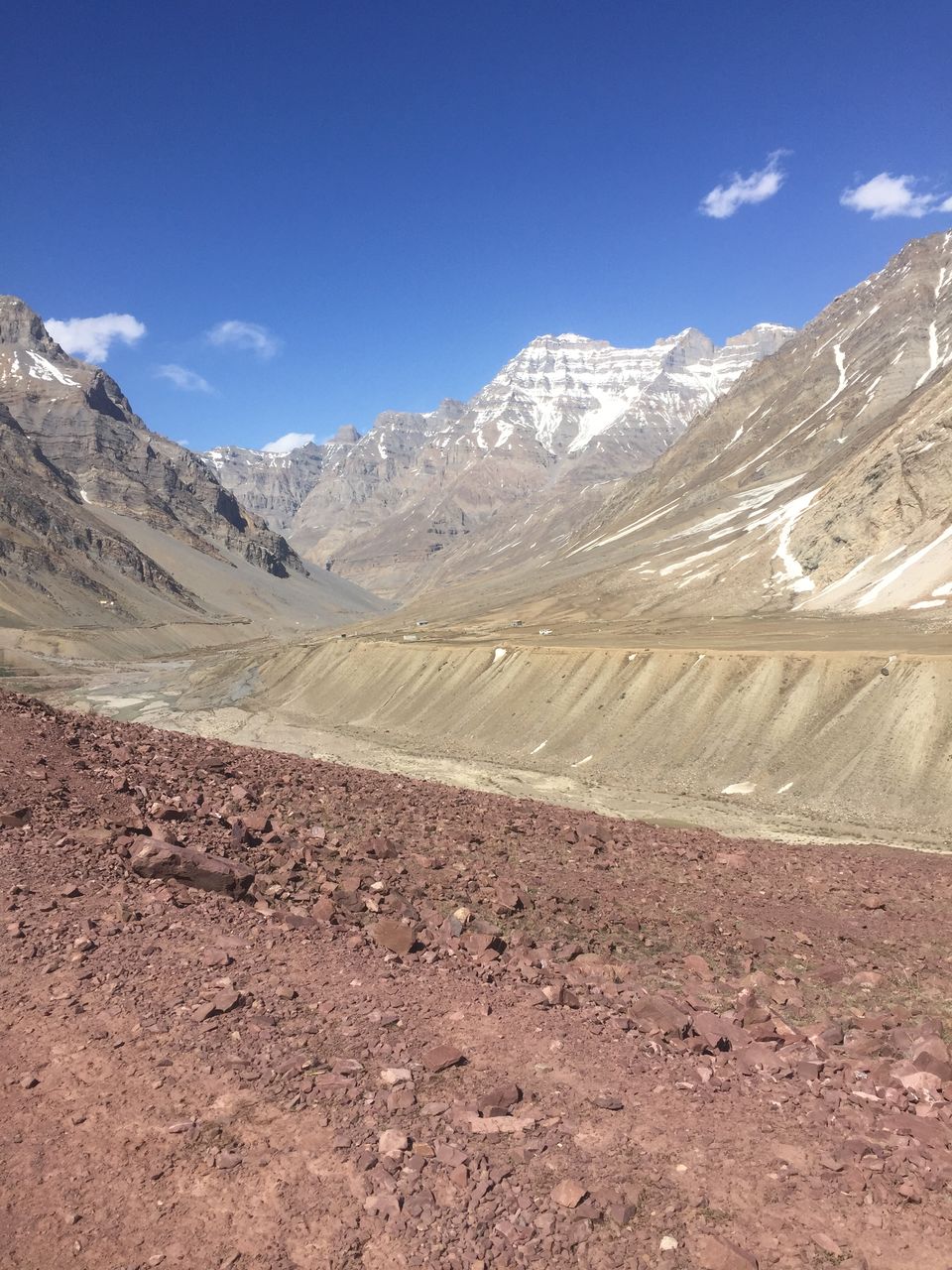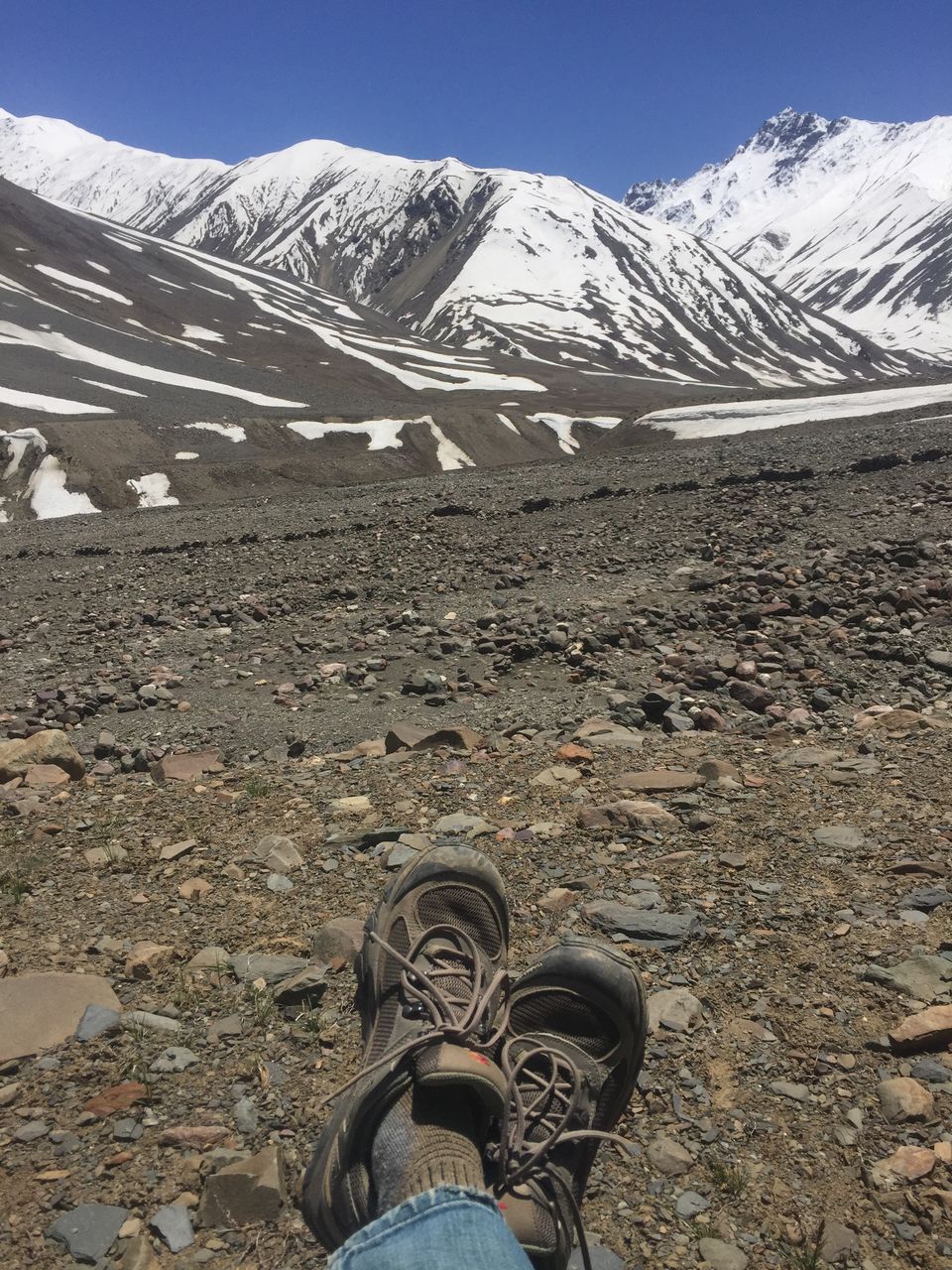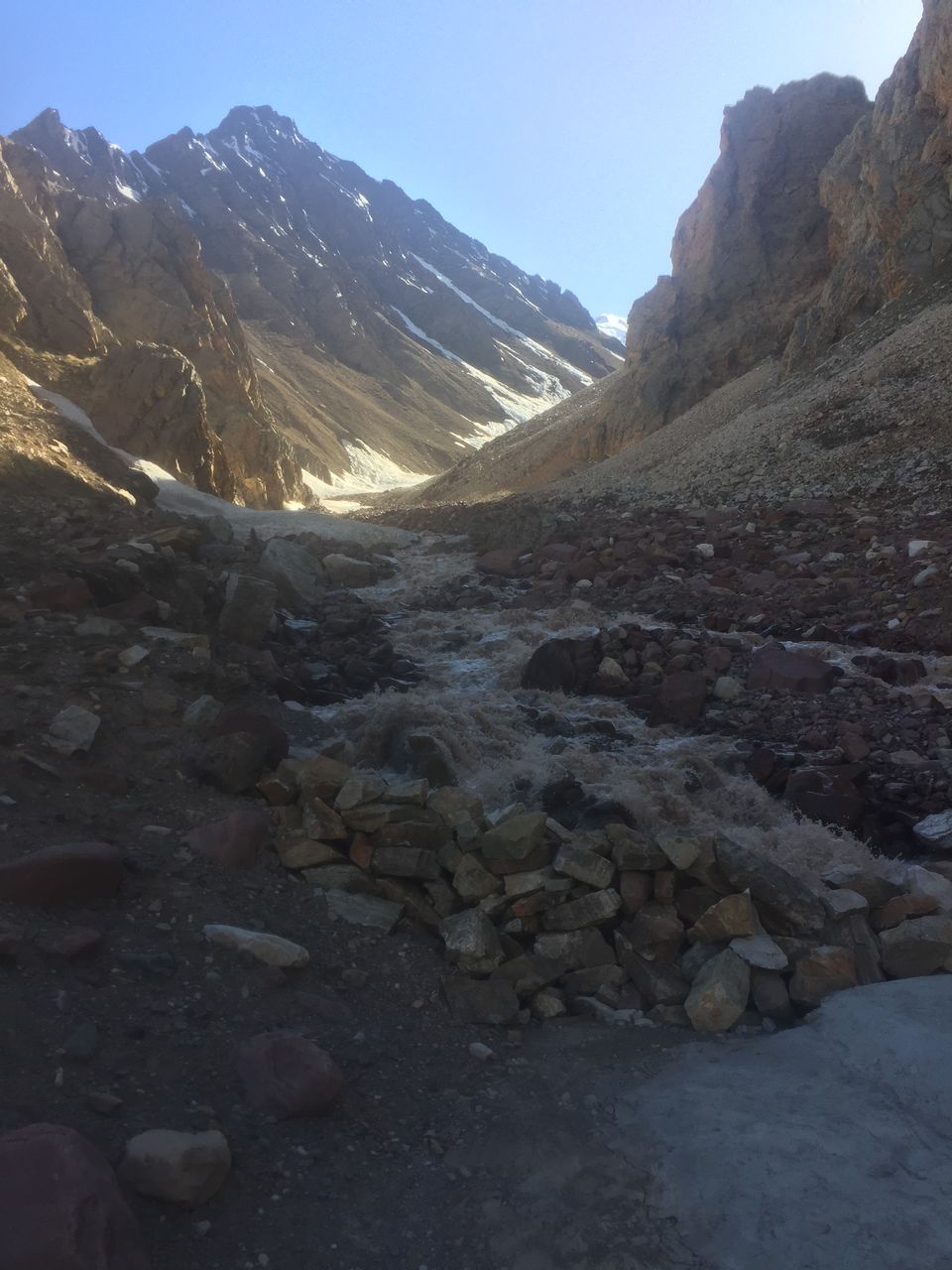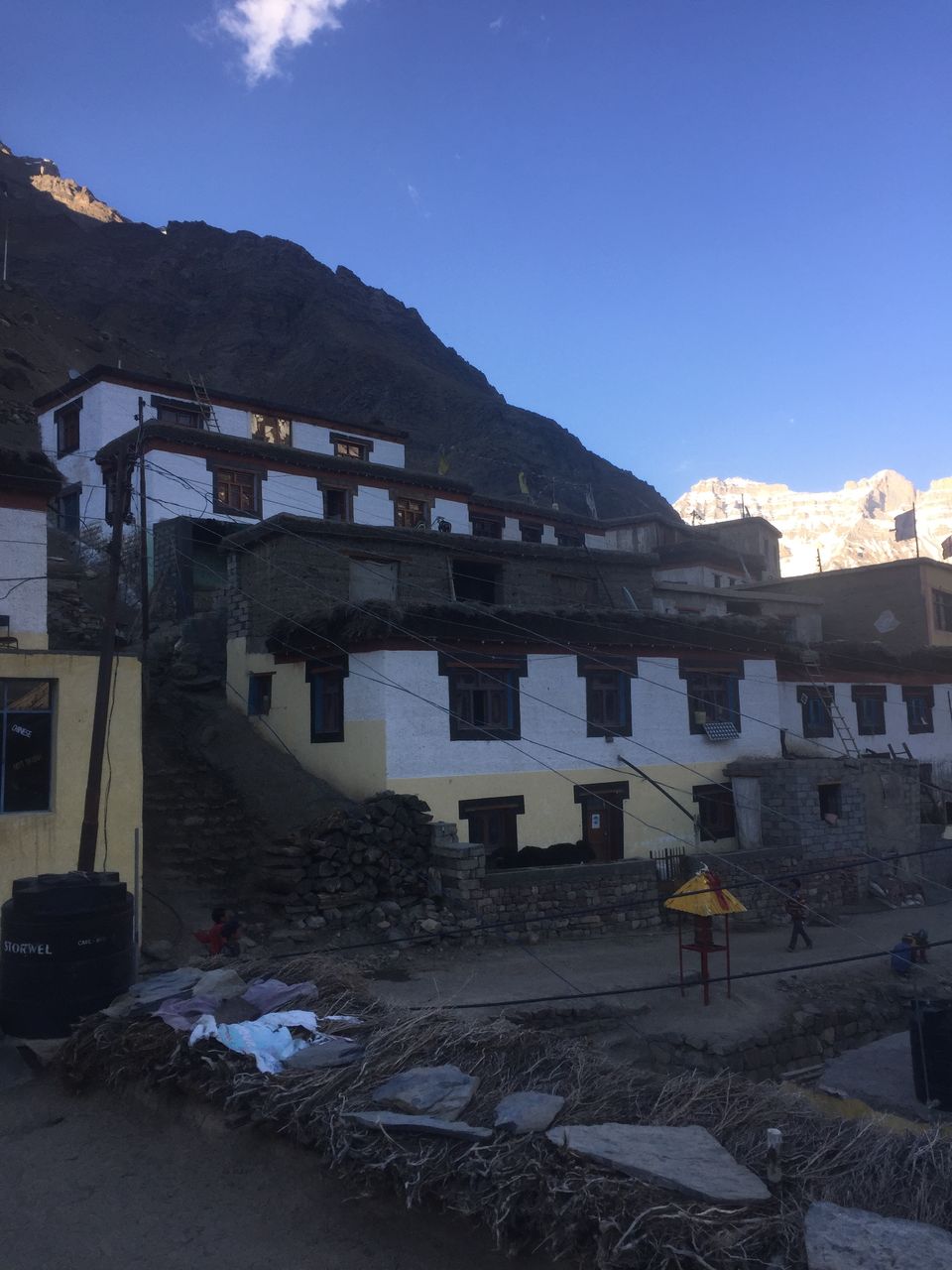 3. Village Trek near Kaza
Well, I didn't really do this trek, but heard about it in Kaza and would definitely love to try it next time I'm in Spiti. Including information about it here as it qualifies as one of the treks off the beaten path.
Day 1: From Kaza to Langza
You can take a taxi to Langza, stopping on the way to visit Ki Monastery. There are homestays in Langza, at an altitude of ~4400 m.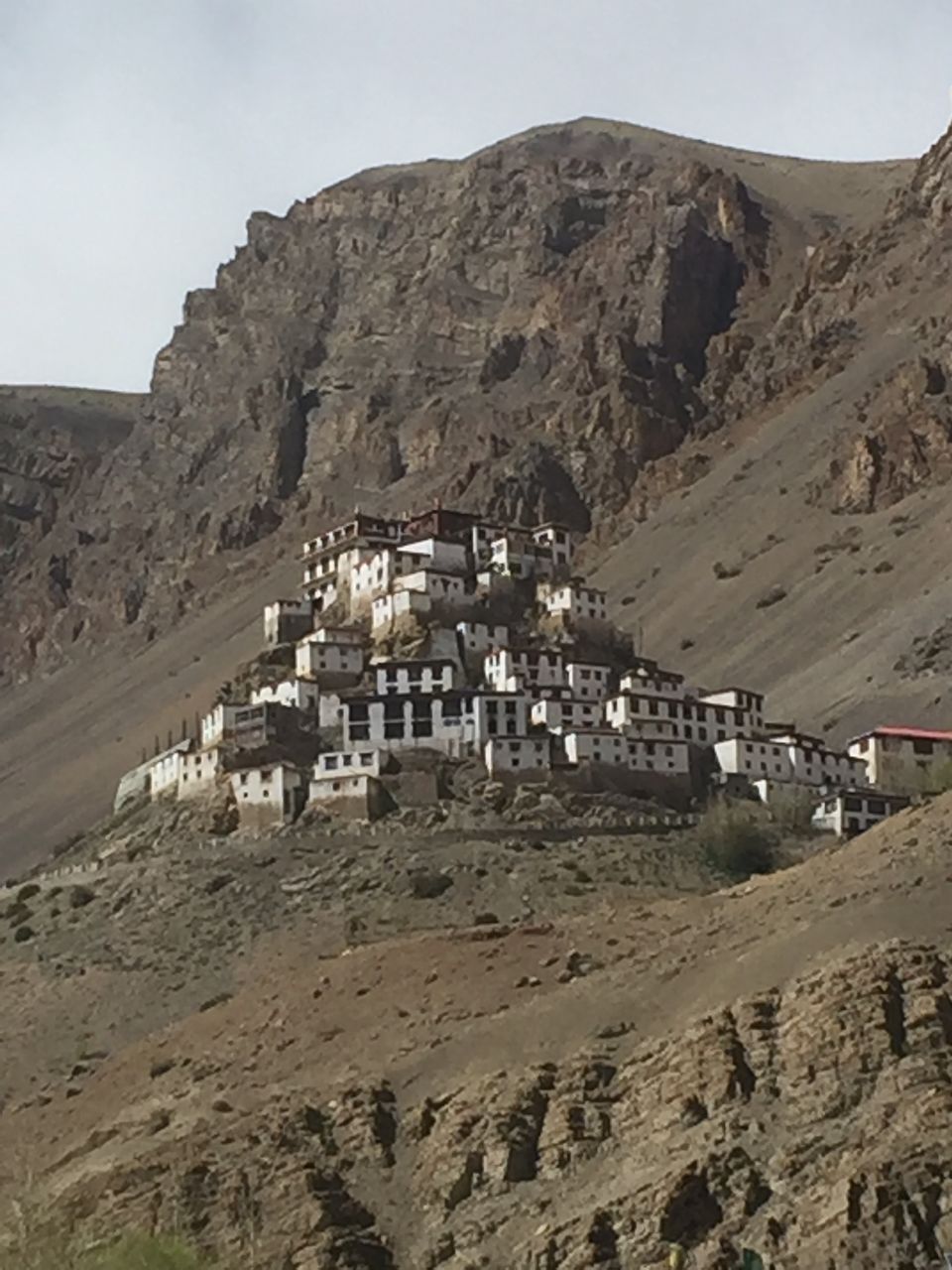 Day 2: From Langza to Komic
Around 9 km trek to Komic (altitude ~4500 m). Highest altitude on the trail will be around 4600 m
Day 3: From Komic to Demul
Around 14 Km trek to Demul (altitude ~4400 m), passing through Lepcha pass.
Day 4: From Demul to Lalung
Around 10 Kms trek (mostly descent) to Lalung (altitude ~3750 m).
Day 5: From Lalung to Kaza (by Taxi, via Dhankar)
Return to Kaza, via Dhankar
It is also possible to do the trek other way round i.e. starting from Lalung and ending in Langza. Please note that all these treks are above 3000 m, so one needs to be careful about AMS (acute mountain sickness). Make sure to acclimatize and know your body's limits before embarking on high altitude trekking