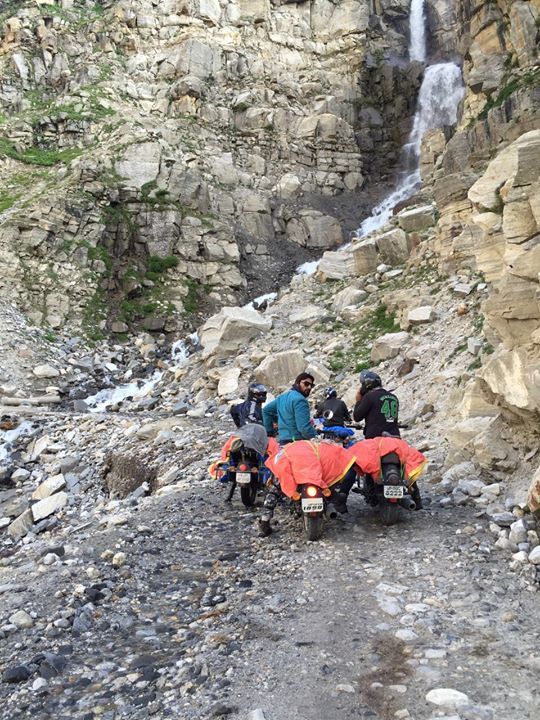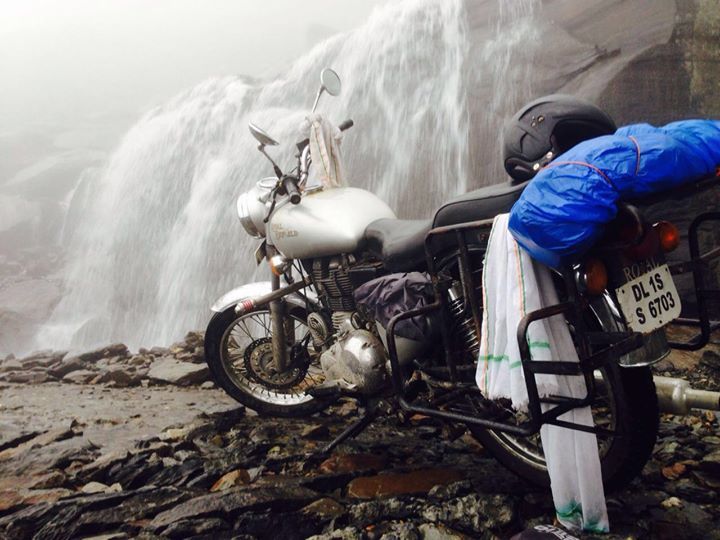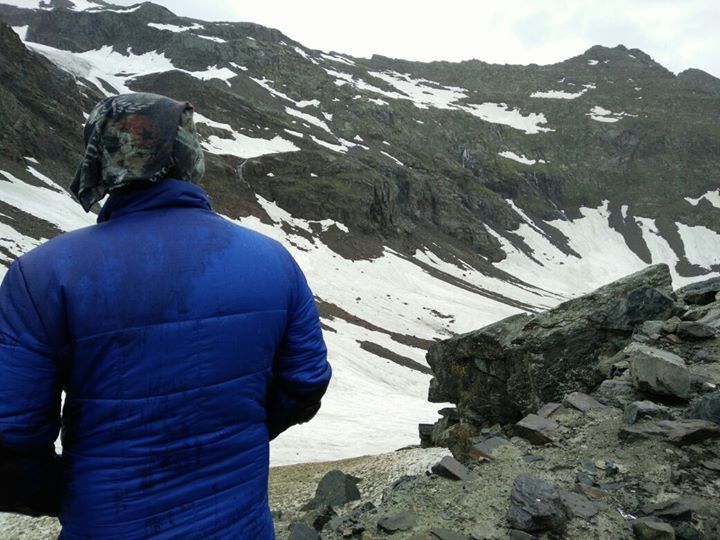 #4 Bullets#5 Riders#10days#2500Kms#20feet snow#treacherous road#One of d deadlist road#Unexplored route#Delhi-Dalhousie-Chamba valley- Sach pass-Killad-Udaipur-Keylong-Chandratal lake-Kunzum pass-Kaza-Key monastery-Kibbar-Geu -Tabo -Nako-Kalpa-Shimla-Delhi.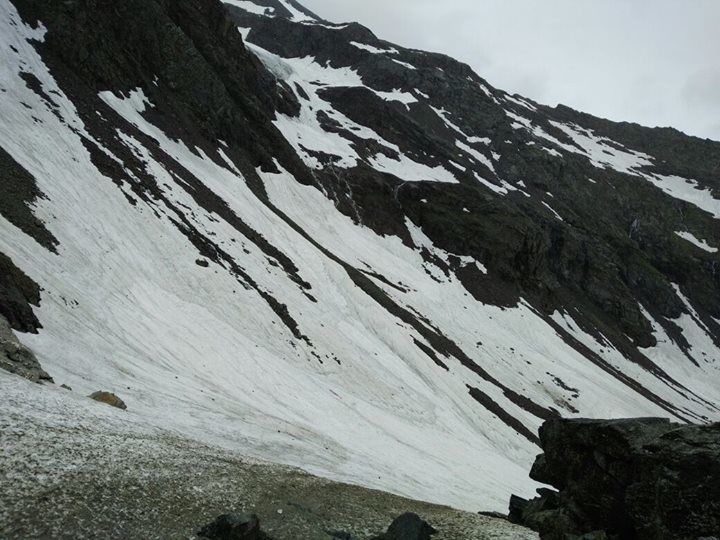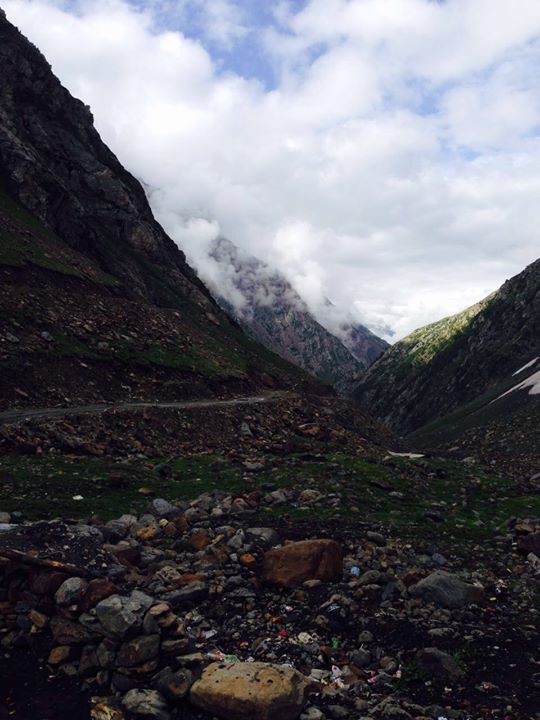 Why to do this road trip once in a lifetime?
1) If you love adventure and want to drive on one of the deadliest and treacherous road,then definately you need to take this trip because this road trip is not for the faint hearted ones.One,needs to be brave heart for driving on such rocky and muddy roads infact at non-existent road
2)At sach pass,you came across various water crossings(nulla), endless waterfalls, snow walls of around 25 feet on both sides of roads,rocky,unpaved and non-existent road.So,this will be a once in lifetime experience for you.And if u want to test your driving skills,definately give it a go.
3) Yoy will explore the splendid beauty of chamba valley,pangi valley,lahaul & spiti valley,chandratal lake,kunzum pass,kaza,key monaestry,kibber,geu village,nako lake,kalpa valley,kinnaur district,shimla district.
4) You will came across two deadly passes while driving on this road.One is sach pass(14,500ft) and the other one is kunzum pass(15,060).
Route Map
Delhi-Ambala-jalandhar-pathankot-Dalhousie-Chamera lake reservoir-Tissa-Bairagarh-Sach pass-Killad-Udaipur-Keylong-Khokshar-Chattru-Chandratal lake-Kunzum pass-Losar-Kaza-Key-Kibber-Tabo-Geu village-Nako-Kalpa-Rampur-Shimla-Solan-Ambala-Delhi.
Best time to visit
Best time to visit is Late june or early july before monsoon because it is very difficult to ride on this road during monsoon.


Day1(Delhi-Ambala-around 200kms)
We started our jouney at around 9pm from Indirapuram(GZD) after office and because we all were tired so we decided to take rest at ambala.
Things to do- Eat chicken and mutton curry at puran singh ka mashoor vishal dhaba opposite Ambala cantt. railway station.
Stay- Rs1600 for two rooms.
Road condition-Awesome road condition(NH1).
Day 2(Ambala-Jalandhar-Pathankot- Dalhousie- 360kms)
We started our journey and headed towards Ludhiana- jalandhar-pathankot and from pathankot dalhousie was around 75kms of hilly area and after covering a distance of 20 kms from pathankot i started feeling the air of himalayas and at that time i was humming a song name-"Ek raasta hai zindagi jo tham gye toh kuch nahi" and reached dalhousie around 1am....it was a hectic day for us but we enjoyed a lot as we are gettiing a lot of respect on roads and thumbs up all over afterall we are bikers(haha).
Stay- Rs2500 for two rooms
Road condition- Good road condition.
Day 3(Dalhousie-Koti-Tissa-bairagarh-Around 135kms)

We started our journey early and get our bullets filled up at banikhet station(5kms from dalhousie), we tested our bullets around 20 kms from dalhousie.We were in chamba valley(Chamba valley is for those who loves peace and nature).Their were no honking towards chamba because chamba is full of peace and silence.Chamba valley is rich in its flora and fauna and chamba is a good visit to those who dont want to go to crowded place and want to spend their weekends or holidays in a peace and calm place. Then we headed towards bairagarh. The road condition was good and the locals were very helpful.
It is advisable to get your fuel filled 15-20kms before bairagarh(a petrol pump is their) and finally we reached bairagarh.The place is small and very beautiful and is away from crowded one's.In bairagarh,their are only two homestays (Rs 1200 for 2 rooms) and they provides good and tasty home made foods.At bairagrah,we met with four marathi bikers and we had a good chat with them.
Stay- Rs 1200 for two rooms.
Road condition- Dalhousie to koti- Good road condition.
Koti-Tissa-Bairagarh-Bad road condition with some water crossings but their were some good patches of road.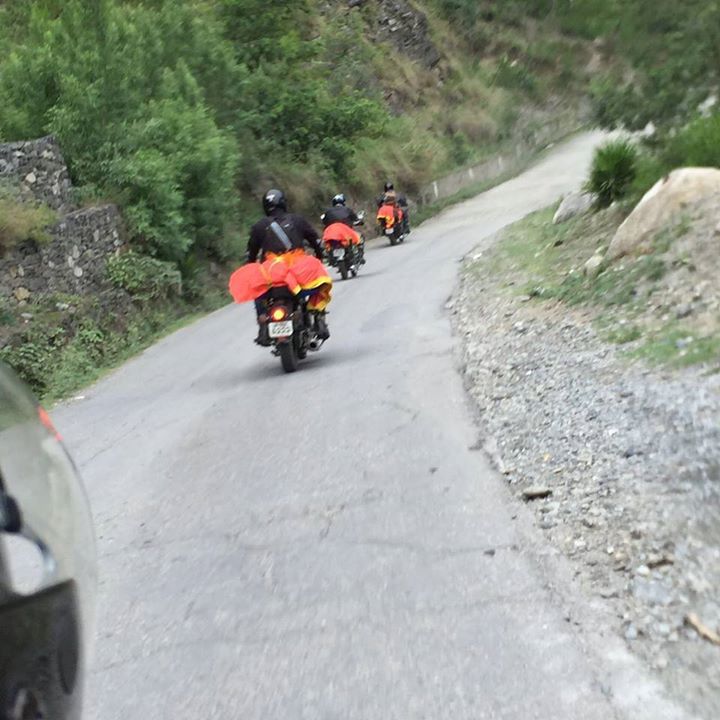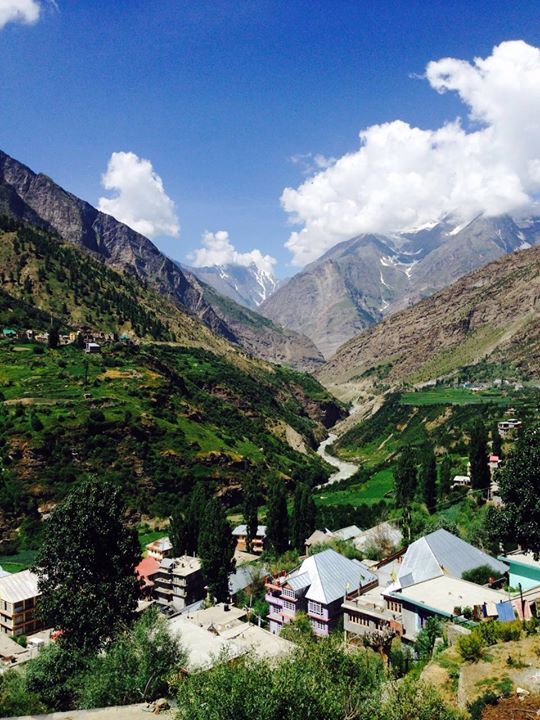 Day 4(Bairagarh-Sach pass-Killad)

In morning, we started towards sach pass.....Now the road ahead of bairagarh was very treacherous and known as one of the deadliest road.One needs to be brave heart for riding bikes here.The weather was awesome with drizzle and we reached satrundi which was around 20 kms from bairagarh and now the rain was heavy,so we stopped at satrundi check post and had a sip of chai their and waited for rain to stop and in between the cops started saying that; arre yahan kyun aa gye ghumne,jahan tum ja rhe ho usse raasta nhi kahenge,wo bas pathar he pathar hai" and now we were more motivated .....after 2 hrs rain stopped and the water log(nulla) which we had to cross became huge. and we crossed bike with the help of all 5 riders one by one....now we came to understand that real adventure has began.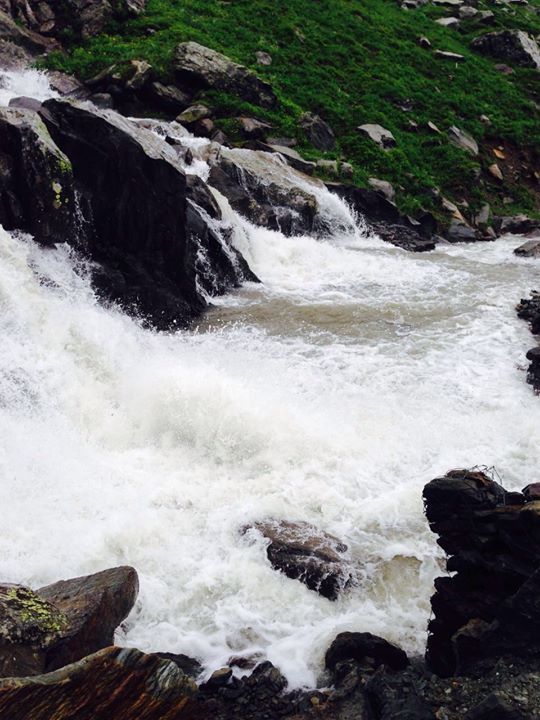 Finally we reached sach pass after riding our bulls on very narrow and steep road and the road condition was very bad and at top of sach pass we came across 20feet snow walls on both side of road and at that time i was feeling like that" Yes,we did it.At the top of sach pass their is a temple and locals told us that u need to bow your heads their for further safe journey and we did exactly the same.Sach pass is at a height of 14,500 feet and we were feeling cold their.
From sach pass one needs to descend towards killad and the descending part was very difficult and it tests your driving skills.The road was full of kichad due to mud and rainfall and it was one of the difficult part to drive on and finally around 7:30pm we reached killad and stayed their.After reaching killad,we came across two more bikers from delhi and a group of gujrati boys and girls and all of us had a good time their.
Note-It is advisable to start early from bairagarh because sometimes u have to stop inbetween because weather play its own games.
Stay- Raj hotel(Rs1500 for two rooms)
Road condition- Non-existent road,rocky road,various big and small water crossings on roads,greenery and snow all over.Very diicult to drive on.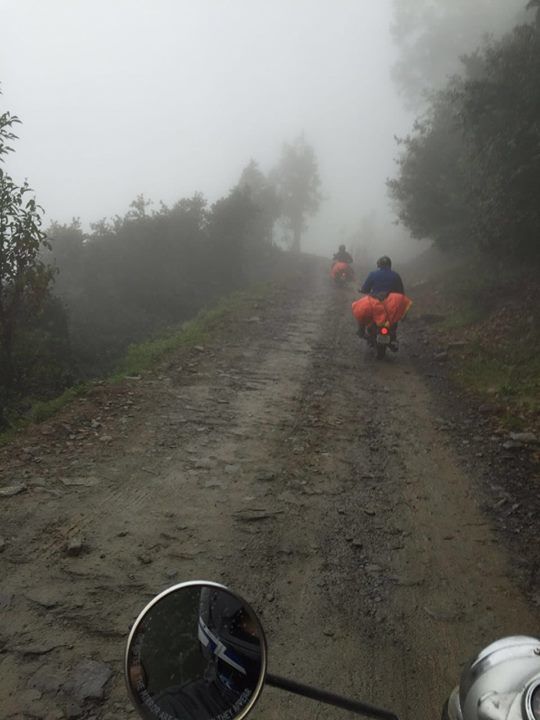 Day 5(Killad-Udaipur-Trilokinath ji-Tandi-Keylong)
We started after journey from killad and as expected their were only muddy and rocky roads till udaipur with water crossings.On the way to udaipur,we came across a landslide also,so we had to wait for 2-3 hrs for getting landslide cleared and by that time we met with a group of guys from mcleodganj and had a cup of tea and maggie.And finally we reached udaipur(very beautiful village).
Udaipur (Lahaul & Spiti valley)- 2,742mtrs is a very beautiful village located in lahaul & spiti valley district and chandrabhaga river is flowing side by side to udaipur village..It has many breathtaking views.
And i wanted to stay their but my friends told me to cover more distance so we headed towards trilokinath ji for darshan(around 15kms from udaipur out of which 6kms off route)
Trilokinath temple-It is very religious temple.
And then again headed towards tandi and keylong.
Note: Get your bike filled at tandi petro pump.
Stay- Rs 1500 for two rooms.
Road condition: Killad to Udaipur-Non.existent road,muddy and rocky road with water crossings.
Udaipur to keylong- Good road condition with some bad patches.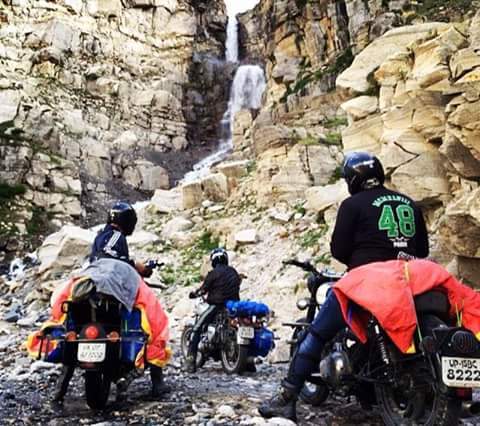 Day6(Keylong-Khokshar-Chattru)
After getting our bulls repaired and serviced,we headed towards khokshar(One can find a good mechanic in keylong).Now,in keylong we came across many bikers and tourists.The road condition till khokshar was good and after khokshar till chhatru again bad road condition.So,we reached chattru by 4pm and locals told us that"abhi aage mat jao aage pagal nulla(water crossing) uffan par hai,usme paani ke saath saath pathar bhi aate hai aur woh elevated form me hai,kal subah jaldi uth ke paar kr lena dhoop nikne se pehle".So,we decided to stay at chattru at a dhaba cost rs 150 per bed and we met trekkers who were coming from hampta pass trek and did some boommmmm........... shankar and sang some lord shiva songs.This was one of the best night of my life with shiva tunes all over.The dhaba owner is one of the genuine guy whom i ever met.
Stay- At dhaba(Rs 150 per bed)
Things to do- chattru has its own beauty,so one needs to just relax and see the mighty spiti mountains.
Road condition- Keylong to khokshar- good road condition.
Khokshar to chattru- Bad road condition.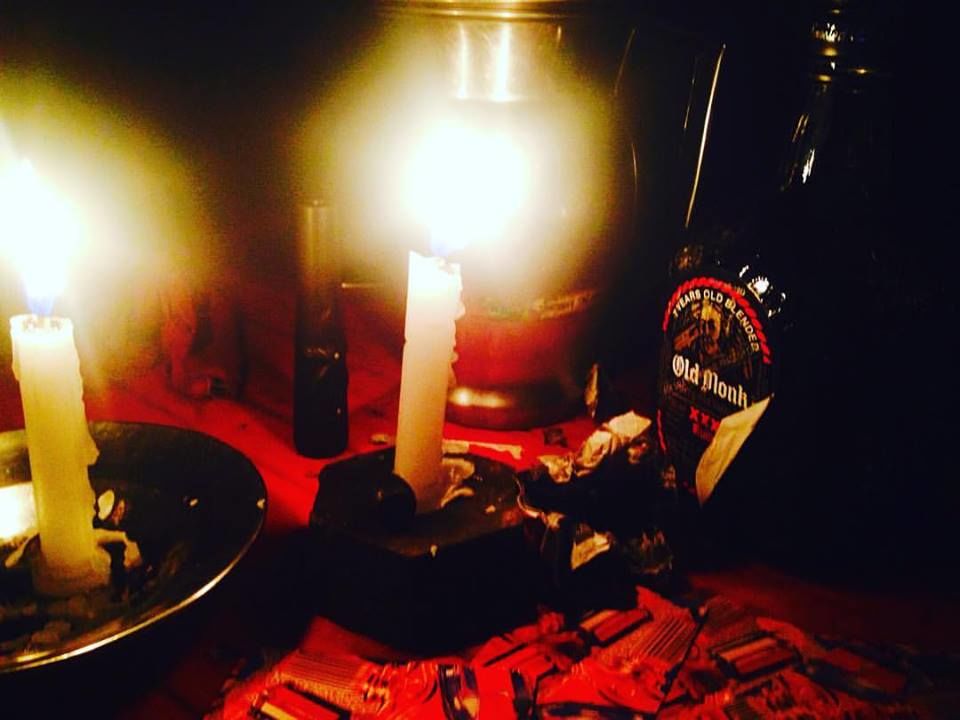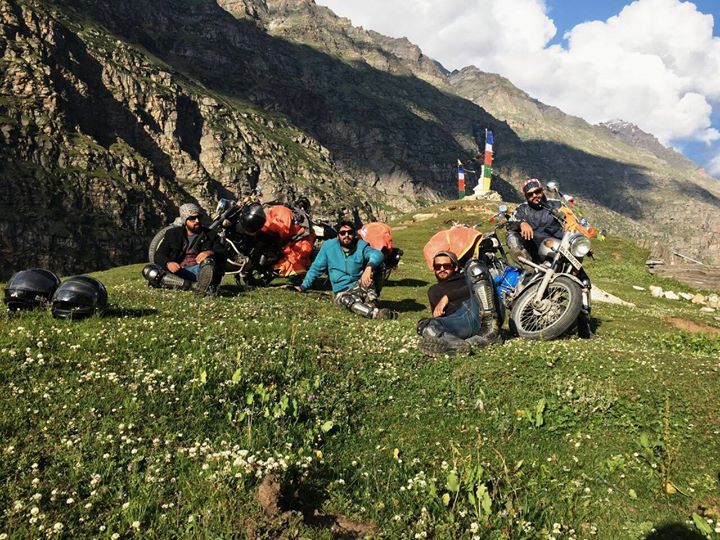 Day 7(Chattru- Batal-Chandratal-Kunzum pass-Losar-Kaza)
As decided,we headed towards batal early morning because we had to cross that pagal nulla asap.After reaching to pagal nulla,we met with a DL number polo,which was stuck in that nulla,so we acted as a maseeh(saviour) haha to them and helped them to cross the nulla and then headed towards batal.
Chattru to batal(2-3hrs drive)- Bad road condition with water crossing.2-3hrs drive
Batal to chandratal lake- 14kms motorable with very bad road condition,unpaved road with two big watter crossings.
Chandratal lake(Moon lake)-is located at a height of about 4,300 metrs (14,100 ft) in the Himalayas.
Batal to kunzum pass to Losar- very Bad road condition,rocky and muddy road.
Kunzum pass- is at a height of 4590m(15,060ft) .It connects the Kullu Valley and Lahaul Valley with the Spiti Valley..It is advisable to do darshan of kumzum mata.
Losar to Kaza(57kms)- Good road condition with few bad patches.Losar is a beautiful village to spend a day.In between Losar to Kaza,u will feel the splendid beauty of spiti mountains all over.
And finally we reached kaza at night.
Stay- Rs 2000 for two rooms(as we reached kaza late) but u can find a homestay at Rs300-500 per room also.
Things to do- Chandrataal lake(Moon lake),camping at chandratal lake,kunzum mata darshan,explore losar village.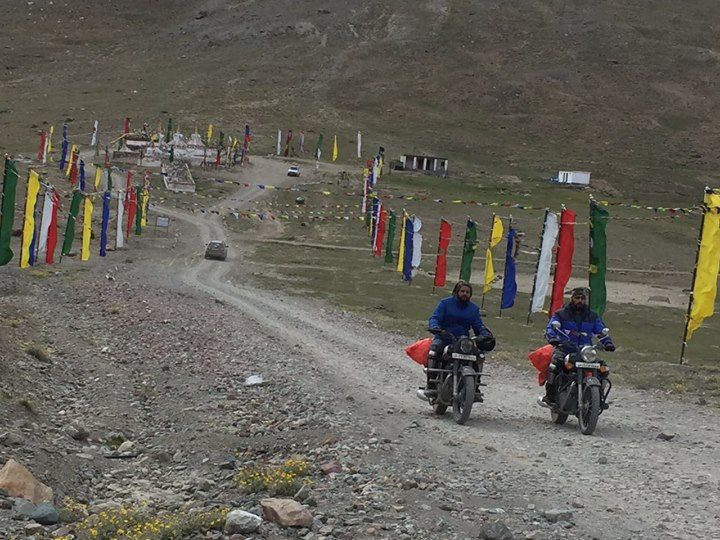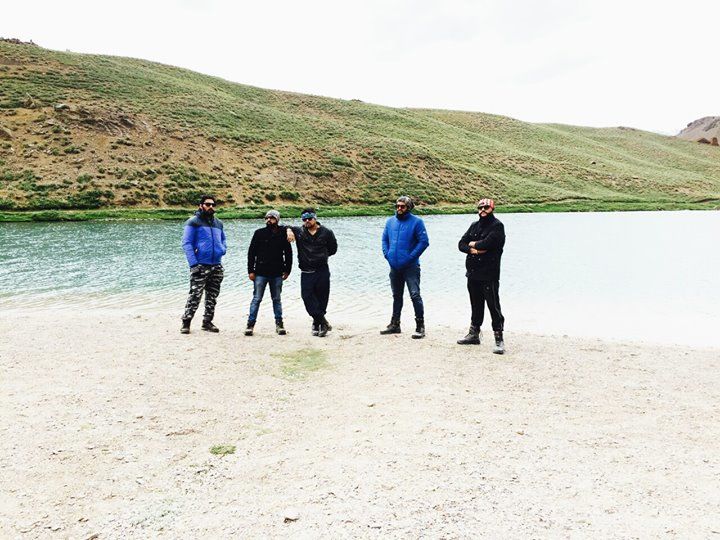 Day8(Kaza-key monastery-kibber-tabo-geu village-nako)
Early morning we headed towards,key monastery and kibber.
Key monastery-is situated at a height of 4166mtrs(13,668ft).Distance between kaza to key monastery is around 14kms .It is the biggest monastery of spiti valley.One can stay at monastery hostels as well as homestays at key village are also their.
Kibber(4270mtrs or 14,200ft)-Further 7kms from key monastery.The village is unique in itself as here the houses are made up of stones whereas in entire spiti valley the houses are of brick and mud.One can spend a quality time at kibber,if one wants to enjoy peace and calmness.
Then we headed towards,tabo village(around 50kms).Tabo monastery is the oldest monastery.
And then we headed towards nako.At a distance of 40kms came a village sumdoh and from that we had to take a left turn for gue village(8-9 kms off route with bad road condition).The village is very close to Indo-China border.
Gue village is fameous for naturally preserved mummy.The mummy is around 550 years old and was founded in the year 1975 by ITBP resue officers .The mummy is preserved naturally and its skin is unbroken and has hairs.
And then we headed towards nako village at kinnaur district(3662 m or 11,893 feet) and stayed at nako village.Nako village is one of the beautiful village of kinnaur district.
Stay- Rs 1800 for two rooms(Very good rooms)
Road condition-Kaza to Key to kibber- Good
Kaza to tabo- After 10 kms bad road condition.
Tabo to sumdoh- Good
Sumdoh to Geu village- Bad.
Sumdoh to nako- Good with few bad patches.
Things to do-meditate at key monastery,kibber and tabo monastery,try to visit hikkim(highest post office),komic,experience the might spiti mountains which makes you speechless,visit gue village where their is 55o years old mummy naturally preserved,visit nako lake.
And try to eat tibetan bread sandwich at nako village.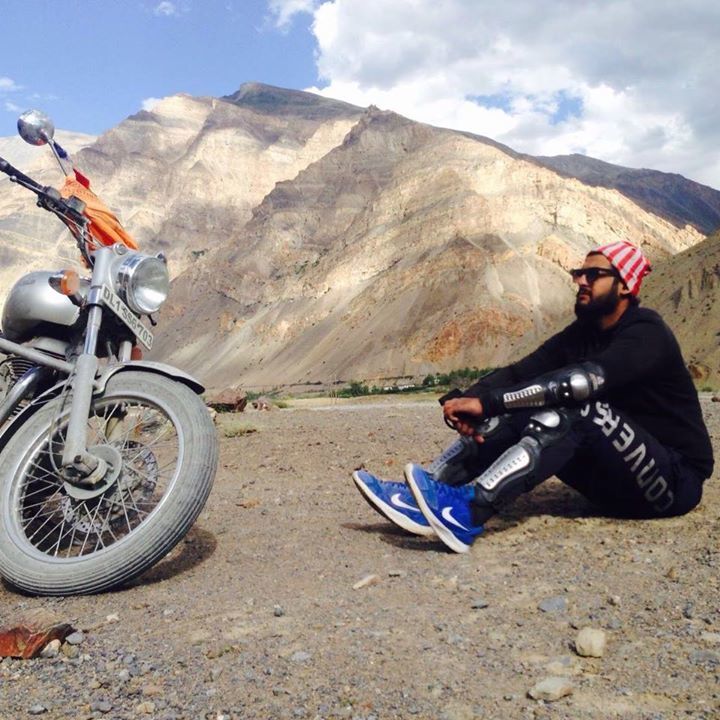 Day9(Nako-pooh-Kalpa-tapri)
After breakfast,we headed towards pooh and came across beautiful kinnaur district.Satluj river was flowing on one side and mountains on the other(spectacular view all over).And then we visited kalpa valley....one of the beautiful and unexplored village in kinnaur district.Kalpa valley is in the lap of himalayas.one can easily see and feel kinnaur kailash mountains from here.And we spend a quality time at kalpa village with a chai in our hand.
And finally we reached tapri.
Stay- Rs1600 for two people(only one hotel at tapri).
Road condition- Nako to pooh- good road condition.
Pooh to tapri-After 5kms from pooh,bad roads condition with few good patches.Chances of landslide also near wangtoo.
Things to do- Nako lake,experience kinnaur ditrict,mouth opening views from kalpa valley,suicide point(located 3kms from kalpa).
Day10(Tapri-Rampur-Shimla-Solan-Ambala-Delhi-Around 540kms)
We headed early morning,because we had to reach delhi today at any cost.The road condition was very.We encountered with beautiful narkanda,theog and shimla in between the ride.And finally by night we reached delhi.